I had an early flight booked from Sydney Airport to the Gold Coast. As previously mentioned I was staying at a hotel next door but even still the 5am alarm was a bit of a shock to the system, despite the power cut enforced super early night, the night before. While I was waiting to board I got myself quite a decent sized breakfast from a cafe in the departure lounge. Mainly because I wanted to try the breakfast pie they did there.
All my flights and connections had been booked for me by the travel person I use. I was flying with Jet 2 and unbeknown to me my ticket on this flight included a cup of tea and three large sandwiches. That I ate out of politeness even though I was already full up from the food that I had purchased earlier. I have got a real thing about wasting any food at all.
It was only a short journey with a flight time of around one hour and twenty minutes. Although as they actually use a different time zone up there currently it is one hour behind Sydney, so local time wise I landed twenty five minutes after we had taken off. The reason that I wanted to visit the Gold Coast is because I was desperate to stay at a specific hotel.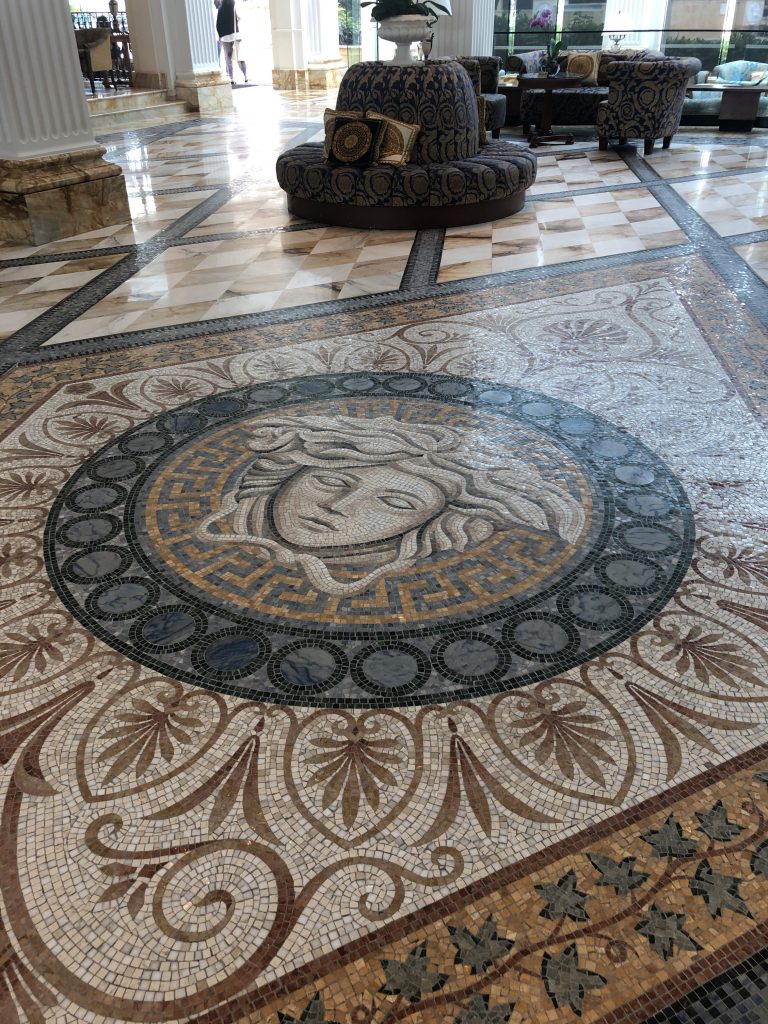 I am a massive fan of the ITV 1 television programme I'm A Celebrity Get Me Out Of Here. I have watched every single series from start to finish. Over the years I have been lucky enough to meet a large number of former contestants and winners from it. All of whom have spoken very highly about the whole experience.
When their time in the jungle comes to an end they are then sent to a very nice hotel where they stay until the show has finished. And the King or Queen has been crowned. When I decided to make the long trip to Australia I also decided that I to had too stay at this particular hotel.
It does feature quite heavily in the show as people get voted out. You always see them arriving in the driveway and then being welcomed in to the reception area. They do also normally show you inside their room and do some other filming in and around the facility.
Therefore I have seen this hotel in all its glory on television many times over the years and always thought that it looked amazing! It is called the "Palazzo Versace". It is a Five Star hotel and is quite simply stunning. I was staying there for the entire three nights of my Gold Coast experience. I must confess I was possibly way more excited than I should have been about that situation.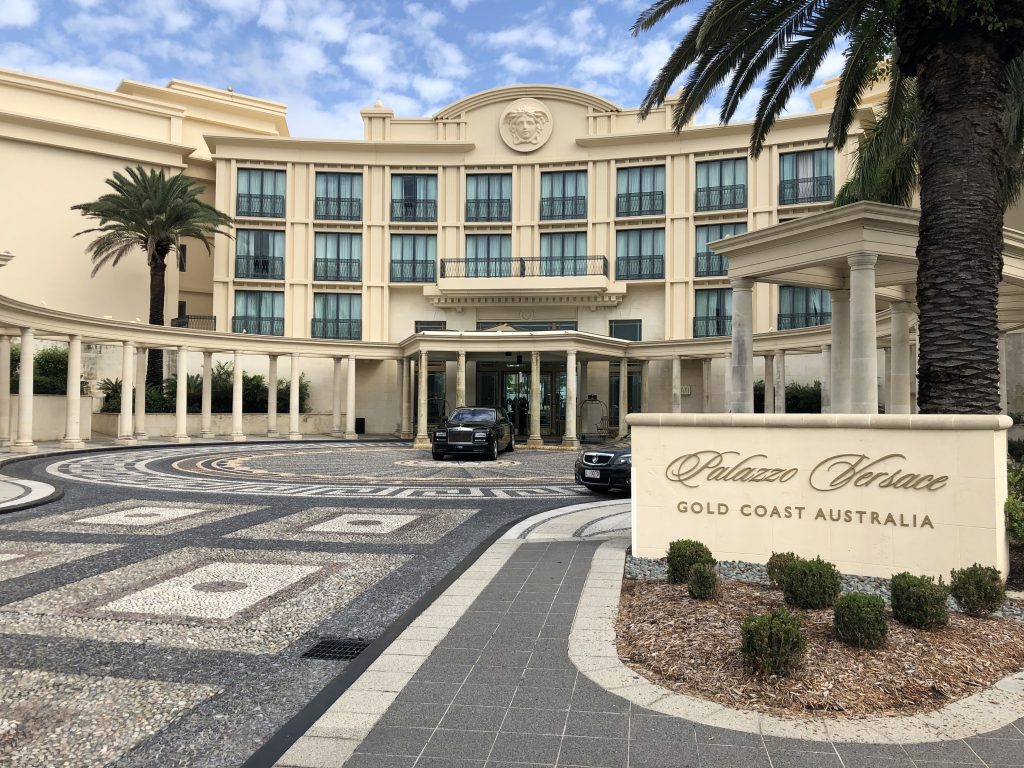 When my taxi arrived the entrance looked so familiar having seen it on screen hundreds of times previously. It does look pretty stylish from the front. The circular driveway where the celebrities' people carriers arrive and drop them off actually looks smaller in real life than it does on TV.
I did have to take a moment to admire the outside of the building before I walked in through those famous glass doors. I then found myself standing right in the middle of that spectacular reception where the friends and family greet the newly arriving ex camp mates.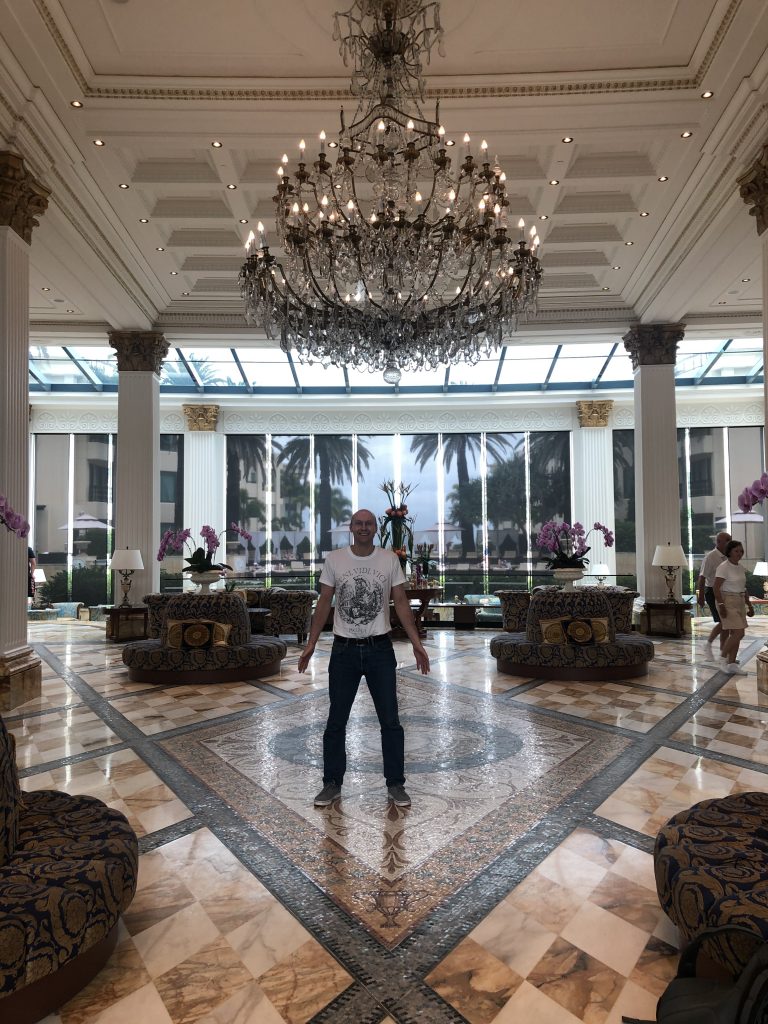 The area is beautifully decorated. One of the main features is a huge Chrystal Chandelier which along with the mosaic on the floor takes centre stage. While I was waiting to be booked in to my room I had a look around the pool area, while working out where I had seen a few bits filmed over the years on "I'm A Celebrity".
Once I was checked in I made my way to my room on the second floor tracing the steps of a whole host of former contestants. In case you are wondering yes I did open the door and throw myself straight on to the bed.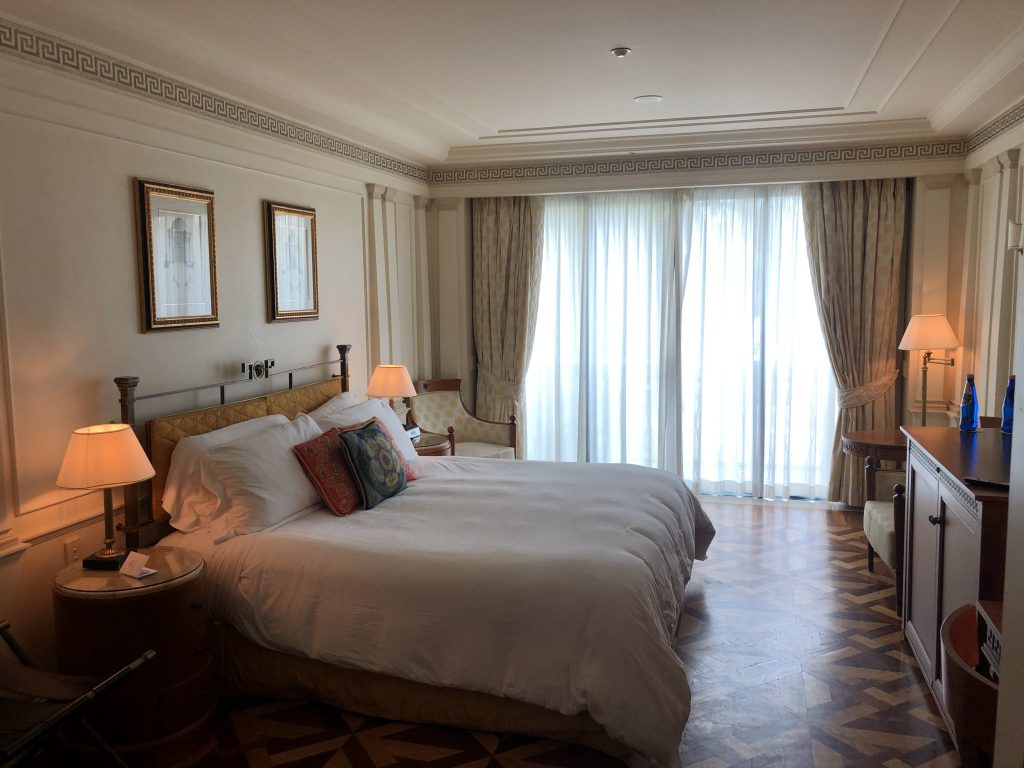 The rooms in general and the bathrooms in particular do follow the Italian and Roman theme of the hotel. While I was on this trip I read Elton John's book, he was friends with Gianni Versace. He mentions him, giving the impression he was a very elaborate and flamboyant man.
I do feel this trait really comes across within the hotel and the individual rooms. It does feel like a special place to stay. It also has a classy and yet relaxing feel to it.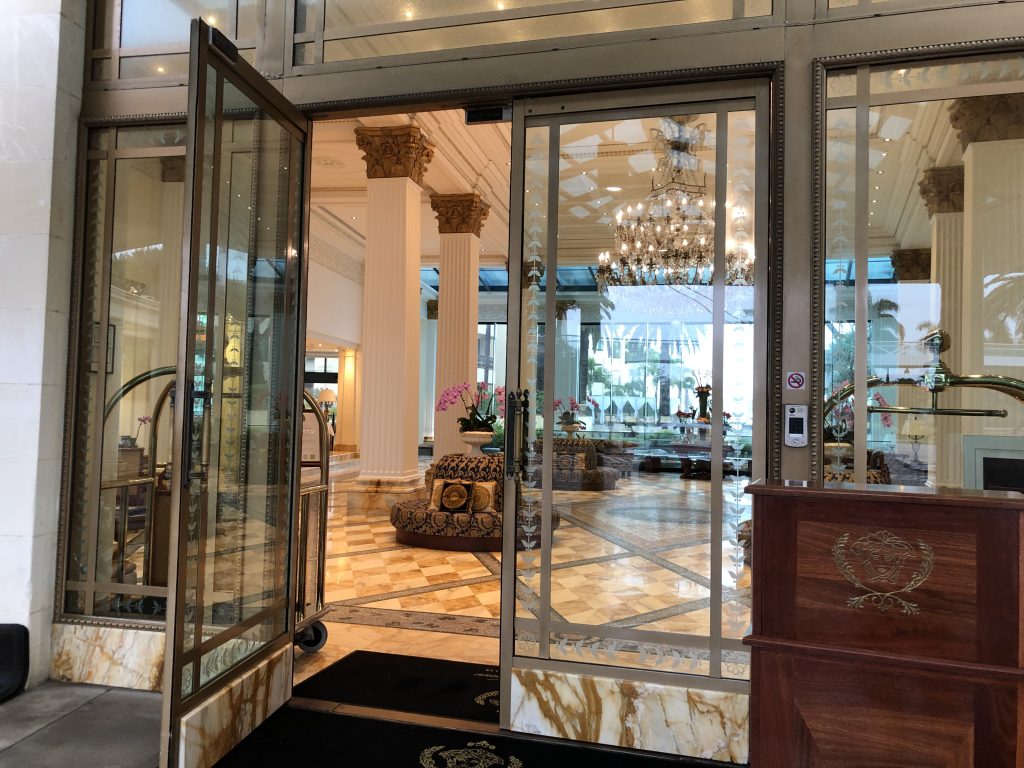 The hotel is situated at the top of the Gold Coast, so it is a fair way from the main towns of the area. Right next door however there is a small shopping centre which does have a McDonald's. A little further down the road there is a Marina with a few restaurants and bars.
I initially found a cafe overlooking the water that I ended up using for my breakfast every day. They had a decent variety of food options. In fact one morning I had a healthy spinach based shake alongside a waffle, syrup, bacon and banana dish, which was lovely. And I think you will find the two combined made for a very balanced start to the day. Life is all about moderation!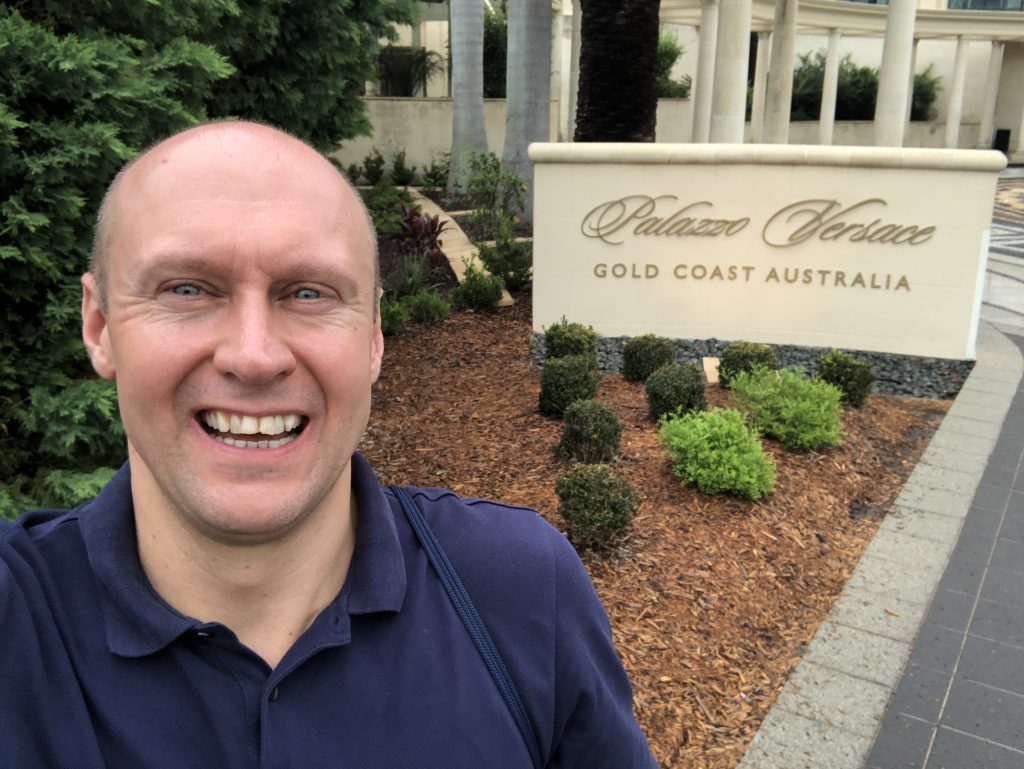 During my first afternoon on the Gold Coast for the first time since I had arrived in Australia the sun had come out. I took full advantage of this by firstly having a nice long walk down the beach including a bit of a paddle in the sea. Then I returned to the hotel for some sun bathing by the pool.
They have a beach area built there with sand on the side and as you go into the water. All of the sun beds are padded. It was peaceful and relaxing, finally the chance to top up my tan a bit. I stayed there almost until the sun set spending the final part of it at the outside bar having yet another wonderful locally made beer.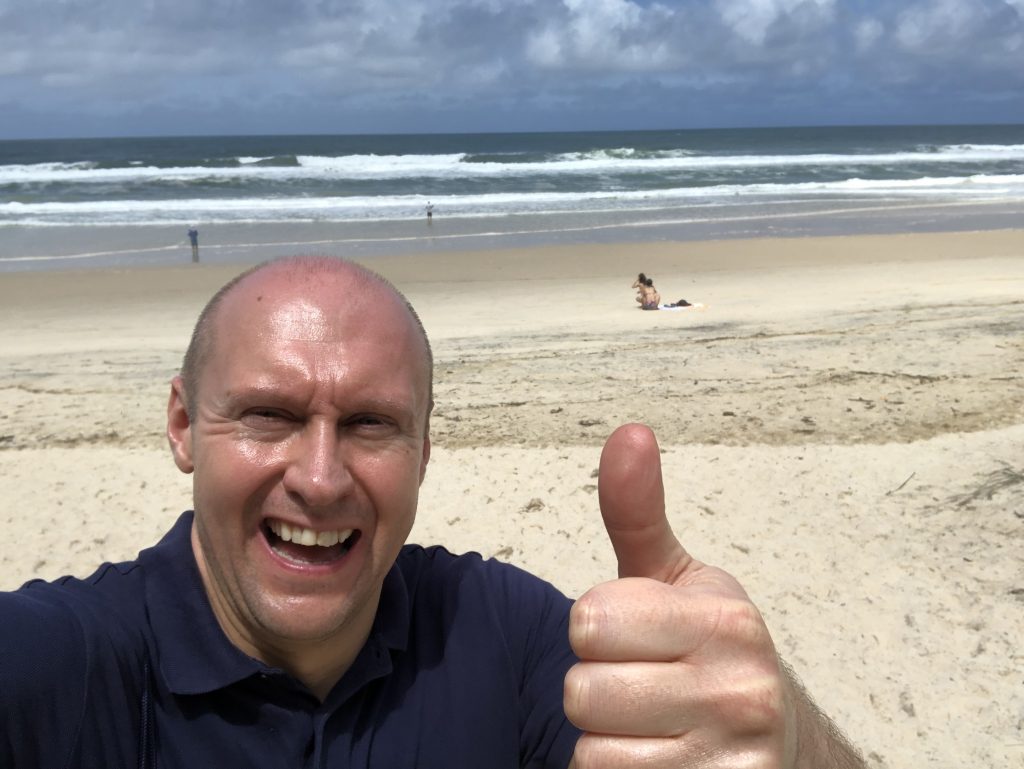 For my evening meal on my first night I went to the local pub at the nearby Marina. It was in the same area as the local radio station that I found. It was called Juice and I must admit I did consider popping into their studios to see if they had any jobs. As the sun had now appeared it was becoming an appealing place to live.
I had a nice meal in the pub and discovered another Aussie beer that I liked. They have the bar area and then a separate counter to order food. You then get given a buzzer which flashes and vibrates when your food is ready to collect from the service counter. This seems pretty common practice in a lot of the pubs out there as far as I could see.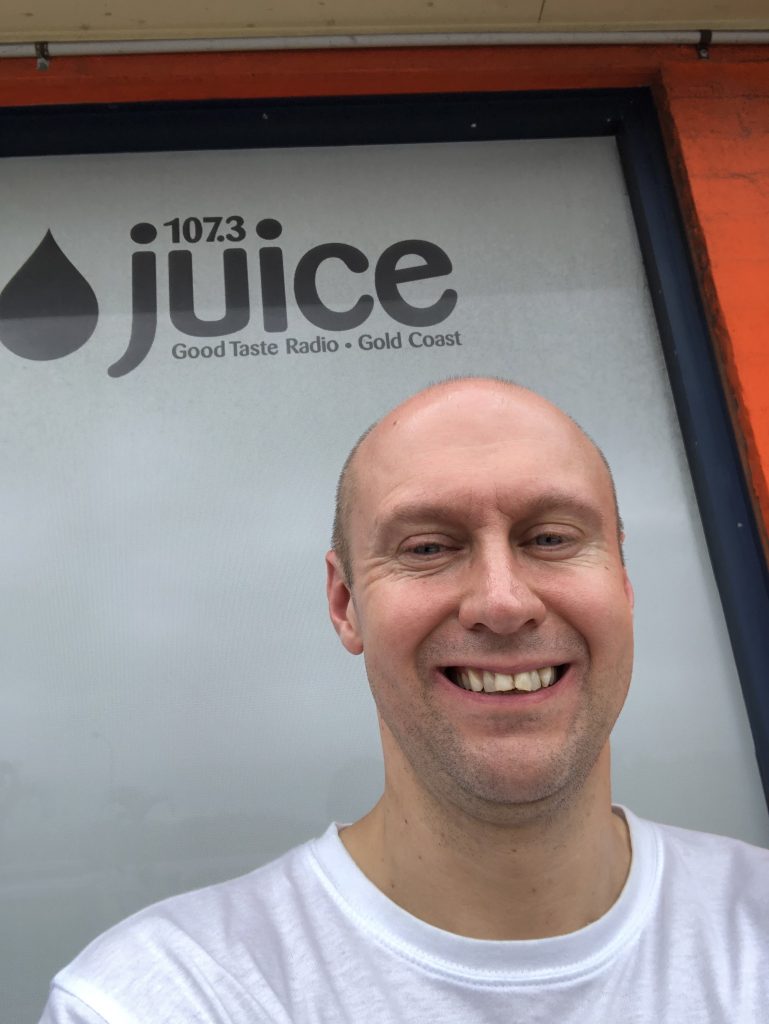 Day two on the Gold Coast and the sun was out again, so after I had breakfast I was straight back to sun bathing by the pool again. Apart from staying at the hotel this part of the trip was always meant to be the chill out and relaxing bit.
As I do like feeling the sand under my feet and hearing the sound of the waves I went for another long walk along Main Beach. I felt I had to take this opportunity as this is not a thing you can really do in England in February. The "Palazzo Versace" has its own Spa on site, so I thought while I was there I would treat myself to a treatment.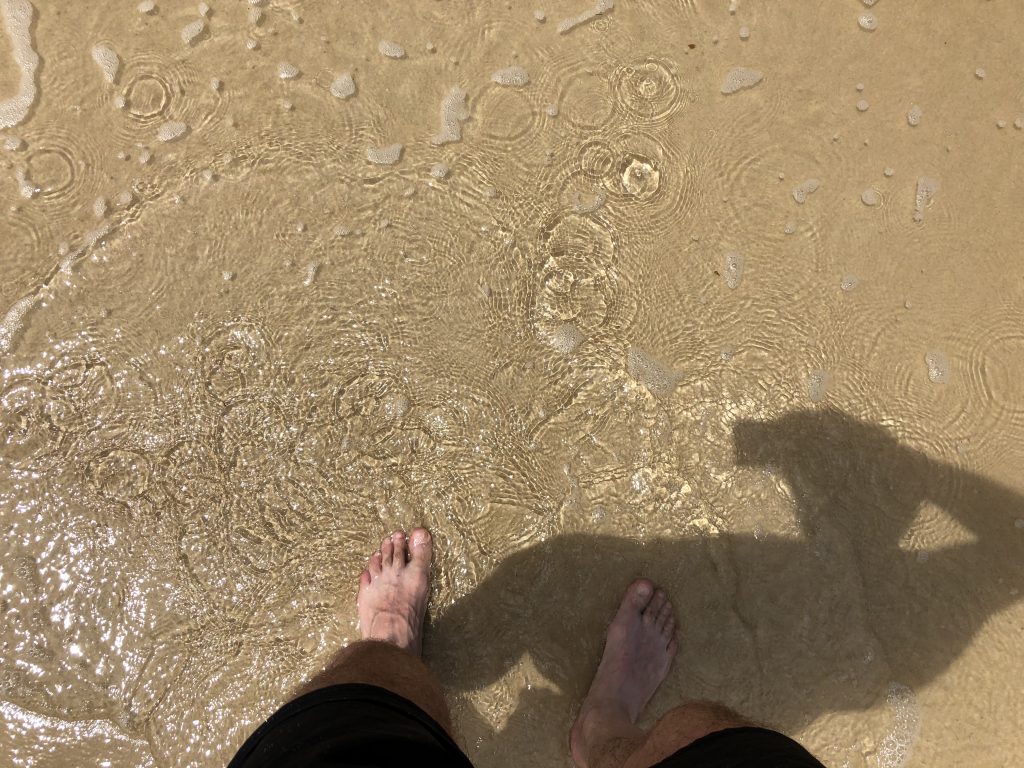 I booked a session in the Sauna and Steam Room as well as a sixty minute full body massage. I arrived in good time, filled out all the relevant paper work, then did the Sauna and Steam first. As well as that facility they also had three pools you could use, a cold one to jump in and cool down in after the heat treatments. Then two more in which the temperatures were progressively warmer. I tried all three as I am someone who is always keen to get my moneys' worth. I did all of this before the massage.
When it was time to get ready for it I went back into the changing rooms to put on the paper underwear I had been given. It was the first time I had ever used them. I must say as far as I could tell they do not do a lot to preserve your modestly, but rules are rules. I was shown in to the room, which always have the relaxing music and the scented candles. The massage was great I could really feel the knots in my back and shoulders being released. An hour of basically being beaten up by a fairly petite woman does actually go quite slowly. But I did feel nice and relaxed at the end of it though.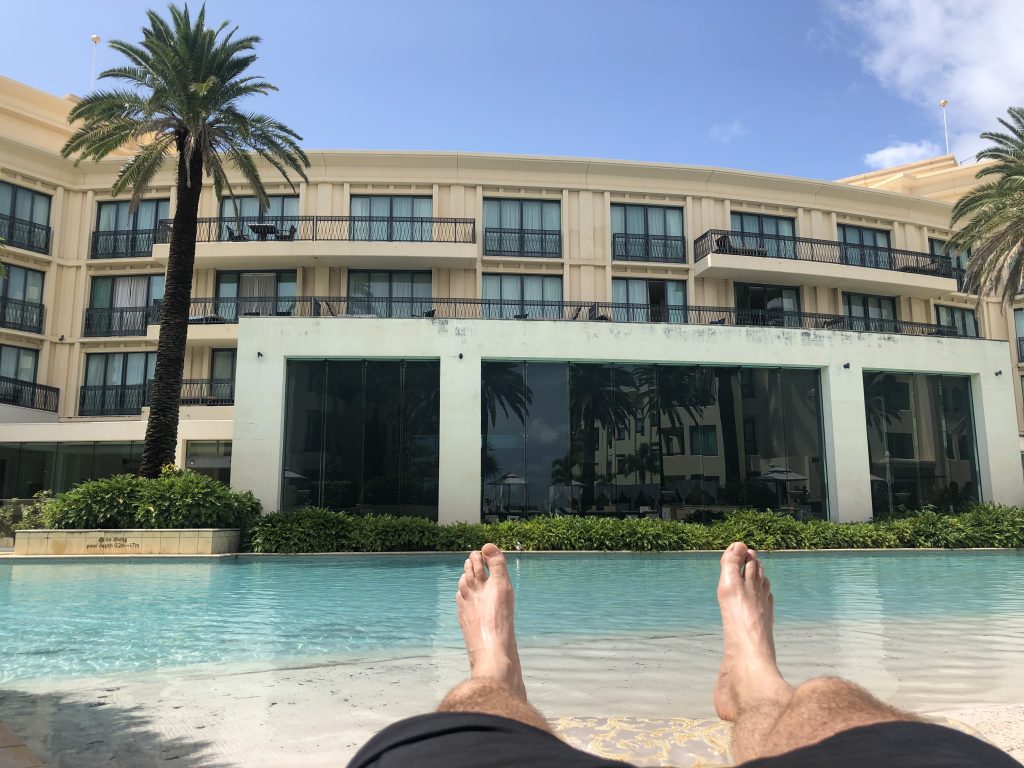 After it had finished they gave me some fruit to eat and some sort of ginger shot to drink. All the Staff were lovely and friendly in the Spa, so as the weather for my final day was not meant to be too good I booked in for another Sauna session.
That evening I ate at a chain style restaurant called Hogs Steakhouse. I took the name very literal and I did have a big steak there. While I was eating my meal on the screens in there a picture of their mascot appeared, which I will be honest made me laugh. It was a big bright pink Hog, which I would argue looked a tiny bit camp strangely.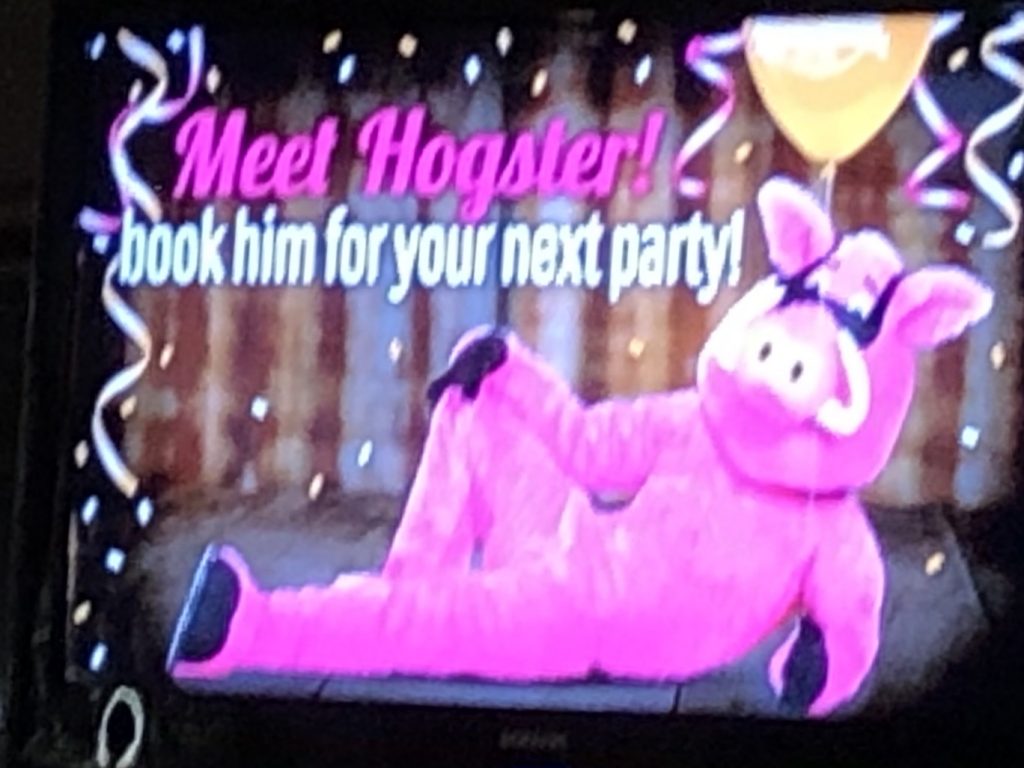 Before I had headed out for dinner there was something in the room that I had to try out. If you are a fan of "I'm A Celebrity Get Me Out Of Here" you may well remember from the show that the rooms at the hotel have Spa Baths in them as they often feature in the footage as they arrive back from the Jungle. My room had one of these and in the mini bar I had clocked an half a bottle of Australian Red Wine.
I filled the bath, which did not take as long as you might think. Then I put in some bath salts, poured myself a large glass of the wine and then got in. I spent the next ninety-minutes turning the bubbles on and off as I sipped the wine. It was heavenly, such a cool and relaxing experience. I now want one at home!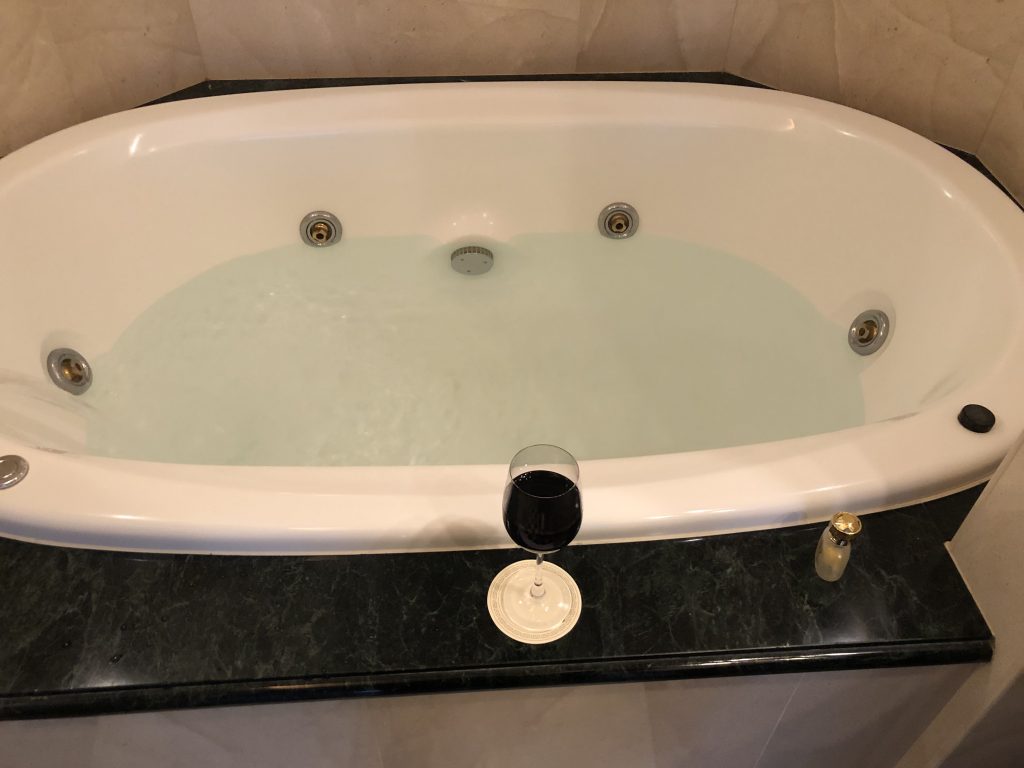 Every night I would have a drink or two in the hotel bar which kind of over looked the reception area. It was a nice way to round off the day there. I woke up for my last day to find it was tipping it down with rain. The forecast was for heavy rain and thunderstorms all day. That obviously put pay to any sun worshipping plans I had.
I spoke to one of the Concierge team for suggestions on what to do on a wet day in the area. While we are mentioning them, weirdly one of the staff does look like Dec. In fact it was him who very kindly took the picture of me standing in the middle of reception. The guy I chatted to that morning suggested I visit a massive shopping centre about a twenty minute taxi ride away.
I did go there first but I did not really want to buy anything and apart from the stores there was not much in the way of entertainment. On the way back to the hotel I decided to take the tram to somewhere that I had found earlier when I was searching on line for things to do. It was basically in my humble opinion the worst wax museum on the planet.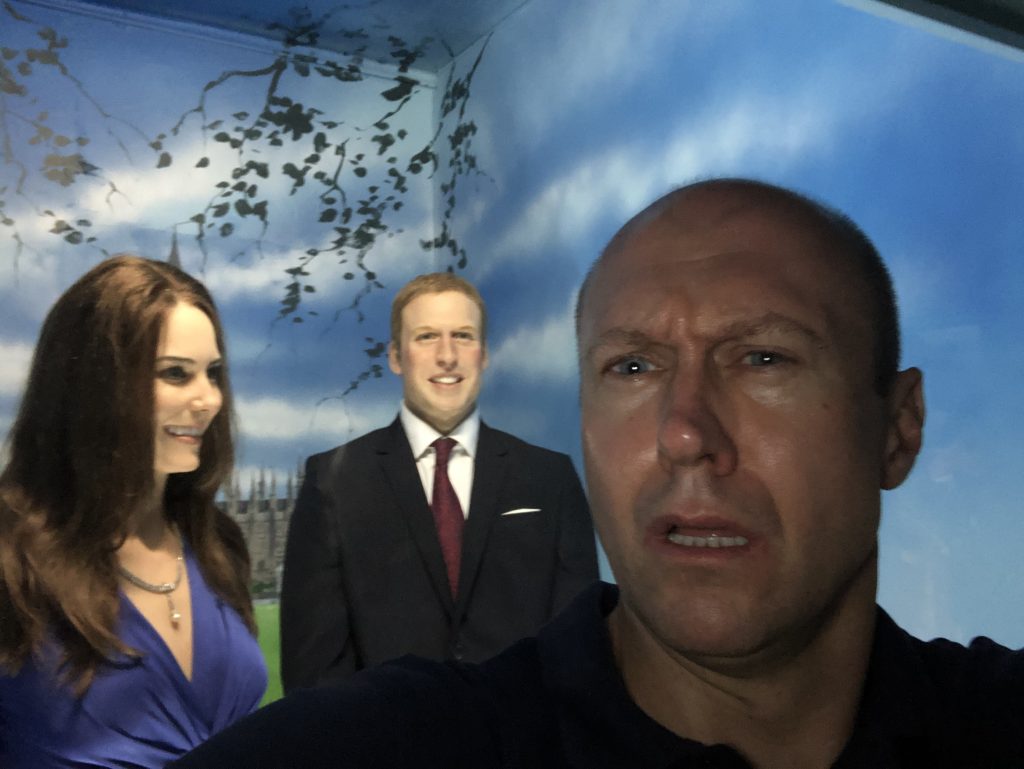 I knew it was bad when I decided to go there but it was still raining heavily, I had nothing to do and most importantly I thought it would be funny. I found the place and went in, fair play to the gentleman on the front desk. He really gave it the hard sell detailing the amazing historical figures I was going to see and how I could take as many photos as I wanted, stating that this would be a very memorable experience.
To be fair to him he was not wrong, from the moment I walked into the small display area I could tell it would be memorable but not in the way that he had suggested. All of the models in this place were totally horrendous. None of them were a good likeness of who they were meant to be. Often the only thing that gave away who people were supposed to be was their clothing. I had to read the cards on most of the exhibits to know who they were.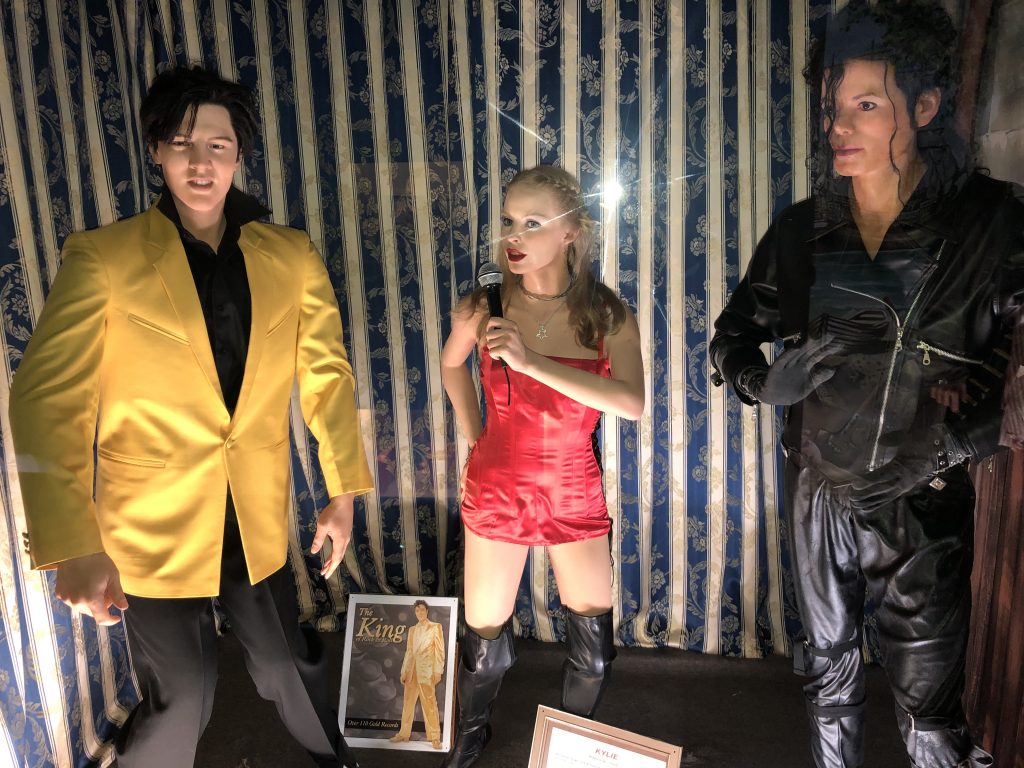 It is hard to explain how bad it really was. I can only presume the model maker had never set eyes on anyone that he was making. None of them were at all flattering to the celebrities that they were representing.
The worse one was the model of the American Singer and Actress Whitney Houston not only did it not look anything like her, but it did not even have the right skin colour.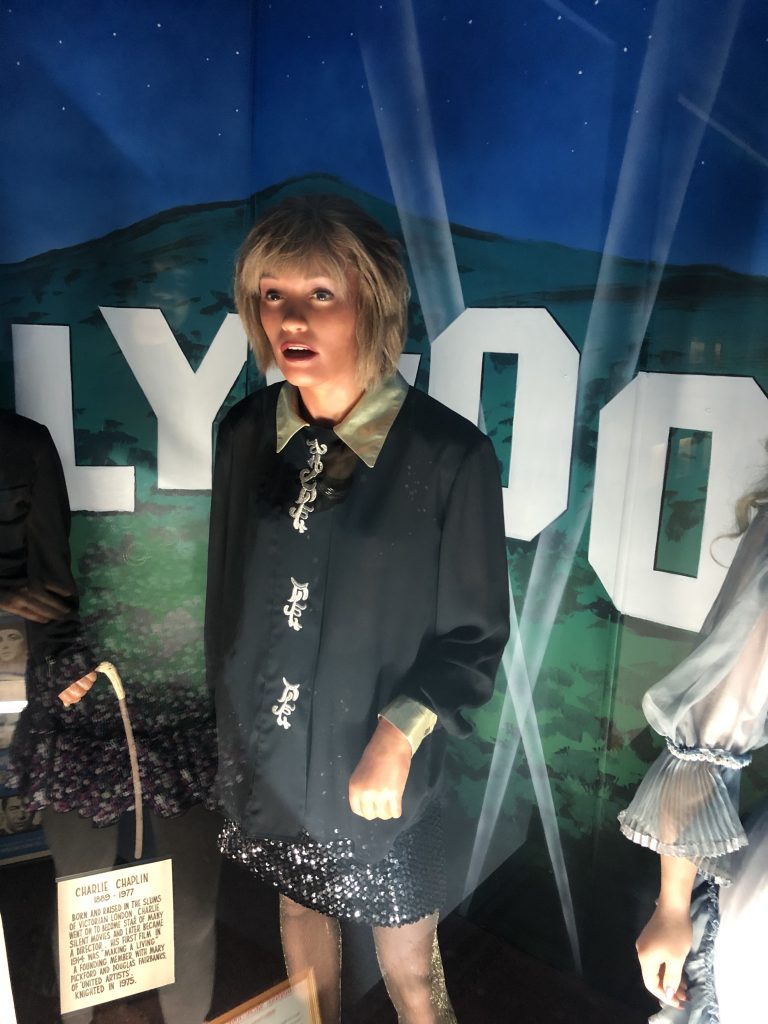 I had been given half an hour to look around but I had finished it all in about ten minutes. I really cannot explain just how bad it was I am not sure how it has the balls to claim it contains the top celebrities that it does. There is another part to this experience. As part of your entrance ticket, (yes they actually charge to witness it) you get a guided tour around their chamber of horrors section.
This features random bad models showing torture techniques through the ages in no obvious or particular date or time order. You learn very little and the whole thing just appears to go on way too long. The plus side of the visit is that I did get a few funny pictures and I managed to stay out of the heavy rain for an hour. If there is a more useless wax museum anywhere I would like to see it. The Staff are all very friendly and lovely by the way. It is worth going just to try and guess who everyone is or at least who they are meant to be.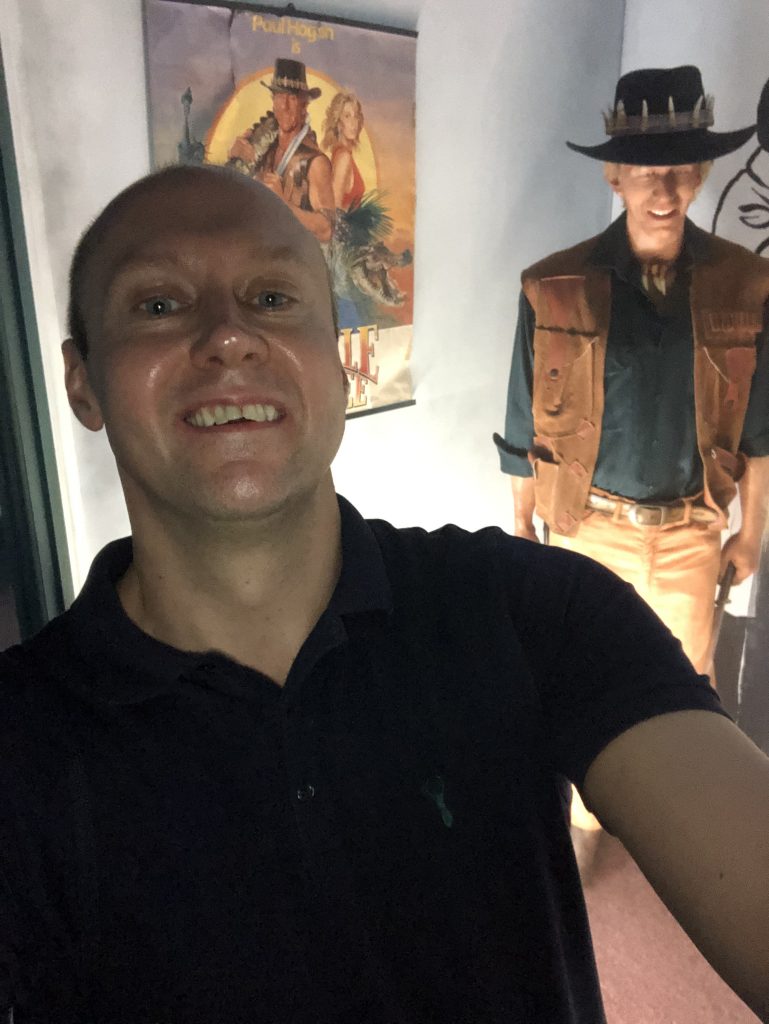 I figured that if I was staying at such an exclusive hotel I had to eat there at least once. On the final night I booked into their flag ship restaurant Vanitas. I had a lovely table for one looking out over the pool area. It is a classically decorated room.
I decided to go for the four course meal with accompanying wine. It was very quiet and peaceful in there, before the meal had actually started the waitress delivered the most amazing Italian bread and truffle butter to the table. That was already a great start to proceedings.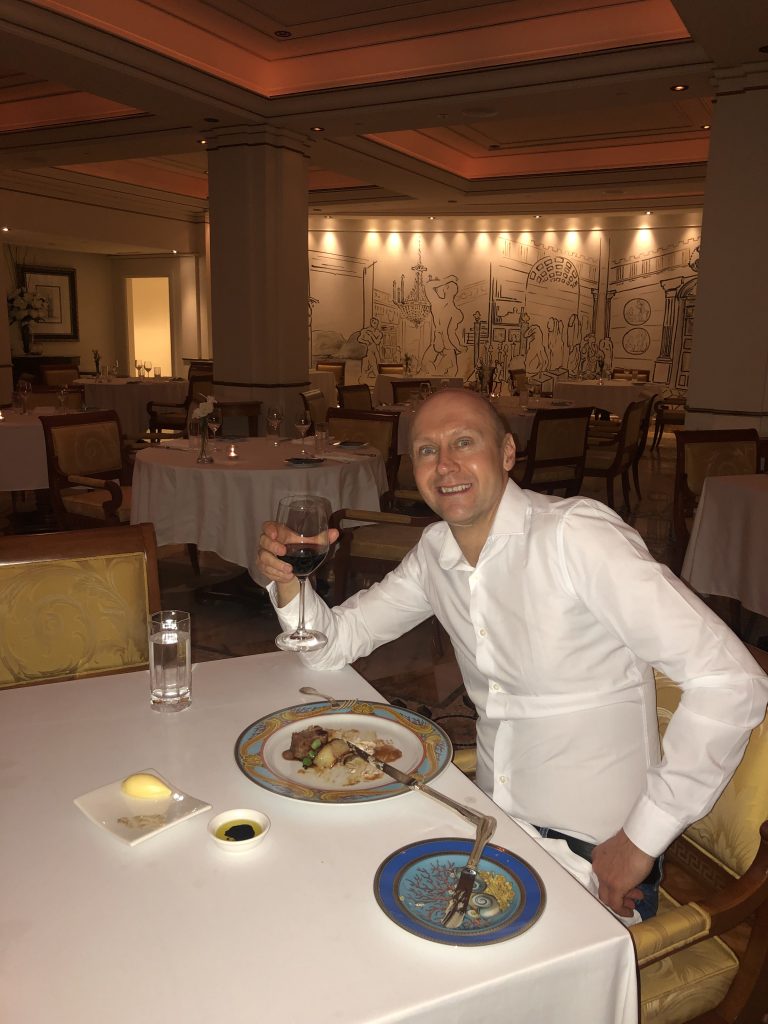 I am not normally someone who takes pictures of their food but each of the dishes looked so good, I did on this occasion. The main was a sensational lamb dish, which was delicious. The wine that came with each course matched perfectly with the food. It was a very nicely paced service, so you could eat and digest everything in your own time.
The dessert was magnificent, a chocolate tart with a couple of different flavours of Italian ice-cream. It was a really good meal and the perfect way to round off my stay there. Well I say round off but before bed on my final night I may have had another quick go in the Spa Bath.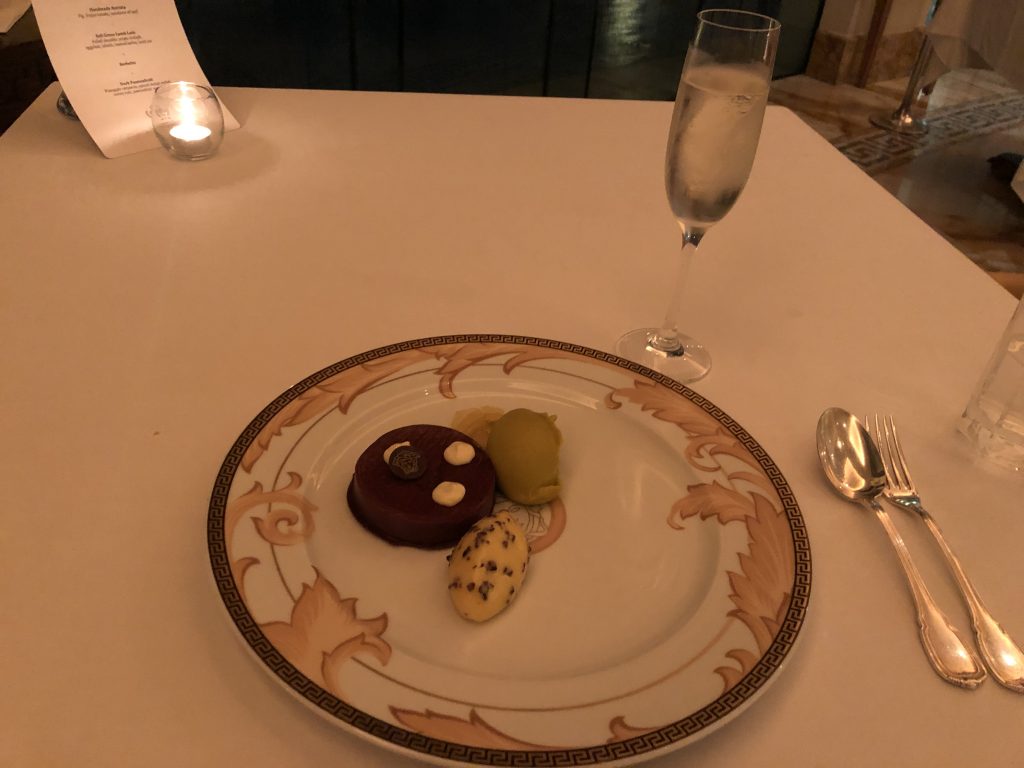 I am glad I visited the Gold Coast and stayed at the hotel. It means I will be even more excited every year when I watch "I'm A Celebrity Get Me Out Of Here" as it will bring back memories of my time there every time I see it.
I had a morning flight to my next destination, so I had to say goodbye to the "Palazzo Versace" at half past seven in the morning as I was picked up right outside it and then driven off to the airport to catch a plane to Melbourne.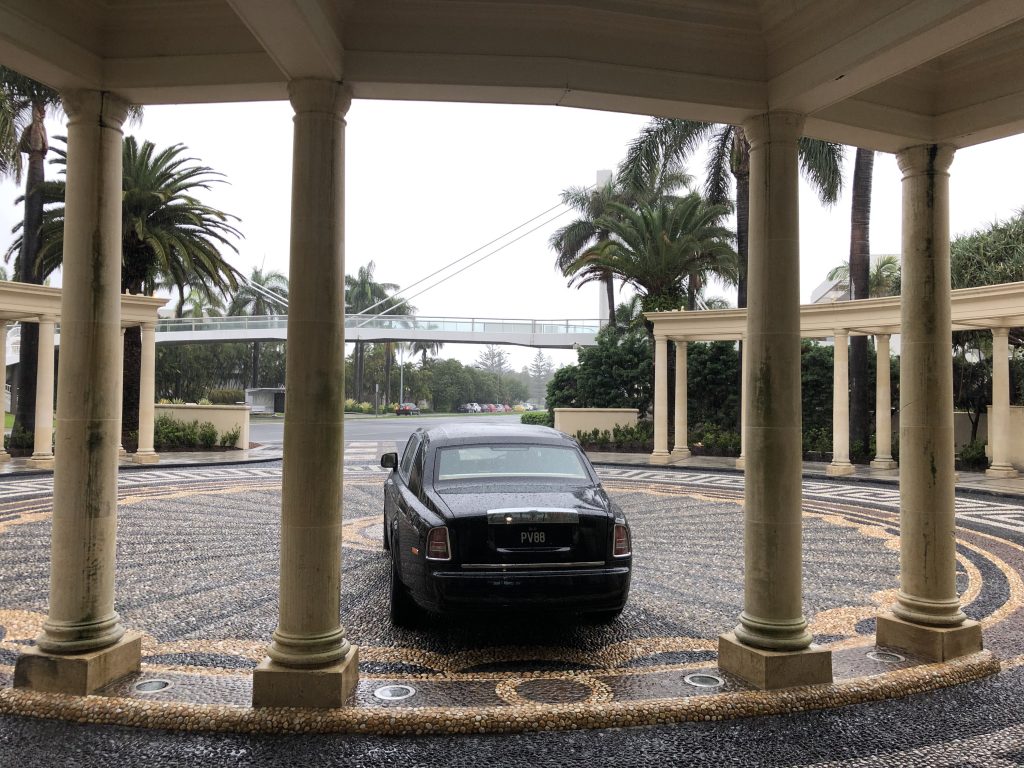 Part Three coming soon……….