I hope that if you enjoy and indulge in Halloween and Bonfire Night, that you had a good time. I have never really been a fan of Halloween even as a child. I never went trick or treating. Also I have never liked horror films or anything scary. That is possibly why it never really did it for me or to be honest why it still does not. That said I would like to go to Jonathan Ross's big Halloween Party one year, it does look like brilliant fun. And I quite fancy dressing up in a ridiculous outfit. Plus the guest list for that event is usually very impressive.
I am a little more on board with Fireworks night. I was taken to lots of displays as a kid. I do remember we had some family ones at my Nan and Granddad's. Where the men would take all the shop bought fireworks up the garden in a biscuit tin. Then take turns to set them off. I am pretty sure health and safety had not been invented then, as I do seem to remember having to run for cover on more than one occasion, as they misjudged the direction of a rocket. Let us call it character building entertainment. I did not go to any displays this year. I think decades of working at them as a radio presenter has made me feel that may be I have earned a break from them.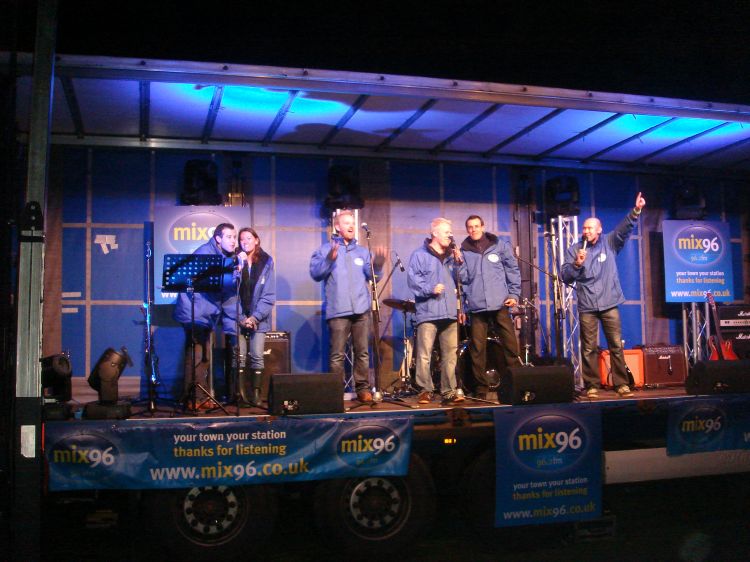 A big horse racing fan, I now have a very small amount of shares in two race horses. A couple of Sunday's ago I went down to see one of them at the trainer's stables in Somerset. Which was quite apt, as I went to my first course when I was living in Yeovil, while working at Ivel fm. Wincanton Races used to advertise with us and as a result of that, we occasionally got some tickets to go and watch. In fact we did a live broadcast from there one afternoon. Channel Four Racing had to ask us to turn our radio mic off, as it was affecting their sound. It was also at Wincanton Races that I saw the Somerset legends the Wurzels perform for the first time. It is a decent little track.
Driving down to Somerset that Sunday morning via the A303 gave me a very nostalgic feeling. Having done that journey many times during the five years I lived there. It was actually quite nice to once again pass Stonehenge and drive through some of the small villages round there. My horses' are both trained by the current Champion Trainer Paul Nicholls out of his stables in Ditcheat, which is only about ten minutes away from Wincanton. It was an open day at the stables organised by the Owners Group. A lovely crisp but sunny autumn day as we arrived at the former dairy farm, which is now home to over sixty horses.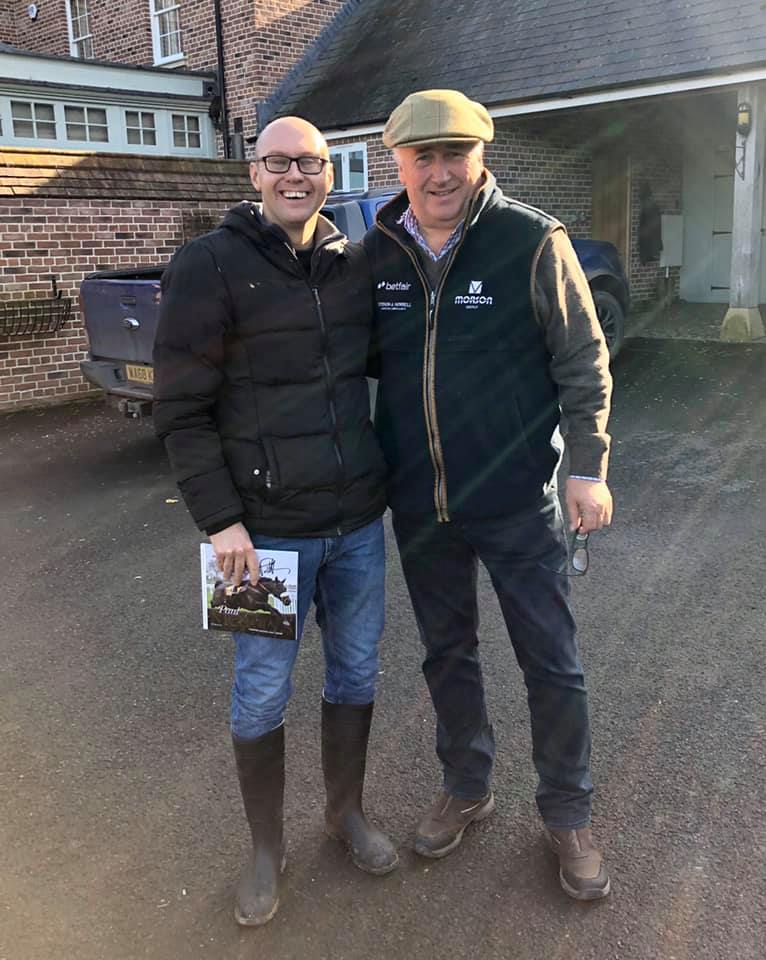 They had bacon sandwiches and hot drinks waiting for us. Which were very welcome after the two and an half hour drive. Then we went to the courtyard at the front of the house to wait for the proceedings to begin. Out walks Paul Nicholls himself to greet us and say hello, then a selection of horses are paraded in front of us including mine who is called "Force Ten". The trainer then tells us a bit about each of them. While we take as many pictures as we like. There is then a question and answer session. Before we are then allowed to have a good look around the stables.
At this point all I wanted to do was go and see my horse "Force Ten" in his home. He is a lovely horse, only four years old. But he is doing well in training and everybody is very happy with him. I managed to find his stable and get even more pictures of him. Then before I left I got to have a quick chat with Paul Nicholls and have my photo taken with him to.
I am hoping for many years of enjoyment from watching and supporting this horse. As I am a bit more involved in the sport. I am starting to discover and learn much more about it, which is great. The Jockey colours are purple with black stripes on the sleeves and a black hat. Keep an eye out for "Force Ten" and if you see him at a race course, could you cheer him on for me please?
The visit was brilliant. Everybody was so helpful and friendly. It was wonderful of Paul and all his staff to give up their time to let us see the horse and also the quality facilities that he has at his disposal. I hope to visit the place again at some point in the future. I was at the races at Newbury last Thursday to see "Force Ten" make his debut. He ran well and led for most of the way round but found the last few furlongs tough going. It was brilliant to see him in action. This is very much just the start of things, I hope.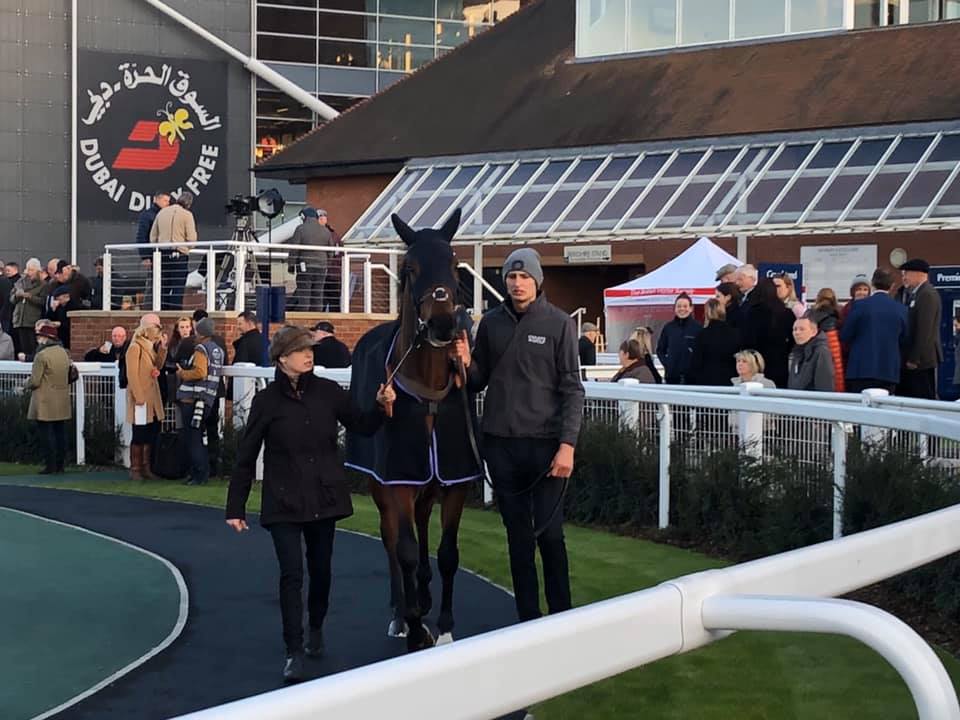 I went to the world famous jazz bar Ronnie Scott's for the first time earlier this year. I absolutely loved it, such an amazing place to have a drink and listen to great musicians play. Tickets are quite hard to come by as the place is pretty much sold out all of the time. It has been a cool place to be seen at for many years now. Many familiar faces have been regular patrons virtually since it was launched.
On the thirtieth of October 1959 the club opened its doors for the first time. Sixty years later to the day there was a huge celebration to mark this achievement at the Royal Albert Hall. I was fortunate enough to be able to get a ticket to attend this event. I went with a few mates of mine. We grabbed some food from the nearest pub to the venue. Then made our way to what is arguably one of the best places to enjoy live music in the country. The line-up as you would expect was very impressive. The place was sold out.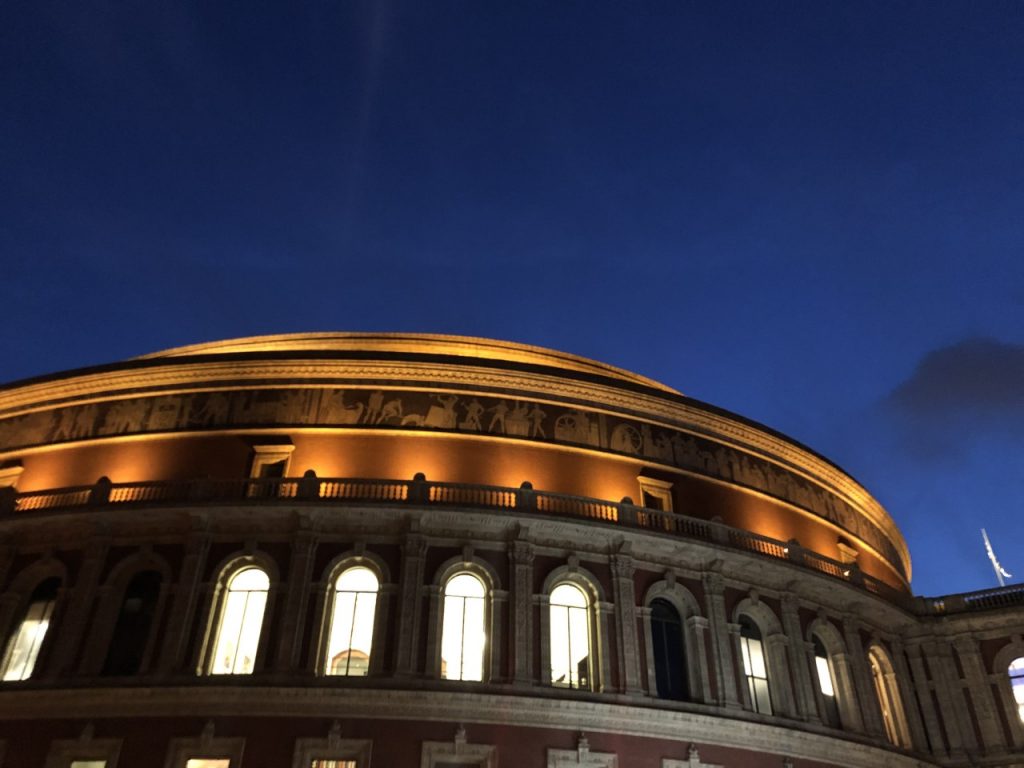 It was a musical celebration alongside a history of the club itself. It was hosted by singer and actor Clarke Peters. He took us through the trials and tribulations of the place assisted by photographs all displayed on the big screen. This was broken up with the excellent musical performances. I was delighted to see Curtis Stigers appear and do a couple of songs. He really does have such a lovely and also distinctive voice. He was a bonus as he was not listed as appearing.
Next up it was the well-known violinist Nigel Kennedy who played a couple of Jimmi Hendrix numbers. The reason being the guitar god actually played his last ever gig in Ronnie's before he tragically died. That was quite an experience seeing Nigel in action. He does really put on quite a show. I was looking forward to seeing Georgie Fame play. But unfortunately he recently had a fall and was unable to perform. His band the Blue Flames were there and singer Kurt Elling stepped in to do a couple of Georgie's songs with them.
Now the next man I was looking forward to seeing can be a bit of an enigma. If he has not been in the mood or not happy with how things are going, he has been known to walk off at his own gigs, after a few numbers. Happily Van Morrison seemed to be on good form on this night. He came on with his trusty saxophone and did a couple of jazz standards. He was absolutely brilliant, whatever opinions you may have of the man himself, you cannot argue with the fact that he is a fantastic musician. Who does have a certain sound and an instantly recognisable voice! I thought he was superb. I am so pleased I have now managed to see him live.
I have for many years now been a fan of Imelda May. I think that she has an amazing voice. She produces great songs. And she has a really good energy about her. That is something I really like in people in general, as well as my singers. I was even more excited when she replied to a tweet I sent her before the event. She was outstanding, she had the whole place hanging on her every word. It was a full on powerhouse of a performance from start to finish. I will have to go and see one of her gigs next time she is out on tour. Top quality.
A special mention has to go to the fabulous Madeline Bell. She was the penultimate act on the evening. She is seventy-seven years old and was bouncing around the stage like a teenager. I do not think I have seen anybody put so much in to a performance. Add to that the fact her voice sounded sensational. She was brilliant and is now my new role model. I honestly want to be more like her. She even had her mobile phone on stage taking pictures of the audience. What a lady!
Ronnie Scott the man himself who opened the bar with his business partner Pete King was a Saxophone player of some note. Who of course regularly used to play and run the band at his club. For the finale at the Albert Hall to mark his preference for this instrument and to celebrate the years since the place launched. They had sixty tenor saxophonists on stage. That was quite a spectacle. It was a top night out with high class musicians and entertainers. I will I am sure find myself in Ronnie Scott's again before the year is out. It is a really cool place.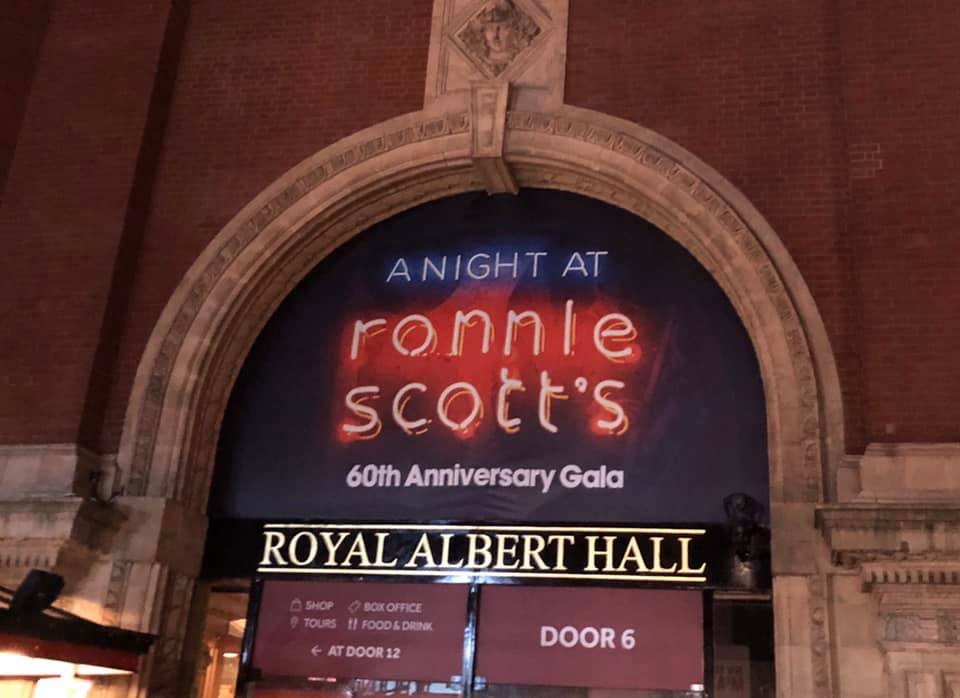 I guess in many ways I am just a big kid at heart, which is probably why I was so excited when I got my hands on some tickets to see the latest London production of Mary Poppins. I used to love the film as a child. And like most people in the county I already know all the big songs from it. It is on at the Prince Edward theatre in Soho. I went to see it the other Thursday. I had seen the actor playing Bert, Charlie Stemp star in Half a Sixpence a few years ago, then in the last two pantomimes at the London Palladium. I already knew he was ace. I thought he would be perfect for this role, as I know he can sing, dance and act brilliantly.
I was way more excited than a man of my age really should be, as my sister and I took our seats in row 3 of the stalls ready for the start of the show. What can I say? The show was absolutely amazing. The staging and the choreography were out of this world. It was so clever how they made all the magical and spectacular things from the film work on stage. Zizi Strallen as Mary Poppins was practically perfect in every way. Joking aside she was just stunning in the role. A lot for her to do and she did it all fantastically with authority and grace. You could not take your eyes off her whenever she was on stage. It felt like she was totally in control of things. Just like Mary Poppins is.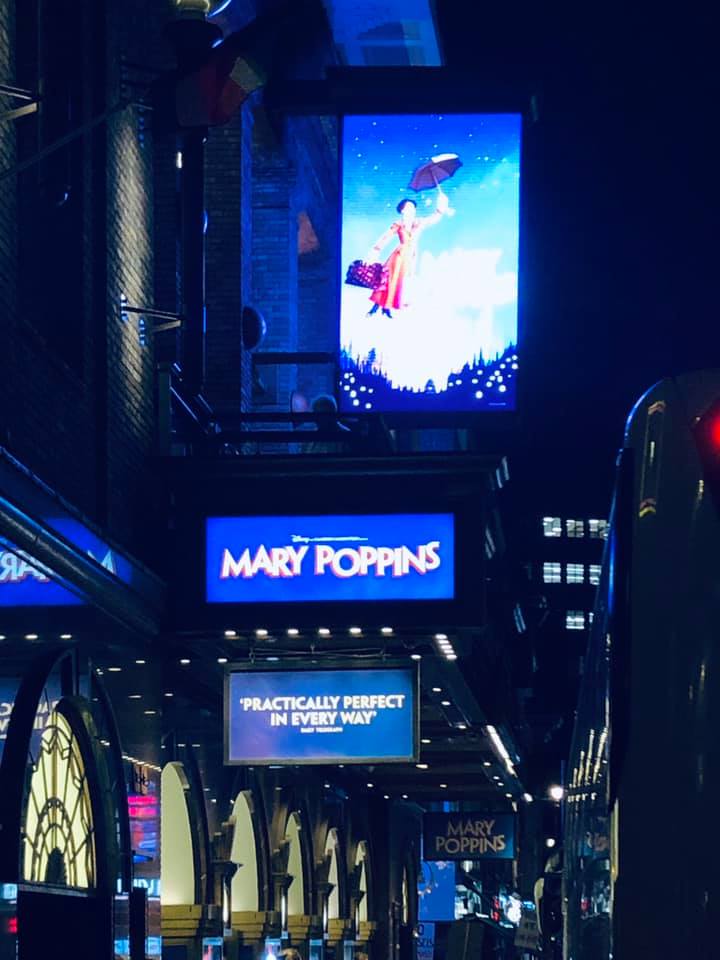 I also felt I was totally right about Charlie Stemp. He was brilliant as the chirpy Bert. Just like Zizi whenever he was on stage he fully held your attention. The transitions between scenes were so slick and so very clever. The dance routine for Step In Time is almost worth the ticket price itself. It is just a stunning piece of theatre. You also get a cameo appearance from the wonderful Petula Clark to. In fact the whole of the cast are amazing. There is so much going on at any one time it is actually quite hard to take it all in. It has it all, great songs, amazing dance routines, comedy, tragedy and of course a huge slice of moral dilemmas.
I defy anyone not to see that show and leave in a upbeat and happy mood. It received a massive well deserved standing ovation at the end. There are many surprises that occur that I am obviously not going to spoil for you here. This show is only on for a very short time but it is definitely worth seeing, if you have the chance. If I was to try to some up this version of Mary Poppins in say just one word. Then I think I would call it supercalifragilisticexpialidocious.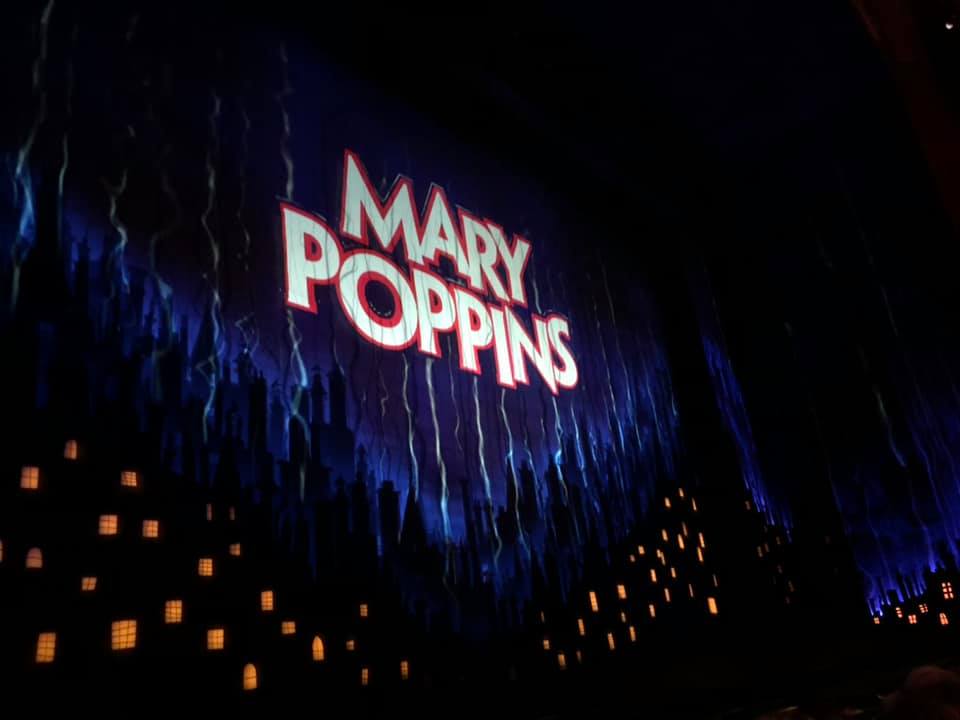 I was up in Liverpool for a few days last weekend. Normally I go up there and stay with a mate of mine. And if we can we always try to see the Everton against Tottenham game together. However this time due to a piece of very unfortunate timing. The match was moved from the Saturday to the Sunday for television. This meant my friend was not going to be able to make it, as he was going away. He did however offer me his ticket, so I could still go and see the game at Goodison Park.
For the first time in years I now had to find a hotel to stay in. Many years ago I remember seeing possibly one of the first ever fly on the wall documentaries about the Adelphi Hotel in Liverpool. It was a grand place with a large ballroom and suited smart guests, as I was looking for somewhere to stay. The option to stay there arose. It is not the same level of hotel it once was it is fair to say. It looks great from the outside but the inside is looking a bit tired and old. It could do with a little bit of a makeover to be honest. But it is in a great part of the city and I only really needed somewhere to sleep. Therefore I booked it for my stay.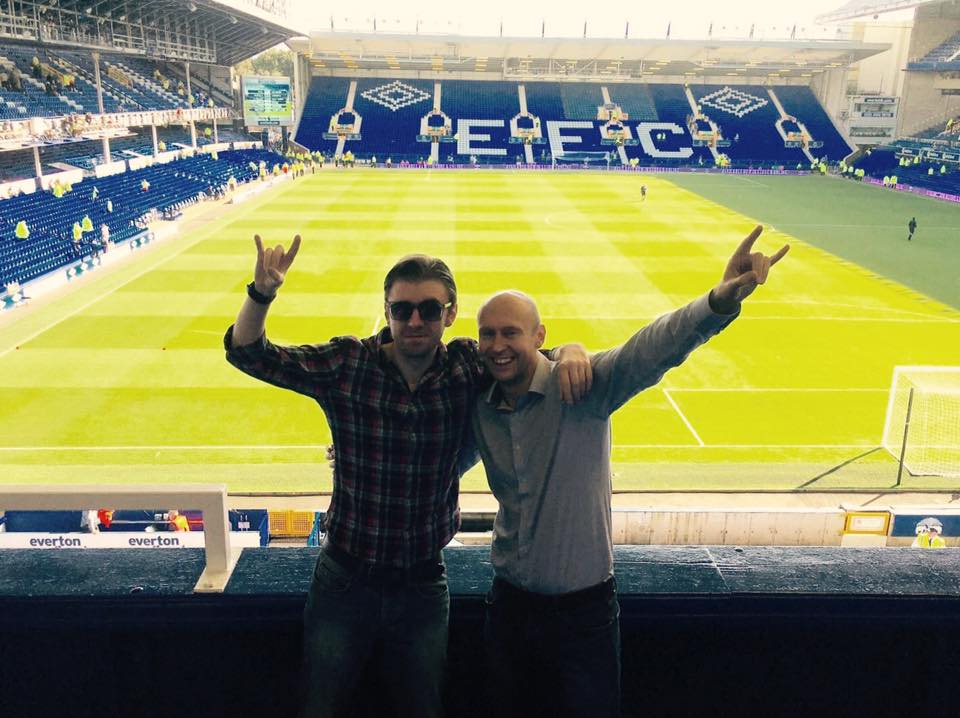 I arrived about six o'clock on the Saturday evening. Checked in and made my way up in the lift to my room. I think they were still the original lifts from the nineteen fifties. It was certainly the slowest lift that I had been in for a while. The room was fine and it fulfilled my needs for the weekend. I just had time to get changed and grab half a Pizza on the way to meet my friend's cousin, who was meeting up for a few drinks with me.
He took me on a tour of about six or seven different pubs and bars that I had not been in before. They were all decent establishments with a nice selection of beers and good music, which is what you want from a night out. I had not seen him for a while so it was good to have a chat and a laugh. We finished the night in a bar just round the corner from the hotel. It had a couple of old school singers doing all the classic hits from the sixties to the eighties. It was the perfect way to end the evening.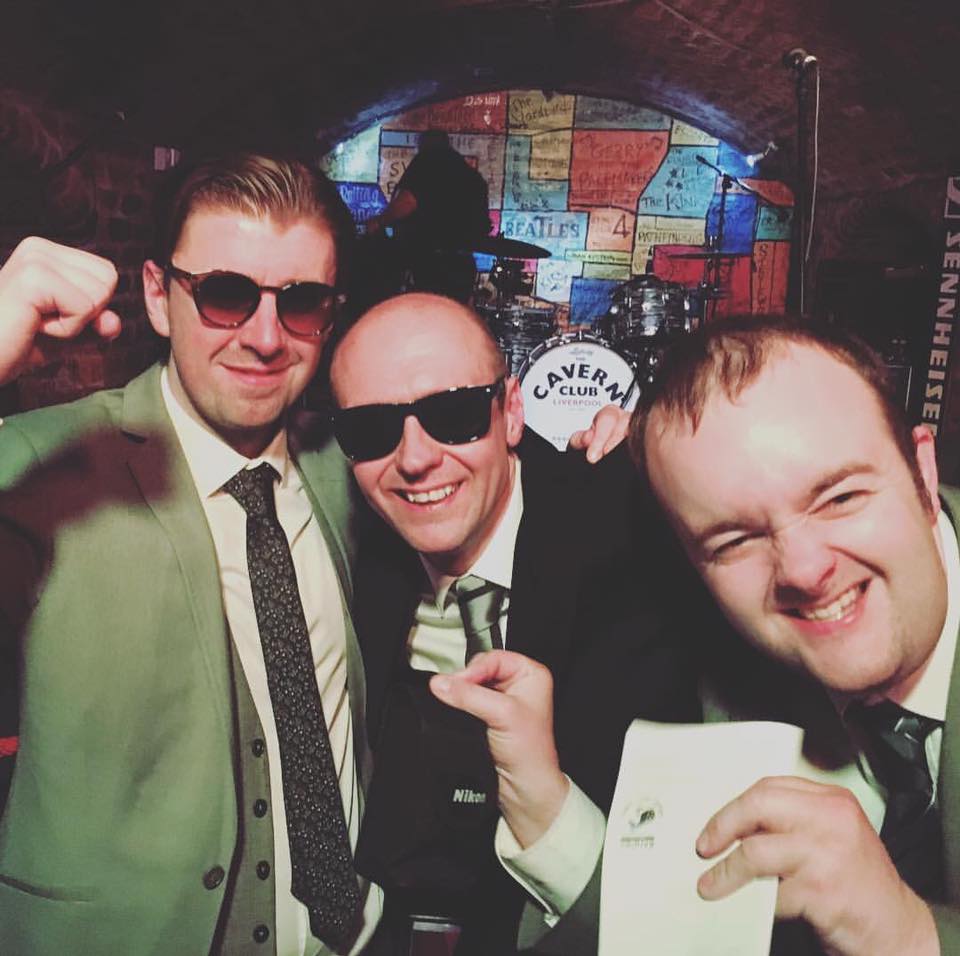 The next morning it was game day. I got up and treated myself to a large breakfast at a Wetherspoons before getting the train to see my mate's dad, who I was going to the match with. We had a few drinks at some classic pubs on the way to Goodison Park, which was good fun. Once in the ground I had a beef pie to soak up a bit of the beer. Then I took my place in my friend's seat to watch the game.
Both teams are not having particularly good seasons. This was reflected in the game as both teams were poor. It ended in a one all draw. It was an awful match. That sadly did feature a terrible injury to the Everton player Andre Gomes. I wish him a speedy recovery. Nobody likes to see these things happen on a pitch. I really do like Everton's ground. It is a proper traditional football stadium. And their supporters are great.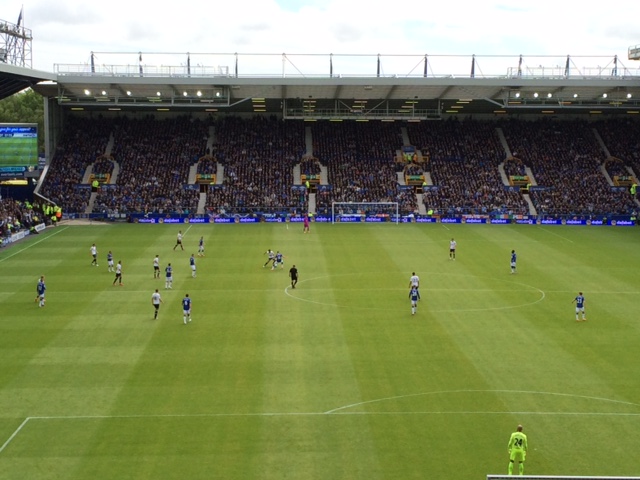 Straight after the game I met up with the bloke I was with the night before and gate crashed a family night out he was having at The Hot Water Comedy Club. Unfortunately due to the game over running we actually missed the first part of the comedy night, as we arrived too late. We had a drink in the bar while waiting for the next break, so we could then go in.
We got in for the second and third sections of it. I thought it was a really nicely run little comedy club. The stage, sound and seating was spot on. The compere for the night was good interacting and talking with the audience. The rest of the acts were a bit more hit and miss to be honest. But in their defence it was a new material night, so they were trying out some new stuff.
When the comedy was over I had a final quick drink with them in a Karaoke bar. While I was there I got to "enjoy" versions of Bryan Adams and Cher songs. I then left them there stopping on my way back to the hotel for a cheeky late night McDonalds. Well I was on holiday, sort of. I got the train home on the Monday morning after another great couple of days in a City that I am very fond of.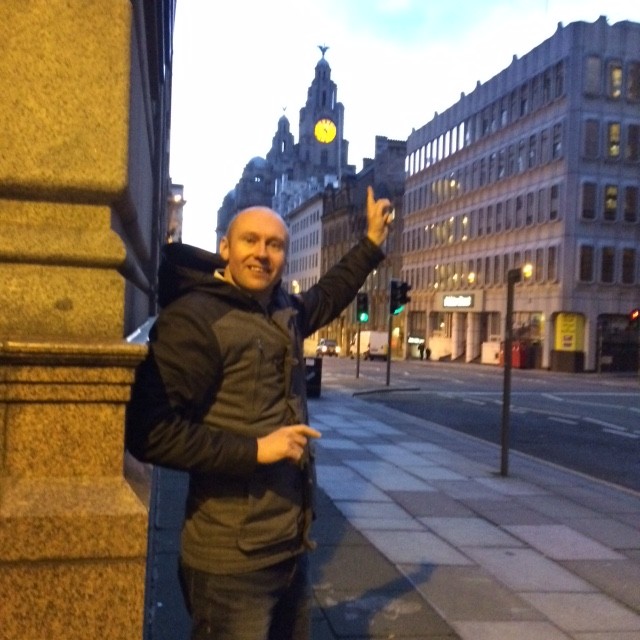 My Granddad grew up there after moving over from Ireland. I had a bit of an odd experience in one of the pubs on the Saturday night. I was standing by the bar, when I noticed a man by the entrance. Who seemed to be looking at me. I looked back at him and noticed that he was a spitting image of my dad!
This was totally confirmed as I walked past him on my way out. We did not say anything to each other. When I got home I checked with my dad. He told me that he does still have some cousins in Liverpool. I am guessing this bloke must of been one of them. Either that or my Granddad may have had a son up there, who we did not know about.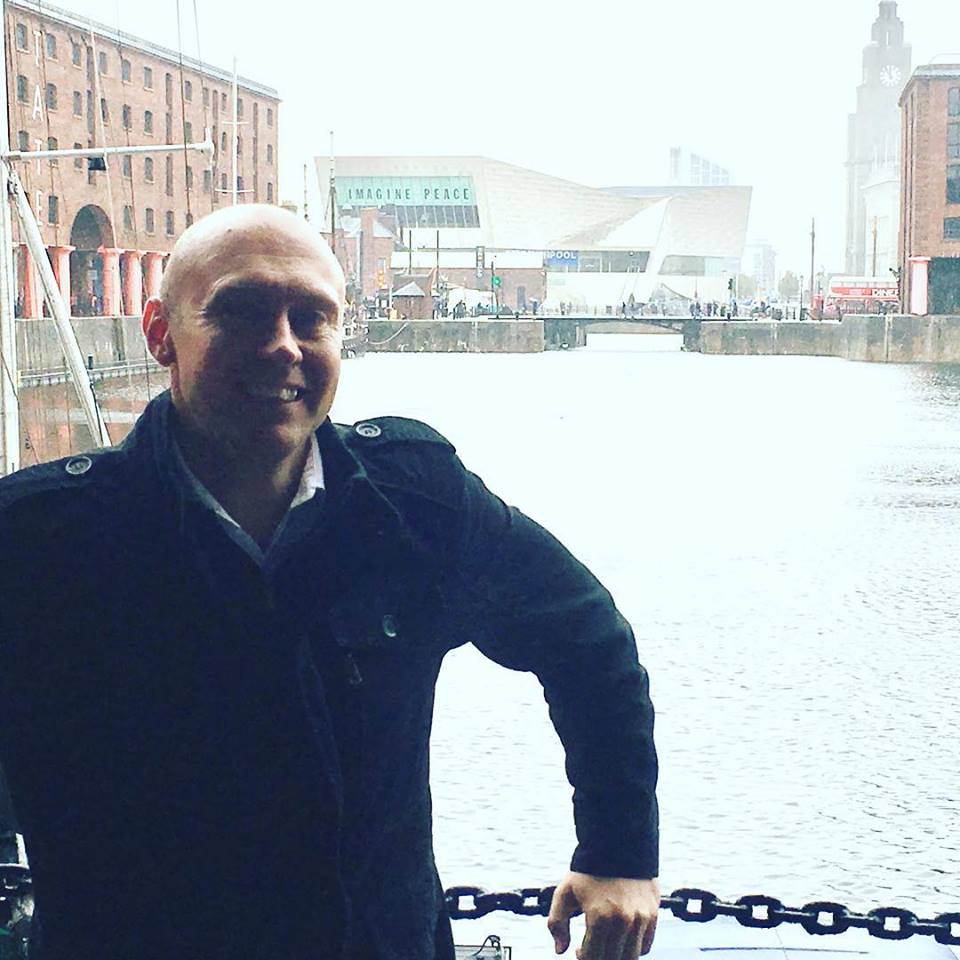 I had my annual Asthma check-up recently. During which I received my yearly telling off about using my inhaler incorrectly. I have been using them since I was seven. But have never been able to do it the right way. Anyway I am all fine and it appears to be under control. I did also take the opportunity to have the flu jab. As I am very much of the thinking, if I am entitled to it, I will have it. If you can have it, do have it. I think it makes sense.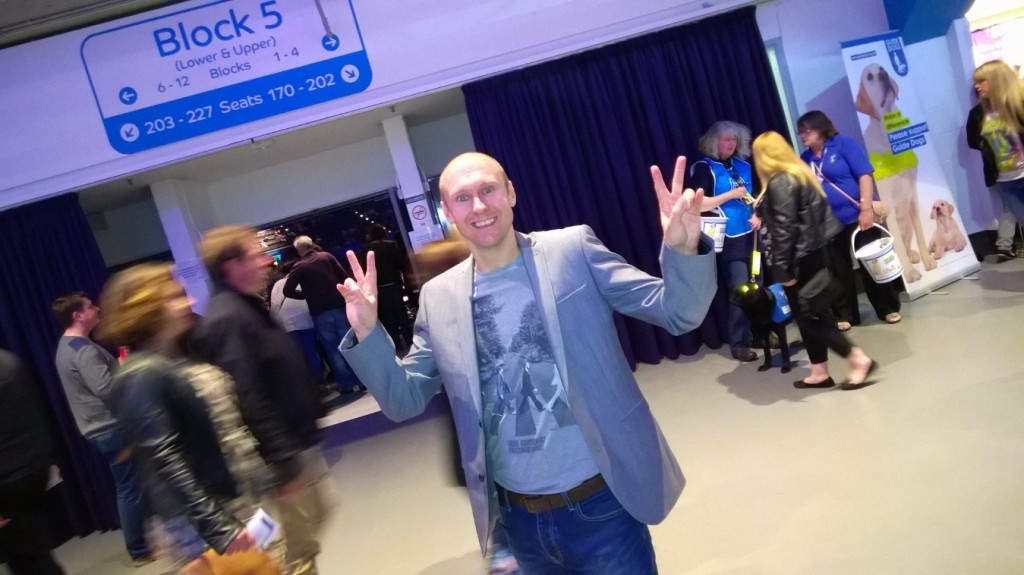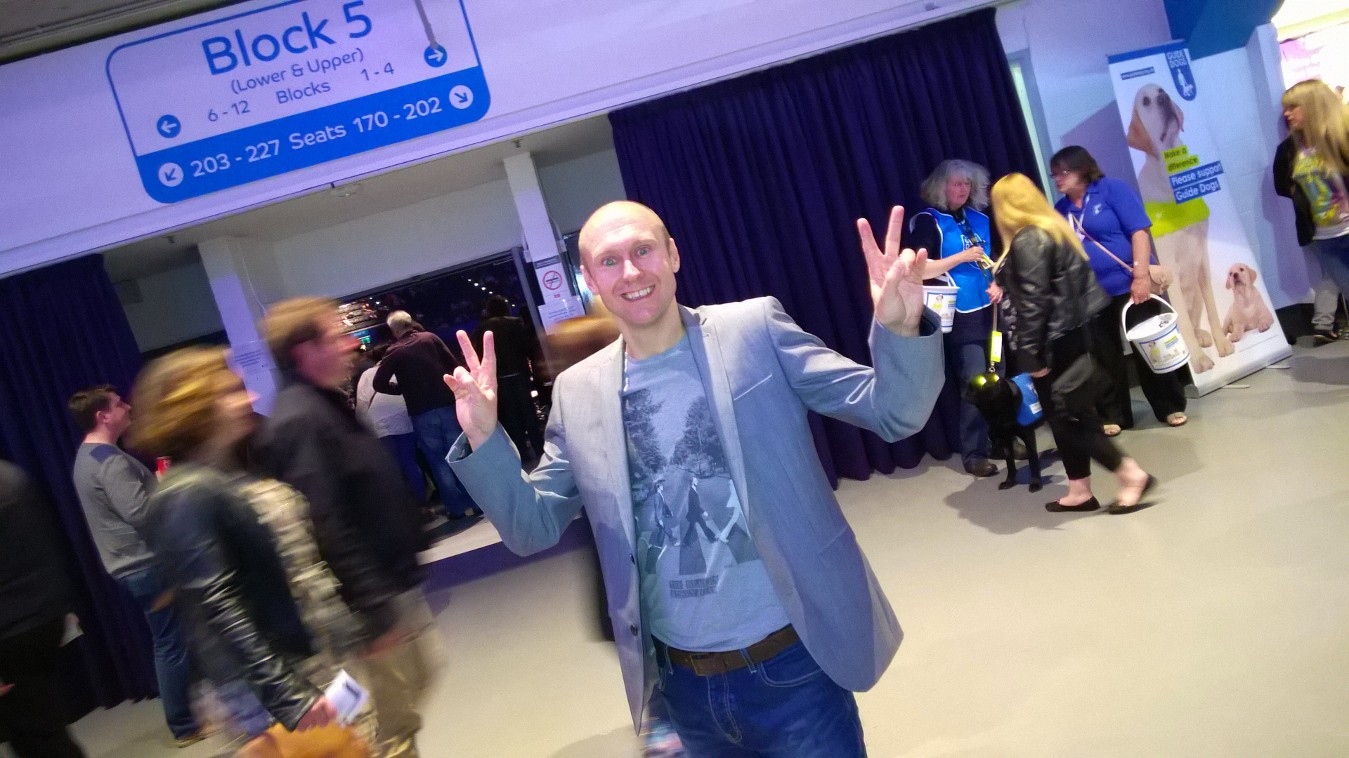 The less said about Tottenham at the moment the better. But this afternoon I am going to watch them play against the team who I own shares in. About twenty years ago a mate said it would be good to buy shares in Sheffield United. He convinced me and another mate and we put one hundred pounds in each and bought three hundred pounds worth of shares.
The plan was to make some money. We still have those shares. They are now almost worth what we paid for them originally. Needless to say I have not taken any financial advice from this particular friend since, although I am looking forward to the match. And just to be clear I want Spurs to win it.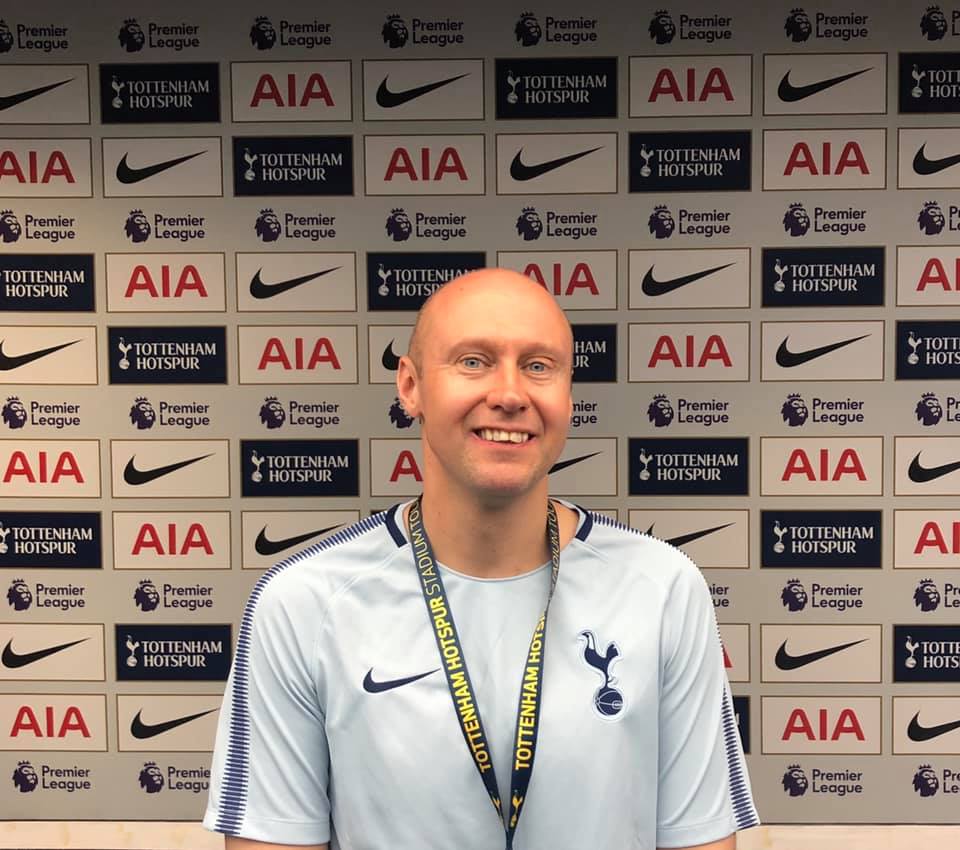 Have fun and we will catch up again in a couple of weeks. Cheers Neil.