It is no secret that I am a massive fan of comedy in all of its many forms. I have in the past done a little bit of stand up myself. This is something I still hope to do more of at some point in the future. It is great fun to do, if not a little bit terrifying. Having tried it I have huge admiration for anybody who gets up on stage and tells jokes. It is not as easy as many of the world's comics make it look. But the buzz you get when it goes well is possibly unbeatable.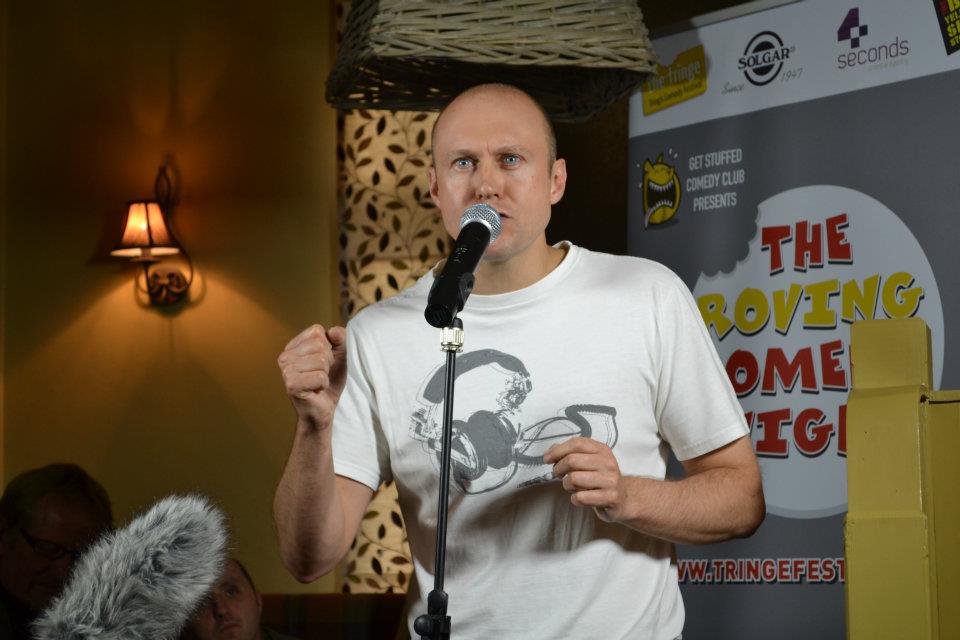 Last year I made my first ever visit to the famous Edinburgh Fringe Festival. I had such a brilliant time, that I headed up to the Scottish capital for a few days once again this August. The whole thing runs for around three weeks. I went for a long weekend, around the half way point. The city is totally rammed with people. As not only is it a great tourist attraction in its own right. But the Edinburgh Military Tattoo is also on. Not to mention the World's biggest Arts event that I was in town for.
Therefore it does pay to have a great deal of patience and a decent sense of humour. Which I think is also a useful thing to possess when attending a comedy festival. The plan for my trip was to try to see as many shows as I possibly could. I decided to take the train this time, having flown previously. On the journey up there this did not quite go completely as I intended. I got the train from my home into Kings Cross in London, which went fine.
Somehow when at Kings Cross however I managed to get on the late running 10.30am train. Instead of the 11am departure that I had pre booked my seat on. In my defence there was nothing on the board at the platform but people said the train was going to Edinburgh. I had no idea previous train was late. I thought I was just getting on a little bit early. When I got to the seat printed on my ticket it did not match my journey. I thought at this point the train company had made the mistake, not me. It was not until we pulled away ten minutes before we were due to leave, that I realised I was on the wrong train.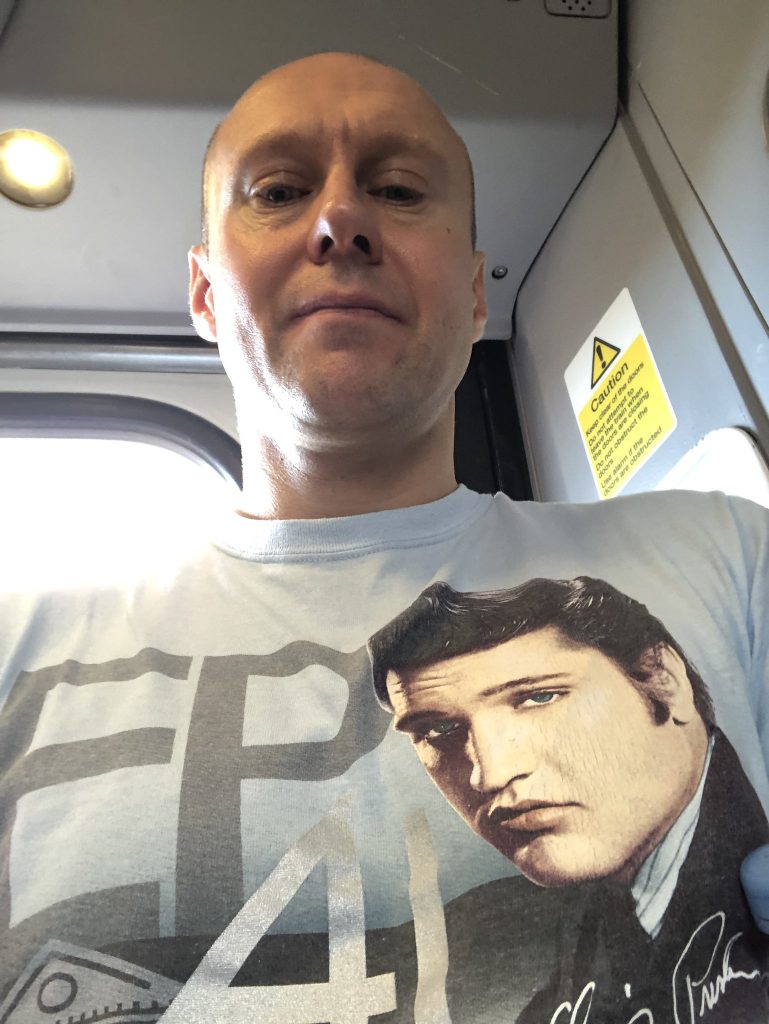 The guard kindly let me stay on and complete my journey. But it did mean that I had no guaranteed seat now. I ended up standing by the toilets until we reached Darlington and a place became free. Not the ideal start to my Fringe experience. But in a way it was fitting that as I was going to a comedy festival, my travel plans were turning into a scene from a sitcom. That was the sort of thing that Mr Bean would probably do, as it happened the train I was now on was running late. So I arrived in Edinburgh about an hour later than I was supposed to anyway, despite accidentally catching an earlier train.
On arrival I walked straight to my accommodation. I never went to University so never got the chance to stay in student digs. Edinburgh is a massive place for study now. Therefore is full of such buildings. I figured I only needed somewhere basic to sleep, as I would be at gigs most of the time. I booked a room in some student flats. It was pretty simplistic but did have a bed, shower and a toilet. That was all I really needed. As I checked in at the front desk the member of staff I spoke to was also from Buckinghamshire, small world.
Before I went exploring I quickly nipped out to the local shop to get some emergency supplies for the room, two big bottles of water and a packet of Jaffa Cakes. Which I believe is what Bear Grylls packs in his survival back pack. The Edinburgh Fringe has a great website on which you can book tickets to all the shows. Pay for them on line and then pick them up from various box offices around the city. I had two shows organised for that evening. Which I grabbed the tickets for at a ticket outlet on the Royal Mile.
I just had time to have a quick Lasagne and chips at Pizza Express. Then I made my way to my first gig of the weekend. That was Paul McCaffrey and his current show "Lemon". I had seen him do some new material at the Old Rope Comedy Club in London and had really enjoyed it. Therefore I was looking forward to seeing his full show. It was excellent. He is a very personable and likeable performer, who is very funny. Hilarious jokes and spot on observations. He was at one of the many Underbelly venues. It was the perfect start to this year's Fringe fun!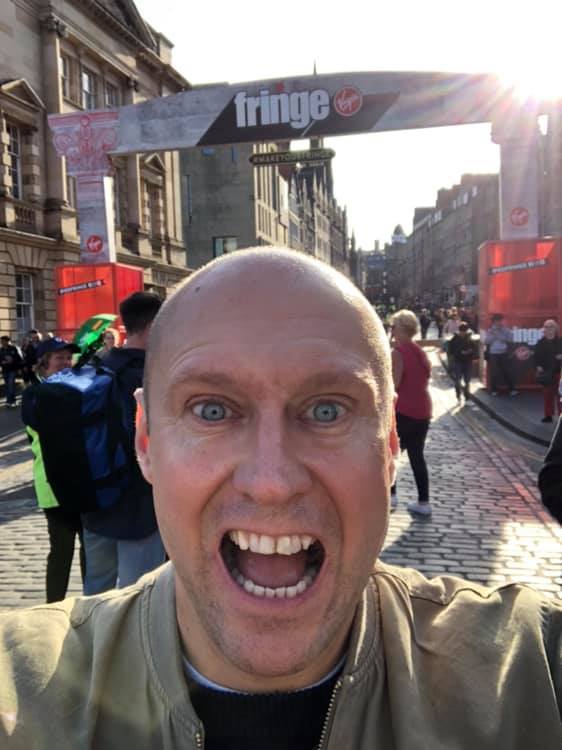 There are lots of very different venues all over Edinburgh. A lot of the bigger ones have several rooms in the same place, different bar areas and food outlets. My favourite one of these is the Pleasance Courtyard. They always have amazing acts on and I like the feel and atmosphere of the place. It is somewhere that I would tend to hang out at if I had some time between the shows that I was seeing.
It was there I headed for my next gig. That was Alun Cochrane with his "Brave New Alun" show in the Cabaret Bar. I have been listening to a lot of the Frank Skinner podcasts recently. Alun is on with Frank, which is one of the reasons that I went and saw him. I was aware of him prior to his new association with Absolute Radio. His show was fantastic. The content was properly funny. And as it happens I agree with the way he views comedy and also the intricacy of the current climate. When you are telling jokes with no other thoughts or angle other than just simply trying to make people laugh.
After a pint and a Crepe filled with Lemon and Sugar I called an end to night one and returned to my student flat to get some sleep. Not sure I missed out not going to University. I was disappointed to see that there were not any parties to attend when I got back to where I was staying. I got a decent night's sleep. In the morning my first job was to work out what shows I was going to see that day and to book all the tickets for them online.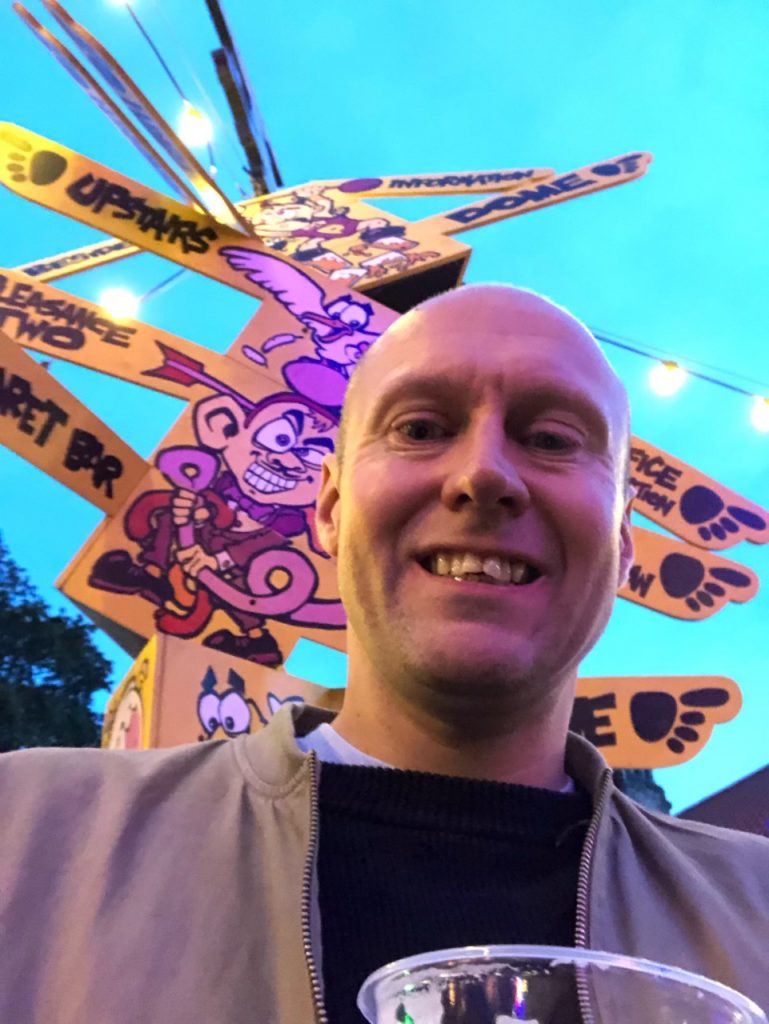 The intention for my two full days there were to witness five shows a day. Before I left the flat on Friday morning I had all of that day's gigs sorted. The first one started at midday. I had to grab breakfast on the way there, so I let the golden arches and Ronald the Clown take care of that for me. My first gig of day two was Michael Legge and his new show "The Idiot" on at the Stand Comedy Club. He was drawn to my attention by other comedians mentioning him on Twitter. Reading a few of his observations online convinced me to see him.
He was brilliant. He does have quite an angry and aggressive style of delivery but it's all carefully constructed and very funny. At first I did not share his radical views on the many silent disco groups around. However as the weekend went on and I kept getting trapped in the middle of them. I quickly came round to his way of thinking. This one is possibly not for the faint hearted with some of the subjects that he mentions but I loved it.
Next it was a bit of a gear change as I headed off to The Pleasance Dome to see "Late Lunch with Biggins" I met and interviewed the legend that is Christopher Biggins, when I was working at Ivel fm in Somerset. Not long after he won I'm A Celebrity. He is such a nice and lovely person. His show at the Fringe this year is a kind of chat show. He is introduced on stage and starts off by telling a few jokes and a few stories from his long and varied career.
Then one by one he brings on his three guests. At the performance I was at these were the super talented impressionist Ronni Ancona, who was ace. Then we had one of the stars of The Tap Pack dance show. And finally a Scottish Chemistry teacher who is also a LGBT activist. Whose school does a lot of great work in that area. It was a really enjoyable and very funny show. Biggins knows and is friends with the whole of show business. He has some great anecdotes. I mean anyone who can name drop Frank Sinatra, gets my vote.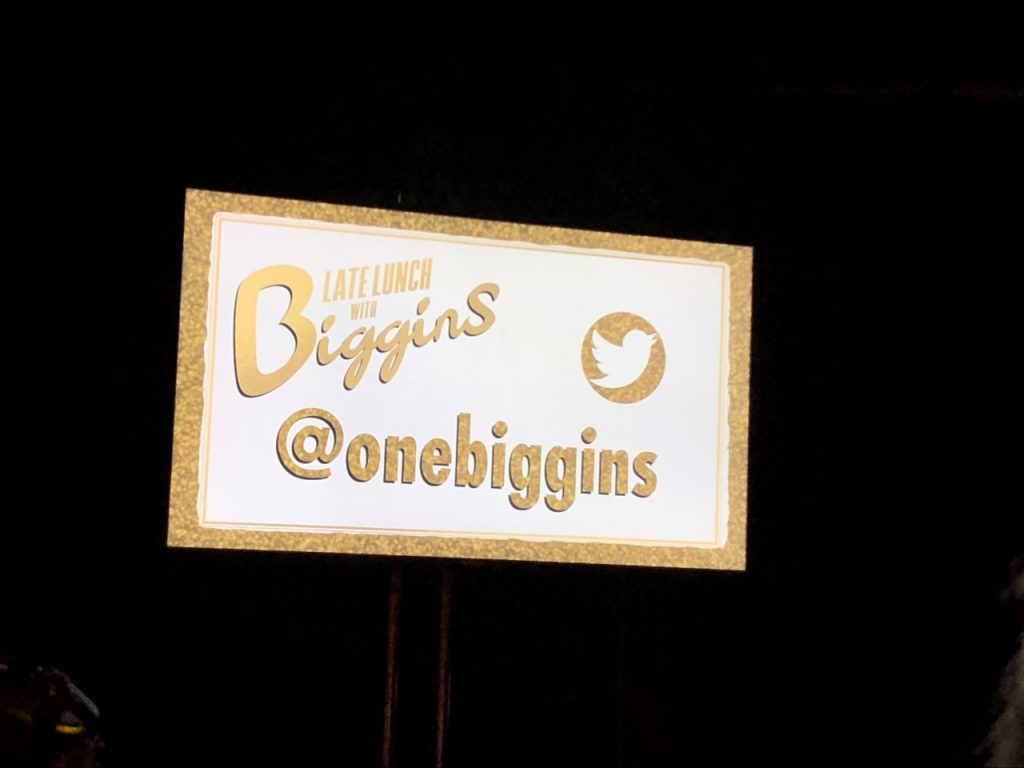 In between shows I was just grabbing quick drinks and some food. If you want to maximise the amount of things you see, it is advisable to stick to a tight schedule. The next comedian I saw was the wonderful Hayley Ellis. The reason I went to see her is that she recently was the support act for Sarah Millican. And I spotted her recommendation. I was really pleased I caught her. She was fantastic. I thought she had a lovely manner and style about her, very likeable. Her show is called "Nobody Puts Hayley in the corner"
I would definitely recommend you go and see it if you can. It is real, honest and expertly put together. She is certainly somebody to keep an eye out for. I suspect and hope that you may hear about her more over the next couple of years. I thoroughly enjoyed her performance. I even got to slightly join in at one point, which I like. Plus there was a chance of sustaining an injury at the end. Which I suspect would of been a unique incident even for one of these no blame, no claim sort of places.
Show number four was to see a lovely comedian whose work I have been aware of for many years. We follow each other on Twitter. And have had occasional interaction on there. But up until this point I had not seen him perform live. He is Tony Cowards and his show is called "Stepdad Jokes". He is a classic one liner comic and possibly the king of the puns. Add to that the fact that he is such a friendly and totally inclusive performer. It was a joyful experience.
I thoroughly enjoyed the show. It contains lots of not only very funny but very clever jokes. One of the other comedians mentioned this at a later date but there does seem to be a high number of Doctors in the Fringe Audiences. There were two at this gig for starters. They must love their comedy. I managed to have a very quick chat with him after the show, which was great. He gigs all over the country. If you get the chance do try and catch him.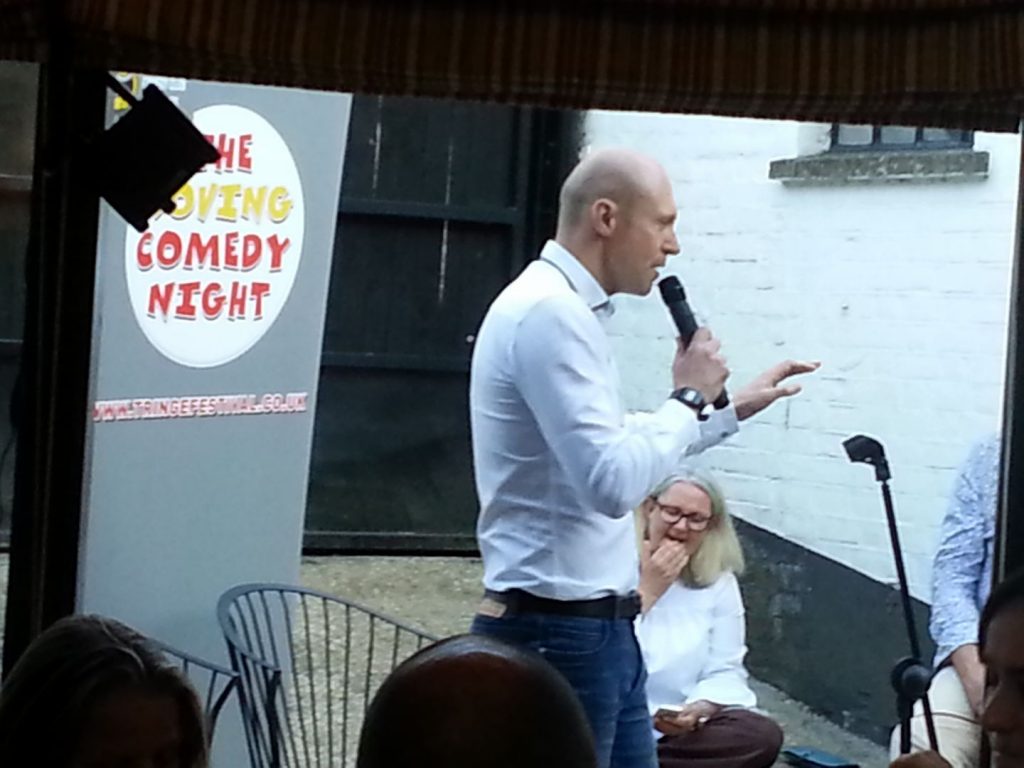 The final show on day two of my Fringe was one I did not think that I would get to see as her normal daily shows had sold out. Luckily for me she was doing a couple of extra weekend only performances. And I managed to get a ticket for one of those. I had seen this lady host a night at the Old Rope Comedy in London a few years ago. Her show in Edinburgh last year got excellent reviews. And this latest one was possibly going down even better. Maybe helped a bit by her winning appearance on the last series of the Dave TV Show Task Master.
I am taking about the hilarious Lou Sanders. Her latest show is called "Say Hello to Your New Step Mummy". I got a front row seat to enjoy the action. It was totally brilliant. She is extremely funny and unique in her style and her material. I can guarantee you there are no other comedians doing jokes on some of the topics she covers. Personally I love the way she portrays herself on stage. The jokes and writing are very clever. It all just works. She is on the up and up at the minute. It comes to London at the Soho Theatre in a couple of months. Go and see it and have a bloody good laugh.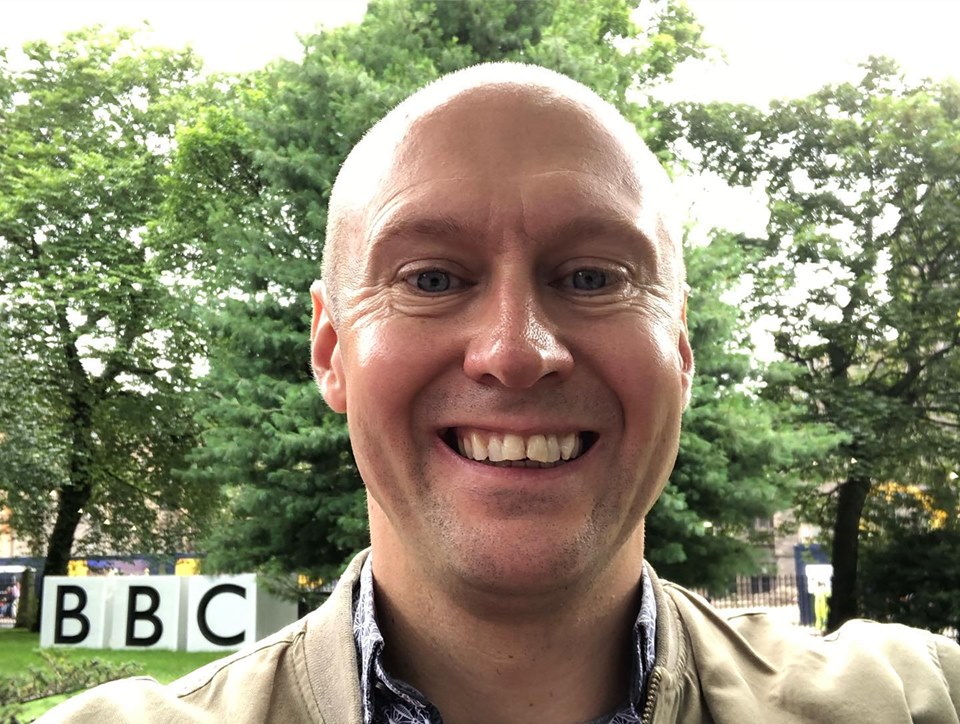 I rounded off the night in a bar listening to some live music. I caught the end of a band and then the first couple of songs of a guitar based trio. Both were ace and made a nice accompaniment to the final pint of Peroni that I was enjoying. After which it was then time to head off home to get some sleep. To be ready for another five show day on the Saturday. I was still a man on a mission.
As previously, I booked all my shows online and then collected the tickets when I reached the City Centre. The first thing I was going to see did not start until 12.30pm. Therefore I had slightly more time for brunch. So I found a really nice cafe near the Gilded Balloon area. Where I had scrambled egg on toast with bacon and a big pot of tea. This set me up nicely for the adventures ahead.
I decided to take a brief break from comedy and see a musical show. Being a fan of country music and a huge admirer of this lady. I went to see "The Dolly Parton Story". It featured a guitarist and a female singer, unsurprisingly. There were pictures and a narration of her life story up on a big screen on the stage with the duo performing Dolly Parton songs, as the narrative progressed. It was nicely put together and very informative. I honestly learnt quite a lot of things that I did not know about her life and career.
The stars of the show were of course the two performers. They did a fantastic job doing those hugely well-known songs. I was a little bit concerned before it started as her songs are tough to sing. But the twenty-one year old singer nailed them brilliantly. I will let you in to a little secret "Coat of Many Colours" always makes me cry, it always has and I suspect it always will, every time I ever hear it. There was a nice feel to the show. It ended with us all up on our feet singing and dancing along to "9 to 5". A perfectly performed show. It was a very enjoyable start to my final full day in Edinburgh.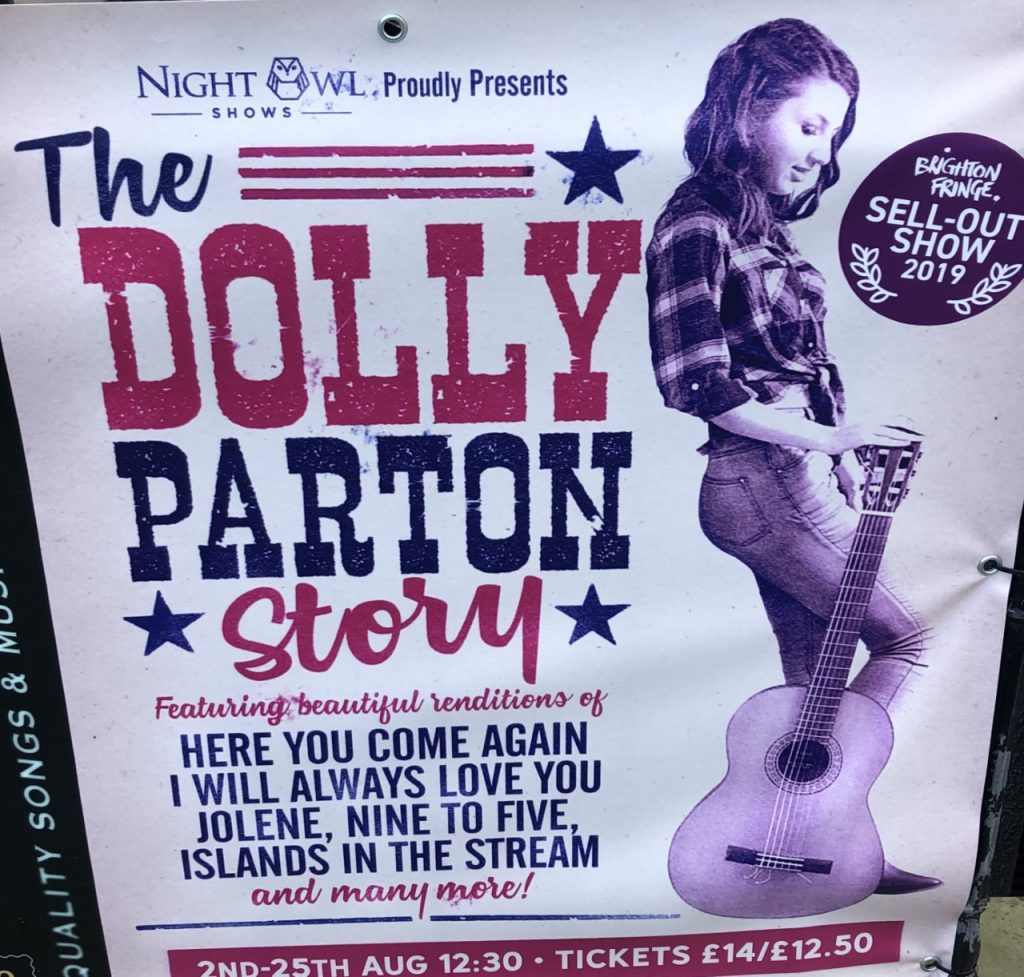 I have mentioned this before but I did a Stand Up Comedy course in Tring with Logan Murray, seven years ago now. One year before I did it, the man I went to see next did the same. He was a compere on the night I made my Tringe debut. Plus I have actually gigged with him on a couple of occasions. He always went down a storm. I went and saw him do his show last year. And I was really looking forward to seeing his latest offering this time around.
His name is Olaf Falafel. If you think that sounds familiar that might be because he won the Dave TV Channel Joke of the Fringe with his "I keep randomly shouting out Broccoli and Cauliflower, – I think I might have Florets" Which is from his show "Knitting with Maracas" He has featured in the top ten list for the last three years now, so you have to say he is consistent.
I ended up sitting on the front row for what was a sold out show. It is fair to say his comedy is very surreal and involves a large amount of audience interaction. I got asked a few questions, which I replied to admirably. Then I finished up being one of five people on stage with him near the end. Fame at last!
I am claiming that moment as my Edinburgh Fringe debut. Although it basically just involved me firing a cork gun. If you want to know why, you will just have to go and see the show for yourself. He is of course extremely funny and weirdly amusing. He writes clever and ridiculous jokes in equal measure. Bizarre and unexpected things happen. There is a loose narrative. But none of that really matters just submerge yourself in the madness and have a damn good old laugh. On top of all that he is a really nice bloke. Well done on your award mate, bravo!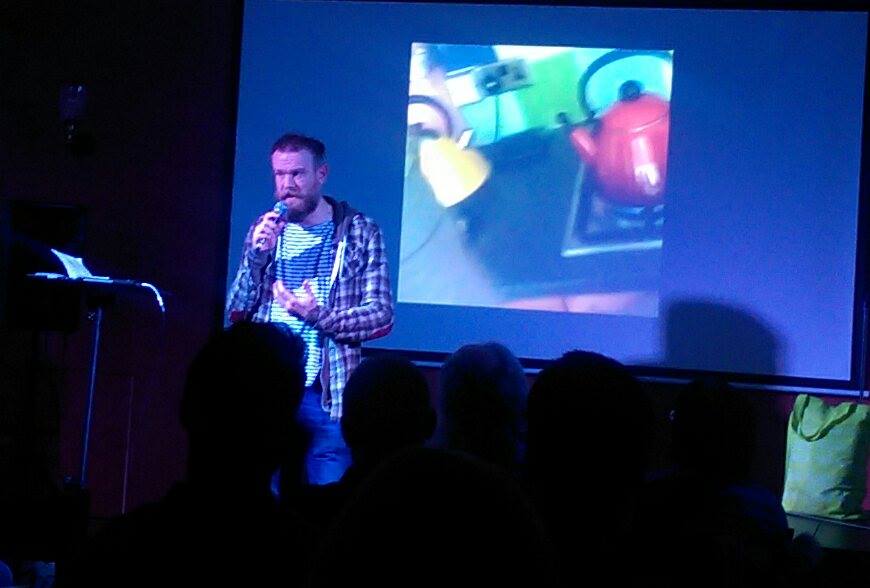 I then took a couple of hours break from seeing shows, as I had a very important matter to attend to. I had to find a pub that was showing the Manchester City against Tottenham Hotspur game on television. Handily I managed to find one nearby that fulfilled this need. Blimey what a game! City were all over us, we sneaked a few goals to level it up. And thanks to VAR we somehow got a point from that match. I did not have time to analyse it much as I had to go and grab a quick bite to eat before going to see my next gig.
It was back to the Pleasance Dome for this one to see Seann Walsh. If you are not familiar with his comedy you may well know him from his appearance on the last series of Strictly Come Dancing. This does feature heavily in this new show which is called "After This One I am Going Home. It focuses on a weekend last Autumn where a silly and stupid mistake caused his world to pretty much fall apart. Granted it sounds pretty bleak but it is a very funny and honest show. Detailing how things in his life lead him to that moment and more shockingly in many ways what has happened to him since.
It is quite a raw and emotional show featuring some insights into his career and life, his love and clear passion for comedy and also some very good impressions. His time on Strictly does appear to have may be subtly altered some of the usual demographic at his gigs. This act is a work of theatre as much as a straight forward stand up show. As with lots comics he makes very good points about the world and life in a funny and amusing way. It is an extremely entertaining show. That will totally make you laugh, as you would expect from a man of his calibre.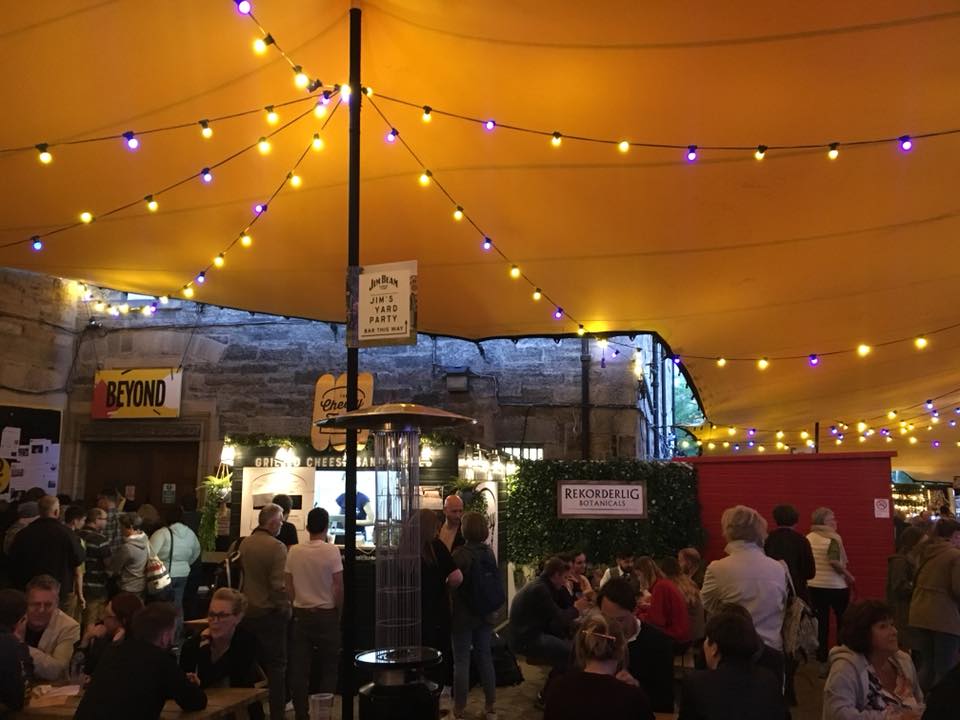 Next it was a brisk ten minute walk back to my favourite venue the Pleasance Courtyard to see someone who has become a bit of a cult figure in Edinburgh. His show this year is celebrating his tenth year at the festival. I had seen him take part in a comedy shorts show the previous year. But this was the first time I was to see one of his full shows in person. He is Marcel Lucont and his show is called "No Dix"

He is a very suave and sophisticated "Frenchman". Who appears on stage drinking Red Wine and this time backed by a three piece Jazz Band. He sings a few parody songs, does some monologues over the music and talks to the audience quite a bit. Plus at this particular gig he expertly dealt with a latecomer creating a delightfully funny chat with him very much having the upper hand.
As it was an anniversary show at the end he was taking requests for previous routines that he had done in his time appearing here. I very much enjoyed his show. It was not the kind of thing I would normally go and see. But he had me laughing all the way through it. He maybe reminded me of how I act after a few glasses of a decent Red Wine.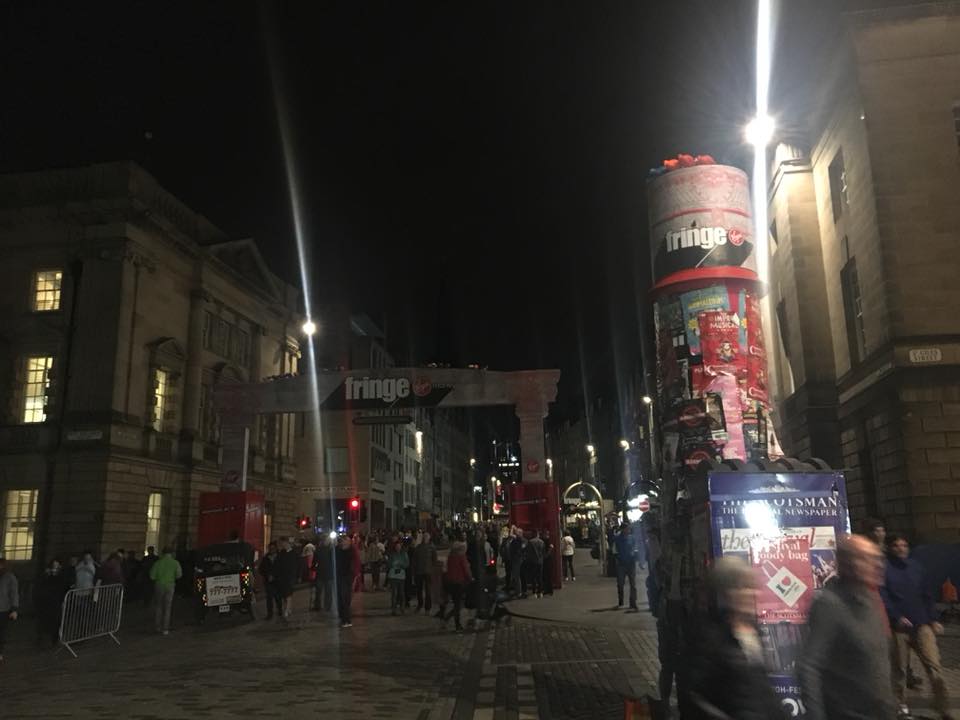 The final show of my Edinburgh Fringe for this year took me back to my childhood. From a very early age I had been a big fan of this star. I have fond memories watching them on television as a kid. I am now of course an adult, which is why a show at quarter to midnight called "Basil Brush Unleashed" seemed far to good to miss. It was on at one of the Underbelly Venue's. I was actually quite excited as I made my way in. I managed to get a seat four rows from the front with a great view of the stage.
Like the Biggin's show it was set up as a kind of variety chat show. It features some fun and spoof videos. Which were played on the huge screen on stage. Basil appeared to a massive roar at the start. He then introduced his new "Mr", who happens to be former Britain's Got Talent finalist Martin Cable -Reid. He appeared on that show as Kevin Cruise. But now is back being a version at least, of himself as Basil's partner in crime.
Somebody I used to work with is very good friends with him. In fact I believe he is a godparent to her children. He was brilliant and played his role perfectly. As it was the late night show there was lots of silly messing about. And of course some things and words that you would not normally expect Basil to say. That just made them even funnier. The guest was the wonderful musical comedian Vikki Stone. There are a few parts involving audience participation. The last of which predictably does not end well for "Mr Martin".
I thought it was hilarious and amazing to finally see Basil live. Boom Boom! He gives us his own tribute to a well-known singer for the finale. There is no way that you cannot leave this show in anything other than a good mood. It was then time to head back for my final night as a student. And to finish off those Jaffa Cakes.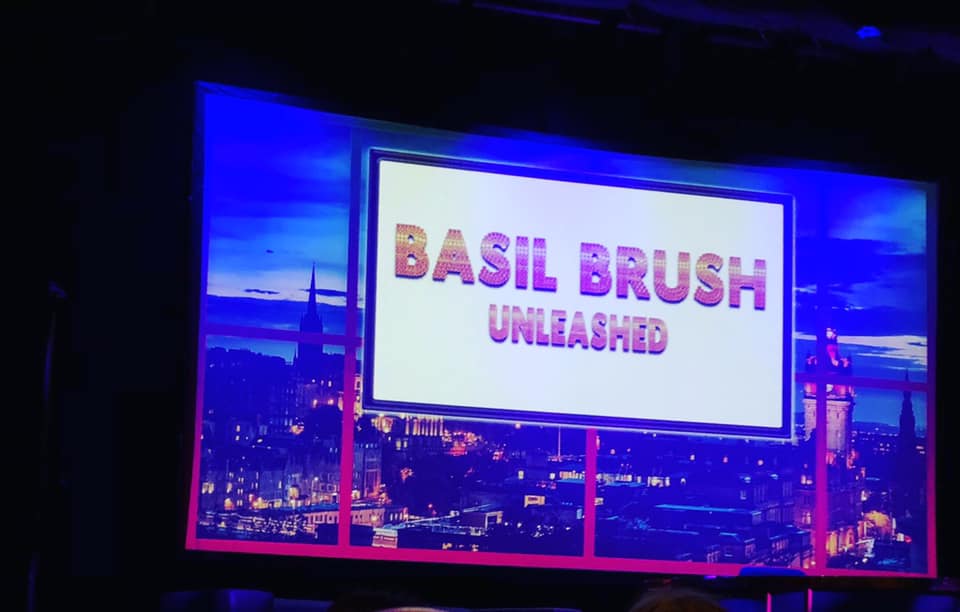 The next morning I got up, packed and then headed for a full English breakfast at the cafe I went to the day before. I am very much your if it ain't broke don't fix it kind of guy. I then had a nice walk around the grounds of Edinburgh Castle followed by a quick visit to a few gift shops. Before it was time to get on the correct train and sit in my reserved seat for the journey back to London.
I had a brilliant time at the Festival. I managed to see twelve shows in total in the three days that I was there. Which I was pretty pleased with. It is a wonderful City. That always has lots of things going on. I am already looking forward to returning once again for next year's Fringe.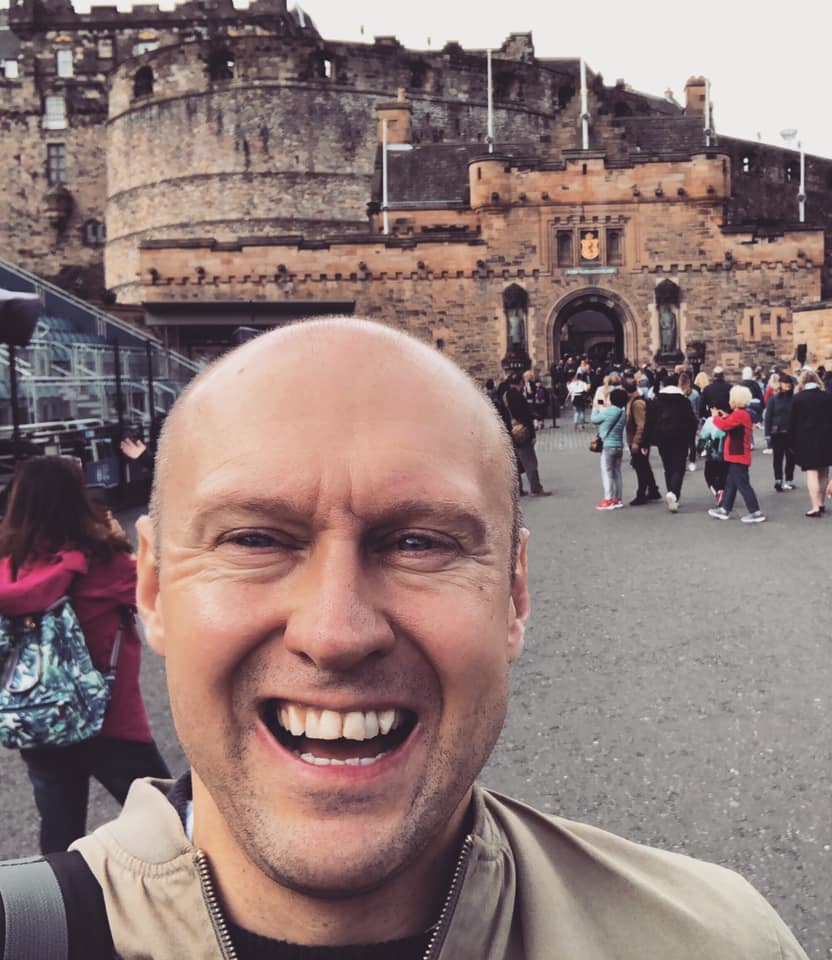 Have fun and we will catch up again in a couple of weeks. Cheers Neil.