This time at the airport I decided to just have a light breakfast not wanting to make the same mistake as my previous flight. However for this trip my ticket did not include any food, so I had to splash out and buy my own cup of tea. The journey was also delayed slightly we were due to land at one thirty but did not arrive until after two. I had only a short amount of time in Melbourne as it was, so losing an hour was a bit annoying.
I have no idea why this is but my bag always seems to be pretty much the last one off the plane. Therefore by the time I had got my airport transfer I did not arrive at my hotel until just after four. There were a few people I actually knew in the City. The first of these was a bloke I used to work with at Wembley Stadium called Michael Cornell. He is now the owner of his own tour company in Melbourne. He met me at my hotel as soon as I had arrived and took me on a two hour walking tour around the place.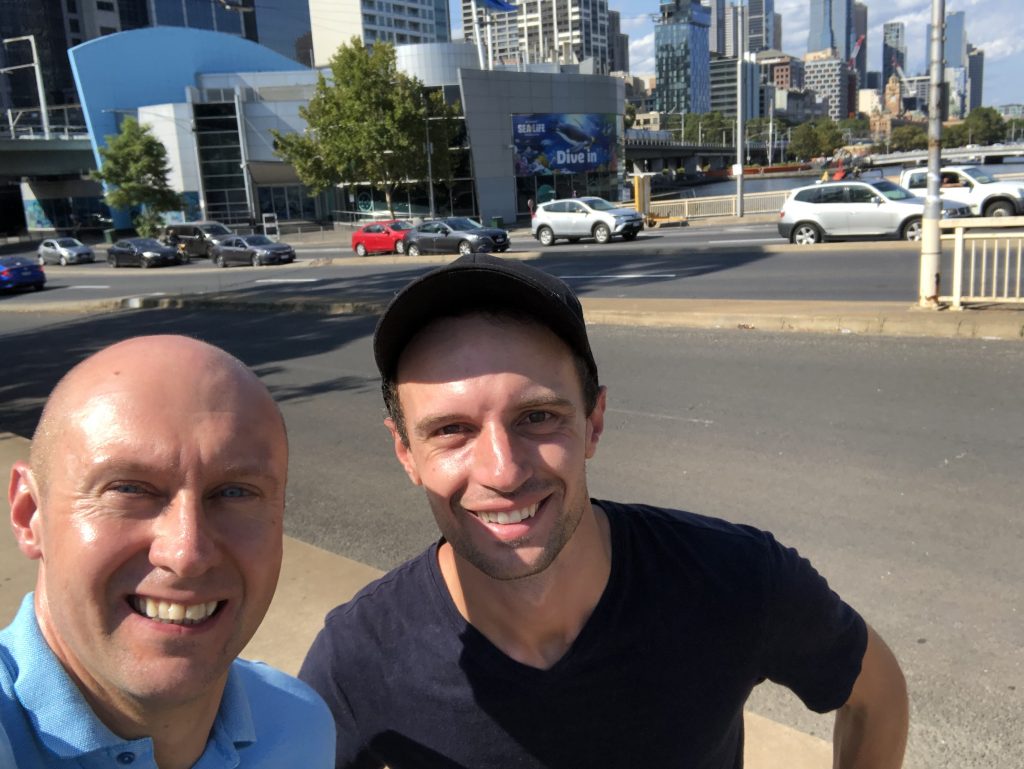 The sun was out and it was a lovely afternoon. Melbourne is a pretty vibrant and multicultural city. It has lots of high rise buildings and a fairly compact central area. We managed to do pretty much a circuit of the entire place.
Like London they have an area alongside the river known as the South Bank with lots of shops, restaurants and bars. It has a really fun feel to it. He also took me past the famous Flinders Street Station, along one of the mural filled side streets and pointed out all of the key buildings to me.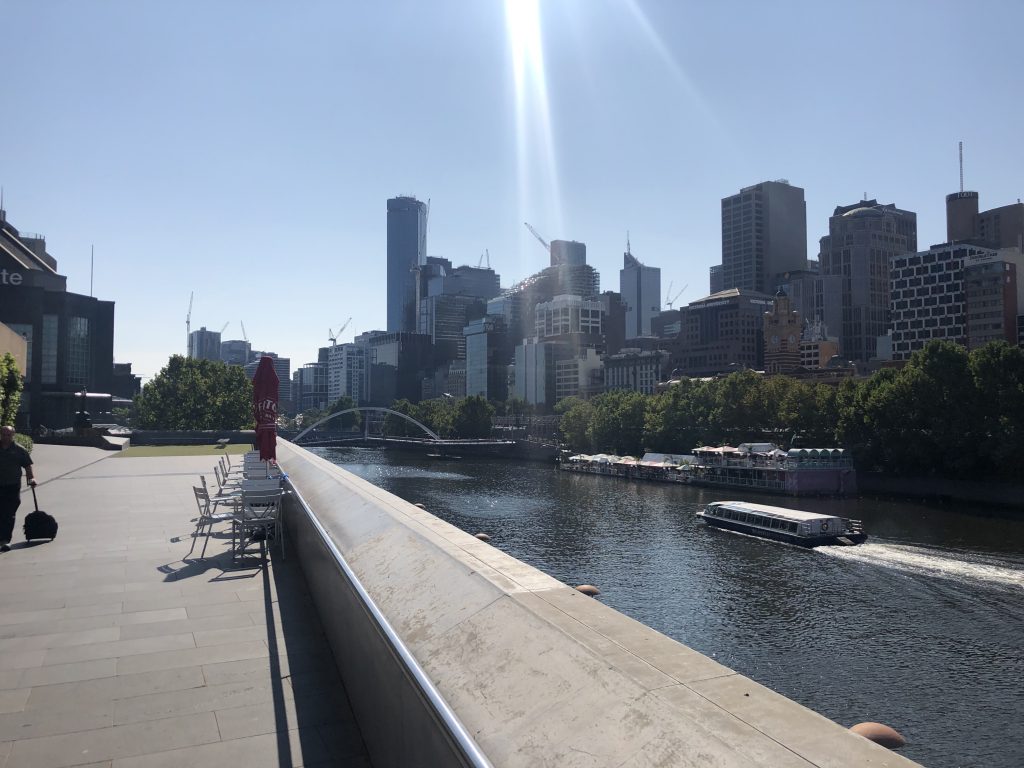 He then had to go and do a few bits and pieces and as it happened I was meeting someone else I knew from London for dinner. They met me outside my hotel which was the lovely The Savoy Hotel. We then walked down to the South Bank and found a nice restaurant there. In the evenings they pump music along the river which creates a great atmosphere as you stroll around. I had an excellent meal. The place we went to only used local produce so it was a pretty traditional dish that I enjoyed there.
After dinner we went for a little walk so I could take a few pictures of the City lit up for an evening. We then found this great floating bar on the river where I sampled some more of the local Australian beers. My dinner friend had to leave but Michael met us in the pub and me and him stayed on board for another beer. He then took me on a bit of a mini pub crawl through some of the bars he knew. Like all big cities there were plenty of options and I could only sample a very small cross section of them sadly.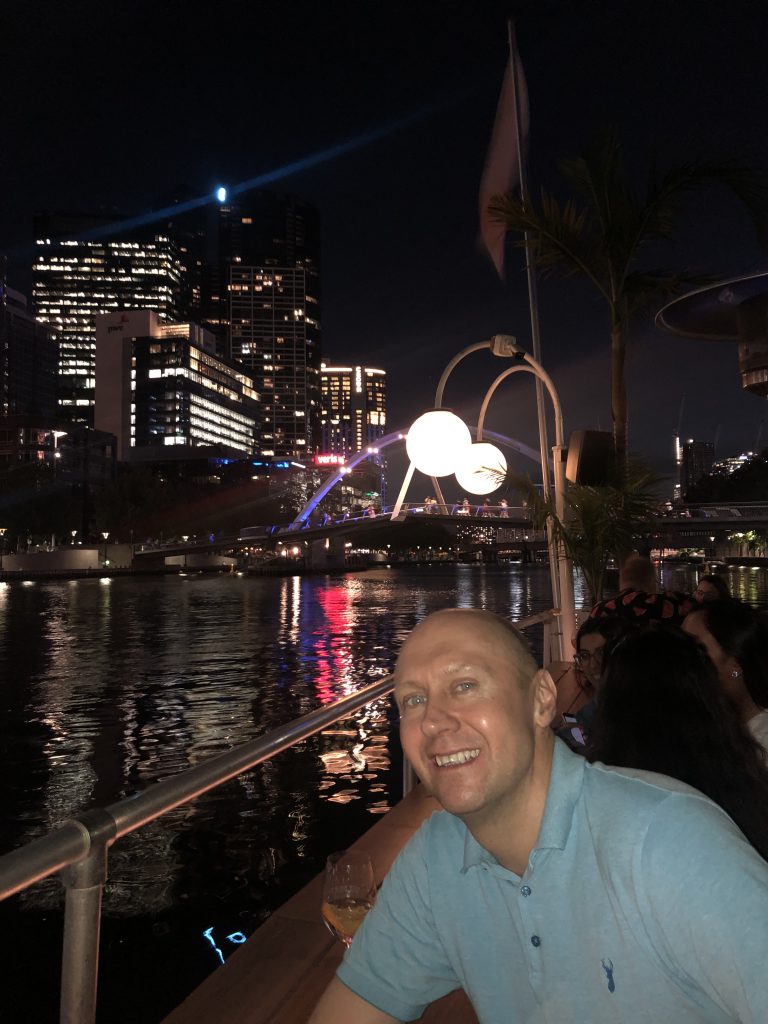 I must confess I was happy to keep most of my Australian adventure nice and loose and generally just go with the flow. But there was one tour that I booked before I left England. When I was a child the show that used to mark the end of kids television and the start of the more grown up programmes was a Soap Opera called Neighbours.
I used to watch it every week night. At that time it featured Kylie Minogue, Jason Donovan, Guy Pearce, Craig McLachlan, Anne Charleston and Stefan Dennis amongst many others of course. I once interviewed one of those stars when I was at Ivel fm in Yeovil. Sadly for me it was not Kylie Minogue but the lovely Anne Charleston who was great.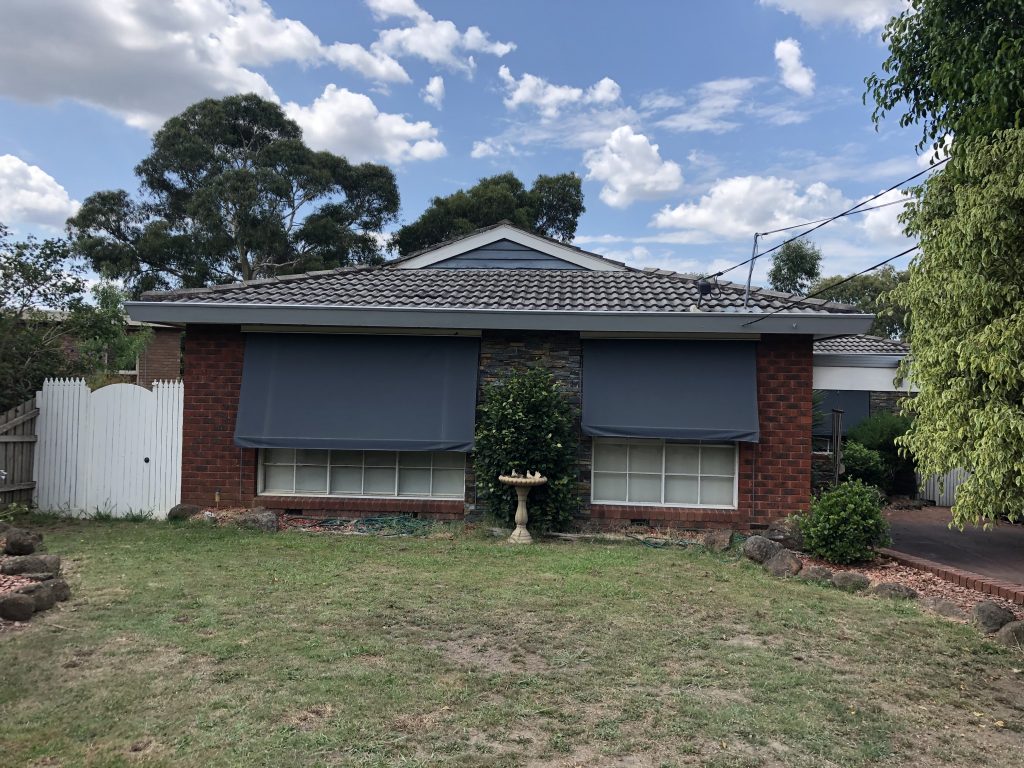 Now I have not really watched Neighbours since I was about fifteen, which I think it is fair to say was a long time ago. However I do have fond memories of Ramsay Street as I was growing up, so I thought it would be rude not to visit it. They run an official Neighbours Tour, so I secured my place on it before I had even packed for my holiday. It just felt like something that I had to do. It is always good fun looking around television studios and sets, I think. On my way to the tour I found an amazing cafe for breakfast. The menu was excellent and I had the Eggs Benedict on Sour Dough, which set me up very nicely for the day.
I met the branded Neighbours Tour Bus and our guide Kellie in the centre of Melbourne. There were about twenty of us on it in total. We then headed out on the forty minute drive to the studios. On the way Kellie was telling us a few fun facts about the show. She also dropped the bombshell that sometimes there is a meet and greet with a cast member depending on the filming schedules. As we were nearing our first destination we were treated to a selection of songs from former stars of the programme. Who had gone on to have music careers, to be fair there have been quite a lot of them over the years.
We then arrived at the complex, cleared security and got our very first taste of being around one of the world's longest running series. We leapt out of the bus and had our picture taken with the welcome to Erinsborough sign. Next up the Tour has its own special area at the studio where there are various exhibits and photo opportunities, not to mention tea and biscuits. It was while we were here that we found out that we were getting a meet and greet. As one of the cast was very kindly giving up part of their lunch break to see us, which I thought was an extremely nice thing for them to do.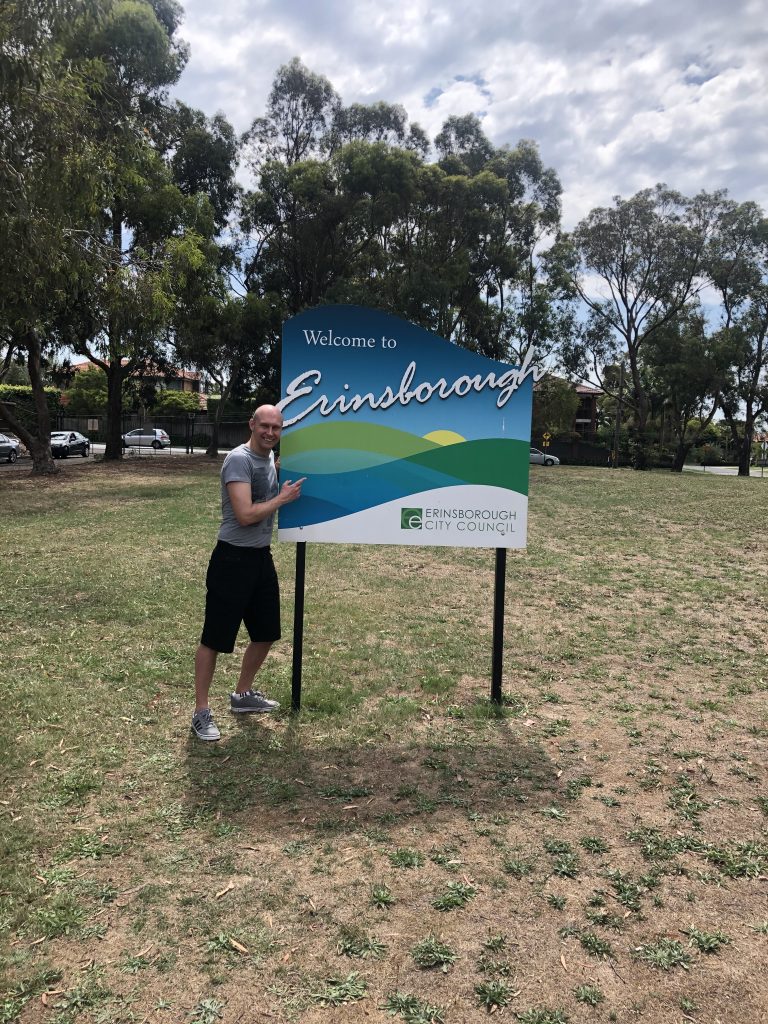 We were just tucking in to our tea and biscuits when the assistant production manager arrived with Olivia Junkeer who plays Yashvi Rebecchi in the show. She was fantastic, really smiley and fun and happy to pose for a picture with everybody. We also got the chance to ask her some questions about her career and what it was like as an actor in Neighbours. I did of course get a few questions in myself but I was a bit worried about it turning in to an interview, so I did in the end back off a little bit and give some other people a go.
She then had to dash off to finish her dinner and return to set. They do work them quite hard and are pretty strict on filming schedules. It was really lovely to meet her and you never know she could be the next Margot Robbie.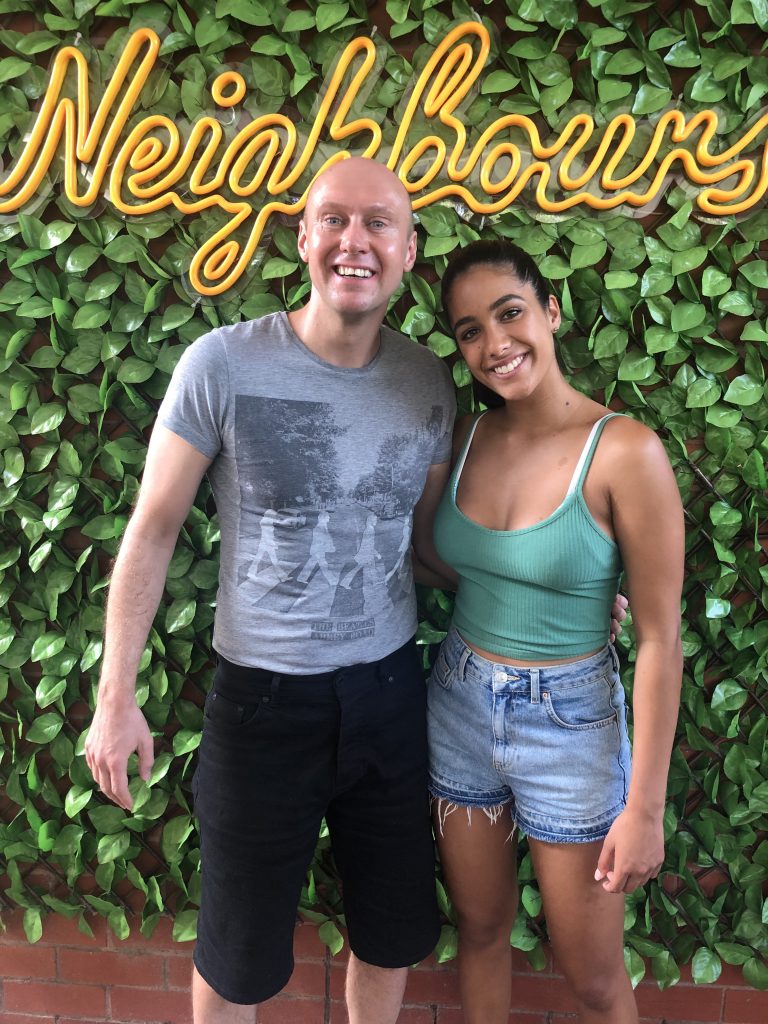 Sadly because they were doing a lot of interior filming we were not able to have a look around the sets. We did however get to see all the outside locations that they have at the studio complex including Lassiters, Harold's Cafe, The Waterhole and Back Packers, as well as Paul Robinson's and Dr Karl Kennedy's back yard's.
I also got to have a picture taken in Sonya's Nursery. This section brought to a close the studio side of the tour. We all climbed back in to the bus and headed off to a road called Pinoak Court or to give it the TV name it is better known as Ramsay Street.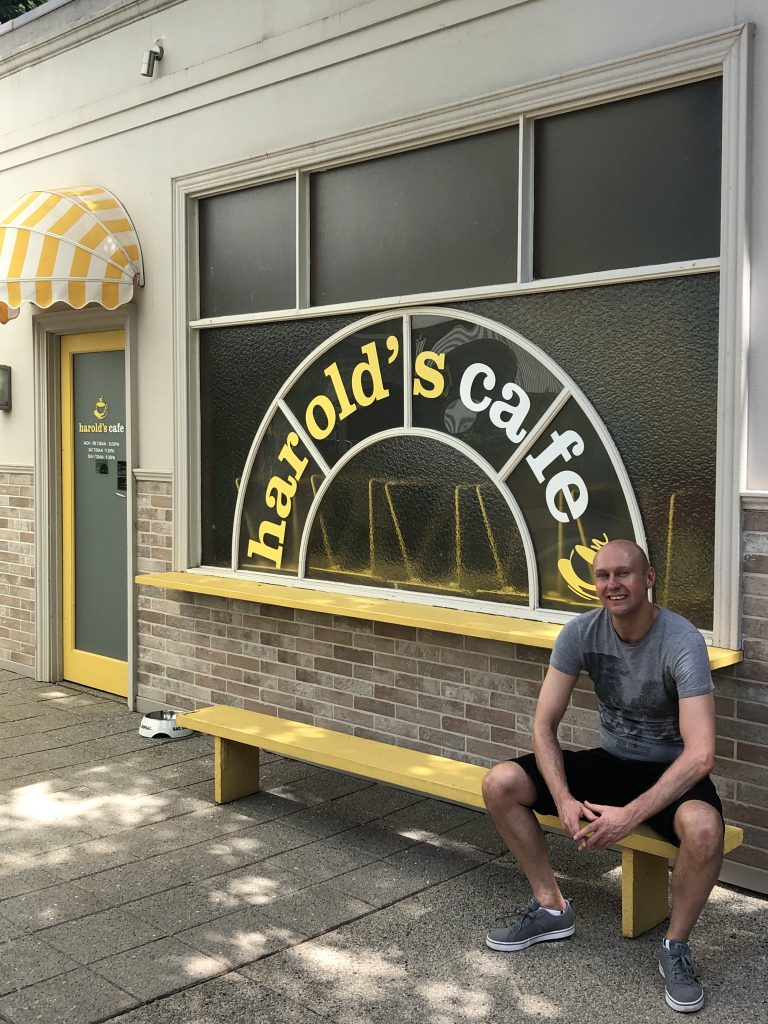 We turned into a fairly nondescript Australian suburbian estate until a recognisable little Cul-de-sac suddenly appeared on our left. As we parked up I could see all the fronts of the houses that I had seen the stars of Neighbours go in and out of as I was a young child watching at home in England. It was quite weird just walking around Ramsay Street.
It does attract a lot of visitors so they have a full time security guard stationed there. People do actually live in the houses so you are told to stay out of their way and of course not to trespass on their property. I did get to have my picture taken with the Ramsay Street sign outside one of those famous buildings. That was possibly the highlight of the whole tour for me.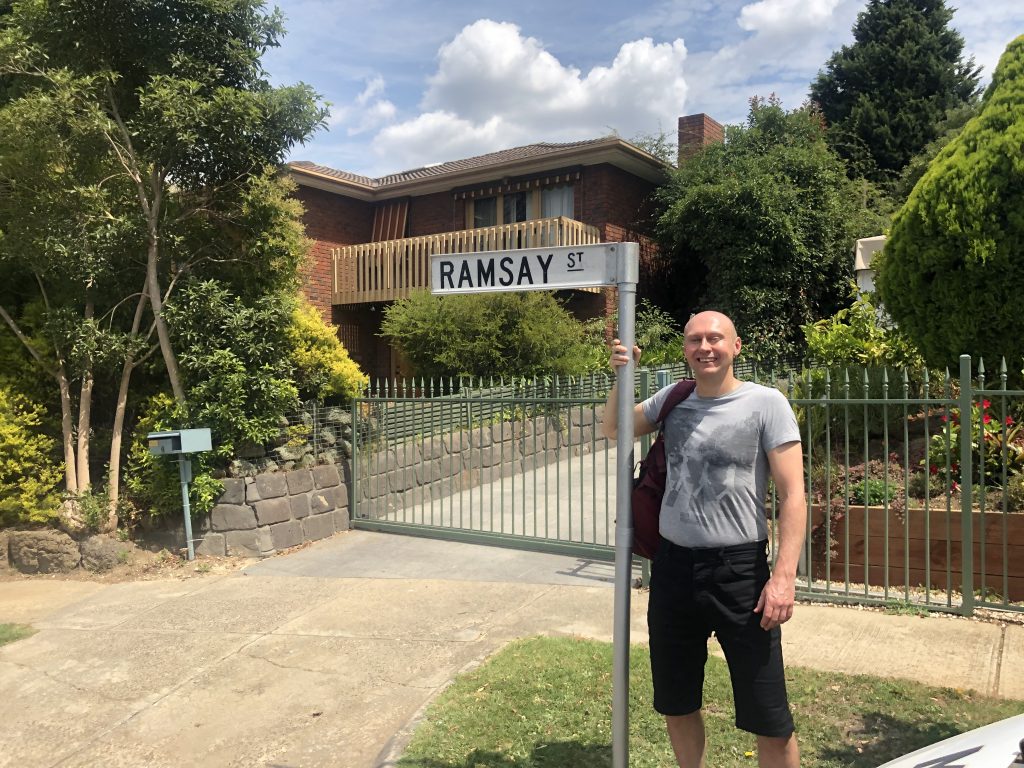 As we were driven back to where we started in Melbourne we were given old call sheets to look at, to see the filming schedules and some of the directions for the actors. Then we were shown a DVD made to mark the show's 30th Anniversary, although this year it is thirty-five years since Neighbours first appeared on our television screens.
It was a fun thing to do and I thoroughly enjoyed myself. I am glad I did it. I was met off the bus my Michael as he had arranged for me to do another tour that I also wanted to do if possible while I was there.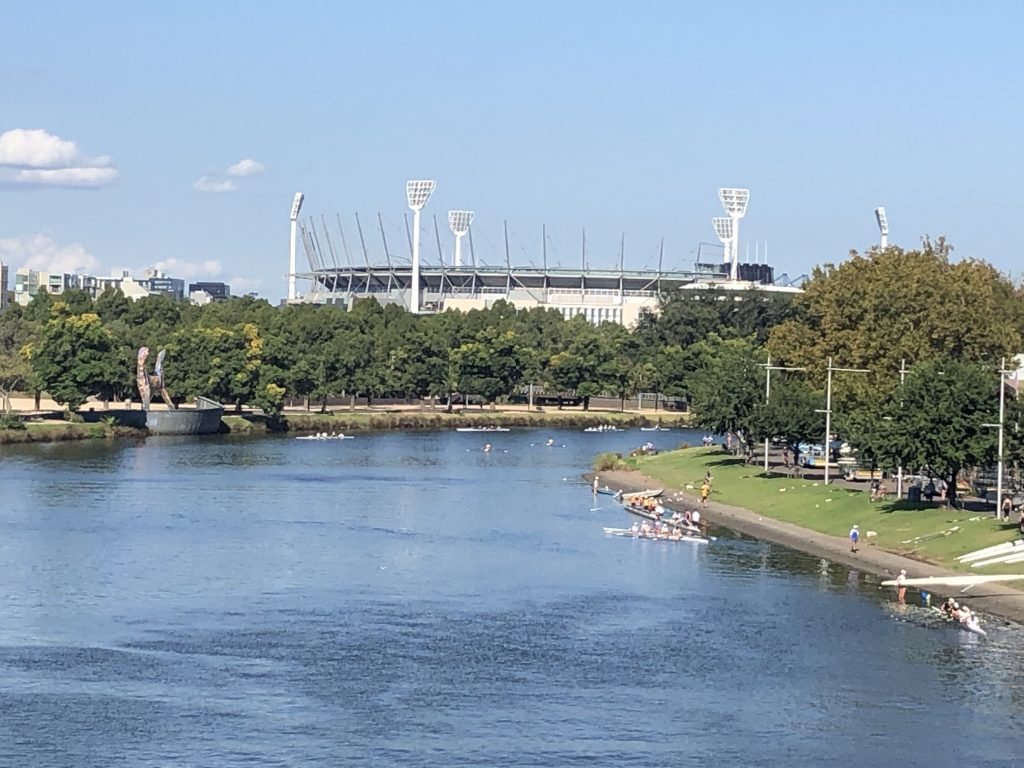 We hopped on the Tram to take us a little closer to where we needed to be. As we had to be at the place for a set time and my Neighbours experience had overran slightly. We then got off the public transport and walked the rest of the way. As a big sports fan while I was in Melbourne I had to look around the MCG. We arrived there in time to go on the last guided tour of the day.
It is a wonderful stadium. It holds one hundred thousand people. That makes it bigger than any venues we have in the United Kingdom. It is mainly used for Australian Rules Football. Those are the matches that attract the biggest crowds. Cricket is also played there fairly often. The Australian soccer team have also played some of their World Cup Qualifiers there in the past.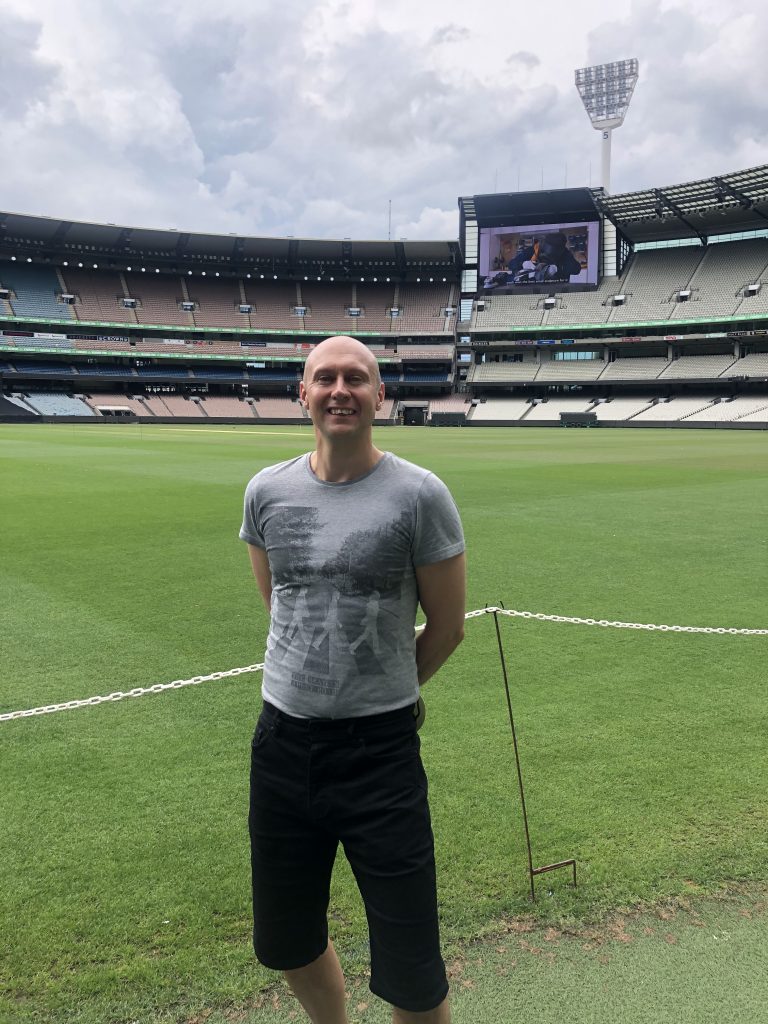 The tour was great. We got to see all the different stands, including the corporate areas and their Long Room. We also saw the changing rooms and the press conference room. It has a lot of sporting history attached to it and was the main stadium when Melbourne hosted the Olympics.
The tour finishes in the Cricket museum that they have there. I would have liked to watch a game of something there, but maybe I will get chance to do that in the future.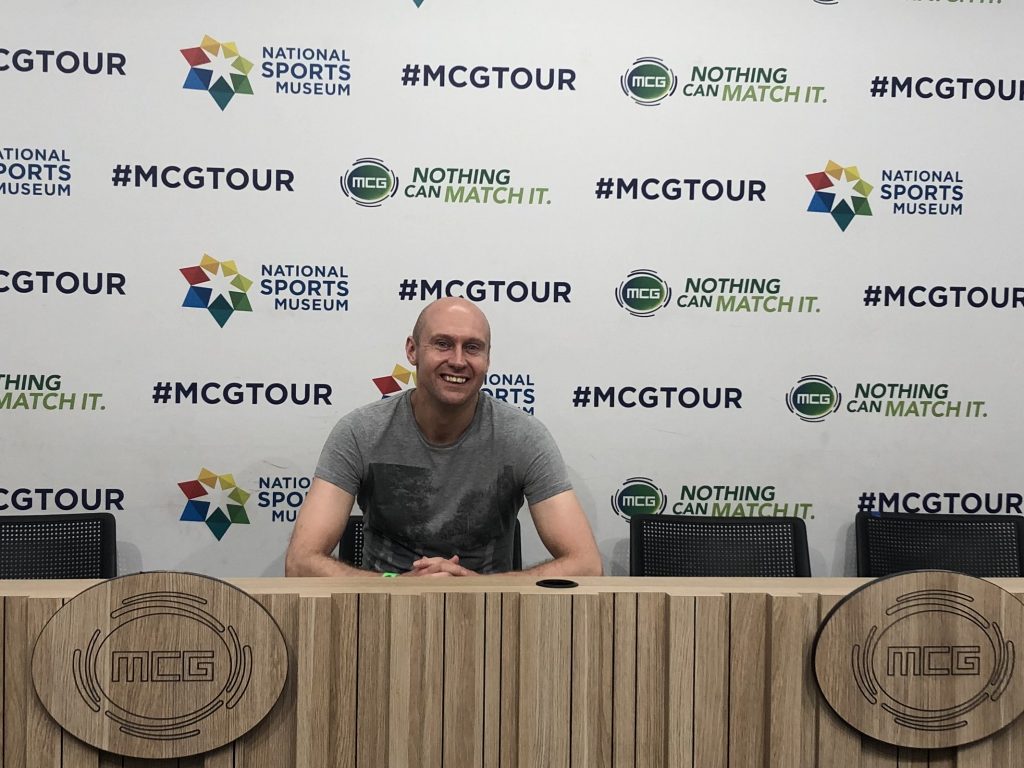 Next to the MCG is the home of the Australian Open Tennis Finals The Rod Laver Arena. Well that is the main court there are also quite a few other courts that are used. Thanks to Michael I managed to get on one of the outside courts that is used as a practice court before the tournament starts. It would have been rude not to get a cheeky picture there, so I did. I actually fancied a game at that point but rain again stopped play.
All the sports stadiums are nearby each other. I also saw the outside of the Melbourne City FC Stadium. Then at the airport the next day I actually saw a few of the Melbourne Victory players.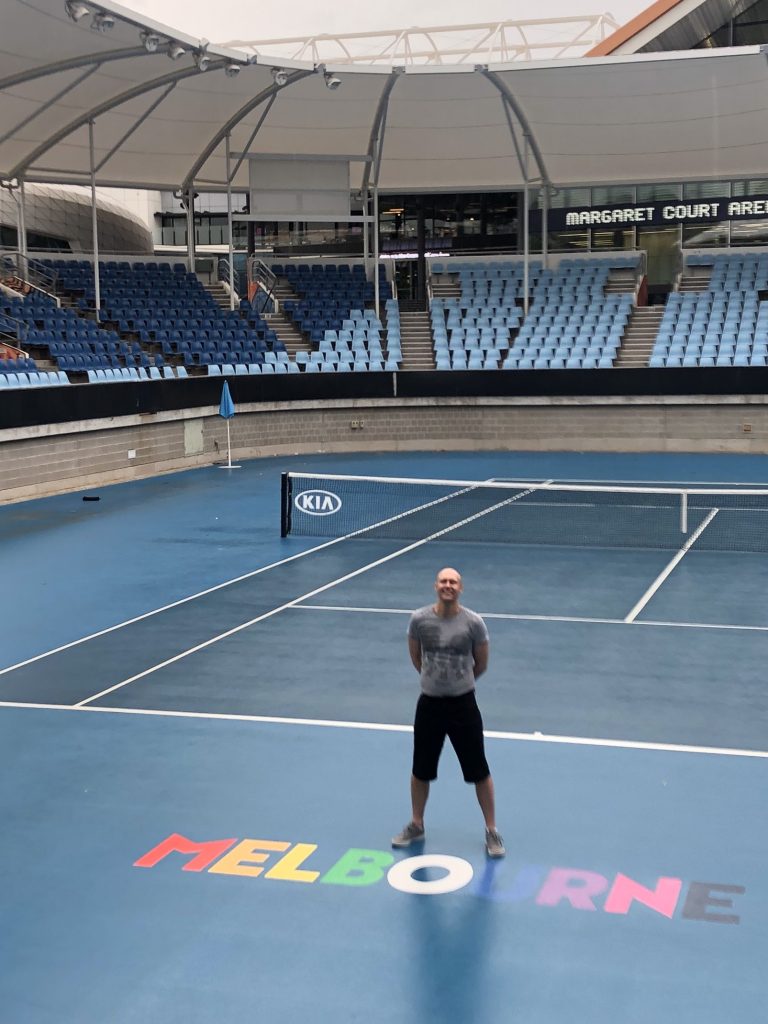 I said goodbye to Michael and thanked him for showing me around. He is actually moving back to England shortly so I will be able to see him again pretty soon. I made my way back to the hotel to change my clothes before heading out for dinner. I had completely forgotten it was Valentine's Day so when I arrived at the South Bank for food it was a lot harder finding a table at one of the restaurants than I had thought it would be. However eventually I did actually find one that had a table for one.
First I ordered another local beer which was great. All through this trip I had been trying to eat different things and have native dishes for a lot of my meals. On the menu I saw what was described as a whole Barramundi, which was curried, cooked in banana leafs and served with rice. I figured it must be a fish dish, so I thought I would give it a try. When it appears it literally is the whole fish including the eyes staring at me. The waitress puts the plate down and then says to me I will just get you a dish for the bones, I just smiled like I was expecting this without trying to look too confused.
I had never had a fish served complete in this way before. I carefully picked my way through it trying not to choke on any bones. When I got half way through I managed to lift out the head and most of its skeleton, which I was strangely proud about. Anyway I managed to eat it without dying which I suspect you have already worked out. It tasted really good, although it was hard work. I think I might I have used more calories eating it than I gained from consuming it.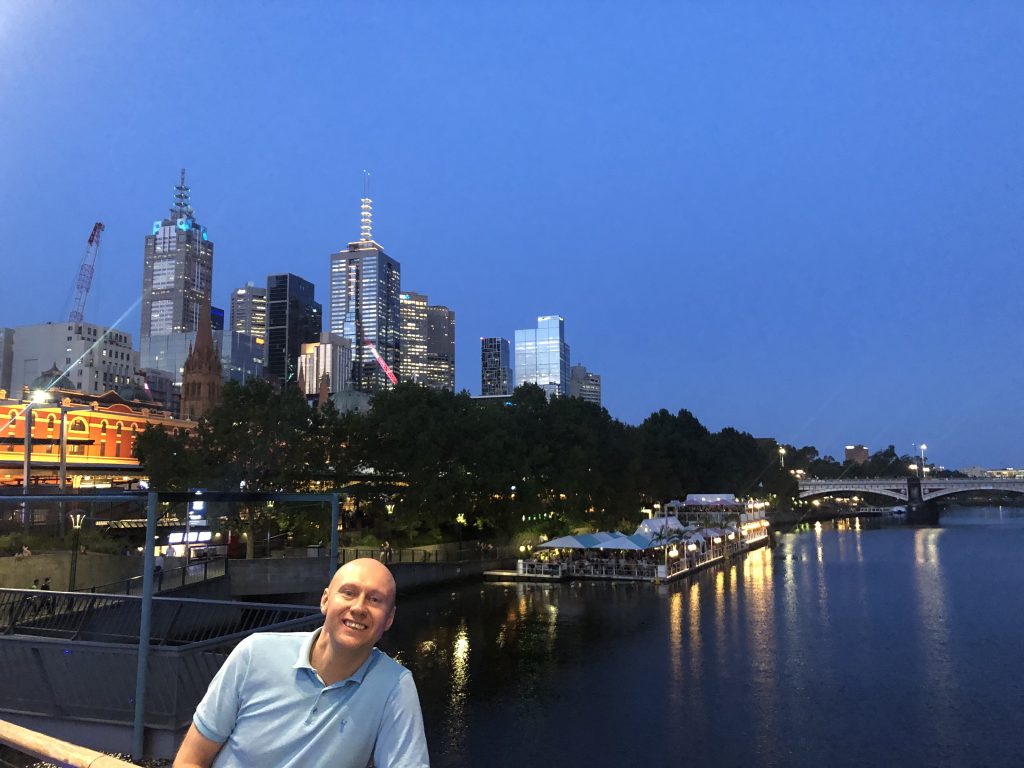 After dinner I found another bar similar to the previous night that was on the waterfront. I got a beer and found a table facing the river. I had a table of four all to myself so this group of three ladies and a guy came over and asked if they could join me. I of course said yes.
They were all mates who were single on an anti-valentines night out. I had a good laugh with them and they very kindly bought me a drink, which was really nice of them. I had a really early alarm call for my flight back to Sydney the next morning, so I said goodbye to my new friends and walked back to the hotel.
I had a quick drink in the hotel bar and then headed off to bed. I was being picked up at four o'clock in the morning so I had a relatively sensible early night.
This did mean that I could not party as much as I would have liked to in Melbourne, which is a shame as it seemed like a fun place to hang out at night. I was up in plenty of time to grab a shower and check out before the car arrived to take me back to the airport for the next leg of my journey.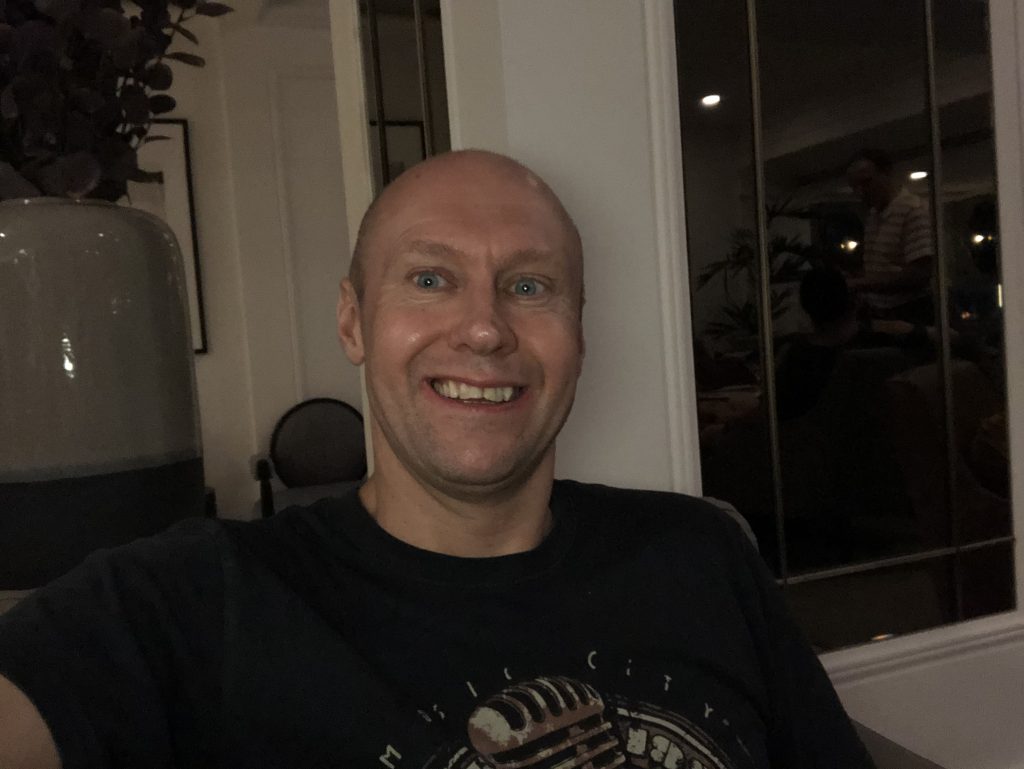 Part Four coming soon…………