For me at least now things do seem like they are opening up quite a bit. I am mixing with more and more people and starting to do a lot of the things that I did before this whole pandemic thing started. The only real difference being I wear a mask inside places and I still use hand sanitiser everywhere I go. To me both of those things seem a very small price to pay to see friends and family, while doing all I can to try to keep everyone safe. I am also still doing regular home Covid tests to make sure I am not putting anyone at risk.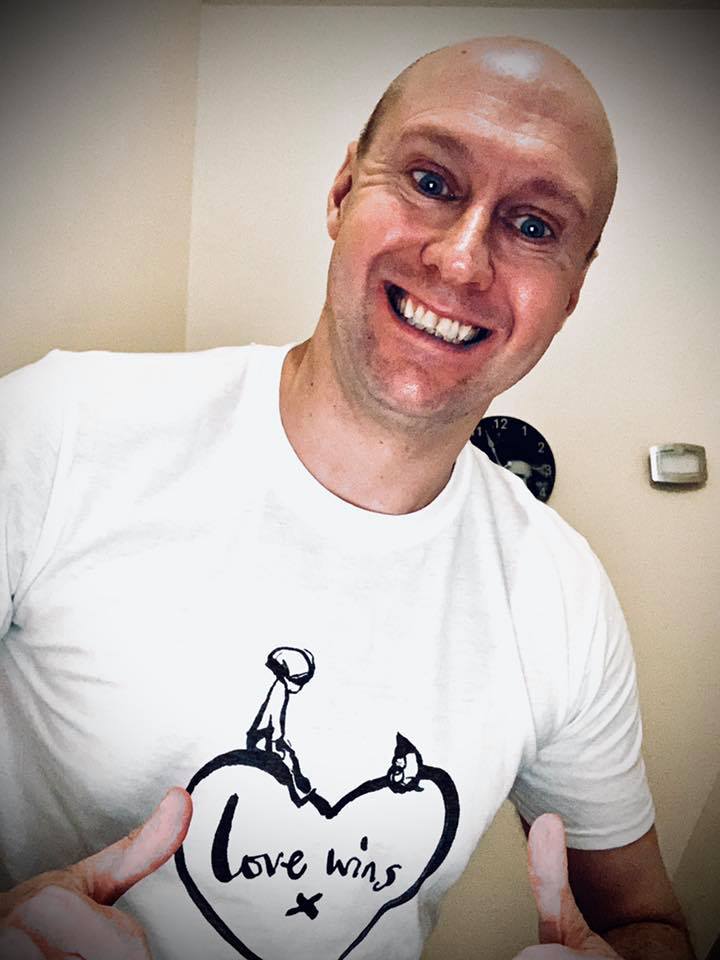 Two Saturday's ago, I went with my girlfriend to her Auntie's 75th Birthday gathering. It was being held at her cousin's house near Bournemouth as a garden party during the afternoon. This was the first time that I was going to meet a lot of her extended family so I was a bit nervous as we headed down there. Lynda offered to drive as she does enjoy driving and by her own admission is not generally a great passenger! I did offer but if I am honest I did not put up much of a fight plus she did know where we were going as it was her family that we were visiting.
We had a long journey down there as it seems that everybody in the country is holidaying in the South this year. As it is I think fair to say slightly more complicated to travel abroad at the moment. After our epic trek we arrived there nearly an hour after we had planned to. We managed to get parked in the drive way of the house, which at a big family get together is quite an achievement. We then proceeded to the back garden where it was taking place. Her cousin had a very long garden that backed on to a river, so they had set up all the food and drink on tables there and supplied chairs for everyone.
I always love being near the water I do not know why but I do find it calming and relaxing. I got introduced to all of her relatives and as ever I did manage to work the "room" and at the very least said hello to each of them. Everyone was really nice so it was a great afternoon in the sun just chatting away while enjoying a few bottles of gluten free beer. As I have to be really careful what I eat at such events now Lynda very kindly baked me some sausage rolls and made a gluten free chocolate cake.
Due to the fact that she knows the importance of any contamination issues with what I eat she was checking how all the cakes were being served to make sure mine had its own knife. I say mine but it was of course available for everyone it was just the only one that I could eat. I made sure I got my piece first one of the benefits of knowing the chef so well and stood nearby as all the cakes were served. As it turned out the chocolate one was the most popular due to the fact that it did taste amazing and because of Lynda's reputation within the family of being a great cook!
It just so happens' that one of her uncle's and cousin are also both on gluten free diets to, so it was nice to be around fellow restricted food eaters. As it was the first time they had met me, I may have over used the yes I do actually exist and I am real joke, every time that I was introduced to somebody new, but I think I got away with it. We stayed there for about four hours before it was time to head home and brave the traffic. Thankfully it was a much easier trip home.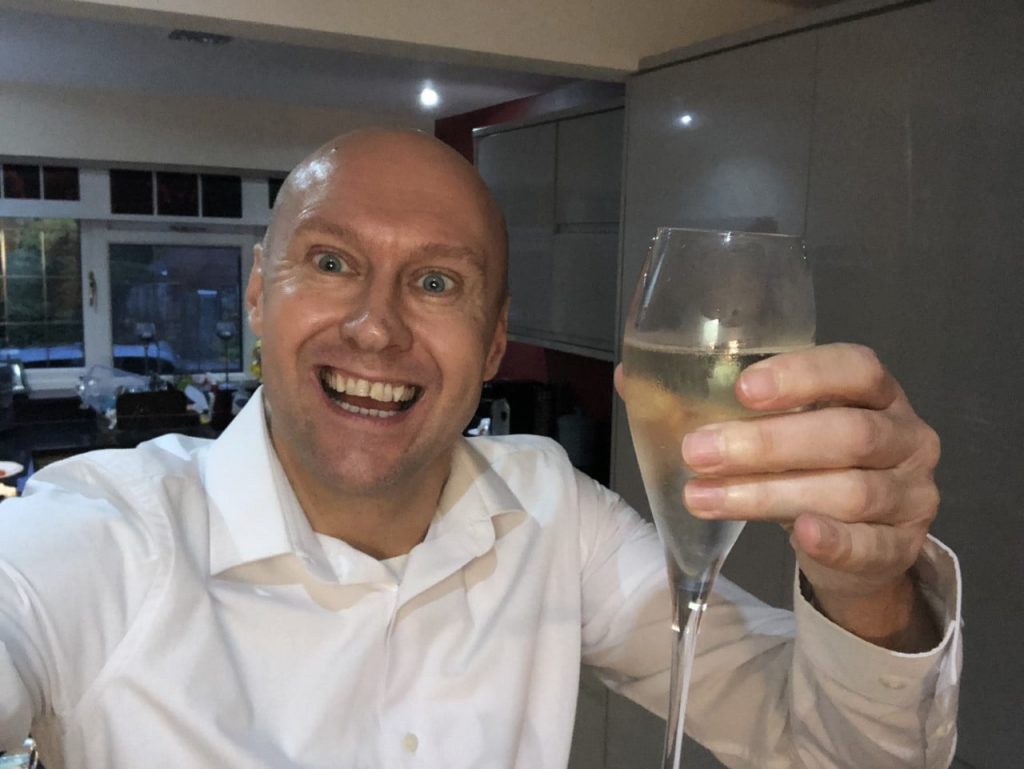 I am still really good friends with my very first friend from Primary School. We met when we were four years old hit it off straight away and we are happily still mates now. Thanks to the pandemic we had not seen each other properly for well over a year. He is married to a fantastic lady and they have two lovely children so it is always a joy to spend time in their company. They have a holiday home in Dorset which is in the middle of nowhere yet only about half an hour from the coast. I have been there a few times before but while Lynda and I were on the way down there I worked out that somehow I had not been there for fifteen years. Where does the time go?
We travelled down after seven o'clock on the Friday evening and happily the traffic was not too bad. As it happened it was more or less the same journey we had completed the previous weekend. Both of the trips were booked separately of each other it was just pure coincidence that geographically they were so close to each other. When we arrived my mate's wife had prepared a gluten free pizza and chips for us. They had let their daughter stay up a little bit later to see us, which was great. Obviously we had a lot of catching up to do so somehow we stayed up chatting and drinking until gone two in the morning.
Needless to say we were not up too early the next day but we did have a crucial fry up brunch to set us up nicely for the afternoon. They took us on a trip to Swanage somewhere I had not been to before. To get there we went past Corfe Castle, I quite like looking at old ruins and imagining the battles and the excess that possibly went on in them. We found somewhere to park then walked down to the seafront. It was wonderful to see lots of people there out and about enjoying themselves at the seaside in the sun.
We took a stroll along the Promenade and when we got to the far side as it was a nice sunny day we found a table outside a pub at which to have a glass of Pimms. After that we then went into an old school arcade that had lots of the 10p and 2p machines plus a few fruit machines. My mate's daughter is six years old and she loves it in there because as well as pennies you can win little gifts. Lynda won her a pot of slime and her dad got her a keyring. On the other games you could win tickets that can be exchanged for gifts. The four adults between us won a thousand tickets, which of course we gave to the little girl to get herself some extra little items, which of course she was delighted with.
After the arcade she convinced her dad and then me to go for a paddle in the sea with her. I was not exactly dressed for the beach. I was wearing jeans and a t-shirt so I took off my trainers and socks then rolled my jeans up as high as they would go and joined the other two on the sand. Luckily the beach was not too pebbly. I am not sure how but somehow my mate and I ended up testing out the water first. Initially it was freezing however the longer you stayed in the warmer it seemed to get. I was trying to be careful not to get caught by any big waves to avoid getting my jeans wet. My friend and his daughter were not as concerned about that and both got their shorts wet.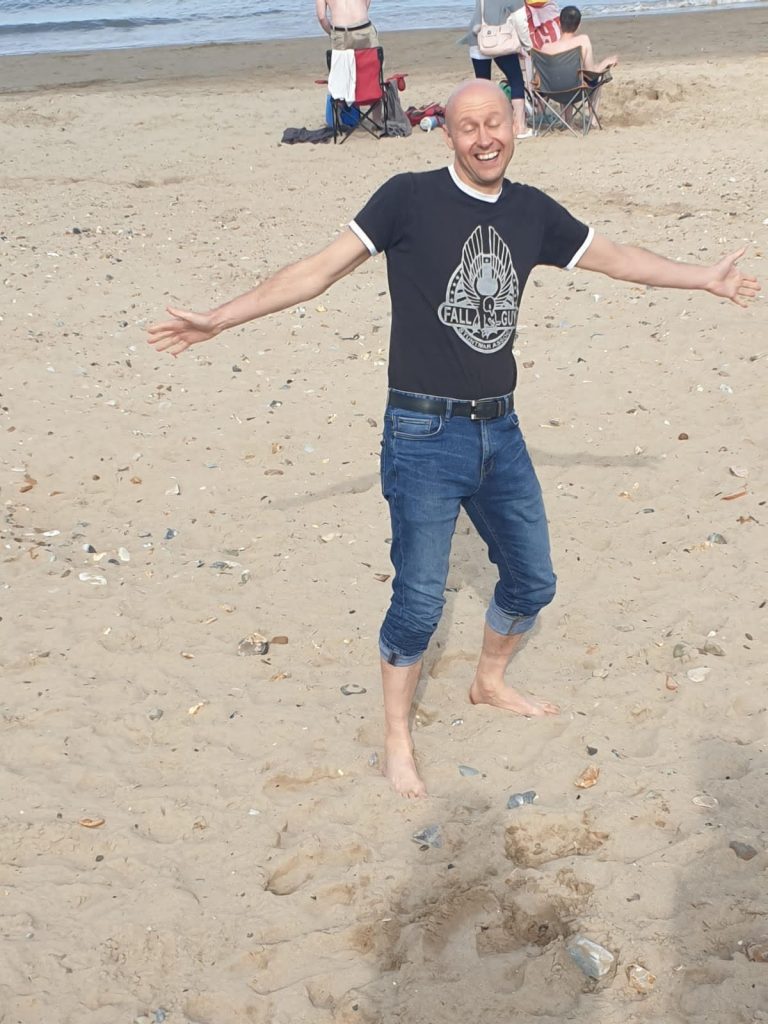 After our adventure in the sea we went back to their cottage and had a barbeque. We had planned to eat outside but as my mate was cooking it started to rain, so we went inside. The great thing about having been friends for so long is that we are so at ease and relaxed in each other's company that we can just chat and laugh for hours. That is exactly what we did while enjoying a few drinks until once again the early hours of the next day. He did introduce me to mead, a drink that I had not tried before. It was nice but I have a very sweet tooth and it was even a bit too much for me.
I have not kicked a football for a while now but my mate's daughter wanted me to play football with her in the back garden. I did not need asking twice. We had a good run around and when I had tired her out I then continued for a bit to test my keep up game. I used to be able to do over a hundred as a kid. In fact I basically spent most of my childhood playing football. As it turns out I am still pretty good and in case you think that I am lying. There is video evidence! All I am saying is if Tottenham Hotspur are short this season I am up for it!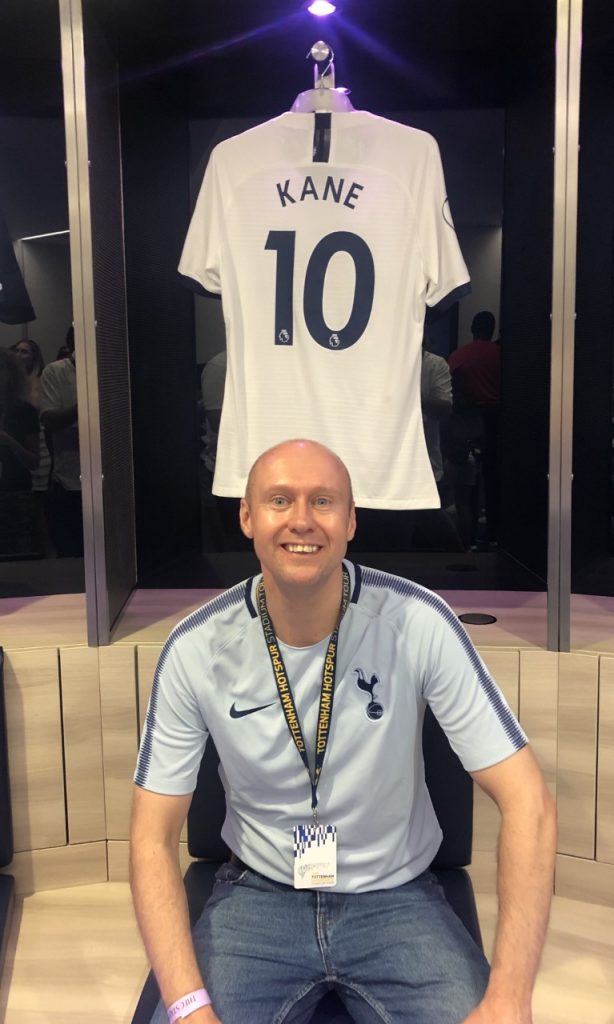 After the sea air from the previous day we treated ourselves to a bit of a lie in. We got up and had breakfast in the back garden. At the start of the first lockdown to help with one of his daughters home school projects my mate actually bred a few chickens from eggs using an incubator that he made himself. Out of the four eggs he had two of them survived and are now just part of the family. They are allowed free roam of the garden. It was strangely relaxing to have the chickens pecking around your feet while enjoying your morning cup of tea. Plus they supplied us some amazing eggs for Breakfast.
As it was a nice sunny day my friend offered to take us to Poole for a walk along the sea front. The place was packed with people smiling and enjoying themselves, which was good to see. We parked up and had a slow walk along the path above the shore. They have a place there where they make very high quality yachts. There were a few impressive looking vessels moored outside it. The kind you would need a very big lotto win to afford.
On the way back to the car my girlfriend spotted a sign for a shop that said they sold gluten free ice-cream cones, so we headed straight there for some traditional seaside refreshments. I went to order first as I wanted to double check that the claim on the sign was correct. As soon as I said I was Coeliac the lovely lady serving behind the counter reassured me the cones were gluten free and told me what flavours I could safely have. Plus she took all of the relevant steps to avoid cross contamination.
I had a mint chocolate chip one, which was amazing! The place was called Truly Scrumptious and it is just off the seafront, down a side street. I would certainly recommend any fellow Coeliac or gluten free people in Poole give it a go. The service and ice-cream were both equally great. During two days at the seaside I managed to do pretty much all of the expected activities, which was very pleasing.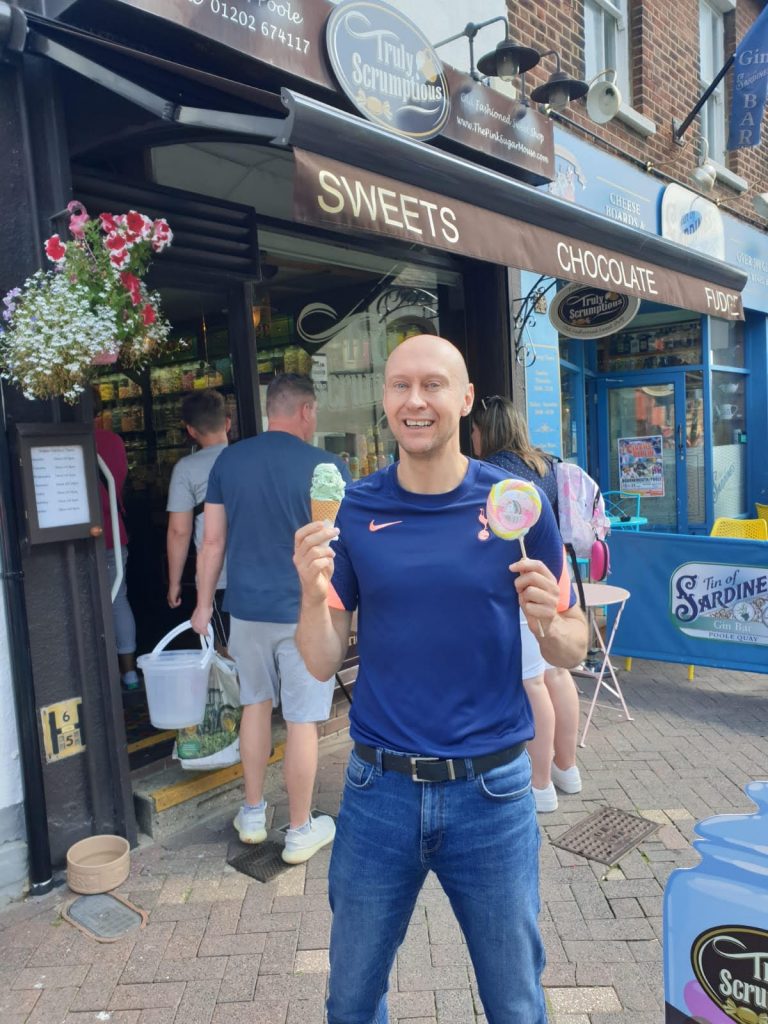 We went back to their cottage for a quick cup of tea and to get our stuff prior to the journey home. Bearing in mind more people than ever are holidaying in the United Kingdom this year the journey was not as bad as it could have been. It was a fantastic weekend spending time with my oldest friend and it was brilliant that he and his family could finally meet Lynda. The plan of course is not to leave it as long until we see them again, all other factors willing of course.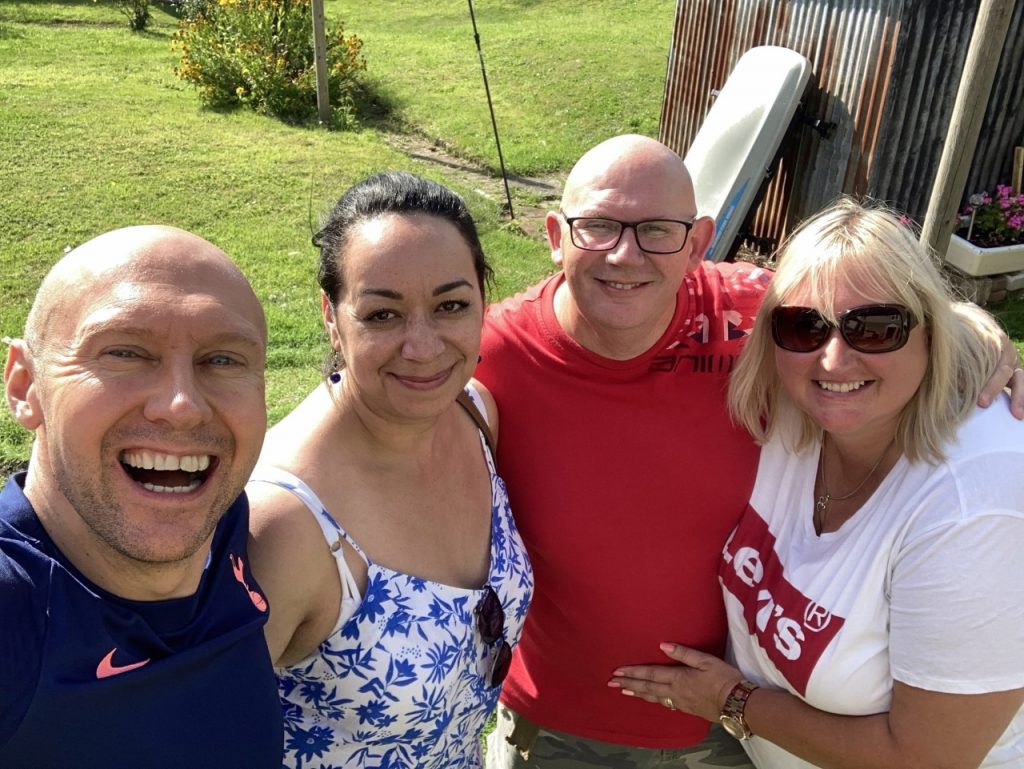 I was at Tottenham's first game of the season when we beat last year's Premier League Champions Manchester City. I am a very optimistic person but before the game if I am honest I was not massively confident. It was a great performance from the team and good to see some of the younger players really step up and put their stamp on things.
The atmosphere was electric and we Spurs fans were in very good voice. After all that has happened during the last eighteen months it did seem strange at first to be in a stadium with that many people. But I of course took all the relevant precautions and by the end of the match it felt quite normal again. Plus obviously you do not rub shoulders with all sixty-thousand there anyway. This week we got the brilliant news that Harry Kane is remaining with the club. I am delighted by this and as the song says "He's One Of Our Own".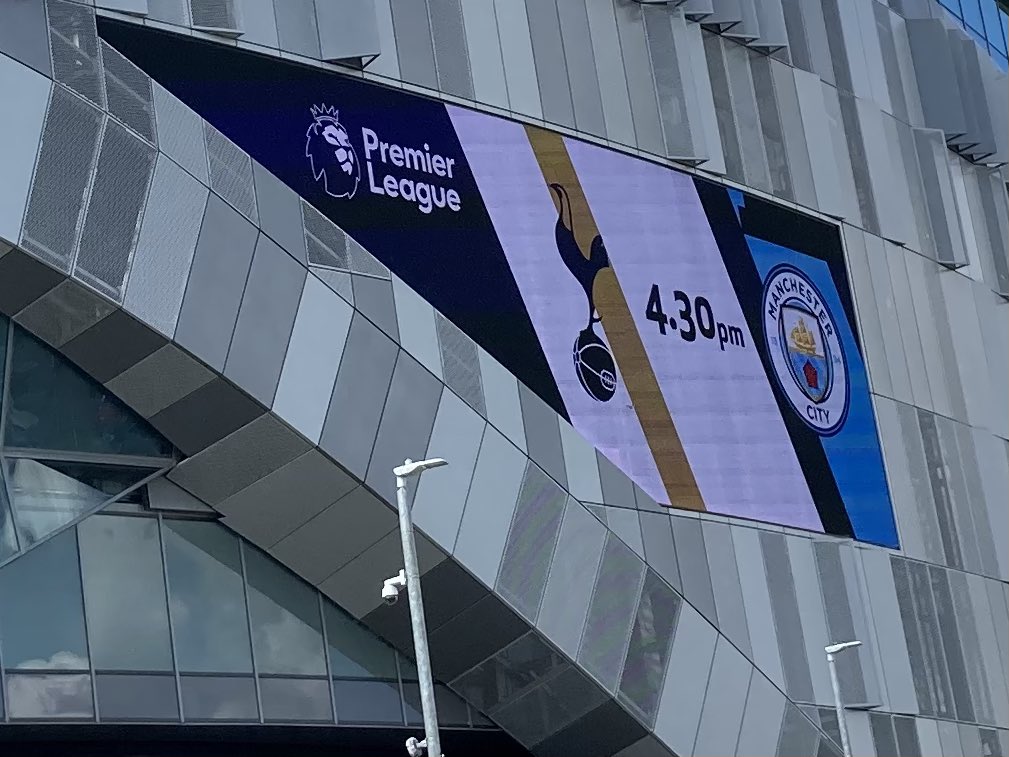 I am working back at the BBC for the next six months as part of the scheduling team for BBC Radio 4. This is an excellent opportunity for me and I am really looking forward to contributing to and being part of such a great national station.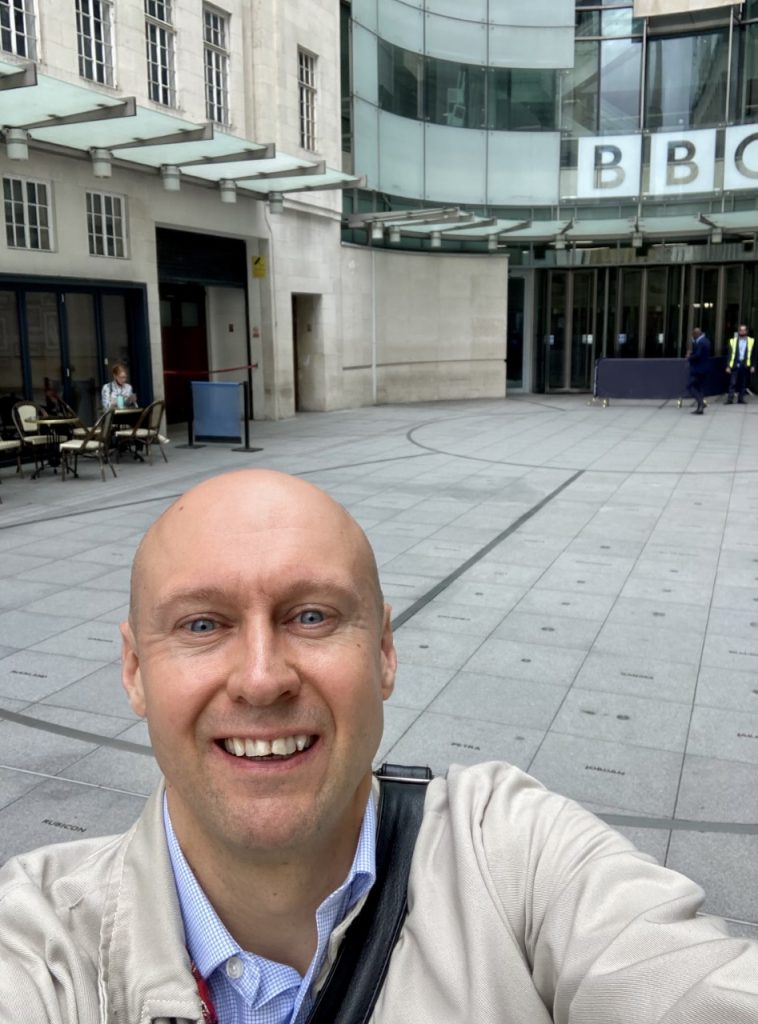 Next weekend I am going to Pub in the Park in Chiswick. It is a food, drink and live music event that I am looking really forward to. I am hoping for some good weather. I mean what is not to like with that combination of things offer. I will tell you what it was like next time we speak.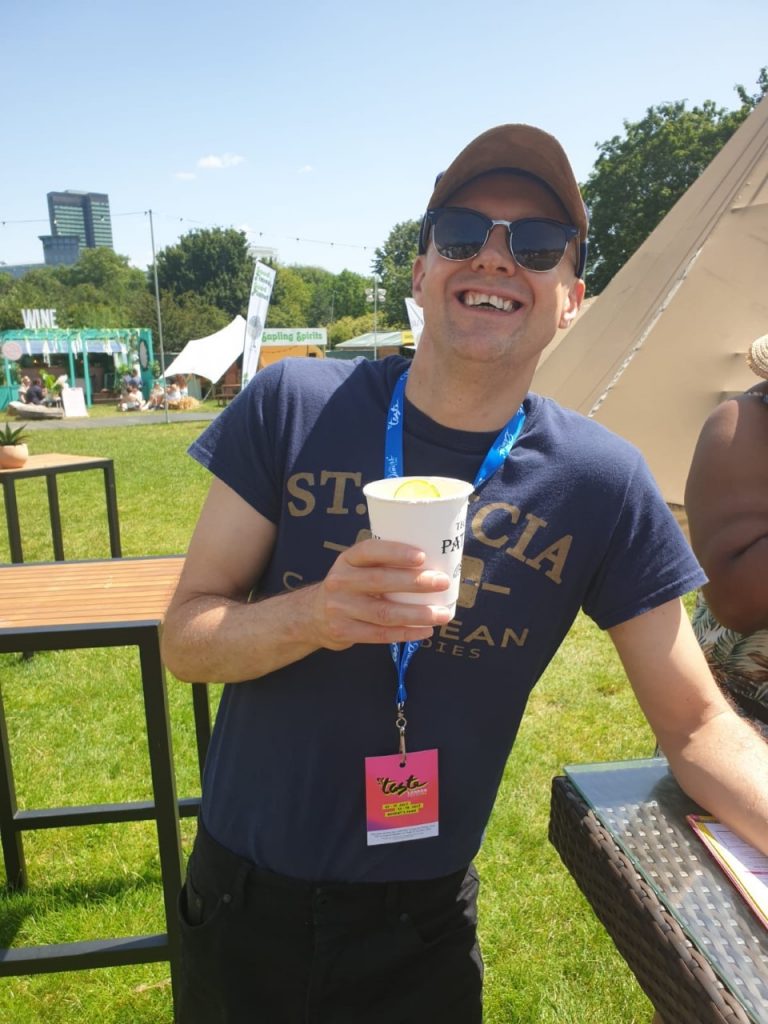 A quick reminder that you can listen to me every Saturday afternoon between 2pm – 4pm on Radio Ninesprings https://www.radioninesprings.co.uk/
Have fun and we will catch up again soon. Stay safe! Cheers Neil.