We are now in a position then in the United Kingdom where most of the initial Covid restrictions have been lifted. It does look like some others may be implemented in some areas going forward however. I have been starting to go out a bit more and mix with a larger group of people. Personally I still plan to keep wearing a mask when inside public places and on public transport as that seems to me to be the respectful thing to do currently for people who have immune system issues. I also try to maintain a degree of social distance from people where I am able to.
Obviously things have only been "open" for nearly two weeks so it is a bit early to fully process the impact of more people mixing and the overseas travel increase on the transmission of the virus. The actual infection rates are not as bad as feared, which I hope means that we may be hitting the vaccination tipping point. Rather than people just ignoring the NHS App and may be not getting tested. If we are lucky the vaccine may not only be stopping people dying but also stopping us catching it and passing it on so easily. That will obviously help to keep further infection rates under control and mean we will be able to live with it and control it like with the Spanish Flu ultimately and of course Polio.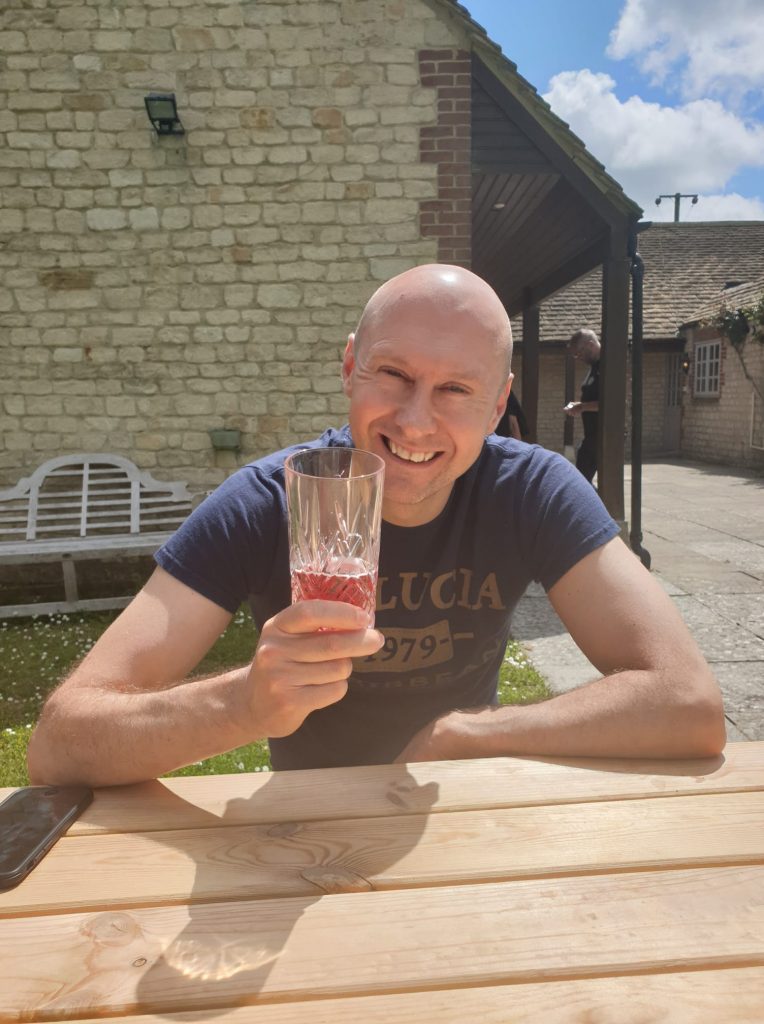 Two weeks ago today I went to Taste of London for the first time. My girlfriend who is very much into anything food related has been each time it has taken place for about the last eight years. This is basically her Latitude. She organised the tickets and we went with a couple of her friends. It was held in Regents Park in London. This meant that I had to get on a train for the first time since March 2020. It did feel a bit weird initially when I got on but I had my mask on and we found a seat for two at the back of a carriage so nobody could sit behind us. It was only a forty minute journey and in the end it felt quite normal.
We arrived at Euston and met some of her friends there to walk to Regents Park. It was a lovely hot and sunny day perfect for walking around a park area eating and drinking. As it was so warm and I have no hair I very sensibly remembered to bring a hat to wear. Sadly for me I have to have one all year round to keep my head cool or warm depending on the season, I have still not found one that suits me yet. Hopefully I will one day! We arrived at the event entrance and had to wait for the final two people in our group. It was all nicely spaced out and very well organised.
The final members of our party arrived and we went in. We had got VIP tickets so the first thing we did was head to our special area to enjoy our glass of champagne. It was great. We had our own table and found a map to start planning our food journey. Lynda as she is far too good to me went through the menus and highlighted all the gluten free meals that I could have. Happily there were quite a lot of them. Once we had finished the bubbles we set off in search of our first items. As part of our ticket deal we had three vouchers each to use to exchange for dishes.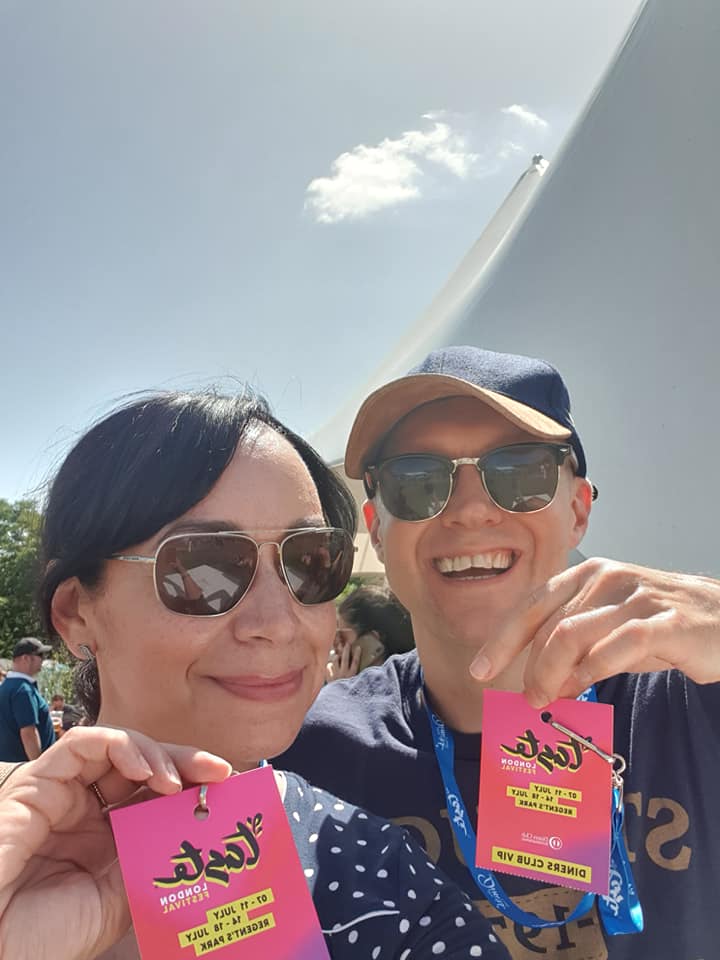 My first purchase was a vegetable curry, which was amazing. There are lots of different food stalls run by different restaurants from all over the country. They serve you a portion in a paper plate or bowl along with wooden cutlery. We decided we needed to wash our first food choices down with a Tequila based drink, so my girlfriend and I both had a Margarita. I forgot that it comes served with a bit of salt around the rim and ended up taking a big mouthful of that as I began to drink it. Once I got over that it was actually quite nice.
For my next sample I had scrambled egg with cottage cheese, some avocado and bacon. It was delicious. I am not sure I have ever seen eggs that golden. As eating is thirsty work we stumbled across a stall that was selling Gluten Free Beer called Jubel. It seemed rude not to try a pint, so we did. They make fruit flavoured beer so I tried their Peach one, which was satisfyingly refreshing. We then decided to go back to the VIP section for a bit. As we got there they were doing a hot sauce tasting so we joined in with that.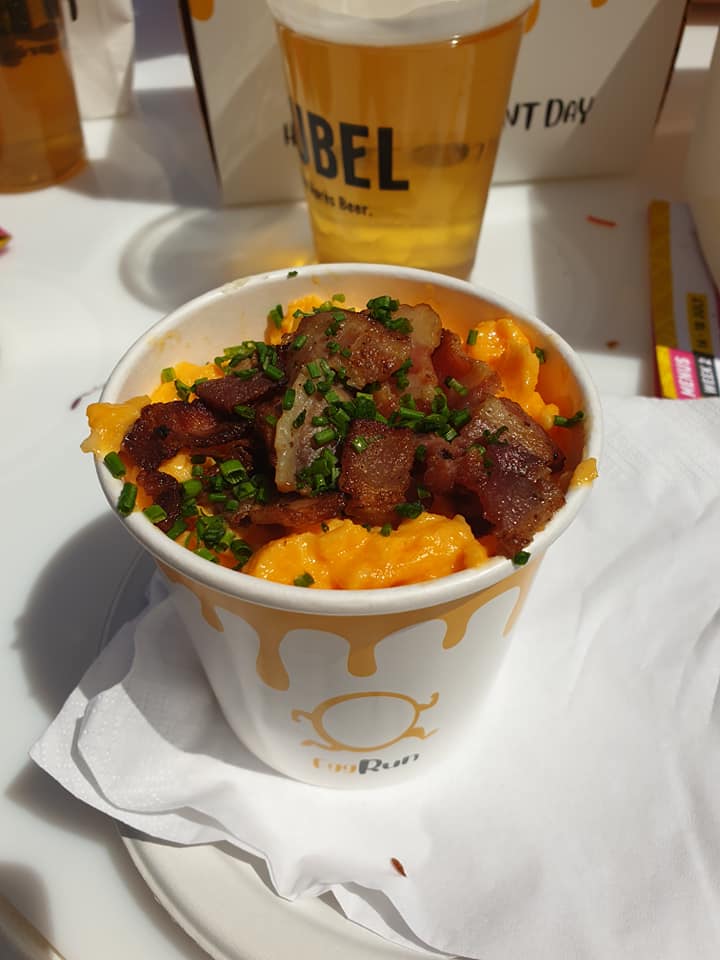 We sat down and they gave us four small pots each with a carrot in them so you could use that to taste them. Pot one was Tamarind it was nice with a slight kick. Then we had some Ketchup which was very nice I could easily have that on anything at a barbecue. Next there was a curry sauce which again was tasty but had a delayed warmth to it. Finally it was this company's Wild Horse Sauce. When you first put it on your tongue it had lots of flavour, then about thirty seconds later you just get this intense heat in your mouth.
If I have anything too hot I sweat from a certain spot on the top of my head and this was now happening. They then told us they had added mayonnaise to the sample they had given us to cool it down a bit. I would not like to try the neat version. It would blow your head off. That said they were tasty and we got to have a chat to the guy who created them all and despite their heat he did not seem like a sociopath! After all that spice we decided to cool down with a pint of cider.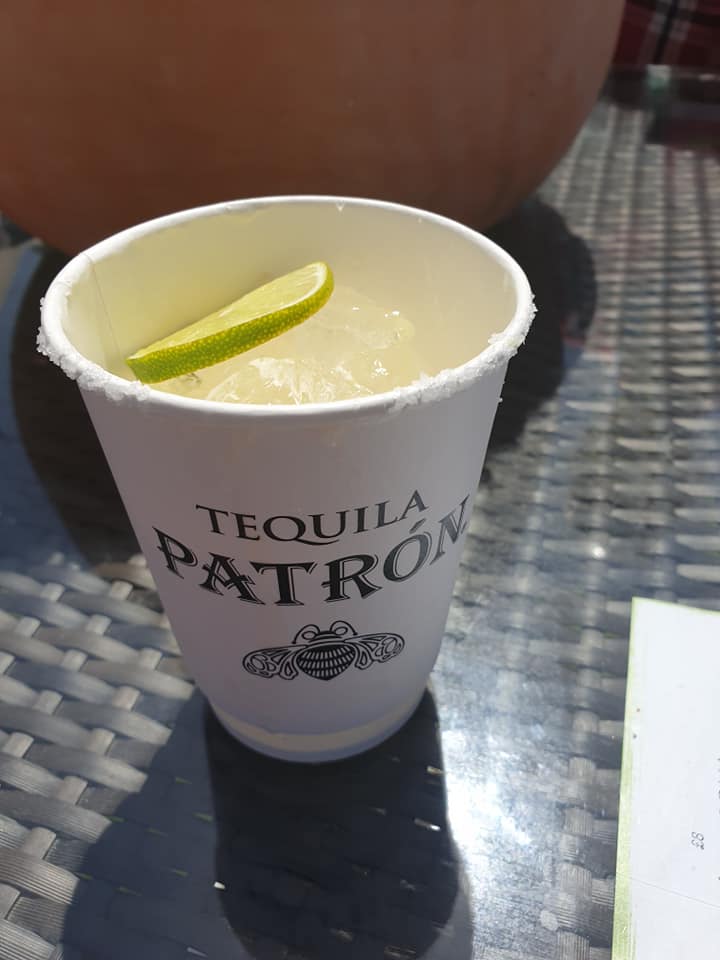 You buy Taste of London tickets in sessions and they only last for four hours. I thought that would give you plenty of time to try all that you want but it soon flies by. We all still had vouchers left so it was time to hunt down more food. Next I tried some Garlic King Prawns which were fantastic accompanied by some Plantain fries that were equally as good. We decided to wash our latest courses down with a Pimms. Well it was a lovely summer's day and we were in a park, so it just made sense. I like to round off any food session with something sweet so I managed to find a Gluten Free cookie stand and treated myself to a few of them.
Then our session time expired and it was time to leave. We did think about having a few drinks in London but in the end decided just to get the train back. Mind you when we got home as the weather was still so nice we sat in the garden and continued drinking until gone ten o'clock. I really enjoyed the event and look forward to going to it again next year. It is good fun and all the food there is sensational. I will admit I did feel a little jaded the next day but then again I must have tried some food and in particular drink from every imaginable category, great day out though, I would certainly recommend it.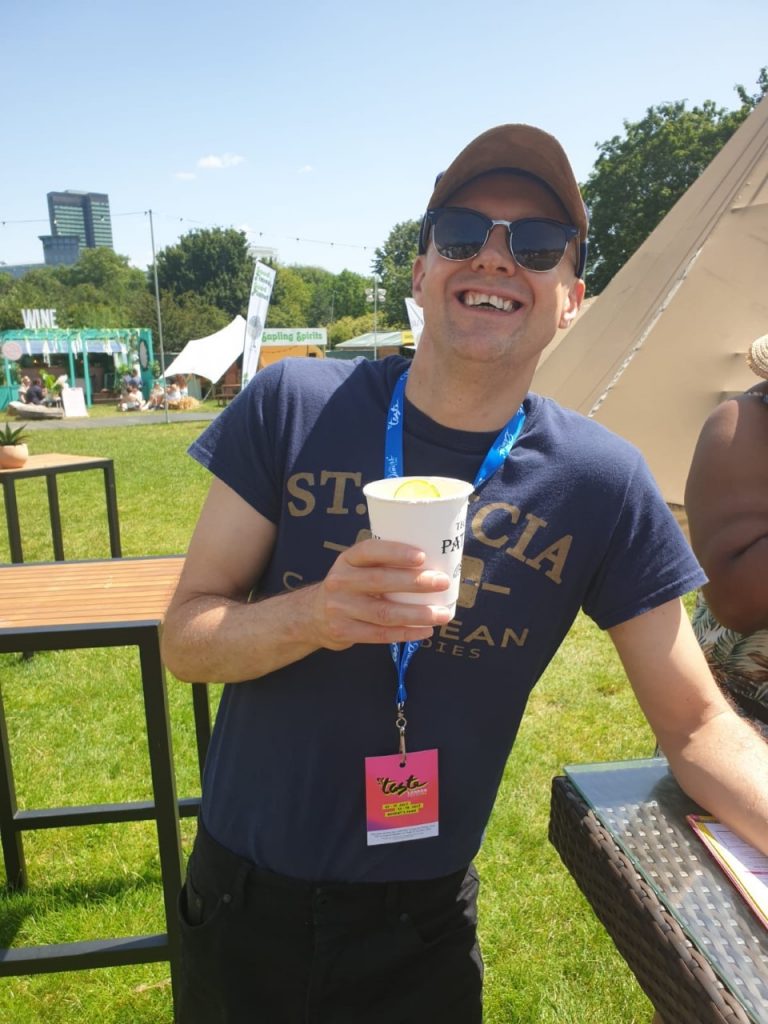 I am slowly getting around to catching up with friends who I have not seen for ages. The other week I went and saw a mate of mine who lives in Milton Keynes, who I had not seen for eighteen months. We met at his place and exchanged the Christmas presents that we had not been able to give each other at the time. Great minds think a-like as we had both bought t-shirts relating to the football teams that we support. We decided to go and get some food. As I am now Coeliac finding somewhere to eat out can be tricky. But we had both been to a Frankie and Benny's near his place previously and they are on the accredited list for people with my condition.
We ended up walking up and down the place where we thought the restaurant was without being able to find it. My mate then asked a security guard who informed us that we were in the right place but that it had shut about a year ago. This posed a bit of an issue as we needed to find somewhere near by that fulfilled my needs. I went on the Coeliac UK website and managed to find another place that was also on the list a Miller and Carter Steakhouse. It was almost empty so we got a table easily and sat down to eat. They did have a special gluten free menu so while my friend had their dirty burger I enjoyed Salmon with Mash Potato and Broccoli. See I told you it was mostly a healthier way of eating.
It was great to see him face to face and have a proper catch up. We have known each other for seventeen years now. We met when I basically took his job. But that is a story for another day. It was all very amicable. He is doing well both professionally and with his sporting achievements at the moment. The wonderful thing about meeting up with friends even if you have not seen them for ages is it is all just so natural and normal. We concluded our meeting with a walk around his local park, I think mainly so he could show me where his cricketing triumphs had taken place this year.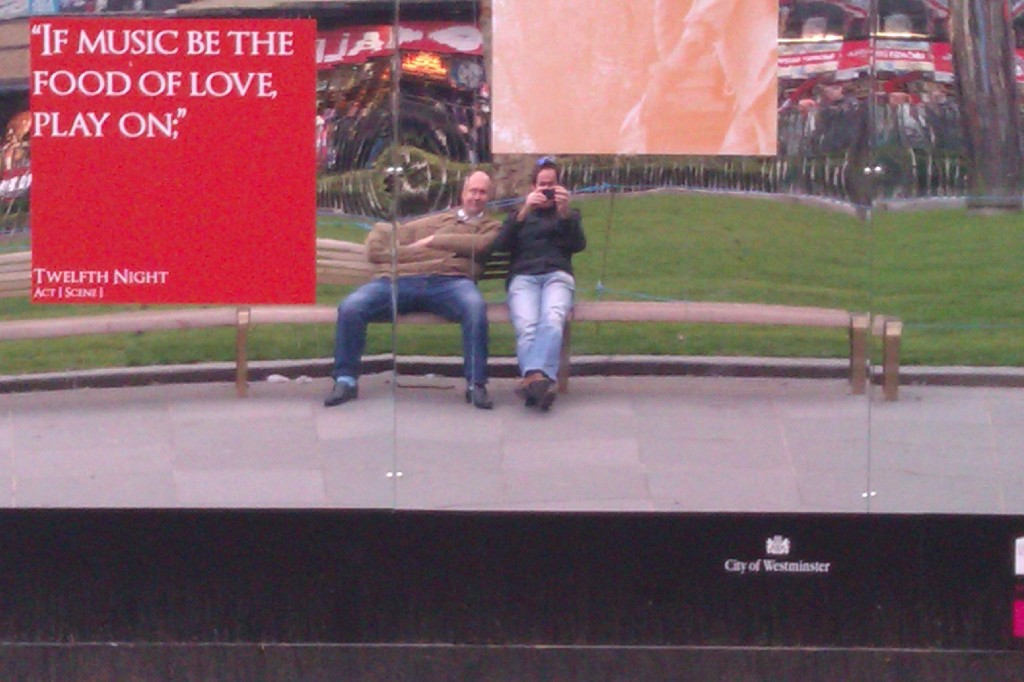 The thing with starting a relationship in the middle of a global pandemic is that is does take a lot longer for you to be able to introduce your other half to your friends. To try and address this balance my girlfriend and I went to visit a mate and his family last Saturday. Obviously I had not seen him for quite a while either so it was brilliant to see him and his wife along with their two children. They seem so much older than the last time I saw them, the kids not the parents that is, just to be clear.
He very kindly offered to do a barbecue and supplied all the food and drink although Lynda did arrive with some Flapjacks and home made Chilli Jam to give them as a present. She never likes to turn up empty handed plus she is a great cook, so both of those things just work. It was a lovely afternoon. We just sat chatting in their back garden. It was dry and sunny which was lucky as that was not what was forecast. My mate got up to get the barbecue sorted for us. When he got the food out even though he had checked with me in advance and said he had got all gluten free stuff I could not stop myself leaping up to go and have a look at the packaging.
I would like to apologise to him for that, it is something I must learn to control. It is all a bit new still and I promise I do it to everybody. Just ask Lynda! After being fantastically well looked after and having had a lovely time we then decided to head off home. We had only got about five minutes down the road when it started hammering down with rain. You cannot teach timing like that! I must have sensed it and known exactly the right time to leave, so we did not get soaked. Knowing the perfect time to leave must be a new skill I have found as I am sure I have got that wrong a lot in the past.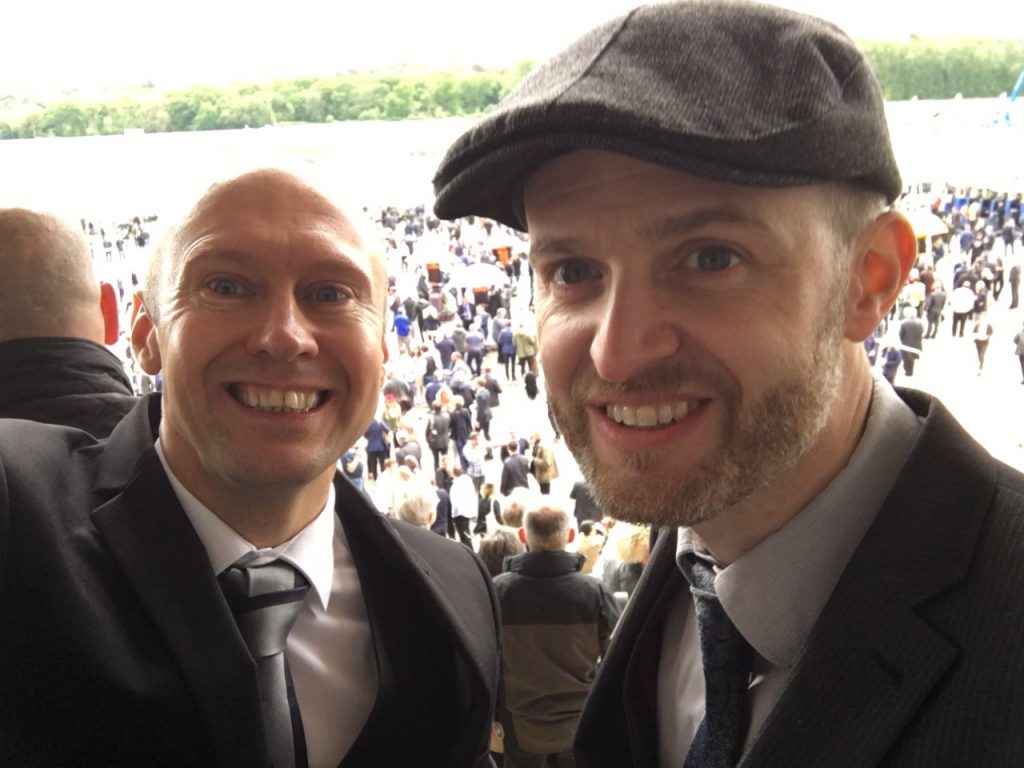 I had an appointment with the Hygienist recently. I always feel like a naughty school boy when I visit one normally and that is when I tend to go every six months. However due to the situation it was nearly two years since I last saw one. Fair play to her she did not faint when I arrived so it cannot have been that bad. It is quite a weird feeling as they are scrapping and chipping away at your teeth. I am lucky that I still have all my teeth. But I do have a tendency to over brush. I drink lots of tea and do not like my teeth to look stained so push harder than I should, which means my gums are receding. That does at least mean they match my hair.
It is nice when they have finished as your teeth do feel all sparkly and clean. I have been using an electric toothbrush for years and still manage to scrub them too hard. I have been advised to use softer brushes and try to clean every tooth individually and carefully. I feel like the Hippo in a Disney film who gets his teeth cleaned by the bird. She did a marvellous job. They are a lot cleaner but I need to go back in four months as there had been such a gap since my last visit I think she needed a bit more time. I am fine with that oral health does help with general health. And although I do not always like the look of my teeth I am happy they can still do the job they were designed for.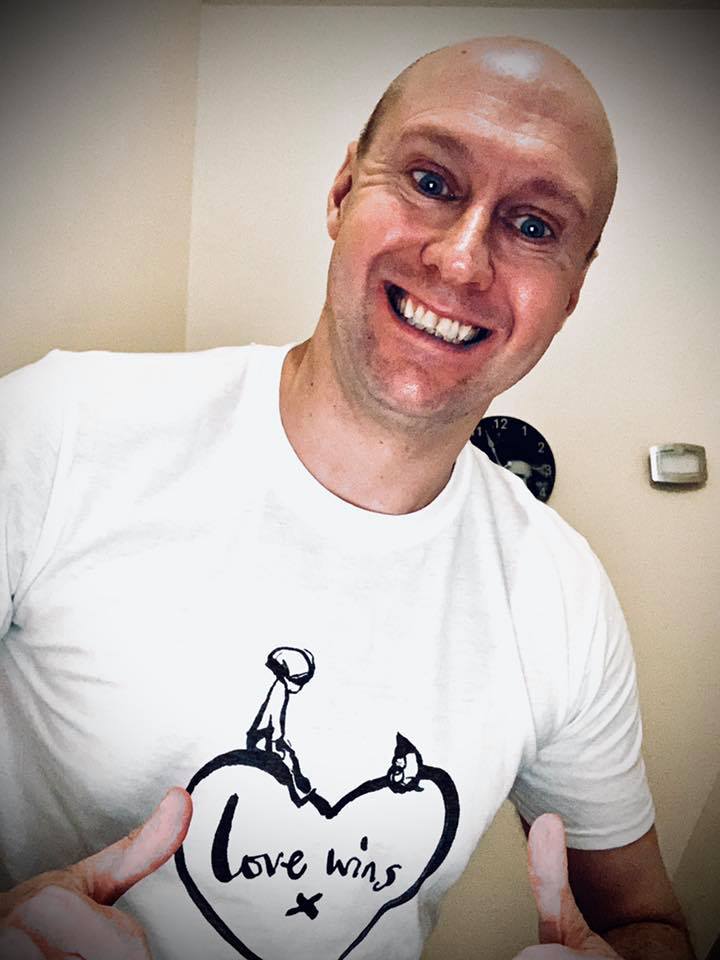 I had to go for a scan to check my Bone Density. It is to do with my Coeliac Disease. The waiting list at my local hospital is so long that they offered me the chance to have it done at a diagnostic clinic in Milton Keynes. It was a brilliant facility. I went straight in, there was nobody else waiting so I was in and out within twenty minutes. That is my kind of medical appointment.
While I was having the scan the person doing it took a phone call and I heard them say I do not know what I am doing with it. Realising I may have noticed without being prompted she clarified that the phone call had come from payroll about her time sheets and that she definitely did know what she was doing as regards to the scanner, which certainly put my mind at ease.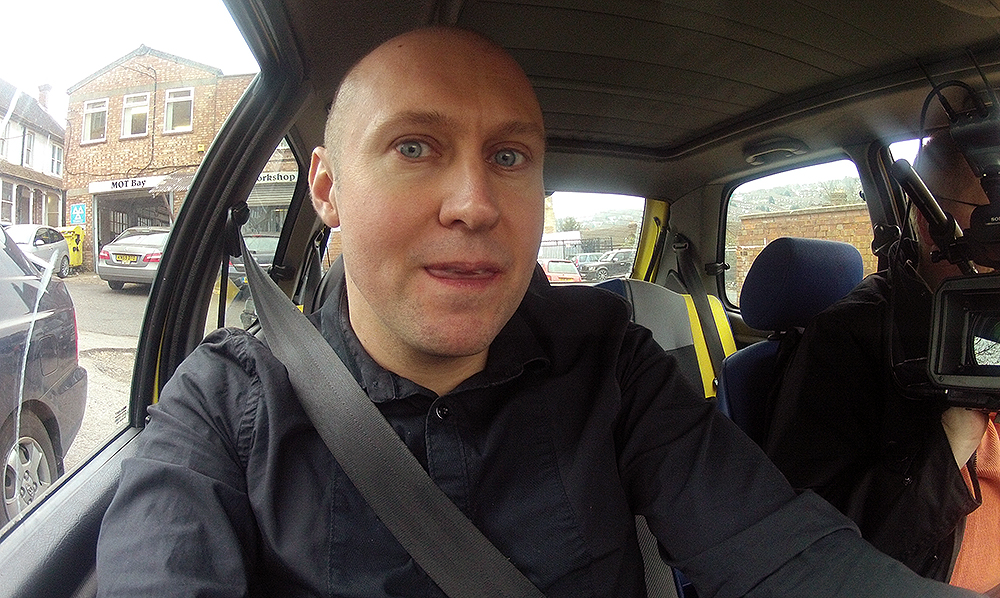 Tottenham Hotspur have returned to pre-season training and have already played a few friendly matches. Despite the fact that many of the players involved in the summer international competitions have not returned to the club yet. We have made a couple of signings this week. One of which involved Eric Lamela leaving I liked him, he was skilful, aggressive and a good team player, sadly I never felt he quite reached his full potential with us possibly due to his injury problems. I wish him all the best for the future. Thanks for the Rabona against "The Gunners" Coco!
There is still a lot unresolved at the moment will Harry Kane stay or go? What further changes will be made to the squad before it all gets underway in two weeks? I agree that has come round quickly! I am looking forward to taking my season ticket seat once again after not being able to go to a match for the whole of last season. It is brilliant news that Son has signed a new long term contract. He is top quality. I have no idea how we will do this season. I hope the fans and team unite and we all give it our best shot. Lastly I can confirm I will not be buying our new away shirt. It is possibly the worst thing I have ever seen and I fear I may get a headache when watching us play in it. That said Come On Your Spurs!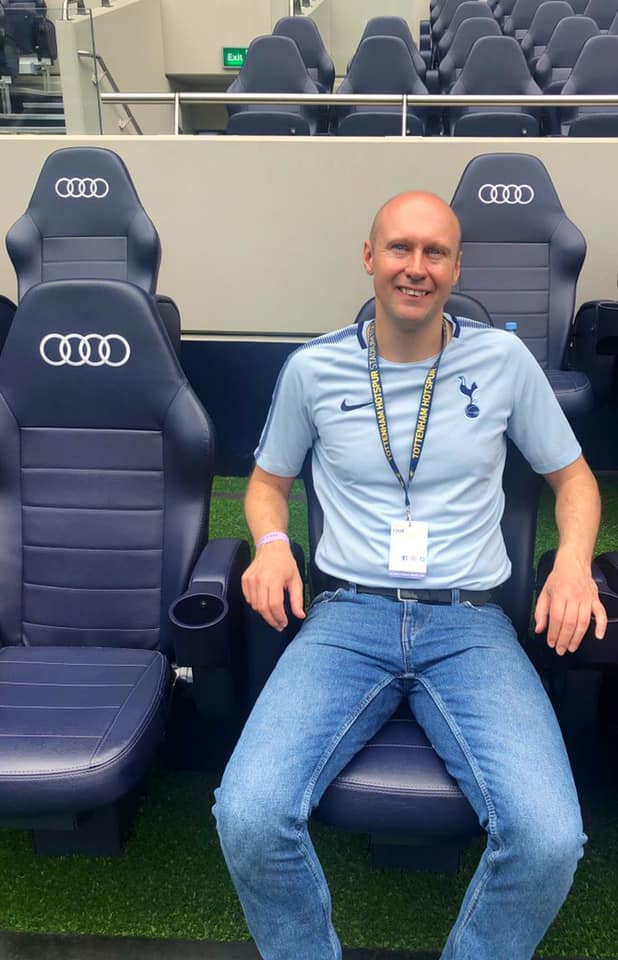 I am looking forward to seeing live comedy tomorrow afternoon. It has been too long since I have been to a gig. Lynda and I are off to see the brilliant Dara O'Briain headline an outside show in St Albans. The last time I saw him in Tring I was sat in the front row and we had a bit of a chat, which was fantastic. I wonder if he will remember me.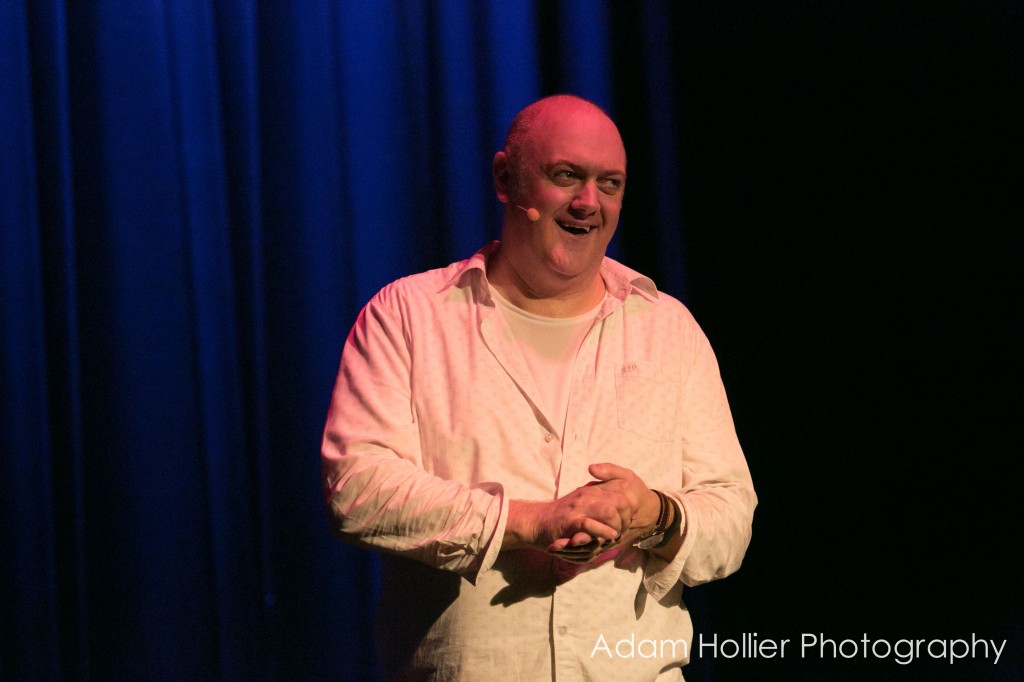 A quick reminder that you can listen to me every Saturday afternoon between 2pm – 4pm on Radio Ninesprings https://www.radioninesprings.co.uk/
Have fun and we will catch up again soon. Stay safe! Cheers Neil.