Hi there, how are you doing? I hope you have had a good couple of weeks. Mine have been great with lots of fun things going on. I spent quite a bit of time in various television studios and in a well known West End theatre watching several TV programmes being made. I did have one mini personal disaster the other day though.
On the way back from London I managed to somehow leave my wallet on the train. Which led to a few slight issues with getting in to my house. As my key was in it. And with paying for any items that I needed for the next few days. Happily I did get it and all the contents that it contained back. So thank you very much to Chiltern Railway's for finding it and returning it to me. That was very much appreciated and saved me a lot of hassle. I will be more careful in the future, to make sure my wallet always leaves the service when I do.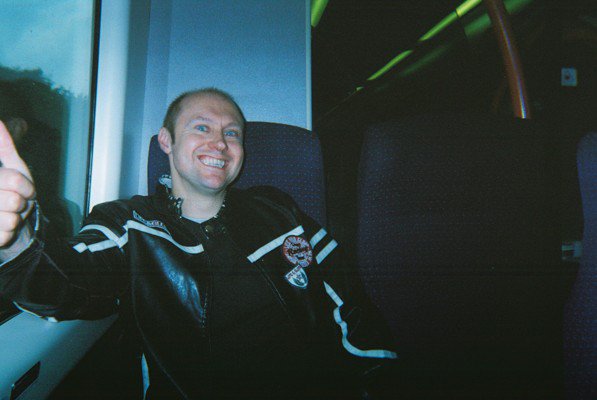 The excellent "The Last Leg" has been doing a very short run of election special shows for Channel 4. I went and saw the first one of these programmes broadcast live from the Fountain Studios in Wembley. It was in a smaller studio than the one they normally use. So the audience were much nearer to the action and right on top of the team. Which I think actually created a better atmosphere for it. The host Adam Hills and the regulars Alex Brooker and Josh Widdicombe were on top form. They were all very funny.
The show was live on Channel 4 from ten that night but fair play all three of them came out on to the set about twenty minutes before it was due to start, to have some fun and a laugh with the crowd. And to film the opening titles sequence. Adam Hills did admit that he was a little bit jet lagged when he walked out. As he had only just recently arrived back in to the country from Australia. I have to say though you could not tell and it did not affect his performance. He was still as razor sharp as ever. It featured possibly the oddest two guests I had personally seen on the show. Bearing in mind it was an election special of course. So this did kind of limit their options as the guests had to be relevant.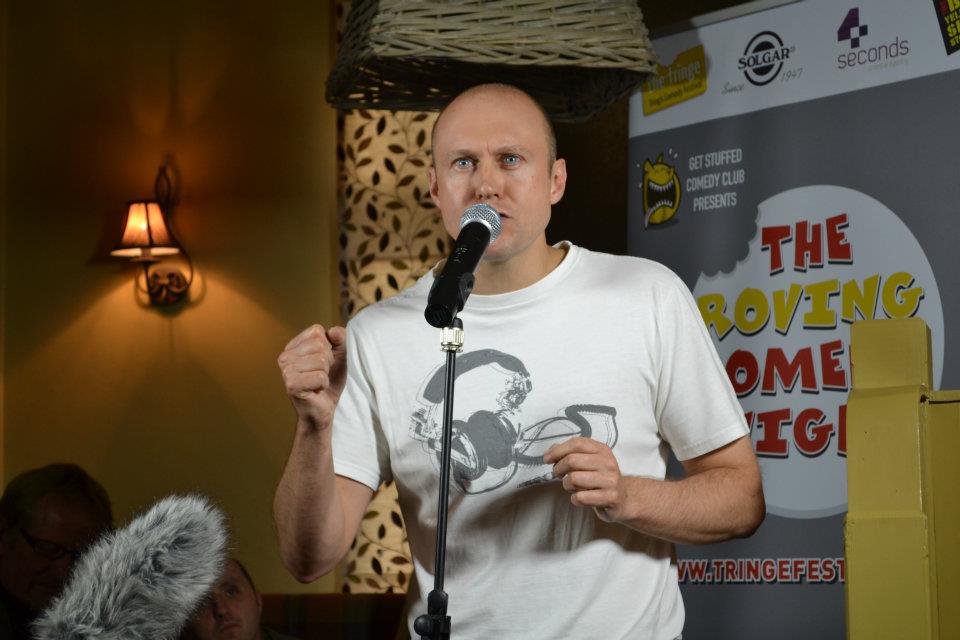 The first one was the then deputy Prime Minister Nick Clegg. Who to be fair came across quite well and showed that he could take a joke. He also did pretty well considering that it is not really the ideal show to get into big political discussions and opinions. As they are basically just waiting for the opportunity to try and get the next joke in. Or to bring in some embarrassing footage of politics going wrong. They did have a clip of Nick trying to tell a joke at a press conference. It was that bad he should probably stick to his day job, and that is saying something.
The second guest was Piers Morgan. Who actually got booed when he walked on to the set. I can't think of many other guests who have ever received that treatment when appearing on any programme. He took it well. But with the things he often says and does for effect. He is clever enough to know he always risks this reaction. I can't say I particularly like him, but I admire and respect what he has achieved. And annoying I do sometimes have to agree with some of things he says. It was a fun night out and you left the studio in a good mood, even after all the election talk. Which I think is the sign of a good show.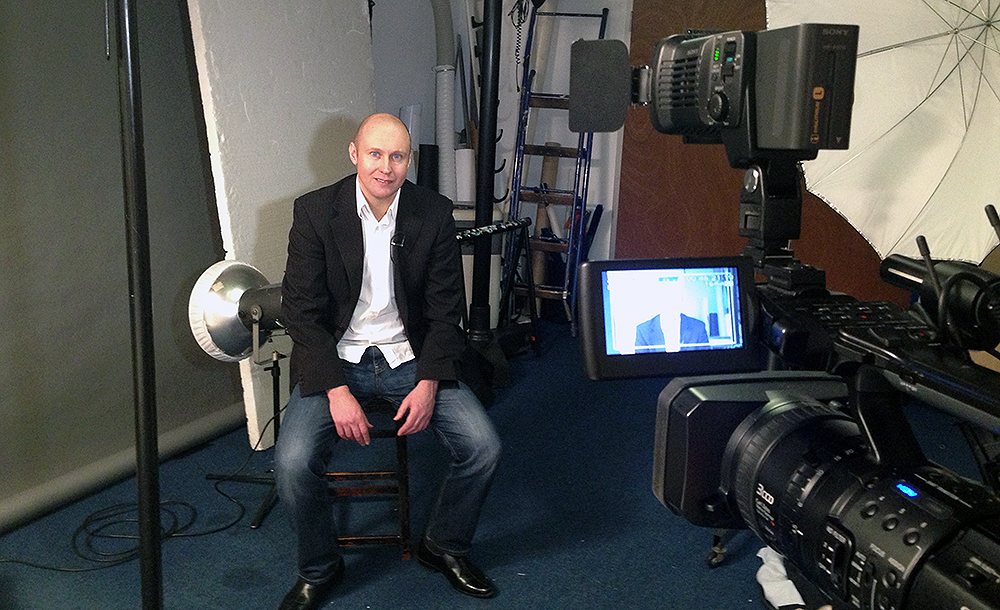 Next up it was a trip in to the heart of London's theatre land to go and see the final episode in the latest instalment of Sunday Night at The Palladium being filmed. On the way to the show my friend and I stopped off for a lovely Italian meal in a well known and popular chain of themed restaurants. I had the steak washed down with a nice glass of red wine. The perfect pre-theatre meal in my opinion. We had collected our tickets earlier in the day so had some free time before we had to return to see the show.
So after we had eaten we then went for a quick look round Carnaby Street to walk off the food. We accidentally stumbled across this shop just off the main street. Which the very stylish looking manager informed us was the oldest shop in the Street. It certainly had a great selection of original sixties style clothes, classic band t-shirts, and handmade leather boots, which all looked very cool. The manger was also a tailor who designs and makes many of the items on sale. It is a really eccentric and authentic place and well worth a look at if you are in the area.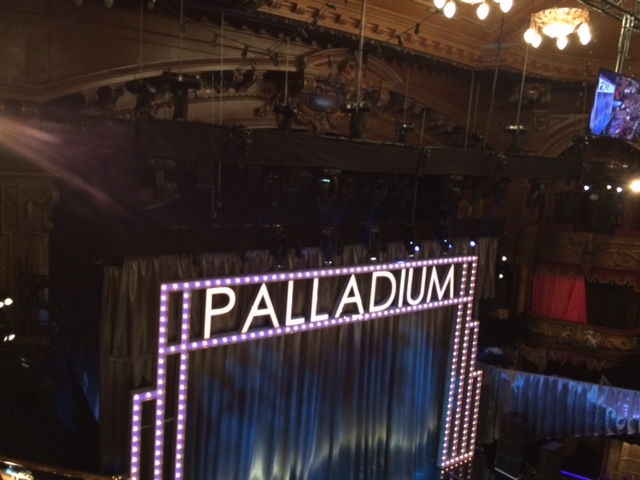 Then it was time to take our seats in the Upper Circle of the iconic London Palladium to enjoy the return of the ITV weekend variety programme. The host for the night was Jack Whitehall. I really like him and I do think he is extremely funny. He did a brilliant job anchoring the night. I have seen him out in social situations. His stage persona can, I guess seem a little brash sometimes, but in "real life" he is a very nice, friendly bloke. Who is happy to just have a quiet drink with mates with no fuss whatsoever.
The acts on the bill included a Japanese Dance Troop, who were amazing. A knife throwing act, who I had to watch through my fingers as it was scary stuff. Jack Carroll the young comedian from Britain's Got Talent. Top comedian Sara Pascoe, who was on great form. The music for the evening was supplied by Jess Glynne, Leona Lewis and the fantastic Simply Red. Who had the whole place totally rocking.
It was a great night out at a tremendous venue. I love variety shows and think that there should be more of them on television. As it was the very last one in the current series, it will not be on our screens until the end of May. But do look out for it and give it a watch if you get chance. It's fantastic Sunday night entertainment.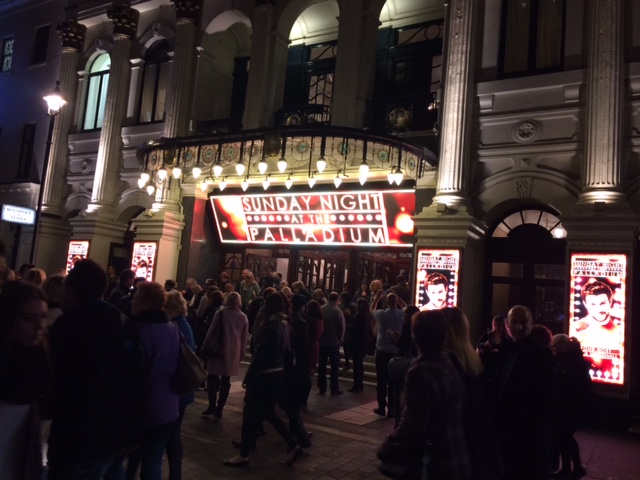 Then the next night I was back at the Fountain Studios in Wembley to see an episode of the new Saturday Night show "Play To The Whistle" being filmed. It is hosted by the excellent Holly Willoughby, who for me is one of the best presenters around. Switched on, very slick and funny when she needs to be, perfect in many ways. The executive producer on the show is Dan Baldwin, who is also Holly's husband. He is involved with a lot of high profile panel and game shows.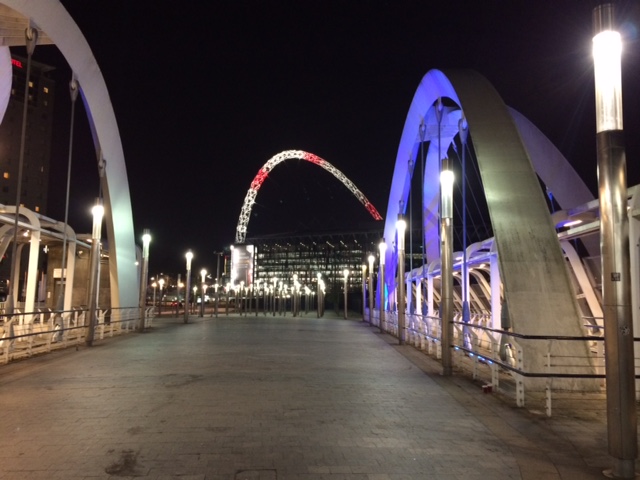 Also on the show is Bradley Walsh, who is great, a true professional and very nice man. And footballer Frank Lampard, who plays his role brilliantly. He knows why he is there and what he needs to do. The other regulars are comedian's Romesh Ranganathan and Sean Walsh (Both of whom I have seen perform live) They are both very funny men. And finally ex-footballer Jimmy Bullard pops up when required to bring a bit of madness and his own brand of fun. From what I have seen I think he may be a little bit crazy.
The guests on the panel at this particular recording were the legend that is Bob Mortimer, Pat Cash and Natalie Anderson from Emmerdale. They were all great fun, but for me Bob stole the show. He has a unique sense of humour. I think it is the way that he delivers his stuff in that kind of matter of a fact way, that makes it so amusing.
Without giving too much away. There is one bit in the show where it goes a little bit off piste. And everyone involved suddenly has a go at a fun little game. Which just started off as a challenge between Bradley Walsh and Pat Cash. This ultimately leads to seeing an airborne Holly Willoughby. Which is something I thought I may never get to see but I was glad to be there to witness it. This may or may not make it in to the show but if it does the way she lands goes some way to demonstrating Newton's Laws of gravity.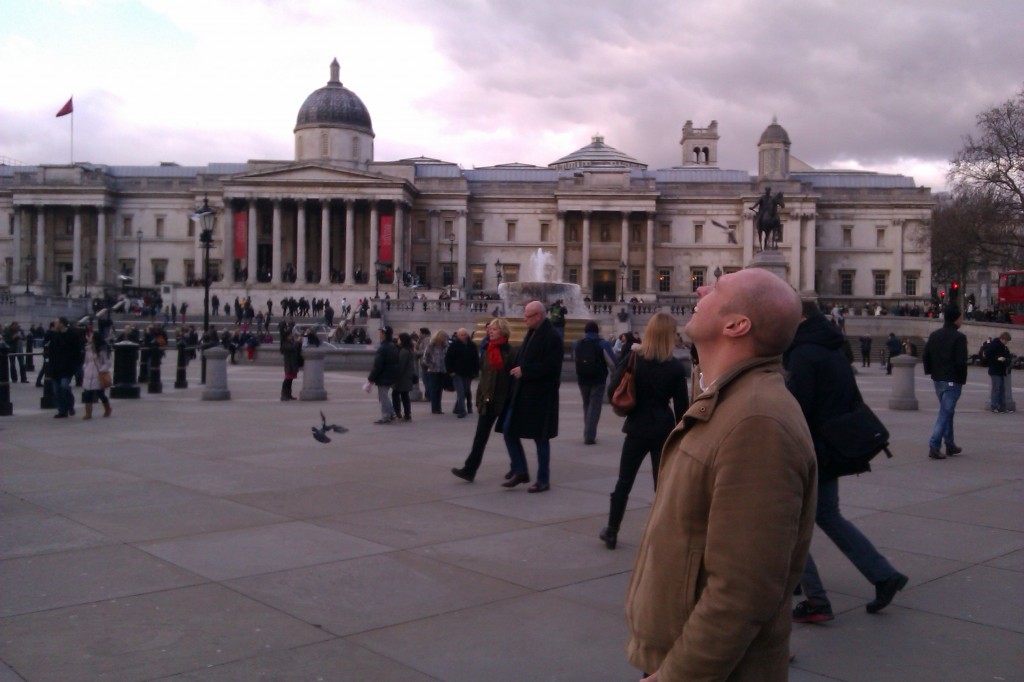 It was great entertainment and the whole gang were up for it and really throwing themselves in to it. Again this episode was recorded well in advance and will not be on our screens until at least next Saturday night. If you are in and fancy a laugh keep an eye out for it. It will make you smile. As ever with these things the funniest moments probably will not make the edit. Which is why I really enjoy being in the studio on filming days.  You never know exactly what will happen.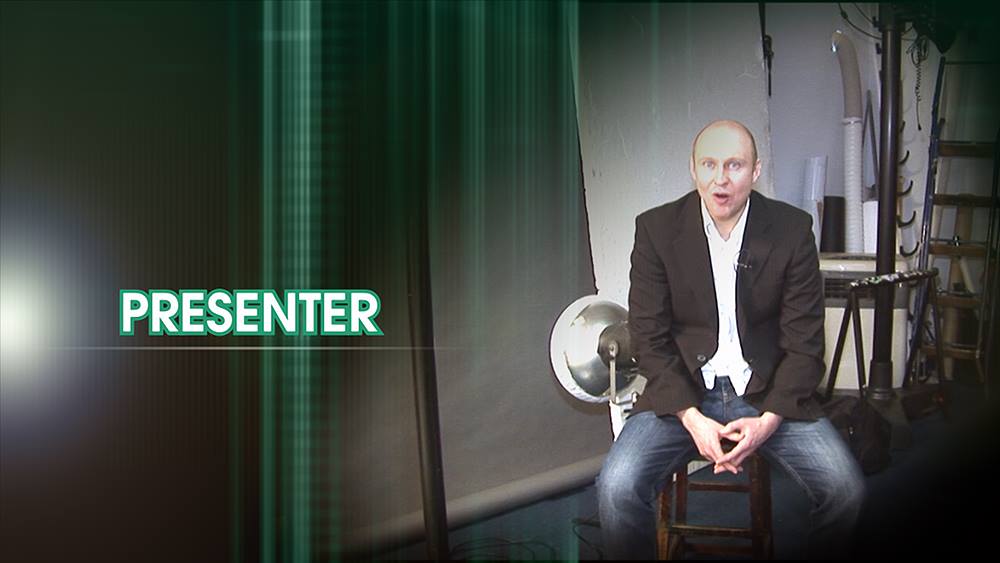 And finally from the world of television I went to a Celebrity Juice recording at Elstree Studios. They normally record the show on a Wednesday and then it goes out the following night. The one I was at was Keith Lemon's special birthday show. Which was great because they all wore fancy dress and they played all the host's favourite games from the past. It was good to see Holly Willoughby for the second time in three nights, without her accusing me of stalking her. This show is also produced by her husband Dan Baldwin.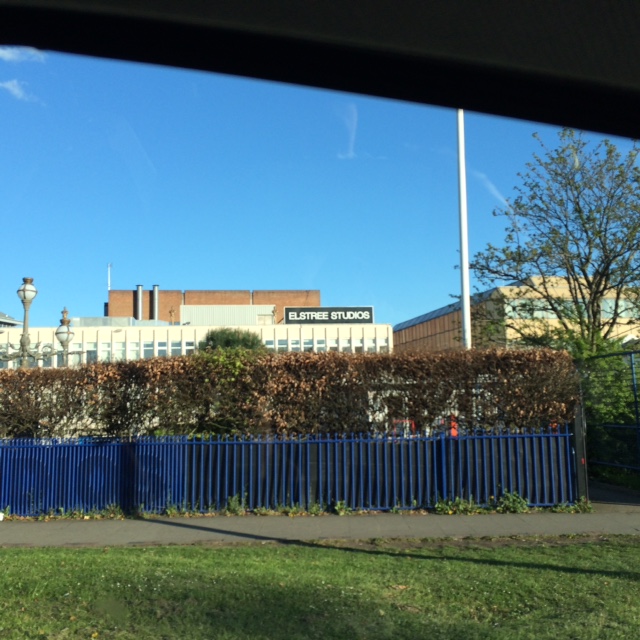 As well as the other regulars Ferne Cotton and Gino D'acampo, on the show were Professor Green, Charlotte Crosby and Gok Wan. I once interviewed Gok when he was filming one of his television shows in Bristol. He told me right at the end of it that he had to dash off as he had a lady waiting for him in her underwear. For those of you who know him or his shows. You will know that this is perfectly wholesome and all above board. The alcohol was flowing through out, it was a pretty wild and fun recording. Celebrity Juice that is, not my interview with Gok. I think you could certainly see that if you did watch the show on ITV2 the other Thursday.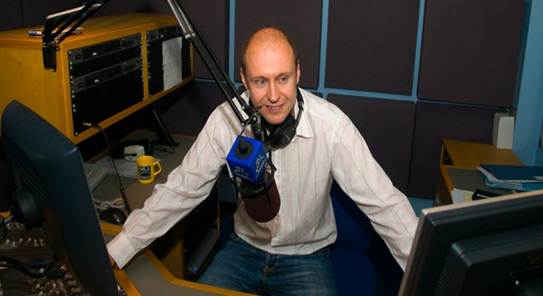 On Bank Holiday Monday I went and tried out a new sport for the very first time. Having never set foot on a proper golf course before because I have never really had the desire to try that particular game. I was much keener to try a new form of this sport featuring my favourite sport football. So after being invited by a former football team mate to play Foot Golf with him and a few of his mates. I jumped at the chance. Ritchings Park Golf Club in Iver has built a specially adapted course for football's. It has only just recently opened, so we were one of the first people to try it out. It costs sixteen pounds per person for a round. Which does include a football and a scorecard for your group, detailing the par for each hole. Plus a map of the course.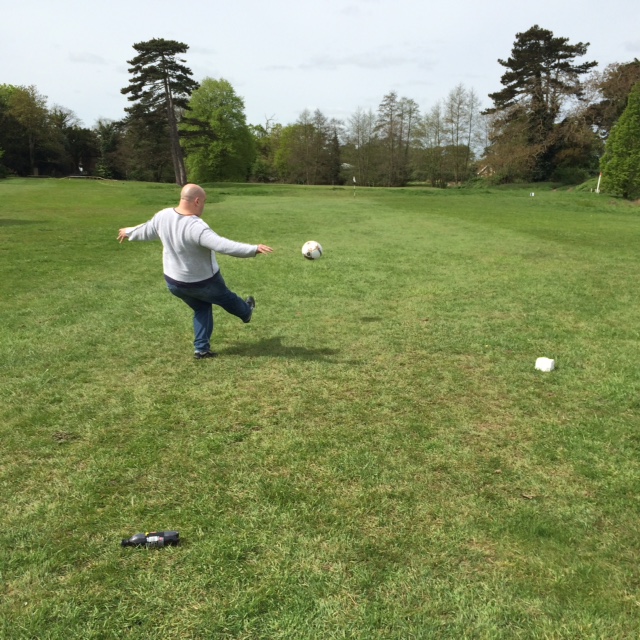 It was a good laugh and if I am honest a little bit harder than I had thought it would be. It took us about two hours to get round the eighteen holes. When we had finished we had a pint in the club house, so we could just double check the scorecards. I came in last place out of four but it was a close game. And I was only four shots or if you like kicks off the leader. If you are a football fan and fancy a good giggle with your mates I would definitely suggest giving it a go. It is really well set out. The holes are set in to the greens like proper golf, only they are football sized. And they all have flags in them to. I do plan on having another game or two before the summer is over. It was certainly a very pleasant way to spend a May morning.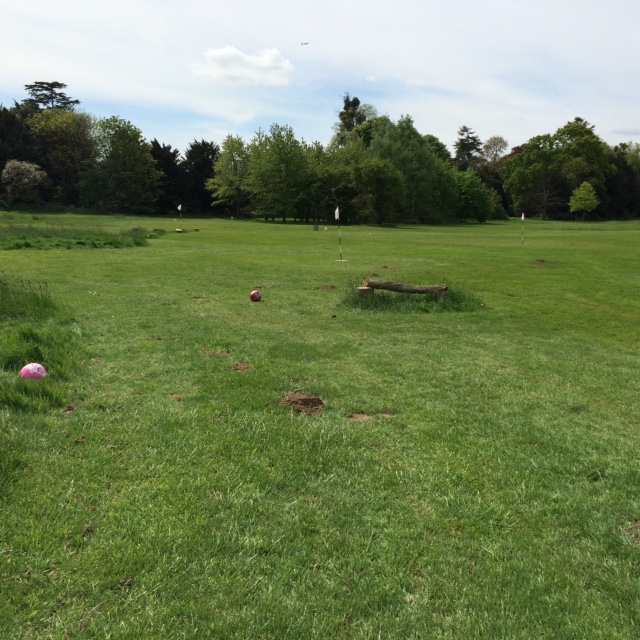 I have mentioned before that I am a big fan of twitter. And one of the reasons I like it, is for moments like this. Listening to Chris Evans on the Radio One Breakfast Show is what made me decide that I wanted to work in radio. So imagine my delight when one of my broadcasting hero's re-tweeted something I had posted over the weekend. It is fair to say it did lead to an increase in my personal traffic on the site. Well at least for a couple of hours anyway.
It was simply an observation about how his description of what he was experiencing at the airport. Would have made for a very different start to the film Love Actually. I still enjoy listening to Chris Evans on Radio Two now. He is such an exceptional communicator and a very interesting man. So cheers for the on-line mention Sir, it was very decent of you.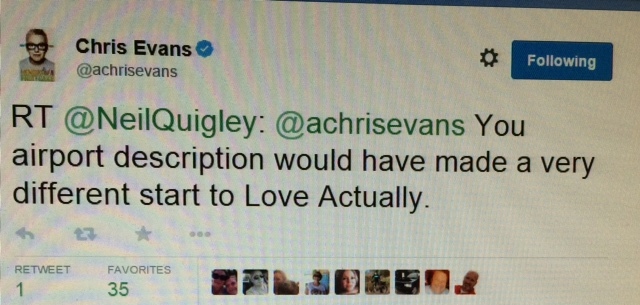 Have fun and we will catch up again in a couple of weeks. Cheers Neil.