I hope you enjoyed last Saturday. It was gorgeous. Sunny and warm. In fact it actually saw me getting my legs out and donning a pair of shorts. My rule is that I will only wear them if the temperature is above twenty five degrees Celsius. Unless I am playing sport. We have had quite a few pleasant days. They have just not been as hot. As I would have liked them to be in the main.
I was lucky enough to make two visits to Royal Ascot this year. I was there on the first and last day of the festival of horse racing. On the Tuesday I took my Dad there for the first time. We set off suited and booted. To get the train to the Berkshire course. This involved going into London first. To then get the tube to Waterloo. Just to alleviate any doubt wearing a three piece suit on the Underground is like you are in a Sauna. Which coincidentally is somewhere else people rarely talk to each other. And also avoid eye contact.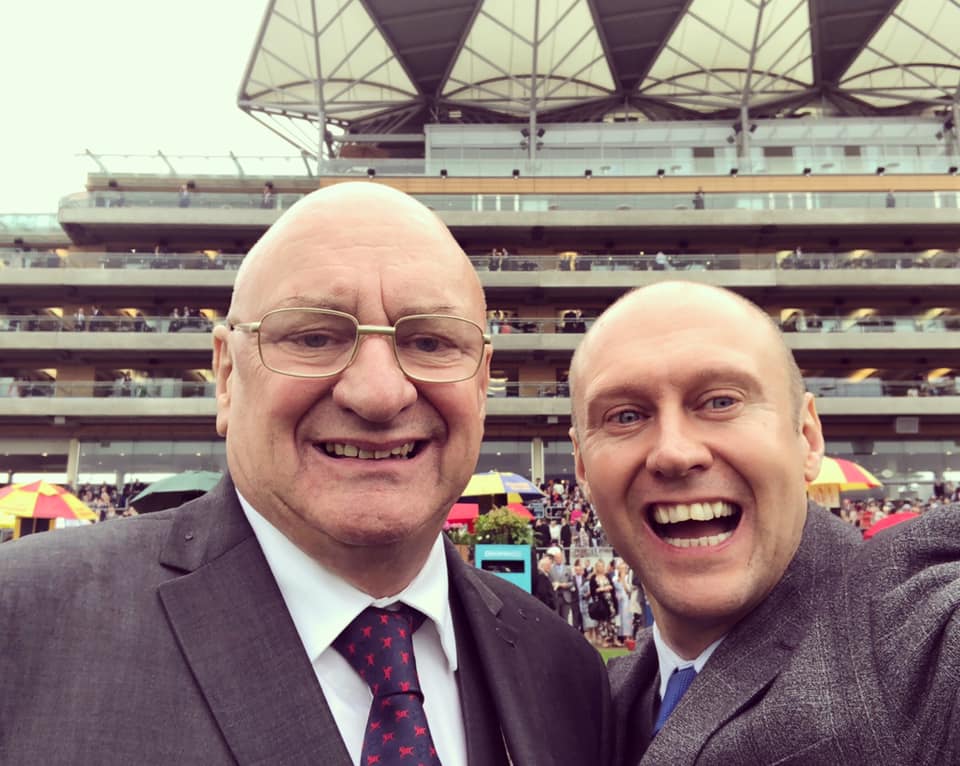 We managed to get a seat on the busy train from Waterloo to Ascot. It might have been the best dressed train in the world. It is not every day. Everyone in a carriage is wearing at least a suit. If not as in many cases Top Hat and Tails. It is wrong to portray stereotypes of course. But everyone did seem to be very friendly and nice to each other. So there may be something in the way people dress. And the way they behave. At least in public, possibly before they have started drinking too much.
Sadly it was a bit of a wet and showery day. We were undecided if we should bring jackets or something to fend off the rain. In the end my Dad did not bring anything. I brought the world's smallest umbrella. Which I got for three Euros when I was in Rome. It was all we had. So when it started raining as we arrived. I had to try to use it to keep the both of us dry. As we walked up the busy road to the entrance. With limited success. We got in to the Queen Anne Enclosure and happily the rain eased a little.
We grabbed a rather nice Chicken Burger for lunch. Got a couple of race cards to study. Then somehow managed to get ourselves a seat undercover at one of the outside bars. Where we treated ourselves to a glass of beer. Then it was time to take our place at the Parade Ring to watch the Queen arrive.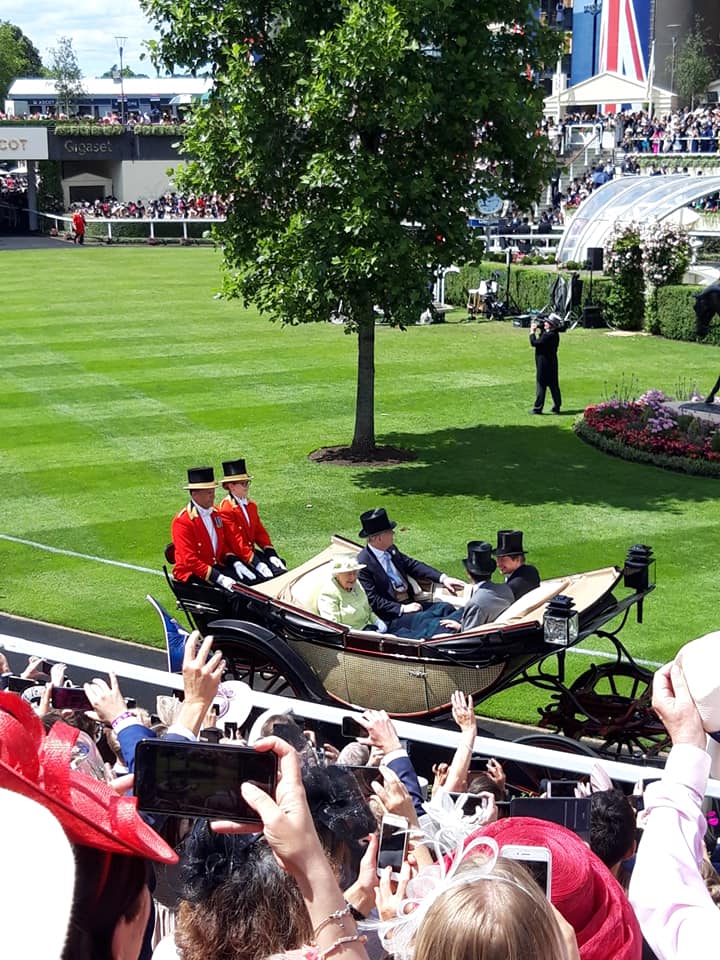 She is a massive racing ran and she loves this meeting. She has not missed one single day of Royal Ascot since 1953. And to be fair to her that was because it was the day of her Coronation. Therefore she did have a slightly more pressing engagement that particular day.
I have said it before, I am a big fan of the Queen and the Royals. I think they are great ambassadors for the country. They bring in a lot of tourism from abroad. And they are well loved and respected all over the world. The Queen for me is an amazing lady. Always acting perfectly in every situation. I wish I could learn that skill. I have to admit I really enjoy watching her arrive. Normally on the first day a lot of the family come along to support her.
I got a really good position to see them all arrive. The Queen was no more than about five metres away from me. When she went past in her horse drawn carriage. Also in the procession and going right by me were Prince Andrew, Princess Anne, The Countess of Wessex, Prince Charles, Camilla Duchess of Cornwall, Princess Beatrice and Princess Eugenie. Plus the Duke and Duchess of Cambridge. I am totally convinced that Prince William waved at me as he went past
With the Queen in attendance and the Royal Standard flying on top of the stand. It was time to get the racing underway. I had a terrible day on the betting front. And did not have any winners. In any of the six races. My Dad however did have two winners. During the races we grabbed some Fish and Chips. They were tasty. The standard of food on offer was generally pretty good.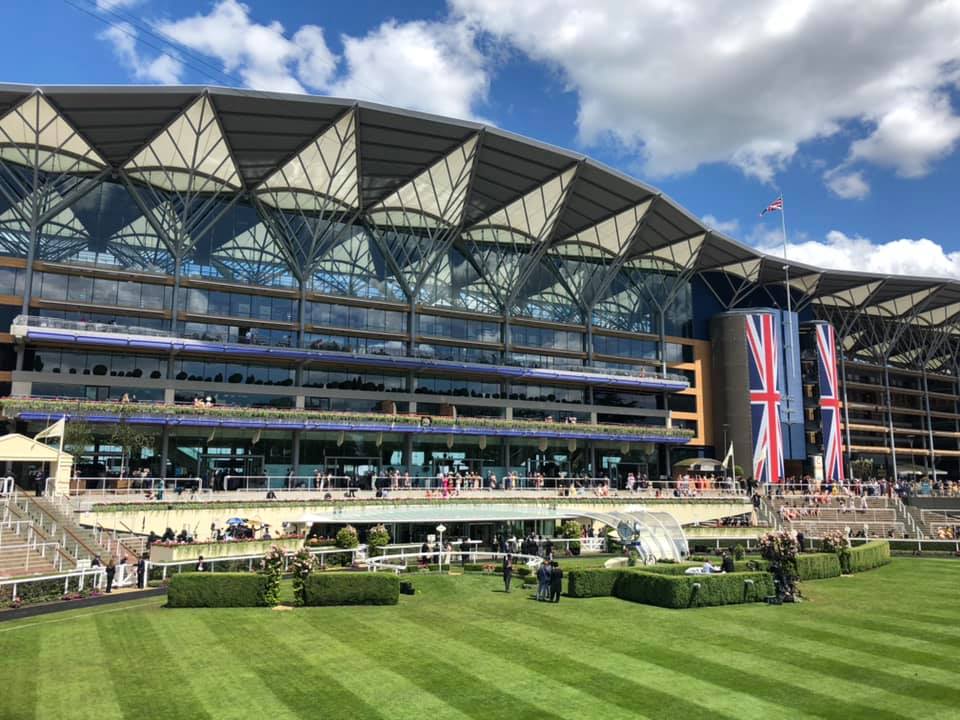 After the racing had finished for the day. We had another drink at one of the many bars in the enclosure. We then went to a pub on the High Street in Ascot. For one more final drink. As we waited for our taxi home to arrive. It was a fun and enjoyable day. Despite the rain. The quality of the races was excellent. They were almost all close run things with exciting finishes. I then watched the next three days of the festival from home. And happily did rather better on the betting front.
The final day of Royal Ascot this year. I was back in another three piece suit. At the house of two very good friends. Getting ready to jump in a taxi and once again make my way to the world famous race course. Before we left, we had a glass of fizz to toast the day ahead. This time it was a dry and sunny day. Which does just put everyone in a much better mood.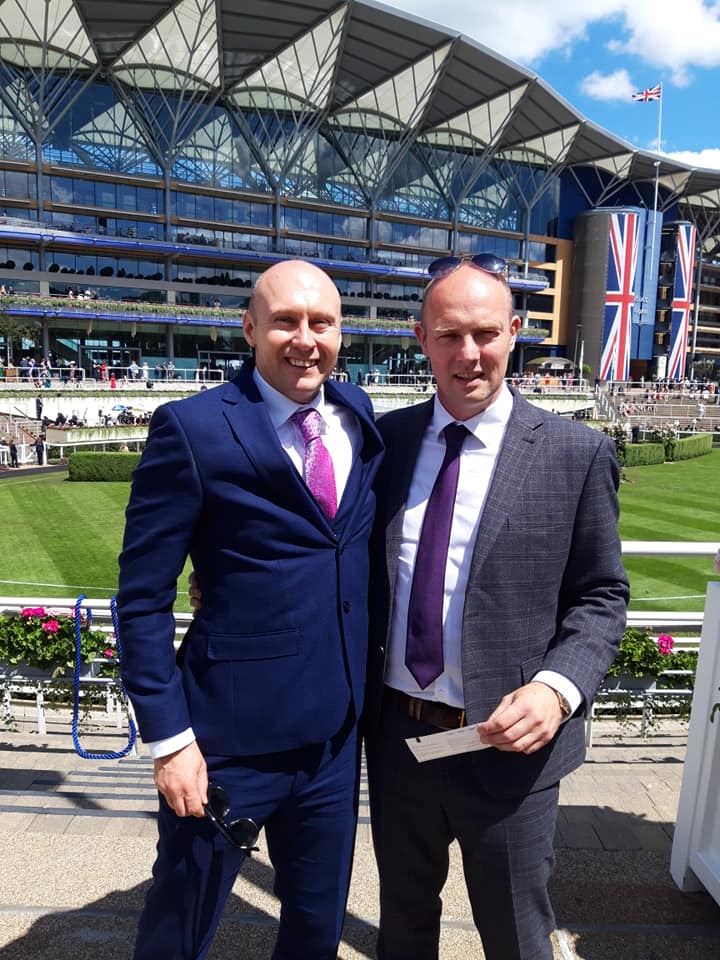 After a pretty decent walk from where our taxi dropped us off. We entered the Queen Anne Enclosure. As I had been there just a few days before I took our group on a short tour. To help them find their way around. Then we went and got ourselves a drink. Well it would have been rude not to.
I was back in the Parade Ring again to watch the Queen arrive. Then it was on to the day's racing. I managed to pick the winner of the first and third race. So I was a bit more successful than my previous visit. A bit earlier in the week. We had a few drinks during the afternoon. It was all very sociable.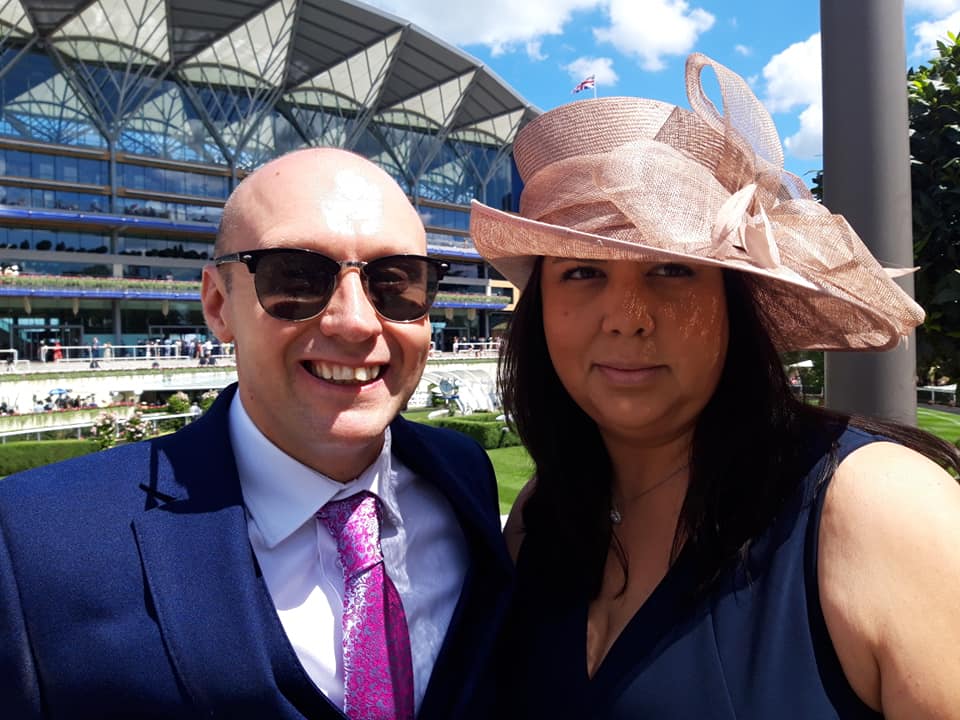 We got talking to lots of different people from all over the country. At one point a very beautiful women. Who I can only presume must have been a little drunk. Stopped me to tell me what gorgeous blue eyes I had. As she walked past me. I will take that compliment all day long. And for the record I do have nice eyes.
At the end of racing everyday. They have a traditional sing-song at the Bandstand in the Queen Anne Enclosure. I made sure that I was down there right in the middle of it all. The band are the Band of the Coldstream Guards. And they are absolutely brilliant.
A singer joins them for about forty-five minutes. It is just classic song after classic song with the whole of Ascot joining in. It is so much fun and a real feel good part of the day. At the end of the last song on the last day. There was ticker tape everywhere. It looked amazing. This is always one of my highlights of the day at Royal Ascot.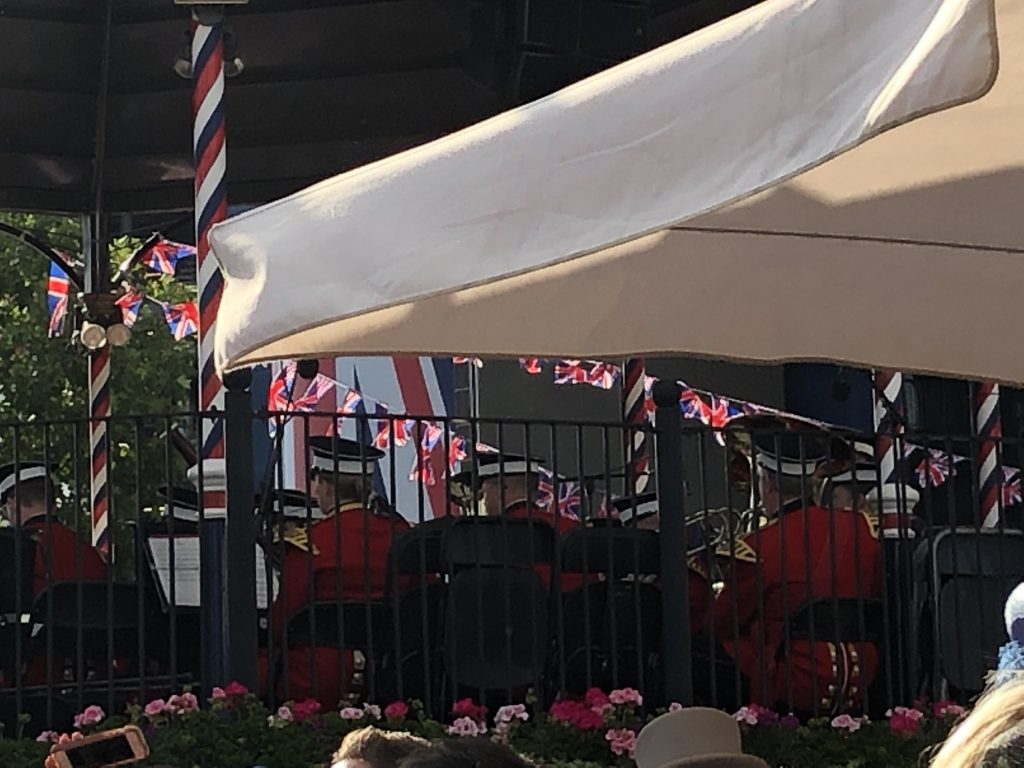 After I had finished my Pimms that accompanied my partying around the bandstand. I got another beer and rejoined my friends. We then discovered an open air disco on the course. And spent a good hour or so dancing there. I can confirm I have definitely still got all of the moves. The DJ was playing some top tunes.
As we were leaving the race course. We randomly saw the former footballer Andy Cole. We were on our way to another pub again in Ascot. To have a final drink to celebrate a fun and very enjoyable day. We met a few more new "friends" in there. Before getting a taxi home. It is such a epic event. You get to dress up, see some great racing, do a bit of partying and have a few drinks. What is not to like? I will be going there again next year, for sure. And I cannot wait.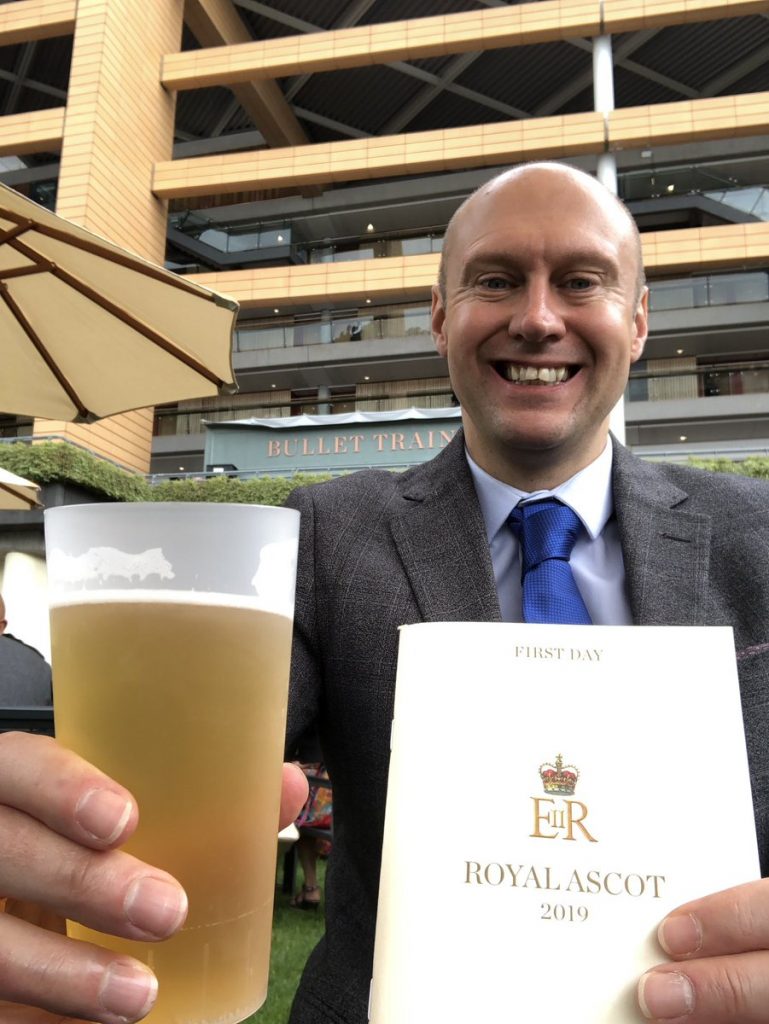 In a piece of genius timing. The day after my second visit to Royal Ascot. A good friend of mine had organised a game of Foot Golf. For his birthday over in Milton Keynes. Happily it did not start until early afternoon. And I managed to get a lift over there. So I did not have to drive. I had played the game once before. At a course near to the famous Pinewood Studios. I had been rubbish on my debut. And I was hoping to put in a better performance this time round.
There were eight of us in total. So we split up into two groups of four. I have always considered myself a pretty decent footballer. And have played for some good teams and been fairly successful within them. But I do seem to really struggle with Foot Golf. I was terrible at it once again. In fact we had one hole. Where we all had to use our weakest foot. And unbelievably this was the hole that I did the best on. The only one I won. So may be I am actually left footed. And have been using the wrong foot during my "career".
Despite me being awful at it. It was a good laugh. And great fun. The birthday boy won overall in the end, very fittingly. Afterwards we got a bite to eat and had a drink in the club house. Which was a perfect way to round off the afternoon. I would certainly play another game of it at some point in the future. Purely on the basis that I cannot get any worse at it. Mind you I am still better at that, than I am at actual golf.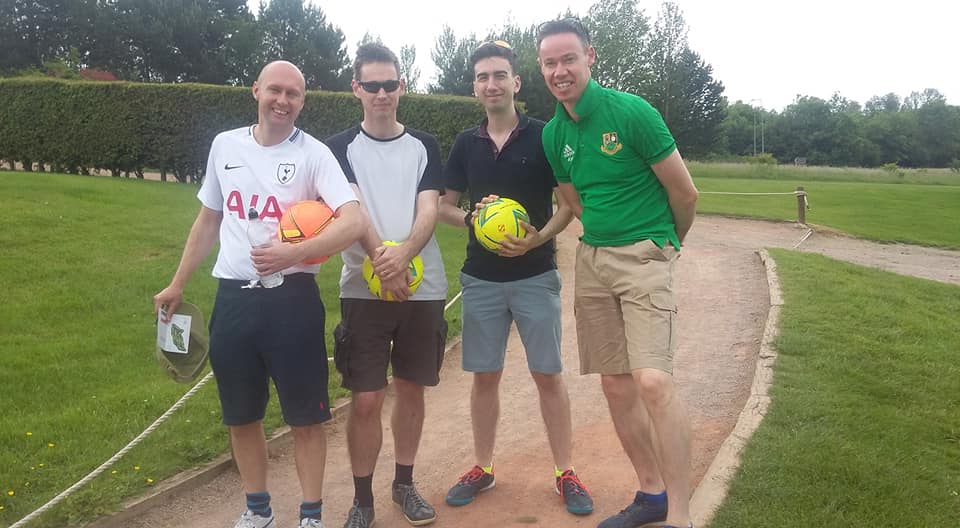 I was lucky enough to get to see the new Gloria Estefan musical "On Your Feet" the day before its Press Night. It has been a massive hit on Broadway for the last few years. She and her husband Emilio are very involved in the production. In fact it was their idea to do it in the first place. It features so many of her amazing back catalogue of hits. I have been a fan of her music for years and remember listening to it quite a bit as a teenager.
The show is all about Gloria and Emilio's lives. Both of their families were immigrants from Cuba. Trying to make their way in America. In a way they came from almost identical backgrounds. It tells the story of how they met. And how they managed to take their Cuban Sound and conquer not just America but the world with their music. Gloria had the songs, the voice and the stage presence. While Emilio was a great producer and businessman.
They make a great partnership in life and in work. Which causes a bit of friction with Gloria's family at times. It is a real life story, so it does include the terrible bus crash. That she was badly injured in. But it is basically an inspiring and uplifting tale. Showing how love, hard work and desire to succeed can make your dreams come true. The cast are excellent. The band and overall sound are spot on. And the dancers are stunning, as are their routines.
As I said earlier the whole thing is carried along nicely by the great songs. You do not win twenty-six Grammy's for nothing. At the end the whole audience were up on their feet swaying their hips and all joining in. The rhythm is gonna get you. And there is nothing you can do about it. A powerful and uplifting show. Where the good guys, all win in the end. Worth seeing if you want to learn about the Estefan's while enjoying a bit of the Cuban Beat.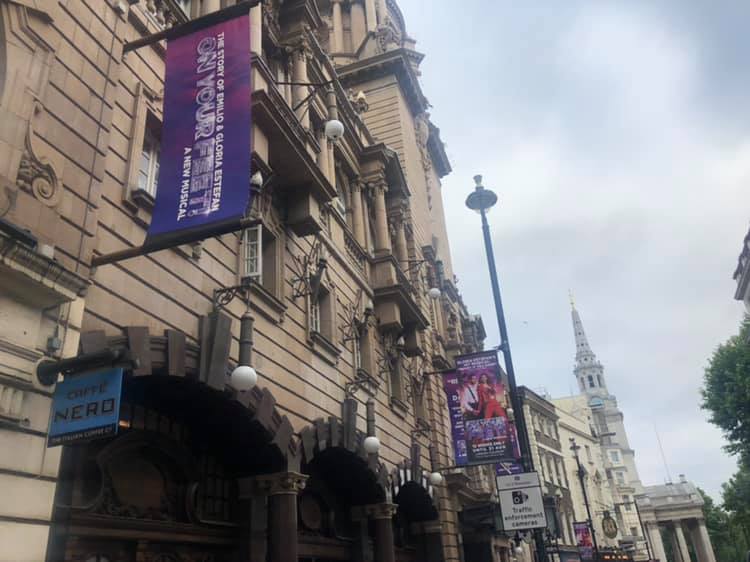 Last Sunday it was the latest Tringe Festival Roving Comedy Night. I have been lucky enough to perform at this event in 2012 and 2017. It is so much fun. This year I was there to watch and support the new class of 2019. All make their stand up debuts in Tring. Just like I had done seven years ago. It is always a brilliant night. And this one did not disappoint.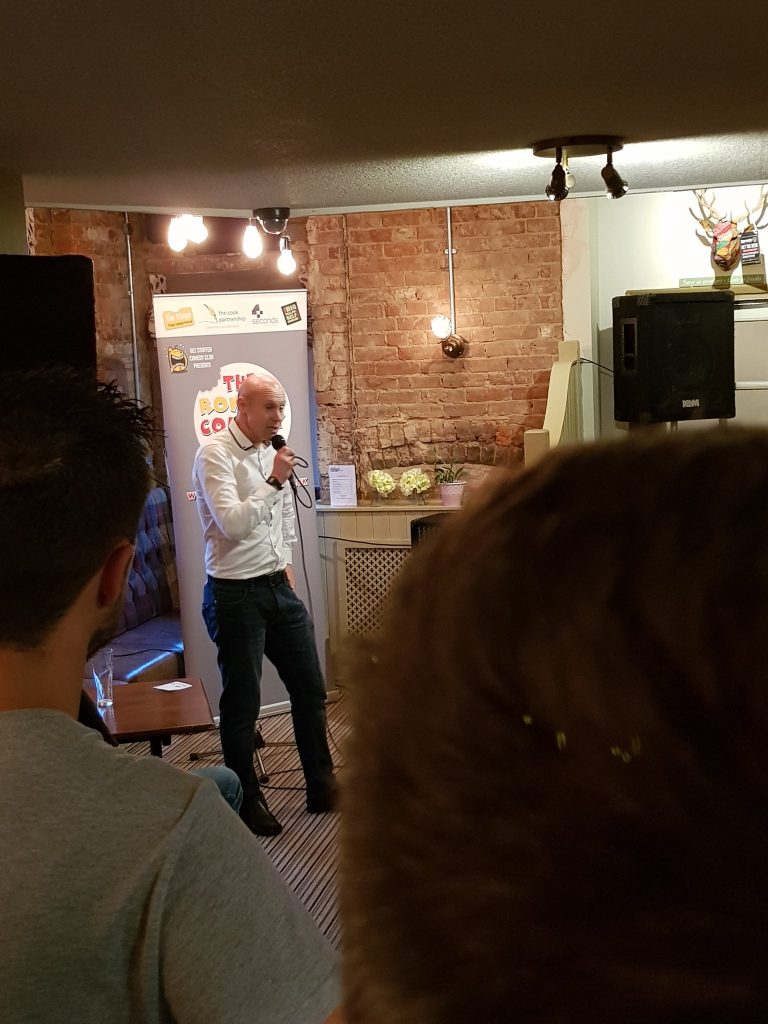 I was in The Castle. I like to try a different pub every time I go and see it. The stage was set up in the beer garden. The way it works is, the Roving Comedians go around four pubs in groups of three. They have a professional comedian with them. Who then headlines their mini show. The "Rovers" get five minutes each and the Pro's get ten minutes. The compere at The Castle was the brill Joe Jacobs, who I had previously seen perform at The Musical Comedy Awards up in London. A couple of months ago.
Joe Jacobs opened the night, warmed up the crowd, introduced the three trainee comedians, who were all great. Then he welcomed to the stage the first headliner of the night. The always hilarious Silky. He has been involved with this pretty much since it started. He is always quality. After my debut in 2012. I gave him a lift back to his hotel. I have been harassing him whenever he appears at this event, ever since.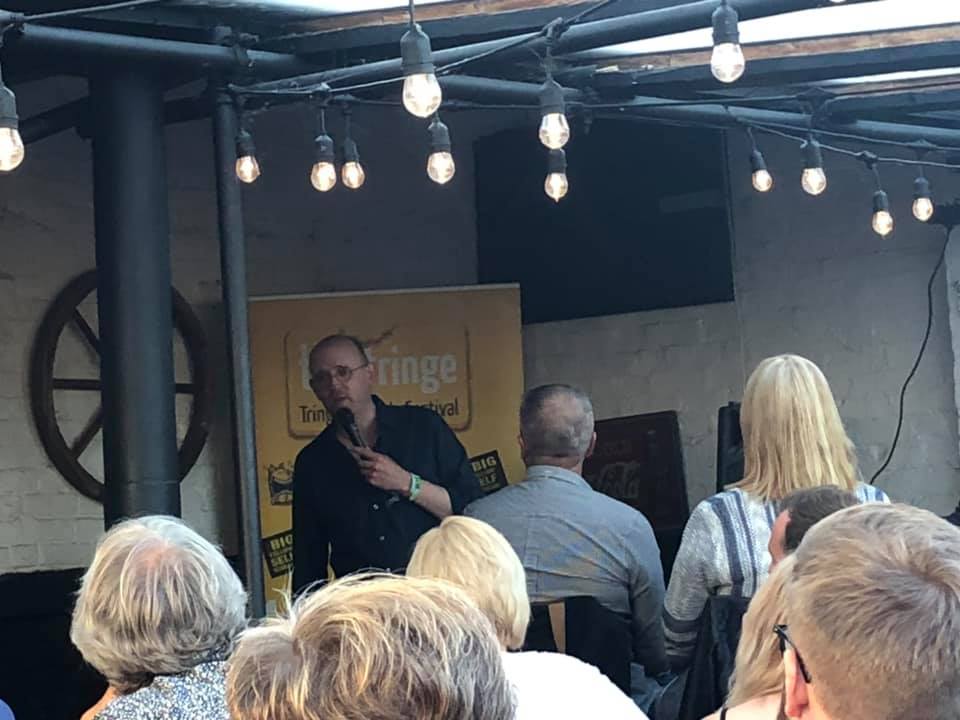 There is a short break before the set up is repeated. The next lot of first timers and the second headliner. Who was the fantastic Jayde Adams. The professional comedian with the next batch of Tring new bees was the wonderful Rich Wilson. Who is always a top quality act. I have seen him a couple of times before and he has always made me laugh.
Lastly we had two more of the Rovers. Before the last headliner of the night. The very funny Ben Norris. Who closed the show with a brilliant set. Well done to all the Roving Comedy performers. You were all brilliant. And I hope you enjoyed it, half as much as I did when I did it. You smashed it! It was another very enjoyable gig.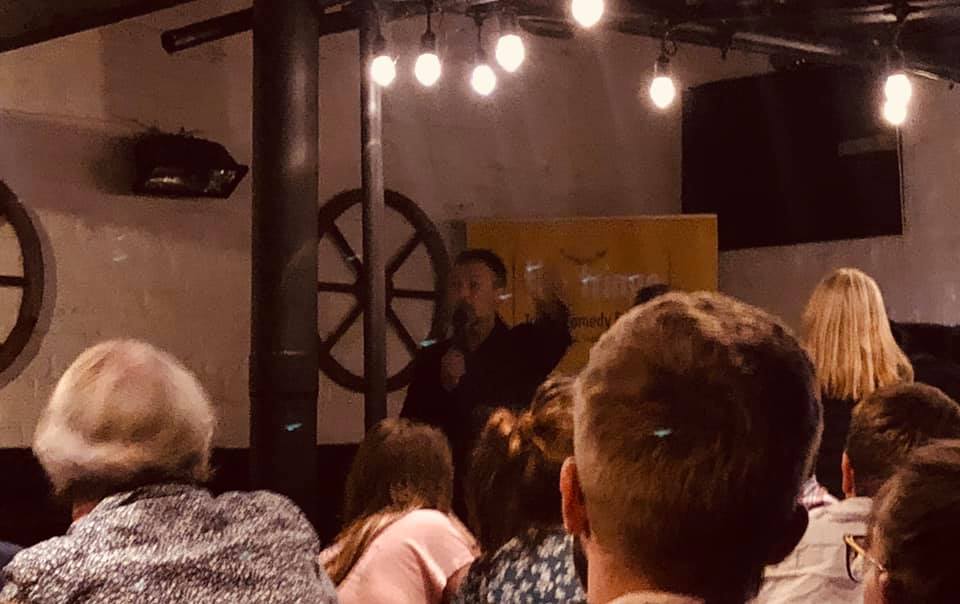 Afterwards I went to The Kings Arms to gatecrash the after show party. As I know from my time's doing it. This is the place where we all end up. I managed to have a quick chat with the lovely Silky. He had been performing at Glastonbury and had driven up specially to be part of things in Tring. He is brilliant bloke and a very funny man. So do try and see him live, if you get the chance.

I also managed to grab a quick word with the man who puts the whole Tringe Festival together. The fantastic Ben Moorhouse. It was great to see and talk to so many other "Roving Comedy" comics. From all of the different years. That it has been running. We all have a common bound and shared experience.
Lastly I got to speak to my comedy guru and teacher the resplendent Logan Murray. Every comedian who makes their stand up comedy debut on the Roving Comedy Night. As part of the process attends an eight week comedy master class with Logan.
And not only is he stupidly funny. He is also such a nice and lovely person. It was brill to catch up with him briefly. He seemed rightly proud of his latest batch of students. Who he had now set free out in to the world of comedy. A fantastic night. I look forward to going to see it again next year.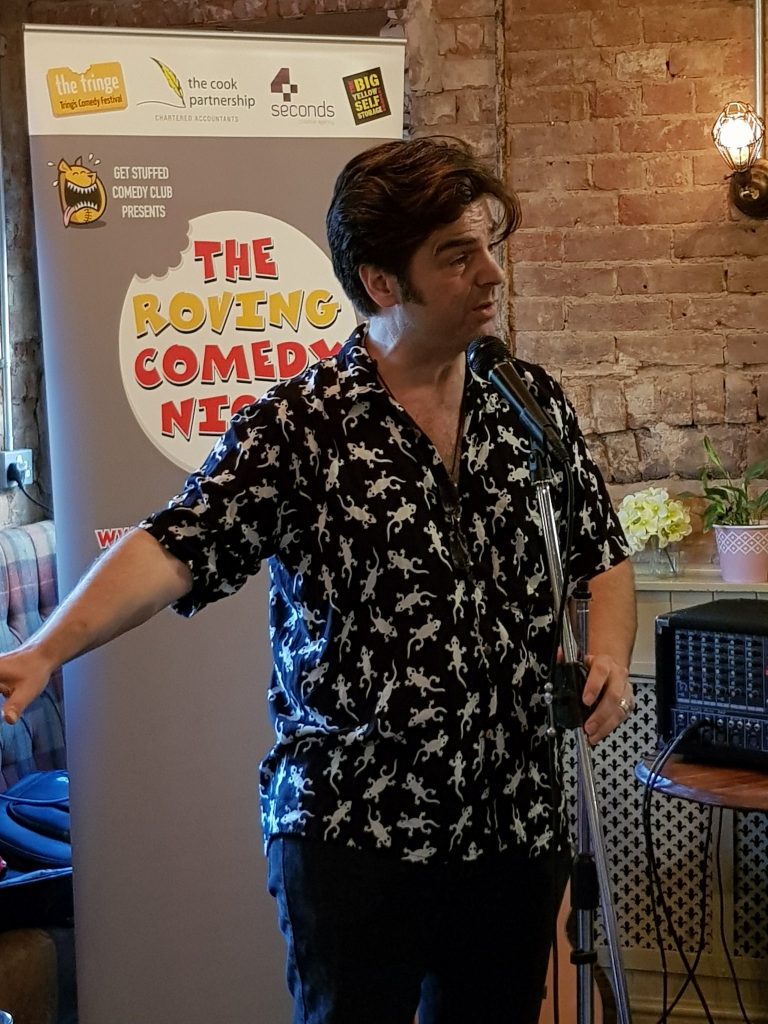 It was also the Glastonbury Festival last weekend. I was there back in 2007 when The Killers last headlined the Pyramid Stage. I camped there for three days in the the backstage area with VIP access. And I must say it was brilliant. This year I had to make do with watching all the action from the comfort of my own house. And with the use of a clean toilet, anytime I wanted it. It was tough but I survived it.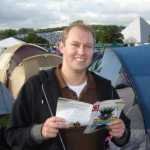 I did watch The Killers set. And I thought they were fantastic. I mean they are from Las Vegas, so they should know how to put on a show. Brandon Flowers is a great front man. You cannot take your eyes off him and he really sustains the audiences attention. I think he might have pretended to the rest of the band that they were not going to dress up for it. And then at the last minute went out and got himself a stand out suit. But lets face it, nine times out of ten, the singer will be wearing the most elaborate clothes.
Their guests on stage were a bit random. Jimmy Carr made a brief cameo sweeping the stage. They were then joined by the Pet Shop Boys for a couple of songs. I can only imagine the pop duo had not seen the weather forecast. As they turned up in winter coats and a hat. Then they were replaced by Johnny Marr. To finish things off. I thought they closed the Saturday night perfectly. A lot of their big songs work really well in this kind of arena.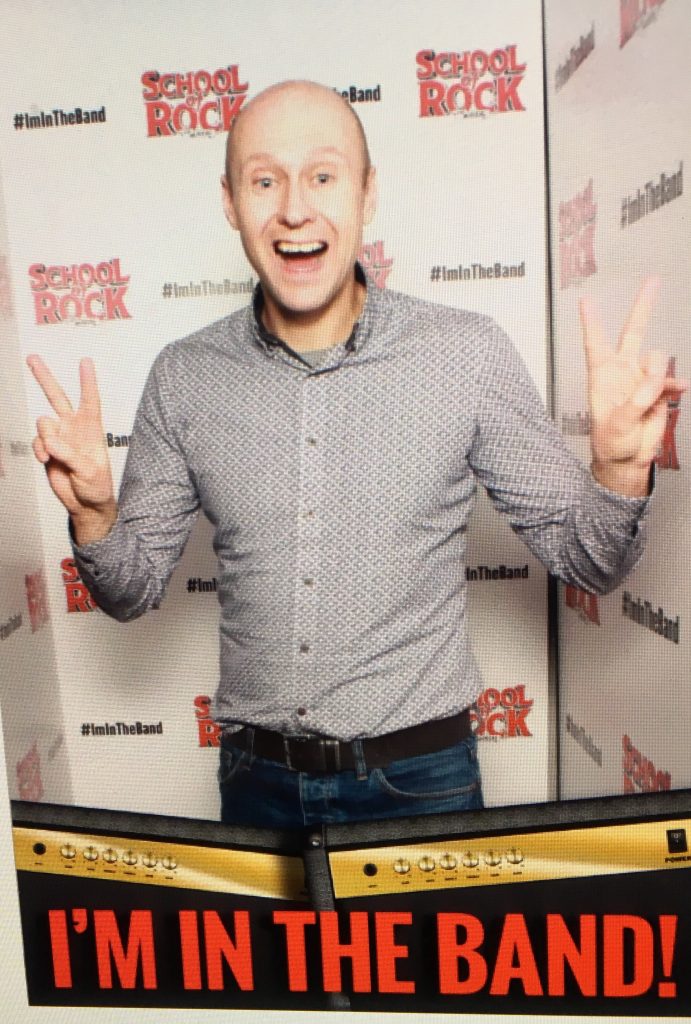 I also caught Liam Gallagher's performance. That man definitely has the swagger to own that stage on such an occasion. He did a mixture of his own songs alongside a few classic Oasis anthems. It did amuse me. When he did Rock N Rock Star. And then straight after it started moaning that he was cold. As someone had advised him not to wear his Parker. Living the dream. Rock excess is not dead! Excellent set from him. Looked and sounded the part. Completely as expected.
The artist I was most excited about seeing perform this year was the lovely Kylie Minogue. I really did wish I was in that cow field in Pilton to watch her fill the legends slot. This pain was eased slightly by the fact that I got to see her play at Radio 2's Festival in a Day at Hyde Park last September. She was sensational that day.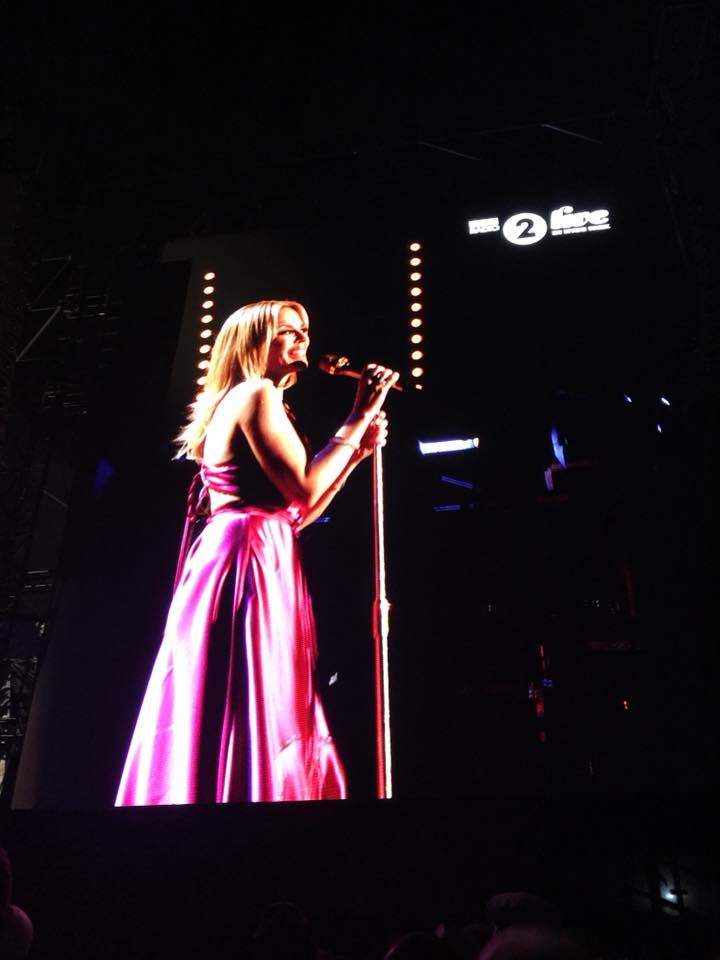 I thought she was totally amazing. Her choice of songs were perfect. To reflect her thirty years in the business. She has during that time released at lot of very good pop songs. Songs we all know and love. And can sing along to. I thought she looked stunning in each of the outfits she wore. However four outfit changes in a hour set at the biggest festival in the country. Is possibly a little bit over the top.
She was clearly enjoying herself. Which was fantastic to see. She was meant to headline Glastonbury back in 2005. But unfortunately she had to pull out when she was diagnosed with Breast Cancer. Happily as we now know that story ended well. And she got to appear on the stage finally. And do her thing in a massive field in Somerset. I am a huge fan of hers. She always puts on such a great show. She is very hardworking. And I get the impression, she is lots of fun. Nice one Kylie!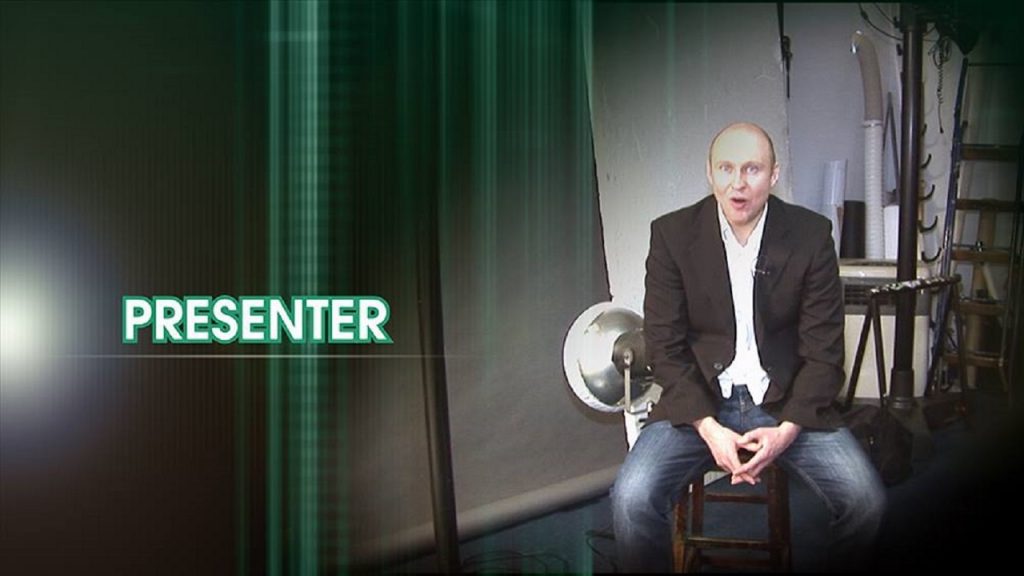 Have fun and we will catch up again in a couple of weeks. Cheers Neil.