Hi there, how are you doing? I hope you have had a really good couple of weeks. Mine have been very busy with lots of fun things going on. So the last time we spoke. If you remember I was going off to see The Gadget Show Live at the Birmingham NEC. It had been quite a while since I had been there. I think the previous time I was there. It was to see a Best Disco In Town concert featuring The Real Thing, George McCrae, KC and The Sunshine Band and a few other random acts from the seventies and eighties perform. For the record it was a good gig.
This visit was however a little bit different. For starters I got the train there this time. I was pretty impressed how quick and easy it was to get from the station to the entrance of the exhibition. I am sure my last visit by car meant a long walk from the car park to get in. Although I am not really hugely in to the latest tools and gadgets. I have to confess it was a pretty impressive site with the amount of pop up stalls and demonstration areas in front of us. When we strolled in to the place.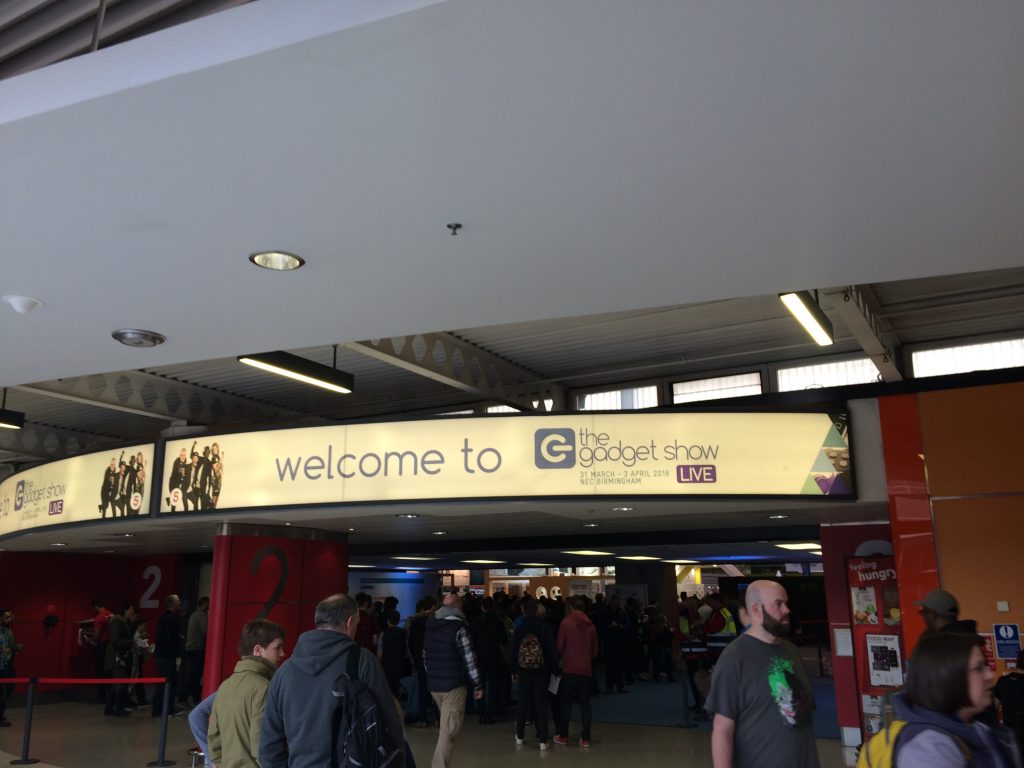 One of the first things we did was queue up to experience the latest in home entertainment sound and vision innovations. A few of the best technology companies in the world had teamed up to create a special mini theatre. In which to show case a brand new home surround sound system called Dolby Atmos. This new set up works with more speakers than any other previous Dolby system, including two that you fit to the ceiling.
So the over all sound can be both subtle and clear. While seemingly coming from all corners of the room. And of course above us to. They showed us some clips on the giant screen to highlight this point. The best one in my opinion was the opening title sequence from the last Mission Impossible film. Featuring Tom Cruise clinging to a plane as it takes off. Fair play that did look and sound absolutely brilliant.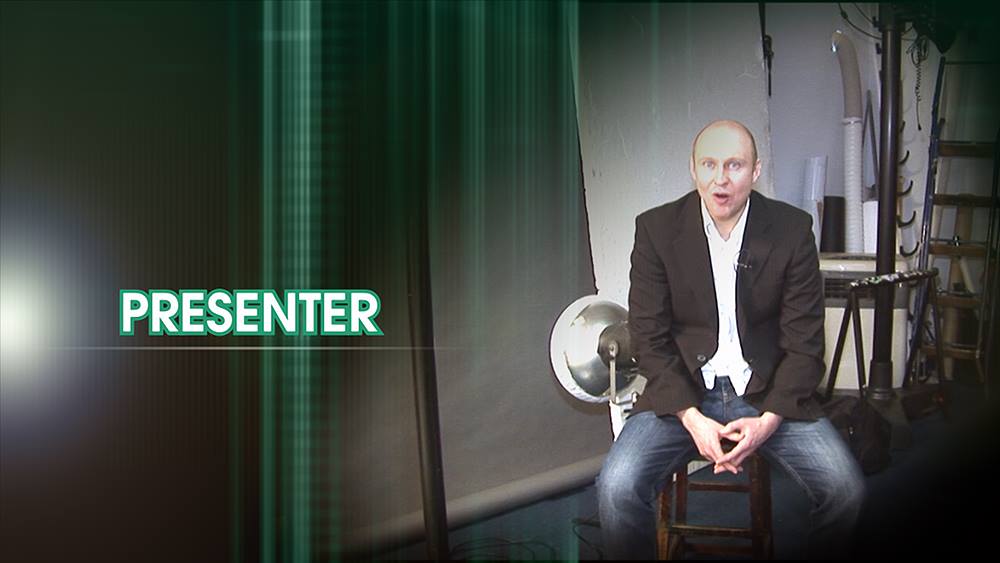 From looking around the rest of The Gadget Show. I can tell you that any mobile phone technology is still huge business. There were lots of suppliers offering that type of thing. Mostly extra battery packs. Which as an I-Phone user I was slightly tempted by. The other two main most popular items on display were Segway's of varying kinds and about fifty different types, sizes and styles of drones. And 3D virtual gaming seems like the future in that genre.
The bit I enjoyed the most was their own version of Robot Wars. They had a ring just like the old television show. Work benches in view, so you could see the teams building and repairing them. Plus they did have battles taking place between them with full commentary. Seeing that up close you get to see how brutal those battles are. I mean they compete in a completely covered in perspex box. With the Robots controlled by the teams from the safety of the outside. The fights were surprisingly exciting to watch.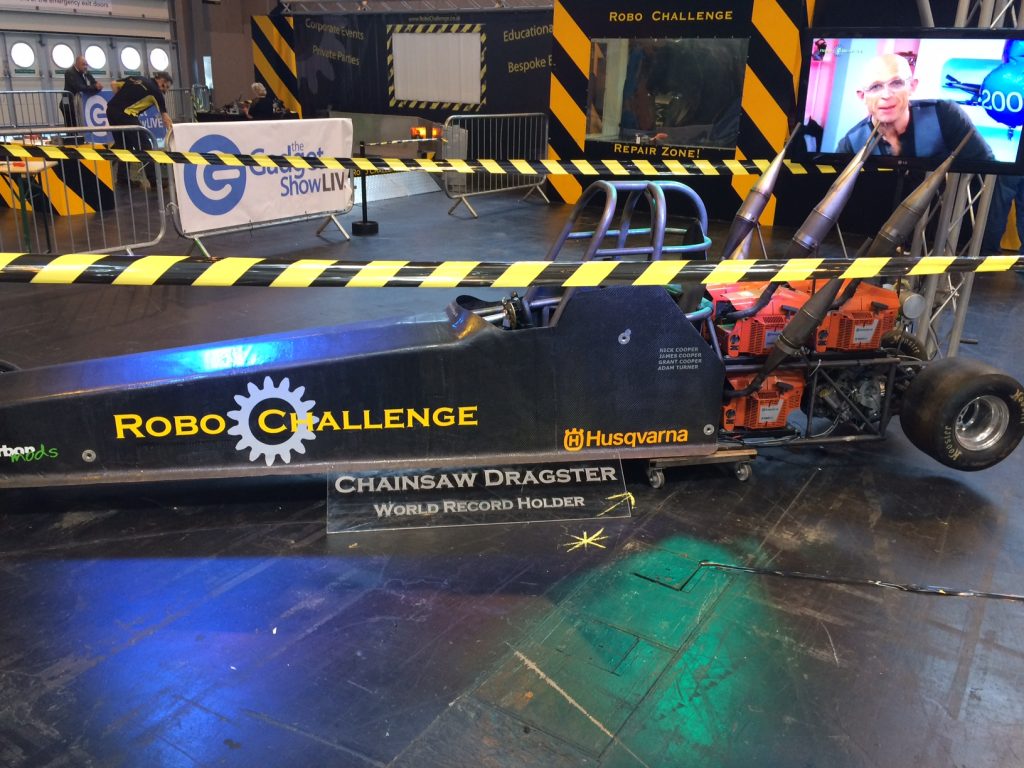 I had a fantastic day in London the other week. Which involved seeing a recording of the new series of Tonight at The London Palladium. The first one was shown on television last Wednesday. And the one I was at will be shown this coming Wednesday 20th April. I was again brilliantly looked after by the team there. They gave me some great seats to watch the action from. So feel free to play the game of "can you spot me in the audience?". While you are watching it.
The whole series is hosted by Bradley Walsh. Who is brilliant at it and did a fantastic job. The warm up man, as he is at so many of the shows that I am at was the excellent Andy Collins. He always does a top job getting the crowd involved and entertaining us all between breaks in the action. When they are setting up things on the stage. Also making an appearance on the night was the lovely Joe Pasquale.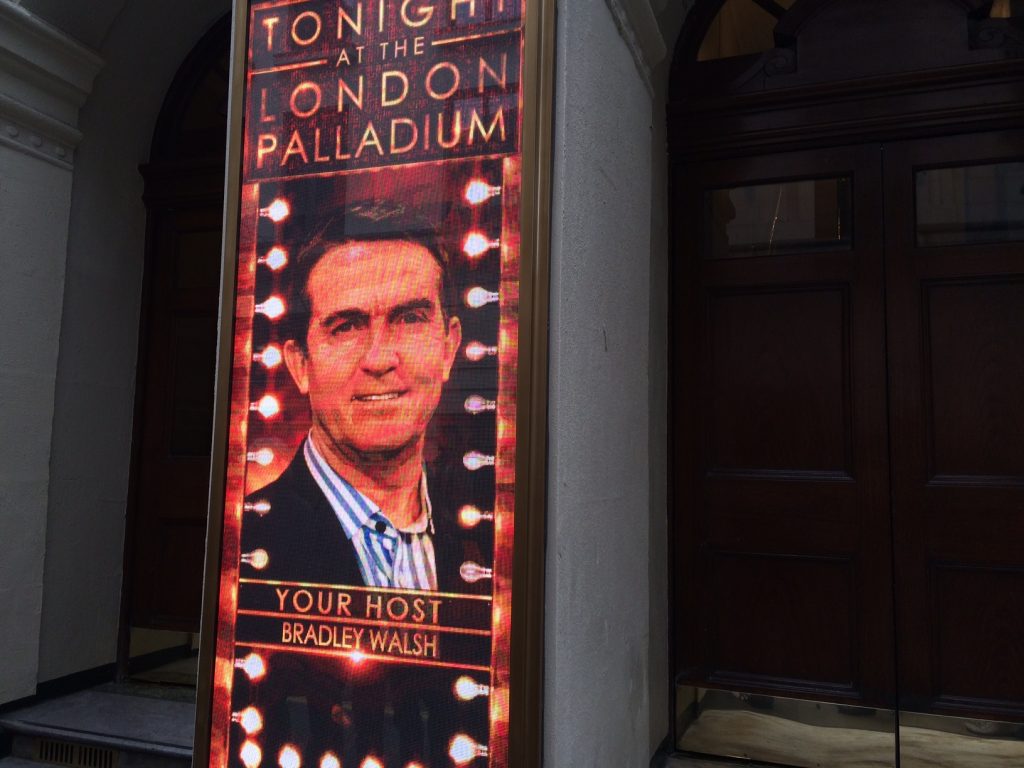 The last time I saw him was when I made a cameo appearance in my friend Ben Langley's Ha Ha Holmes at The Waterside Theatre in Aylesbury. I was dressed in a Beaver costume. And basically my antics caused him to crack up laughing on stage. Which was a very nice moment for me. He did tell me later that when I did a particular thing while on stage. That he was chuckling so much. He thought he might wet himself. It was really good to see him again. He was very funny as always in his little bit of the show.
The episode I was at also featured performances from Diversity. Who just seem to get better and better every time I see them. Their bit was absolutely stunning. The cast of the Kinky Boots musical. Who gave us a glimpse as to why the show had just won at the recent Olivier Awards. The force behind the music and songs for that show Cyndi Lauper not only introduced them on stage but also sang for us later on to. There was a thrilling children's toy inspired variety act from China on the bill. Plus there were a couple of other special guests and surprises. That I will not spoil for you. I will just let you discover them for yourself.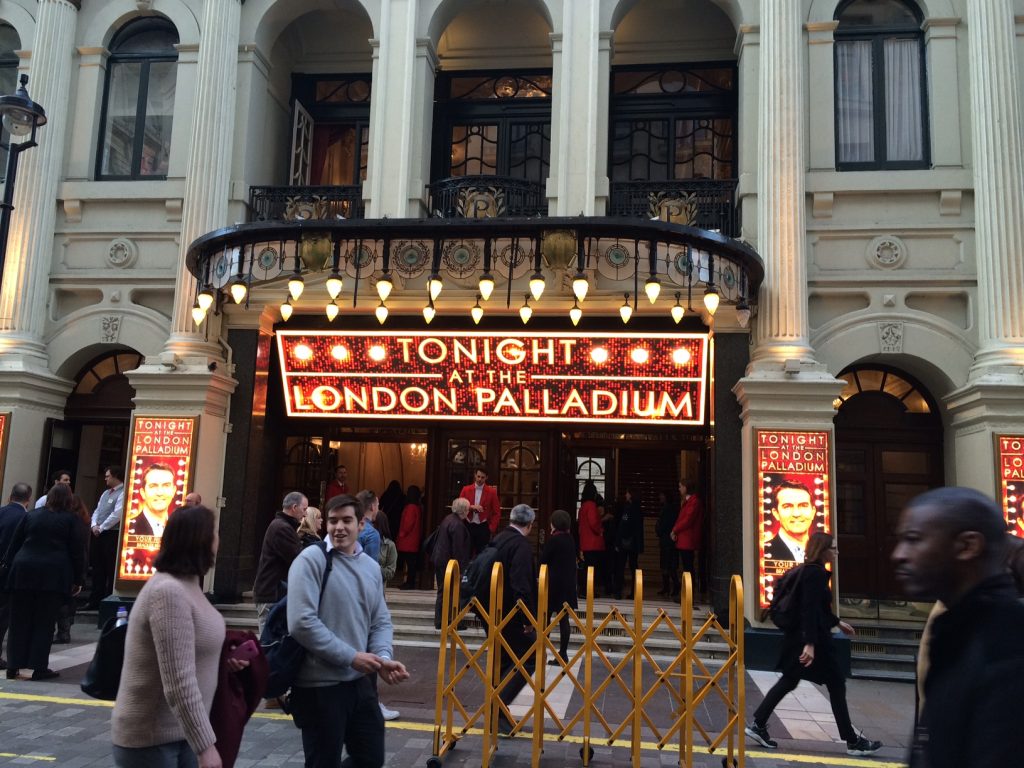 It was another great evening spent at a brilliant venue in the heart of central London. I did also manage to squeeze in a lovely two course meal before the show. I have a very sweet tooth. So I always like to finish my dinner with a dessert. I couldn't decide what I fancied. So I noticed that on the menu. They offered a five mini shot glass option. Where you could have five different types of puddings.
The person I was with was happy to give this option a try with me. So that is what we ordered. It was brilliant. There was much more of each dish than I expected. It was also great value for money and less than two of the normal desserts. If you get the opportunity I would say go on and give this option a try, at least once. If you see it on the menu of where you are eating. I was in an Italian themed chain restaurant. If that helps at all.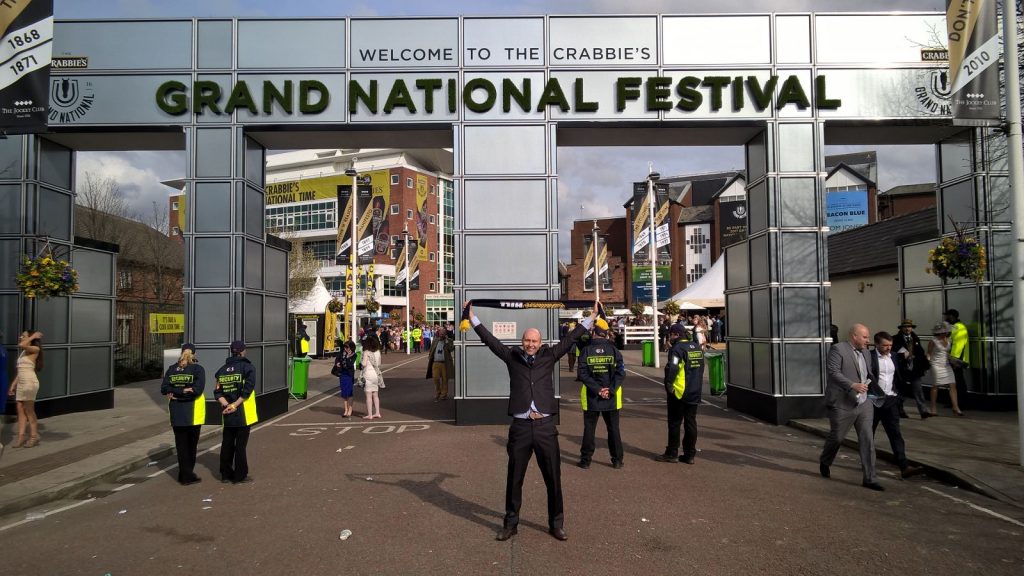 Last weekend saw one of the annual highlights of my year. As I made the trip up to Liverpool to enjoy the Grand National racing festival. I travelled up on the train on the Thursday afternoon. Before meeting my friend Jeff Nolan. Who lives near to the famous Aintree course. In a local pub for a couple of welcome drinks.
It was full of well dressed race goers. Who had been enjoying the first day's racing. I do spend a lot of my time in London nowadays and I must admit the second I arrived in to Liverpool city centre. People generally did seem friendlier and much more talkative. Which I did like.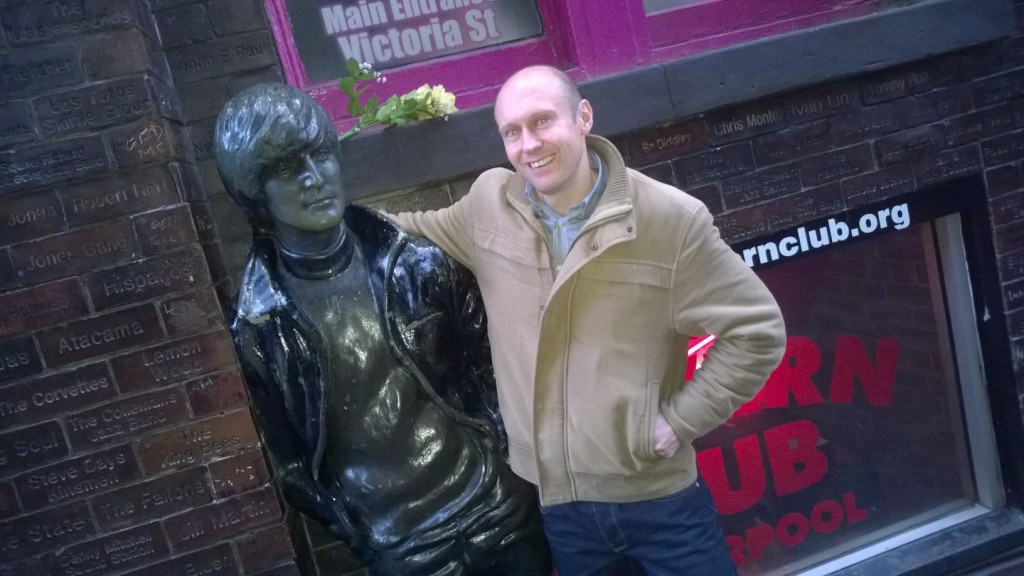 That evening bizarrely we ended up watching a documentary about Evil Knievel. He is someone I was obviously aware of. And I did have a toy version of him on a motorbike when I was a child. Which I do remember making ramps for. So it could jump over my matchbox car collection. However I have to confess I did not really recall his full back story and many of the world record and stunt attempts that he made.
It was interesting to see how he seemed to change as a person as he became more well known. Also it reminded me how many times he failed and hurt himself. It was nice in the end though to see him when he retired. Still putting on the famous jump suit and acting as more of an ambassador for good and safety. Sort of the American version of the English Green Cross Code man.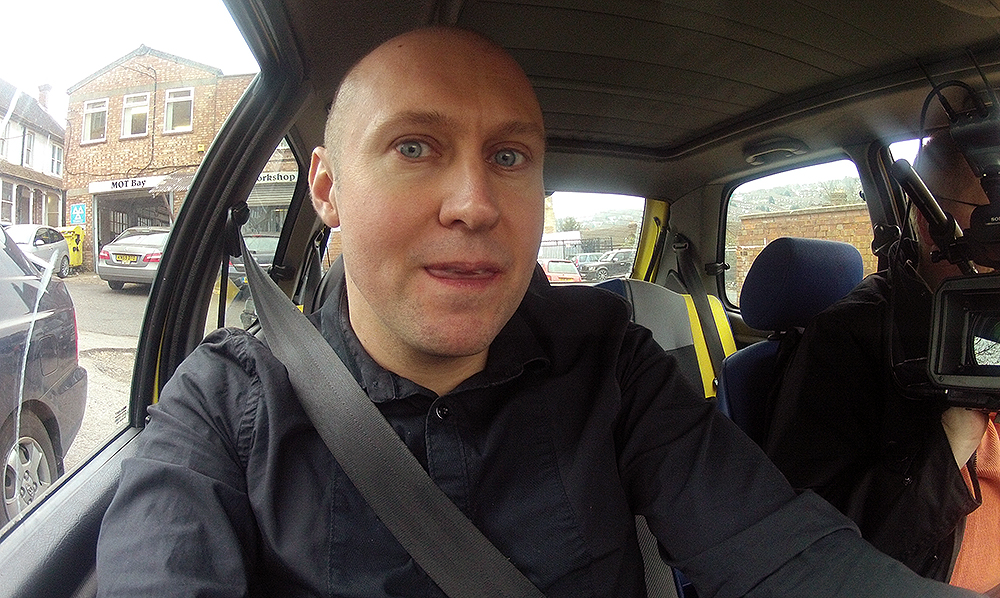 Friday was Ladies Day. The actual day we were going to the famous sporting venue. We started the day properly, as you should with some sausage and bacon sandwiches. Then it was time to get the suits on and head back to the local to meet everyone else. The place was already a hive of activity. Full of smart people. Also out to enjoy all the day had to offer.
After a few drinks. We then walked down towards Aintree itself to enjoy a drink in a pub that is at the entrance of the course. Which has recently changed its name to the Coral Arms. It then suddenly empties out very quickly. As everyone makes their way inside. Ready for the first race of the day.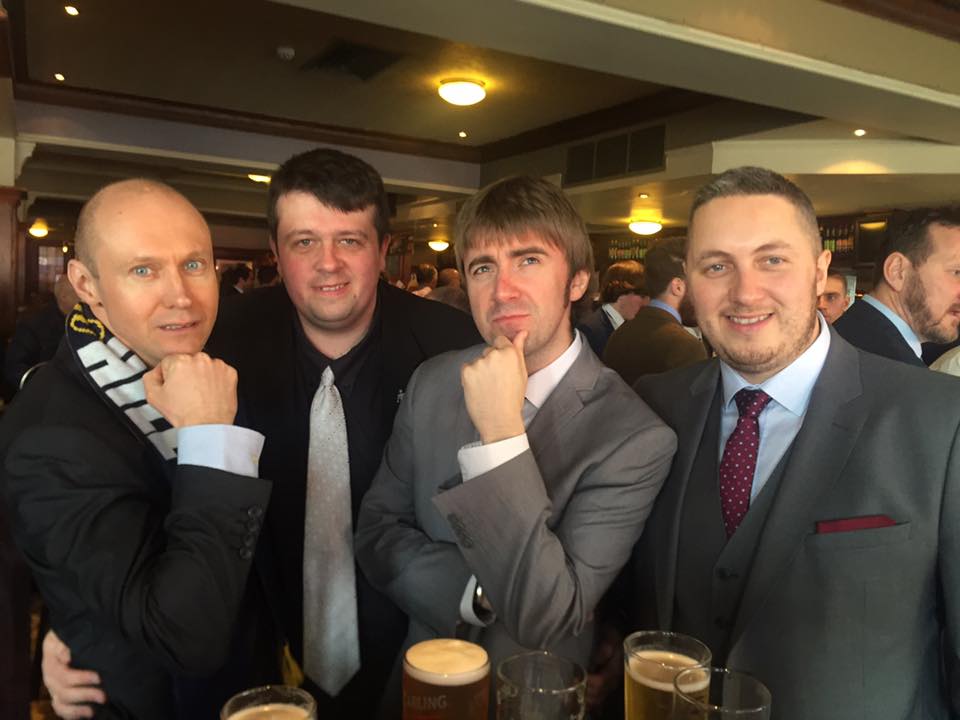 The place is packed out with people. All just having a good time everywhere you look. They have several massive temporary tents installed specially for the meeting. In them there are bars, giant television screens to keep an eye on all the action and also live music.
After the racing has ended bands such as The Feeling perform on stage there. We of course made sure we headed outside to watch the races. It is an amazing sight seeing that many top class horses thunder by you. On the way to the winning post.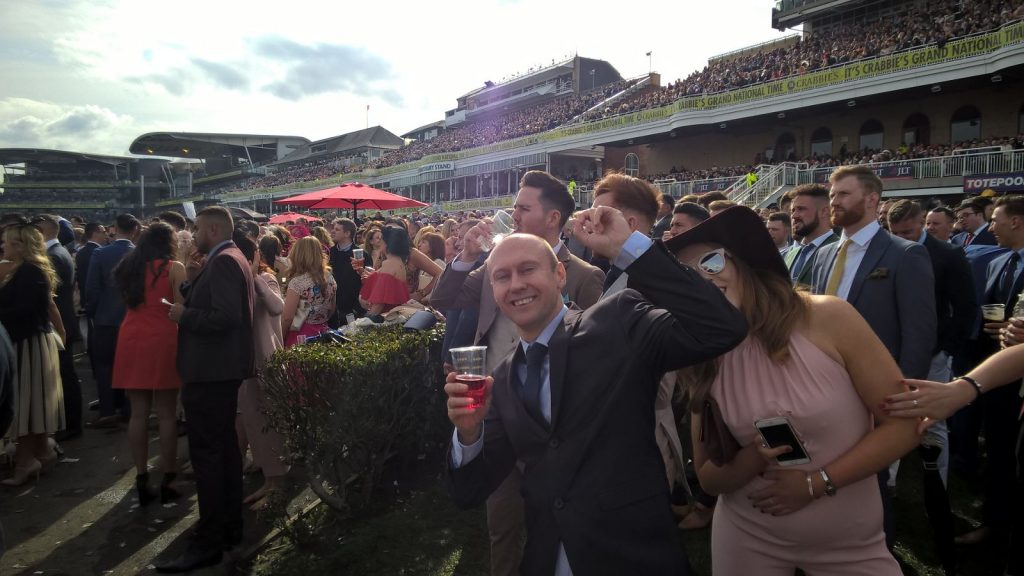 I had a couple of small winners on the day. I do like going down to the course side bookies to try and get the best odds on the horses. I want to back. It is all good fun and never feel guilty when you win. As I am yet to meet a poor book keeper. They always win in the end. After the races had finished we headed back in to the centre of Liverpool to continue the party.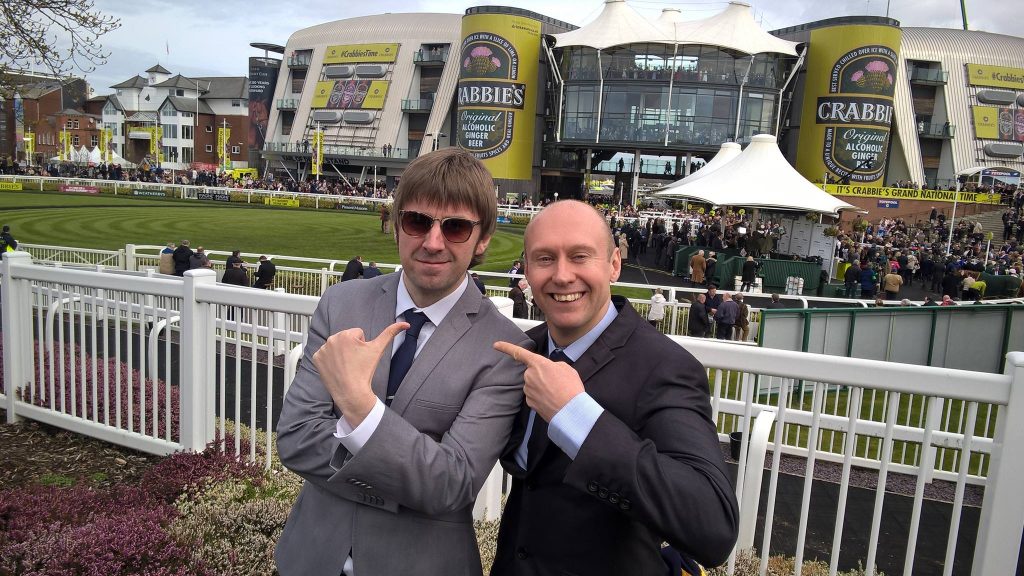 The first place we went to was a lovely little pub hidden away down a side street called the Crack. Which is where John Lennon regularly used to drink when he still lived there. It has an area called the War Room. Which just has one big table in it and is surrounded completely by glass panels. So that was quite a cool place to have a pint. Specially as Lennon would have sat there at some point.
We visited a few other places including The Jacaranda. Which is another famous pub in the city. Where George Harrison used to drink. And it is also somewhere The Beatles played a lot when they were starting out. It is a pretty cool and chilled place with a jukebox in the corner.
It has been decked out like it was back in the 1960's. I thought I had been to most of the bars on offer. But the two I have highlighted were places I was enjoying for the first time. And I have been going there for years. That is the great thing about the place. There are always new places to discover.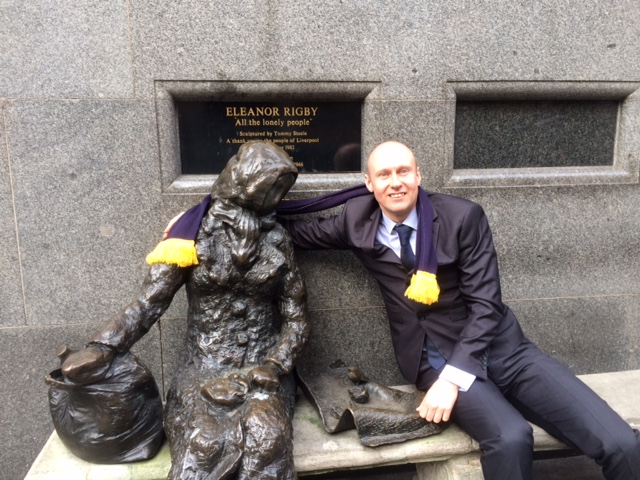 On Grand National Day itself. I watched the iconic race from a sports pub on the outskirts of Liverpool. It is always a great occasion and an intriguing race to enjoy. It was great to see two talented exceptional female jockeys Katie Walsh and Nina Carberry riding in it. It is always nice to when all of the horses and jockeys are safe at the end of it. I did not manage to pick the winner this year though.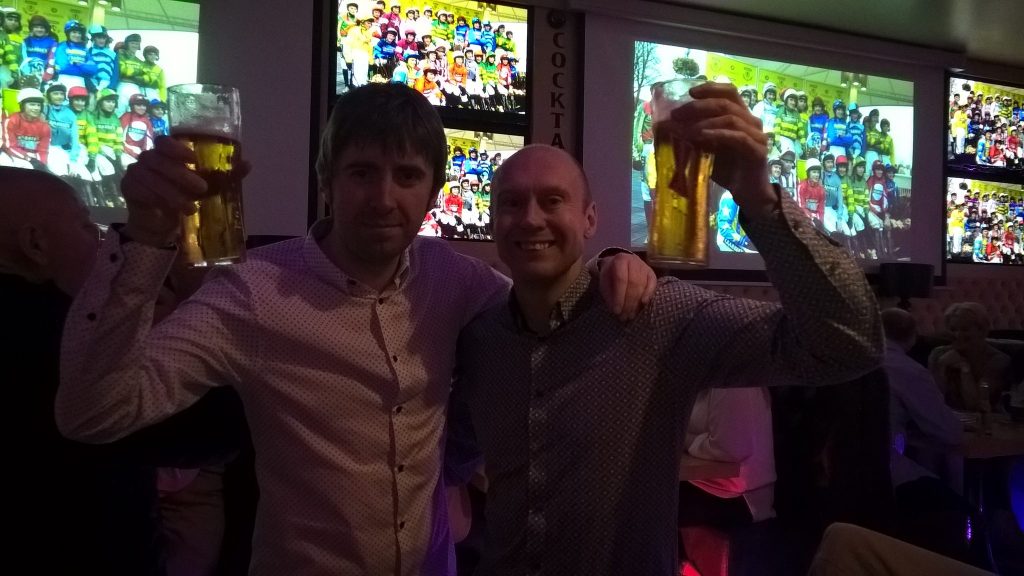 But I did have the fourth place horse "Gilgamboa" as an each way bet at 66-1. So I did at least get some money back from the race. Jeff had the winner and was celebrating his victory like he was the trainer or the owner of it. I like the way the jockey David Mullins younger brother seemed to be crying for joy for about the next hour or so after the race.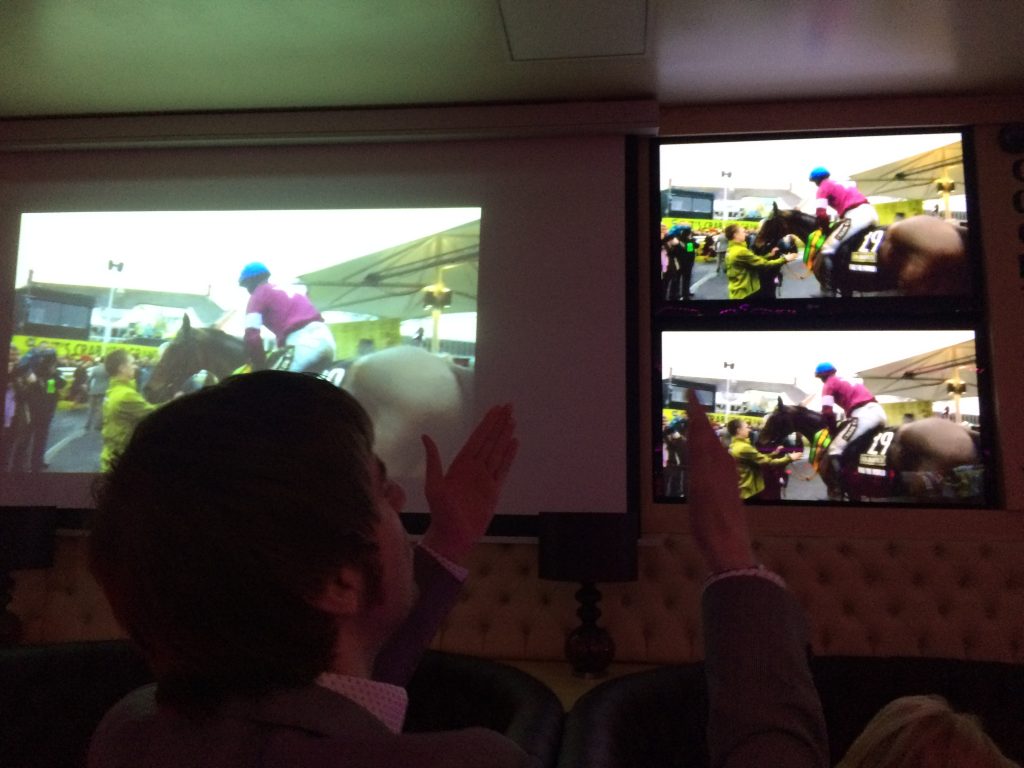 The day after the National before I came home. We took a walk up to Aintree. To have a look at the areas of the course that we could see from outside. Famously the race crosses the Melling Road. On race day it is lined with sand. So the horses can go over it without damaging themselves and so it is a similar feel to the grass on the rest of the course.
The day after the sand had been cleared away and the road re-opened. So Jeff and I were standing on the Melling Road and looking down to the first fence. Which from our vantage point looked massive and terrifying. With that final look at one of the most iconic sporting venues in the world. It was time to head home. Another successful weekend. I am already looking forward to going back there for next year's event.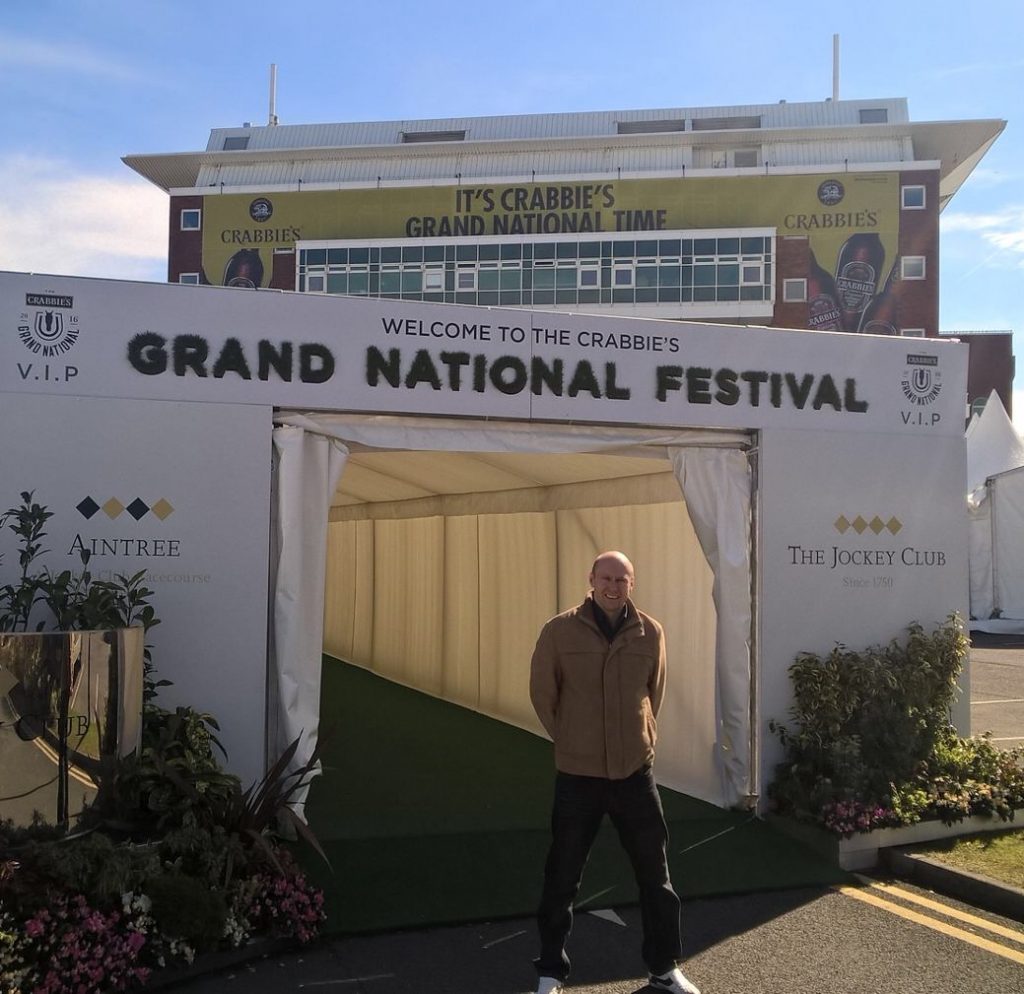 In other news the mighty Tottenham Hotspur are still battling hard to the end and trying to win as many points as possible. To stay in touch with the outright Premier League leaders Leicester. Who I really still can't see slipping up. Mind you. if you had asked me at the start of the season. If I would have settled for second place and Champions League qualification. It would have been a resounding yes from me. Still enjoying it and proud of them.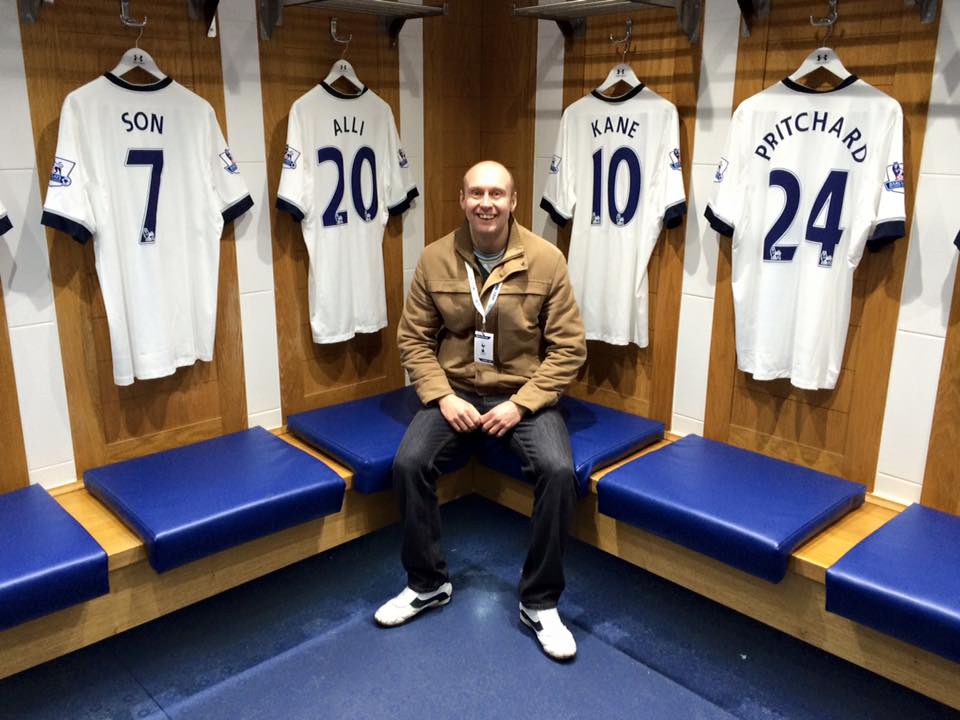 Have fun and we will catch up again in a couple of weeks. Cheers Neil.