Hi there, how are you doing? I hope you have had a really good couple of week's. Mine have been quite busy with a few fun things going on. Last time we spoke. I was telling you about the brilliant St Patrick's Day I spent in Waxy O'Connor's in London. Well it actually got even better a few days later.
On the day I was putting a few photos up of me enjoying myself at the pub on my Twitter page and of course was tagging the venue in to. So I was both surprised and delighted to receive a tweet from my favourite Irish drinking establishment in the Capital. Telling me that I had won a special goody bag in their St Patrick's Day competition.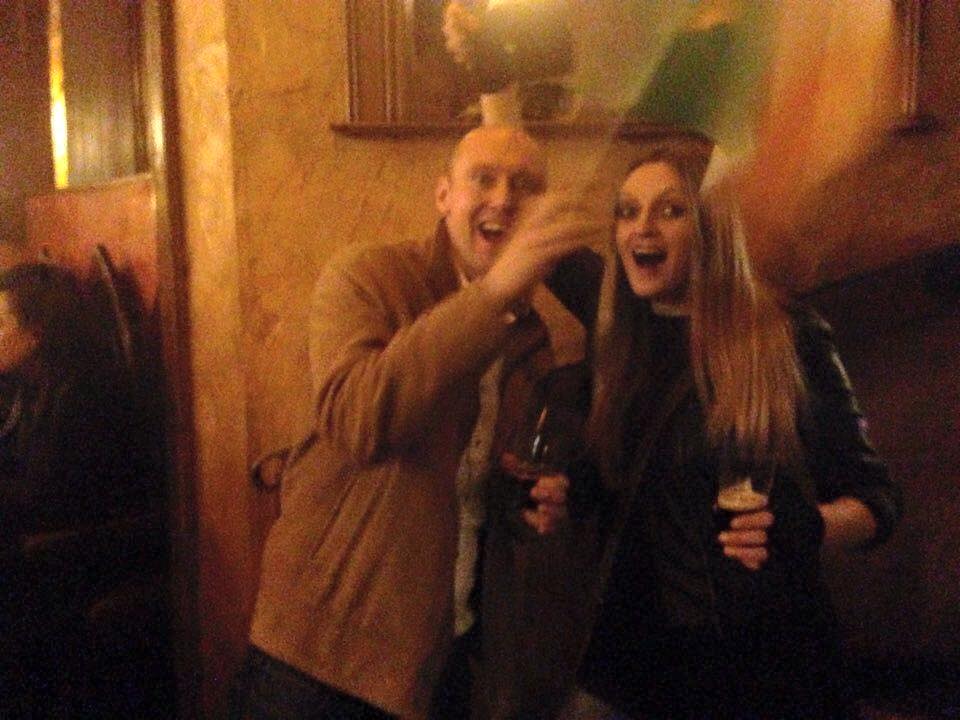 I will be totally honest with you. I had no idea I had actually entered a competition or that they were even running one. It was only when I looked back through their Twitter. That I discovered they were encouraging people to send them pictures of the day. For the chance to grab a prize pack. They were really nice people to deal with. They are a really great team in there. It was agreed that I would go in and collect my prize from them the Saturday after the big day itself.
It was not until I walked in to the place at the arranged time. That I realised Ireland were playing Scotland in the Six Nations Rugby. So needless to say it was totally packed. I treated myself to a Guinness and made my way to the main bar to speak to Caitlin and Sean, the management team. When I found them. They were fantastic. Despite the bar being absolutely heaving with people. They still went and got the goods and gave them to me straight away. Firstly of course pausing for a quick photograph to mark this great moment.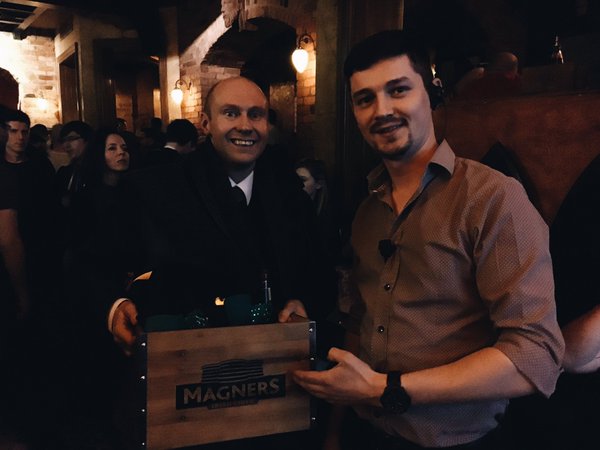 The goody bag contained a bottle of Jameson Whiskey with some branded metal measures and tumblers. A Guinness hat, and some comedy shamrock green sun glasses. Plus my favourite part. Two of the Waxy O'Connor rugby shirts that the staff wear. One in black and the other in green. Now I have secretly wanted one of these for years.
And I now own a couple of them. It is great to have some cool mementos from my favourite London Pub. I am thinking of may be wearing one of the shirts next time I go there. Then just quickly hopping behind their bar. Pretending that I am a member of staff and pouring myself a nice pint of the black stuff.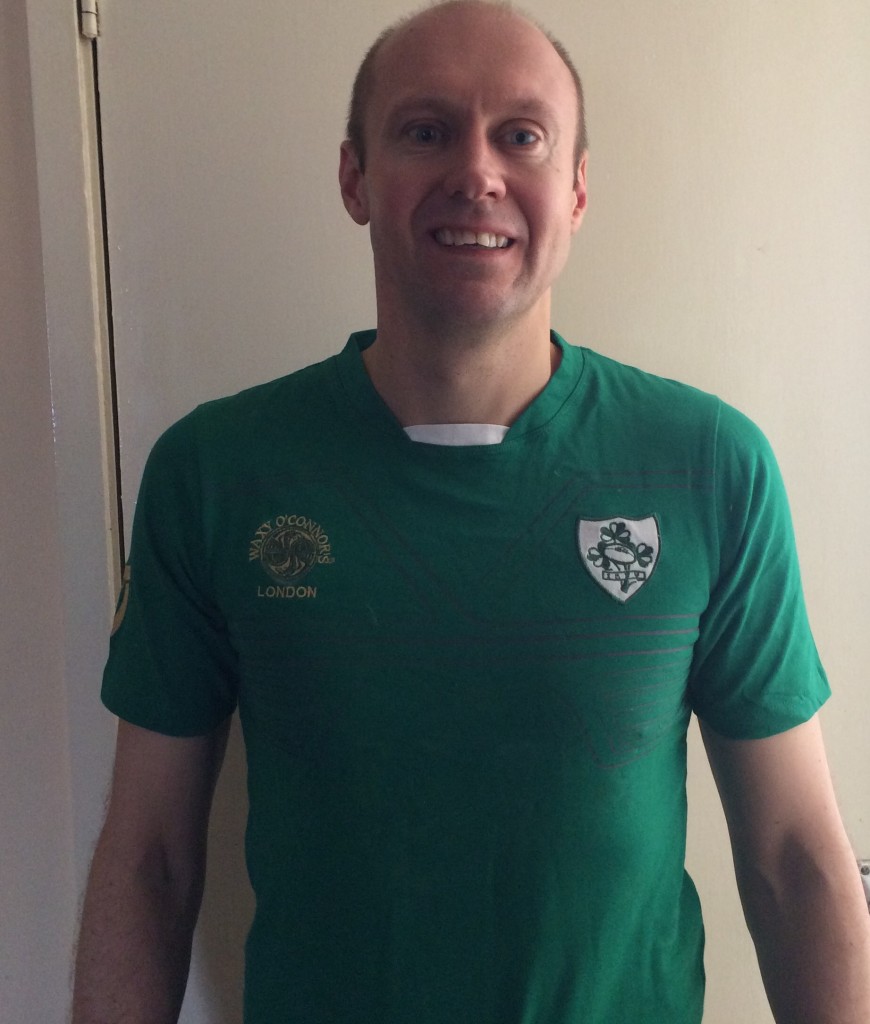 I have since found out that Shane Lynch from Boyzone was also in there on the day to. I did not see him on St Patrick's Day but I have met him before. Many years ago I helped host a live music event in Great Missenden with Richard Carr. I think that may have been the one and only time we worked together on stage as a double act. It was after Shane had left Boyzone the first time round. He was performing with a band called Redhill. I got to meet him and have a quick chat with him just before the gig. He was lovely, friendly and very relaxed.
The only other things I remember about this event are. It was staged managed by the same man who had been doing that same job for Steps last tour. And the other presenter working with us was from the ITV Children's show Diggit. All I can remember is that she was female but I can't remember her name. It was a good fun evening though. To be fair any time when I have a microphone in my hand and I am on a stage. That is always good evening.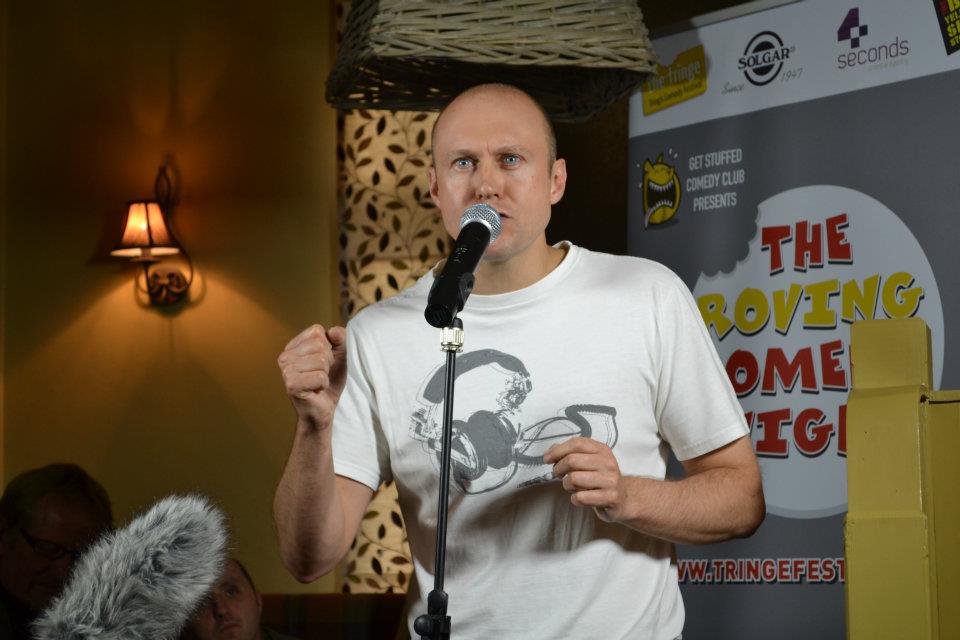 The other weekend my former boss from when I was working at Ivel fm in Yeovil, Steve Carpenter. Was up from deepest darkest Somerset to do a DJ set at a very high class event at the Hilton Park Lane in London. So I went along there to see him for a nice chat and a bit of a catch up. Before he was required to entertain the invited guests. It was all very showbiz, as you would imagine. First we grabbed a nice cup of tea in the performers green room area with the band and dancers. Who were also on the bill.
There were plenty of feathers and sparkle around backstage, mostly supplied by the dancers. We then nipped down to the Traders Bar at the hotel for a quick drink before showtime. It was brilliant to see him. It was nice to reminisce about old times and talk about the future and upcoming plans. I did have lots of fun and memorable moments, while I was working in the West Country. Then he headed off to do his thing behind the decks and I headed off home.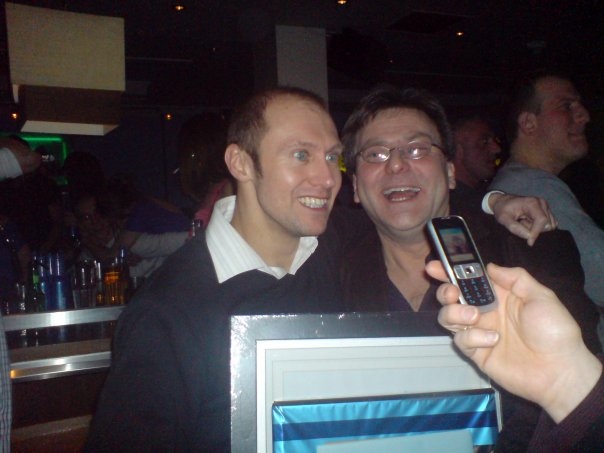 While I was there before the guests arrived I managed to have a quick look in the room and hear the sound check. It all sounded and looked great. He has performed all other the world and is a class act.
I remember once Steve and I headlined a big gig in a field in Yeovil. After a fun disco concert night with live performances from Odyssey, The Real Thing and Gwen Dickey. Not a bad little show line up to close in front of thousands of people. Another brilliant night, just messing about and having fun on stage!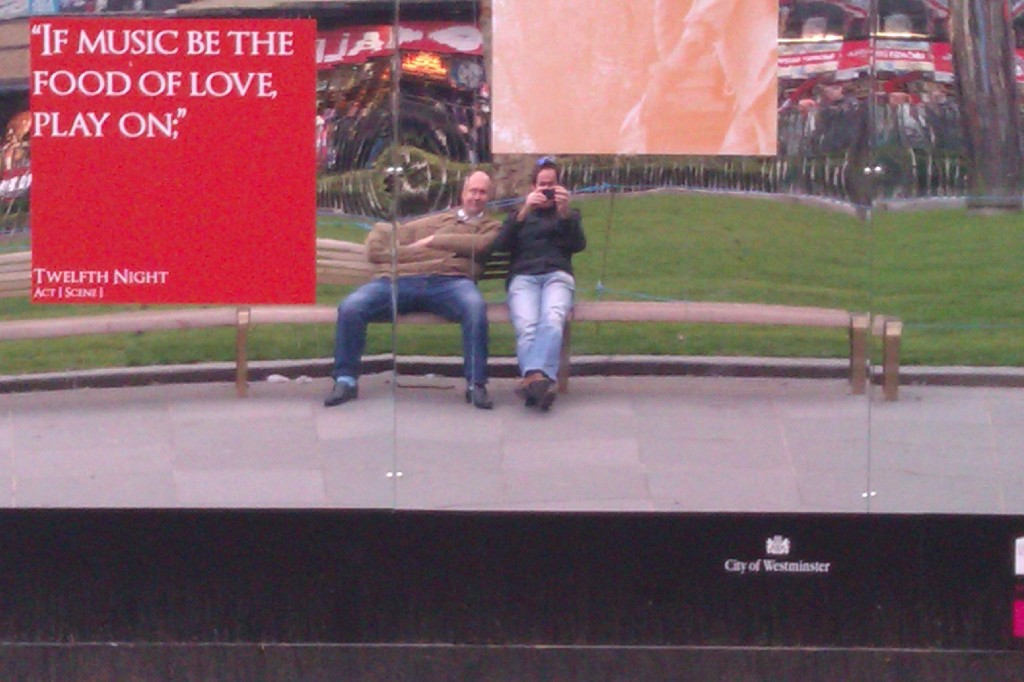 I mentioned previously about my friend's series of Radio Plays called The Andy Holmes Angle. There are six in total and I feature in two of them. The first of which was released a few weeks ago. And the second one this week. I have quite a big part in the previous story. But in this latest one I have a little cameo role. Playing a radio presenter, ironically. So therefore hopefully not testing my acting ability too much.
The latest episode is called "Video Killed The Radio Star". Which weirdly and I promise you this is totally true. Used to be my mobile phone ring tone for many years. If you would like to listen to it and see if you can spot my very brief appearance as a guest star. Here is the link to it. Just click on it to play it. Video Killed The Radio Star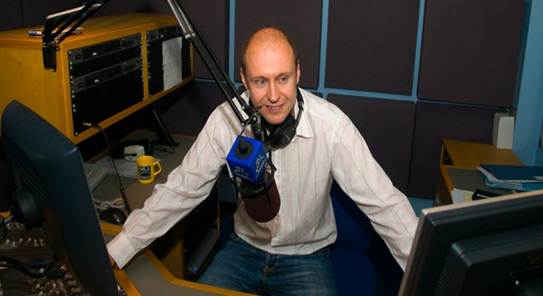 I am not going to lie I am still very excited about the end of the football season. I can't see Leicester City slipping up currently. They look like they have just forgotten how to lose. But with Tottenham Hotspur in second anything could still happen. So I might still see my team win the league for the first time in my lifetime. Which would be pretty cool, to say the least.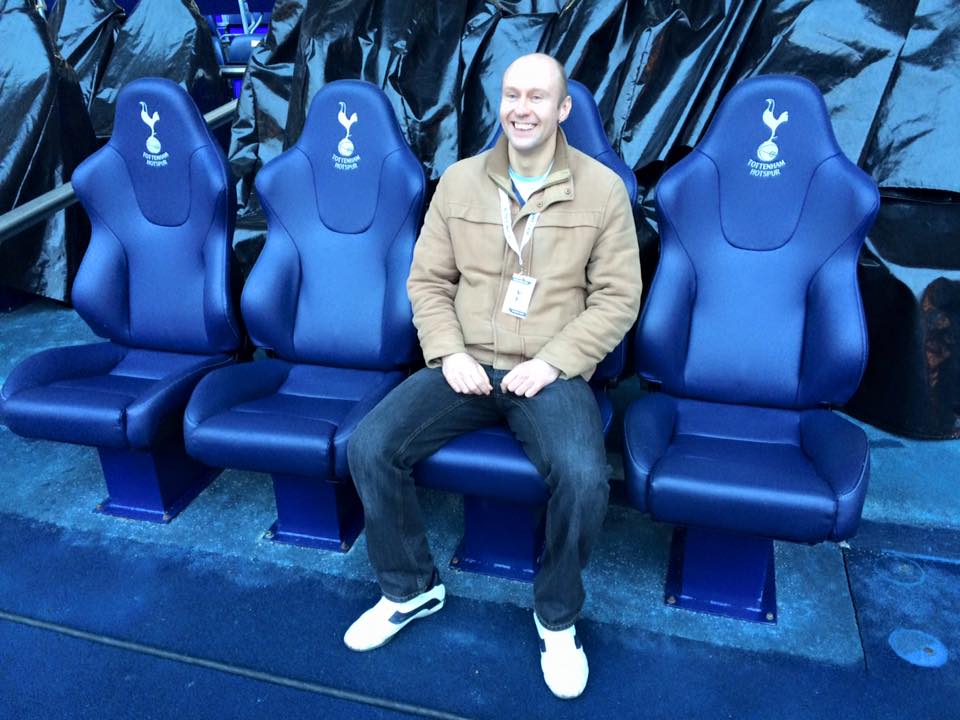 It was also nice to see the Spurs players helping England to beat Germany in Berlin. I know it was only a friendly, still a win is a win. And personally I enjoyed seeing my team's stars shining for the National team.
I am even starting to dream of potential Euro 2016 success. What is that famous quote about the England Team? Oh yes that is it. "It is the hope that kills you". Then we went and lost to Holland at Wembley a few days later of course. So point proven there. I guess!
I had a nice and relaxing Easter Bank Holiday Weekend. I just watched the England game on television on the Saturday. Then I had a nice family roast dinner with my parents on the Sunday. Here is the really impressive bit then. I only had one Easter Egg. It was an Orange Matchmaker one and I have to say it tasted amazing. I even managed to avoid having any hot cross buns to.
As Easter breaks go it was a relatively healthy one for a change. It was an hour shorter this year. As the clocks went forward in the early hours of last Sunday morning. I hope you remembered and were not late for any appointments or for work as a result of these changes. The best thing about being tired due to a lack of sleep from the lost hour. Is that it does mean the evening's will be staying lighter later. Which is always a bonus I think. More day to work with.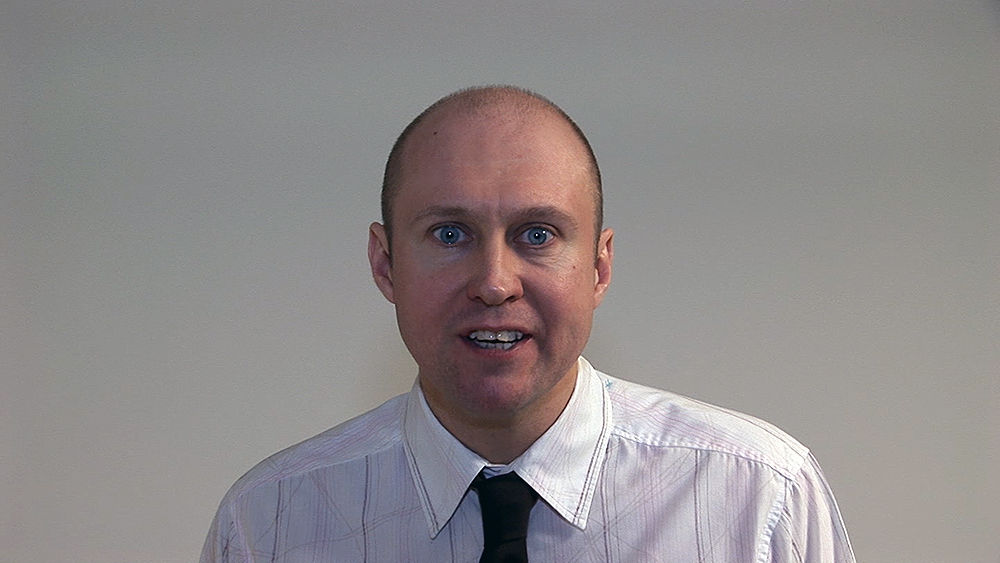 So today it is the last in the current series of Ant & Dec's Saturday Night Takeaway. When they will be doing the whole show live from a cruise ship in Barcelona full of competition winners. I mean what can possibly go wrong.
I think it has once again been a great run. As the programme is so popular and entertaining. It is getting harder for them to come up with new fun stuff that has not already been done before. And like all productions of course some things work better than others.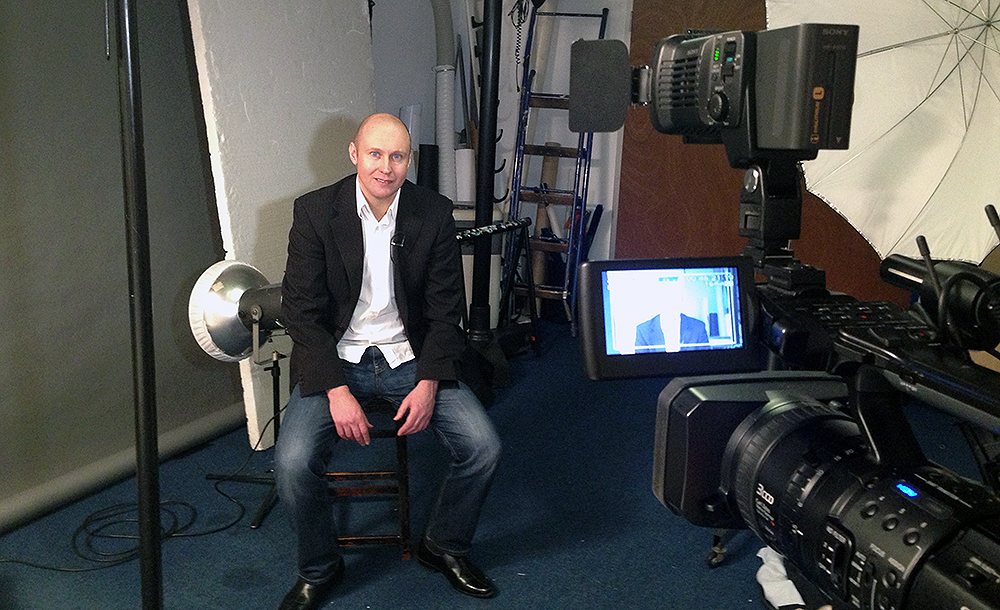 But it never fails to make me laugh out loud. With the two Geordie's the perfect ringmasters at the centre of the circus. I really enjoyed being there in the audience for show three. It was interesting to see behind the scenes. Seeing what it is like in the studio. As opposed to what you see when you are sat at home watching.
The atmosphere there is brilliant. The audience are kind of the heartbeat of the show. That the two presenters and the guests all feed off. And the eagle eyed people amongst you will also know that it did give me a little bit of Saturday night prime time screen time. Including a few shots of me dancing to Little Mix's Black Magic.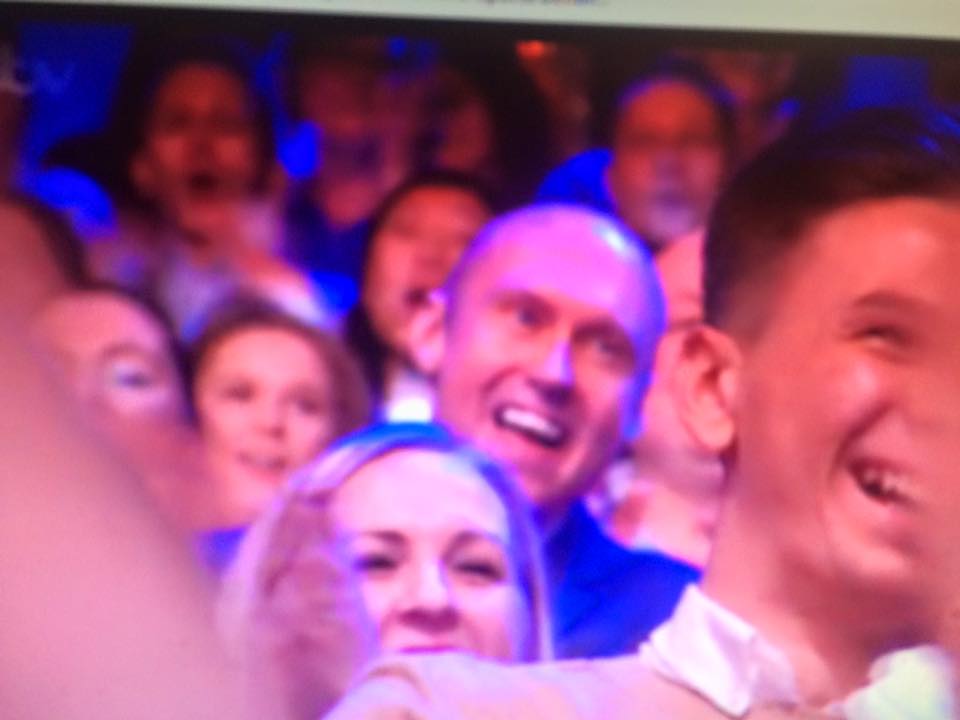 Next week sees the return of Britain's Got Talent to Saturday night's for the auditions stage. Which does mean we will still get our weekend fix of Ant & Dec. I went and saw one of the London recordings.
Brace yourself then for the normal selection of terrible acts and amazing performers. Plus those random and unbelievable moments when the judges put someone through seemingly just for a laugh. Or possibly because they can see something that I am pretty sure that the rest of the country will not be able to see.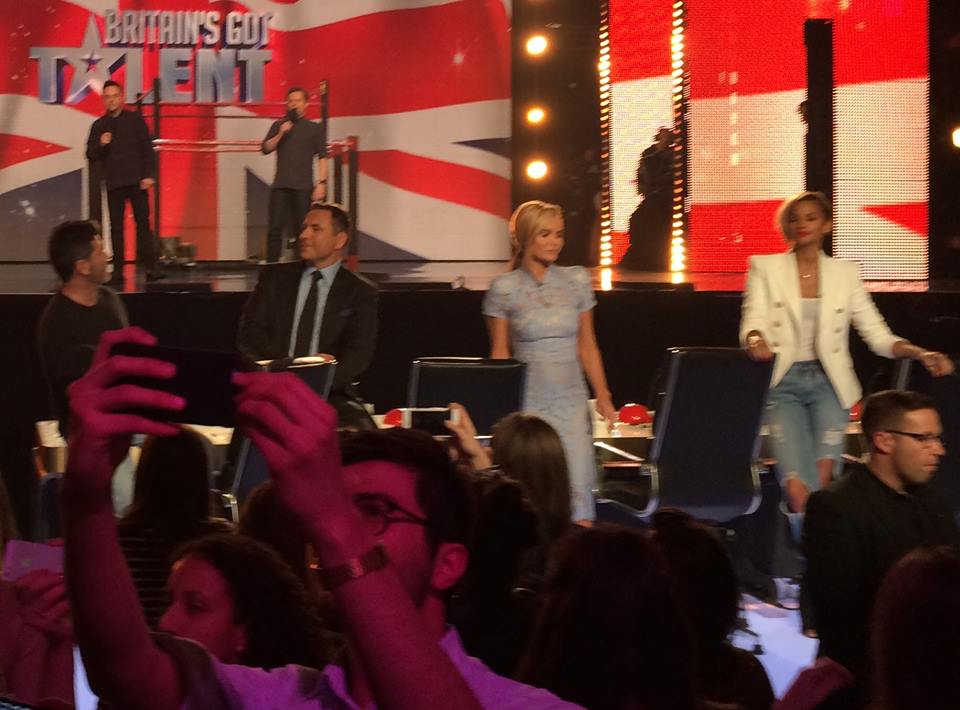 It is good fun entertainment. So just remember none of the performers are there against their will. Some of them will already know they are awful but are doing it for a laugh or just to get on television.
Stick with it and remember normally for the final they will find at least five really good acts. That all said, I think I did see at least two or three acts at my audition alone. That I would expect to see in the last show. And who could actually win it.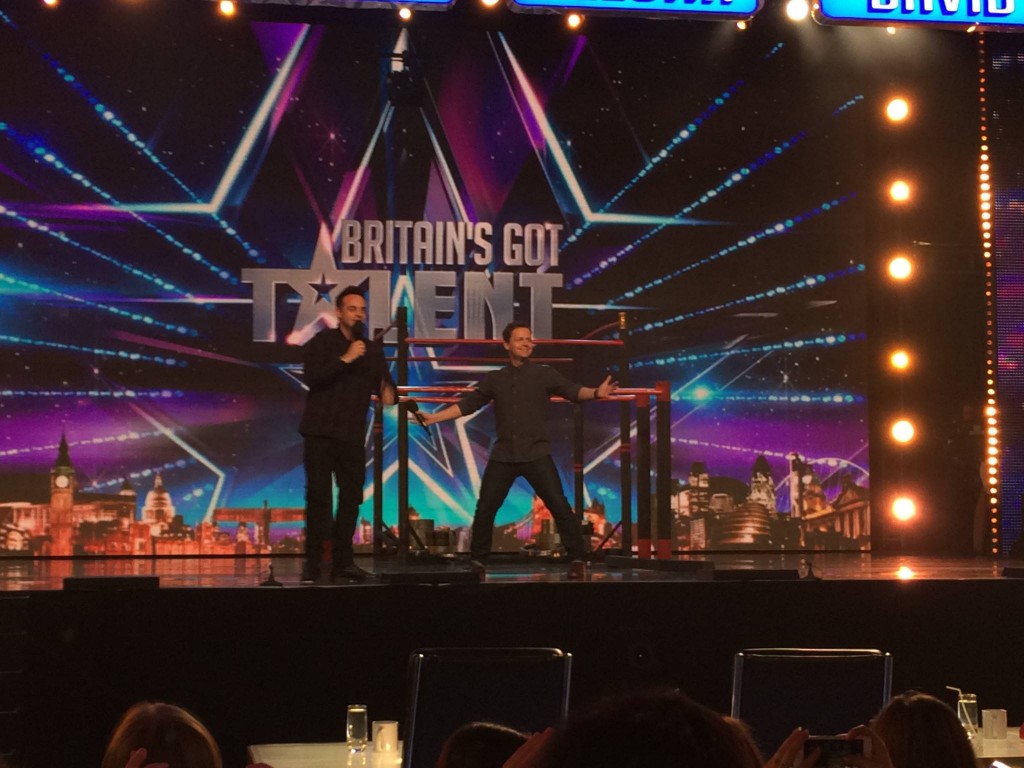 Tomorrow I am going to the NEC in Birmingham for the Gadget Show Live. I have never been before, so I do not really fully know what to expect. I imagine that there will be lots of stands with some amazing new bits of as yet unreleased top technology on. Hopefully that I can test and try out for myself. I have never been someone who is at the forefront of new gadgets and technology.
I even resisted getting a mobile phone for ages at first. And I was one of the last of my mates to get one. I do not own a tablet of any kind. And I would rather read old school paper books than use a new electrical device for them. But who knows I could well find a new passion for flash new tools after a couple of hours wandering around, trying the goods and talking to the makers. I will let you know how it was and what life changing items I purchased while I was there. In the next instalment on here.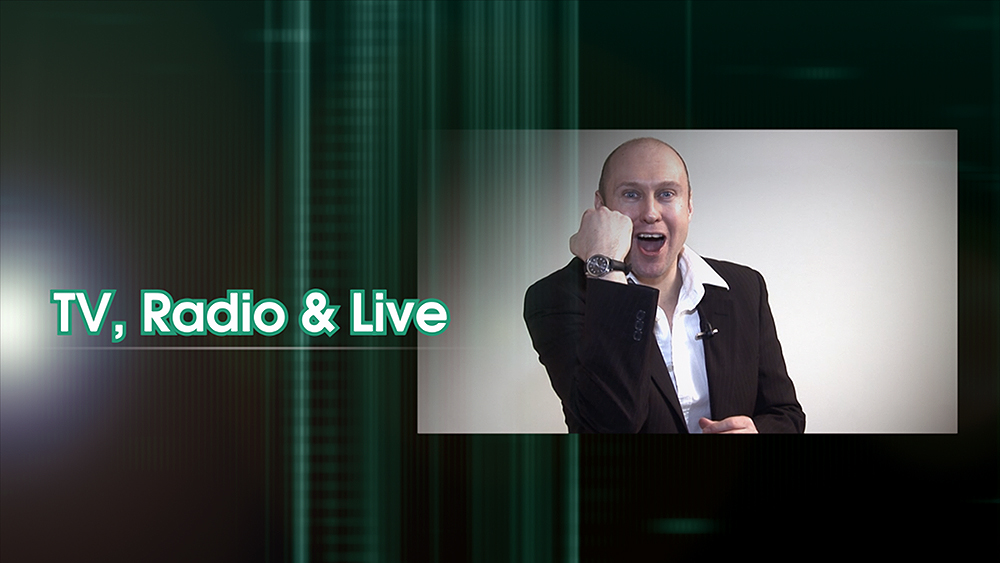 I am very excited to be heading up to Liverpool next weekend. For the Aintree Grand National Horse Racing meeting. This will be the third time that I have been there for the event. It is brilliant, the atmosphere is top quality and everyone dresses up and makes a real effort. So needless to say my best suit has already been dry cleaned and is ready for action.
Our big day at the races tends to be Ladies Day. Which is on the Friday. This is the day I will actually be at Aintree. It is a quality day from the start to the finish. And it is fair to say the whole of Liverpool is rocking once the days racing is over.
My mate lives near the course. And when I see him during non Grand National times. We always have a drive down the famous Melling Road. The one that the famous National course crosses over. It will be a lively and exciting three days. That is for sure. Last year I had the National winner in a sweepstake. I am hoping to repeat this feat once again this time round. Fingers crossed.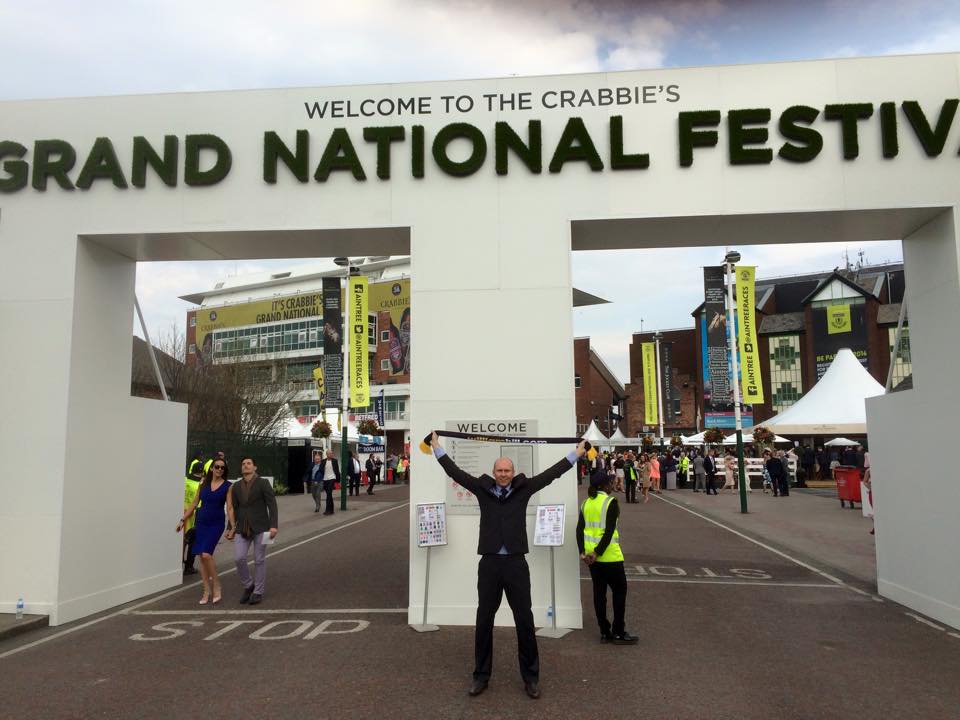 Have fun and we will catch up again in a couple of weeks. Cheers Neil.