In nineteen-ninety a film called "Quigley Down Under" was released starring Tom Selleck. I received a little bit of ribbing about it, mainly due to the fact I think that was the first time my name had been used in anything relating to the arts. I must state now however that I have never watched the film. This possibly highlights my lack of ability to watch them, as I could not even motivate myself to see one that had my surname in its title. But as remakes are now very fashionable out in Hollywood I decided this year I would create my own version.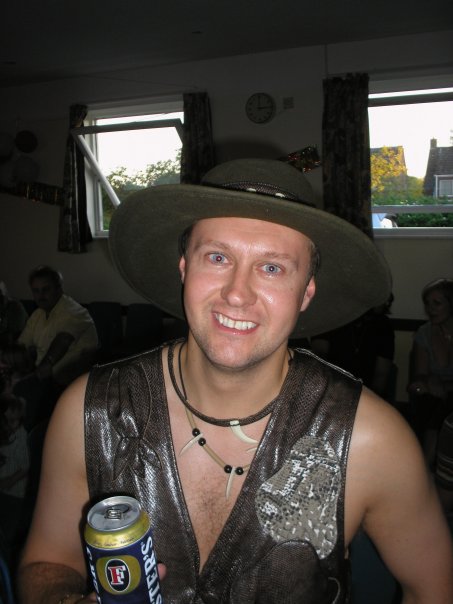 I have some family who live in Sydney and have done so now for a long time. I have seen them at various times over the years, when they had been visiting England. For their last couple of visits I had been saying to them that I would like to go and experience Australia for myself, making the trip to see them for a change. The plans just kind of fell in to place for me to be able to achieve this aim recently. It worked out that I had a couple of free weeks available during the football winter break, so I booked the trip last November.
I will be honest I found the thought of being on a plane for just under twenty-four hours pretty daunting. My previous longest flight had been a mere twelve hours and this journey would be nearly double that. But if you want to go and explore the other side of the world it is what you have to do. I arrived at Heathrow Terminal Five nice and early for my British Airways flight. I checked in, cleared security, had dinner at Gordon Ramsay's restaurant there and then got a pint in. I do not normally drink before flying but I hoped that one might help me get some sleep on the plane.
Having got myself psyched up to spend a whole day in the sky I took my seat on the air craft. Just as we had made are way to the runway and were about to take off, sadly someone was taken ill and we had to return to the gate. Thankfully they were fine and were met by the medical staff. However it did mean the flight was delayed by around two hours, which did mean I had an extra one hundred and twenty minutes on the plane on top of what was already quite a long stint. There was a stop-over in Singapore to refuel the plane. Then it was back on board for the remaining seven and an half hours to Sydney.
I did manage to get some sleep during the journey. I also watched a couple episodes of Fawlty Towers, Friends, Family Guy and The Big Bang Theory. As I was literally a captive audience I did unusually for me actually see a film. I watched the new Judy Garland biopic called simply "Judy". The movie itself was pretty average it did not really have much of a story line or tell me anything I did not already know. But Renee Zellweger was sensational in the title role, portraying the icon perfectly. I can totally see why she won the Best Actress Oscar for this role, she was fantastic!
I landed in Sydney, Australia at seven o'clock in the morning, only an hour later than planned in the end. My dad's cousin Phil very kindly met me at the airport. It was great to see a familiar and friendly face after travelling all that way. We hopped straight on the train and in to the heart of the city. Within an hour of arriving I found myself in a coffee shop between the famous Harbour Bridge and Opera House.
They both look so distinctive. It is an almost magical view. What an entrance to a place from the water. The first thing you see when you sail in on one of the many huge Cruise Liners that seem to dock at the port daily.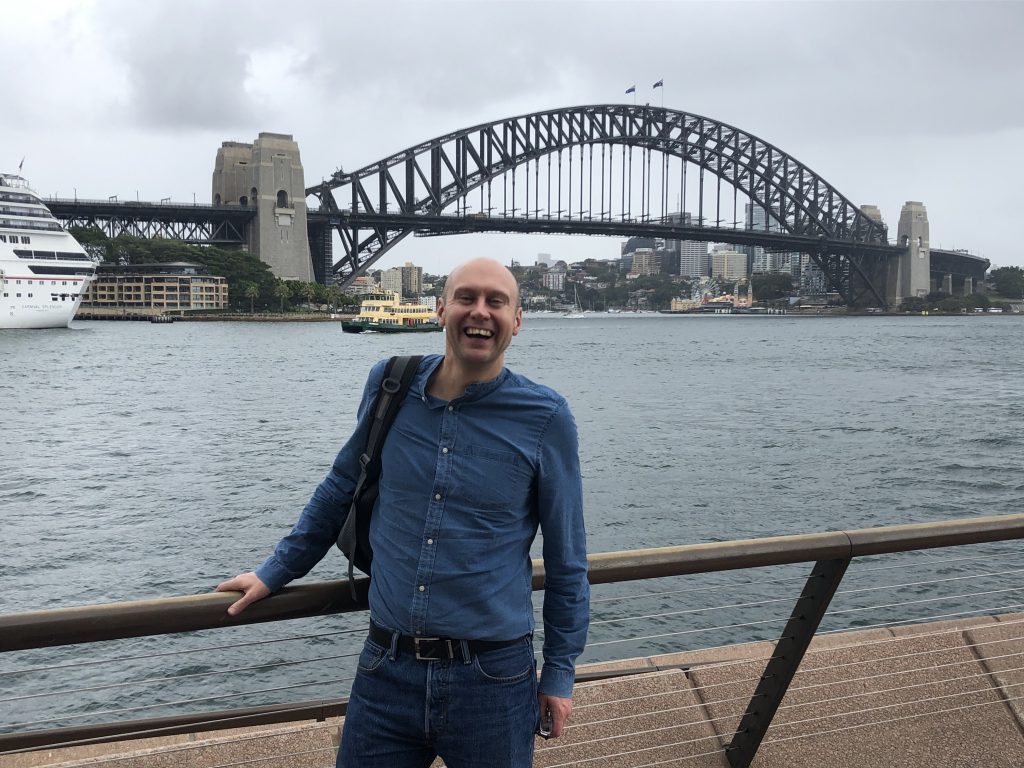 I had a bit of a look inside the legendary music venue. We then had a walk around the Quay area before we went back to Phil's place, so I could get rid of my luggage and settle into his home, where he and his wife Jenny were very kindly letting me stay while I was in town. They live in a suburb about forty five minutes outside of Sydney. It is in a lovely area.
He took me out for lunch at a local members club, he belonged to. There I had my first taste of some real Australian beer and food. Both of which were excellent. I must at this point concede that the weather was not what I was hoping for. I had been looking for some winter sun and normally this would be a safe bet. But I had arrived during four days of forecast heavy rain.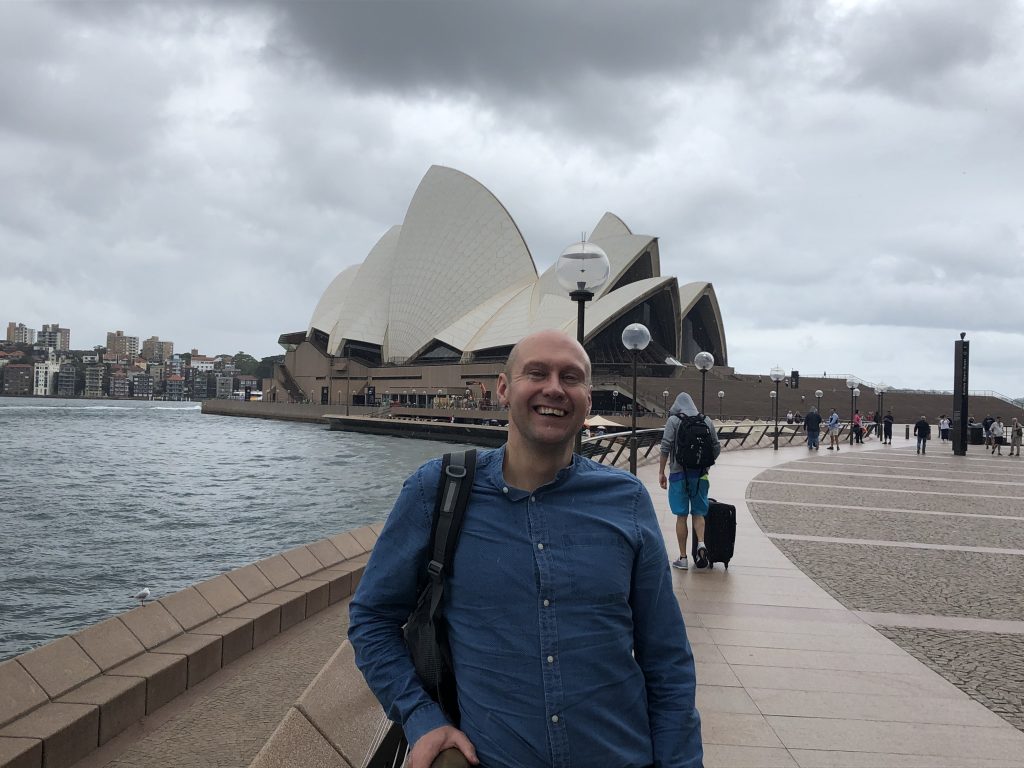 On the way back from lunch he took me for a drive around a totally breath taking gorge. The sights were amazing. Mother Nature is quite simply astonishing sometimes. One of things it took me time to get my head around is that some of the Australian trees not only shred their leaves but shed their bark, which of course is something I have now discovered was also fuelling the bush fires.
When we got back "home" another surprise was waiting for me. The wild birds are amazing there, the colours are spectacular. My favourites were the Rainbow Lorikeets but I also saw Cockatoo's roaming free. Also a Bush Turkey was a regular visitor in the garden.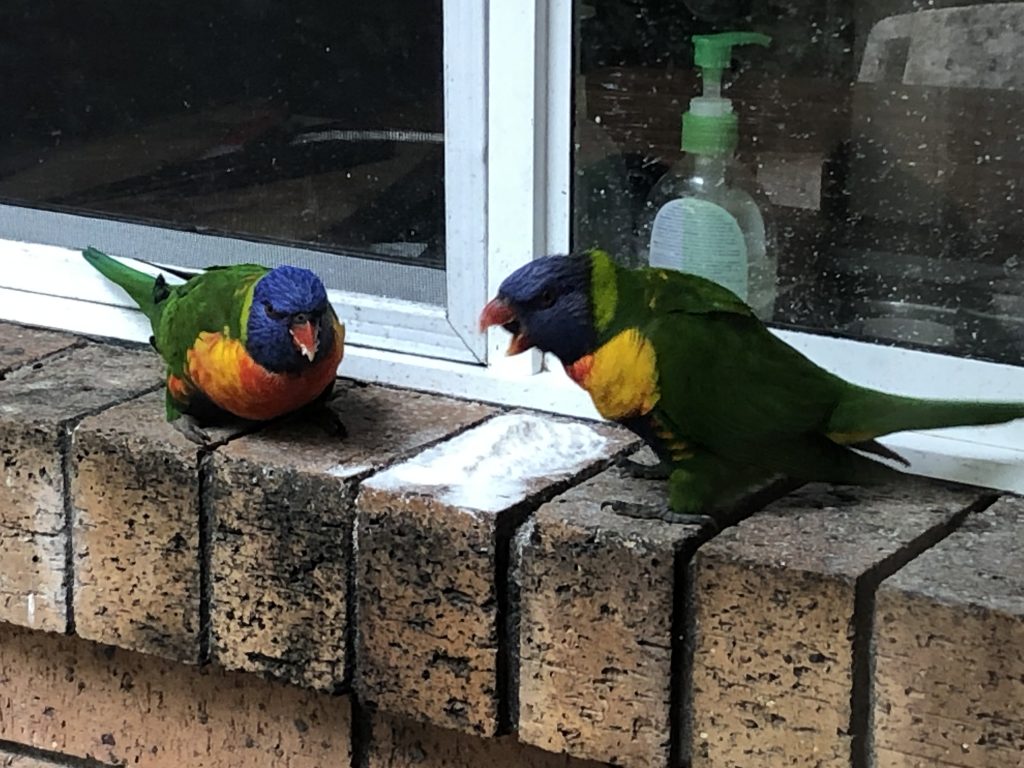 After a great night's sleep in the guest suite it was time for my first full day of exploring. Sadly the weather was wetter than it had been the day before. But undeterred Phil had a fantastic day for me lined up. We got the bus into Sydney in the morning. Firstly he took me to see some of the many Quays, then for a walk around a coastal area called Barangaroo. This led us past one of the oldest existing houses in the city to the Ferry Wharf. He was taking me across the water to see a place called Manly Beach. Sadly it was not a day for sunbathing but the promise of a nice pub lunch overlooking the harbour there sounded very appealing to me still.
I am not saying it was a bit of a rough crossing but I am sure the boat was almost sideways at some points. You do get to sail out and then back in between the Harbour Bridge and The Opera House though, which is quite something. It is a very pleasant forty-minute journey. On arrival we made our way to said pub. I sampled yet another local beer which was again lovely. As I was keen to immerse myself in the culture as much as possible I had an Australian Burger for dinner. As far as I can tell that is basically a normal burger with some beetroot thrown in.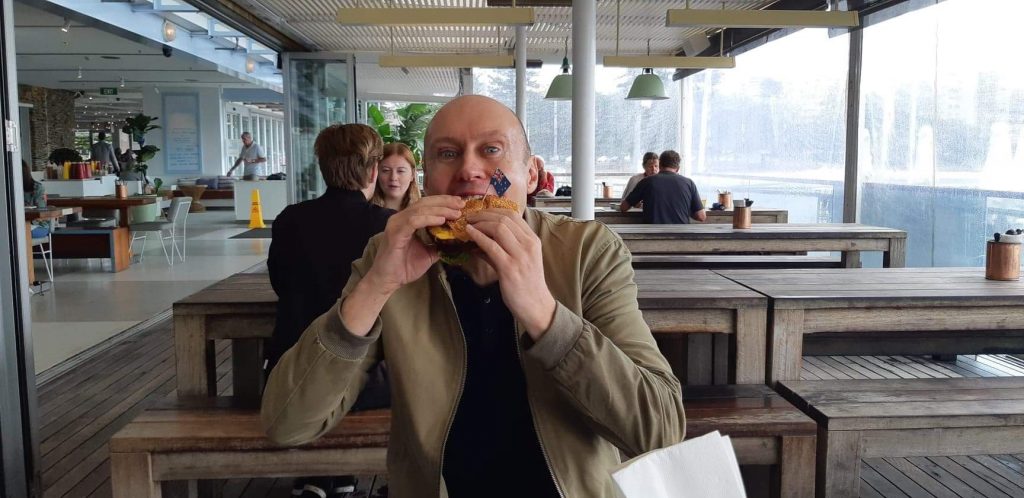 After lunch we did have a walk to Manly Beach, which looked great. But owing to the fact it was still hammering it down with rain I did decide not to go in for a paddle in the sea. We got the ferry back to Sydney Harbour before getting the train back "home". We had a nice relaxing evening chatting over dinner with a few glasses of wine and a couple of glasses of a very nice port just to round things off.
We also watched a bit of A-League football on the television. Phil is a season ticket holder with Sydney FC. He had managed to get me a ticket to the Sydney derby that weekend, although due to the rain the game was under threat.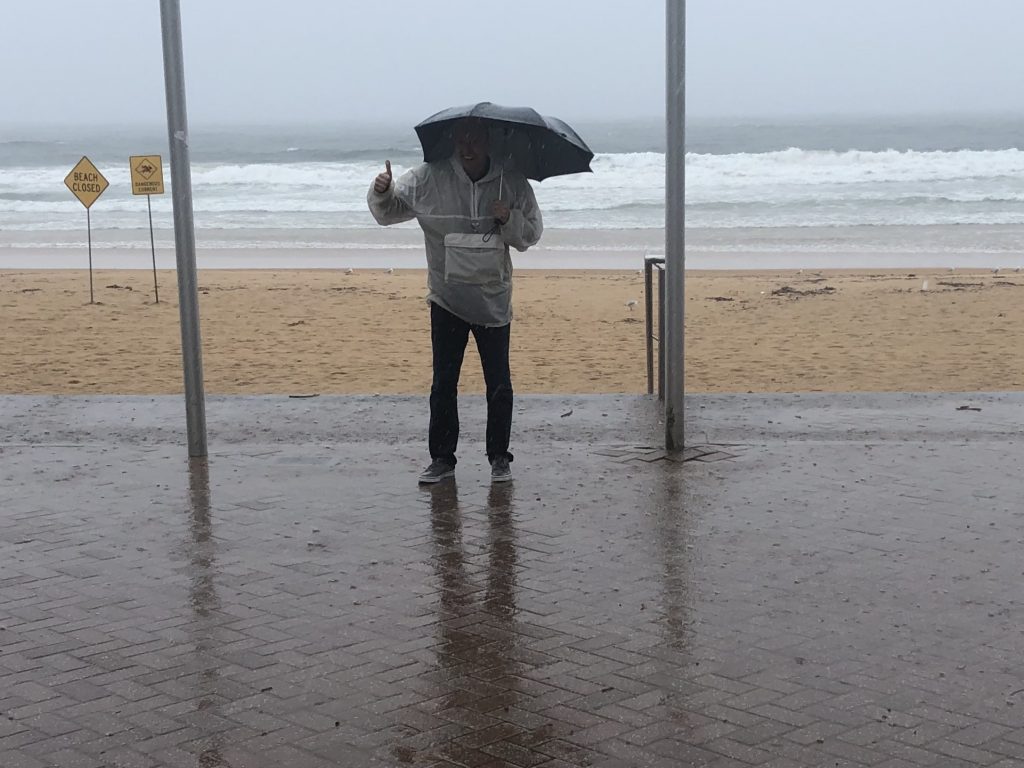 As it turned out while I was over Phil's son David and his wife Helen were throwing a first birthday party for their son. I had seen David a few times over the years. When we were kids we played football one afternoon in England. That turned in to a match between Quigley's and the rest of the world. I am pretty sure we won. The last time I had seen him was when he visited the UK after the World Cup in South Africa in 2010.
He and his wife very generously let me gate crash the do. They have a lovely house on the outskirts of Sydney. It was a morning affair. As a result of which I ended up drinking a few glasses of Prosecco from ten-thirty on a Saturday morning, which I think is a great way to kick start the weekend. I blame David and Helen's friend Debs who was I must say very good at keeping people's glasses topped up. All their friends chipped in to help out with everything. That was great to see and shows what a wonderful group of people they all are.
It was nice to catch up with the whole Australian family in one go. I managed to see Phil's daughter Stephanie and her husband Michael both of whom I had met before. Like David and Helen they also have two children of similar ages, it was lovely to see all the generations of cousins getting along so well. I was also able to meet some of Jenny's family to, which was really nice. In fact everybody there was so friendly and easy to chat to. It was a lovely party with some very nice birthday cake, which tasted great despite the birthday boy literally putting his foot in it.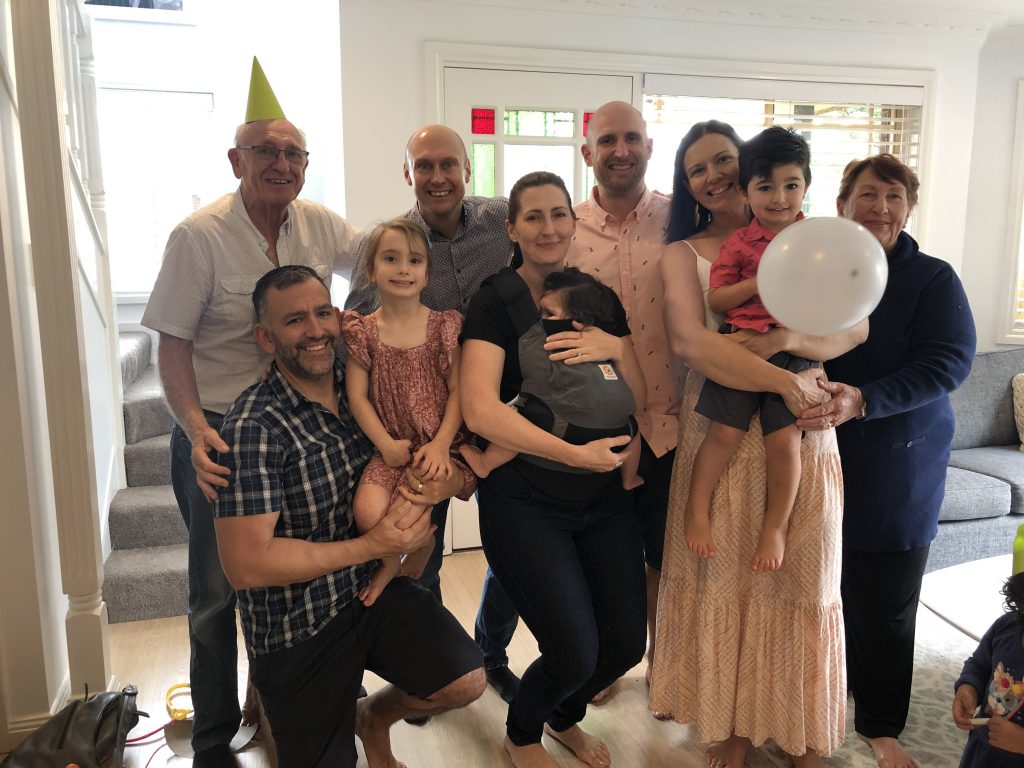 It was while we were at the party that we found out that the Sydney Derby had been postponed due to a waterlogged pitch. It had not stopped raining since I set foot in Australia. It was a real shame as I was looking forward to sampling my first taste of A-League action. It would have been great to go to the football with Phil. To make up for it he took me on a bit of a sports stadium adventure.
We went to the Olympic Stadium the ANZ Stadium. While I was there I got to see the flame from the 2000 Sydney Games. We also looked at the list of the volunteers who helped out with the games which did include a familiar name on there. On the way back to his place we stopped off to have a look at the new stadium for the other Sydney team Western Sydney. That night we went out to a local pub for a great meal, I had the world's largest pizza and sampled a few more of the local ales. That once again did not disappoint, they tasted great.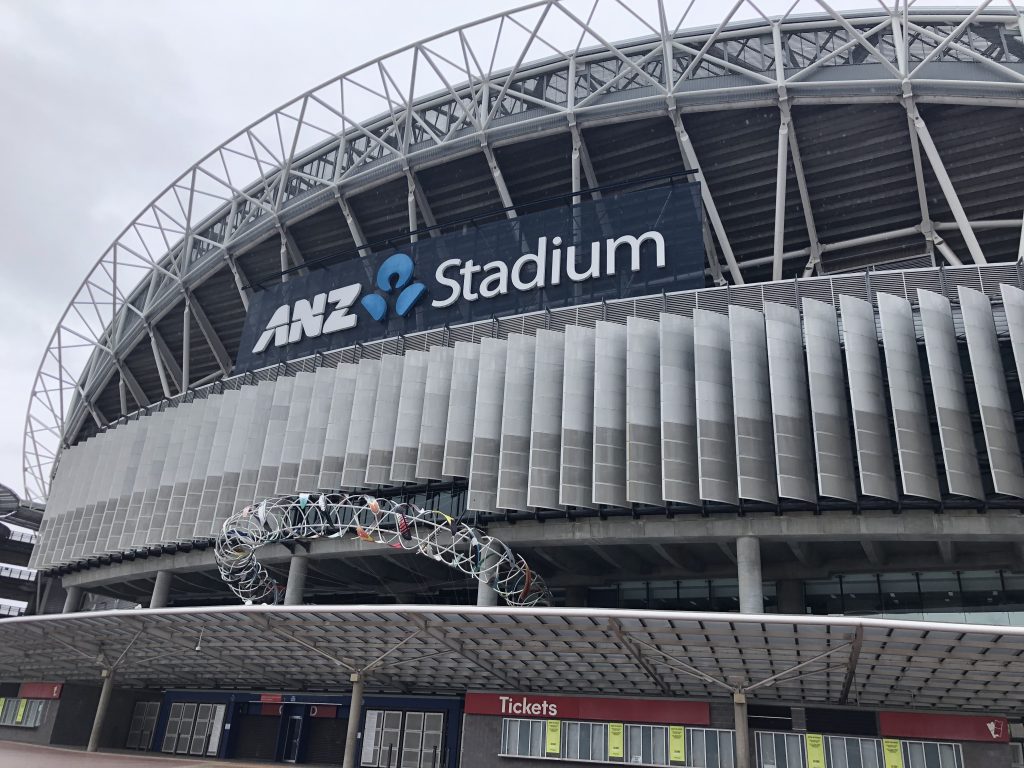 As I woke up on my fourth day in Sydney the city was expecting its worse storms since nineteen ninety-eight. Therefore we decided it was the perfect day to visit the legendary Bondi Beach. Before we even left the house a large part of a tree had blown down and fallen in to the garden. The rain was also the heaviest it had been all week.
I had really wanted to go to Bondi and in my head before I made the trip I imagined a bit of sun bathing on the beach then some mocked up pictures of me surfing. However what I got was some pictures of me in the car park overlooking the beach, while the rain continued to fall.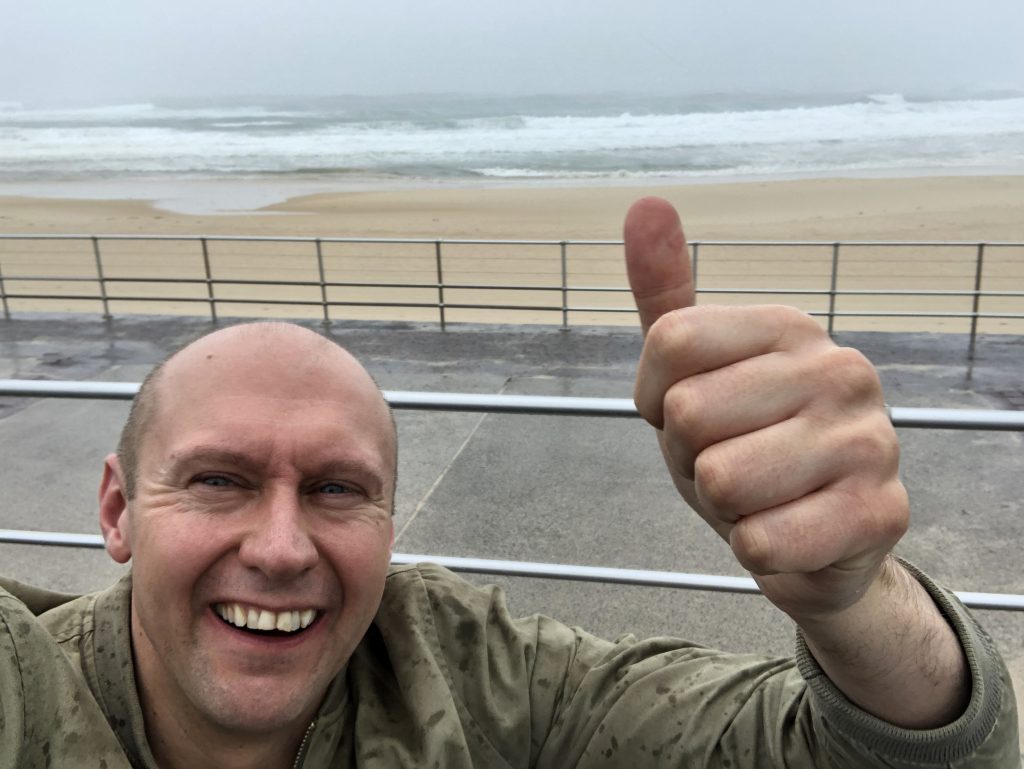 Sensibly we then decided the best plan of action for a day like this was to find a pub in which to have a few drinks and some food. Just across the road from the beach was the Bondi Beach Bar. We spent a couple hours in there having a beer or two and a nice meal. I was off to the Gold Coast the next day.
My flight was early in the morning so I had booked a cheap hotel at the airport for the night. On the way to my accommodation Jenny gave me a bit of a tour around the coastal areas and showed me some buildings that featured in her past. Even in the rain some of the views were stunning.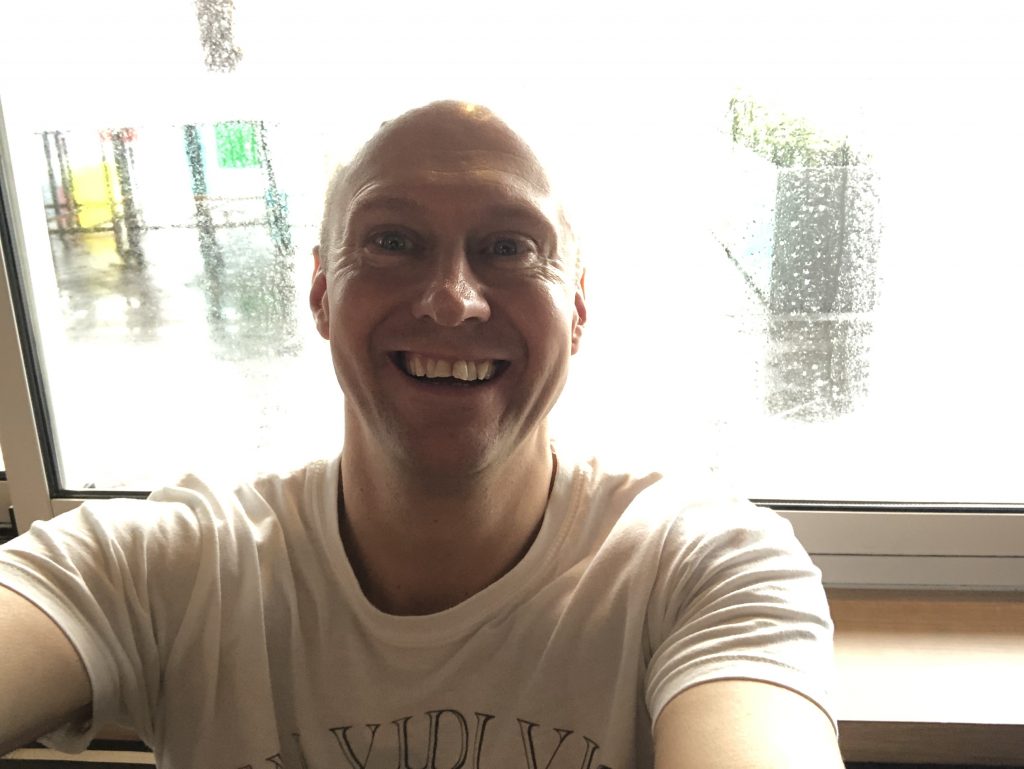 They dropped me at the hotel the rain still lashing down and the wind blowing. I checked in and went up to my room. I was watching a bit of television and wondering what to do for the evening when all the power went off. It had just got dark and there was not much to do with no electricity, so I just went to bed.
The power came back on at about eleven thirty. I know this, as I had left the TV and the lights on so they all sprang back in to life. I was up early to catch a flight to the Gold Coast for the next stage of my Australian adventure.
Part Two coming soon……….