Hi there, how are you? Another two weeks have passed by in a flash. And I think it is fair to say that once again I managed to keep myself fairly busy. St Patrick's Day this year fell on a Sunday. Not only have I been to Dublin four times. But my Granddad was born in Ireland and I have an Irish surname. Which as far as I am concerned means that I am fully qualified to celebrate this special day. And join in with all the fun.
My preferred choice to spend at least some of every March 17th is at my favourite pub in London Waxy O'Connors. As you may have deducted from its name. It is an Irish Pub. Therefore you will not be surprised to learn that it gets very busy on the Patron Saint's Day. I managed to get there around one in the afternoon. Much later than that and the queue to get in goes right around the block. You can't buy experience!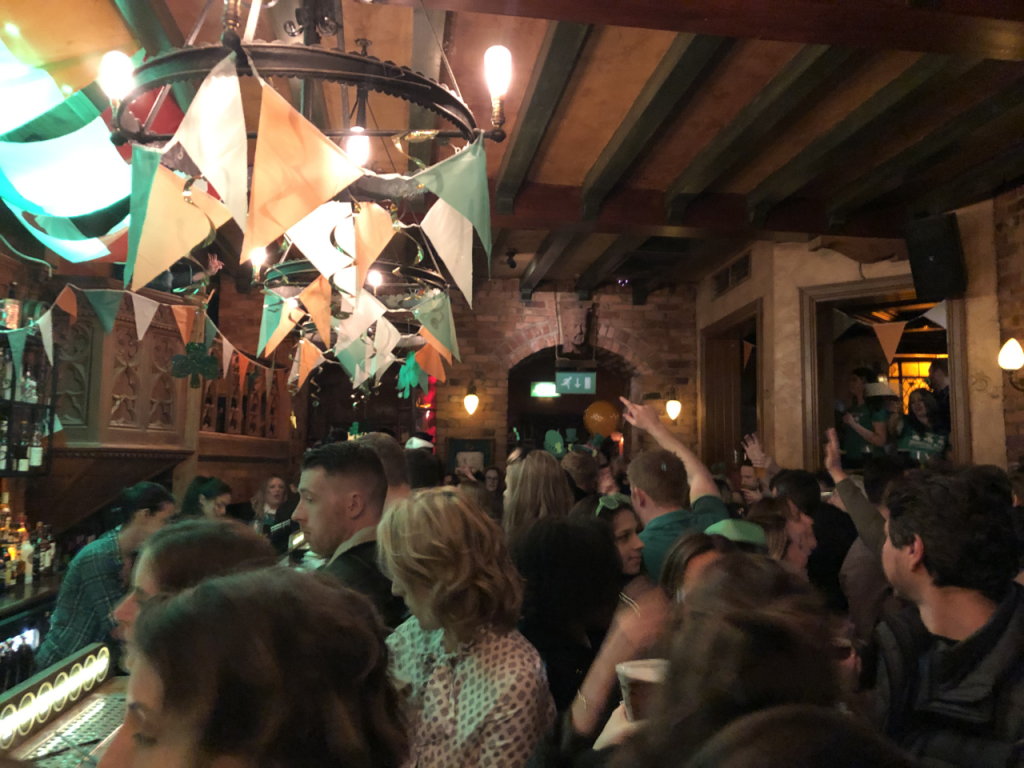 I have said this before many times. But personally I believe they do serve the best pint of Guinness in London. I had to have six of them just to make sure that this assumption was totally correct. I am very thorough when I am carrying out consumer tests. They have great music on the whole time. The place is packed and the atmosphere is fantastic. Everyone is so friendly and just up for a good time. Certain songs suddenly get the whole pub singing along together.
The best bit for me is that they always have a traditional Irish Band in there playing during the evening. Including a Banjo, a Fiddle and a female singer with red hair. I mean how much more authentic could it be. They do all the classics. Which again sees the whole venue join together to sing them. It is always a brilliant day out. I already plan to do the same thing for St Patrick's Day next year. You cannot beat it.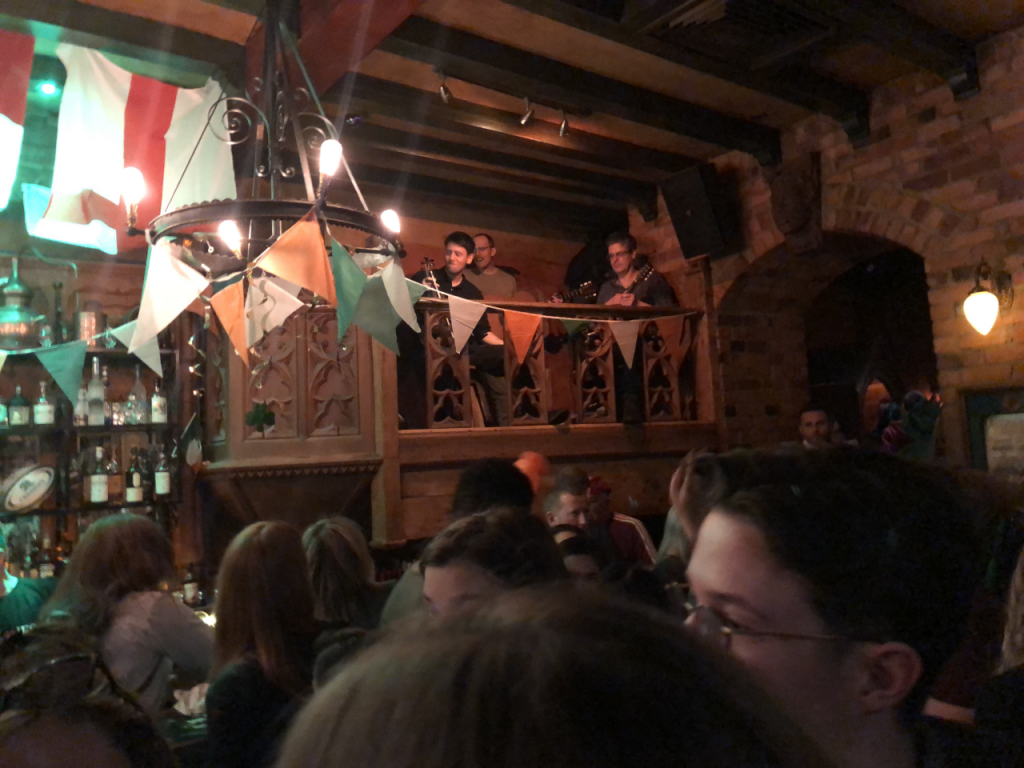 The day before the celebration day of my surname. I was at a dinner at my mates house. To celebrate his birthday. He is from Wales and a rugby fan. It was on the final Saturday of the Six Nations. Therefore I got to his place in time to watch the game with him and his girlfriend. Who is also Welsh. Needless to say they were both delighted with the result. And the Six Nations win.
Even though it was his birthday. My friend was cooking the meal. It was his choice. He enjoys cooking and is really good at it. He made an amazing Beef Stew with triple roasted potatoes and a selection of steamed vegetables. It tasted brilliant. I even went back for seconds. I found out later that it included some Old Speckled Hen. Which may or may not explain, why I liked it so much.
He had a small group of his friends there. We just spent the evening chatting and having a few drinks. It was very civilised. As always tends to happen. I found out some of them shared mutual friends with me. It really is a small world. And I am actually starting to think that everyone does know everyone. It was a lovely day with decent food and quality conversation.
Mike Sterling and Neil Quigley
A few Tuesday's ago I took my very first trip to Paris. I have decided that I want to do some more travelling. And visit more places across Europe and the World. A couple of years ago. I went to Barcelona. Which I really enjoyed. The French adventure came about when I was told of a good offer from Eurostar. They had a bit of a sale on. So I manged to get a reasonable price on a return trip to the Capital of France.
It was the first time that I had used the service. It did feel a little bit weird going through customs and security at a train station. Then you end up in the waiting room. Which is a cross between a train waiting room and an airport lounge. It is also a bit like flying. In that they ask that you are there at least an hour before the departure time. You have your own designated seat. Which to be fair are, I thought, pretty comfortable.
The journey down to the English coast seems to go quite quickly. And what I did not realise is you are only in the actual tunnel that goes under The Chanel for about thirty minutes. The longest bit is the ride through France to Paris. One of the first things I noticed, as we approached the station was that they had Double Decker trains.
That nearly blew my mind. You arrive at Paris Gare Du Nord Station.
My next mission was to work out their Metro system. To get to my hotel. I had already checked out what stations I needed to aim for. But I was struggling to find where the entrance to the right lines were at the station. I then found a planner app on my phone. Which gave me idiot proof instructions. How did we manage to do anything before mobiles? I found the hotel, which was opposite the place that I was going to that evening.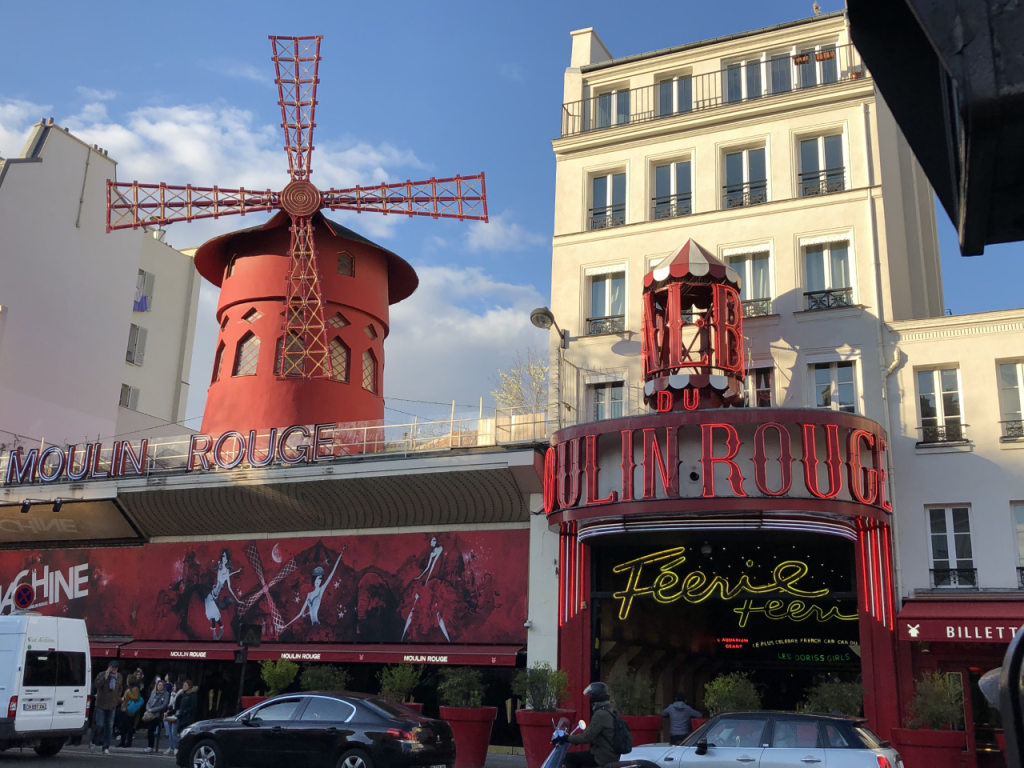 I checked into the hotel. Then went for a little walk. I know this is so cliched. But I was surprised how many people were sitting outside Cafe's drinking red wine and smoking. Plus there were lots of folks walking around carrying Baguettes. I had to visit a cafe. I could not see any tea on the menu. So I played it safe. And I ordered a water with a hot chocolate. It was really relaxing in there. It felt good.
I then went on the hunt for food. I found the most traditional looking French restaurant that I could. I am very much for embracing culture and trying new things. I had a glass of red wine of course. But for my starter I decided to experience Snails. I must say they were very nice. Not at all chewy, as I feared. I could not say what they tasted like but they did come in lots of garlic butter. I would be perfectly happy to eat them again.
For my main I played it safe with Duck and Potatoes. Which did of course come with two massive clothes of garlic in it. And I may also have had a second glass of the Bordeaux. I then had to hop back to the hotel. To get showered and in to my suit. Ready for the evening entertainment. I am a huge fan of live performances and big shows. Therefore with only one night to spend in Paris. Where else could I go other than the world famous Moulin Rouge.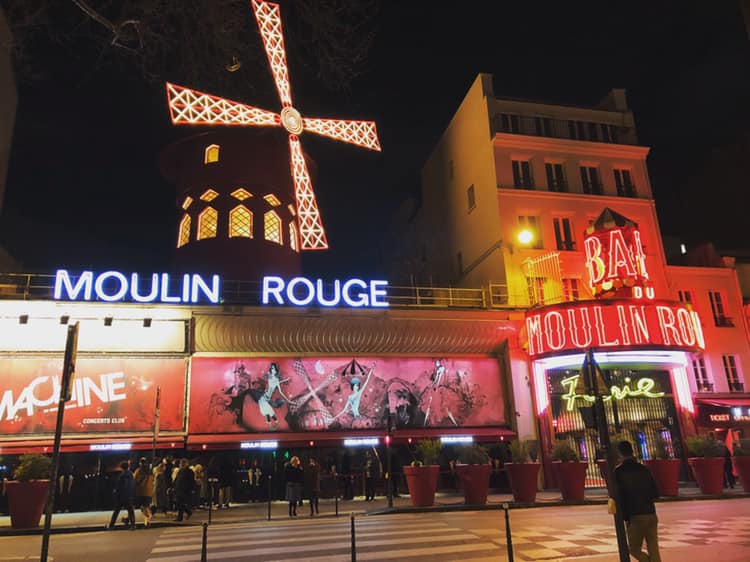 The landmark Windmill and those bright neon lights mean that the place stands out. I had bought the ticket online in advance. You walk in. They show you to the cloak room to leave your coat. Then you get taken to your seat. I got very lucky as my seat was right by the stage. I had booked a champagne package. Because I am classy like that. That meant the waiter then delivered half a bottle of bubbly in a ice bucket. For me to enjoy during the show.
I arrived about twenty minutes before the show started. There was a lady from China sitting opposite me. I do not speak any Chinese and she did not speak any English. However she had a translation app on her phone. So we did manage to have a brief conversation. Before it got under way. When we arrived there was already a band with two singers on stage performing. They finished about ten minutes before the main show time.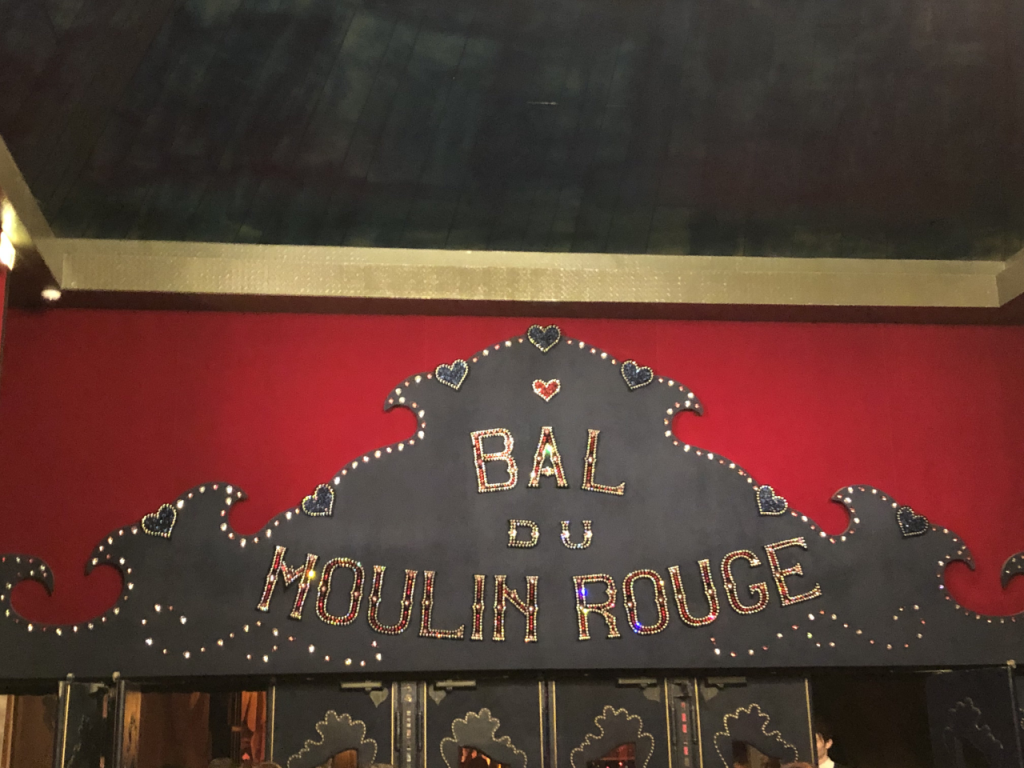 Then it was time for the actual Moulin Rouge Show. Right from the very start it grabs you. It is a non stop ninety minute extravaganza. The dancers are amazing. All stunning and all ridiculously talented. Some of them also sing. The costumes are sensational. There are lots of different themed sections. Including of course the traditional Can Can routine. Which was one of the things it was famous for from its launch.
The sets are magnificent. The whole thing is such an amazing sight. You cannot take your eyes off it. But there is so much going on. It is sometimes difficult to know where to look. Aside from the dancing. There are also circus acts including a juggler, acrobat, swimmer and a roller skating duo. You just sit there in this amazing venue, sipping Champagne and being blown away by the performers. Oh yeah and it is a topless review show. Which is more of a nod to the venues past than its current.
I am so pleased I went to see it. For me that has to be one of the slickest and best staged shows. That I think I have ever seen. The time flies by. When it ends. They do want you to leave quite quickly. As there is another show straight after. They do three shows a day there. Which in itself is staggering. If you visit Paris in my opinion you need to see this.
Next door to the Moulin Rouge believe it or not there was an Irish bar. I went in there straight after the show for a drink. I tried the 1664 Blanc for the first time ever. It was really nice. So nice in fact that I ended up having a second pint of it. While I watched the duo performing in there. They were singing covers from British and also American artists. They were pretty good to be honest. After I had finished my second pint. I decided to call it a night and headed back over the road to my hotel.
I got up fairly early the next morning to try and get a bit of sight seeing in. Before I had to catch my train home. I literally only had a few hours. I thought I would head straight to the Eiffel Towers. As I figured I had to see that while I was there. To get to it I had to swap Metro Lines. As I was doing this I suddenly spotted an exit for the Arc De Triomphe. So I thought I may as well go and see that. From there I ended up walking down the Champs Elysees. Then I saw the top of the Eiffel Tower, so I thought I would walk to that.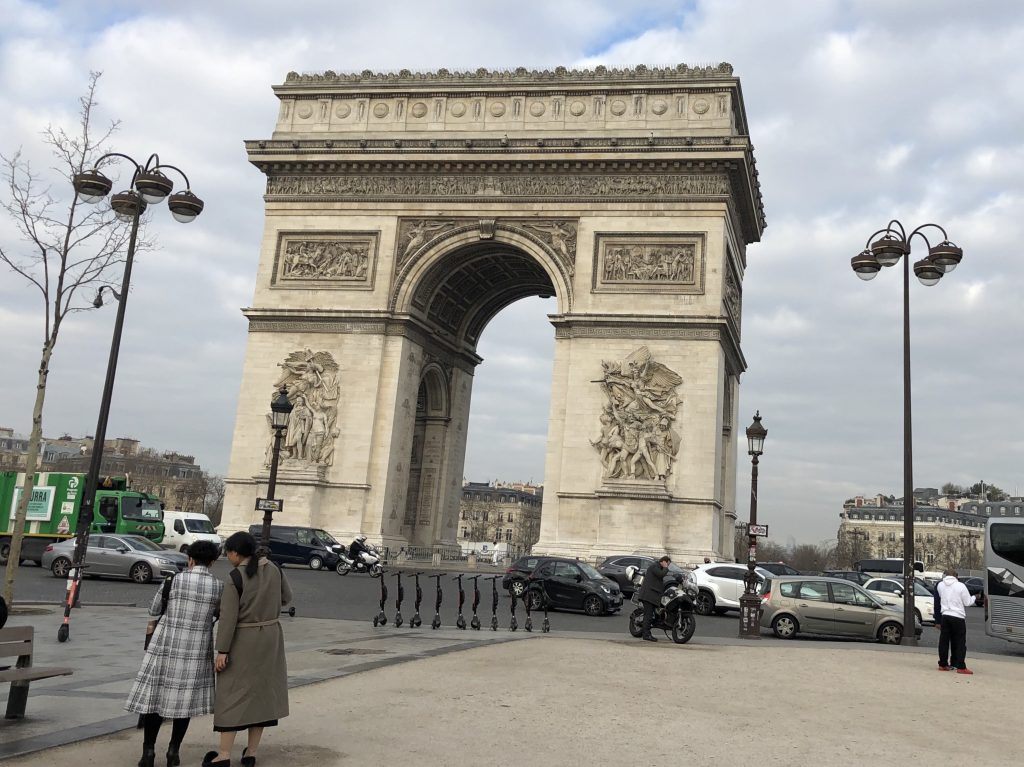 I will be honest it was a little bit further away than I thought. And therefore it took me longer to get there than I was hoping. I had not had any breakfast at the hotel. So I got two Pain Au Chocolat from a traditional Boulangerie. That I passed on the way there. It was good to say that I had been to it and seen it. But I guess as I had seen so many pictures of it in the past. It just looked so familiar. And did not really astound me too much.
By now time was getting on, so after taking a few quick pictures. I found the nearest Metro Station. And headed to catch my Eurostar train home. Thanks to the strikes by French Customs. It took me a bit longer than I was planning to get back to London. Which was a bit of an inconvenience. As I was heading there to go and see George Ezra at the 02 that night. I had booked a hotel in Canary Wharf. As I did not have time to go home and dump my suitcase.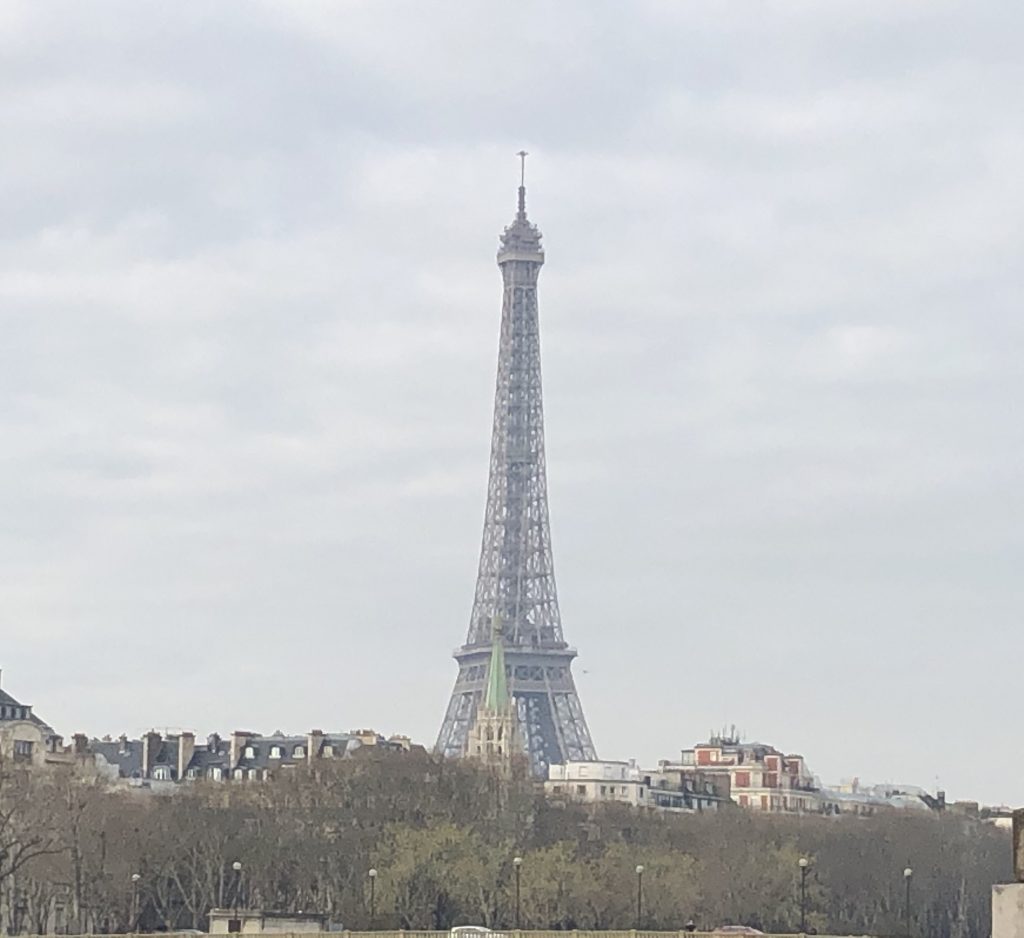 Thanks to my travel delays. I just had time to check in to the hotel, get changed and then head off to the gig. I got there about eight in the end. I met my friend in a bar outside and we went straight in to the venue. We had managed to get ourselves into one of the boxes to the side of the stage. We got to our seats as the warm up act was doing her thing. It was Sigrid. Who is possibly best known for her tune "Don't Kill My Vibe. She was great.
The good thing about watching the show from a box was as well as a great view. There was a waitress who would bring you drinks to your seats. As you watched the gig. I must admit that is something that I could get use to very easily. Between Sigrid and the main attraction. There was about a thirty minute break. Which just gave me time to grab a bite to eat. And then settle down to see George Ezra.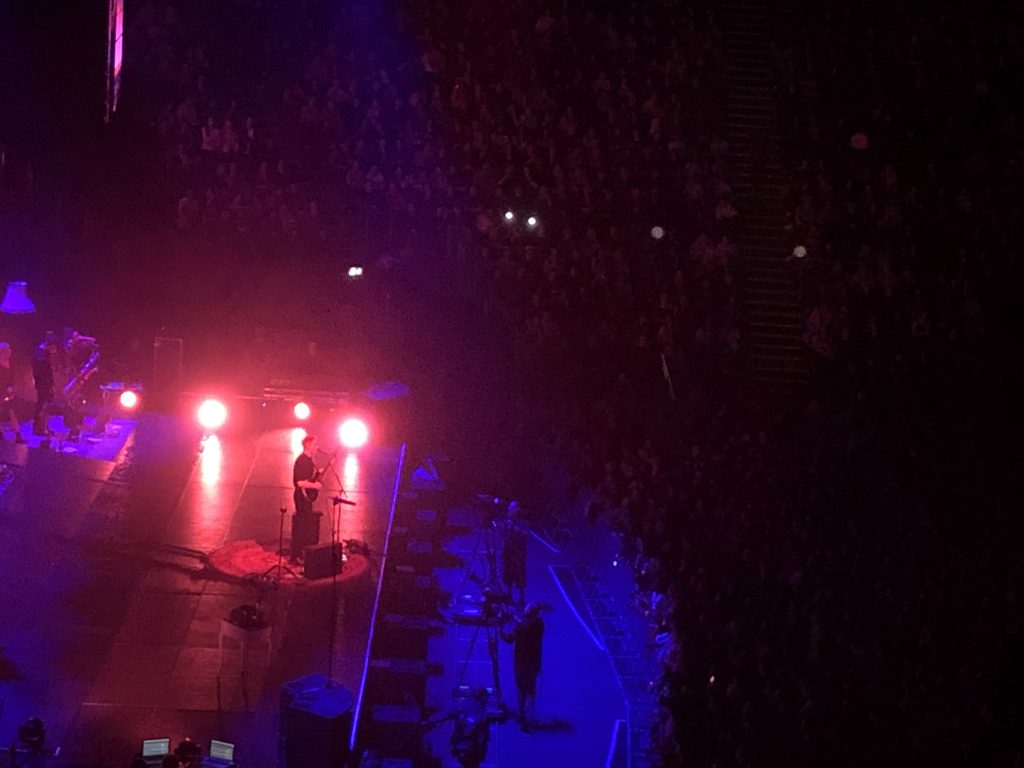 I must say he and his band were fantastic. With those two big albums behind him now. He does have a great selection of songs to play. And he is very conversational between numbers. Often explaining where he was when he wrote them. His mood at the time. And also how the songs themselves actually came about. The set list was cleverly put together with his best know songs spread nicely through out it. His guitar technician had a busy night. As he seemed to change his for each song.
It was a full on performance with predictably Shotgun being saved for the encore. I must say he looked like he was really enjoying it. Which was great to see. He is going to be around for many years to come. I had one quick drink at All Bar One after. Before I returned to my London hotel. It had a lovely Conservatory Bar overlooking the water. Therefore I thought it would be rude not to have a pint and a packet of Cheese and Onion crisps in there. Before going to bed. A busy but great forty-eight hours.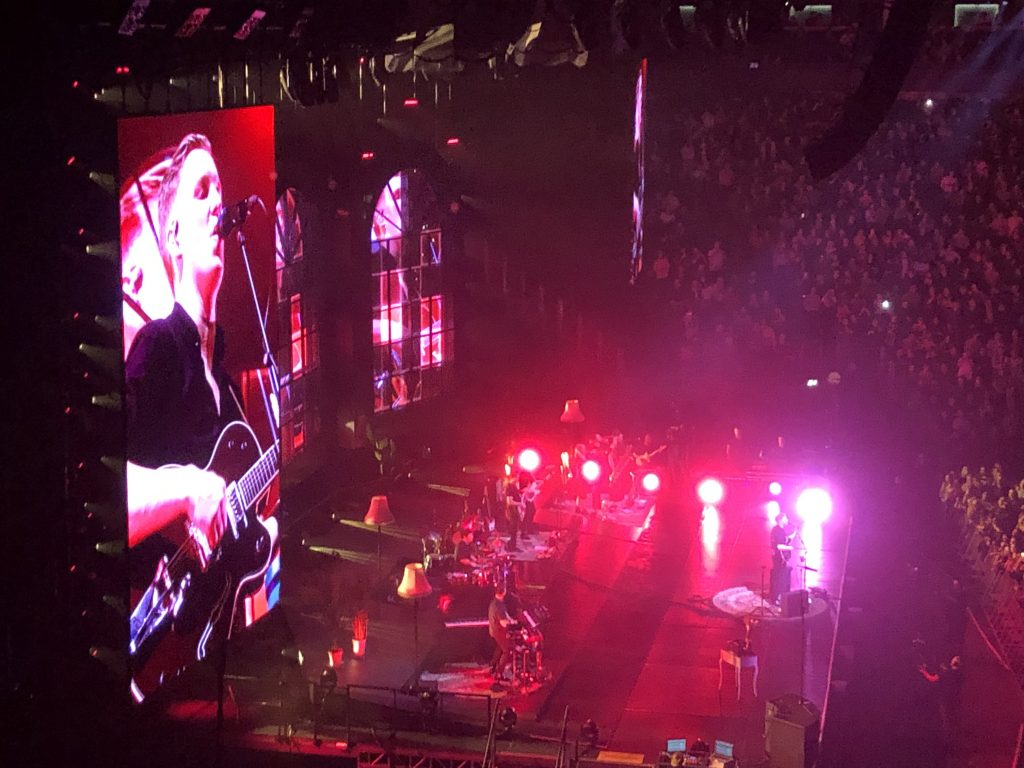 My Dad and I went to the England versus Czech Republic game at Wembley. It was brilliant to see us get a five-nil home win. And it is always nice seeing Harry Kane score. I think it is quite an exciting time for the national team. With so many young talented players starting to emerge. Raheem Sterling was top quality. He deserved the man of the match plaudits for his hat-trick. It was a quality night out at the match. Spending some time with a family member. Which may also have involved a few drinks after the game.
England continued their great start to Euro 2020 Qualifying with a five-one win away at Montenegro last Monday. In a game which saw a couple more youngsters get their first starts for the country. If you do not know this already some of the group matches, the Semi-finals and the final of Euro 2020. Are due to be played at Wembley. Which might make those championships even more interesting and exciting hopefully.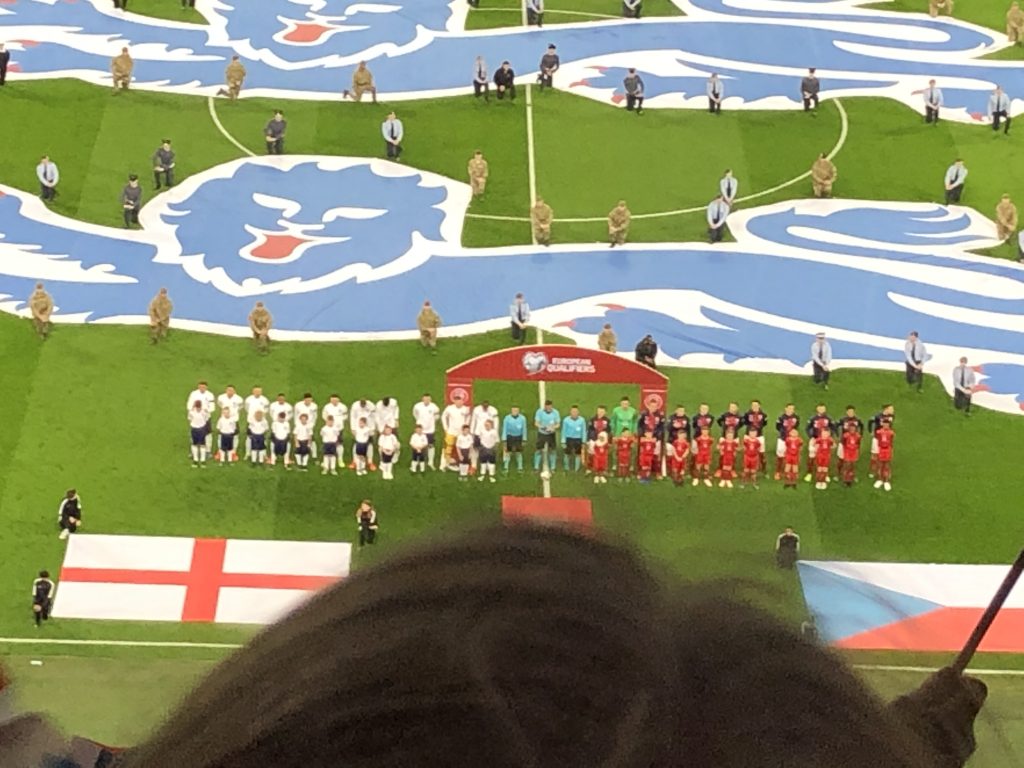 Last Saturday Tottenham Hotspur held the first test event at the new stadium. It was an under eighteen game against Southampton. We were originally meant to play our first game there in September. But building works. It is fair to say over ran some what. However I was excited to be able to finally see it for myself. And sit in my own season ticket seat at last. I must confess as I did not want to see it as a building site. I had not been there since the old White Hart Lane was knocked down.
The old stadium was a little bit hidden from the road. But as you exit White Hart Lane Station. You can clearly see the new stadium right in front of you. It looks to me like a giant space ship. It is kind of grey and silver. It does look spectacular. The closer you get to it the more impressive it appears. I got a good look around it. As my entrance is the opposite side from the main road. You head up some outside steps to get in. This is the point where your ticket is swiped and you go through security.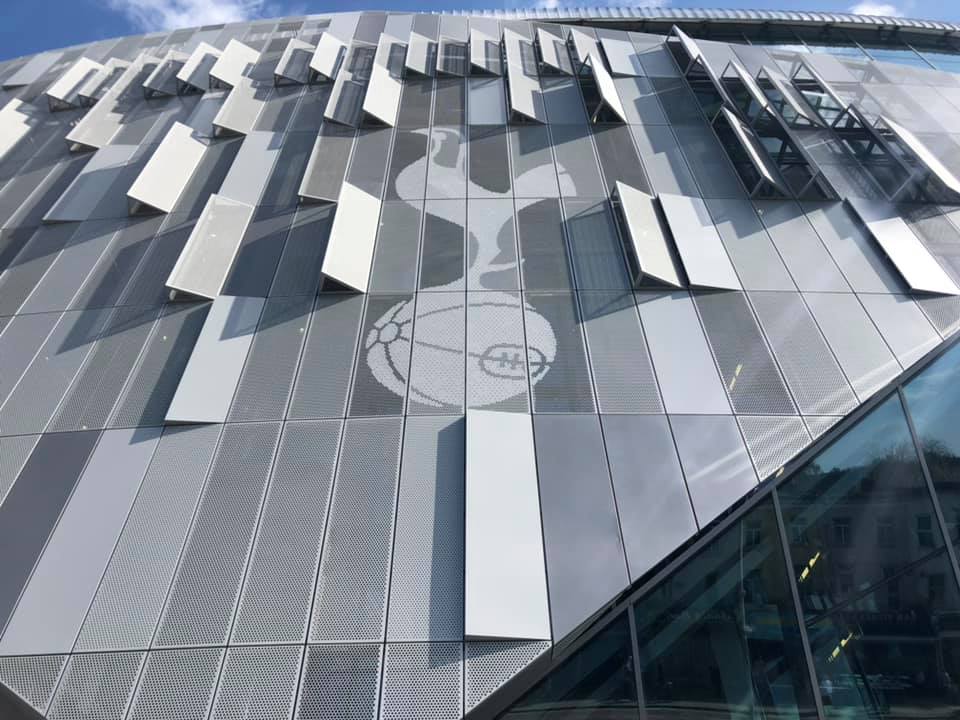 Once you are inside the stadium you are free to walk around where you like. There are plenty of different bars and food outlets dotted about. It is a very well designed venue.
Amongst many other unique features . It has its own Beavertown Brewery onsite. Luckily for me I am a fan of their Neck Oil beer. Which is available from all the bars. I had a drink, some food and then a bit of a look round. Just to get my bearings. As it is a place I will be spending a lot of time at.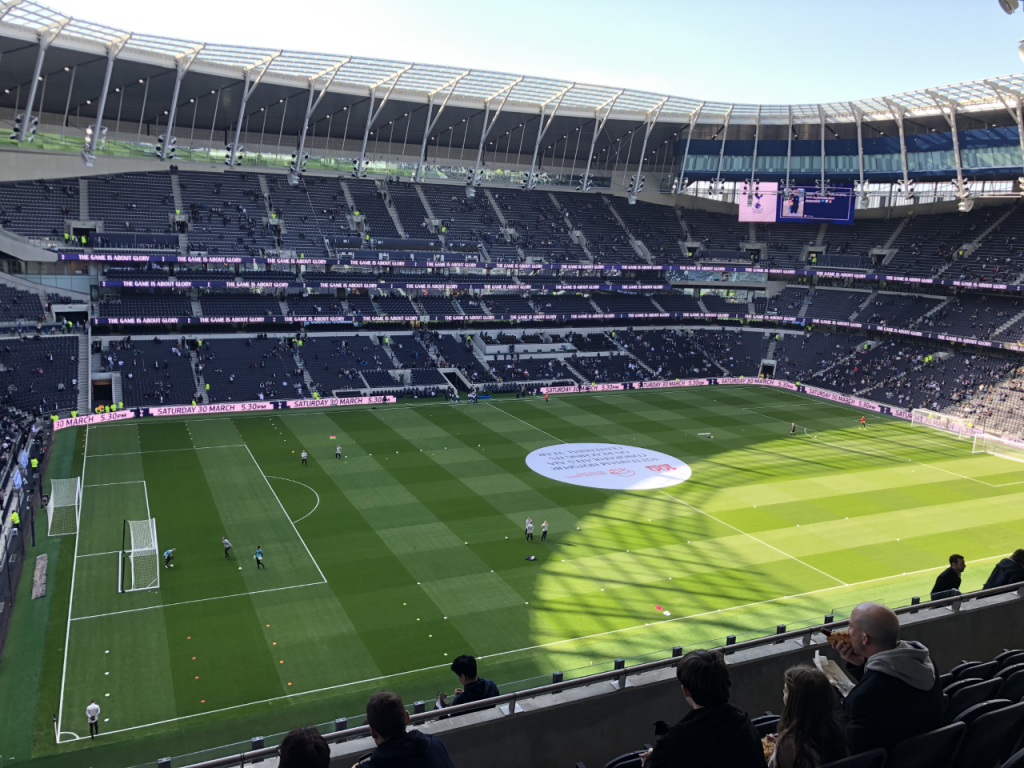 I then went outside to find my seat. And check out the view from it. I have no complaints. I am already looking forward to watching many games from it. The game itself was pretty decent. It was good to see young first team player Oliver Skipp out there with the other young players from the club. Well done to J'Neil Bennett for scoring the first goal at the new place. A decent strike to. Our Academy side ran out three-one winners. An excellent start to proceedings there.
After the game I went back inside to have another drink. The bars there are going to stay open for two hours after the games. Which I think is a great idea. They also have either live music or DJ's playing. This makes for a bit of a party atmosphere. I am looking forward to going to the next test event today. Where a Spurs Legends team will take on the legends of Inter Milan. And Gazza is playing. I cannot wait.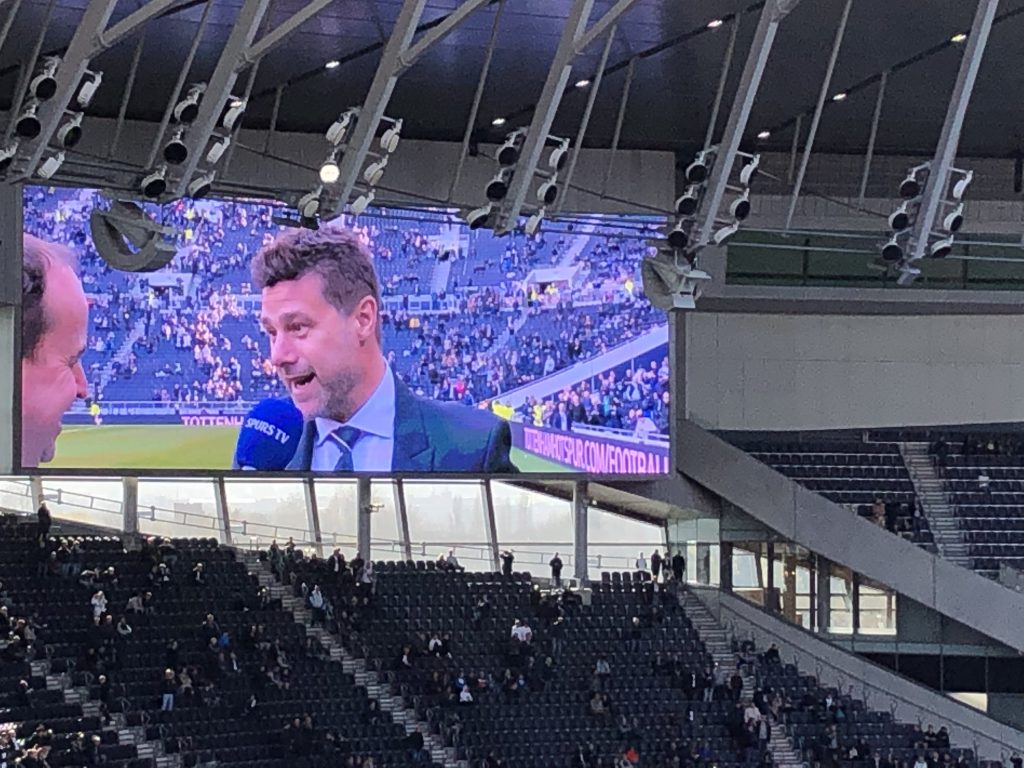 It is always a joy to visit TV Centre. I was there last week to see an episode of QI being filmed. I was impressed that while the audience were coming in. That on the big screens in the studio. They had lots of ace QI facts. It was fascinating and passed the time brilliantly. The host of the show Sandi Toksvig comes out first. We play a fun quiz to find the most intelligent member of the audience. You will not be to surprised to hear. That it was not me.
Alongside Sandi and of course Alan Davies for this episode were Jason Manford and Sarah Millican. Plus a South African stand up who I must confess I was not aware of Loyiso Gola. Somehow we have now reached series Q. It was hilarious, as always. I will be honest a lot of the funniest and best bits will never make the finished programme. As they are often too rude.
It was a fun afternoon. Everybody was on top form. It is such a lovely and relaxed show. The two hours flew by. When the series is on later in the year. Do remember to keep an eye out for my face on your screens. Sandi Toksvig does a fantastic job. Seeing her always reminds me of being a child. As I was a big fan of Number 73.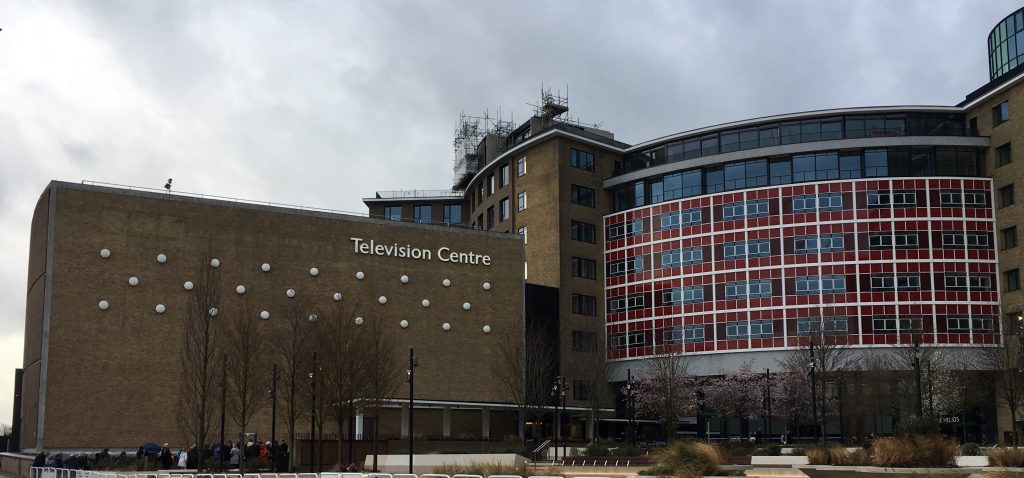 I was settling down to watch an episode of The Simpsons on Channel 4 recently. When as the announcer was introducing the programme I almost fell off my seat. He said "And now it is time for the Quigley's, sorry I mean the Simpsons" I never expected that. But at the same time was weirdly pleased to be mistaken for that family. If you do not believe me. Have a listen to the video link below. https://www.facebook.com/neil.quigley/videos/10161418846550591/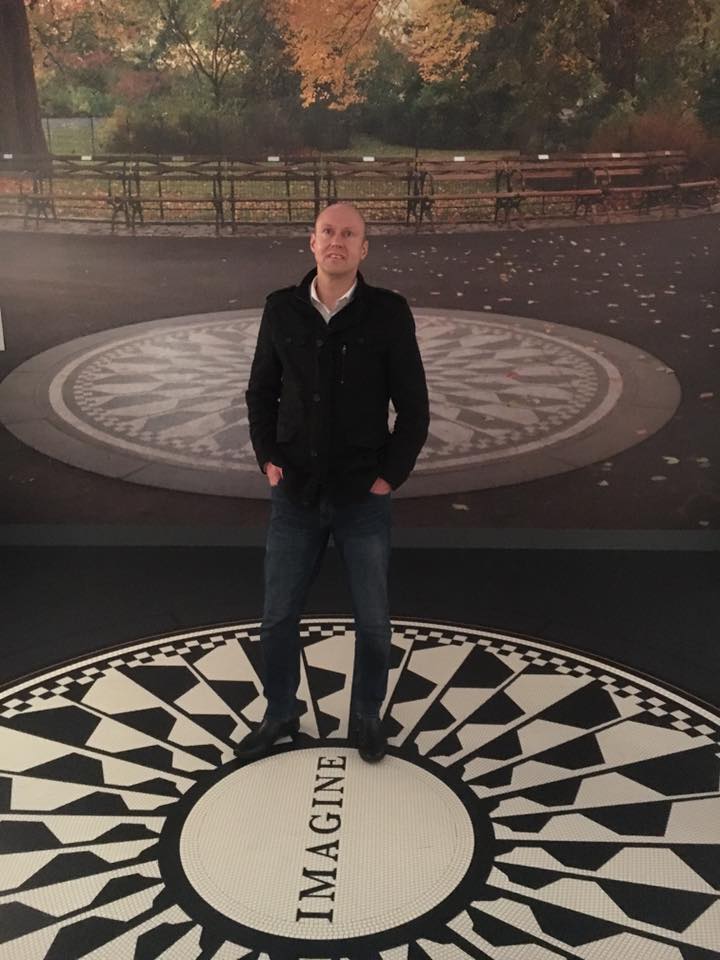 Have fun and we will catch up again in a couple of weeks. Cheers Neil