Hi there, how are you doing? I hope you have had a really good couple of week's. Mine have been quite busy with a few fun things going on. I really did enjoy watching the Tonight at The London Palladium show. That I had been to the recording of on the television. It was brilliant the way they put it all together. It is so clever bearing in mind I know the order in which it was filmed and also how it was shown in the finished programme. And the people who edit it all together are geniuses.
I am going to let you in to a little secret. Although he appeared on the television version. Ronan Keating was not at the recording of it. He must have performed his song on another night. Then they slotted it seamlessly in to this one. Now bearing in mind that I was there on the night it was filmed. When I watched it go out, just for a moment I thought may be he had been there and I had just forgotten about it. That is how slick it was.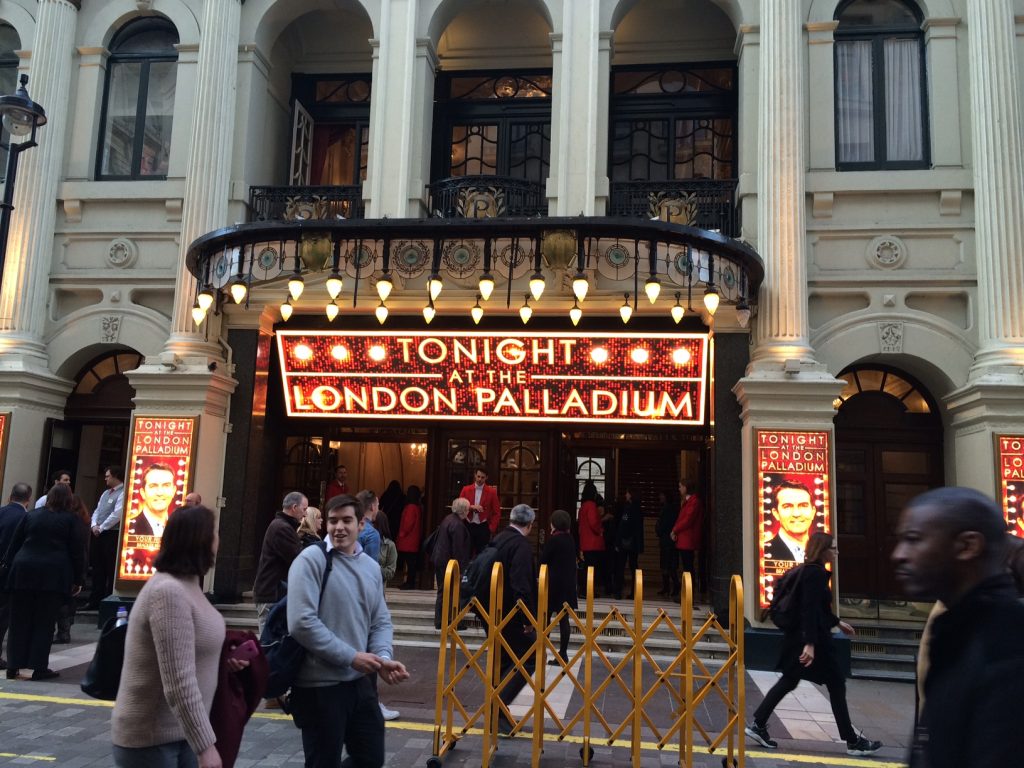 The star of the show was undoubtedly Shelia Belton. A ninety-year old who they let sit in the Royal Box. After they had surprised her and made her the stand in Queen for the night. To coincide with Her Majesty's big birthday. She was funny, lively, confident, cheeky. And as you saw if you watched the show. A really surprisingly good opera singer. She totally made the night for me. I would love to be like her when and if I reach anywhere near that age. Bradley Walsh was brilliant with her. And is a top all round variety host, I think.
He did a great job making the whole thing look effortless and like he was having the time of his life. He is a lovely bloke to. I met him very briefly once backstage after a performance of Ha Ha Holmes at the Waterside Theatre in Aylesbury. He was there to see his great friend the brilliant Joe Pasquale perform. "Squeaky" as he calls him also makes cameo appearances throughout this current series.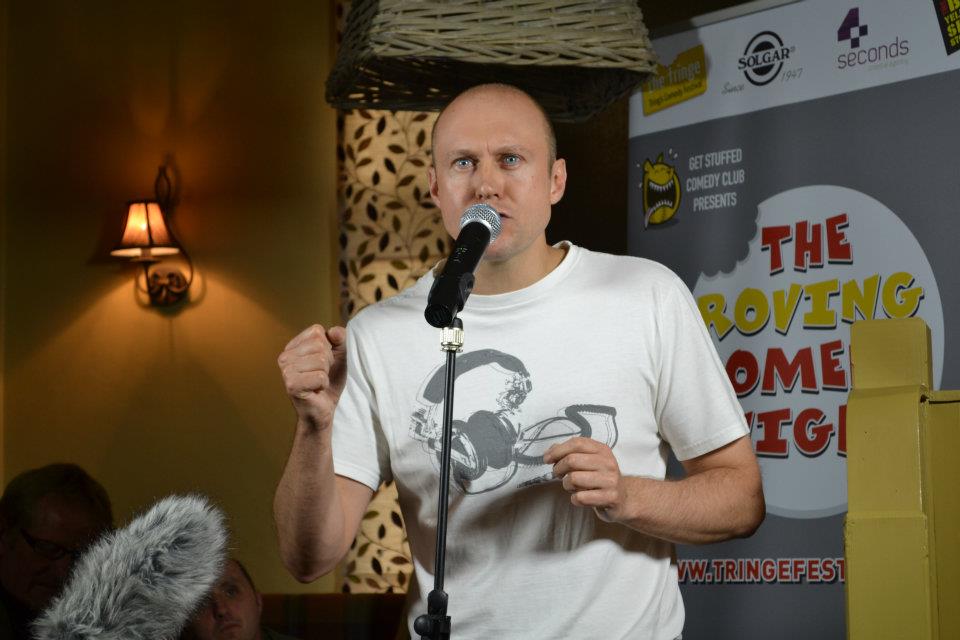 During the breaks in the filming Bradley tells some great stories about some of their many escapades together. Which are hilarious. I am really looking forward to seeing the rest of show's.
They have got some great guests on it. Including the celebrity, who was my first ever proper radio interview. The legend and all round top fella that is Tony Hadley. So lovely, friendly and fascinating to chat to.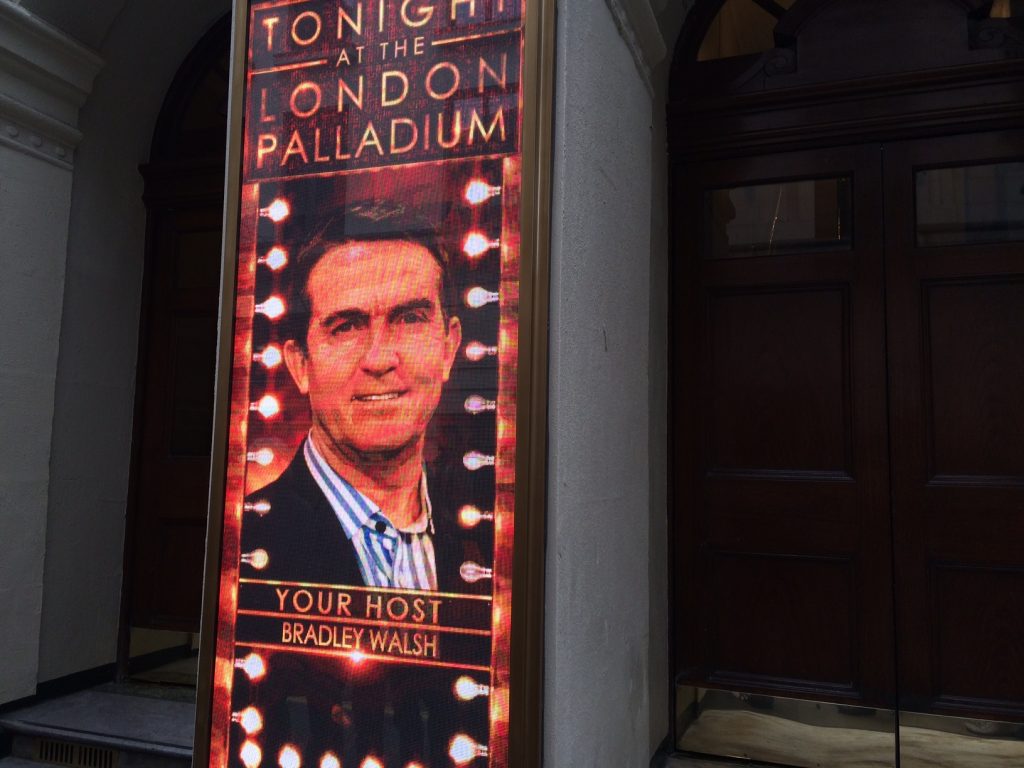 After being at Aintree Racecourse a few weeks ago. To watch horses jump over some of the biggest fences in the country. Last Monday I went along to the beautiful Windsor Racecourse. To enjoy their first evening flat racing meeting of the season.
It is always a fun night there. And it is some where I plan to take advantage of a few more times over this summer.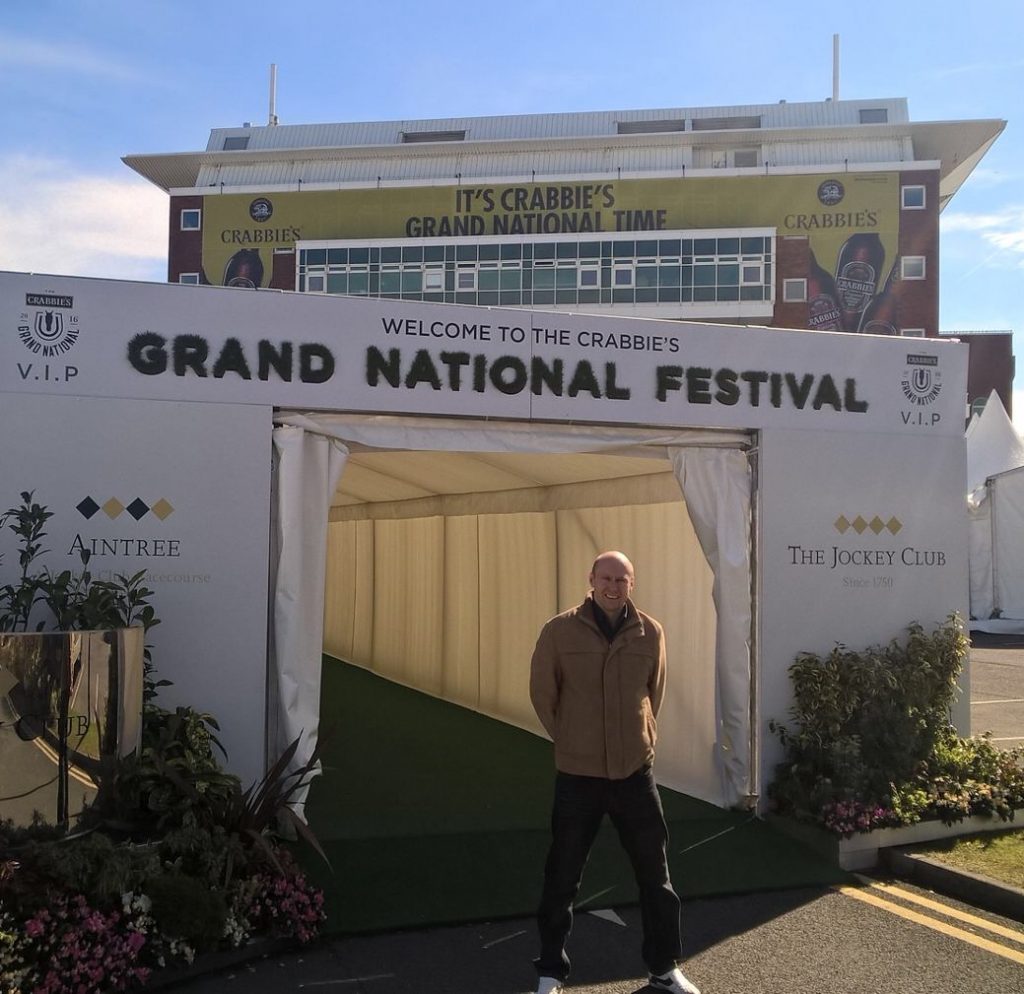 I was in the Parade Ring before the first race. Just taking a look at all the horses who were running. When a group of jockeys came out of the weighing room and walked right past me. I have to confess I had forgotten how small some of them are.
Seeing a few of them together dressed in their shiny and brightly coloured silks looked quite cute. If not a little surreal. It made me smile. It is a tough job and they have my total respect for what they do. And what they put themselves through. To maintain their weight and their energy levels. Not to mention the risks they take and the skill that they exhibit.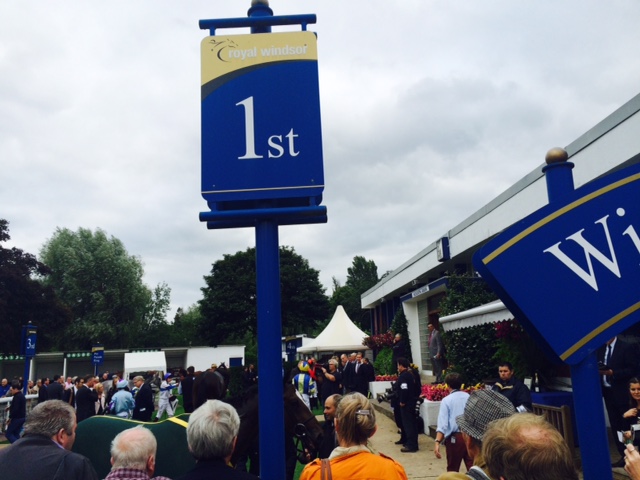 It was a top night of racing. I do like seeing the horses thundering past me on the way to the finish line. I had one pretty decent winner. Which meant I just about broke even. Which I always count as a success on these sort of occasions.
It is a lovely venue right by the Thames. It is a nice little course, so you can easily move between the parade ring and the track without missing any of the action. During the summer evenings. They often have some live acts on after the racing to. Which always adds to the experience and the fun, I think.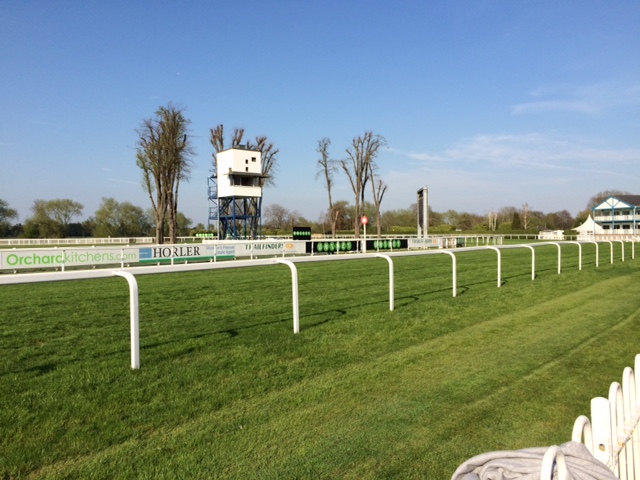 The other week I was back at the spectacular BBC Radio Theatre in London. Watching two shows of the very long running Radio 4 programme "Quote UnQuote" being recorded. It is celebrating its 40th Birthday this year. Which coincidentally, so am I this December. The show is hosted by Nigel Rees who also devised and created it. There is a panel of four people. Who have to answer questions and queries about certain quotes.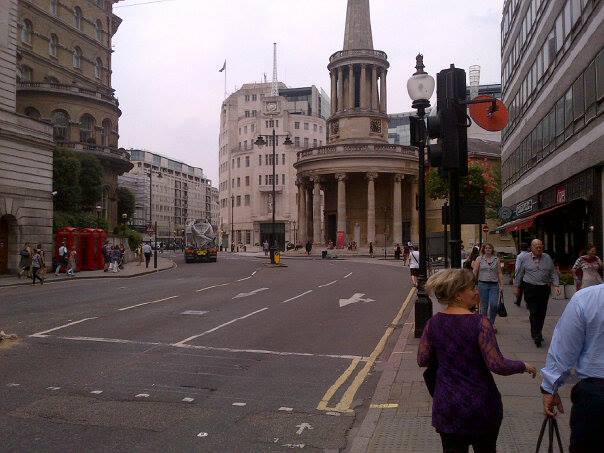 At the recording I was at. These included the comedian Arnold Brown and Sir Christopher Frayling. The quotes are read out by the current voice of the football scores. Former Radio 4 announcer Charlotte Green. Who went further up in my estimation. When she admitted that she was a Tottenham fan. As part of the show the guests get to suggest their favourite quotes.
I think mine would have to be "You are damned if you do and damned if you don't" which was given to us by one of the great philosopher's of our time Bart Simpson. To be fair the panellists did choose slightly more high brow individuals to take their wise words of inspiration from. It was an amusing and educational evening. As well as being a right good laugh.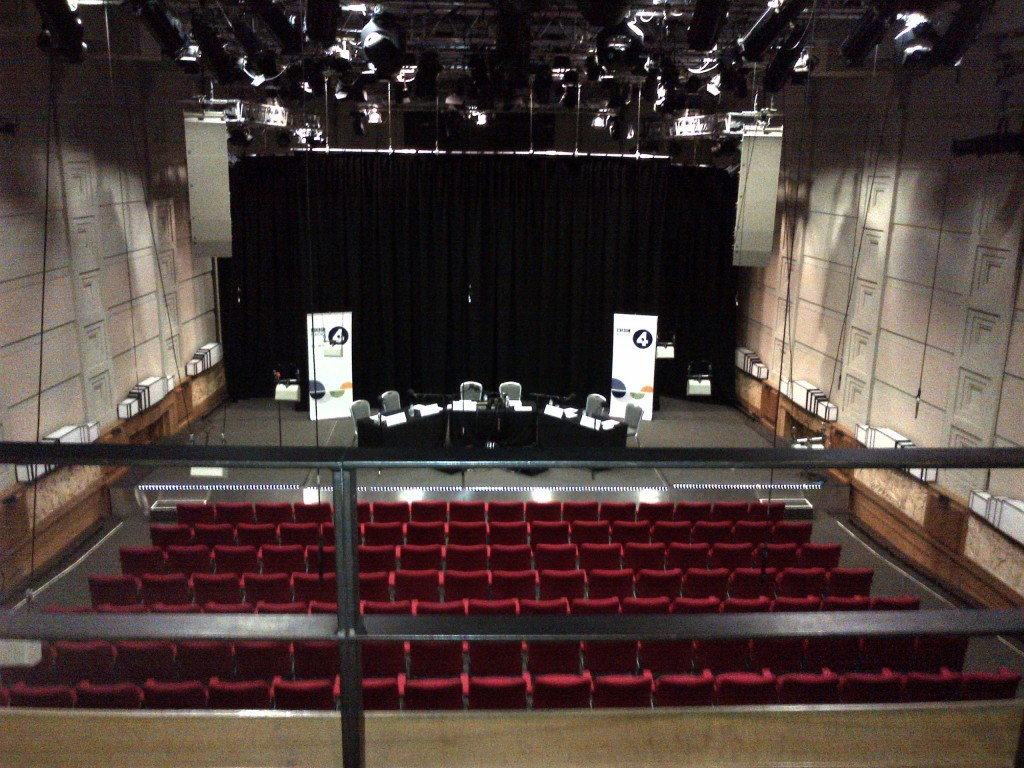 I am a big fan of the Royal Family and the Queen. I think they are an important part of our history. And a tradition and institution that in many ways sets us apart from most other countries in the world. I think they do lots of great work for charity, world relations and also in promoting the United Kingdom to tourists. I appreciate not everyone agrees with this. But this is my website, so my rules.
So I would like to wish Her Majesty a very happy 90th Birthday. Long may your reign continue and please keep doing the amazing job that you are. I watched a great show about the Queen on BBC One. As part of the celebrations. It was her and many members of the Royal Family including Prince Charles, Prince William, Prince Harry, Princess Anne and some of her cousins. Watching old home videos from her childhood and the early years of her time as our sovereign.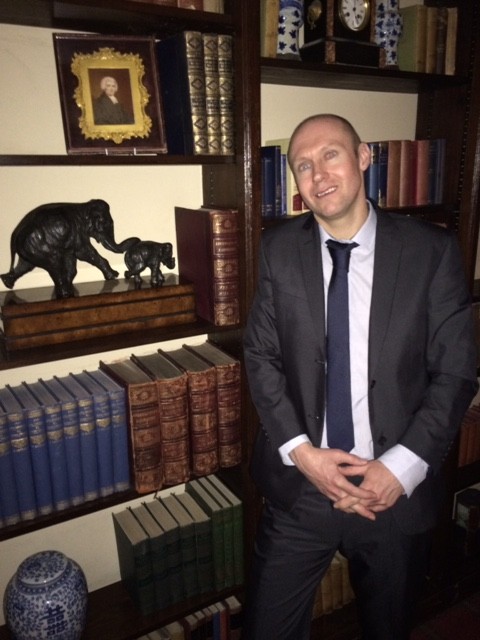 A couple of things really stood out for me. What an amazing, strong, focussed and clever person she is. But most importantly how she likes to have fun. From an early age you can see that she was happy and energetic. Plus the footage of her and a young Prince Philip show what a great relationship they have together. It also showed how great and hands on they were bringing up their children. Bearing in mind the pressure and the time demands placed upon them.
I thoroughly enjoyed the programme. I thought they all came out of it really well. Prince William and Prince Harry were watching it together and they made me laugh several times. They are quite the comedy double act. I would love to meet the Queen or either of the two Princes. May be when I get my Knighthood or MBE in the future. Although I have a feeling meeting them in private in a low key situation could be a lot more fun.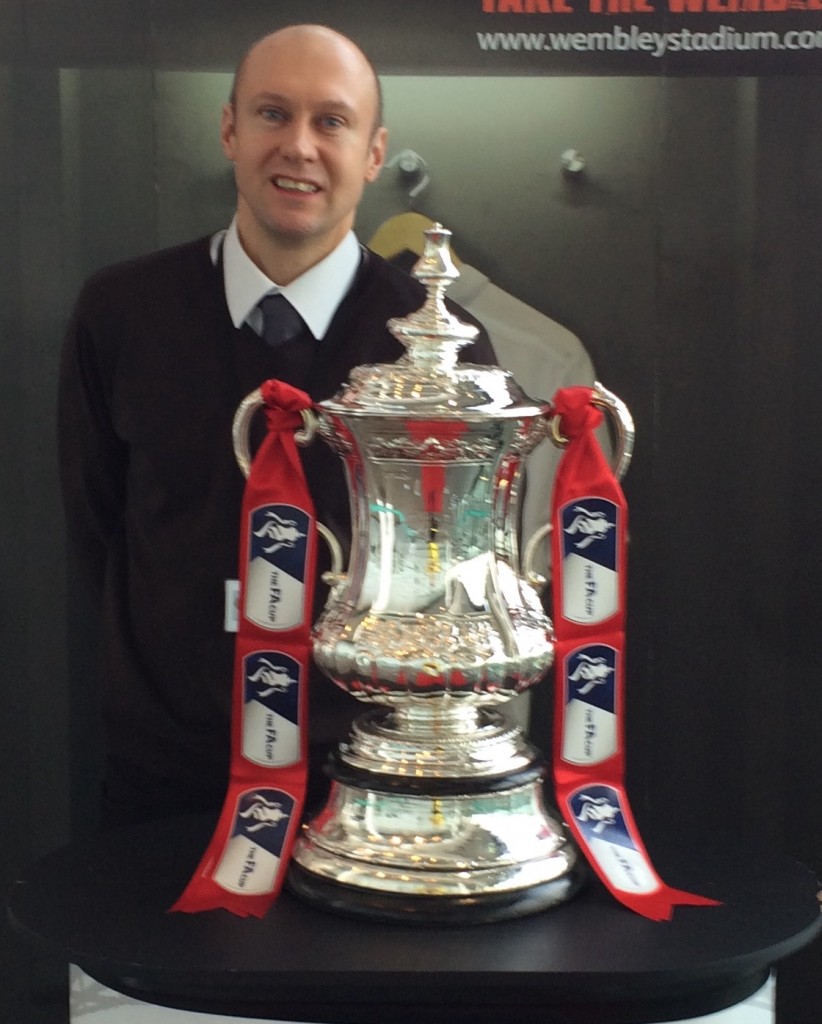 Last weekend the FA Cup Semi-Finals were at Wembley Stadium. My mate Jeff Nolan is a massive Everton fan. And therefore came to London to see his team play against Manchester United. So I met up with him before and after the game. To get a partial fans experience of the day.
We started off in Kentish Town before making our way to Camden and visiting The Worlds End and The Elephant's Head. Then he headed off to the game and I headed in to Leicester Square to meet another friend to watch the game with.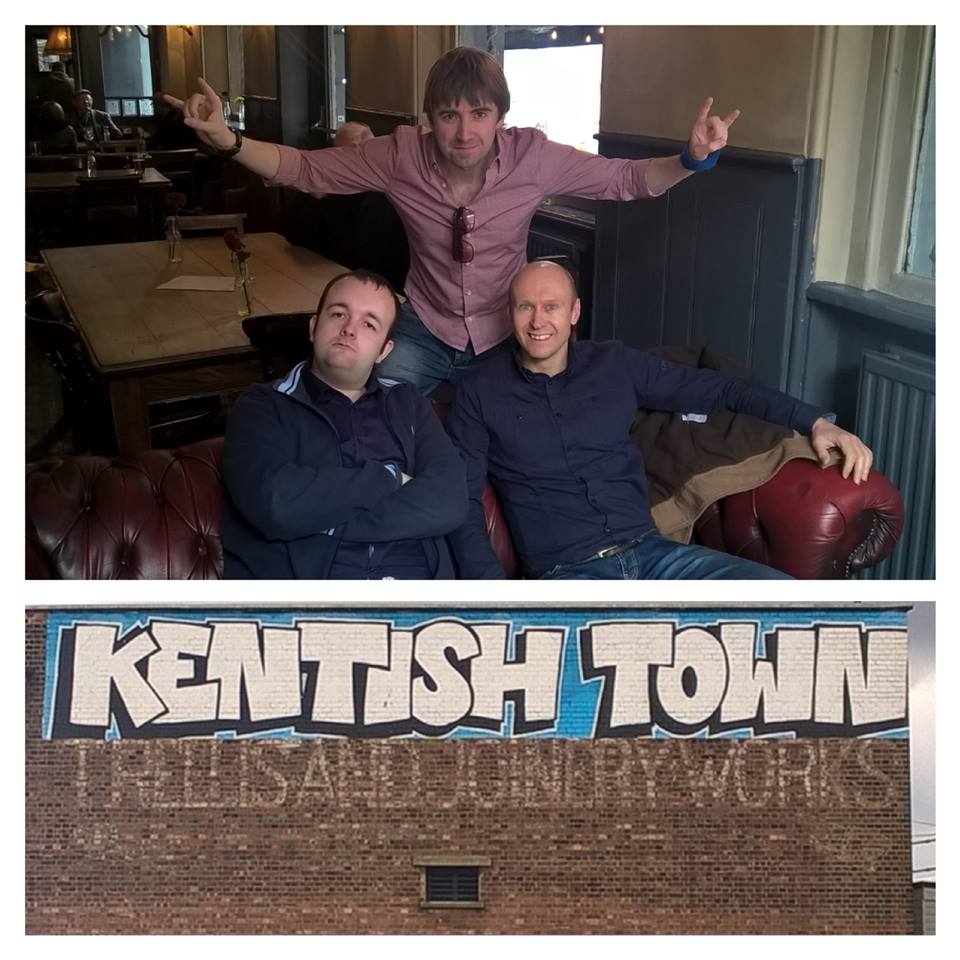 I was obviously supporting Everton. Mainly because I was going to meet Jeff again later. So I wanted him to be in a good mood. They gave it a go and despite going a goal down, still managed to equalise after missing a penalty. And then lose the game in injury time. Making it an exciting match for the neutral but ultimately disappointing for any Toffee's fans.
I did see Jeff after the game for a consolation drink at The Albany in Great Portland Street. It was a really enjoyable day with the exception of a two hour segment. When the actual reason for him heading down south was taking place.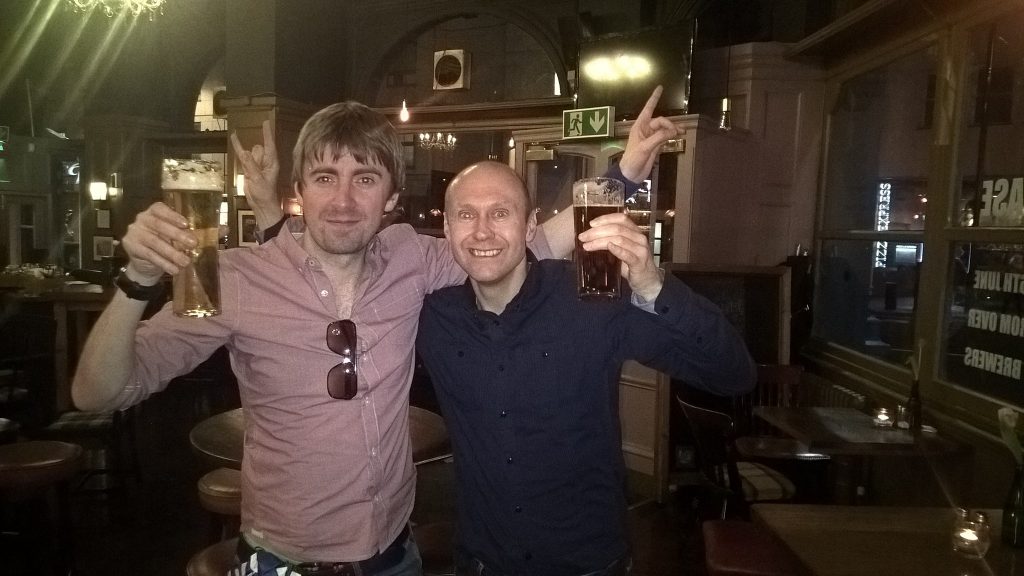 The digital channel Dave after spending years and years just repeating other people's shows. Seemingly sometimes on a constant endless loop. Are now making more and more of their own programmes. Last Monday I went along to the Fountain Studios in Wembley. To see a recording of one of these shows. It is a brand new series called Dara O'Briain's Go 8 Bit. As you will have hopefully gathered from the title of it. It is hosted by the Irish Comedian Dara O'Briain. He is ably assisted by comedian and former gaming journalist Ellie Gibson.
There are two team captains. The video gaming comedians Steve McNeil and Sam Pamphilon. Who basically came up with this idea for the Edinburgh Festival last year. They are then joined by a celebrity each. The teams then compete against each other in five different games. Both classic and brand new ones. The two contestants on the one I was at were Susan Calman and David James. She is less than five foot tall and he is six foot five inches. So it is fair to say. That there was a slight height difference between them. But they are both hugely competitive.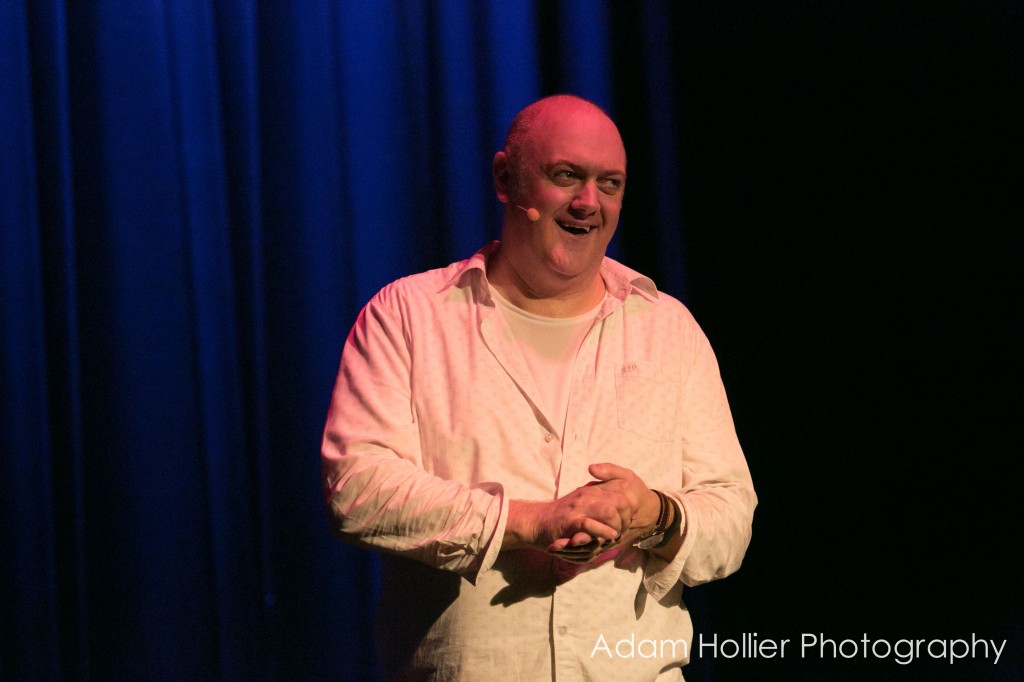 The audience was full of proper gamers. I will be honest I only went for a laugh. And because I like watching TV shows. So before it started I was a bit worried I might be out of my depth. But then the first game they played was a variation of Tetris. So after that point I knew that I would be all right. I do not want to give too much away. But they also played another very old game called Chuckie Egg. Do you remember that one?
The version they played was from the classic ZX Spectrum 128 computer. That was the very first computer that I had as a child. I think my favourite non football related game was Treasure Island. I used to spend hours playing it and never got anywhere near completing it. That was back in the days when computer games came on a tape.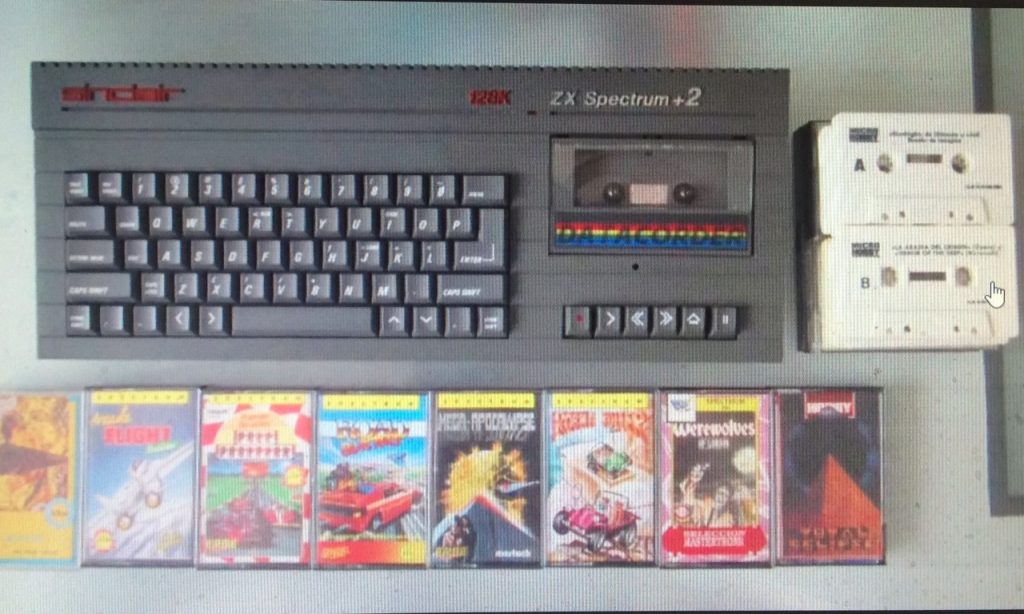 You had to put them in the cassette player. They took about ten minutes to load. While making a sound somewhere between white noise and what the radio sounds like when you are searching for new stations. The kids today with their instant loading games with amazing graphics. Don't know they are born.
The show itself was very funny and Dara O'Briain was brilliant. Made the whole thing very enjoyable. And well done to the production team. As all the technology worked perfectly. And there was lots of it that could have gone wrong.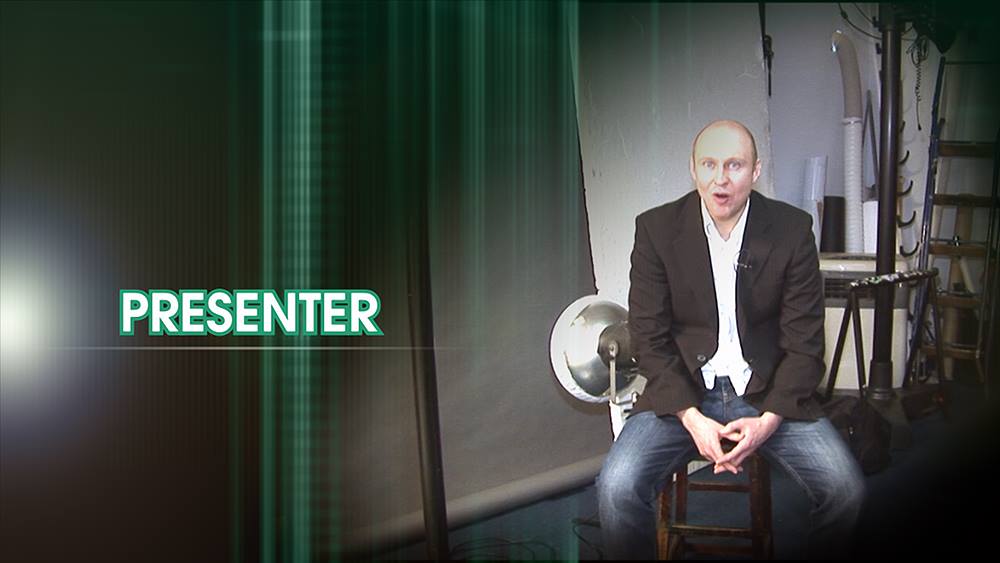 Oh well so unless there is some sort of miracle it does look like Tottenham's title hopes have gone. And by the time you read this Leicester could have been crowned Premier League Champions. An honour that they fully deserve.
They have had a sensational season. I am very proud of my team. If you had said this is how we would finish at the start of the season. I would have happily taken it. I just hope the club can keep the manager and players all together. And then mount another decent challenge next year.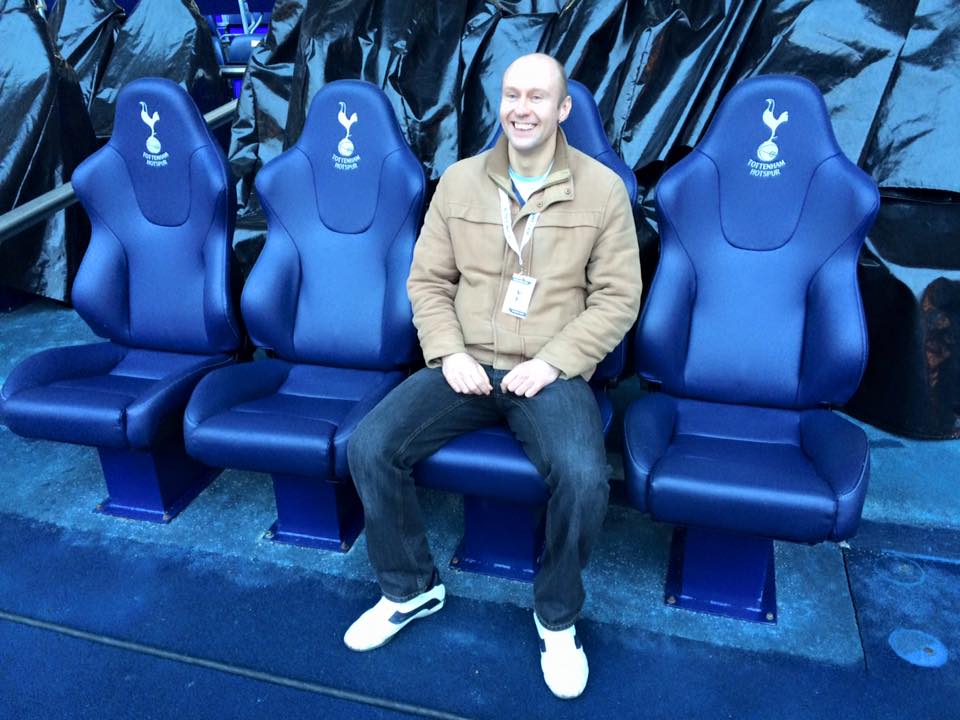 I am looking forward to spending a lot more time around New Broadcasting House and the BBC this Summer. I will tell you more about this next time we speak. But it will be an exciting and interesting couple of months.
I was there for a meeting the other week and heard Nick Grimshaw waiting for a lift and saw the legend that is Steve Wright walk right past me. Happy Days.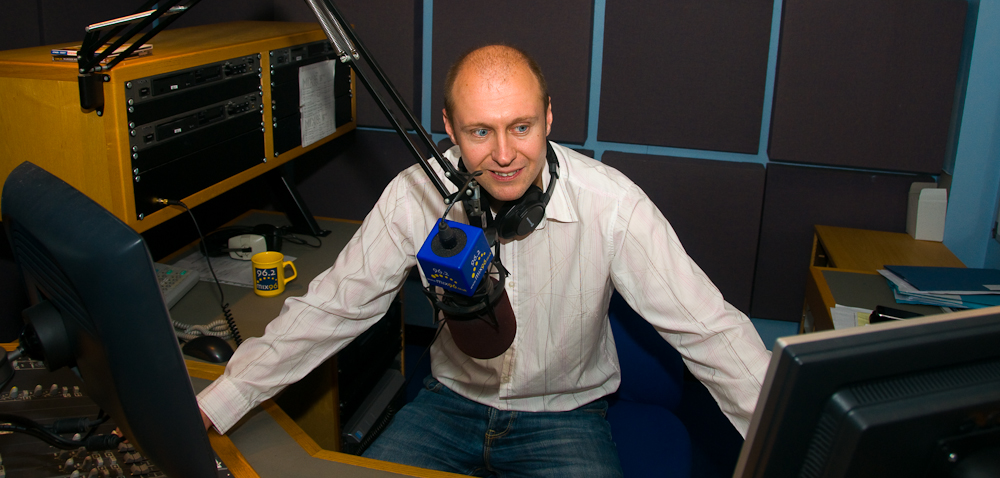 Have fun and we will catch up again in a couple of weeks. Cheers Neil.