The last couple of weeks have been pretty radio orientated with the events that I have been attending, which is always good with me. It is a medium I have a huge appetite for. To misquote John Miles "Radio is my first love and it will be my last". From having my first taste of it when I was just seventeen right to the current day I have thoroughly enjoyed every second I have spent in a studio. Although to be honest these recent occasions were much more social.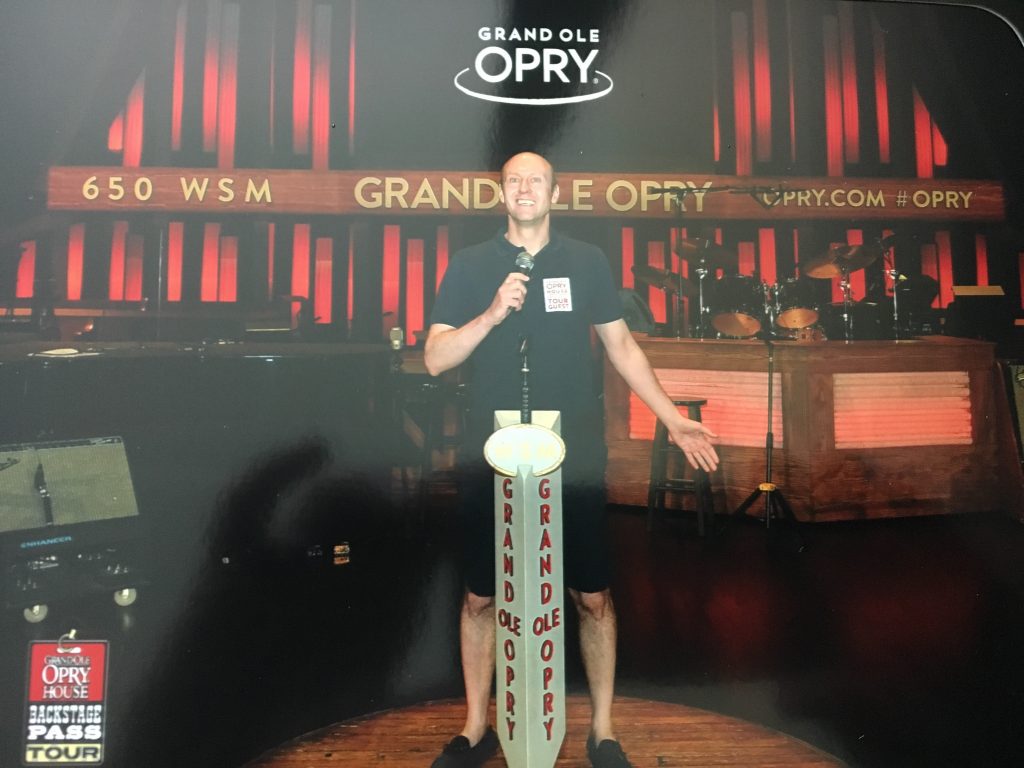 For the second year running I went to Radio 2's Festival in a Day at Hyde Park in London. It works perfectly for me as I am a massive fan of festivals but I absolutely hate camping. At this one I can spend the whole day in a field enjoying live performances and still sleep in my own bed. The organisation and overall staging of this event is always fantastic. It is so well managed. Hardly any queues when you arrive to get in plus a huge selection of bars and food outlets. What more could you want?
I went along to it with two very good friends of mine. We met up and got the train in to the capital together grabbing tea and croissants on the way. It was all very civilised but what do you expect it was all put on by Radio 2 of course. We got in to the venue just before midday. The first job was to check where all the important amenities were, namely the bar and the toilets. Then it was just a case of getting a beer and finding a good spot to see the stage, while still being able to visit the two aforementioned facilities.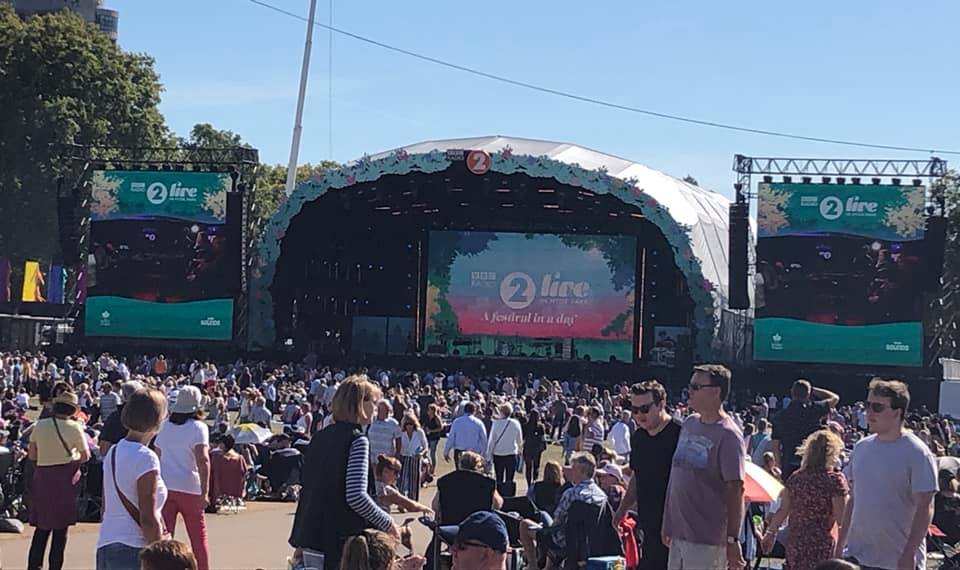 Simply Red kicked things off on stage. I had seen them perform a few years ago at the London Palladium. They are a brilliant group with an excellent back catalogue of well-known songs. Mick Hucknall is such a perfect front man with a very distinctive voice. I thought they were great. They did all the big hits you would expect them to. I think it is a good sign a band are doing well, when you are surprised as I was that their set ended, what felt like too soon. It is true that time flies when you are having fun. They were a top choice to get the party in a field underway.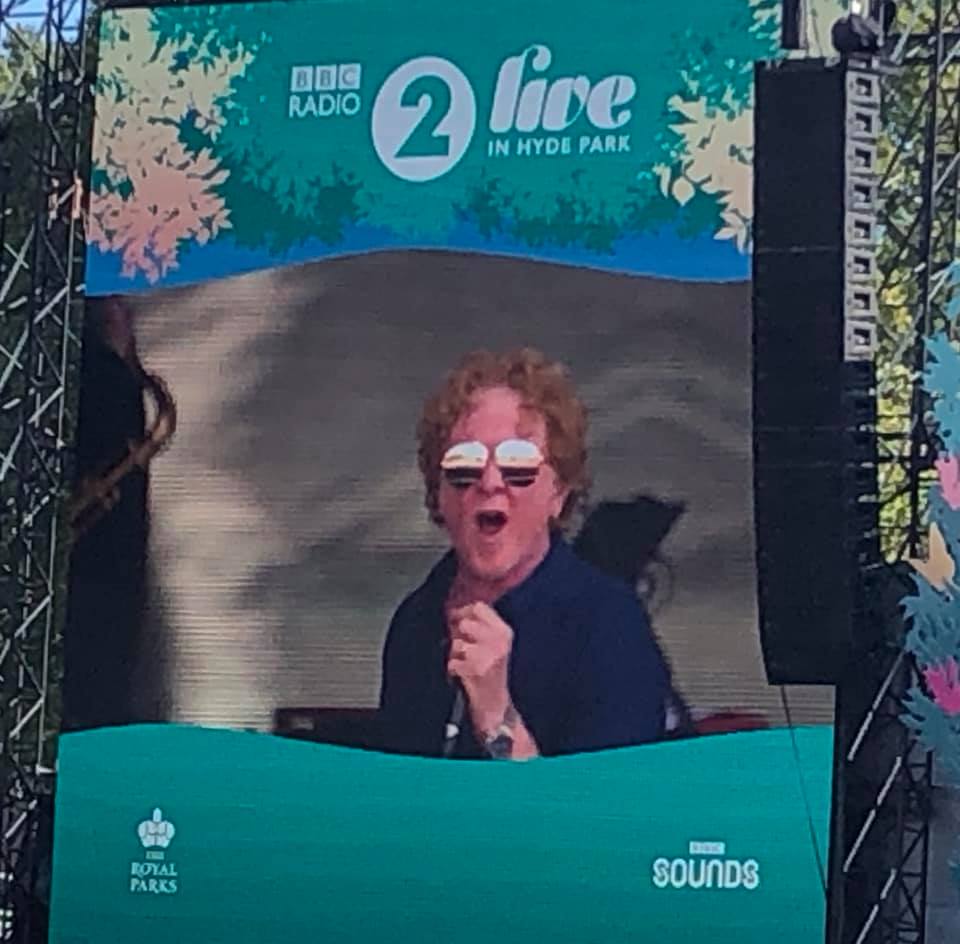 The next act during the afternoon was the American Country singer Kelsea Ballerini from Tennessee. She was fantastic really looking and sounding the part. I am a big fan of Country and Western music and I really like her stuff. Bearing in mind she is only twenty-six, she will be around for a long time yet. She has also assembled a top quality band. That always enhances live performances. She is the youngest current member of the Grand Ole Opry, which is some achievement itself. Add to that the deep south American accent that she has, that I love. I will be keeping an eye on her stuff for years to come.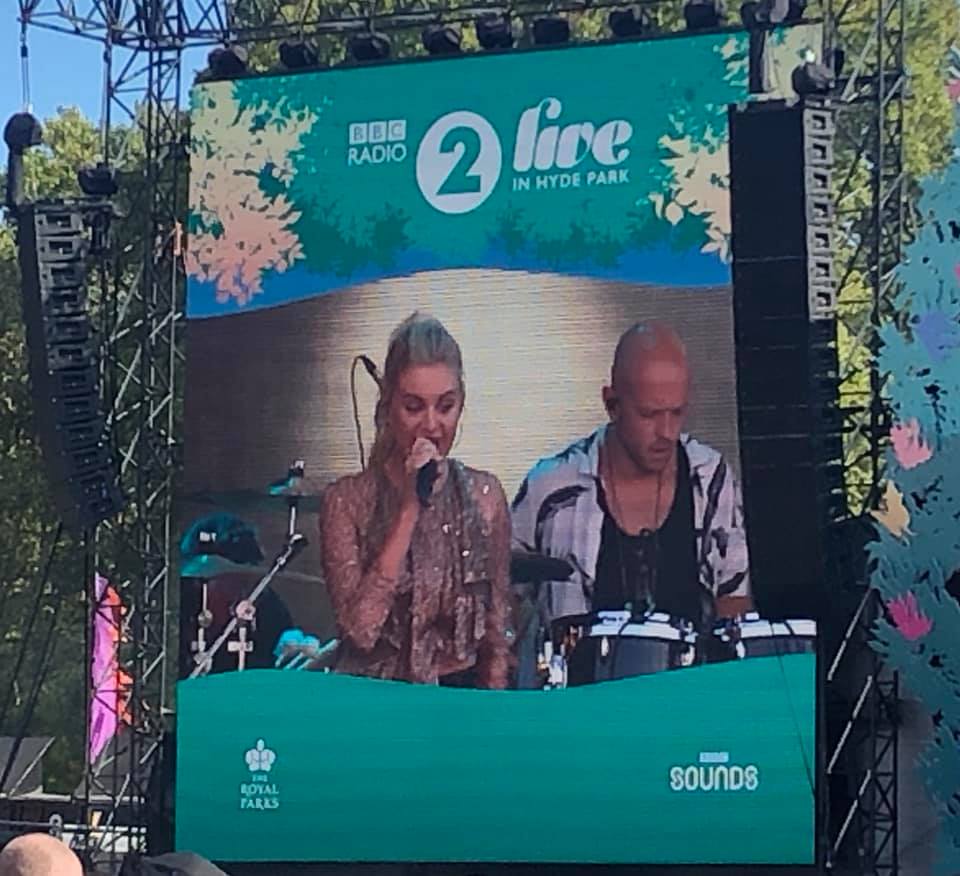 Sadly Emeli Sande was unable to perform at the event as scheduled due to her losing her voice. Craig Charles who was already on the bill to do a Soul and Funk Disco did a bit extra to fill the gap. He did seem to be enjoying himself up there. The sound system for the event was great. It is so clever nowadays at these huge gigs. How they factor in delays with the speakers and big TV screens, so wherever you are, it all seems to be in sync giving the illusion of hearing and seeing it at exactly the same time.
We got back to the live music performances with the now two piece Bananarama. They were sensational doing all their big hits from the eighties and some of the great news songs from their latest album. I must admit they were both sounding and looking amazing. They still had all the dance moves and way more energy than I did for a warm and sunny Sunday afternoon. They looked to be having a fab time up there. They admitted they were looking forward to seeing the rest of the concert themselves when their slot was over. And the thing you do sometimes forget about this band is that they did have a lot of huge hits.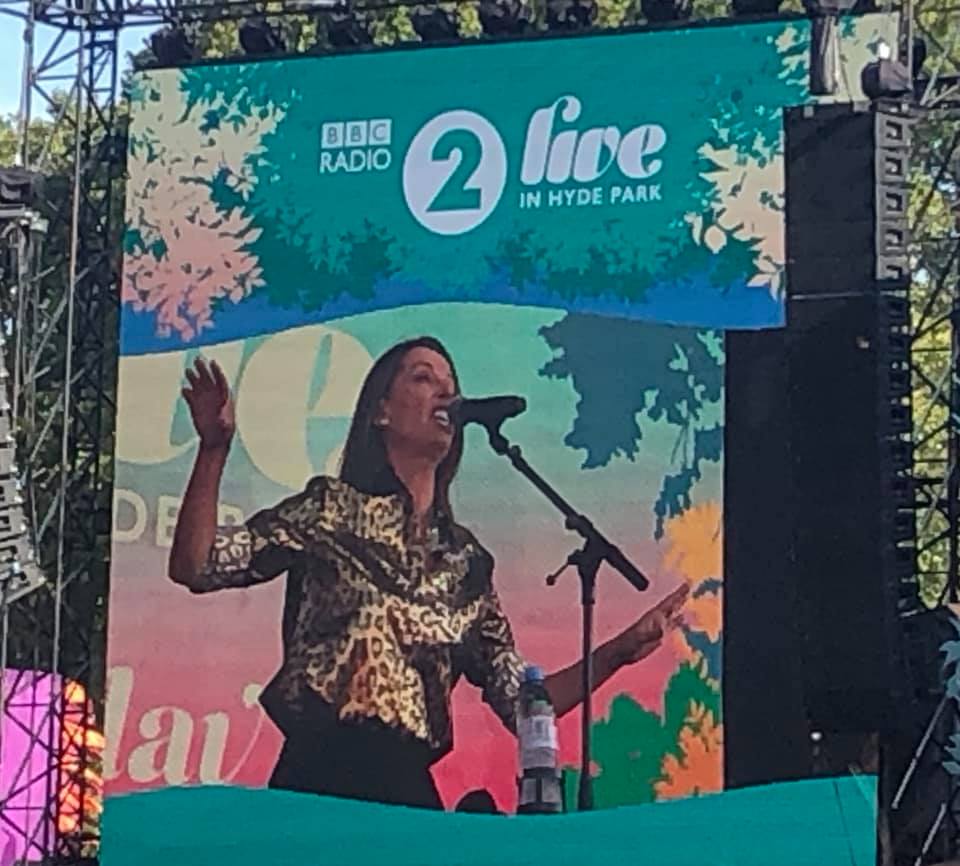 Next up it was a band I was looking forward to seeing. As not only do they seem like lovely down to earth people. But they are a group of very talented musicians to. Any modern band that is just basically fronted by a Cello and Violin player with guest vocalists is alright by me. Clean Bandit have produced so many massive hit anthems with their blend of electric and classical music. On this evidence they are a fantastic live band. Who really do put on a brilliant show. Nobody is really doing what they are doing, as well as they do it. I thought they were ace. They were one of my highlights of the day.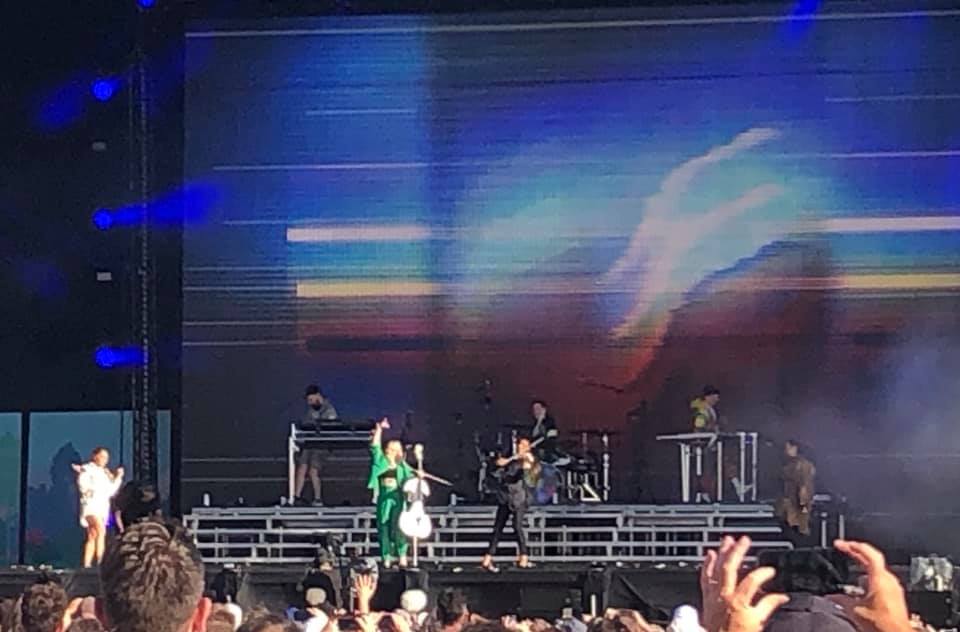 When I was about fourteen, I got myself the double cassette of Status Quo's Greatest Hits, which I listened to a lot at that time. I had been a fan of theirs for many years prior to that. They have a new single out at the moment which is unmistakably them in the way it sounds. They were the next band to perform for Radio 2 at this celebration of music. There had been a couple of occasions in the past where I nearly got to see them but for whatever reason it did not work out. And let us not forget this was the act that launched the Live Aid concert at Wembley stadium. These guys are rock gods.
I have always been a massive fun of guitar based music. Status Quo thump out those big songs with the strings on their guitars taking a huge pounding, that energy, that drive. I defy anyone to stand still when they are playing. As well as the new single they played a nice selection of their biggest hits. Francis Rossi seemed to be having a good time and despite his advancing years. He may still have been the biggest kid at the event with a glint in his eye and the urge to at least slightly worry the organisers with what he might say.
I thought they were brilliant and totally enjoyed seeing them play live. Many of their songs are timeless classics. I suppose the only slight regret is that I never got to see Francis and Rick Parfitt play together. As the both of them will always be Status Quo to me. But they still know how to put on a great show. They had the whole place rocking. I know it is the old joke about the Quo only using the same three cords but their music is a bit more intricate than that. A really tight and slick band!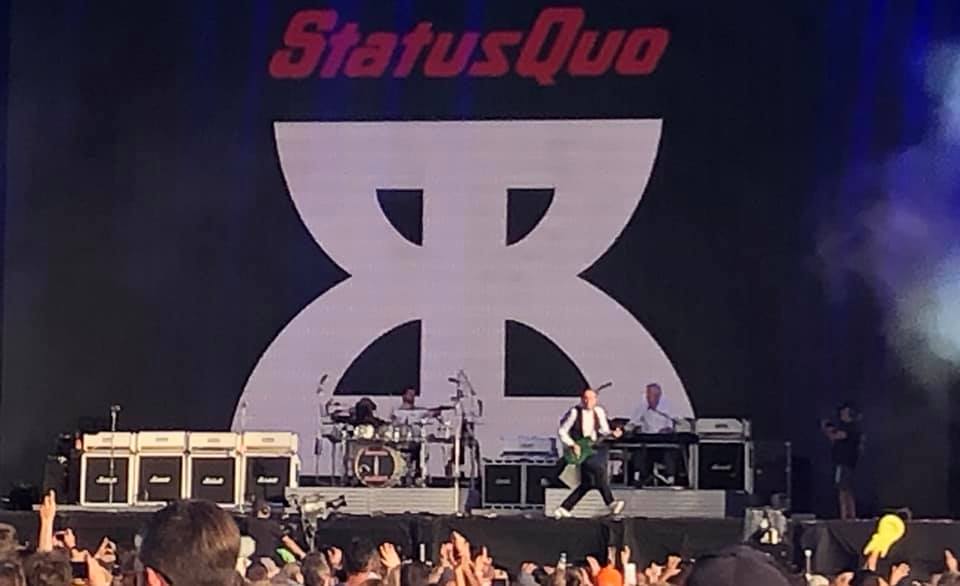 Then as the sun started to set in Hyde Park. It was time for the final "warm up" act or to put it another way the next group, who were Westlife. They have been around for over twenty years now. I know right. Does anyone else feel old? I first saw them at a Smash Hit Poll Winners Party in London. When they had just won a regional band's competition and were stilled called at that point Westside.
Two decades later I am watching them belt out hit after hit in a perfectly performed set. Like Bananrama they are all sounding and looking great. However their dance moves are not as good as the girls. They all seem like top blokes and can all sing and perform live. They sing great songs well and in their own style. This is of course why they have had such a long and distinguished career. I thought they were wonderfully entertaining, as ever.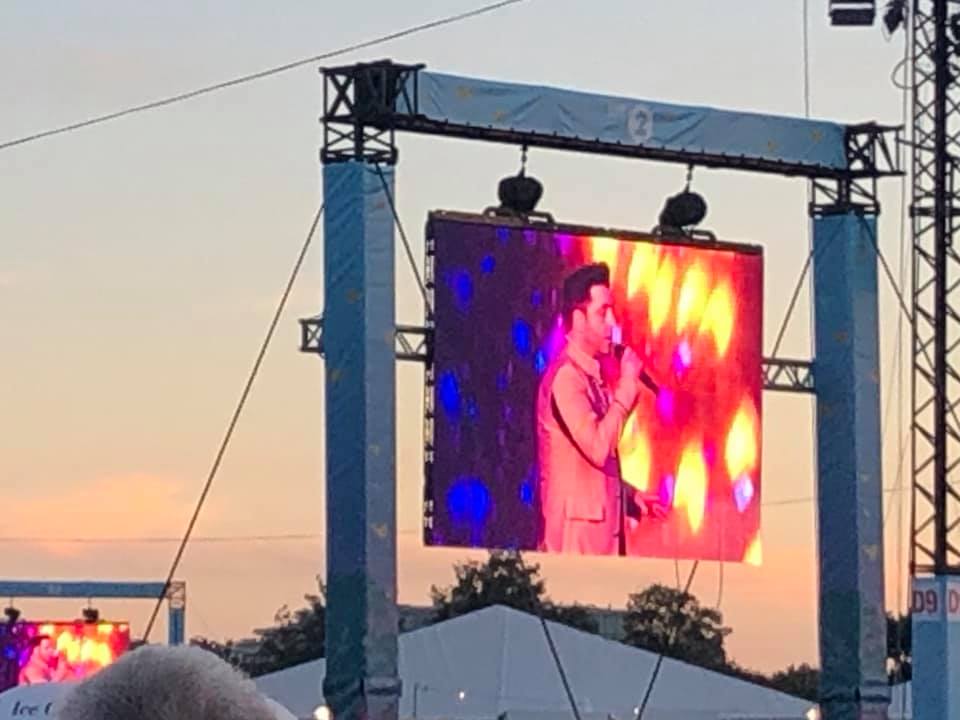 The headline act was The Pet Shop Boys. I was lucky enough to be at the Brits Awards when they won the lifetime achievement trophy there, so I knew how good they were live. Those two always put on a great visual display. Neil Tennant's voice is possibly sounding better than ever. The staging and lighting was bright and lively. Add to that all those iconic hits. Then throw in Olly from Years and Years, who joined them to do their latest single together. And one of my all-time favourite singers Beverley Knight who came out on stage to perform "What Have I Done to Deserve This" with the lads.
Top class entertainment from one of the great British Pop bands of all time was a fitting way to end a brilliant afternoon and evening. I had a wonderful time with my two friends, having a few drinks while singing and dancing along with the music. It is a fun and uplifting day out. We already plan to do it all over again next year. And you know that Radio 2 will as ever book some amazing acts for it. If you have not been and enjoy live music in a fun and friendly atmosphere, you should definitely give it a try, if you can.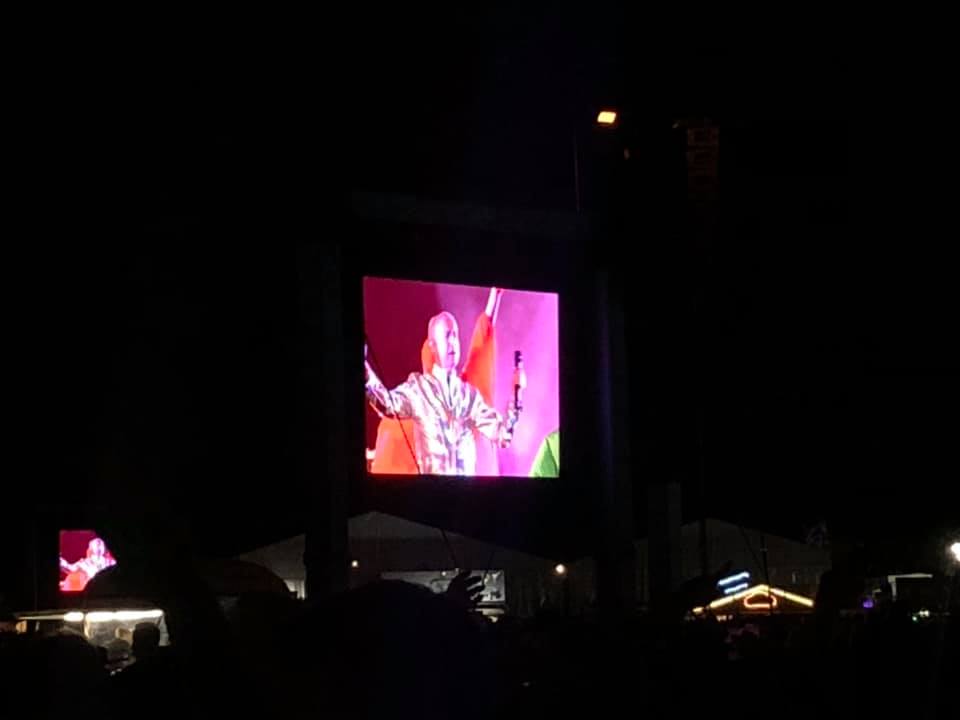 My local radio station Mix 96 celebrated its twenty fifth birthday this April. I did work experience there when I was at college. And it was the place where I started my professional radio career. I have so many happy and fond memories of the place. I have worked there at three different spells over the last twenty odd years. Richard Carr from Bucks TV, who also used to work at the radio station has made a documentary about Mix 96. It features many former and current employees of the station including yours truly.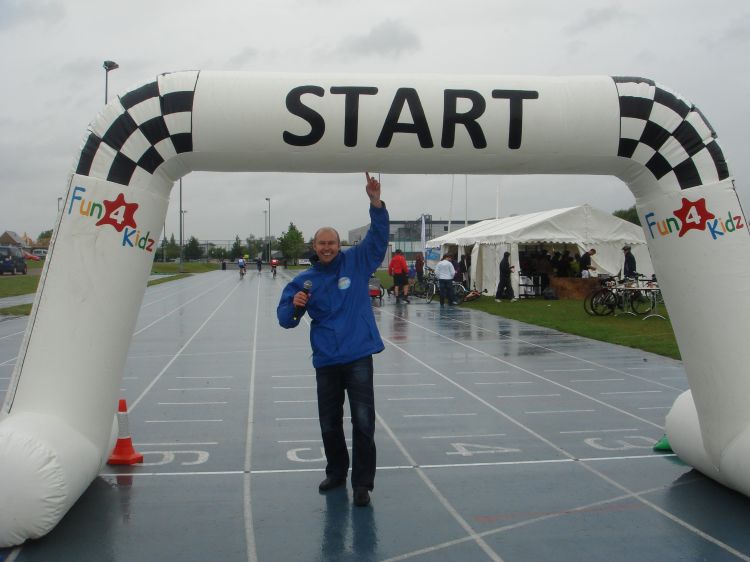 It was loads of fun recording my bits. It was great catching up with Richard and reminiscing about old times. He has spent a lot of time and effort finding everybody and putting the whole thing together. Last Saturday night it was the World Premiere of the documentary at the Waterside Theatre in Aylesbury. It was also a bit of a Mix 96 reunion night to. I had been looking forward to it for quite a while. I was excited to see the film and hopefully catch up with a few people who I had not seen for years.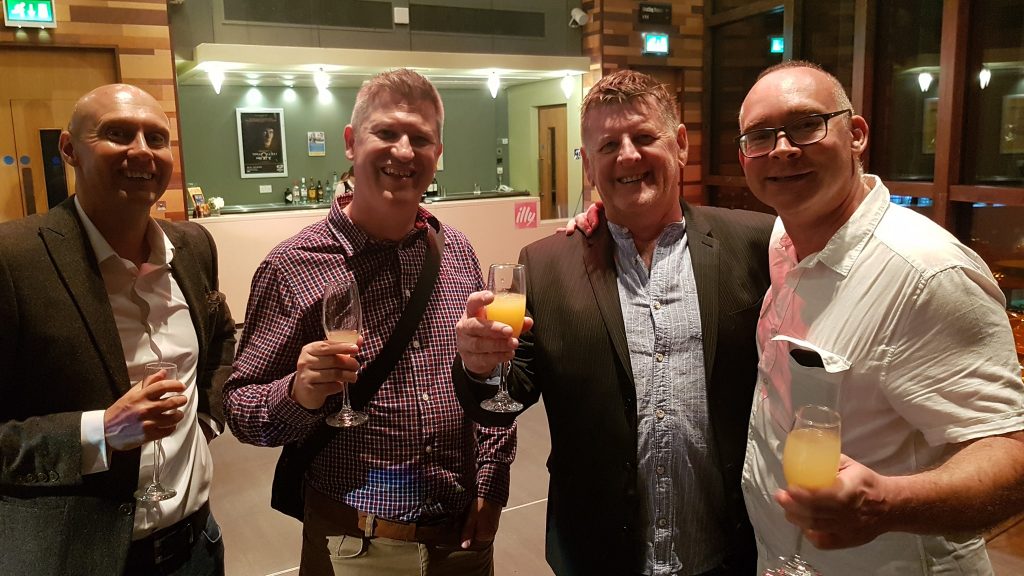 It was all very well organised. When I arrived at the theatre I was met with a Bucks Fizz on reception. At one point that was actually going to be the name of this new radio station. Then there was chance to chat to everyone there. It was wonderful to see many of my former colleagues all looking so well. We then watched the first part of the documentary on the big screen. This was followed by an interval to refresh our drinks and wait for Mr Mix 96 Nathan Cooper to arrive. He had been on commentary duty for BBC Radio Oxford at Lincoln.
When he did arrive, he did so fittingly to a huge round of applause. We then sat down to watch a slightly edited version of the actual film. It was ninety-six minutes in length. This stuff is not just thrown together it is all carefully planned. It was brilliant hearing all the old stories and seeing so many familiar faces up on the screen. There were lots of great stories and things that I had forgotten about over the years. It was a fascinating watch.
I have already ordered the full version, which I am very much looking forward to watching. It was nice to see everybody. Thanks and congratulations to Richard Carr for making such a lovely tribute to a truly fantastic local radio station. I look forward to receiving my full four hour copy of this piece of cinematic history.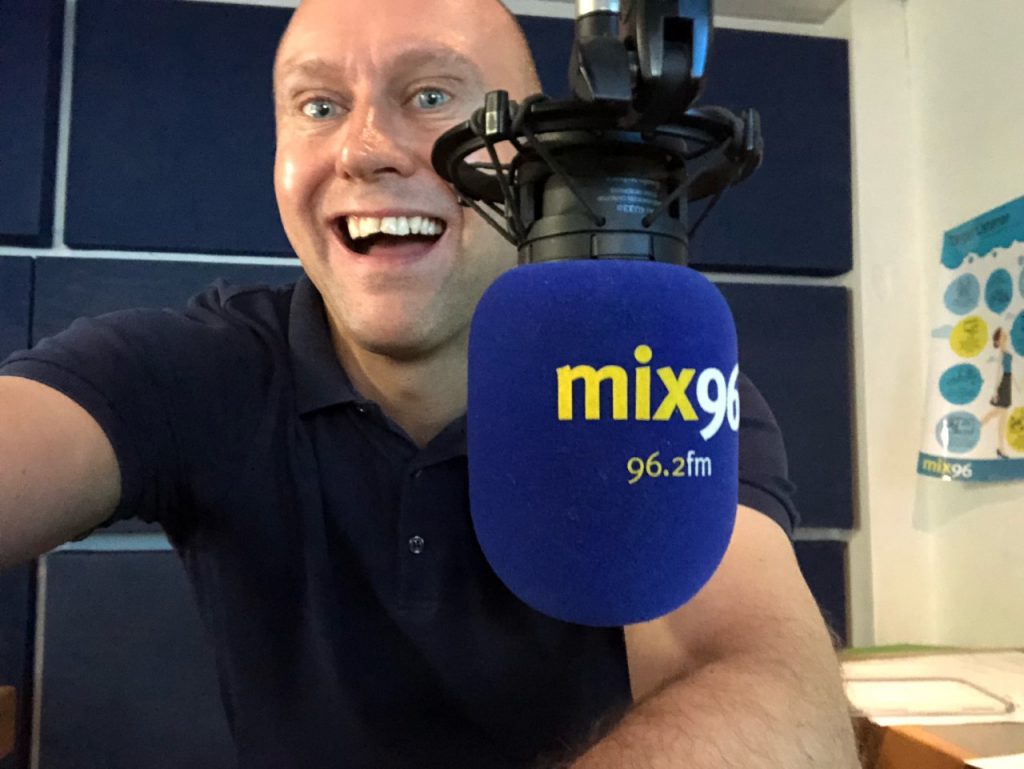 I was lucky enough to be able to get away for three days of fun in the sun in Spain the other week. My friend's parents own an apartment in Marbella that they very kindly rented to me for a few nights. On day one I did have to get up at 3am to get my 7am flight from Luton to Malaga but the thought of a few days relaxing by the pool more than made up for that inconvenience.
The place where I was staying was about forty-five minutes away from the airport. I got the bus into the centre of Marbella and then a taxi to the complex. That was to be my temporary home, which was in Puerto Banus. Not that I have honestly ever seen it but when "The Only Way Is Essex" lot head to Spain. This is the place where they go. They were there filming when I was out there. But I did not bump in to them.
I got there at around two in the afternoon and let myself in. It is a lovely place with two bedrooms (both ensuite), a big lounge, kitchen and a balcony. Firstly I went to the local Supermarket to get some supplies. Then it was time to kick back and spend the rest of the afternoon at the pool topping up my tan in the glorious sunshine. I stayed there until six and then came in to get ready for my first night out there.
Most of the bars and restaurants are along the port side, which was a fifteen minute walk from where I was. It is a pretty classy place as you can tell from all the amazing yachts that are moored there. And all the Ferraris, Porches and Lamborghinis that drive past. I found a really nice restaurant in which to enjoy a lovely three course meal. I then just checked out a couple of the bars before calling time on a fairly long day.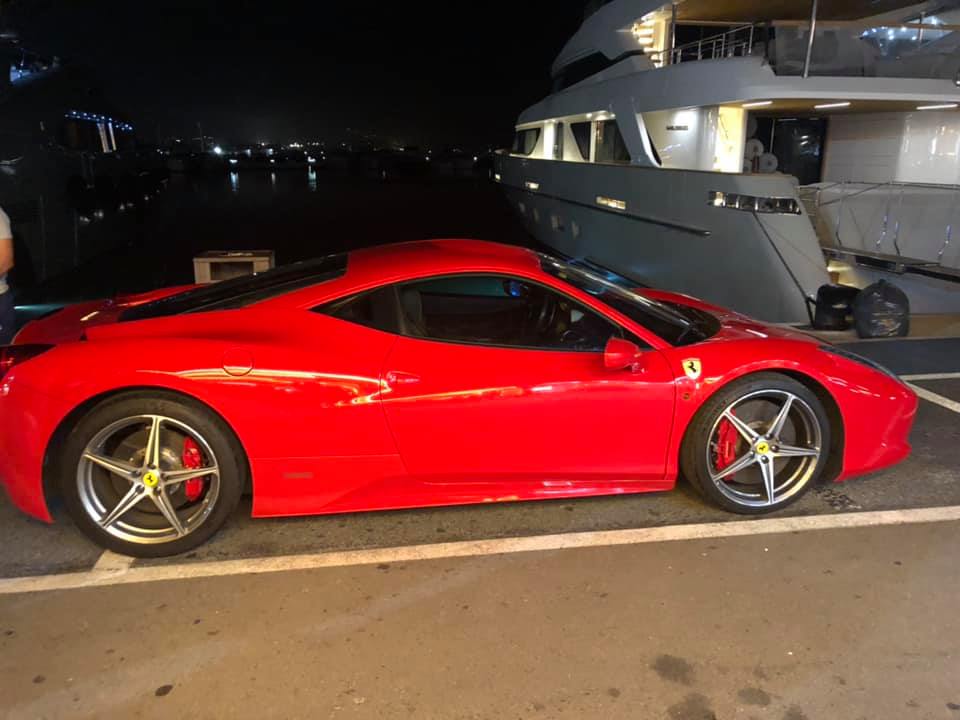 The next day was spent by the pool in the morning. Then on a sunbed at the beach, which was about ten minutes away, in the afternoon. I did then go back to the pool for a swim and more sun. Then quickly got ready to head out and find somewhere to watch Tottenham's Champions League Game. I found a decent bar which fulfilled those needs, although we could only manage a draw away in Greece. Then it was food, followed by a few drinks and bed. Sitting around in the sun all day is very tiring you know.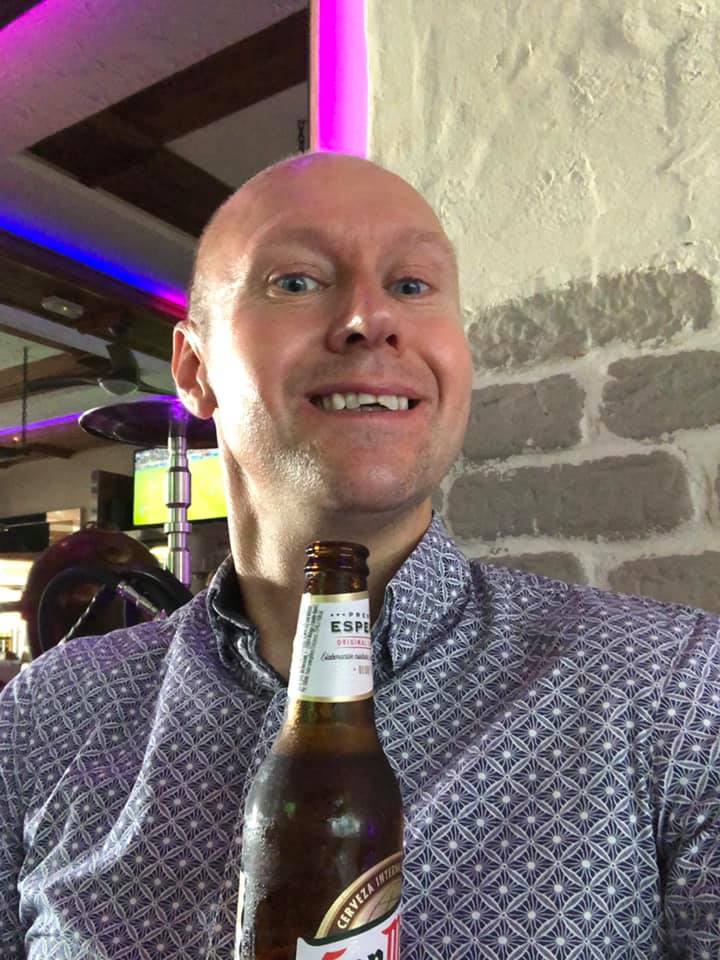 During my final full day I just repeated the previous day's plan. Well if it is not broken do not fix it. For my final night there I went out and had a wonderful steak meal washed down with a couple of glasses of Spanish Red Wine. I then visited a couple of bars along the port that I had come to like, the first of which is called Sinatra's. It is a nice and busy bar with friendly staff and good music. It has a decent feel to it.
My final stop was Joy's. It is a live music bar. Earlier in the week I saw a great female solo performer there. This time I was there a bit later and the place was packed. I managed to see two different acts. They both had the whole place rocking! There are pictures of some of the famous people who have visited the place on the wall. These include Cilla Black, Anthony Joshua and Vinnie Jones. Which I am sure you will agree is quite a combination.
The next day I just had time to grab a final few hours of sunshine by the pool. Before it was time to lock the place up and head back to England. I had a brilliant few days. The apartment was quality, the weather was great. Plus the actual place itself was friendly and lots of fun with plenty going on there. I would definitely go back again for a break ,if I ever get the chance. And finally it is always nice to return from somewhere with a bit of tan to.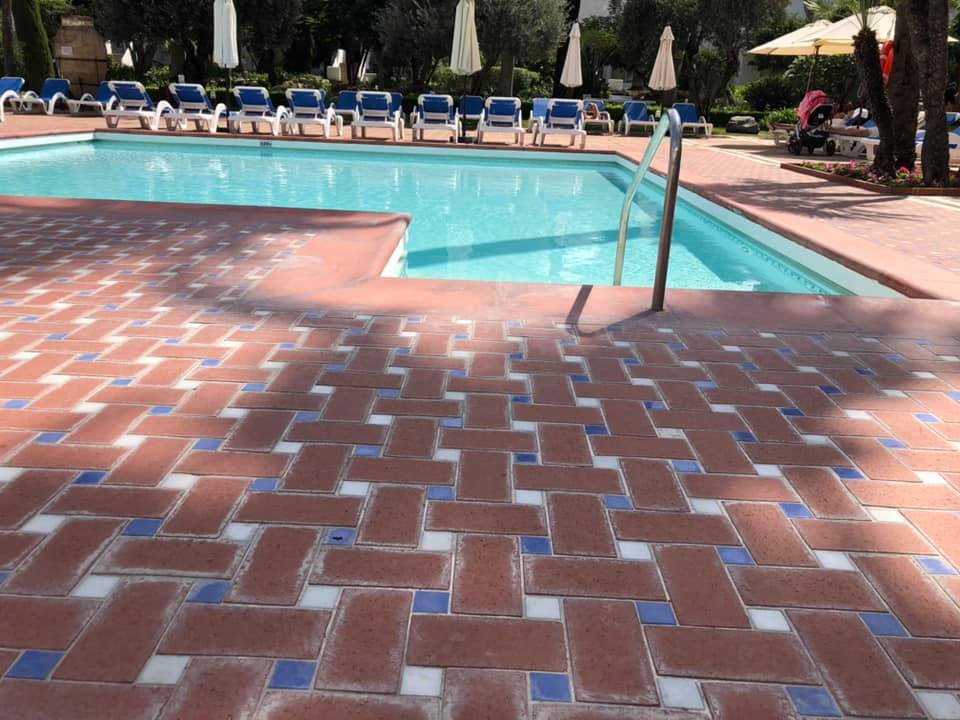 I must confess to being a pretty regular listener to Radio 2 and in particular Ken Bruce. He lives near me and I have occasionally seen him at my local train station. I am a big quiz and music fan. Therefore I do obviously enjoy his daily competition Popmaster. Last Monday the Radio Academy put on a Popmaster live event hosted by the man himself at a bar in London. I managed to get myself a ticket to it.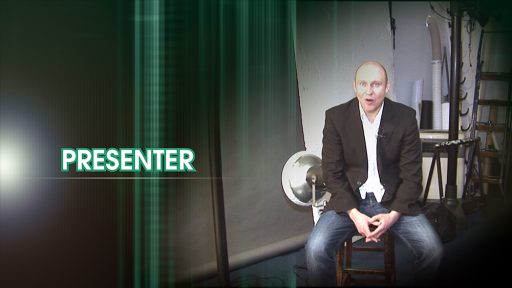 On my way to the venue I bumped into the radio legend that is Tony Blackburn, who was also going. I heard him before I saw him as let us face it that voice is quite recognisable. Also at the event were Trevor Nelson, Stephanie Hirst and of course the Popmaster himself Ken Bruce. I saw lots of people I knew there including the fantastic Nigel Mitchell. Who has been on This Morning and Heart. He is such a nice fella it was great to catch up with him.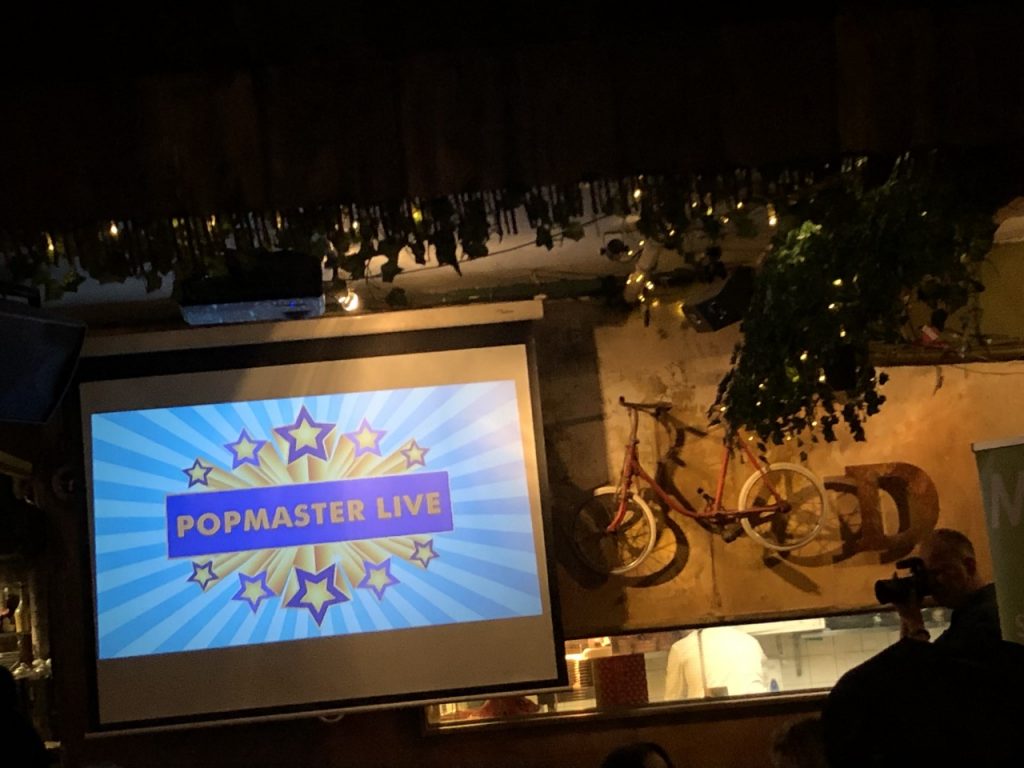 I met up with the rest of my team at our table, then after a chat over a drink. It was time to knuckle down and play part one of the game. It was pretty high tech. Each team had an I-pad on which to answer the questions. Well it was until round four when this system went down and we had to revert to good old fashioned pen and paper. We were doing alright and at the half way point. We were joint third. There was an interval for a comfort break and to get another drink before we returned to the serious pop related business in hand.
You only had fifteen seconds to answer each question. All of them related to a piece of music they played which in a busy bar with a limited amount of speakers made it quite hard to hear from time to time. But we felt we were doing pretty well. The penultimate round was really tough, but we thought we had done alright on the last set of questions. Then it was time to announce the top three. We did not honestly think we had a chance. Then they announced the winning team name and it was us, much to our surprise.
We had won Popmaster in a room full of radio people. So it was not like there was any fierce competition for this title. It felt great. We won tickets to a radio live event next month but even better than that the whole team had our picture taken with Ken Bruce. And I got to shake the great man's hand. What scenes. It was a really fun night. I still cannot quite believe we won it, definitely a huge achievement, that I will be adding to my CV immediately.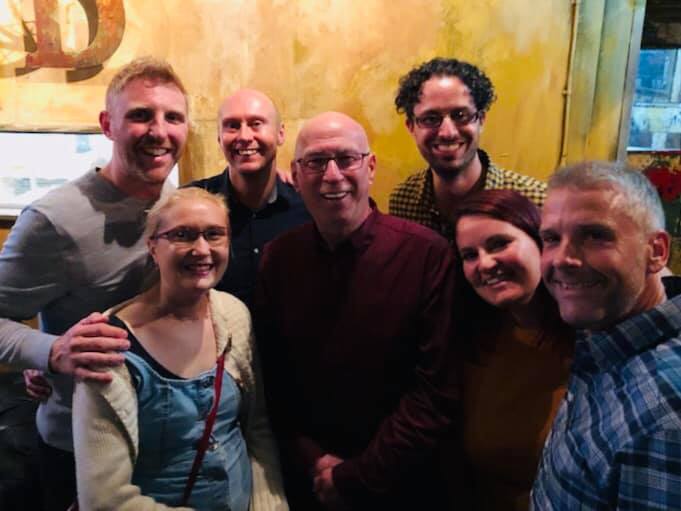 As I was at Marylebone station waiting for my train home at the end of the night I bumped in to Ken Bruce again and managed to have a quick chat to him. He is such a down to earth and lovely man. Which bearing in mind that he does the most listened to radio show in the country at the moment is a total credit to him. It was an honour to finally meet him. He is one of the finest broadcasters of all time.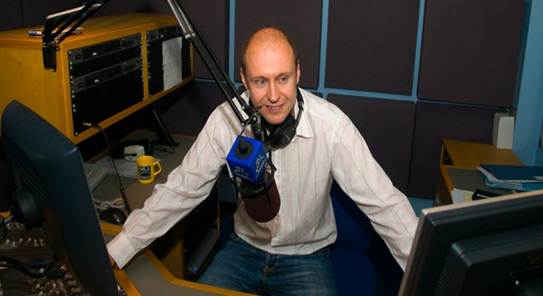 I went to see the new Les Miserables Staged Concert at the Gielgud Theatre in London with my sister last Wednesday. Tickets were it is fair to say pretty hard to get hold of, as it is only running for a very limited time. But I managed it and was curious to see the show to see how it would work. The cast assembled for it was of course amazing. They have all been involved with the long running West End version of the show at some point or another.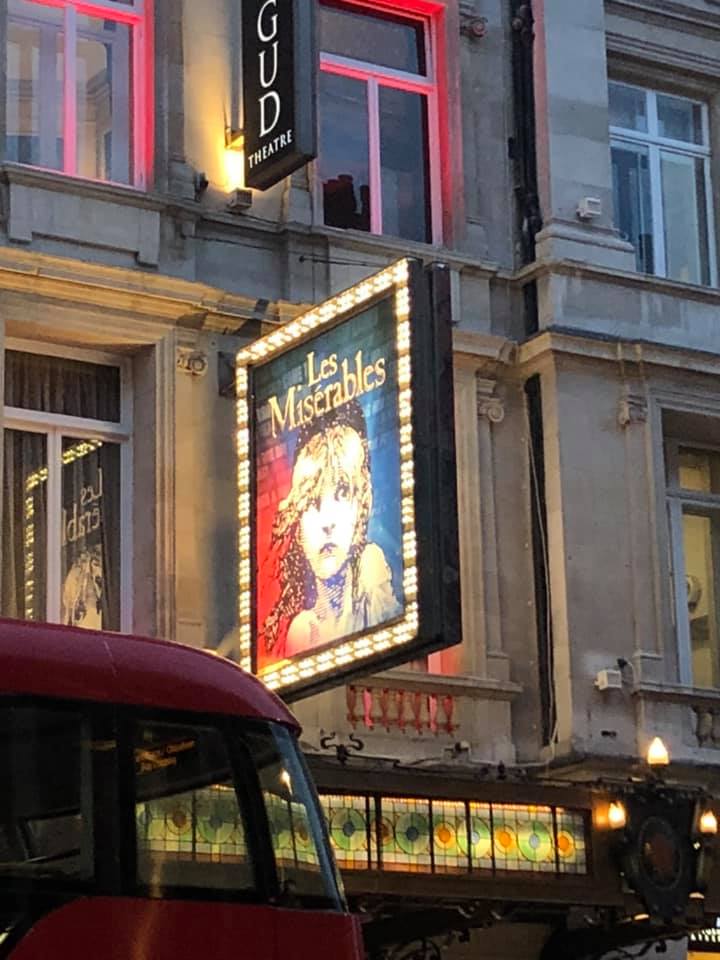 The night I was in John Owen-Jones was Jean Valjean, Michael Ball was Javert and Carrie Hope Fletcher was Fantine, which is not bad for starters. But then you also have Matt Lucas and Katy Secombe as Thenardier and Madame Thenardier respectively, so you really do have a stellar cast up on the stage. Add to that the closeness of the venue and the fact that most people there were die-hard fans of the show. And what you get is an electric and amazing atmosphere in the place.
The whole cast were sensational. There are of course so many big and powerful well known anthems in it. All of which were performed perfectly. We had brilliant seats in the fourth row of the stalls, so got totally involved in it all. Some of the applause breaks during it at the end of songs were longer than the applause that I have seen at the close of other shows. It was all expertly put together, a very slick and smooth production. At the end the company of course got a big well deserved standing ovation. I am so pleased that I got to witness it for myself.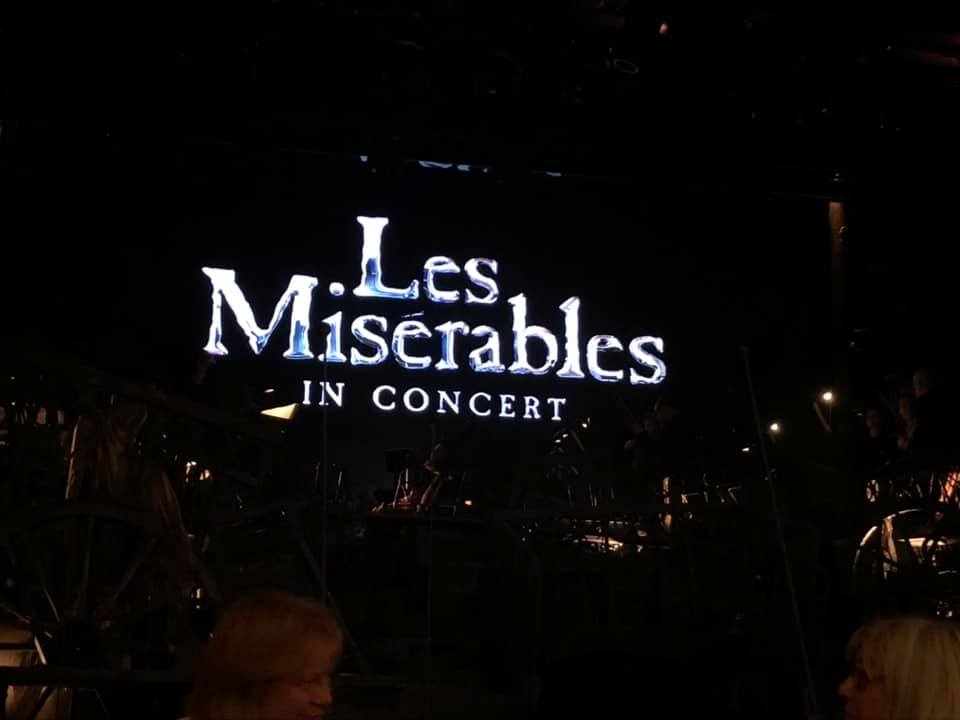 Have fun and we will catch up again in a couple of weeks. Cheers Neil.