Time flies when you are having fun. I cannot believe it is two weeks since we last spoke, already. During this time I have ticked off of my list, yet another Country. That I wanted to visit. More on that later. I am as blind as the proverbial Bat. Therefore I need to wear glasses to see anything at all. But I mostly wear contact lenses. As I prefer them, to having frames on my face all of the time.
I have been regularly wearing lenses since I was about twelve. When my eyesight got so bad, that I could not see to play football properly. As part of my eye care. I need to have a yearly check up. To make sure my eyes and my lenses are healthy and comfy. It starts like a normal eye test. To make sure the prescription is correct. And then it turns into the torture room from the Baddie's lair in a James Bond film. As they make you put your face in this contraption. And shine a bright light in to your eyes.
That said my Optician is lovely. She always does a very thorough job. And let us face it. I think we can all agree. That it is important to look after your eyes. Happily my lenses fit perfectly. The prescription is correct. And my eyes are perfectly healthy. The whole process takes about half an hour. It is like a quick MOT for you sight. So I now have another years trouble free seeing. Which is always a good thing.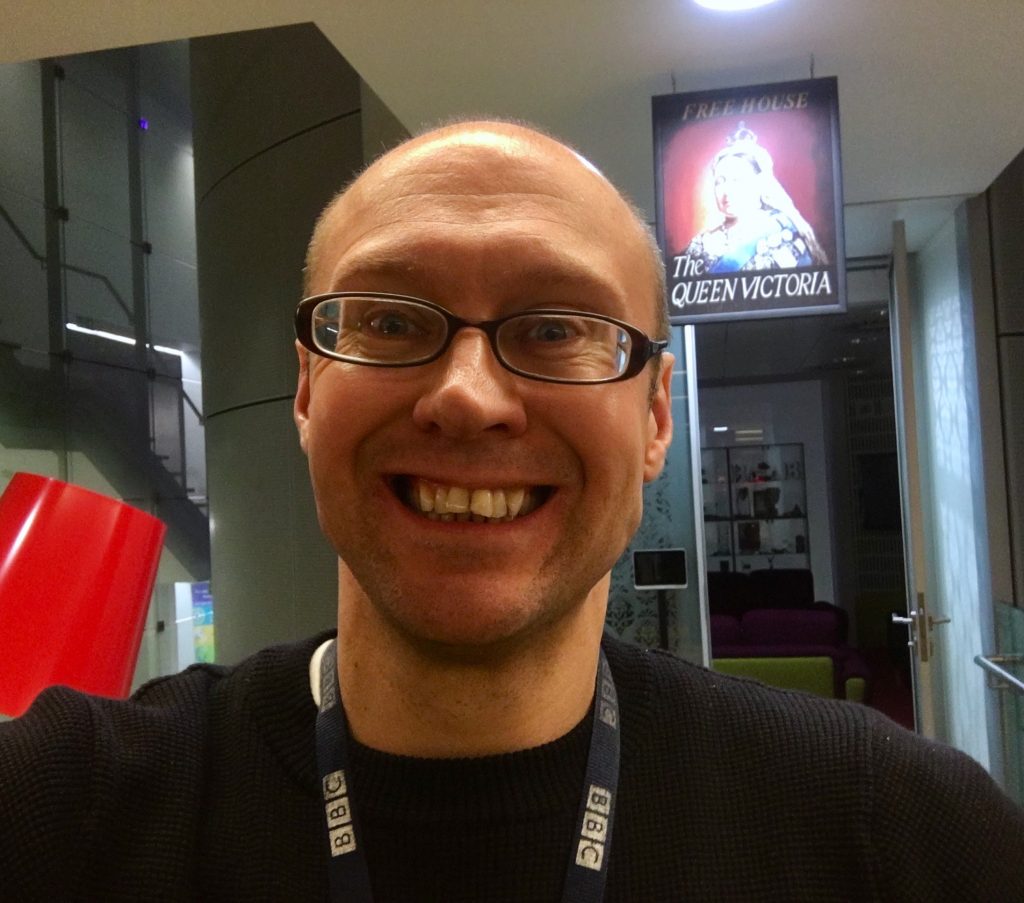 It was my sister's 40th Birthday Party a couple of weeks ago. We hired the local Community Centre for it. I had not properly been in there for years. It bought back some great memories. I used to go football training in there during the winter. When I was seven. Yes I can remember that far back. Just about, thanks. It was a bring your own drink and food, kind of do. So no problems with the pop up bar not having your favourite tipple. As you supply it yourself.
It was a brilliant night. I got to catch up with a lot of family members. Who I had not seen for a while. Which was fantastic, as ever. We are all so busy nowadays with our own lives. We do not seem to get to all meet up, as much as we used to. I was in charge of taking pictures on the night. Which was a brave move by my sister. As I am possibly the world's worst photographer. I take about one good shot in every ten.
I did manage to find a bit of time to hit the dance floor and show off my moves. And just in case there was any doubt. I can confirm. I have sill got it. Taking my turn to perform centre stage in the family circle. We were dancing in. After only a tiny bit of encouragement from the rest of them. It was a fun night. I hope my sister had a fabulous time celebrating this big milestone in her life.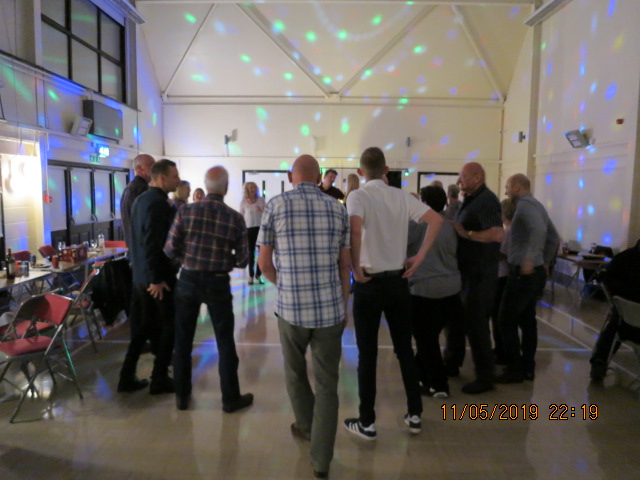 On my sister's actual birthday. I took her to Whipsnade Zoo for the afternoon. I had not been there for six years, at least. However I do remember our parents taking us there a few times. When we were both kids. So I thought it would be a fun and nostalgic trip. Plus it is only around forty-minutes from where we live. I drove and despite my awful directional skills managed to get us parked in the free car park over the road from the entrance.
It was a week day afternoon. Therefore it was actually very quiet. I got us two tickets. We then made our way inside and took a look at the map of the Zoo. To decide what we wanted to see in the time we had there. I let the birthday girl choose most of the animals. As we were right by their enclosure. We thought we would check out the Lemurs first. But as it was a bit of a damp afternoon. They were in their house, so we had to peer at them through the windows.
We then went and caught the Sea Lion talk starring Dominic. He was named after the newsreader from the Chris Moyles Show. As fans of Radio One and now Radio X, would probably already know. He was joined by two females and a couple of pups. They are exceptionally clever and versatile creatures. They were very impressive and the information about them was pretty interesting. The first time I ever went to Whipsnade. They had a Dolphin display. Which gives you a good idea of how long ago that was.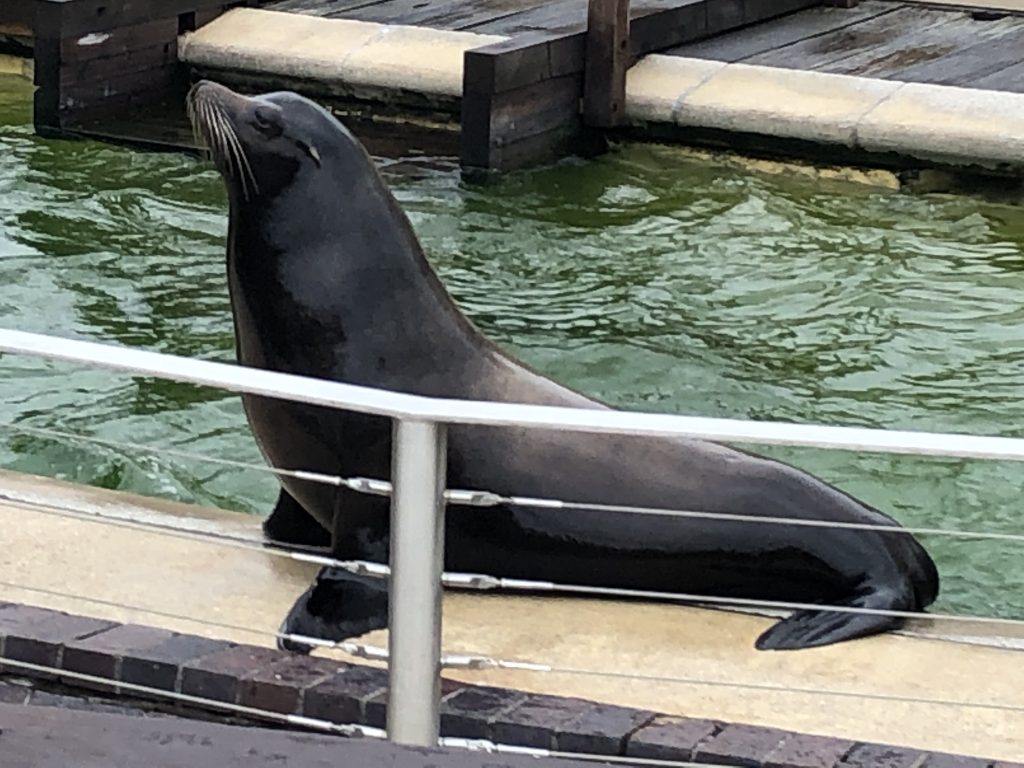 Next we headed to the Tigers. As we arrived at their enclosure. They were all hiding. We then moved around to get a better vantage point to try and spot them. As we did that, four of them appeared right by the glass window. We had been standing at moments before.
We had the last laugh, though. We walked back down there. And got a great view of the young ones play fighting. And the parents telling them off.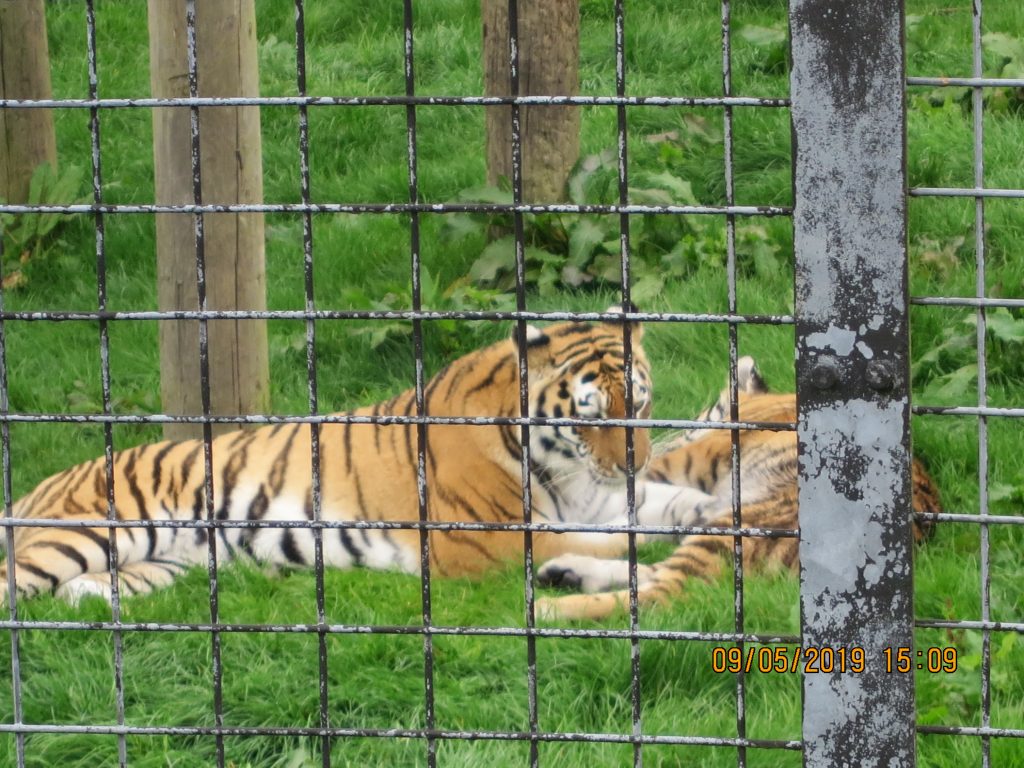 We also saw the Elephants, the Hippos, Chimps, Flamingos, Zebras, Meerkats and Bears. Then we had a special moment with the Lions.
We were the only ones there. When five of them came right up to the viewing area. And had a mini roaring competition. The noise of which was amazing. It was really cool to be up so close and see them behaving like this.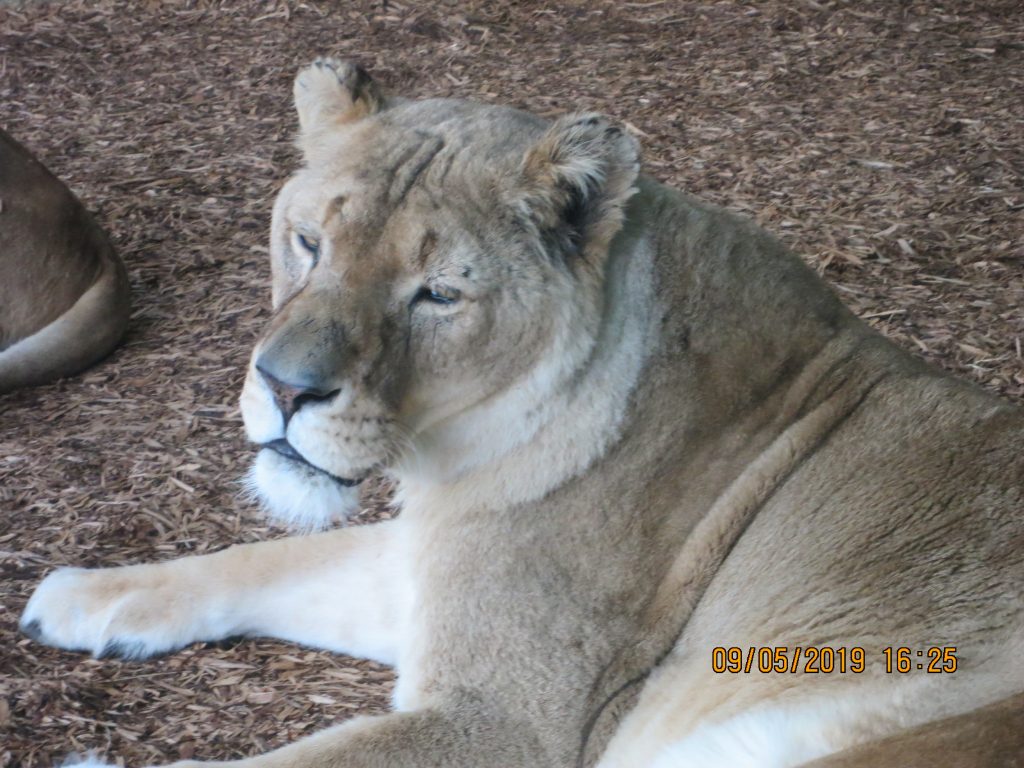 Lastly we made the trek to see the animals hidden the furthest away. Why they are so far away from the rest. I have no idea. As far as I am aware they are not that dangerous.
They were the Penguins. As they seemed to be mostly hidden away nesting with just a few swimming. It seemed a little bit disappointing. We had a quick look around the gift shop. Before I treated her to a KFC on the way home. That is not me being cheap. That is her number one choice of food.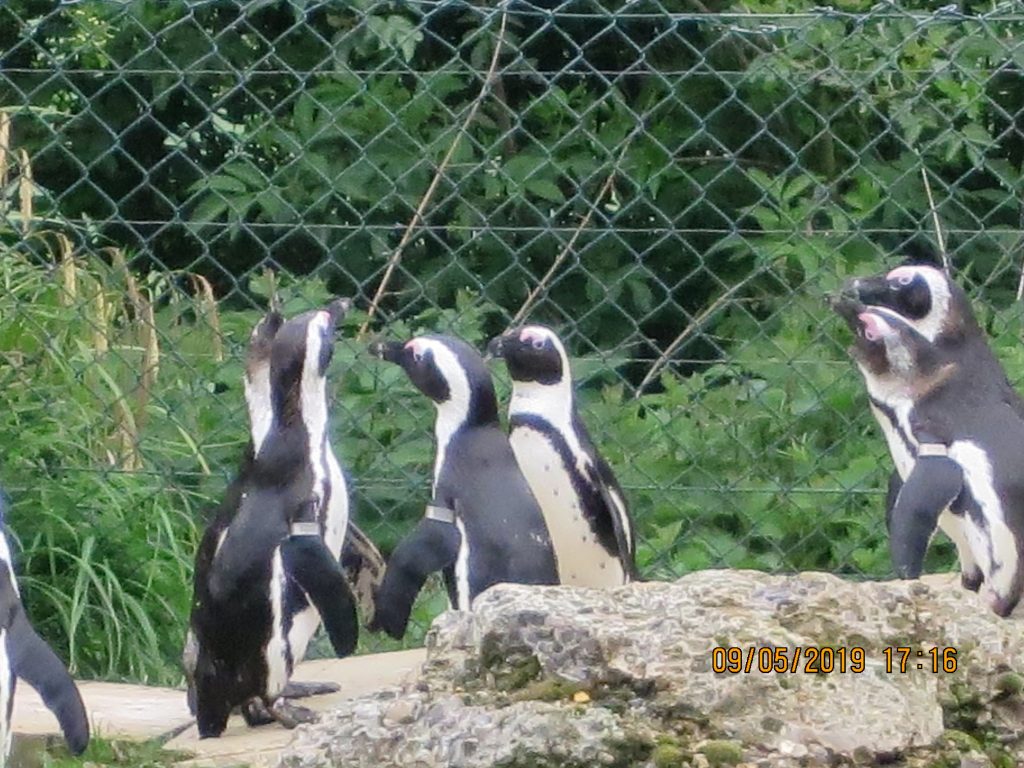 I was of course at Tottenham's final Premier League game of the season on May 12th. To bring to a close my first full season as a Season Ticket holder. We were playing one of my favourite other teams Everton. It was a typical Spurs performance. We went one goal up early on. And looked totally in control.
We then conceded two in a short space of time in the second half. Requiring Eriksen to rescue a point for us with a brilliant free kick. The draw meant that we finished fourth. And have qualified to play Champions League football once again next season. Meaning we had achieved what we wanted to that afternoon. A season where we had to wait until March to get home. And in which we suffered so many injuries to key players. I think this was a fantastic achievement.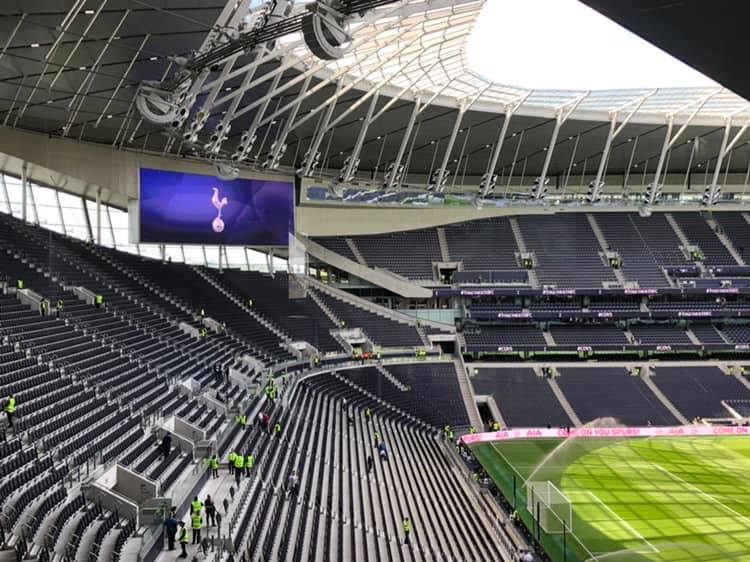 After the match had finished. The awards were handed out for "Goal of the Season" and "Player of the Season". Both of which were given to Heung-Min Son. Then the players and coaching staff came back out for a lap of appreciation.
It was great to see them all with their families coming round to clap the fans. While we were all having a good old fashioned Tottenham sing-song. This however is not the end of our season of course. We still have one more massive match to play.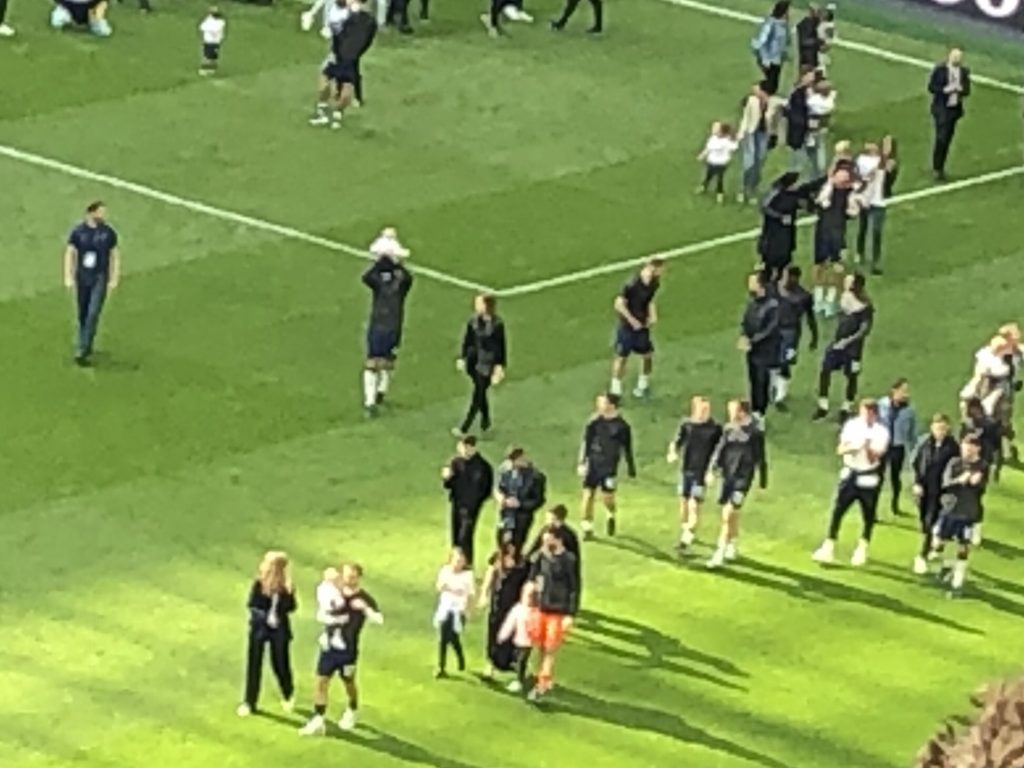 The Champions League Final on Saturday 1st June against Liverpool in Madrid. It still feels odd writing those words about my team. With a group that included Barcelona and Inter Milan. If I am honest, I was not sure we would get out of the group. Let alone make it to the very last game of the competition.
It will be by far the biggest game, that I have ever seen my team play. I really cannot wait for it. I am sure it will be a memorable night, whatever happens. And wherever I end up watching it.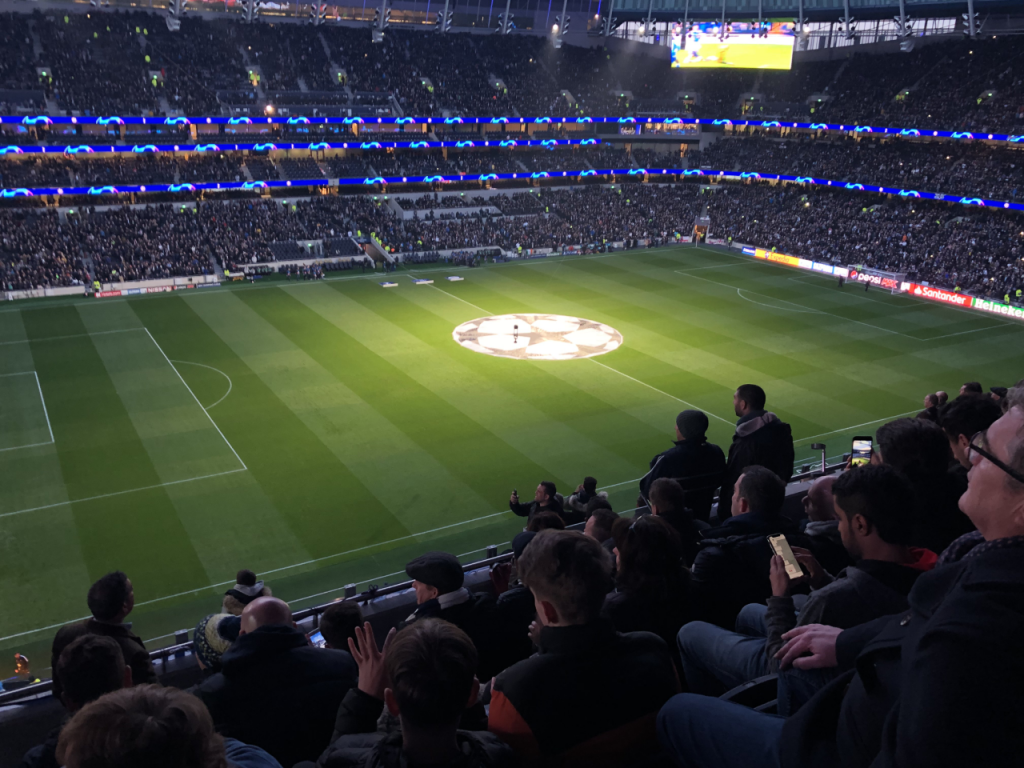 I was lucky enough to get the opportunity to go to visit Rome a few weeks ago. I had never even been to Italy before. And their capital city is somewhere I had been keen to explore for a while. So when the chance came up. I jumped at it. I flew from Heathrow.
Using the Heathrow Express Train for the first time. And staying the night at a nearby hotel. To make it easier to get my mid-morning flight. It takes about two hours the journey. Plus the Italians are an hour ahead of the UK. So I touched down about half past two Central European time.
There is a train that runs from the airport to the main station. From there it was only one stop on the Metro. To get to within just a ten minute walk of the Bed and Breakfast I was staying at. It was a lovely little place. Down a side street. It only had four rooms in it.
You keep the keys for your entire stay. So you can come and go, as you please. And they deliver breakfast to your door every morning on a hostess trolley. For you to help yourself. It was a perfect base camp for the three nights, that I was there.
Once checked in and unpacked. I was straight out to see what it had to offer. On the way from the Metro station. I had already witnessed the first well known landmark. The famous Spanish Steps.
Next up it was just a short walk to Pantheon. Which is a former Roman Temple turned Church. It is simply stunning to look at from the outside and the inside. From here I had a stroll round a few of the many Piazza's packed with restaurants and street entertainment. While taking in lots of spectacular and beautiful buildings along the way.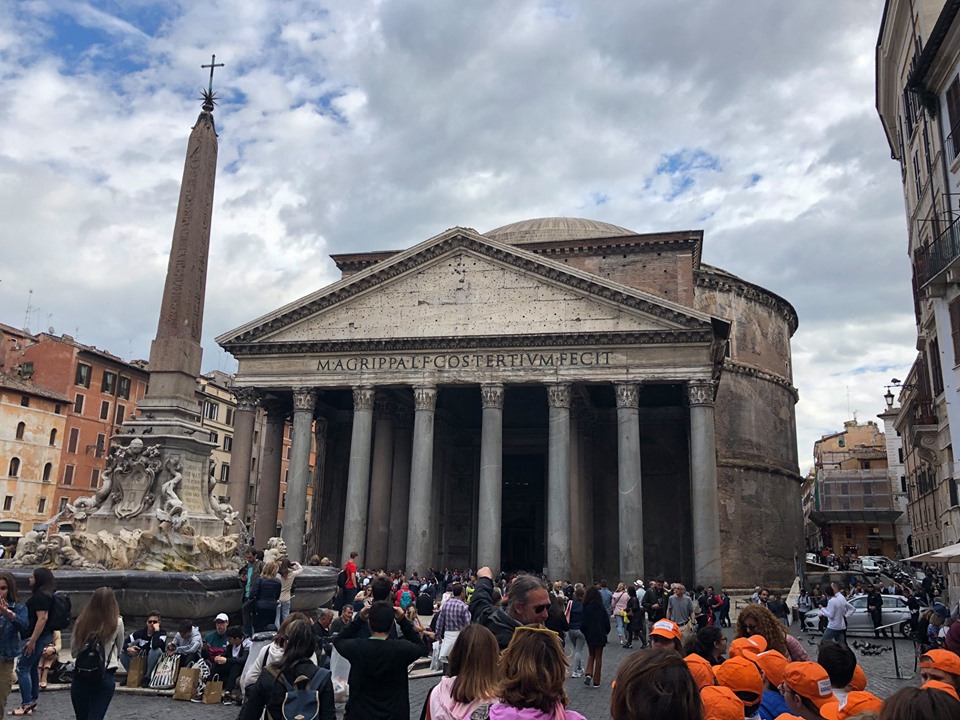 One of these was their official court building. Which was just huge. From here looking down the river. I got my first look at Vatican City. After a nice walk round. It was time to get some food. The first thing I tried was some of the famous Italian Ice- Cream. Which was lovely.
After this short pit stop. I continued walking around trying to find my bearings. It has a nice and relaxed feel to it. There are lots of tiny cobbled streets. But it does appear that all vehicles can go down any road they like. No matter how big or small.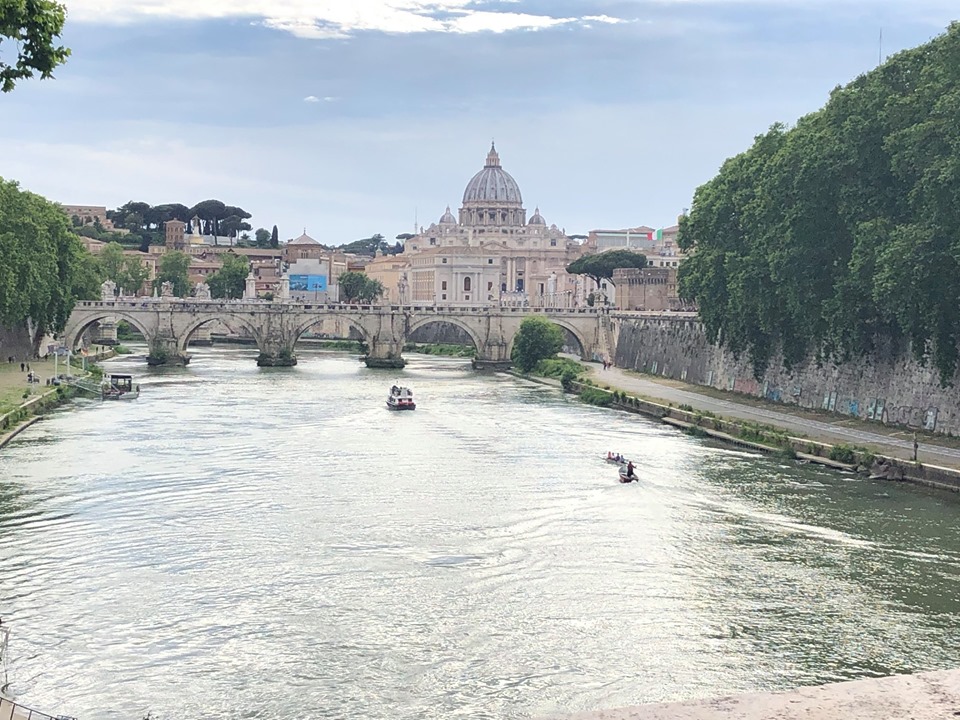 For my main meal that first night. I went to the place that the lady at the B&B recommended called Alfredo's. Handily it was just around the corner. It was packed out and I only just managed to get a table. The food was great. I had Beef Fillet with grilled vegetables washed down with a nice glass of Italian beer. It is obviously quite a popular place. As there are signed pictures all over the walls of some of the famous people. Who have previously eaten there.
I was up relatively early the next day. The Pope makes two public addresses, most weeks. One on a Sunday afternoon. And one on a Wednesday morning. If you happen to be in Rome. When he is on stage doing his thing. You really have to experience it. The breakfast was delivered as expected. Cereal, yogurt, cheese and ham plus a pastry. All included. And all eaten. Well if you are going to spend the whole day exploring. You need to keep your energy levels up. With my calorie intake complete. It was time to head to the Vatican to see Pope Francis.
It was about a twenty minute walk from where I was staying. Once you are across the river though. You can see Vatican City from a long way in the distance. It is free to see the Pope's weekly service. To get in to the seated area. You do need a free ticket. Which you can order online in advance. I did not do this, but you can still get close enough. To see and hear what he and his other Cardinals are saying. Some of the Ceremony is in Latin, some in Italian and some in English. So with my limited language skills. I only understood a limited amount of it.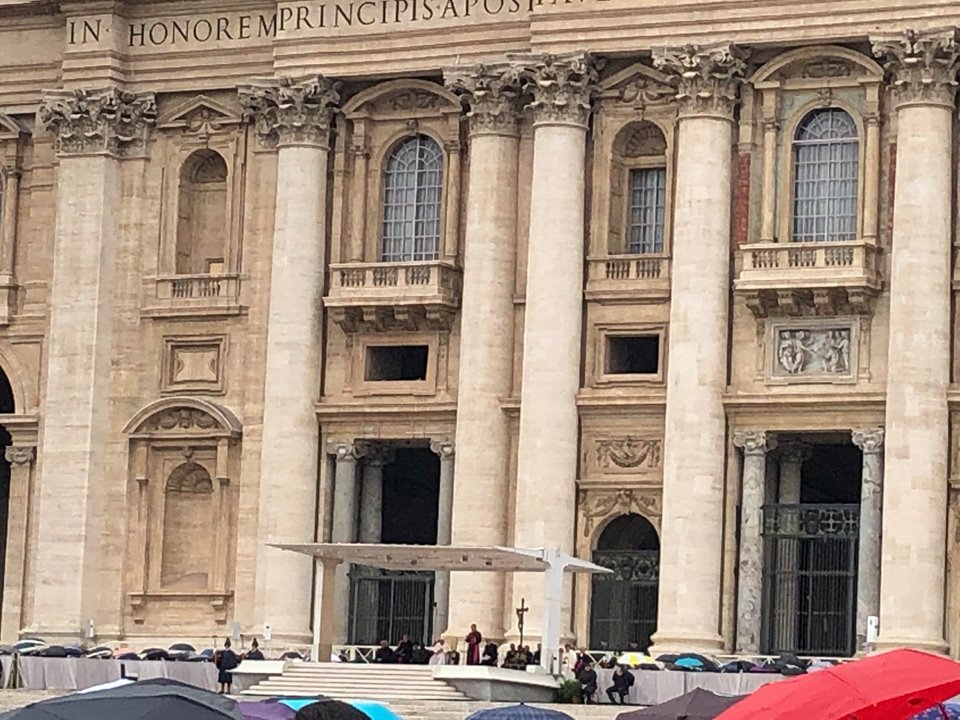 It was a very wet day. After seeing the Pope. I decided to do the tour of the Vatican Museum, Sistine Chapel and St Peters Basilica. I found one that combined all three, had a tour guide. And that could jump the queues to get in. So I booked myself on that. We each had radio's with earpieces. And the guide had a mic. So we could clearly hear all that he had to say.
He started off with a general introduction. Before we made the long walk to the entrance of the museum. It took us a little while to get in and get going. The place is so busy. You cannot really stop at all. You have to keep moving and just take in as much as you can. As you are speeding along. It is packed with so much history. There are so many original Roman artefacts. As basically when ancient Rome was being demolished. The Pope at the time cherry picked much of the original items for the Vatican.
This includes some original Roman mosaic flooring, pots and many statues and busts. The actual building itself is amazing, as are some of the ceilings. They are so colourful and intricate. There is also a section with ancient tapestry's. Once he had taken us through the entire museum. Our guide then led us into the world famous Sistine Chapel.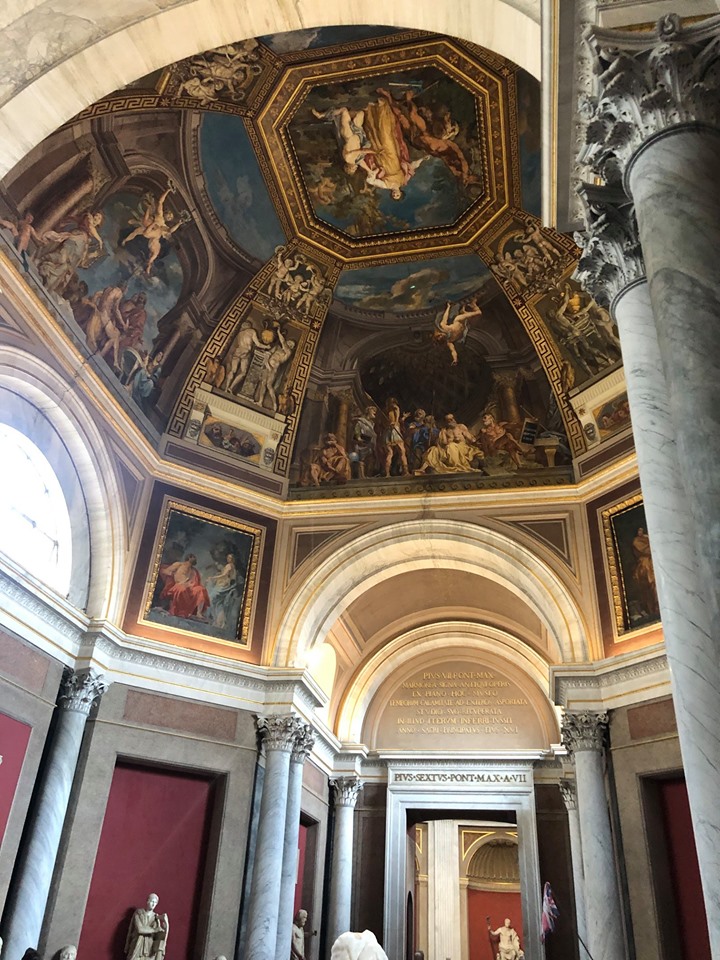 The only place on the tour. You are not allowed to take any photos. My word that artwork on the ceiling by Michelangelo is so stunning. And hard to believe that it was painted over five hundred years ago. There was a very special atmosphere in that room. It made you feel very spiritual. Just being in there. I am so glad that I got to see it and experience it for myself.
The final part of the tour was a look inside the hugely impressive St Peter's Church. It is so ornate and luxuriously decorated. As well as being the resting place of many previous Popes. It is considered the spiritual centre of the Vatican. It is the most noticeable part of the place from a distance. With its massive dome. I am so pleased I got to see the Pope preach and look round this stunning place. That is filled with so much history.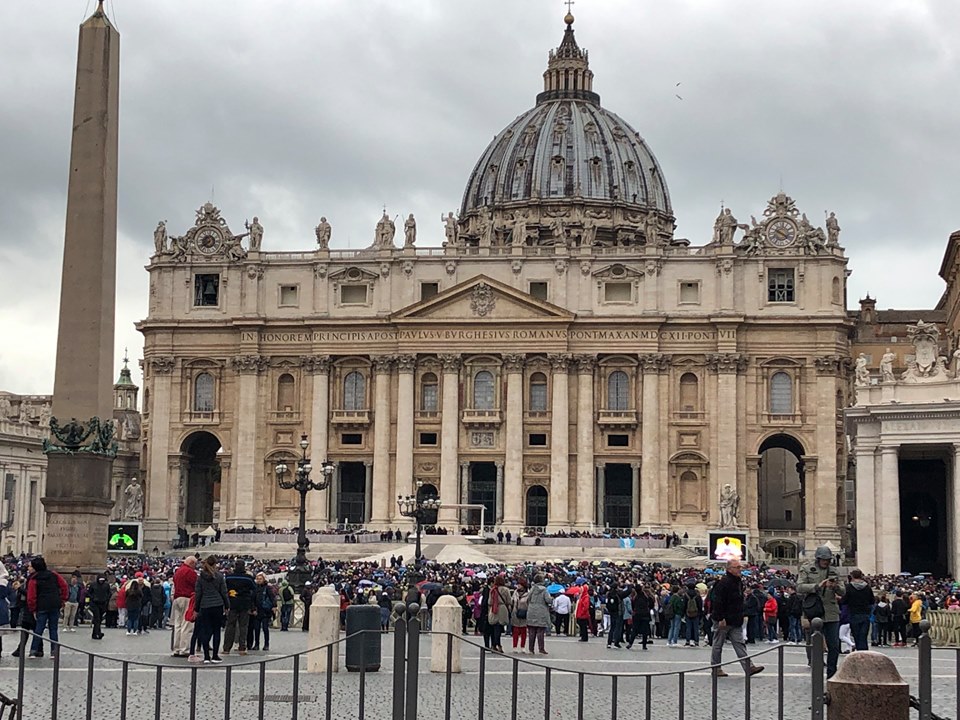 I was brought up a Catholic. I cannot pretend to have ever been a good one. But my Grandad, Patrick used to attend Church every day. He was a very devout follower of the religion. He even had a framed picture of the Pope on his living room wall. Although he died a long time ago now. I think this visit to the Vatican. And to see the Pope was also for him, as well as me. It took well over three hours to look around it. So if you are planning to do it, one day. Do allow plenty of time.
It was still raining heavily. But with limited time and a lot to see. I kept on sight seeing. There were street sellers everywhere offering you Umbrellas for five Euros, I refused. Then I found a shop where I got one for only three Euros.
The art of the deal. I think I should have written that book. I had a good look around some of the shops. Then I visited the stunning Trevi Fountain. Before finding a small cafe. To have my first ever Latte in. I am normally a big tea drinker and never have coffee but when in Rome.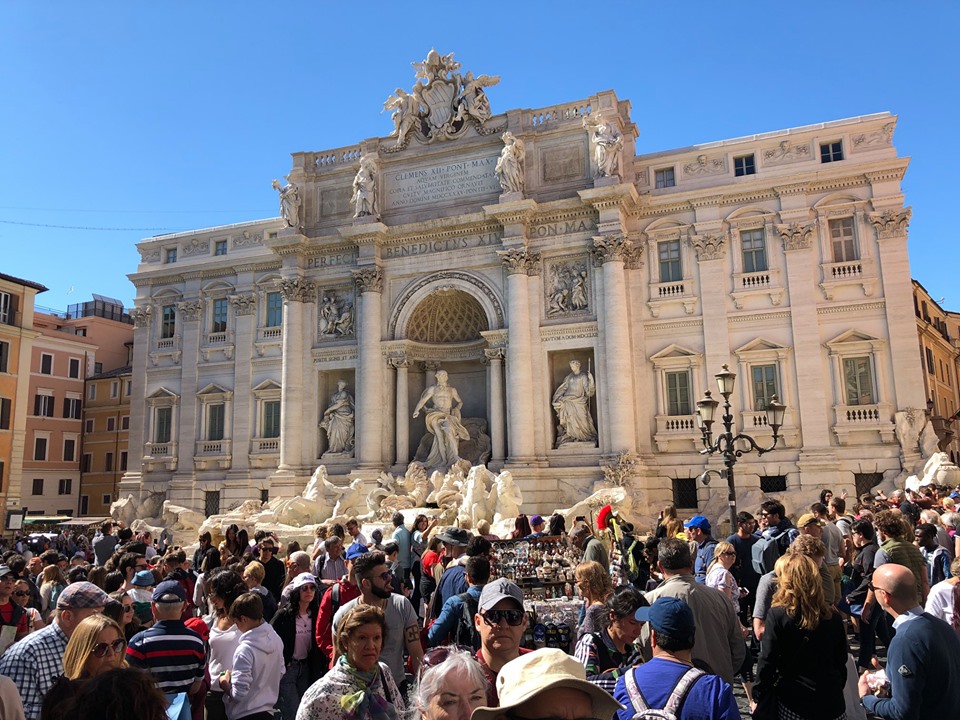 After a bit more walking and exploring. I thought I better try a piece of Italian Pizza in another small Cafe. Then I went to the Museum and Crypt of the Capuchin Friars. Which was as weird and strange as it sounds. I have never before seen so many actual human remains on display. It was a very odd and confusing place. But historically from the Monks point of view at least, very interesting.
For my main meal that day. I visited the Hard Rock Cafe. Which as it turned out. Seemed to be the place that was trickiest to find in the whole City. But I made it there in the end. To enjoy some very nice Italian Beer with American Style Tupelo Chicken Strips and Fries. Which I must say were scrumptious. Plus it was cool to listen to some good music, while eating. This bought an end to night two.
Luckily the weather improved for day three. After heavy rain the whole of the previous day. Blue sky and warm sunshine was the new backdrop for the latest expedition. And the focus was very much on the Romans. With the mission for the morning to visit the Coliseum. I set off on the thirty minute stroll from my base camp. On the way I had a quick look around the Military Museum. Which is housed in a massive and very imposing looking building.
From there I could see the famous Amphitheatre in the distance. On the way to it. There are some actual original Roman remains. I had a quick look as these, as I went past. I then got to the Coliseum. And I booked a tour that took you inside it and also in to the Roman Forum ruins next door.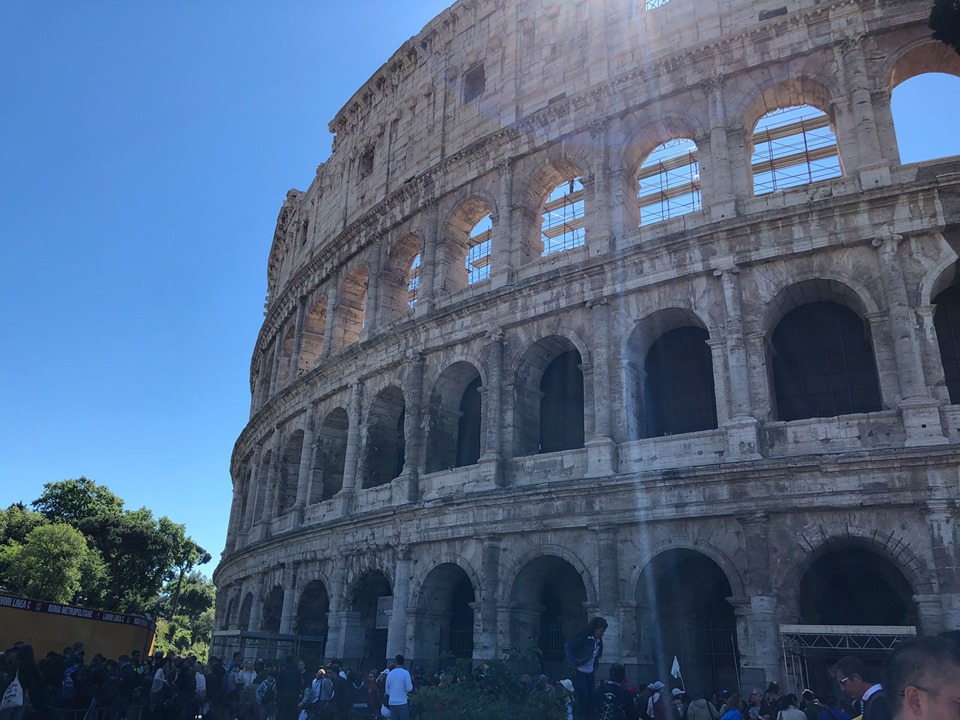 The benefit of the tour, like at the Vatican was that you got to queue jump. See some different areas. And get a guide to explain it all to you. The guide was fantastic. He really knew his stuff. And was very entertaining. I learnt a lot from it. Including that at its prime it held sixty thousand people, entry was free. And the entertainment was available from sunrise to sunset. For around six weeks during the Summer.
It just demonstrated how far advanced and clever the Romans were. They even had several trap doors all over the arena. They loved their special effects. They were such show men! I got plenty of pictures in there. I bet it was a crazy place to be in its hey day. We then left the Coliseum behind. To meet our next tour guide for the Forum part of things.
He was a great guy called Alex. Who also goes by the name of The Gladiator Guide. He spends half the year working for the British Museum in London. And he also works with the Discovery Channel. Producing and presenting some of the history based programmes that they make. Checking him out on Instagram. he has a few well known "friends".
He was brilliant. He escorted us through the remains of the Roman Forum. Sadly only two percent of the original buildings are actually still there. They were all buried under ground for hundreds of years. Until would you believe Napoleon, of all people. Did the excavations in the eighteen hundreds. Mainly because he actually believed that he was a Roman.
It is amazing how close the Romans seemed to live to the way we do today. High Street's, running water, central heating, roads. He told us that at its height the Roman Empire ruled sixty million people. Let us not forget that at one point the United Kingdom from Hadrians Wall down was all under their control. Very powerful, yet brutal people.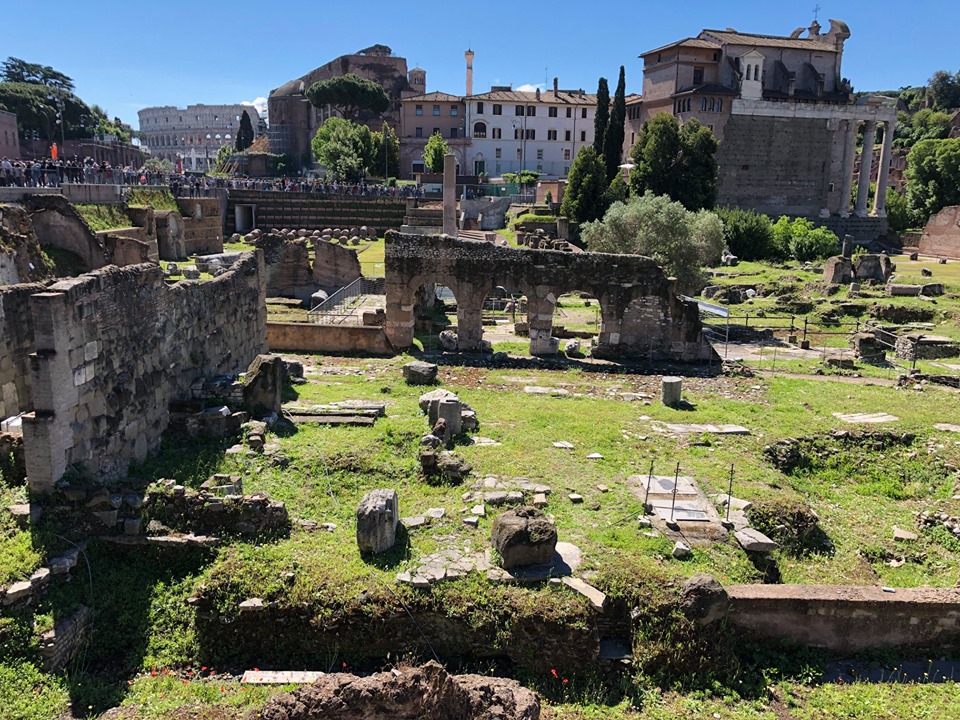 As it was such an unexpectedly hot day. I got a little bit caught out. I did not have any sun cream or a hat on me. It is fair to say that my head is a little bit exposed nowadays. I realised that it was getting a bit too hot. While we were queuing to get into the Forum. There was a street seller flogging hats. Before I got to him. I sneaked a five Euro note out of my pocket.
He came over. I tried on a hat. I asked him how much? He said fifteen Euros. I said that was too much. He then asked for ten Euros. I shook my head and offered him the five Euros in my hand. He said no, so I put the hat back and said that was all I had on me.
He then takes the five Euros and gives me the hat. For the price I was prepared to pay. That my friends is how you haggle. Forget Donald Trump. As I said earlier, I should have written the book "The Art of The Deal. I might enter the Apprentice next year.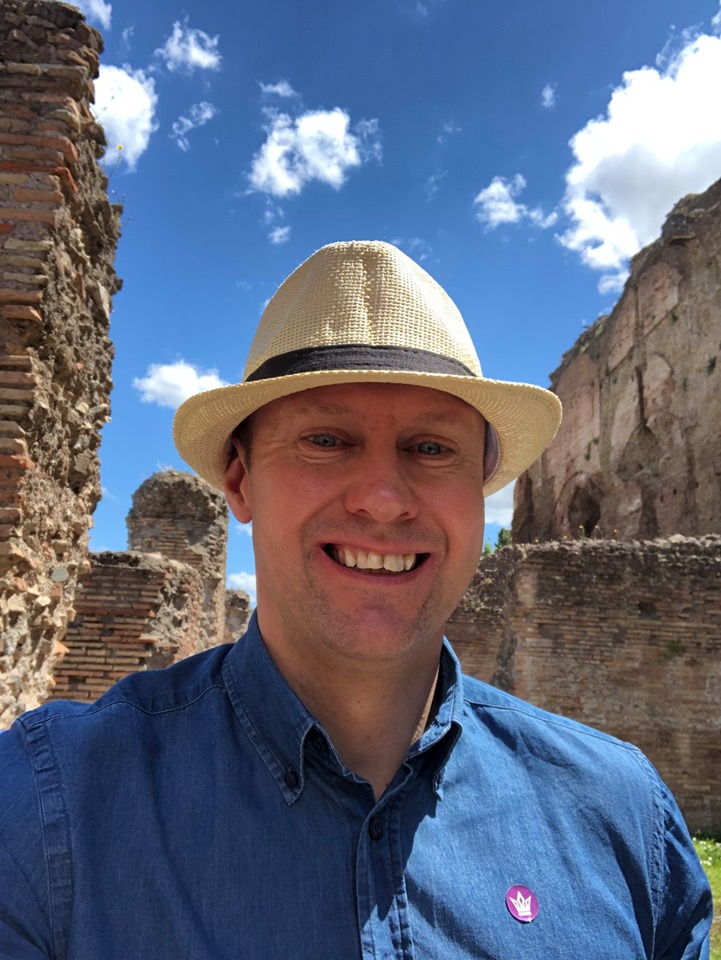 Wearing my new hat. After I had finished at the Forum. I stopped for a quick snack. Before heading back to see a few things that I saw in the rain the day before. But this time in the Sun. To try to get some better pictures. I then found a popular Gelato shop. That did over one hundred and fifty different flavours, so I thought it would be rude not to at least try a couple of them. They were delicious.
For my final night there. I went to one of the Piazza's. I found a lovely traditional Italian Restaurant. Where I enjoyed some Spaghetti and Meatballs "Roma" style washed down with a couple of glasses of red wine. Italian of course. I was sitting outside. And there were various Street Performers doing their thing. Including a Michael Jackson impersonator. Which was something I did not really expect to see, if I am honest.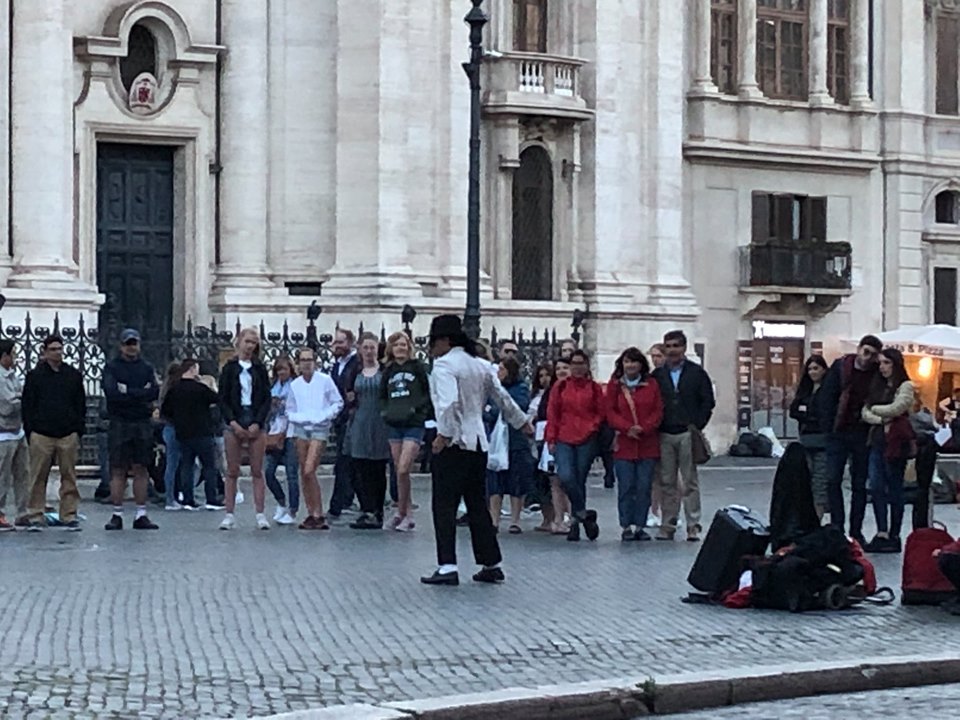 The last day had arrived. I was flying home late afternoon. So I still had a bit of time left in the city. I worked out there was one part that I had not seen within walking distance. So I strolled out there.
There was a Leonardo Da Vinci Museum in that area. So I had a look round that. It was fascinating. He was such a clever and talented guy. There did not seem to be anything that he could not do. He was certainly well ahead of his time.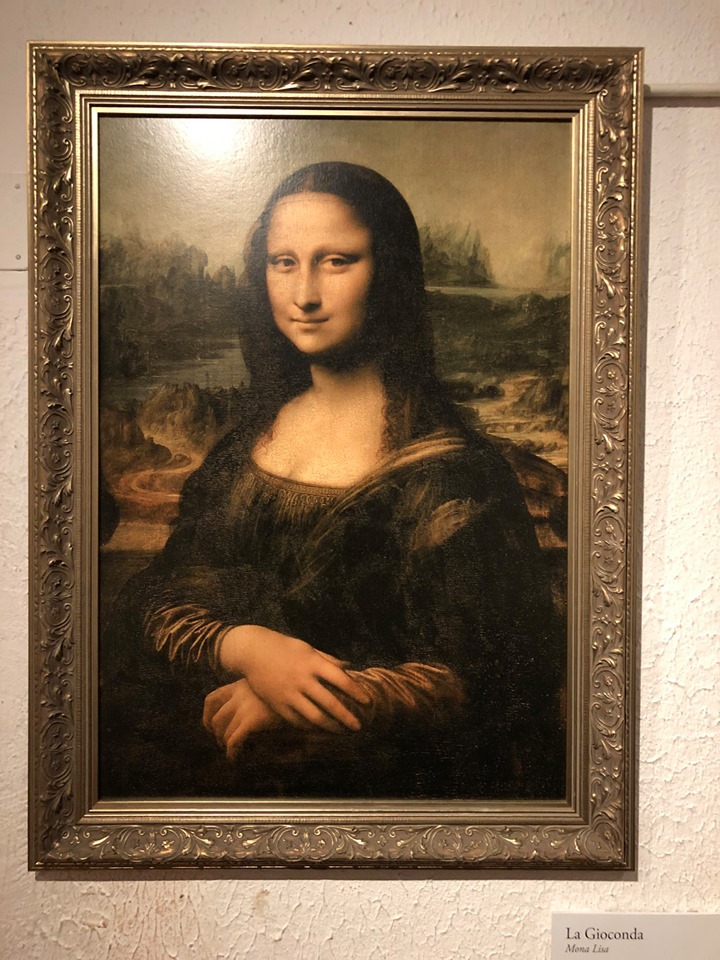 Then I just had time for one more quick look around. My second and final cup of Italian Coffee. And of course my traditional gift shopping for the family. I got myself a t-shirt. I originally just bought it as it was white and had a nice picture of a Roman soldier on it.
It was not till I got home that I realised it had some Latin writing on it. I wore it over the weekend. And my sister pointed out it actually says "I came, I saw, I Conquered", so I actually like it even more now. I flew back in to a very rainy London. Therefore bringing to an end my latest adventure. I liked Rome. It was a lovely City with lots of things to see and do.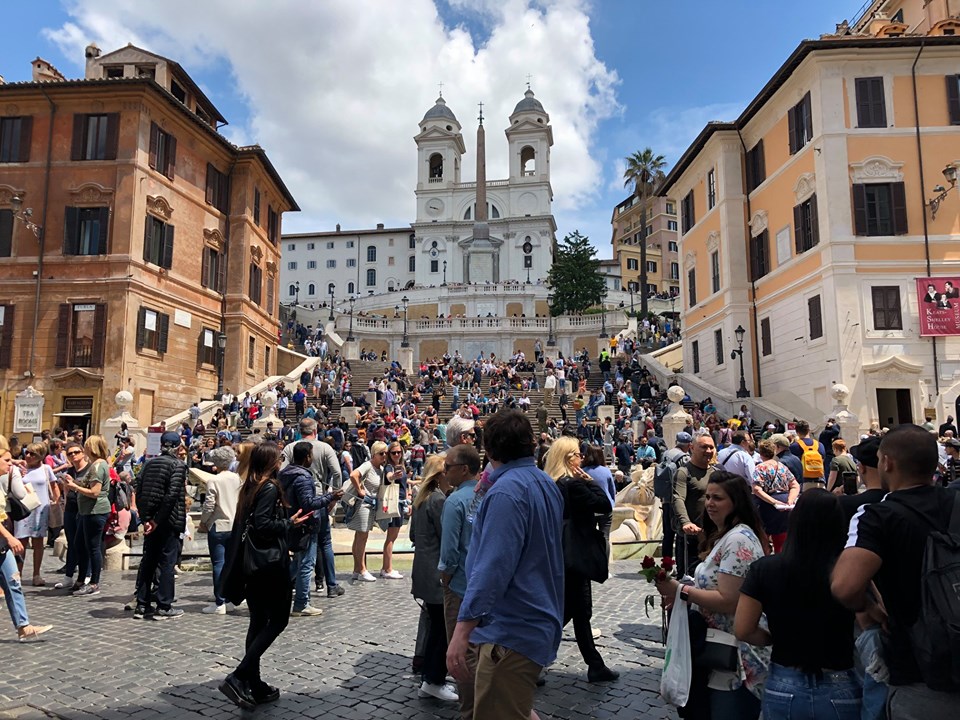 Have fun and we will catch up again in a couple of weeks. Cheers Neil