It does seem that things are still looking pretty good with the virus transmission rate across the United Kingdom, which is great news, I think. It shows I believe that despite things opening up people are on the whole being sensible and considerate to each other when going about their business, which can only be a good thing moving forward I hope. It means we can do all the fun stuff we used to and regularly see our family and friends of course.
I am starting to go out a lot more now returning to all the things that were previously restricted that are now fully open. That said when I am somewhere there are larger groups of people I am still trying not to get too close to everyone. Limited contact with a lot of people you do not know feels like the right approach still for the time being at least. To be fair even before the pandemic I was not that keen on having strangers invade my personal space anyway, so it is really just a continuation of that philosophy.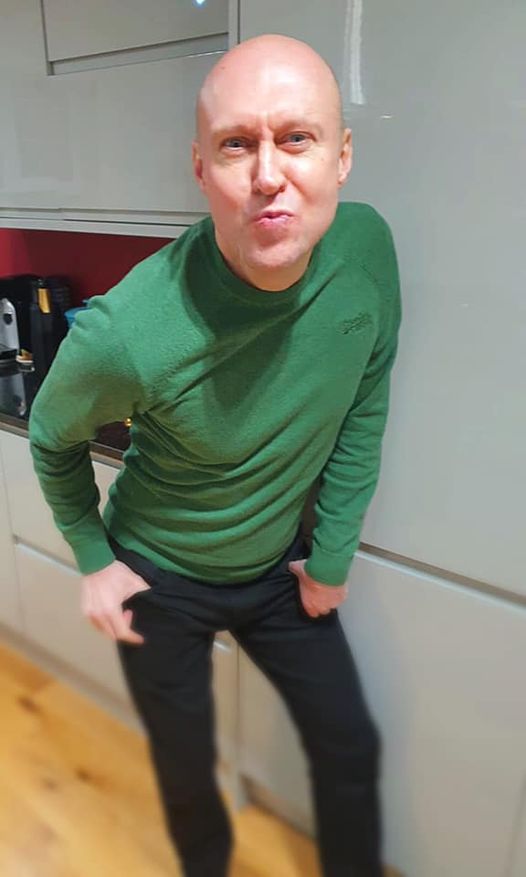 A couple of Sunday's ago my girlfriend and I went to an outside comedy gig in St Albans. It was during the afternoon at Verulamium Park in the city. It was part of this year's St Albans Comedy Garden event. We got there just after the gates had opened. It was all very civilised and well organised. There were lots of street food stalls and plenty of space to sit down or stand. Sadly for me I could not see any obviously gluten free options, so I made do with a cup of tea and a packet of crisps. I am so rock and roll nowadays!
The food and drink area was behind the seating and the stage much like an outdoor theatre set up. As this was one of the first events for us post Covid I had booked two end seats so only one of us would have to sit next to a stranger. Lynda offered to be the one to do that with only a small amount of pressure from me. It was a brilliant line up. I was a bit concerned when as we took our seats it started to rain but happily it was just a quick shower and it remained dry and sunny once it had passed over.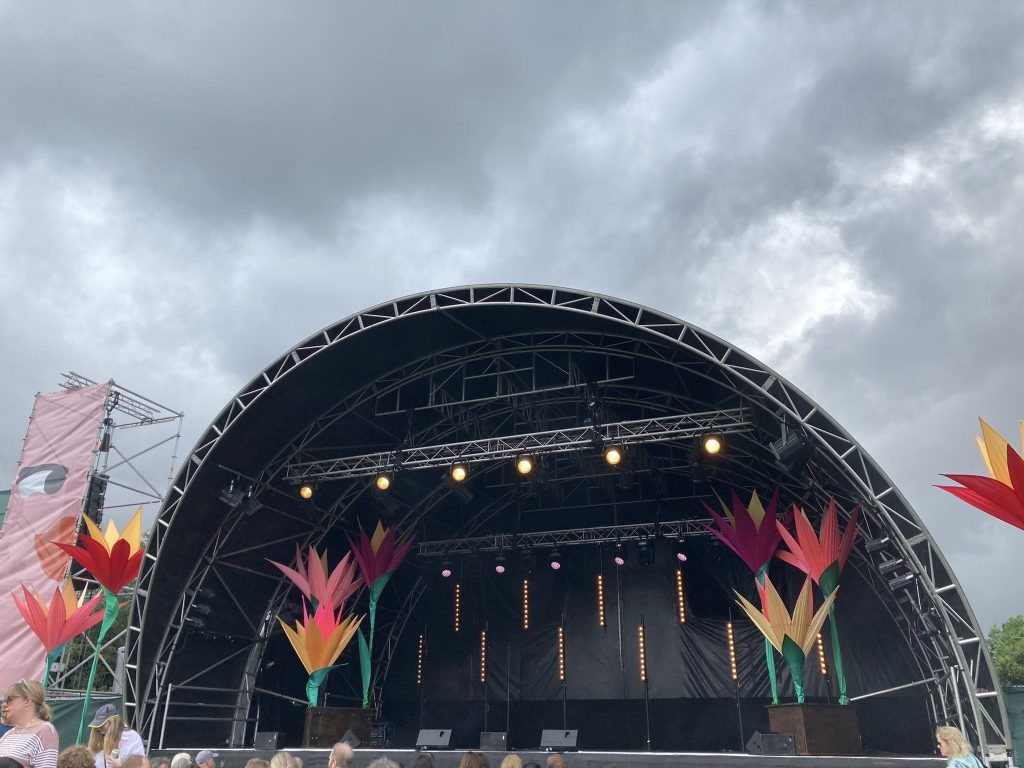 The compere was the excellent Andrew Maxwell. He was in the jungle on I'm a Celebrity Get Me Out Of Here a few years ago. I have also seen him host a couple of comedy programmes for Radio 4. He was great as ever. The man has a ridiculous amount of knowledge of so many different things, which he expertly displayed while talking to the audience. That is very much the role of the host of any stand up show. He was telling us about some of the Zoom and Drive In gigs he had done, which although a good idea under the restrictions were a bit of a nightmare for the performers it is fair to say.
First on was the wonderful Maisie Adams. I have been a fan of hers for a while but this was the first time that I had managed to catch her live. She was fantastic with her energetic style and stories. Already a regular on Mock the Week I suspect we will be seeing a lot more of her on television over the next couple of years. When her set ended we had the first of the two intervals. I took the opportunity to use some of the facilities and I was particularly impressed with the toilet monitor whose job was to direct people to empty Portaloo's. It did keep it all moving along quicker.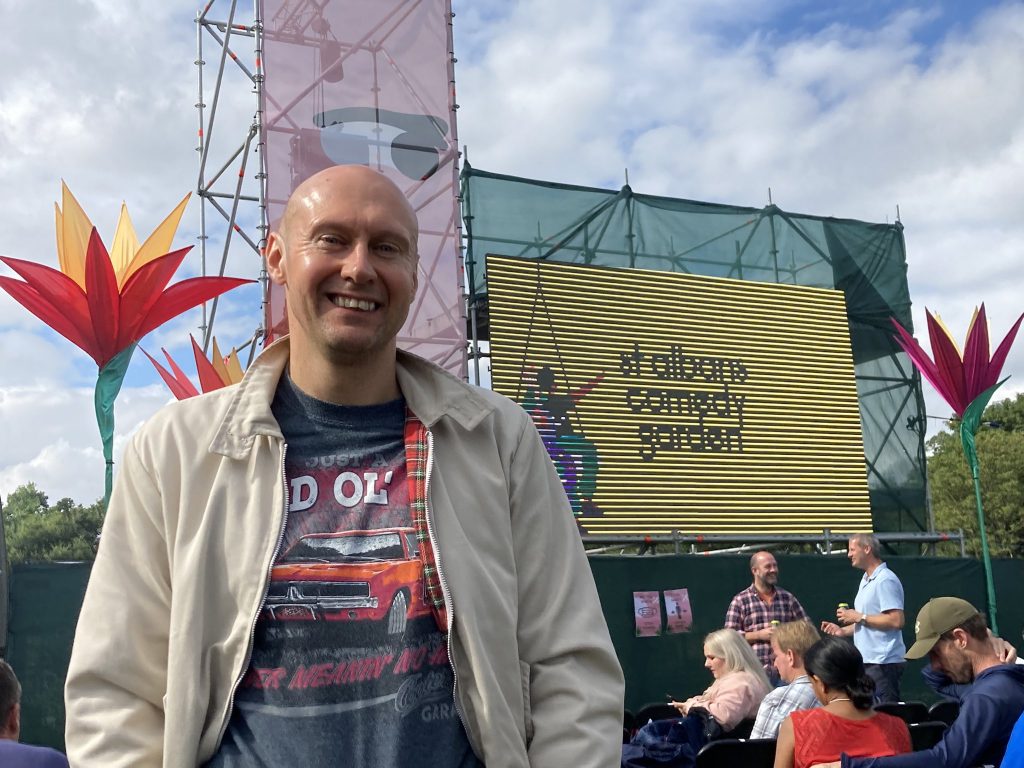 The second comedian was the brilliant Rhys James, who I like and have seen a few times before. As it happens he was from the area and had been to the park where the comedy was on several school trips. He was very funny as usual despite the fact he still only looks about twelve when he is actually thirty! Once he had finished, yes you have guessed right, it was time for another interval the last one before our headline act. It was a decent sized set up. I reckon there were at least five hundred people in the audience. However we were of course all outside, so it felt perfectly safe.
The last comedian on was the hilarious Dara O'Briain who I have seen before and who is always great. He is simply a very funny and clever man. He had just had a knee operation so he had to do the gig sat down but that did not dilute or change anything. In fact I am not sure why more stand ups do not sit down. You can still tell the jokes but use up much less energy. Dara is a great story teller and I am a real sucker for an Irish accent it just makes everything sound slightly cheekier to me. It was a great event with top comics doing what they do best showing off and telling jokes. It was just nice to see some live comedy again.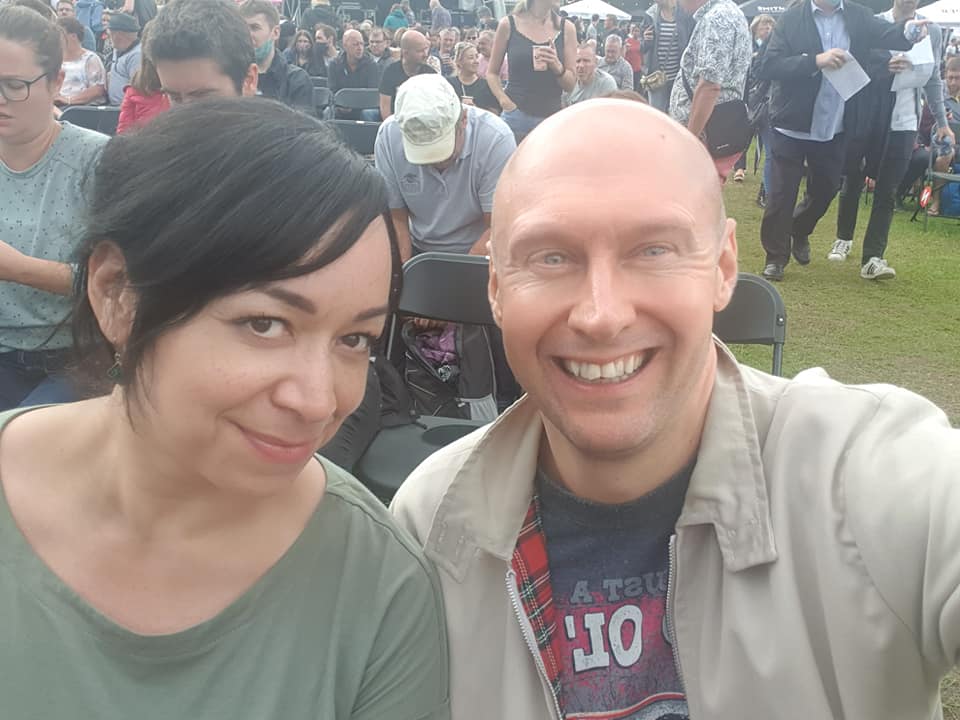 Last Saturday night I returned to the theatre for the first time since I saw Shakespeare's Taming of The Shrew at the Sam Wanamaker Playhouse at The Globe in March 2020. I went to Milton Keynes to see the latest touring version of The Rocky Horror Show. Therefore it is fair to say there was quite the culture gap between my previous and most recent theatre trips. Mind you both of them did involve some odd costumes and at least a few glasses of wine.
Lynda and I went with a group of friends. We booked the tickets for it towards the end of last year in the hope it would be all fine by now. We all agreed that we would dress up for the occasion. This is quite a common thing with this show. Lots of the audience do this for every performance. We were all staying together in Northampton for the night with a minibus booked to transport us to and from the theatre. I had organised two potential costumes but I was struggling to make up my mind which one I should wear.
We all met up about three in the afternoon. The plan was to have a few drinks and then head down to the local pub. I was still not sure which outfit to choose but by this point we had all had a couple of glasses of Prosecco, which may have aided my decision making. We got ready and I decided to go for it and dress up as Frank N Furter. Using the outfit I ordered online from a well-known website with the addition of a green coat I had bought separately. I felt I at least needed to try to preserve some modesty in the pub and on the way there and back.
We arrived at the local pub to strange confused looks from the bar staff. It is fair to say we stuck out a little bit compared to the rest of the customers in there. I had some crisps while everybody else had a meal of some description. I just did not really fancy the gluten free options on the menu there. It was then time to get the minibus to the theatre in Milton Keynes. On arrival there was a bit of a queue to get in as you had to supply a Covid Certificate if you were double jabbed as we all were or a negative test if you had not been vaccinated. I am perfectly fine with this level of checks before entry. Plus now at the theatre more people were dressed up like we were than in the pub!
I have seen the show a few times before although this is the first time that I have dressed up. This production was very good. The whole cast were great. Ore Oduba who won Strictly Come Dancing a few years ago was playing Brad and Phillip Franks who was in The Darling Buds of May as Catherine Zeta-Jones's husband was the Narrator. It was a fun evening. The audience got involved shouting out the long established heckles and we got the chance to dance the Time Warp twice. It was definitely the first time and will probably be the last time that I do it while wearing a corset and stockings!
It is fair to say that Lynda does most of the cooking at the weekend. But a couple of Saturday's ago it was rightly my turn. Now previously when it was my turn to cook I would have just got a takeaway but now I am Coeliac that can be slightly more difficult. I took it all very seriously and decided to test myself and cook a dish that I had never made before. I found one on the gluten free section of the BBC Good Food Guide that I liked the look of and thought that I could do.
I printed it off and took it with me to buy all the ingredients that I needed from my local supermarket. I am not saying that I am not usually that elaborate with my cooking but I did not have anything in that I needed so basically had to buy the whole recipe. I must admit I was a bit nervous about it. She is a great cook and makes amazing food so I did not want my effort to be rubbish. I made Satay Sweet Potato Curry from scratch. I followed the instructions to the letter and served it up with some rice.
Happily if I do say so myself it was very nice. It tasted fine and more or less looked like the picture on the recipe. I am declaring it a total triumph. It did all get eaten and nobody was ill, which I believe does make it a big success. In case you think that has given me the bug for cooking, then think again I am more than happy to wait another six months for my next turn. Anyway for dessert Lynda had made me a gluten free chocolate cake, which tasted amazing and completely blew away my main course. I am perfectly fine with that by the way; you have to love the sweet stuff!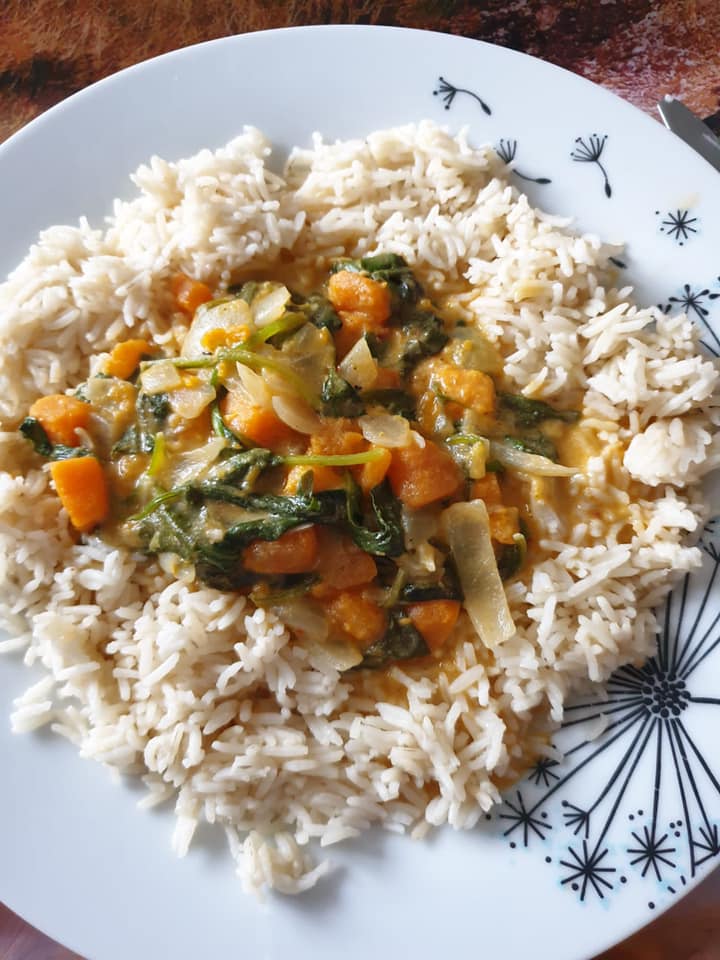 That same night after we had enjoyed my attempt at being Jamie Oliver we had some online tickets for one of the Mischief Theatre Company's Movie Night's. We saw one ages' ago in the middle of the longest lockdown. It was brilliant, so we thought we would watch another one. I am a huge fan of their work and have seen all of their theatre productions except one. And I intend to put that right when it reopens later in the year. I like their style and what they have all achieved together. They have basically taken this brand from the Edinburgh Festival to Broadway. That is sensational and does not happen very often.
The Movie Night show is an improvisation of a film that is performed for a live audience and also for one who watch it at home digitally. It features many of the original members of the group, so they know each other really well and are also comfortable enough to really try to put each other off and mess around a lot. It is all done in a similar style to the Show Stoppers Musicals in that they have a director who can stop and start the action and add in extra elements if they wish to. They also act as the link between the actors and the audience.
It was another fun if not slightly strange performance. They did a Zombie style movie where in the end there was no real hero, which is a little odd for those sorts of films. But it was funny and amusing. I always enjoy their stuff. I have been luckily enough to speak to most of them at the end of their live shows and they all seem like decent people, who just really enjoy what they do. They are still trying to come up with new shows and ideas to keep themselves fresh and fun. That should be applauded. It is nice to see good people doing well but as far as I can tell not letting success change them.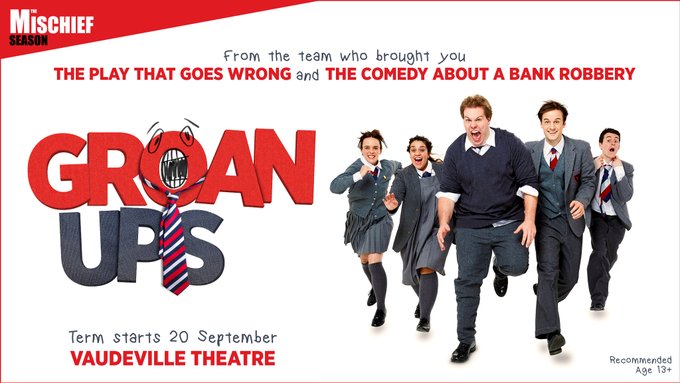 My football team Tottenham Hotspur held an open training session for members at our stadium two weeks ago. I had not been there since February last year, so I decided to go as I thought it might be a good re-introduction to the place. I opted to drive which I have not done to get there before. Parking is not that simple in that area so it did take me quite a while to find somewhere to leave the car. In the end I found a car park via a website called Your Parking Space. It was only about a twenty minute walk from the ground and it was actually reasonably priced, unlike some of the other options that I looked at.
I found the car parking space that was actually in a Tesco. I then popped into said shop to get a protein bar for the walk. I thought I might need the energy just in case Spurs invited me to join in with the training session. I got into the ground using the new digital ticketing system via my phone. It was great but a bit weird to be back there. Most people, myself included were wearing our masks while inside on the concourse. But once we stepped out into the stadium itself we were nicely spread out so it was masks off to enjoy the sun and wait for the players to come out.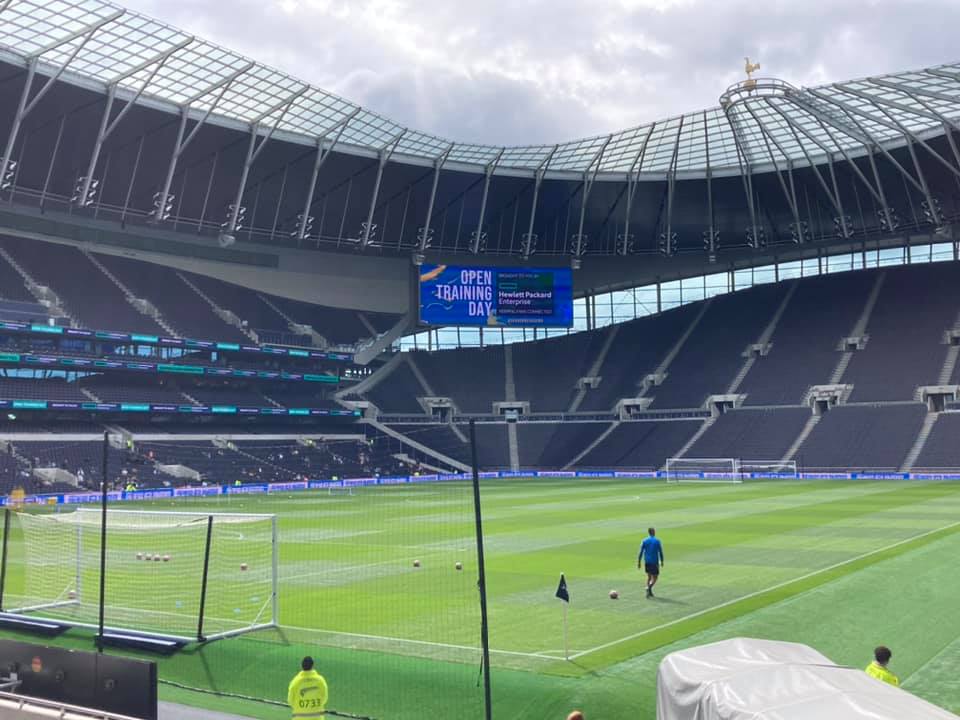 They had the Spurs TV crew there interviewing a few people and explaining how the morning was going to work. Then the squad all appeared ready to be put through their paces by the new boss Nuno Espirito Santo and his coaches. I found it quite interesting seeing the players warm up and watching the drills that they do. They trained for about ninety minutes finishing the session playing seven a side matches on a very small pitch but with full size goals.
They were still working on their fitness of course but most of the exercises seemed to involve a football. That was not always the case during my pre-season days.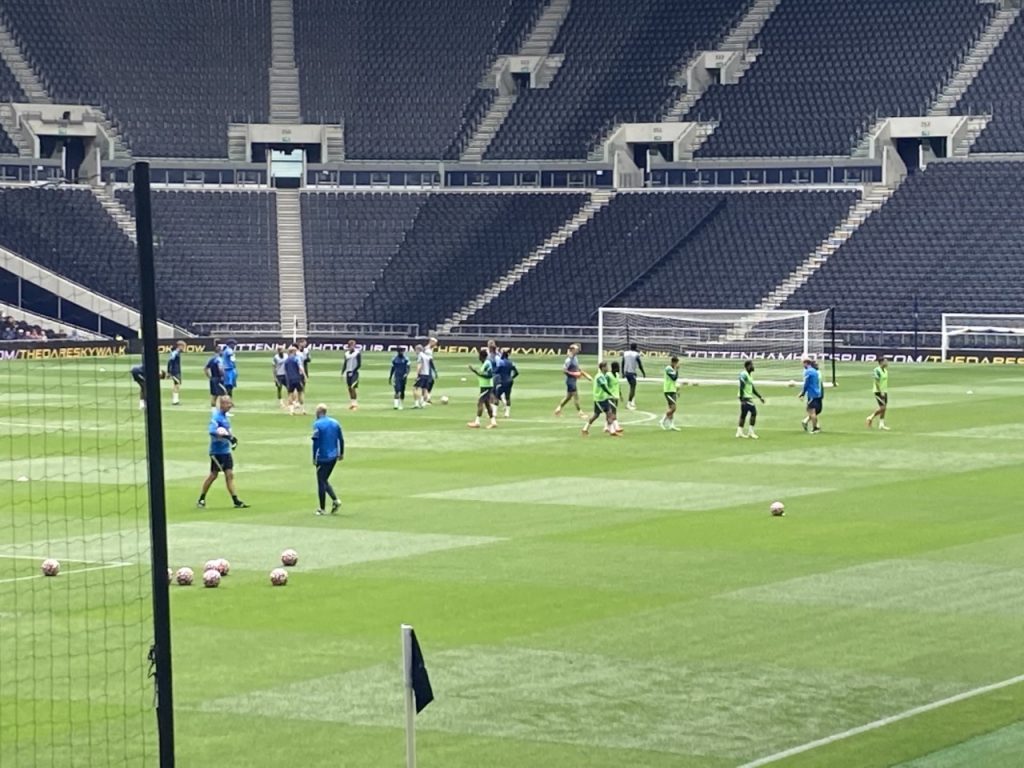 It was great to be back in our magnificent stadium and to see the players in person again. Obviously Harry Kane was not there and he may never be back there in a white shirt. We will just have to wait and see. The event was all done by one in the afternoon. There was only a limited crowd so it felt quite safe and relaxing for me bearing in mind that is the biggest gathering of people I have been with since the restrictions ended.
The big test for me will be tomorrow when our season starts against Manchester City with a capacity crowd. I fear it might feel a bit odd at first but I am sure I will soon become very comfortable with this normal situation once again.
I have no idea how we will fair this season. The two Manchester clubs are going to be hard to beat and as much as it pains me to say it Chelsea are going to be a force in the league, I feel. I still think that the squad we have with a few new additions should have enough about it to challenge for the final Champions League place at least but we will see.
If we can get a good start and get some momentum going that would be nice. That is something we have failed to do for the last three years. As a fan I am looking forward to the excitement, the highs and lows and just being back at matches again cheering on my team. Come on you Spurs!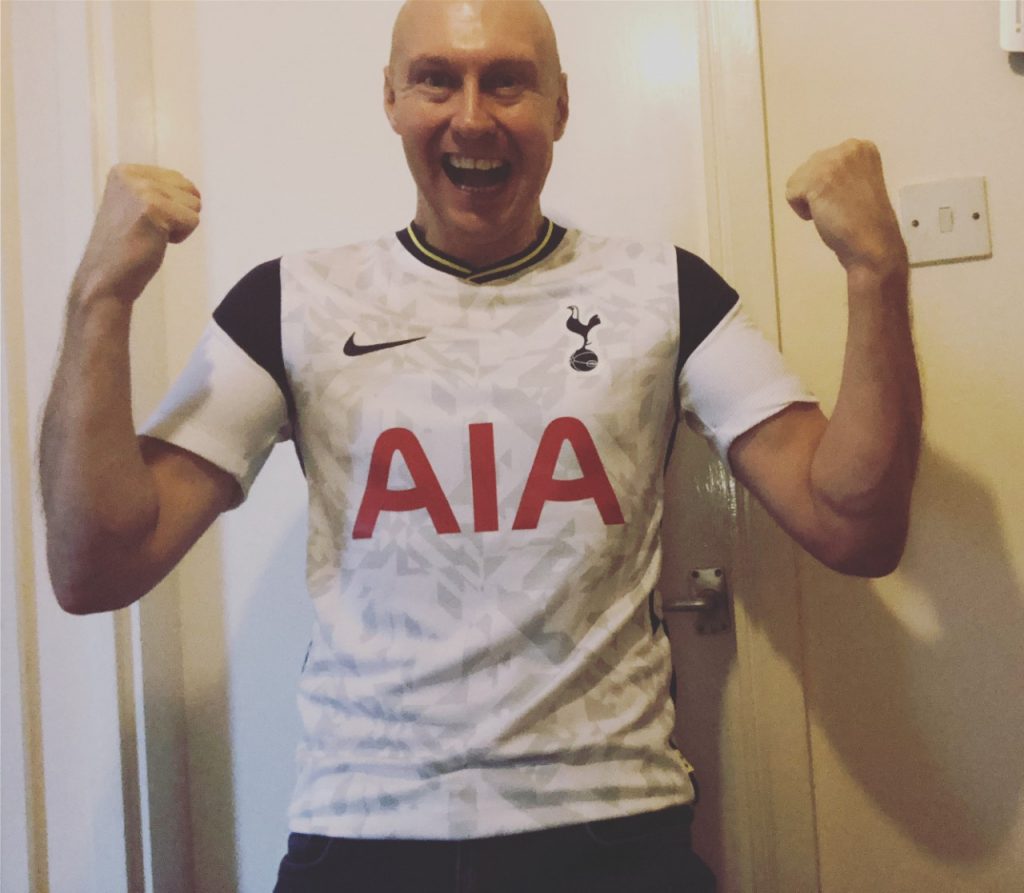 A quick reminder that you can listen to me every Saturday afternoon between 2pm – 4pm on Radio Ninesprings https://www.radioninesprings.co.uk/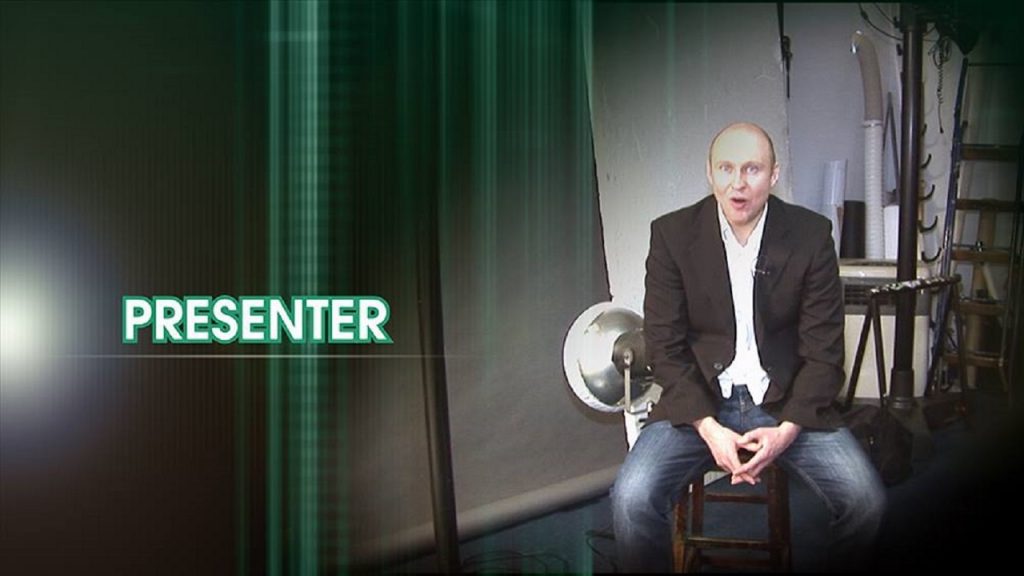 Have fun and we will catch up again soon. Stay safe! Cheers Neil.