Hi there, how are you? Long time no speak. Well for me it has been a bit longer than usual. In updating you on what I have been up to. On here at least. The reason for that is I have just managed to finally do something that I have wanted to do for years. I am a massive fan of the festive period. And I enjoy starting the New Year with my family near by. However January can seem a bit long and cold in the United Kingdom. So I have for a while fancied some Winter sun to kick start the year. And happily I have now achieved this dream.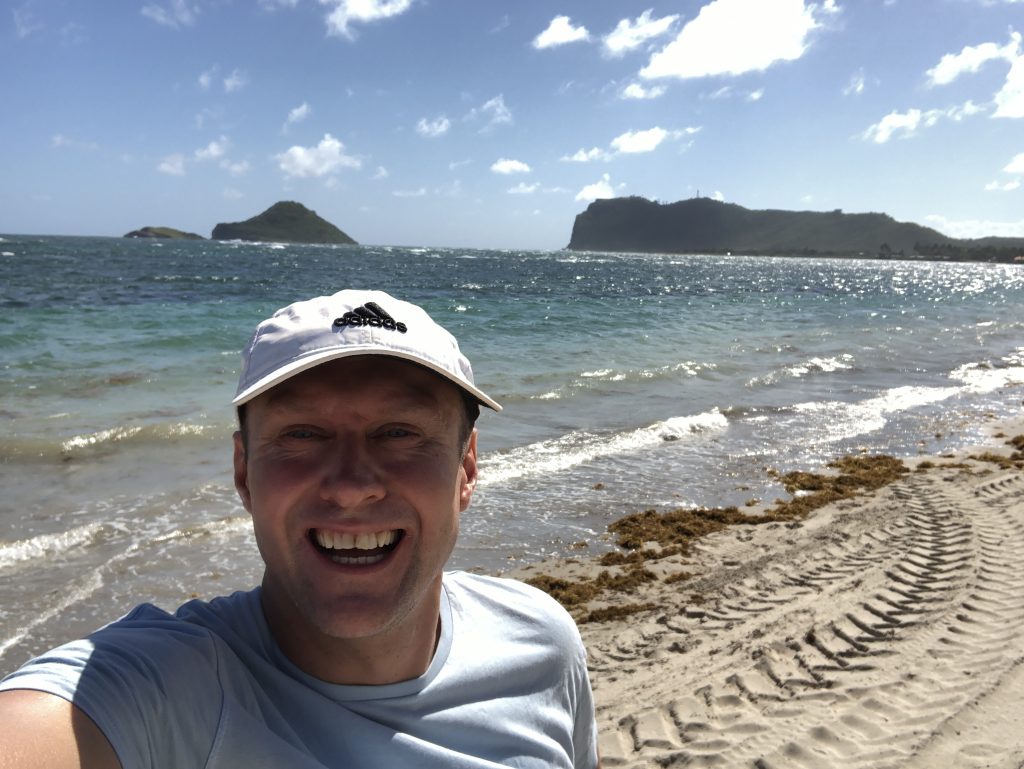 I have just returned from a fantastic holiday in St Lucia. It started the night before the flight. As it was an early departure from Gatwick. I decided to stay at the Premier Inn at the airport. So I would have no morning travel issues or stress. And could literally just stroll across the road to the waiting plane. The hotel was full of fellow travellers. I had a very nice steak and a glass of red wine. Before getting an early night ready for my alarm call in the morning.
I was flying with Virgin Atlantic. For the first time. It was all very well organised and civilised. Their staff were helpful and lovely. The food on board seemed fine to me. And the entertainment system kept me amused. During the long nine hour flight. Through a combination of a Derren Brown Special, Family Guy and the Big Bang Theory. Plus a bit of Bruce Springsteen. Due to the four hour time difference. We landed there at 1.30pm St Lucian time.
Once I was through customs and had collected my luggage. I found the airport transfer supplied by my hotel. The driver took me on the five minute trip to the resort. I have never stayed anywhere closer to the airport. I am also happy to report that owing to the direction of their run way and the small amount of flights. That the planes caused no disruption at all, while I was there. I had opted for the Concierge package. So when I arrived at the hotel that afternoon. Mine was already waiting for me with a rum cocktail. Which was a lovely welcome.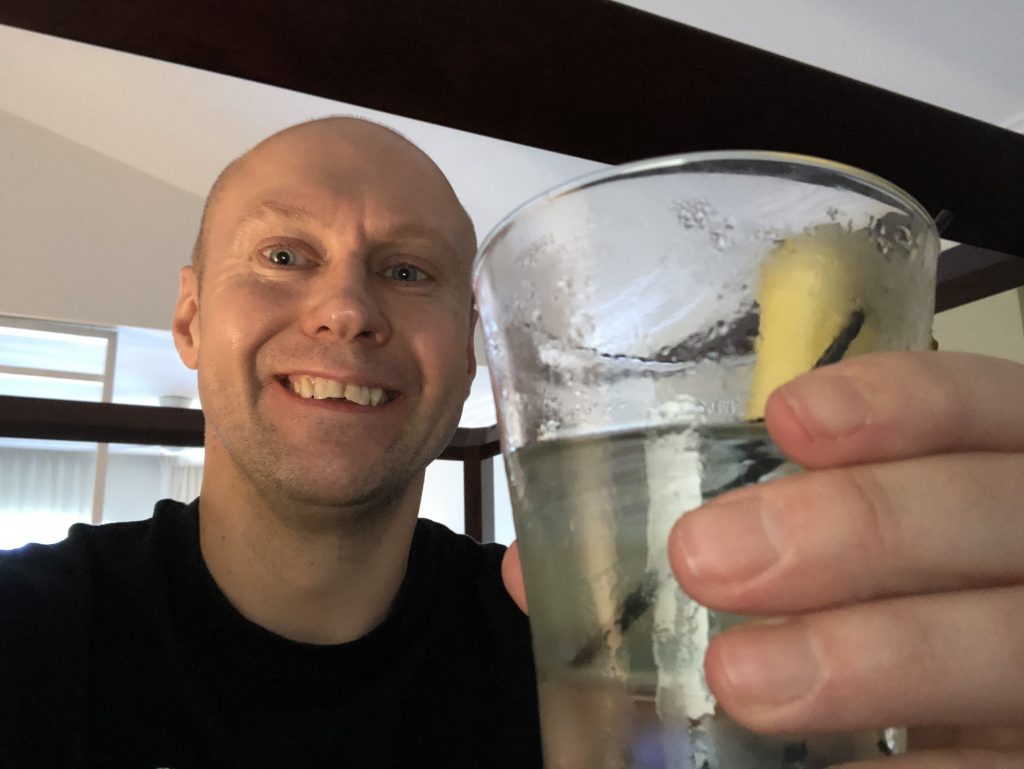 Once I had checked in. She then showed me to my room. Which had an Ocean View from the balcony. Which was brilliant. There was a Swan made out of towels on the bed, flowers all over the bathroom and a fully stocked fridge. Not to mention some welcome chocolate and fruit. I was already thinking I am really going to like this place. It was also sunny and about twenty-eight degrees. Which made it all even better, as far as I was concerned.
I put my shorts on and then went for a look around the place. It was an all inclusive hotel. That sat on eighty five acres of land. It had its own private beach area. There were two pools and a water park on the family side and two adult pools on the adult only side. Which is where I was staying. It is called Harmony. The resort itself is called Coconut Bay. I also had a walk down the beach that first afternoon. To check out my surroundings and try to get my bearings of the place. That was to be my home for the next ten nights.
They have a main eating area where you can get Breakfast, Lunch and Dinner in a buffet style. With a huge selection of different food options at every meal time. They also have four restaurants. Where you can eat in the evening, if you book. Luckily as part of my deal. I had a reservation made for me each night at one of these eateries. So I got to enjoy a three course meal with waiter/waitress service. Every night that I was there. The food was to a very high standard. I had some delicious meals.
In case you needed a snack during the day. They also had a Jerk Food Tree House and a burger place called Flip Flops. There were bars all over the place. Including a swim up bar, a sports bay, lobby bar, pool bar and a lounge bar. There was even a bar by the sunbathing area on the beach. Where ever you were it was easy to order yourself a drink. All the bars were under the all inclusive deal. You could order anything you liked beer, cocktails, wine or shorts. They made some really tasty cocktails. Many of which I had never heard of or never tried before.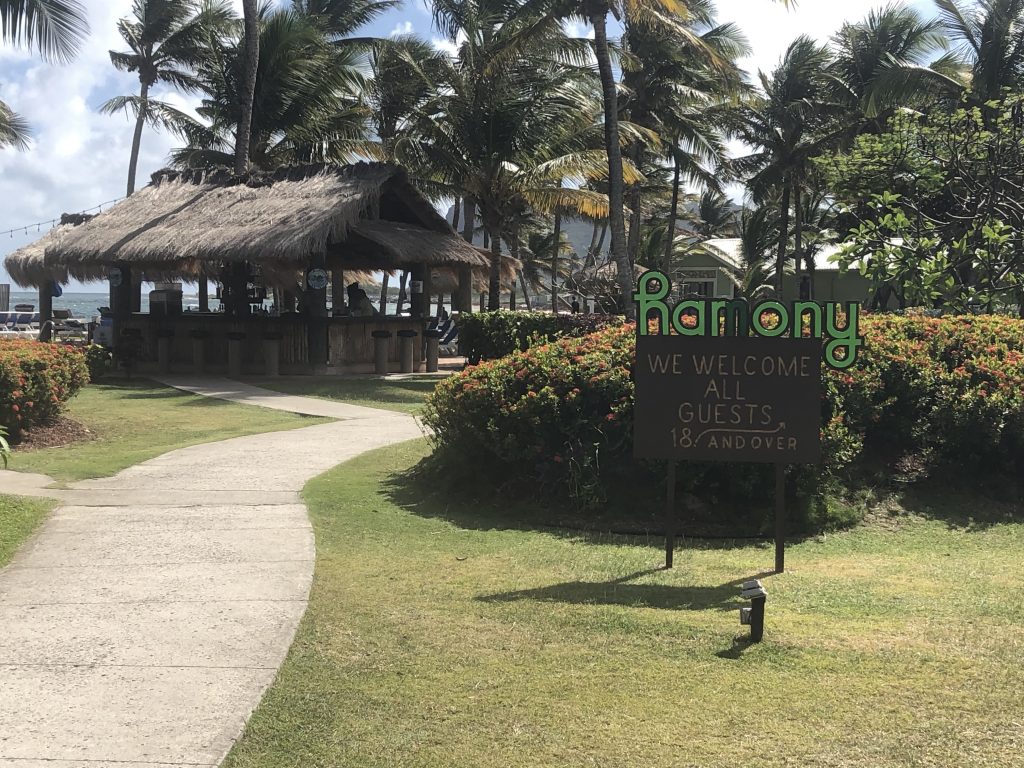 It was so relaxing. The weather was amazing. The staff were great. Fun friendly and helpful. I made the most of sunbathing on the beach and by the pool. Most of the other guests were American, Canadian and also British. I met and got talking to some lovely and fascinating people. The atmosphere of the whole place was perfect. I tried out all the bars and restaurants on offer. In one of the adult pools. There was a big hot tub. Which I found was a great place to be in as the sun went down. It was also a decent place to chat to and meet people in, strangely. We had conversations in there about every subject you can imagine.
There was nightly entertainment. Either poolside or at one of the various bars. This included a Caribbean Night, a Country Hoe Down Night, Karaoke, Jazz and lots of different live bands playing at all the various stages. They have there. Then in the lounge bar every night. There were sing-a-longs around a piano, solo performers and always a disco until 1am. When the bars all closed. Which after a whole day of drink on tap anytime you want it. Was more than late enough for me.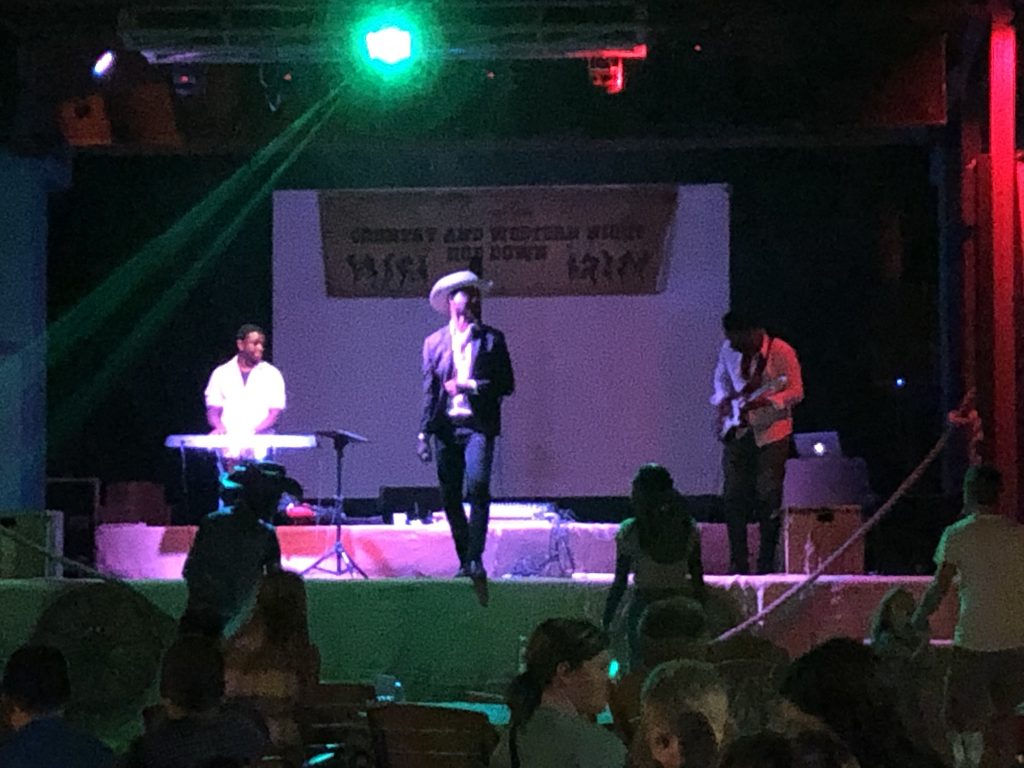 While I was lying on the beach one day. I noticed they were doing some horse rides along it. I am a big fan of horse racing. However I had never been on a horse before. I therefore decided this was the place and now was the time to put this right. I booked up for the ride for later in the week. I had been keen to at least experience being on a horse for a while. But the opportunity had never arisen. Until then.
The guy taking the tour met me in the hotel reception. After literally signing my life away. He led me to where the horses were tied. Just stopping to collect a towel along the way. I did explain to him that I had not ridden before. But he was confident I would be fine. After I had my helmet on. I was introduced to my horse Big Orange. They appear to have a Ronseal approach to naming their animals. It is exactly, as it says on the tin. Luckily there were steps available to get on the horse.
I somehow managed to swing my leg over to get in the saddle. Which was a bit harder than I thought it would be. Once I was on board. He showed me how to hold the reins. Then how to sit in the saddle and how to position my feet in the stirrups. It is fair to say I was not the most natural rider. I was not overly confident. My plan was simply not to fall off.
We set off down the beach. The guide had to keep reminding me how to hold the reins correctly, control the horse and make him move forward. I was going too slow at one point. He told me not to worry, as he would not run. Unless I got to far behind him. Hearing this news. I managed to get my horse to go a bit faster and close up the gap.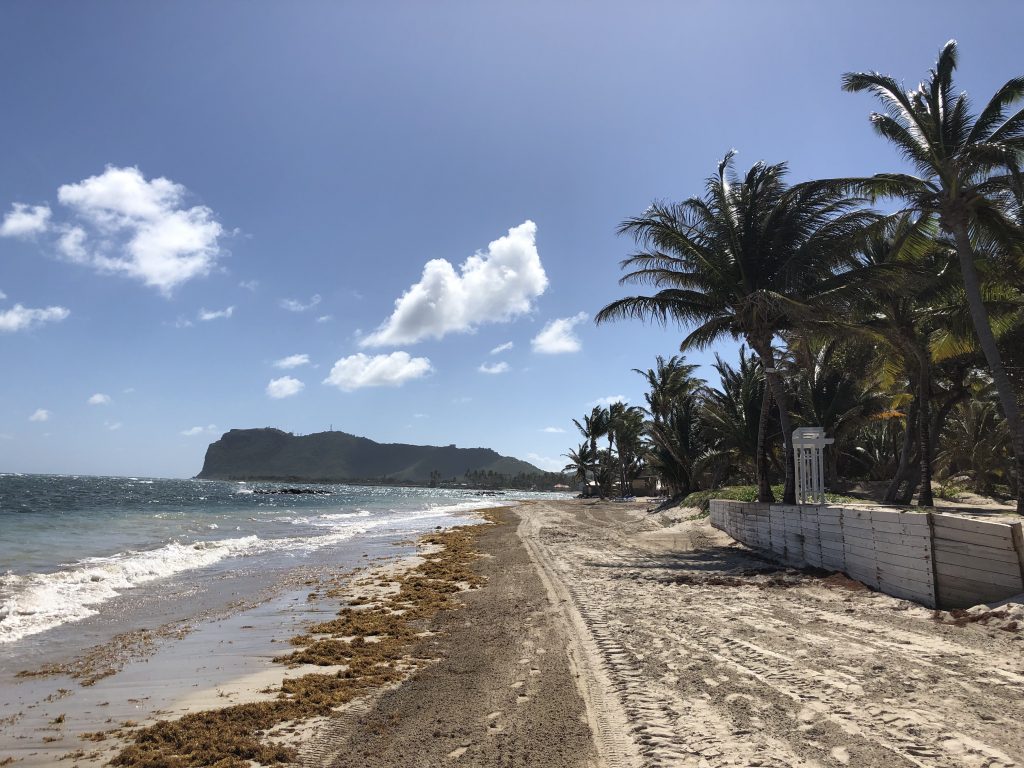 I had just about got things under control on the flat beach. When suddenly we had to walk up a bank up in to a woodland area. That raised my heart rate a little. But I stayed in the saddle. We then got to the half way point. And stopped for a bit, so the horses could have a snack. We then made our way back. Which of course included us having to go back down that bank. As we came to the final stretch on the way back. I was starting to feel a bit more at ease. And almost in control.
We got back. And after a few pictures. It was time for me to get off Big Orange. It is very fair to say there was no Frankie Dettori flying dismount. The step was back out. And I just about managed to swing my leg over again. It was a really enjoyable experience. I would like to go horse riding again at some point in the future. It was good fun. No way I want to do any obstacles yet though. All jump jockeys must be mad. I will stick to just watching the races.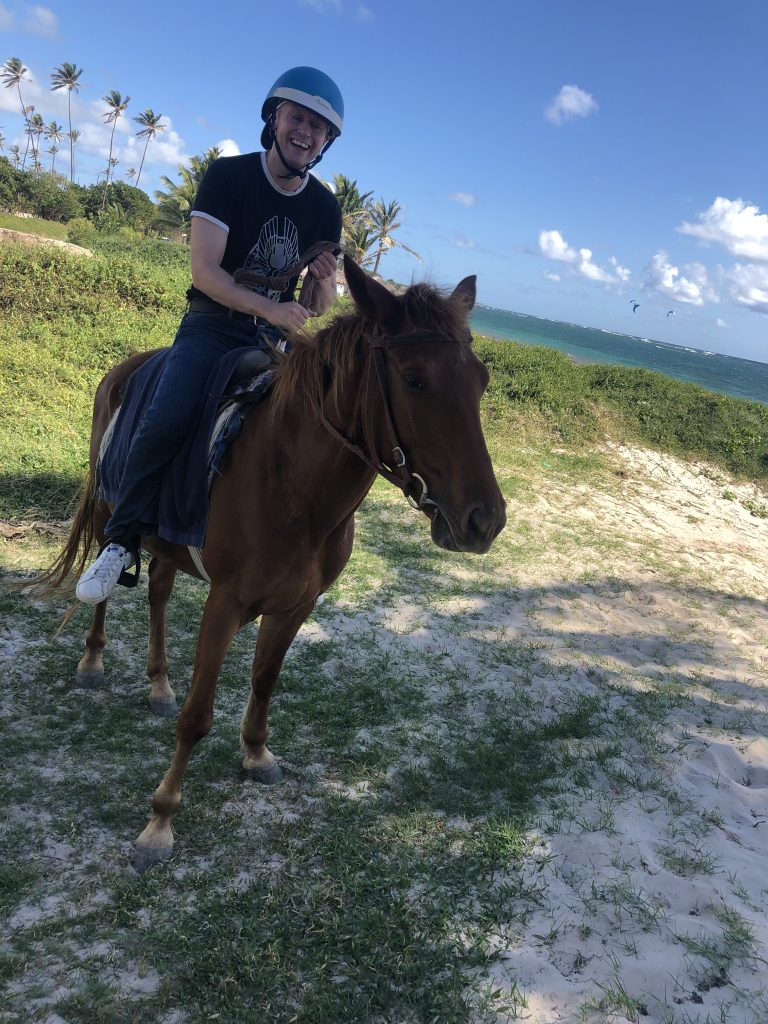 The only other tour that I did while I was there was a sailing and snorkelling excursion. It was towards the end of my holiday. As I realised I had not left the resort. And should probably at least try to see a bit of the island. While I was there. It began with a short twelve minute drive to a near by fishing village. Where we caught the boat. It was then an hour trip around the coast.
The hotel I was staying at was on the Atlantic Ocean side. Which currently has a really big issue with seaweed. Meaning it is tough to paddle and swim in the sea there. We were however heading to Caribbean Sea. Which has no such problems.
On the boat ride there. We sailed past the Pitons. Which are two Volcanic Mountains near the town of Soufriere. They have been a world heritage site since 2004. And they do look spectacular. Our first stop was the white sands of Sugar Beach. They have a marine conservation site. Which was the first Snorkelling area on the tour.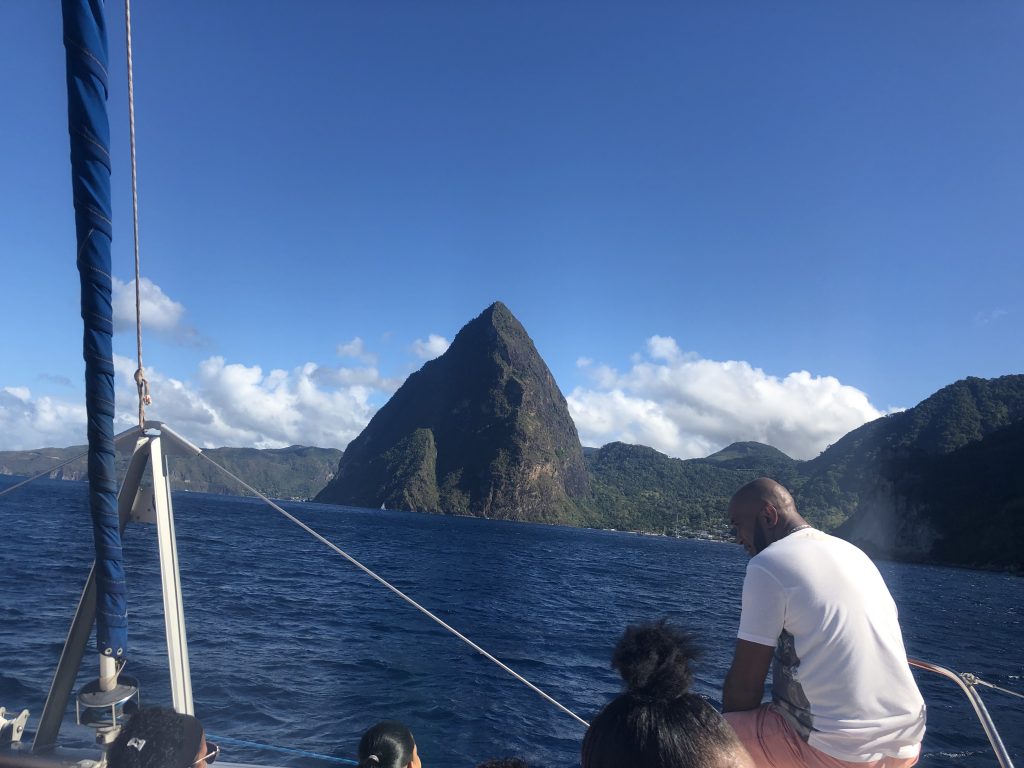 I had never snorkelled before. As it turns out I am not very good at it. I struggled with the flippers. The mask I could use alright, But I had some issues with the tube you breathe through. The main one being the amount of salty sea water I kept drinking through it.
I managed to do it for a bit. And did see a few colourful tropical fish. But I did not make it as far as some people and see as much as I could have. It does mean though I can say I have swam in the Caribbean Sea. It was lovely and warm plus so clear and blue.
We then had a twenty minute boat ride to our next stop. A little bit further round the coast. I decided not to Snorkel this time .As I really could not take in anymore sea water. So I just chilled out on the boat. And watched everybody else. Next it was back to a port. From where we were then driven back to the hotel. It was nice to get out and see some of St Lucia. The towns, houses, plantations and countryside. I am glad I ventured out. And saw what I did.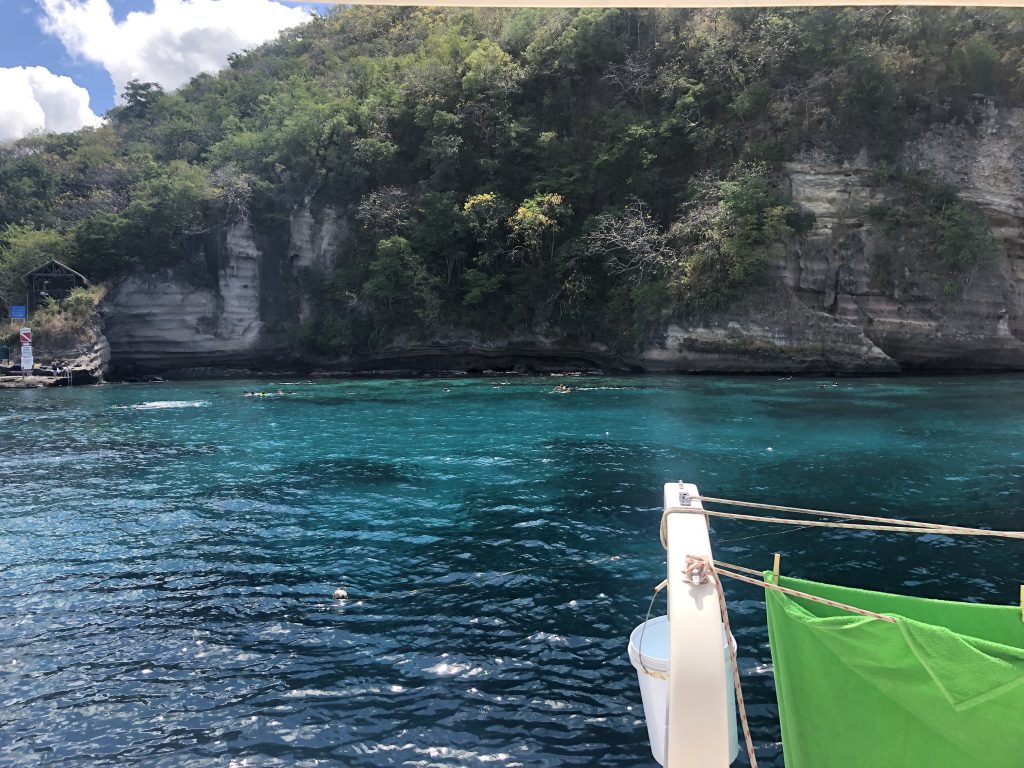 There was a Spa where I was staying. I thought I would treat myself to a full body massage. I had one years ago and found it very relaxing so I decided I was due another one. They are a bit odd and awkward. As you are fully naked for it. But you are under towels and blankets. So the key bits of you are not on display. Shall we say.
It was really nice. The lady doing it was very good. She seemed to have very strong fingers and thumbs. I will give her that. Because it was right by the sea. You could hear the waves lapping the shore during it. Which I found made it even more relaxing. They even do you fingers and toes. It was fifty minutes long. I enjoyed it. Although this one was a holiday treat. I think I might to to have them a little bit more regularly during the next year. It really helped my muscles.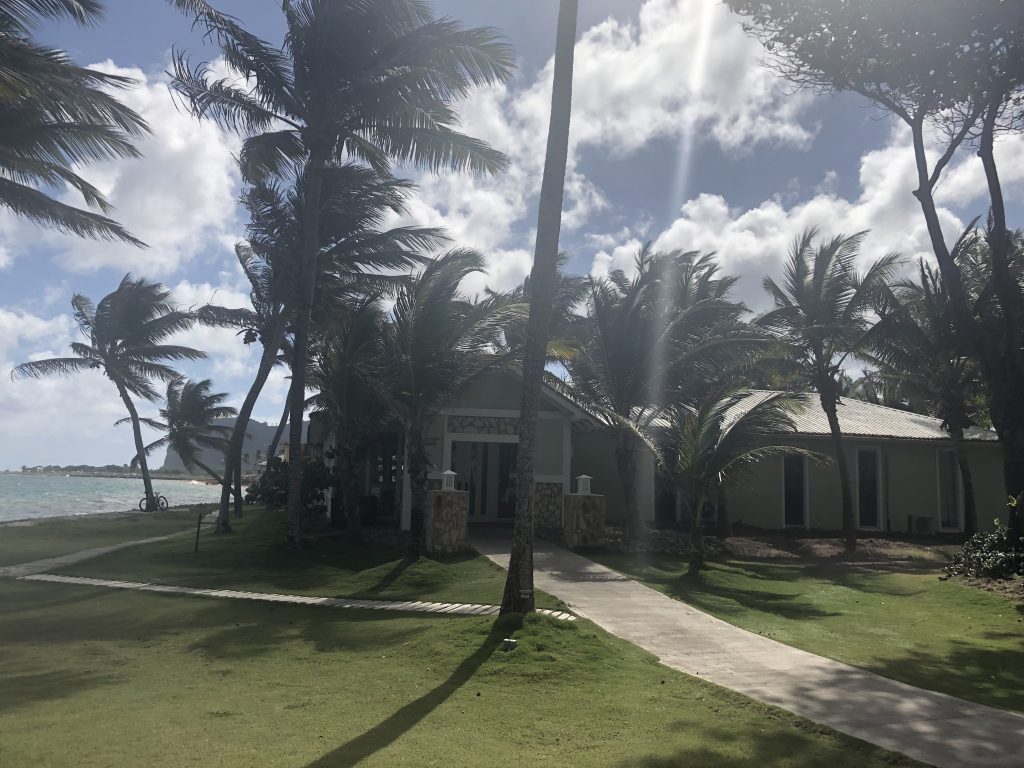 I was invited to the Managers Cocktail Party. There were drinks and finger food on offer. I got to meet and have a quick chat with the man himself. Which was nice. While I was there I also won a prize in the free draw, they did. I bagged myself $100 of resort credit. While it is all inclusive. Any Tours or Spa treatments get added on to your room for payment. When you check out. Therefore this was a very useful bonus. That I was happy to acquire.
On my last day I was all packed and just having a final beer. Before it was time to head to the airport. When I got a text message from my airline Virgin Atlantic. Telling me that my flight had been cancelled. And that I would now be flying home the following morning. To cut a long story short. This meant I ended up staying an extra night. Then heading to the airport early the following morning. Which as I am sure you can imagine was terrible.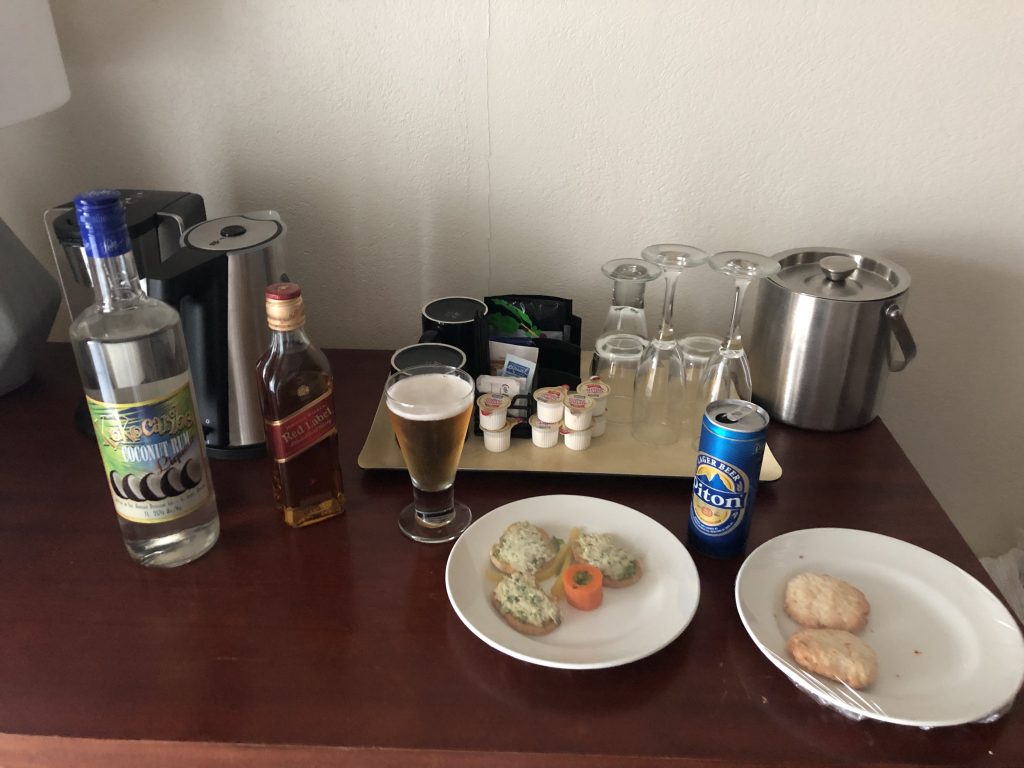 On the plane journey back to England. I watched the Star Wars Han Solo Story. I must admit I only normally watch the official episodes. Despite being a huge fan of the franchise. That said I am a big fan of the character. Which made me want to check it out.
I liked it. That may have been because it featured Tie Fighters, Chewbacca, the Millennium Falcon and lots of nods to and plot explanations for the original film Star Wars. Which is actually technically episode four. Anyway I am glad I watched it. I thought it was pretty good.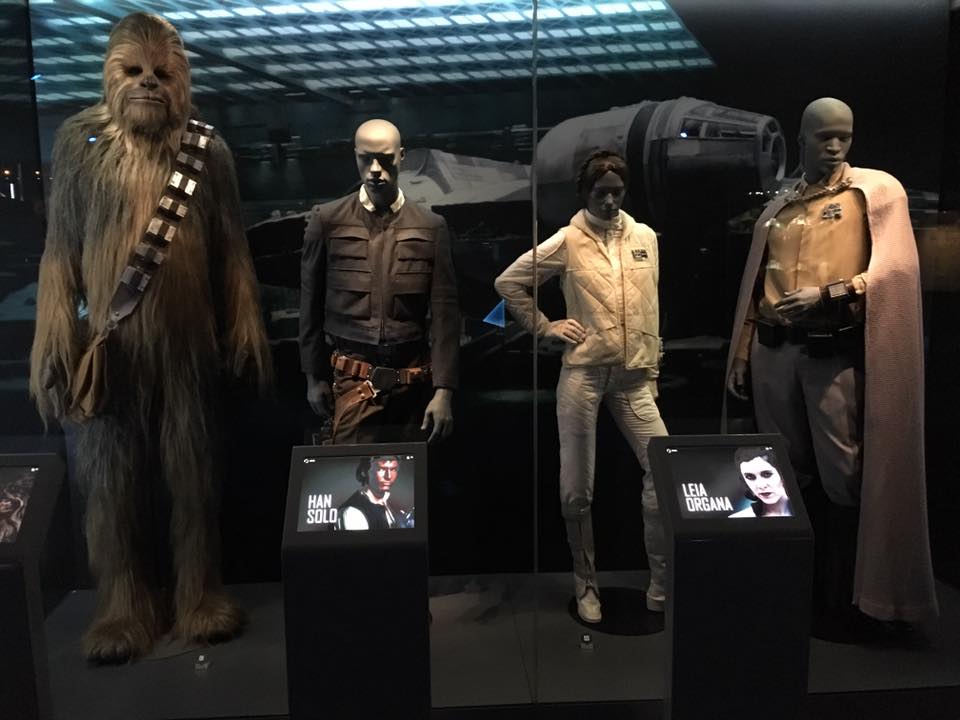 I had an absolutely wonderful time staying in a Harmony Concierge Ocean View Room at the Coconut Resort and Spa in St Lucia. The place just has everything you need, right there for you. The staff are great. I even got to watch all the Tottenham Hotspur games in their Sports Bar.
I would very much like to thank the marvellous Paula at Red Route Travel for suggesting and then booking this trip for me. Excellent, friendly and professional service, Not least when advising me what to do when my flight home was then cancelled. I am tanned, relaxed and now ready for 2019. Bring it on!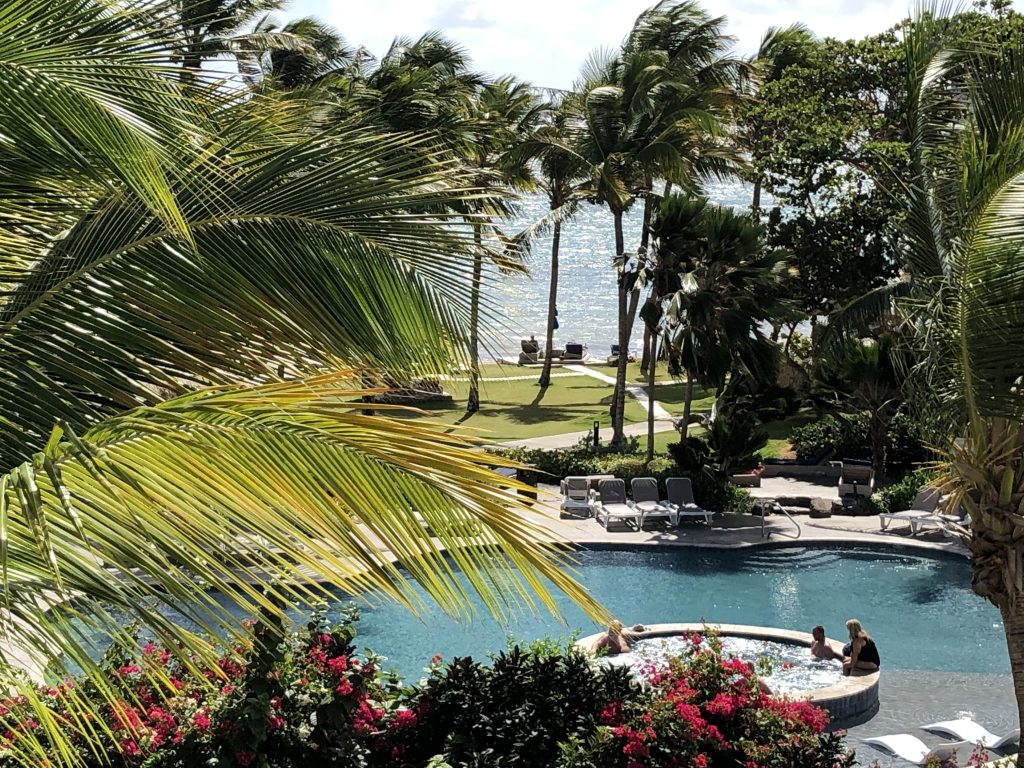 Have fun and we will catch up again in a couple of weeks. Cheers Neil