Hello again. After a brilliant two days in Nashville. It was time to climb in to the trusty black Ford Fiesta, set the GPS and head to Memphis. It should have been a fairly simple two hour drive. But there was an accident on the interstate. Which caused massive delays and meant the journey took about five hours in the end.
I was getting used to driving on the two or three lane interstate roads. But once you hit the City. There are five lanes, traffic flying everywhere and you need to be in the right lane. I was still finding this pretty terrifying. So I was actually quite relieved when I turned on to Elvis Presley Boulevard and saw the hotel ahead of us on the left.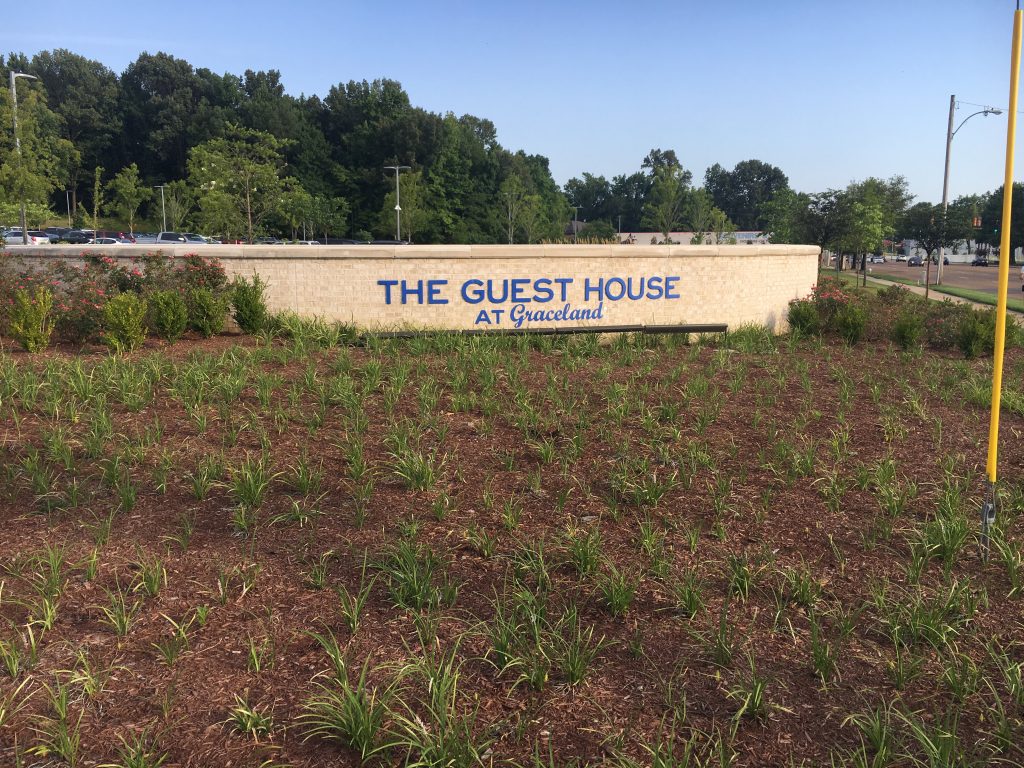 I am a big Elvis fan. I will often spend whole evenings listening to his music and watching live performances of his amazing stage show's. I am friends with a couple of brilliant Elvis Impersonators. Who I have seen perform and enjoyed countless times. Therefore the main point of going to Memphis was to see Graceland. Which for me meant the only place to stay was The Guest House At Graceland.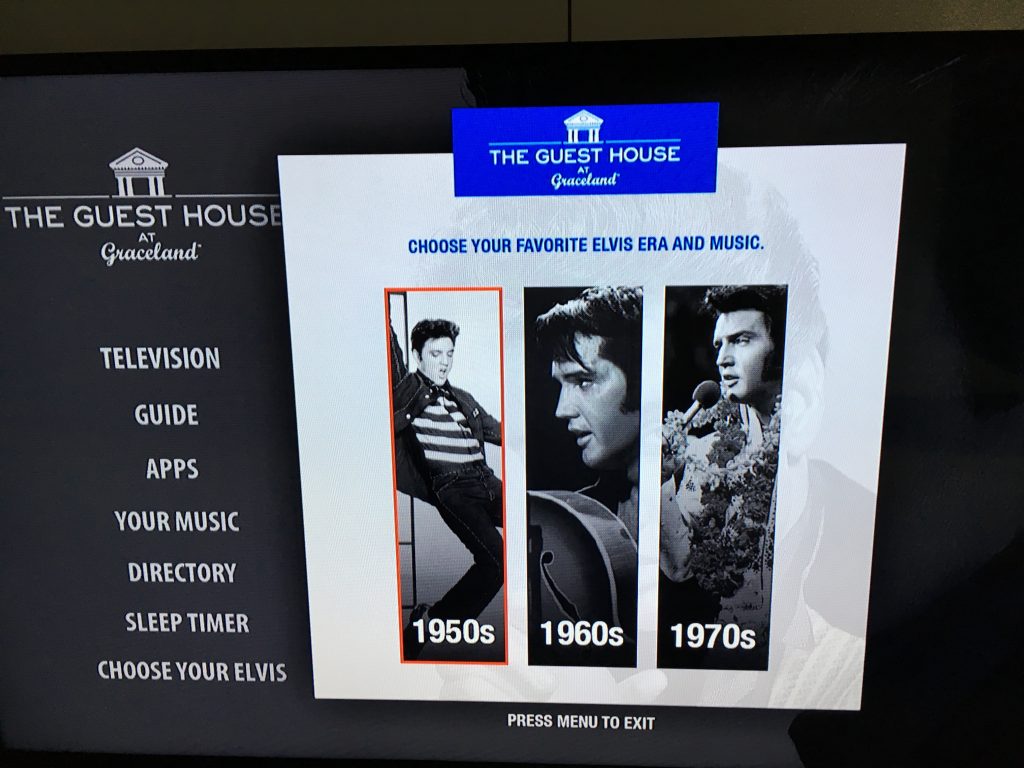 The hotel opened a few years ago. It was built and designed by the people from Graceland. Even Priscilla Presley had some input in to styling the place. So it had the feel of Elvis about it. It looks a very impressive sight. When you pull in to the car park. There are a few nods to the actual house. The familiar looking pillars by the main entrance. And the steps between level two and the ground floor. Which are a replica of the staircase in "The King's" home.
There are also lots of other nice touches. Like the great man's music playing everywhere you go. A picture depicting him in each room. A dedicated TV channel. Even down to the naming of the restaurants, the design of the furniture. And the fact that Elvis liked more than one shower head in his showers. Let me tell you the double headed showers in the bathrooms are amazing. I now really want one at home.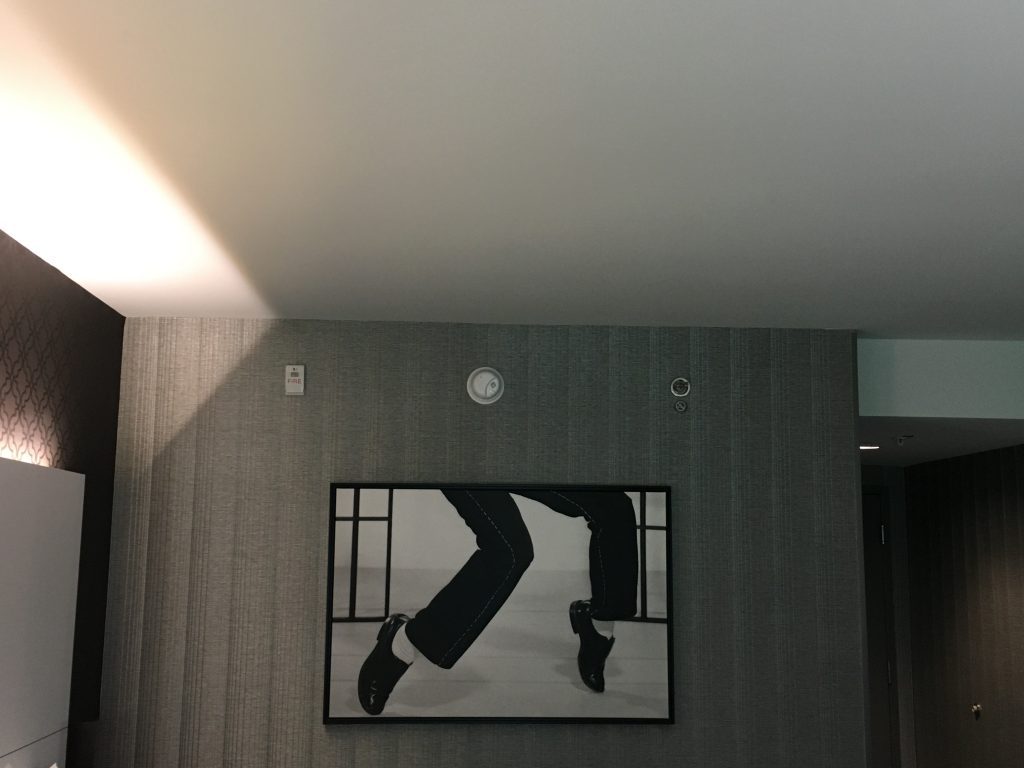 After the long drive I was pretty tired. So we thought we would just have a relaxing evening at the hotel. Mainly because I had already pre-booked a Graceland Tour for the following day. While I was still in England. I wanted be fresh for that. And I was too excited to want to do anything else. There are lots of services provided by the hotel. Which means for food and entertainment, you do not need to go out at all.
That first evening we ate at EP's Diner. Which is, as it sounds just a traditional American Diner. The whole menu looked great. But one thing stood out for me. I had to try the Memphis Burger, because it sounded amazing. And I can confirm that it was. The size of the thing and the portion of accompanying fries were epic. I know it is cliched but the American's do really love their food. A great meal with ace service.
They have a movie theatre on site. Which shows an Elvis film every night. While we were staying there and waiting to see his house. We thought it was only fitting to catch that night's film. Which was Blue Hawaii. We even managed to get hold of some popcorn. Thanks to a very kind lady. Who was only meant to be giving it to the children.
It has the song "Can't Help Falling In Love" in it. Elvis often used to close his concerts with this. And as he never did an encore. Would often be in his car driving away from the venue before his band had finished playing it. Hence the announcement "Elvis has now left the building". At the end of his gigs.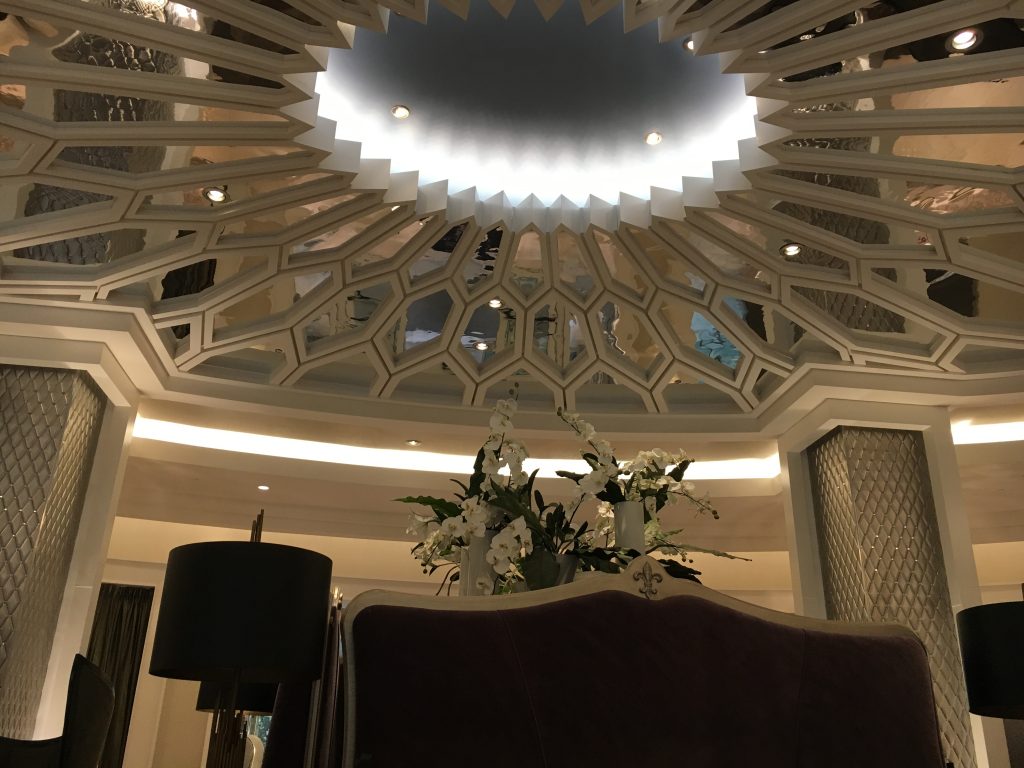 Every night they also have live music in the bar area. Once the film had ended. We went and enjoyed that. As you can imagine they only select great acts to play there. So the bloke singing was brilliant. As in Nashville, it is still very hot at night in Memphis. They have a nice garden area. That over looks the outdoor pool and hot tub. I ended the night enjoying a glass of red wine in the heat. Taking in the view. Which was extremely relaxing.
The next day I leapt out of bed and jumped right in the two headed shower to get myself ready to visit Graceland. The focal point of the whole trip for me. And the thing that I had been looking forward to the most.
As this was probably a once in a life time chance to do this, I went big. I booked the Ultimate VIP Tour. Which as previously mentioned. I was very excited about. Although it is only about a seven minute walk from the Guest House to Graceland itself. We decided to take the free shuttle bus from the hotel straight there.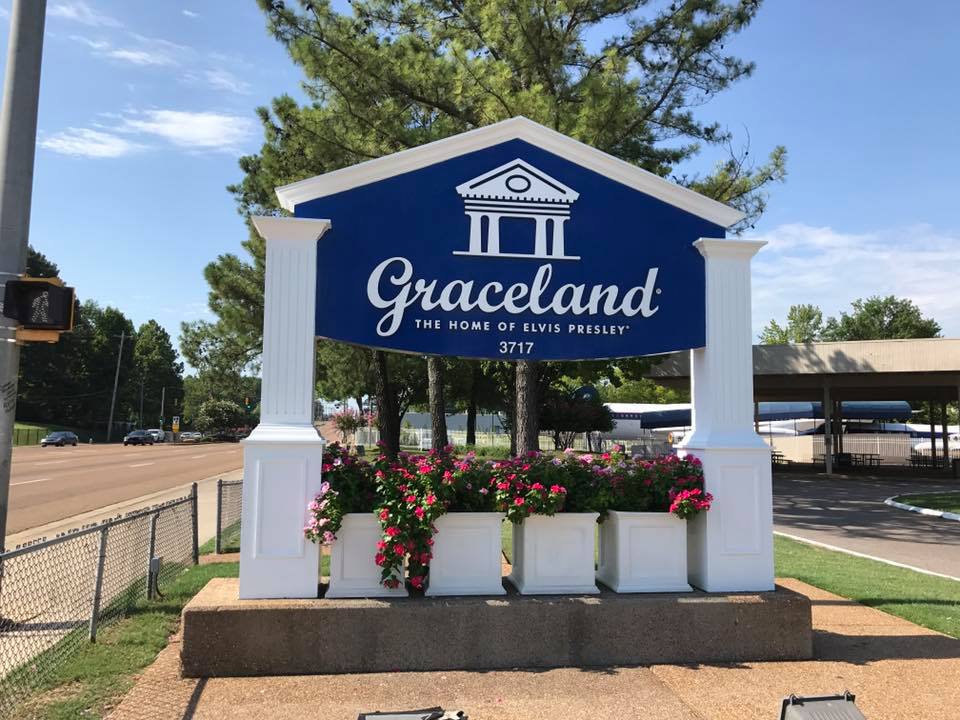 You get taken to the Visitor Centre at first. I found the desk where I needed to sign in for my tour. Collected my pass. And was told where I needed to be at what time ready to start it. There is a maximum of eight people on the Ultimate VIP Tour. And you get a tour guide, who will be with you for a total of four hours.
Right on time Sheila our tour guide appeared. And we were off. We were going straight to the house itself first. There is a bus that takes you across the road from the visitor centre to the famous building. It was a brilliant moment when those iconic gates opened inwards and we drove up the drive way.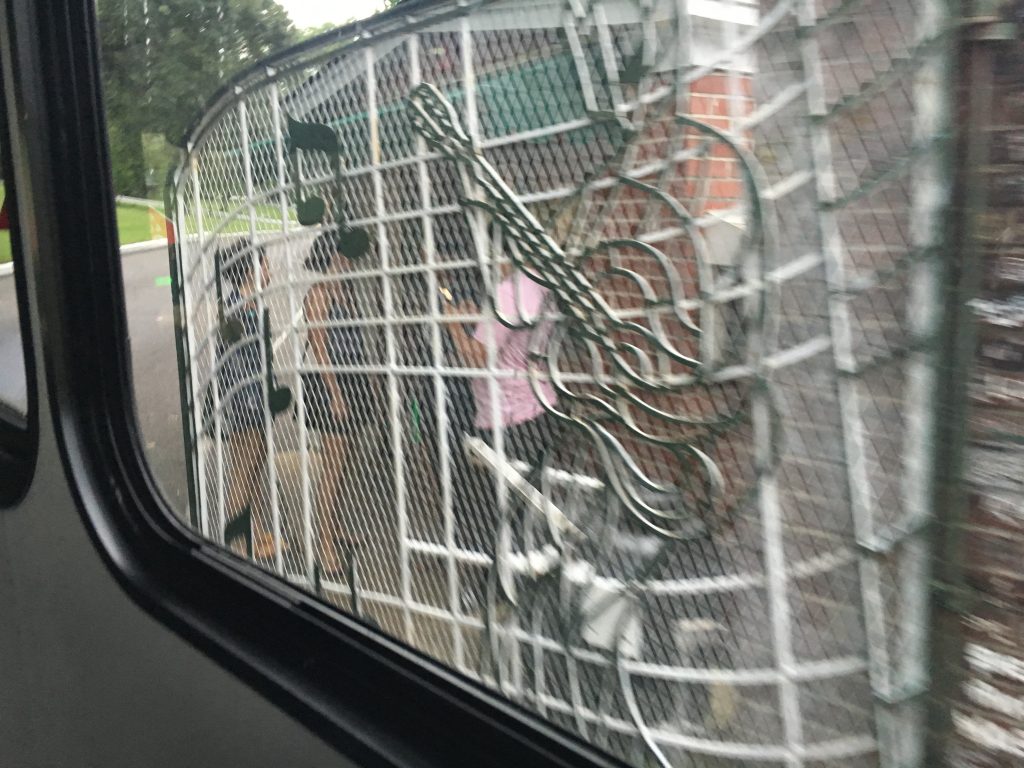 The first thing that struck me approaching the house is that it was dressed for Christmas. And there was fake snow on the ground. It turns out that they are currently filming a "Graceland at Christmas" programme for the Hallmark Channel. Which they are doing during the evenings and night. When the attraction is closed to the public.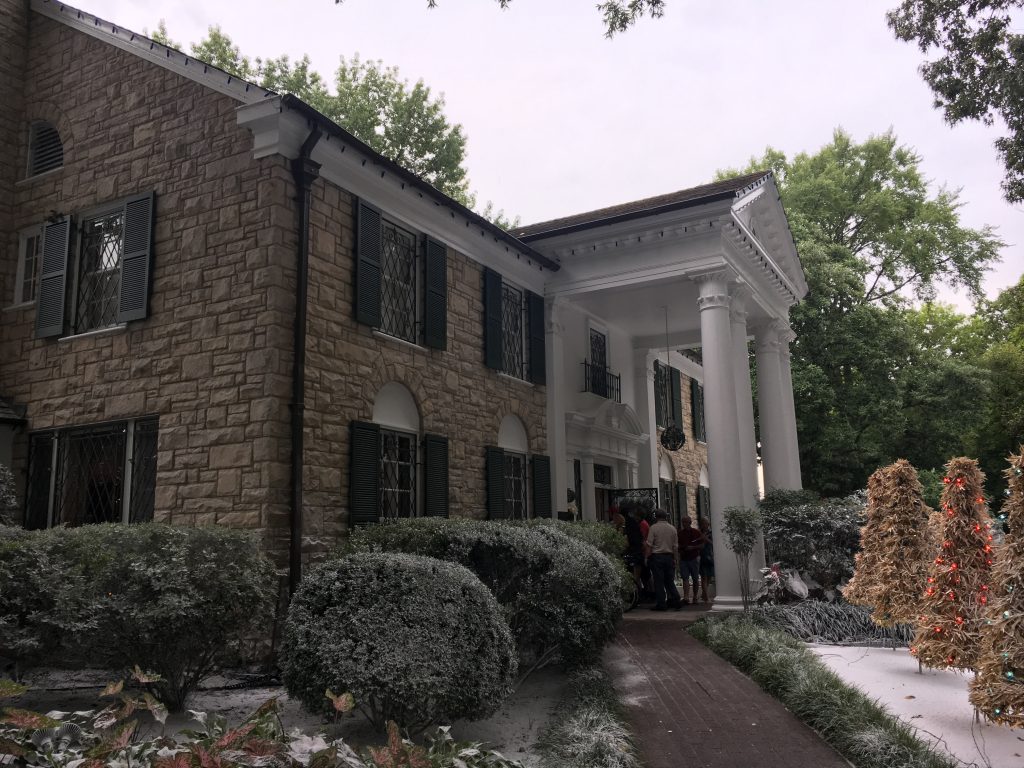 Then before I knew it. I was standing by those imposing white pillars and making my way through Elvis's front door. The doors are all left open but all the rooms are roped off. Members of the public are not allowed upstairs. But you can see the famous staircase and look in pretty much all the other rooms. Each of the rooms is so individual and has its own look and feel. Elvis himself was heavily involved with the design of every room. It was very much his home.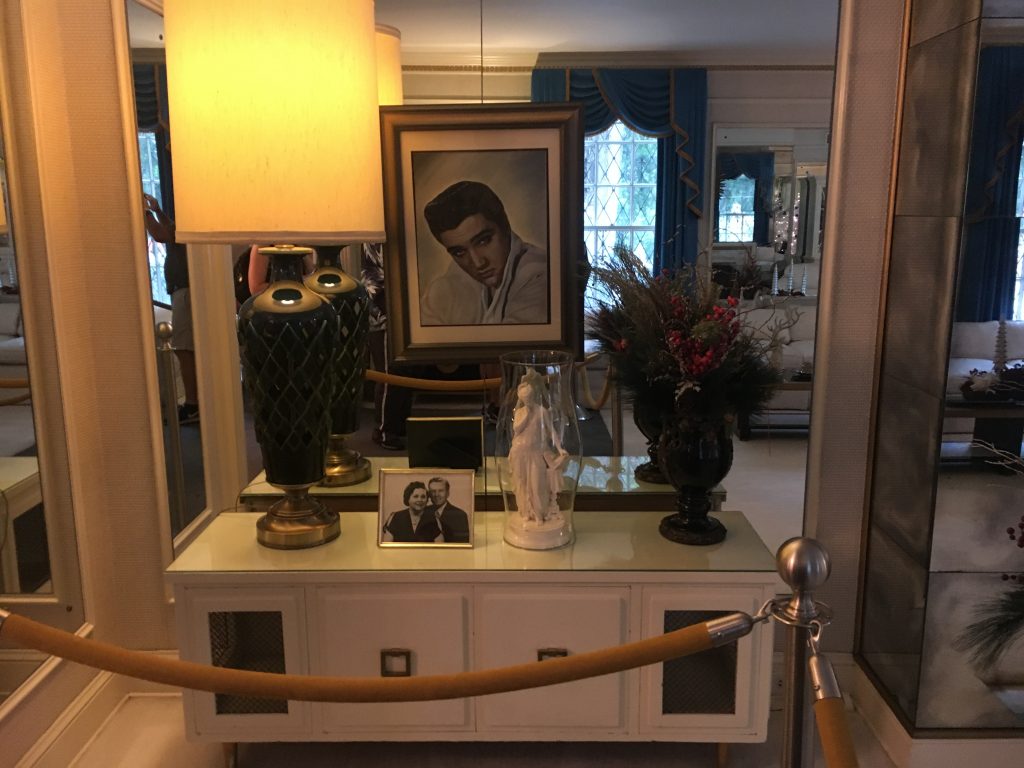 He had everything you would want in a house. A music room, games room, television room, bar area and that cool, odd enchanting room. That is the Jungle Room. Although Elvis never called it that himself. It was influenced by Hawaii. As he loved it there and wanted to style the room around the Island. It was only after the press saw it. That they christened it the Jungle Room. It really does have a cool vibe to it. I would say it was probably my favourite room in the house.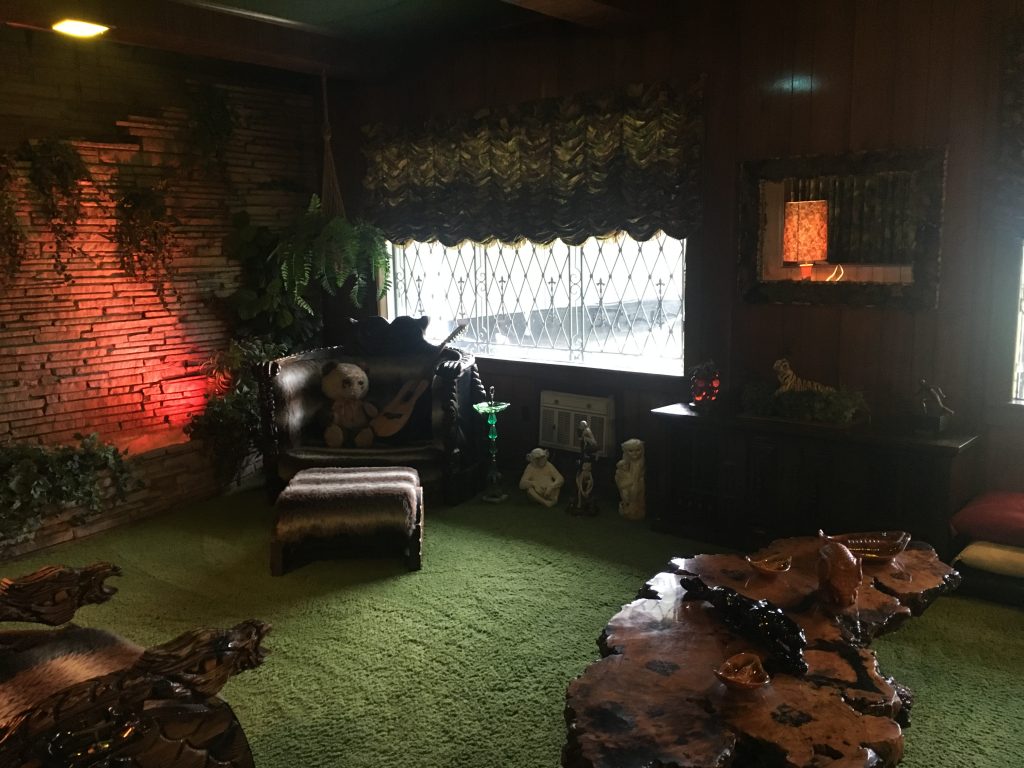 I mentioned the TV room. Elvis loved his phones and TV's. He had one in every room and in most of his cars. In the TV room there are several televisions in a row. He got the idea after seeing a clip of the then President. At home watching many different news programmes at the same time.
Except Elvis used his bank of them to watch lots of different American Football games at the same time. He liked his NFL. Graceland had its own touch football team. Which he made himself the Quarter back of. Well nobody was going to argue were they? It was his team. Plus he was an eighth Dan Black Belt in two separate martial arts.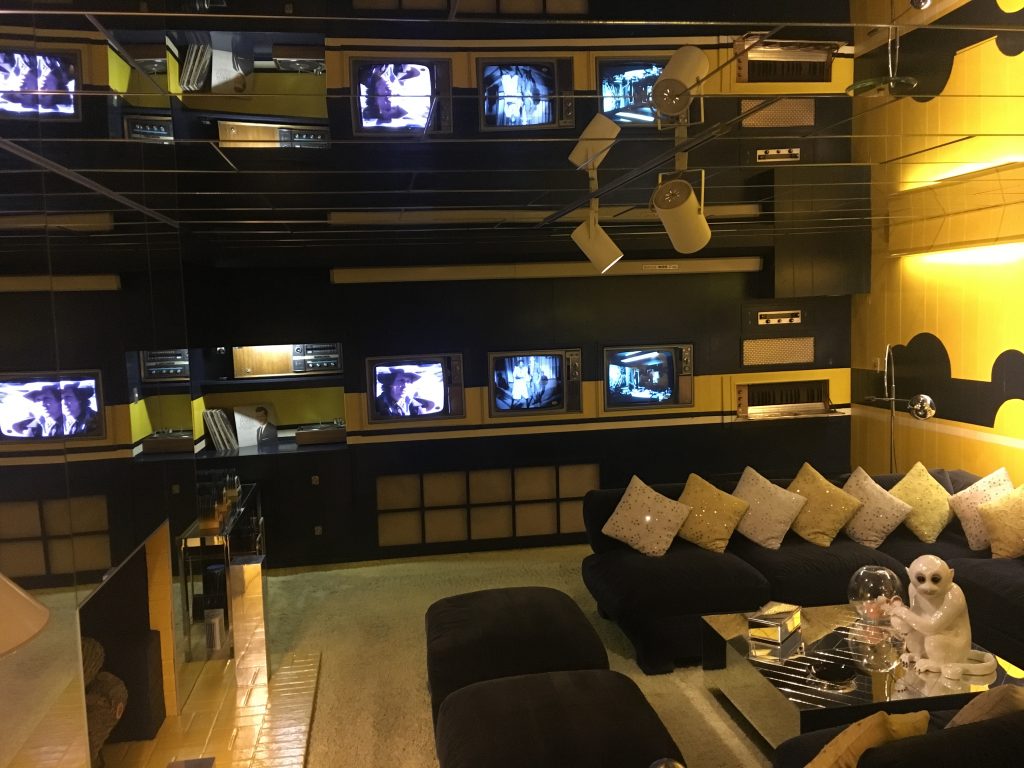 It was odd but amazing being in his house. Getting a feel of how he relaxed in his free time and lived. We left the main house and went through the Car Port to an outhouse. Which was his dad Vernon's office.
When Elvis bought Graceland he moved in with his mum, dad and auntie. I get the impression there were always lots of people at home with him. Vernon used to pay all the bills. And look after the financial side of home life from his office. It is also the place where Elvis did his first television interview after he left the army.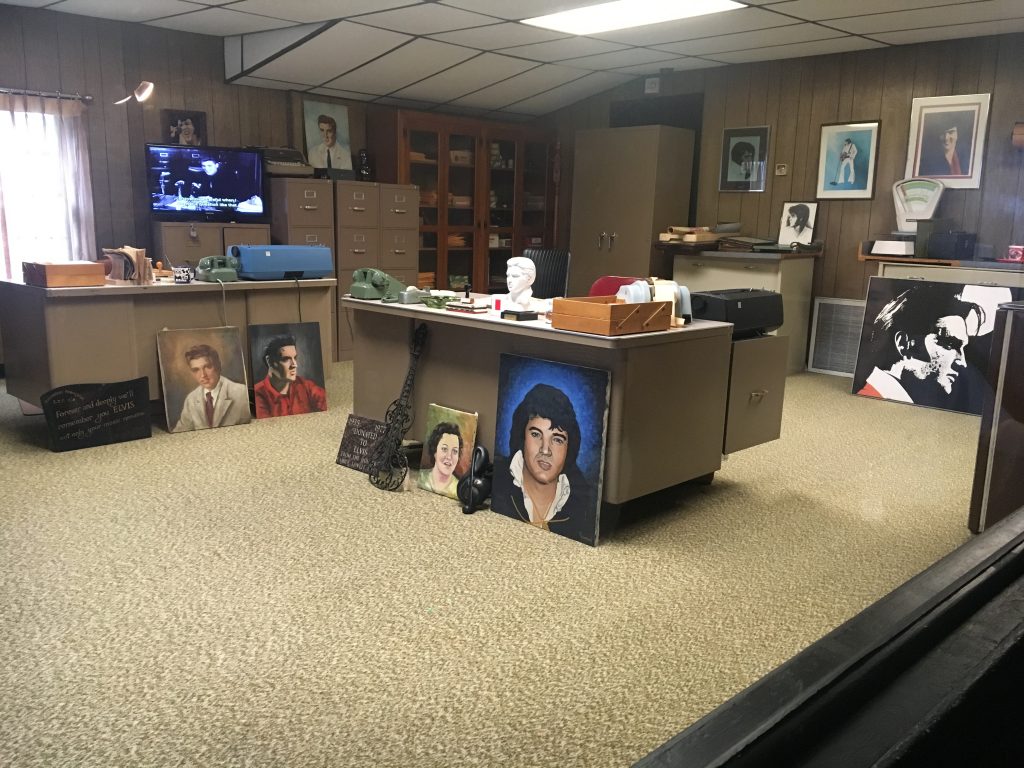 Next to the office. There is the smoke house. Elvis turned it in to a shooting range. He did like his fire arms and had several hand guns. As you head out from there you see his paddock. Where he kept the horses he rode. There is another building back towards the house where he used to keep his concert outfits and gold discs. This is now used as a mini museum containing some memories of his life.
You walk out of that room past the swimming pool. Then as you continue up the path. You come to the Memorial Garden. Where he is buried alongside his mum, dad and auntie. They is also a plaque for his stillborn twin brother. It is really a poignant and reflective place. It was strange seeing his gravestone. But lovely that he is still at the home. Where he enjoyed some of his happiest times. I had a nice quiet moment there by myself before moving on.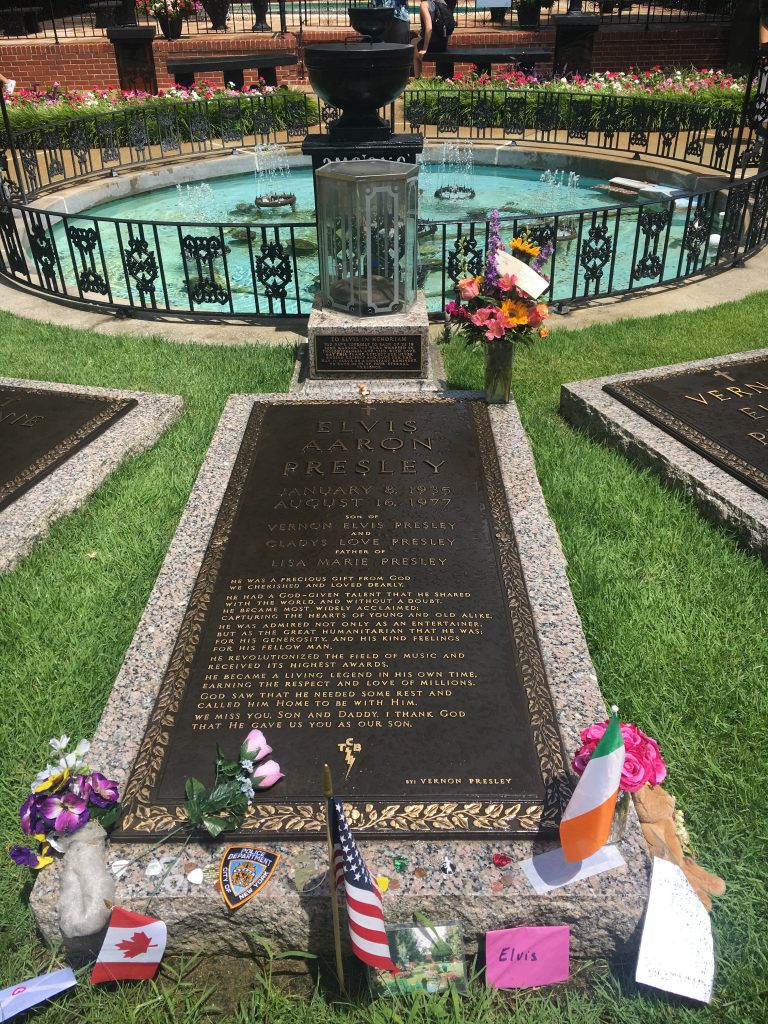 We then returned to the front of the house to get the bus back to the visitor centre. We were then taken around his car museum. He did like his motors and owned some very impressive vehicles. From here we moved on to his concert year's section. With many of those famous jump suits out on display.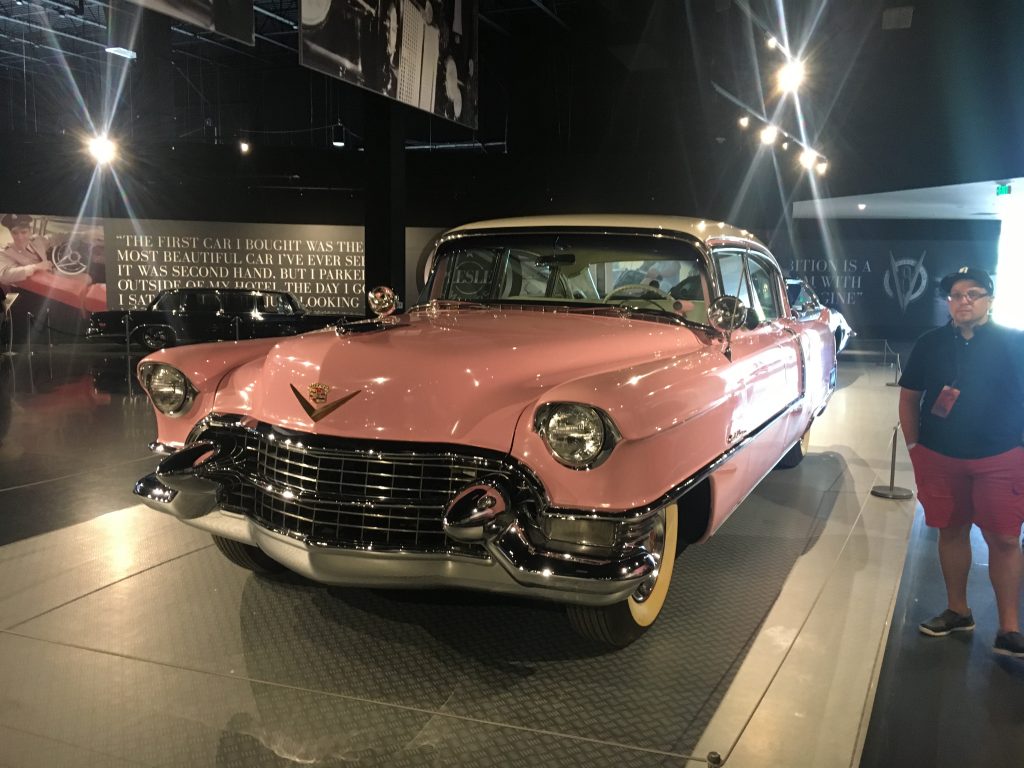 There is currently an exhibition there called inspired by Elvis. Which features items from singers. He either influenced with his music or with his style. These include Bruce Springsteen, Buddy Holly and Justin Timberlake to mention just a few. There are so many cool items to look at right the way through the place.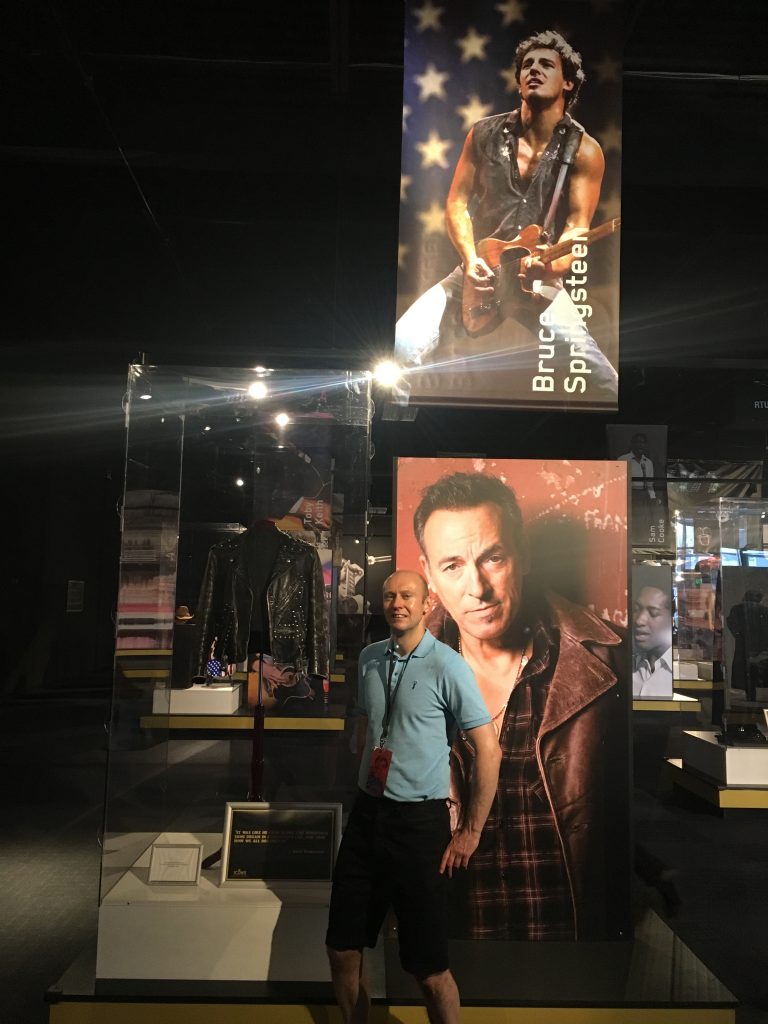 One of the extra things you get on the Ultimate VIP Tour. Is to actually hold something that belonged to Elvis. At the end of the tour. We were taken to a private area. We were each given a pair of white cotton gloves to wear. And then we got to hold and have our picture taken with one of his own personal microphones. Which I have to be honest was pretty awesome.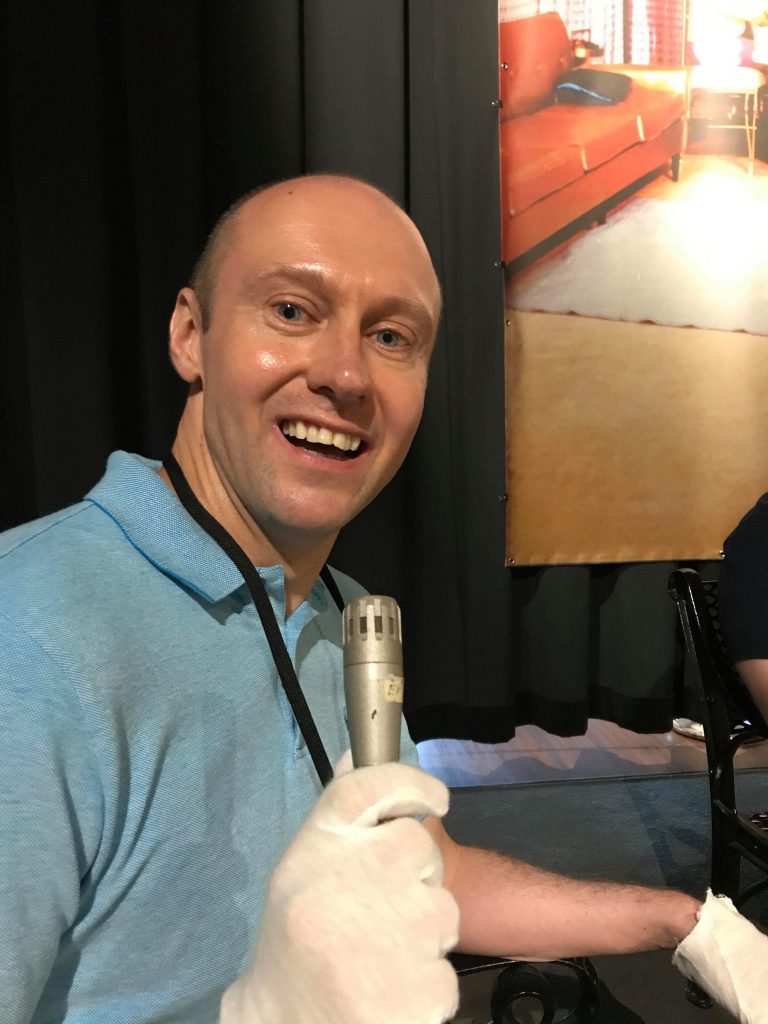 This was where we said goodbye to our excellent guide Shelia. Next we claimed our free lunch at Vernon's Place. Luckily by this point we had made friends with an American guy called Chance. As eating at fast food places in the States. Can be a mine field. Unless you have somebody to talk you through ordering sides to go with your main. With his help we managed it. I must say the pulled pork and BBQ sauce in this place was sensational.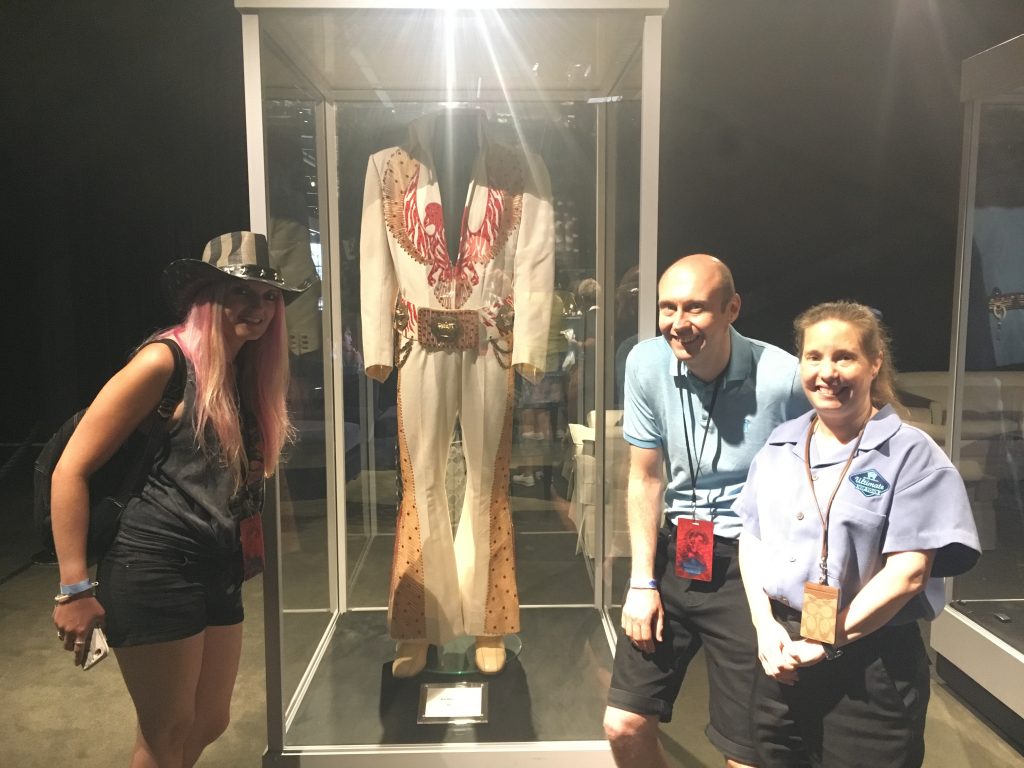 The package we bought meant that we had access to the whole site all day. After lunch we went back and looked through a few more of the exhibits that we had missed. Including taking a look at his plane display. He had two. A Boeing Jet which he named Lisa Marie after his daughter. Which was fantastic. It had a dressing room, a dining table, a bathroom. Elvis even had his own bedroom on it. I would love to travel everywhere in that plane. So cool.
He also owned a smaller jet. He used the Lisa Marie when on tour. And tended to use the smaller one for personal use during his down time. When he was doing big tours in America. His manager Colonel Parker would normally fly ahead in the jet to set up the next venue. Then Elvis and the rest of the band would follow on later aboard the Lisa Marie. You do get to step on and look around both of the planes.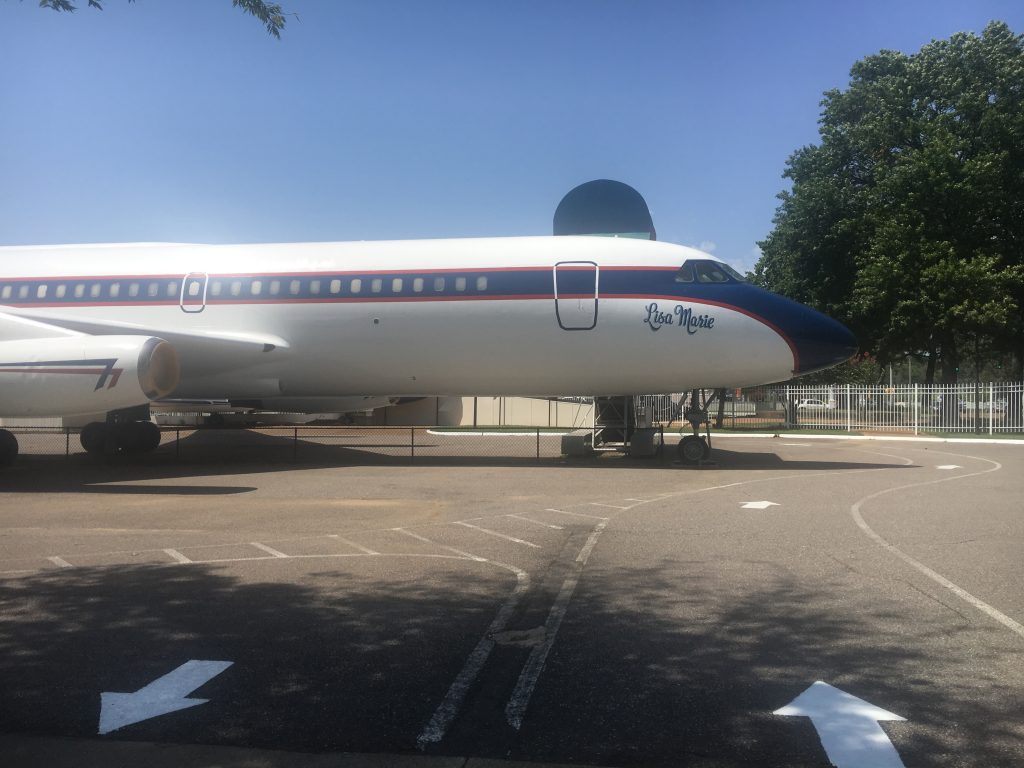 We then went back over the road to have our second look around the house. This time on our own. This meant we could spend a little more time in each room and take a few more pictures. And drink in a bit more of the atmosphere. Now that we were more familiar with the place. I am glad we went back to go round again. It gave me the chance to fully appreciate it a bit more the second time.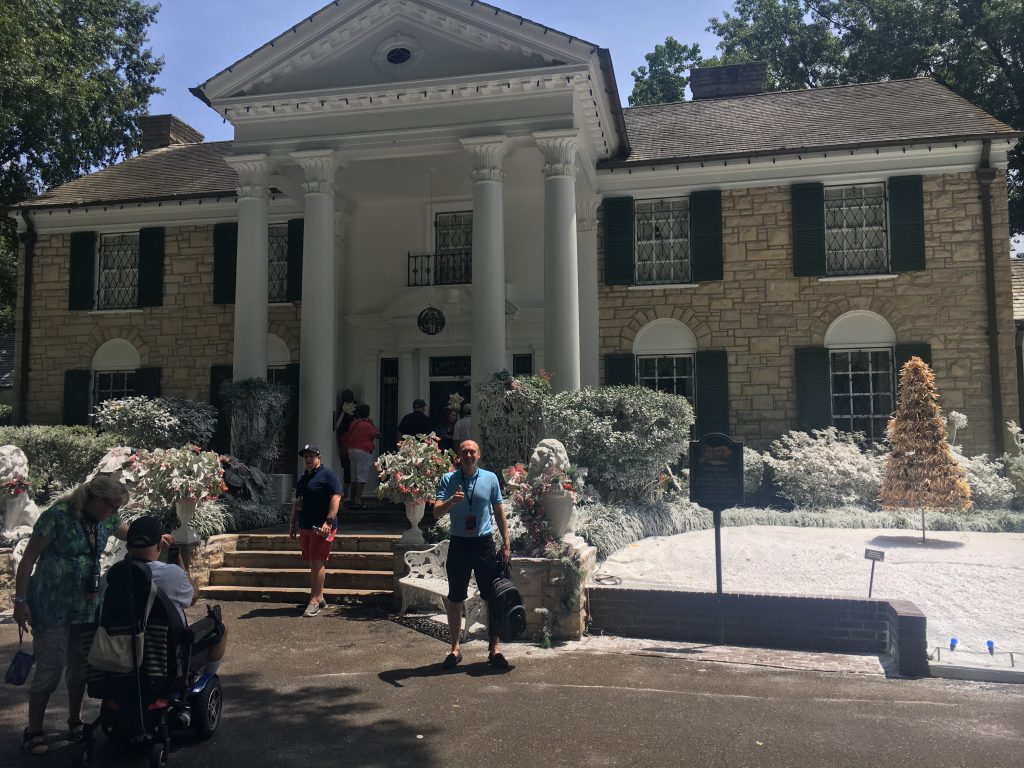 The gates to the house close at six in the evening everyday. By the time I had spent far too much money in the gift shops. I would like to say buying presents. (But it was mostly on stuff for me). It had gone past the daily closing time.
Which meant with the gates now shut. We could hop back over the road and get some pictures of ourselves in front of them. The wall outside has been signed by many of people who have visited. Sadly this was the one time that I did not have a Sharpie on me. So I could not add my name to it.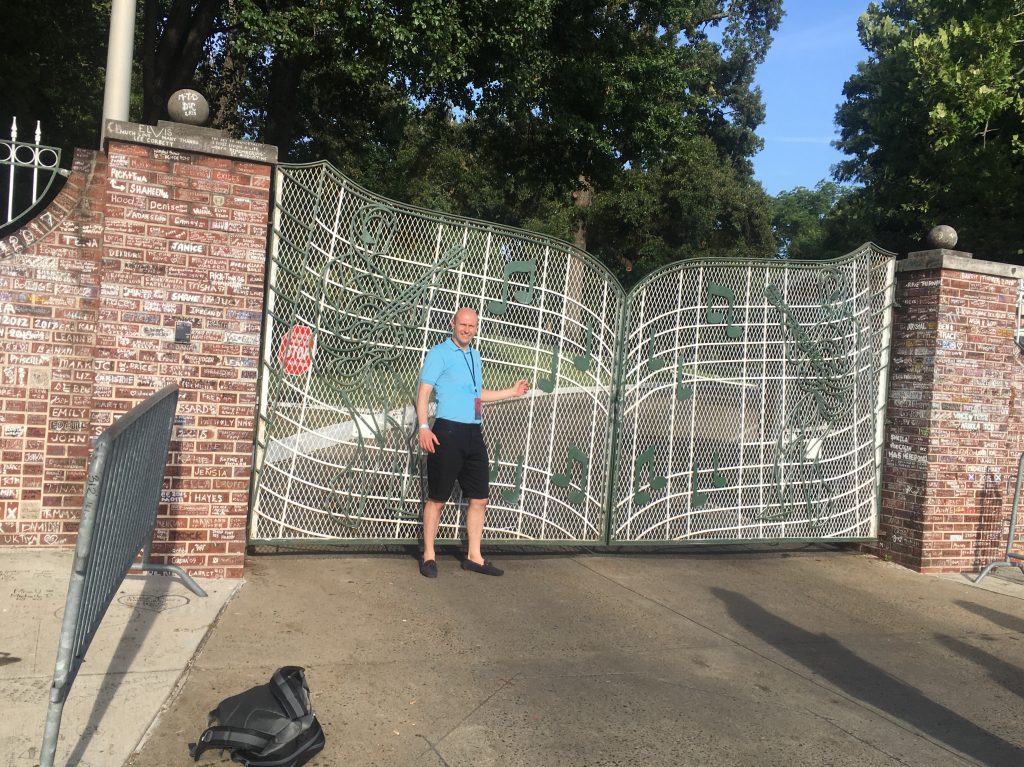 As we only had a few nights in every place. Time was at a premium. So after a long day at Graceland. It was back to the hotel. To get ready to have a night out on the famous Beale Street of Memphis. This is the main street. It is full of bars and restaurants. All with live bands continuously playing. We got a free shuttle bus from the hotel and arrived there just after eight. It was already busy and happening with lots going on.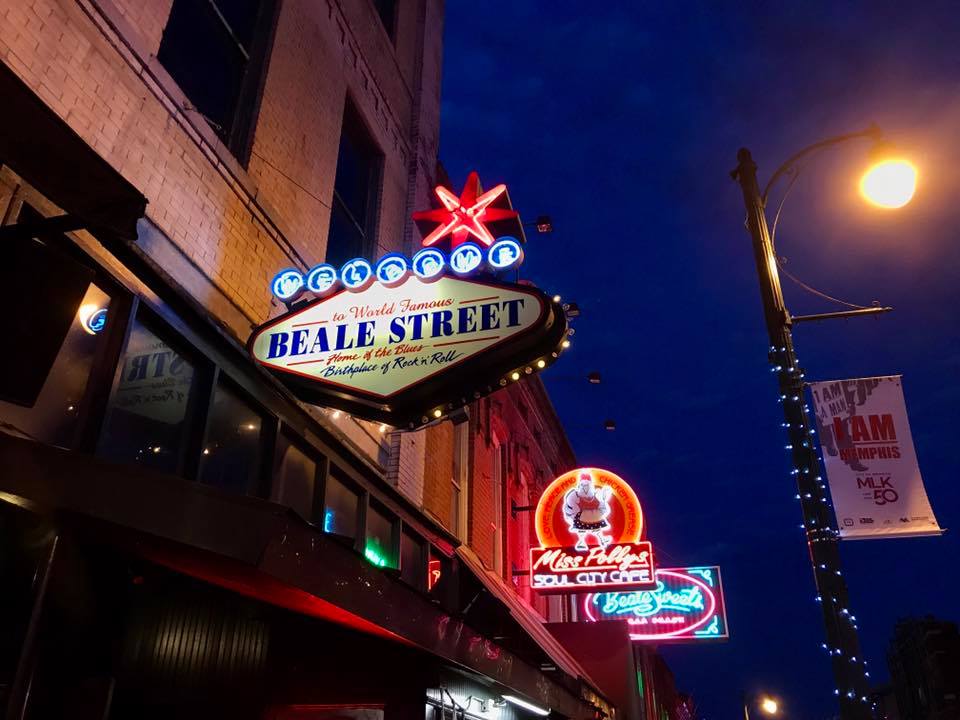 We met our friend from earlier Chance in the Hard Rock Cafe. As we walked in. There was a college band performing. They were all only about eighteen. It was a big ten piece band, plus the singers. They sounded amazing. There is a lot of musical talent in the States. We left there to grab a quick snack in a burger joint.
Then we found this bar with a brilliant live band. Who were playing a really varied and wide range of music. We stopped in there for a few drinks. I do like to try and sample some of the local ales. When I am in a new place. I did try the Memphis Beer. But I will be honest it was not to my particular taste.
Beale Street is a cool place. Which has a fun, musical vibe to it. Like Broadway in Nashville. There is live music all day. Plus bright neon lights above the bars. To try and lure you in. Memphis is known as the Home of The Blues. So we thought it fitting to finish the night under a sign declaring this. Before we got the bus back to The Graceland Guest House.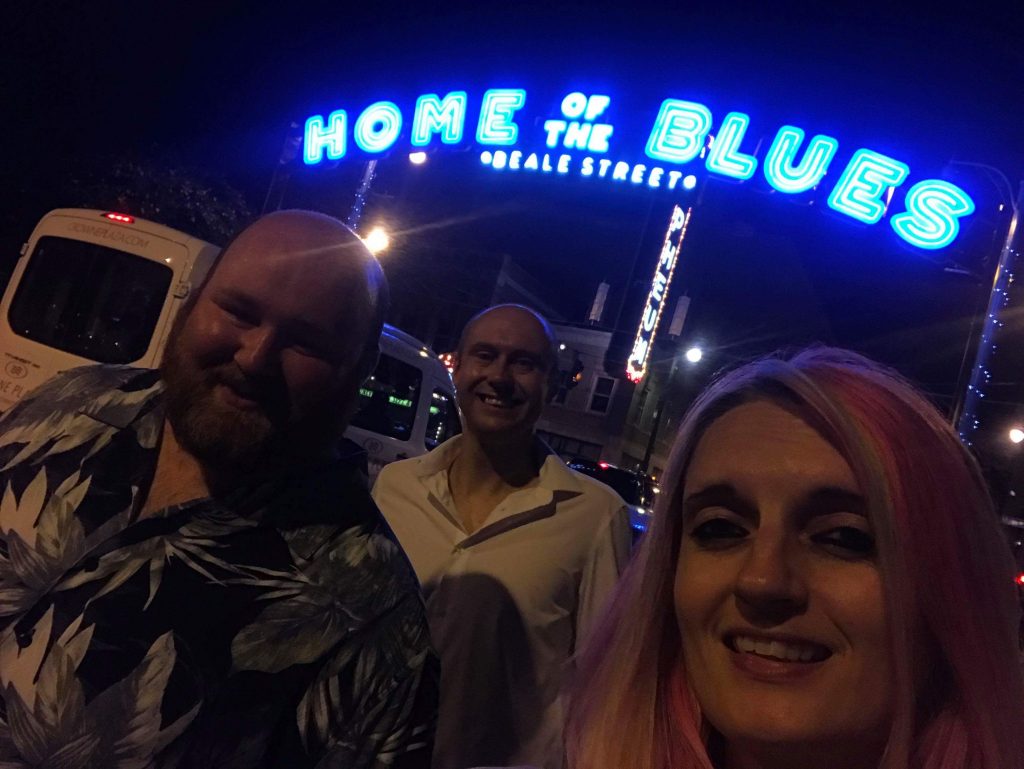 We had one day left in Memphis. And a lot of things left that we still wanted to do. The first one of these was a trip to the famous Sun Studio. Where Elvis wandered in off the street to make his first ever recording. Again there was handily a free shuttle bus to take us to it. So we hopped aboard that.
There were quite a lot of people at Sun Studio. But we managed to get ourselves on to the next tour. It is not a massive place. The whole tour only takes you in four different rooms. The first one has some items tracing the history of Sun. Through the years. It was started and run by a man called Sam Phillips. With the intention of recording Blues singers. But to make extra money. Anyone could come in off the street. Pay their cash and cut a record.
One morning Elvis did just that. He said that he wanted to record a song for his mum's birthday. Now he was either very organised or telling a little white lie. As her birthday was two months before he appeared at Sun. It is now thought, he wanted to hear a recording of himself to see how he sounded. But was too shy to admit that. So he just pretended he was doing it for her.
When he went in that day Sam Philips was not there. His assistant and partner Marion Keisker did the recording. They always used to give the customer a copy and keep the original. So a very happy Elvis walked away with his record. And then Marion left Sun's "copy" for Sam Phillips to listen to. With a note attached saying "Great Ballad Singer".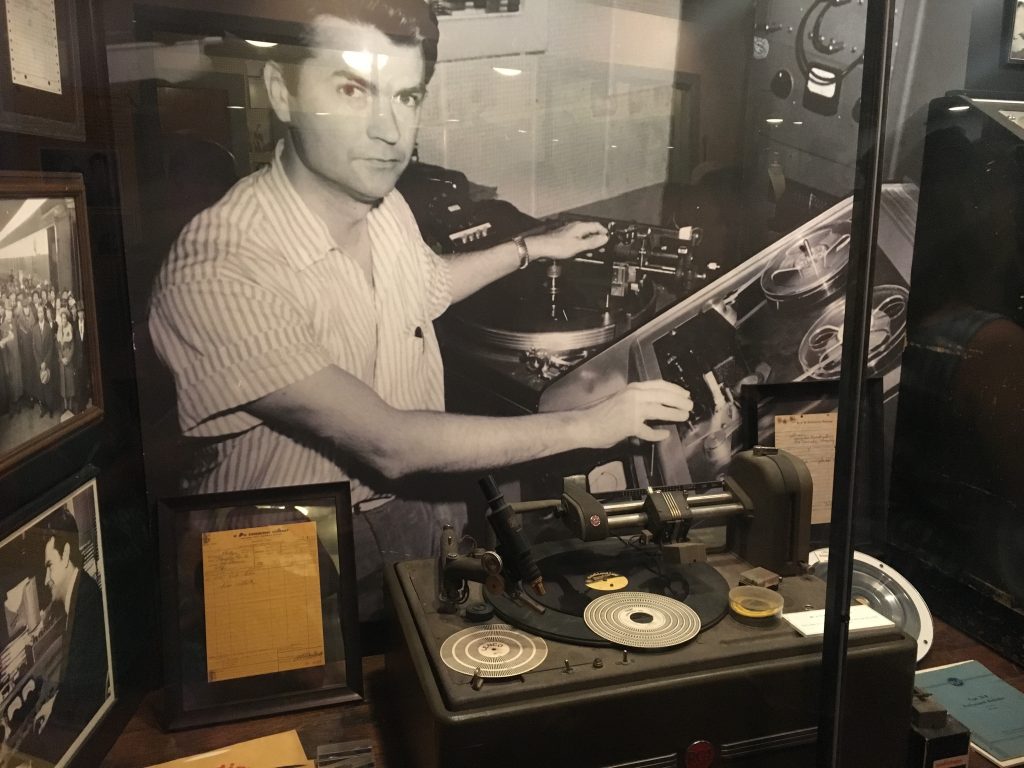 Sam did not like ballads at all and they were not what he wanted to record. So he did not listen to the Elvis recording. It took her about a year just to convince him to listen to it. When he did he called young Presley back in. That is when they recorded "That's All Right Mama". And as they say the rest is history.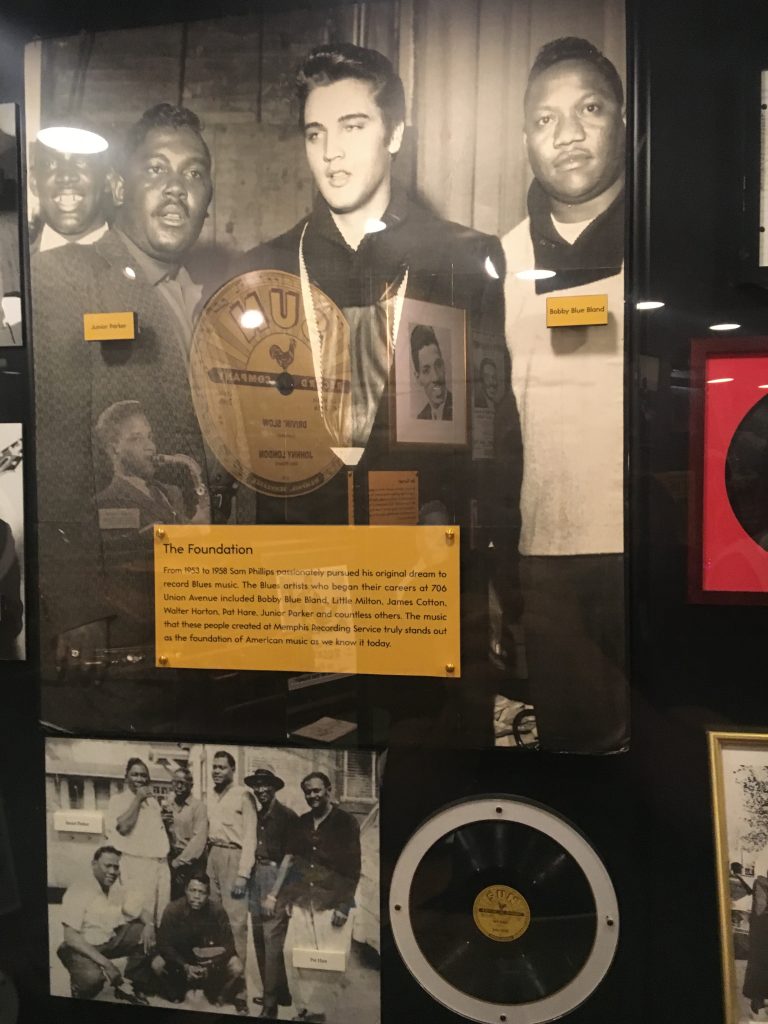 A very special part of the Sun Studio Tour. Is when you step in to the actual recording room itself. As well as Elvis, Johnny Cash, Jerry Lee Lewis, Roy Orbison, Carl Perkins and U2 have recorded there. In fact U2 left a drum kit there in 1987. They said they would come back for it. But it is still there.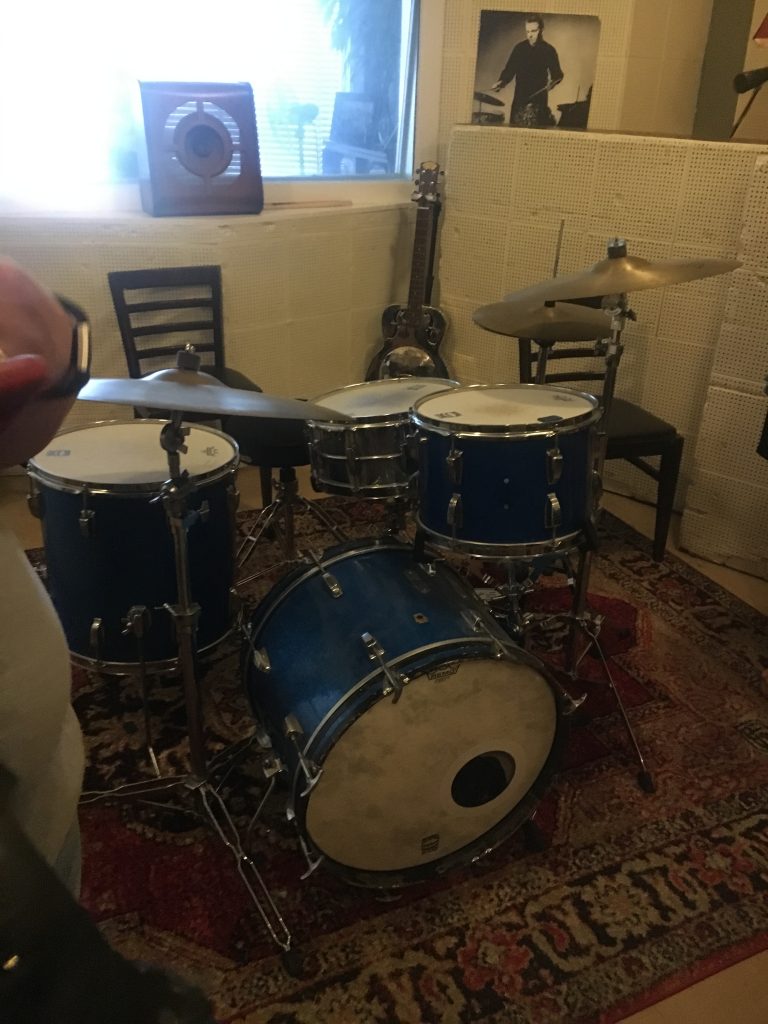 They have the original mic there. That would have been used by Elvis and all the other greats. Which they let you have a picture with. It is an exciting end to a brilliant tour. If you are a music fan. It is yet again another magical place to visit.
Apparently Bob Dylan came to visit once. He walked in to the recording studio. He did not say a word to anyone. He just kneeled down, kissed the floor. Then got up and walked straight back out again. It is still used as a studio today. Lots of bands and singers record there in the evenings and during the nights.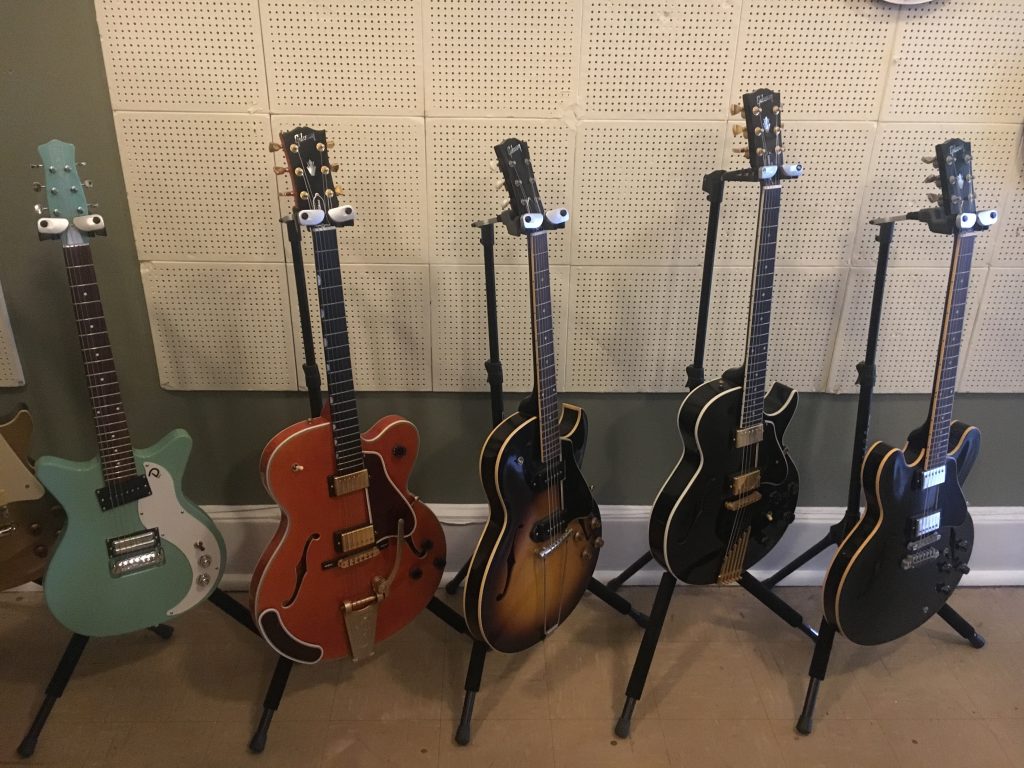 We then had a quick look around the Memphis Rock n Roll Hall of Fame. Which contained items belonging to some of the Cities best known singers. Last year I saw a very special Stax Prom at the Royal Albert Hall in London. Which was top quality. Therefore, while in Memphis. I had to see the Stax Museum.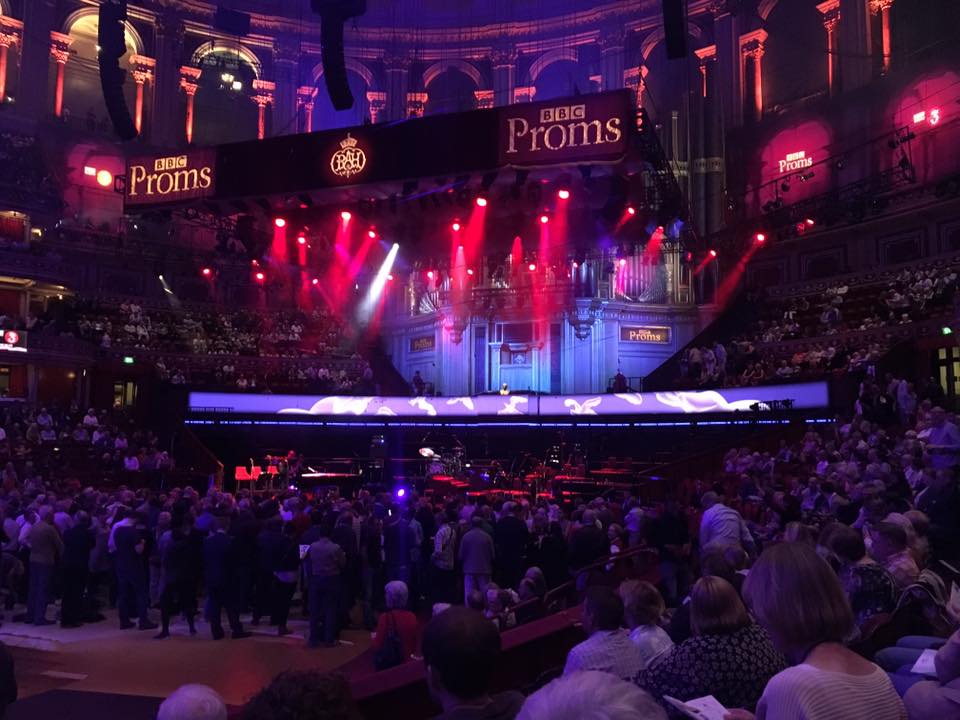 It is on the site of the original recording studio. They produced soul greats like Booker T and the MG's, Ike & Tina Turner, Otis Redding and Isaac Hayes. Or if you only know his later work Chef from the cartoon South Park. It has once again got great history and stories attached to it. It came from nowhere was successful made some money. Then ultimately disappeared. But in the meantime it was responsible for giving us a lot of great music to enjoy.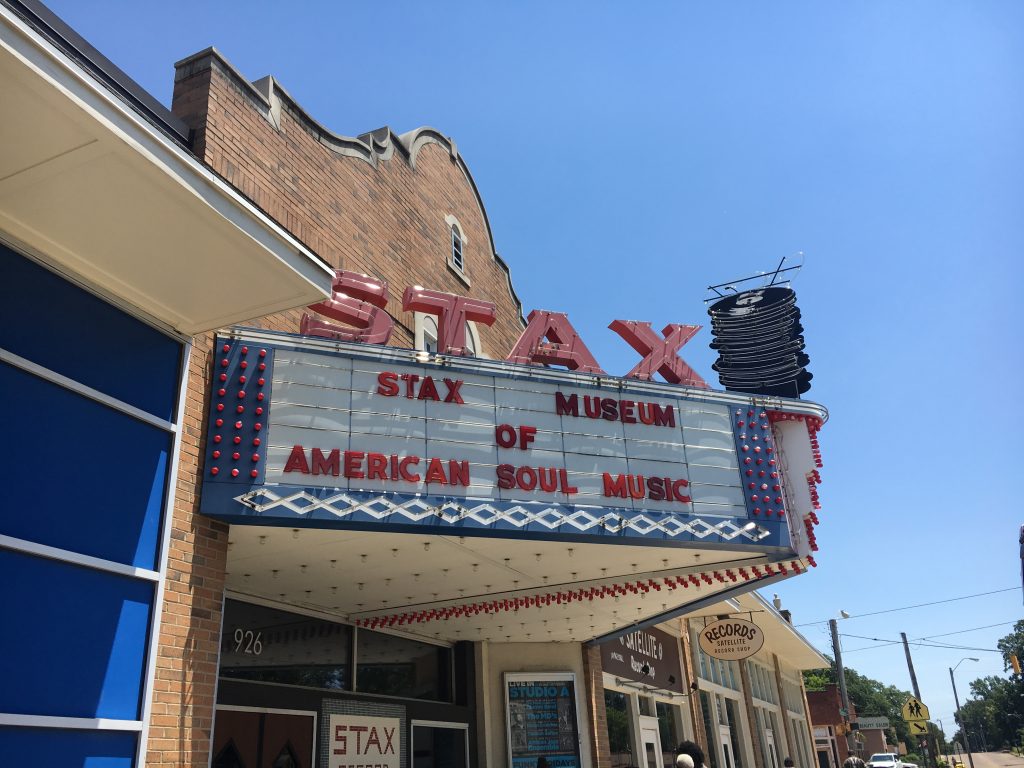 There was one more place that we just had to visit. While we were in Memphis. That was the Civil Rights Museum. It was a very popular place. We had to queue for an hour to get in. It was worth it. It is quite heavy, upsetting and in many respects a bit of a depressing look at humanity or rather the lack of it over the years. I am glad I took the time to see it, though.
It is on the site of what was the Lorraine Motel. Which is the spot where Martin Luther King was shot on 4th April 1968. They have an exhibit showing the final two rooms at the Motel that he was in. You can also from the outside of the museum. See the balcony where he was murdered. The exact place is marked with a reef. It is quite a poignant and reflective place.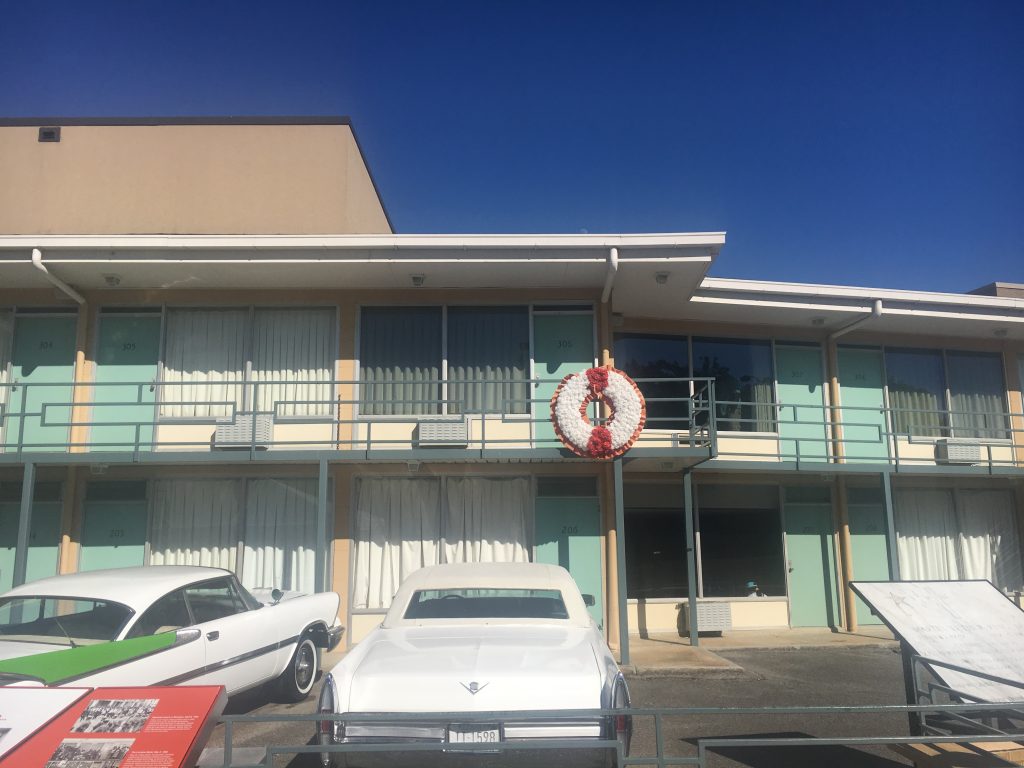 The final day in Memphis was pretty full on to say the least. But I was still desperate to get some time just relaxing by the pool at the hotel. Which I managed to do at about seven o'clock. It was still lovely and warm. I had a nice swim and float in the water. Before enjoying the benefits of an out door hot tub. Which after a long day on my feet, was a nice treat.
It was while around the pool. We got chatting to a fellow guest. Who told us the singer turned priest Al Green had a church in Memphis. Just a few blocks from the hotel. And that he was taking a service there at eleven thirty the next morning.
It was rumoured that he sang a few of his hits. And was very happy to chat to everybody at the end. As much as we would have liked to go. We had a five and an half hour drive the next day. So we needed to already be on the road by that time. It was a shame to have to miss that though.
It was Saturday Night. And at the Guest House. That means it is Movie on the lawn night. They drag out a big TV and put an Elvis film on. As we were shattered from our very busy day. That seemed like a fitting way to end it. We grabbed a seat on the grass. Then watched Viva Las Vegas. As the darkness fell. The perfect way to end an Elvis inspired couple of days.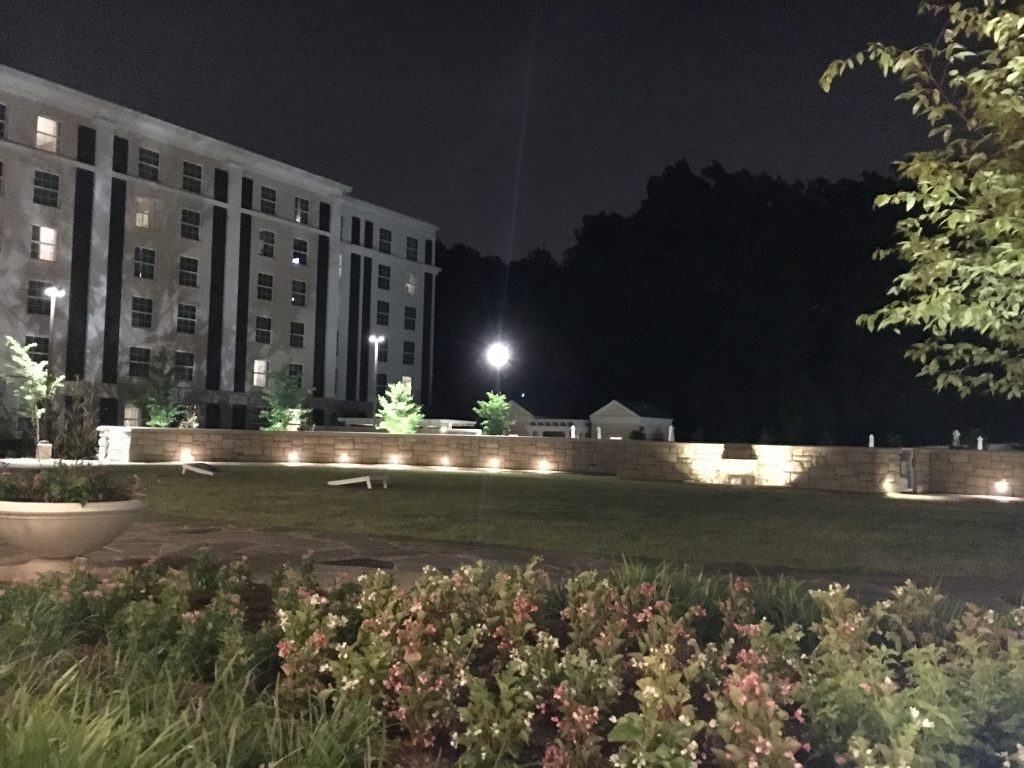 After a traditional American breakfast of pancakes, syrup and berries. It was time leave Memphis. And make the long trip down to New Orleans. I will tell you all about that in the next instalment. Cheers Neil