Seven hours after leaving Memphis. We arrived at the hotel in New Orleans. That was a five and an half hour drive with a few pit stops for comfort breaks, snacks and fuel thrown in. Filling up with fuel or gas as it is called in America. Is a slightly different experience than in the United Kingdom.
You pay for your gas in advance, so there is at least an element of guesswork involved at first. Mind you, if you use more, you pay the difference after and if you use less they refund you the money. It is all fine, once you get the hang of it.
I was surprised and impressed by how cheap the gas was over there. I could fill up the Ford Fiesta for around $25. Which felt like very good value. Bearing in mind I know how many pounds it would cost to achieve the same thing in England. Happily there are plenty of gas stations at many of the Interstate Road exits. So it is easy to re-fuel and then re-join the right road, pretty quickly.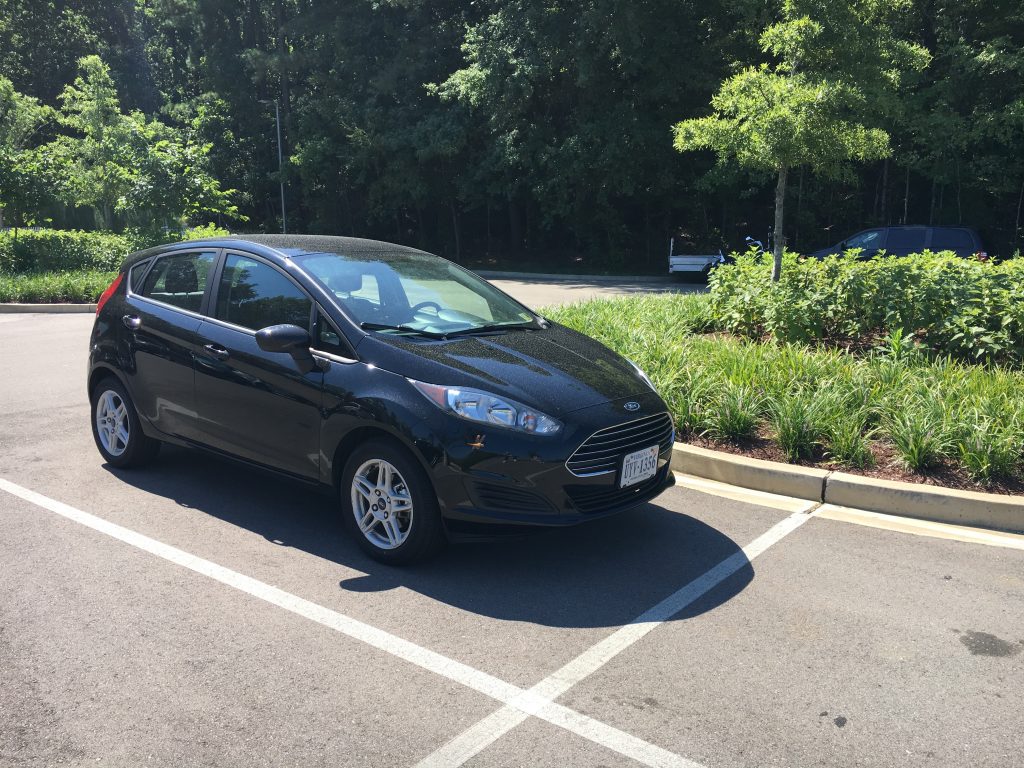 New Orleans was the only place where we did not have any plans of exactly what we wanted to do there. And we certainly did not have anything booked in advance this time. However Kayleigh and I both thought it would be cool to take a steamboat ride along the famous Mississippi River. Therefore we kind of knew one thing we would like to do during our time there.
By the time we got checked in and changed from the car journey. It was already getting on for seven o'clock in the evening. We thought we better go out to find some food and do some exploring. We were staying on the edge of the French Quarter. Which does include the City's very famous party place Bourbon Street. This seemed like a sensible place to start our time there.
After getting some very good and simple directions from the hotel receptionist. And once we had both finished our complimentary Strawberry Daiquiris. We set off to find where the fun was. As soon as you step on to Bourbon Street. All you can see is several street performers, lots of bars and a large amount of people walking up and down. Drinking these huge cocktail's called The Hurricane. Yes you read that correctly. That is really what they call the specialist drink there.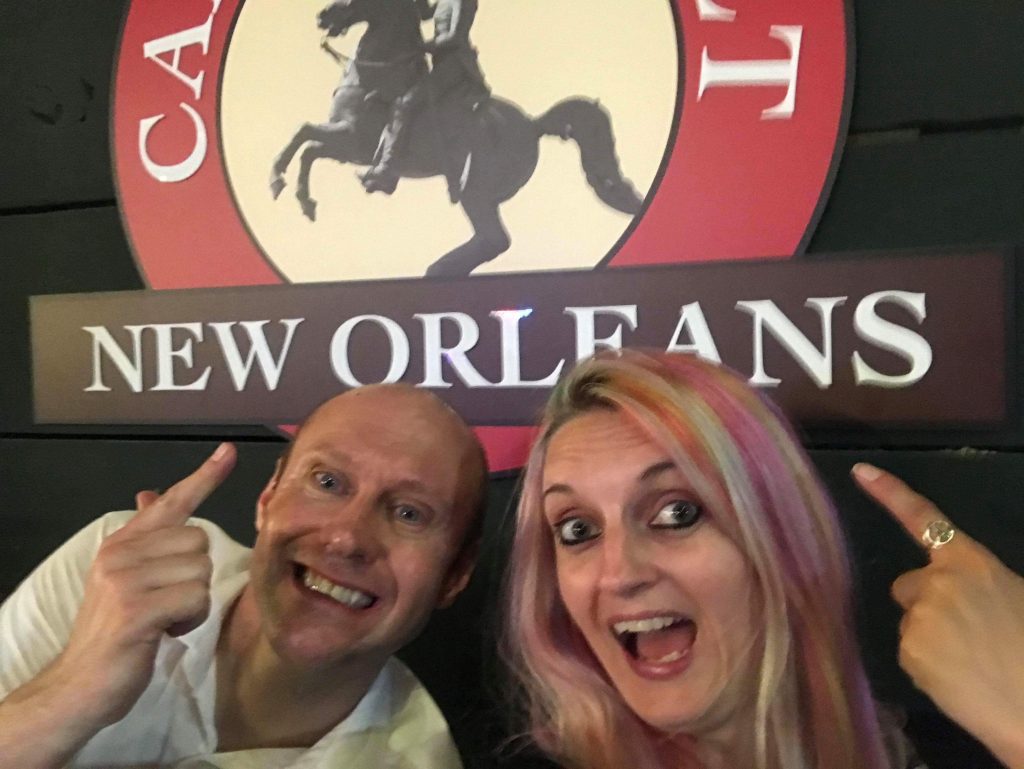 After having a walk up it and witnessing young kids playing pots and pans as drums. And acrobats back flipping down the road. We went in to a random bar to have a drink and grab some food. There were two duelling pianos playing alternate songs. The main reason we ended up going in there was because as we walked past. One of them was doing the song Glory Day's by Bruce Springsteen. And that caught my attention from the street outside.
We sat down at a table by the door. It was not until we ordered our food. That we noticed a Barber's Chair behind us. You could pay to have Tequila chucked down your throat. While being span round on the chair. I was now a bit worried sitting so close to this thing. Could be dangerous when eating. Just in case the alcohol and the motion was a bit to much for them. If you see what I mean. Luckily, everyone us included kept our dinner down.
While in that bar I tried a pint of the local New Orleans beer. It was called Ambita Amber. I must say it was a delightful tipple. And from then on it was my refreshment of choice, while I was there. Although of course I only ever drunk the right amount for a gentlemen. And it was not available in every bar either.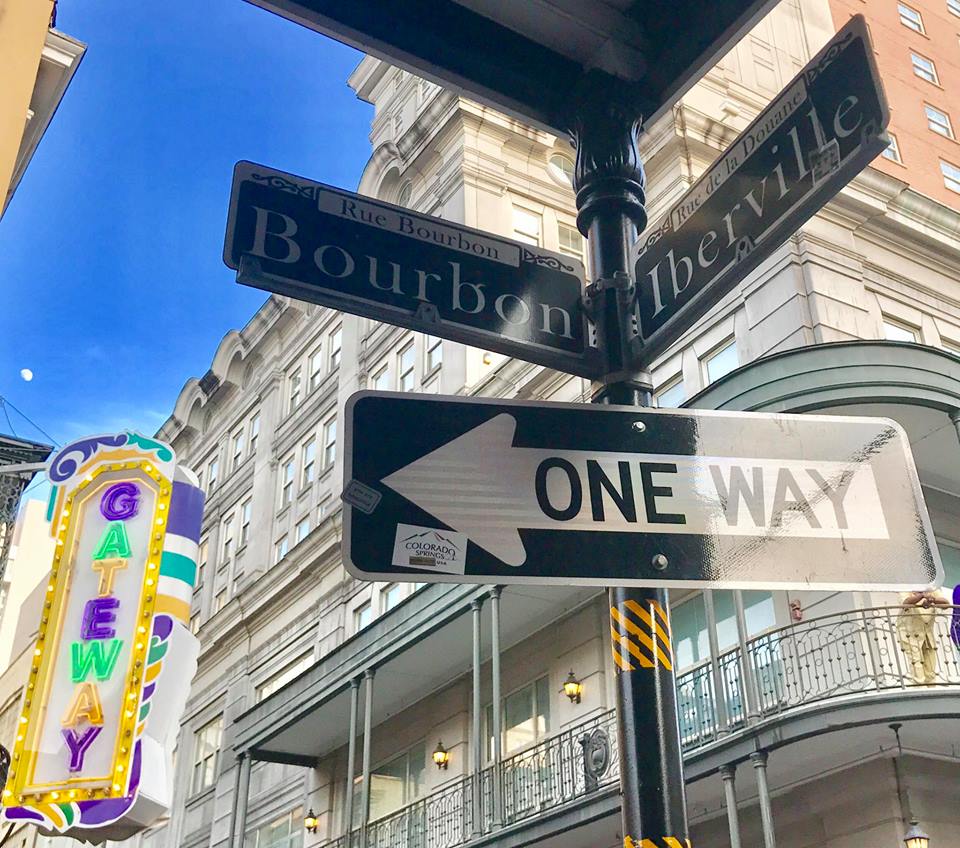 Next up we found what became in the end our go to bar on the street. It was called Razzoo. It had a brilliant house band. Who were called the Funky Monkeys. On this first night there were excellent. A really fun and entertaining group.
They did a great version of the very apt song for where we were Proud Mary for us. After we requested it. It was a Sunday night and the place was rocking. I can only imagine what it would be like on a Friday of Saturday. Although I suspect the right word to describe it would be carnage.
We then thought that as we were in New Orleans. We should find some Jazz. A little bit further down the street. We found a bar with a Jazz Trio playing. So went in there for a few drinks. It was a nice way to end our first night there after a long day in the car driving.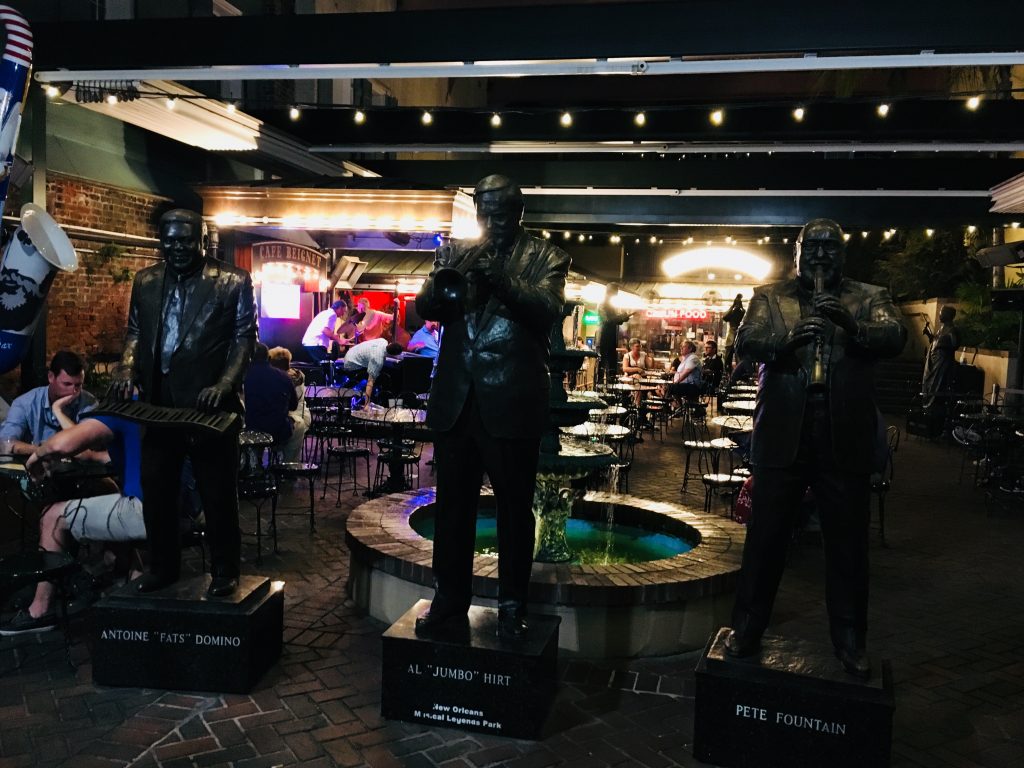 When we got up the next morning. We decided to try McDonalds for Breakfast. Just to see how different the portions sizes and food on offer was compared to back home. The meals on offer were pretty similar. Apart from the offer of biscuit instead of rolls. The size of the drinks were much bigger though. I could not finish mine. It was huge!
Before we left the hotel that morning. We had already booked via the internet. The trip on the Mississippi we had wanted. And also a walking Ghost Tour for the evening. Then after the golden arches we ended up signing up to go on a Swamp Tour the following day. Very quickly our time there was starting to become taken up with lots of fun stuff to do.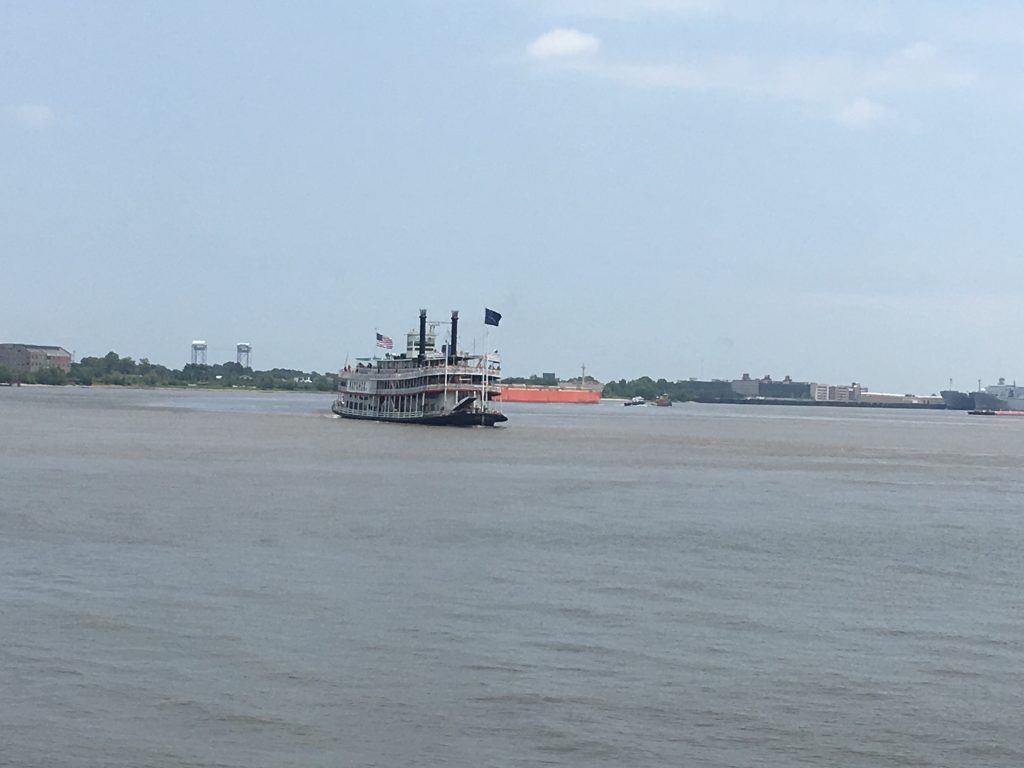 We had booked the boat trip for the afternoon. Therefore we had a few hours to properly explore the French Quarter. This did involve a walk along part of the Mississippi. Some statues and big buildings of interest. A look round a few of the shops. Plus a surprise great live street performance by a brass Jazz Band. Who were playing " When the Saints Coming Marching in" Although in my head I was singing "the Spurs". They sounded amazing. There was a massive crowd stood around watching them.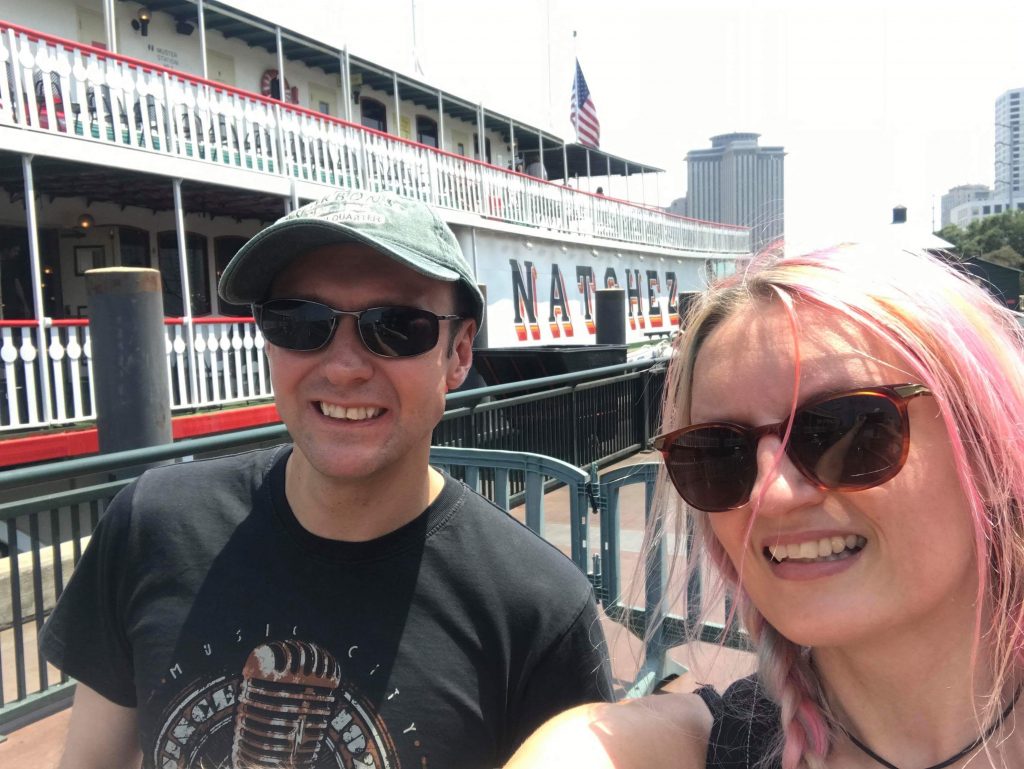 It was then time to go aboard the Natchez. Which is the only traditional Steam Paddle Boat still operating on the Mississippi River. We were going on a sightseeing and Jazz Tour, nice. It is an impressive sized vessel. Steeped in a fair amount of history. With a bit of age to it.
We found ourselves a seat on the deck in the sunshine. And waited to set sail. Just before we departed. We decided to try one of those Hurricane cocktails. That the city is so famous for. Just a small one mind. Though I must say it was a nice accessory to aide with the further enjoyment of the trip.
We set off down the Mississippi. And were given an audio tour by a brilliant guide. Who was pointing out things of interest on either side of the riverbank. Including the large area where the Battle Of New Orleans took place. And the part of the City that was sadly destroyed by Hurricane Katrina. He also explained what a busy and important port it still is today. For the transportation of steel and aluminium in particular.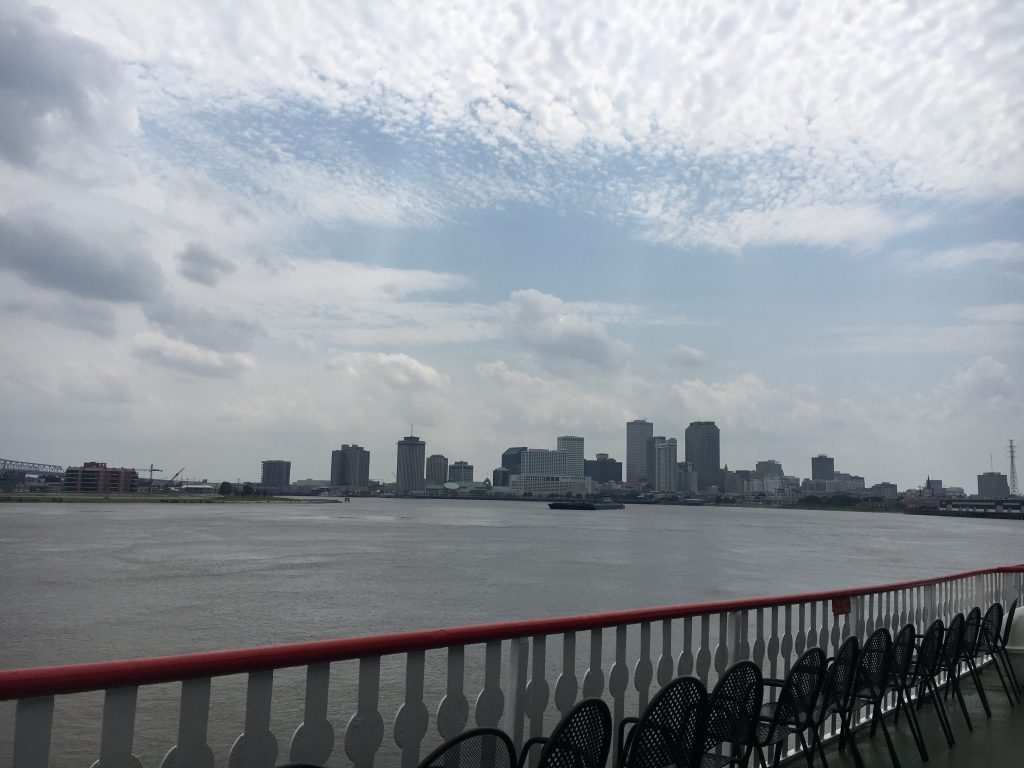 When we reached the half way point of the cruise. The audio tour finished. Then the Jazz Trio started playing in the main bar. I went there to have a listen to them. And also to have a pint of my new favourite tipple their Amber Ale. The band were great and fitted perfectly with the whole setting and experience.
We then went and had a look at the steam powered engine room. It is very impressive how fast the boat goes. Bearing in mind that it is totally powered by steam. From here we went and admired the big paddle wheel on the back. Which is ultimately the thing that was propelling us through the water.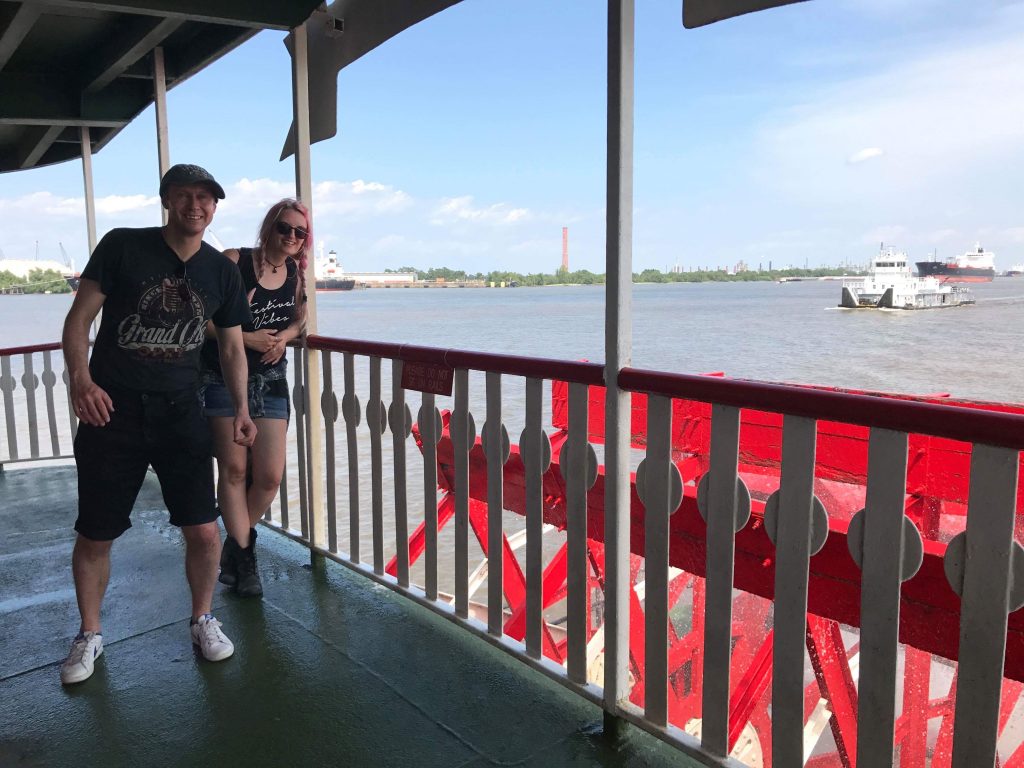 For the rest of the way back. I just sat out on the deck. While simply enjoying the view. Feeling very relaxed. It was definitely something off my life tick list. Take a river boat ride down the Mississippi. Tick, done!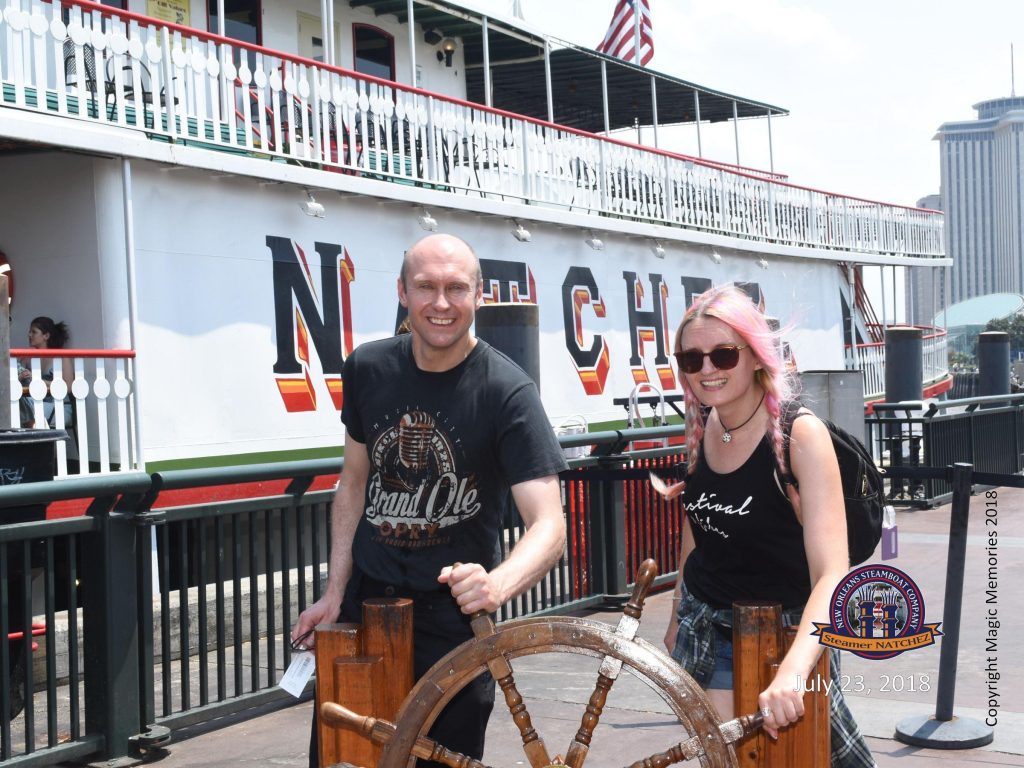 Once the boat had docked and we had collected our experience photo. We went back to the hotel to get ready for the evening. The Ghost Walk was at eight. So we thought we would go and get some food first. I had got it in to my head. That while I was there, I wanted to try some of the local delicacies. And thanks to the power of the internet. I found a near by restaurant. That I wanted to eat at. I looked on the map we had and thought I could get us there.
Annoyingly at first my sense of direction was slightly off. And we could not find it. We were just about to give up. When I suddenly thought I saw the street we were looking for. We went down it and thankfully found the place. It was called NOLA. The staff were very welcoming. It was quite a plush and classy place. The Maitre d' took us in the lift up to our seat and then introduced us to our waitress.
I ordered The Gumbo. Which is a Southern American dish. That I was told I had to try while I was there. It is best described as a spicy stew with fish, meat and rice. The bowl I had was amazing. I could have easily eaten it all over again. It was so nice. The second thing I tried was something I guessed would not be an option in many, many places in the world. It was an Alligator Sausage.
There are lots of Alligators local to New Orleans. So they produce their own. I did not really know what to expect from it. It is a very dark meat. I would suggest it is a cross between chicken, rabbit and pheasant. I enjoyed it and would not hesitate to have it again. If the opportunity ever arises. Another boxed tick for me that. A taste of the local dishes.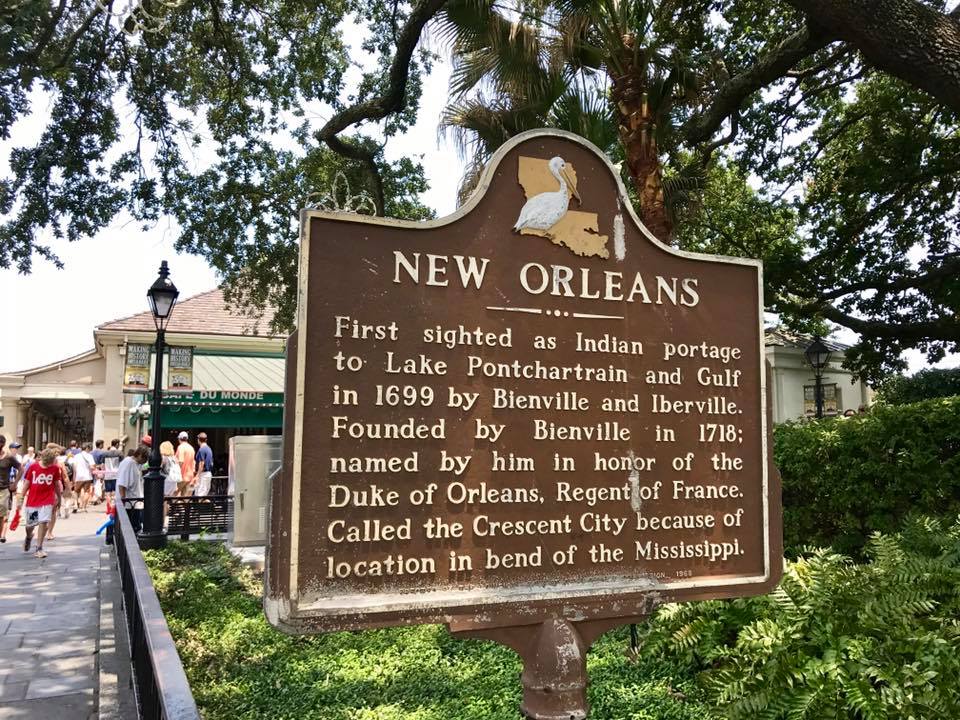 Then we went to the starting point for our Ghost Tour. I will be honest. I do not believe in ghosts. And this is not something that I would have really chosen to do. But Kayleigh has an interest in this area. And I was happy to tag along. I really enjoyed it in the end. It was quite interesting.
We were met by our guide and joined the twenty other people on the way to the first stop. It turns out that New Orleans is one of the most haunted places in America. The tour is in the French Quarter area. It was just starting to get dark. Every house there has a gas lamp hanging outside. That is the only street lighting. So that really adds to the atmosphere of the tour.
There were several different "haunted" buildings. We visited during the two hours. Each one had an initial story to set the scene. Then follow up reports of strange activities and sightings in and around them. Vampires are supposedly quite prominent in the area. I did enjoy the history of the tales. All of the main characters in them did seem pretty messed up, to say the least.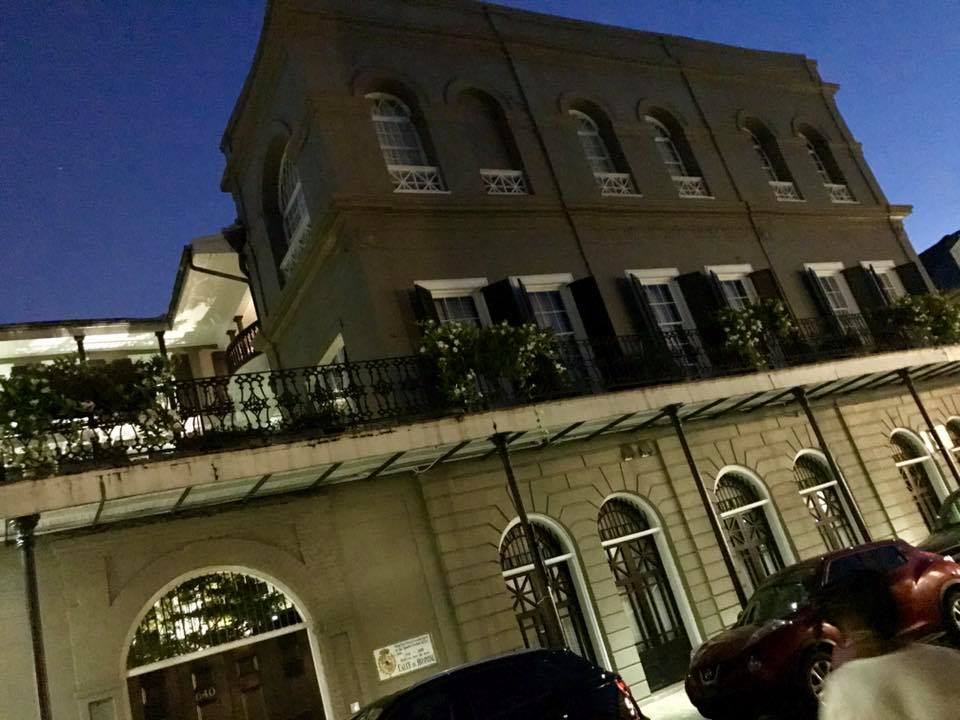 There was one particular venue. That we were shown. That is now quite a nice restaurant. It is apparently haunted. To appease the spirit. They set a special table every night in the name of the ghost with an empty plate and a glass of wine. They claim that when this is not done. Lots of things go wrong and the night is always a complete disaster.
You can pay an extra cover charge to sit and have your meal at the table. People who have done this claim. That they have seen some of the cutlery move or have felt a presence standing behind them. And even a hand on their shoulder. I am still not totally convinced. But that said I have no plans to eat there. The Ghost tour was a nice and fun way of looking around the area and learning a bit of the history to the place.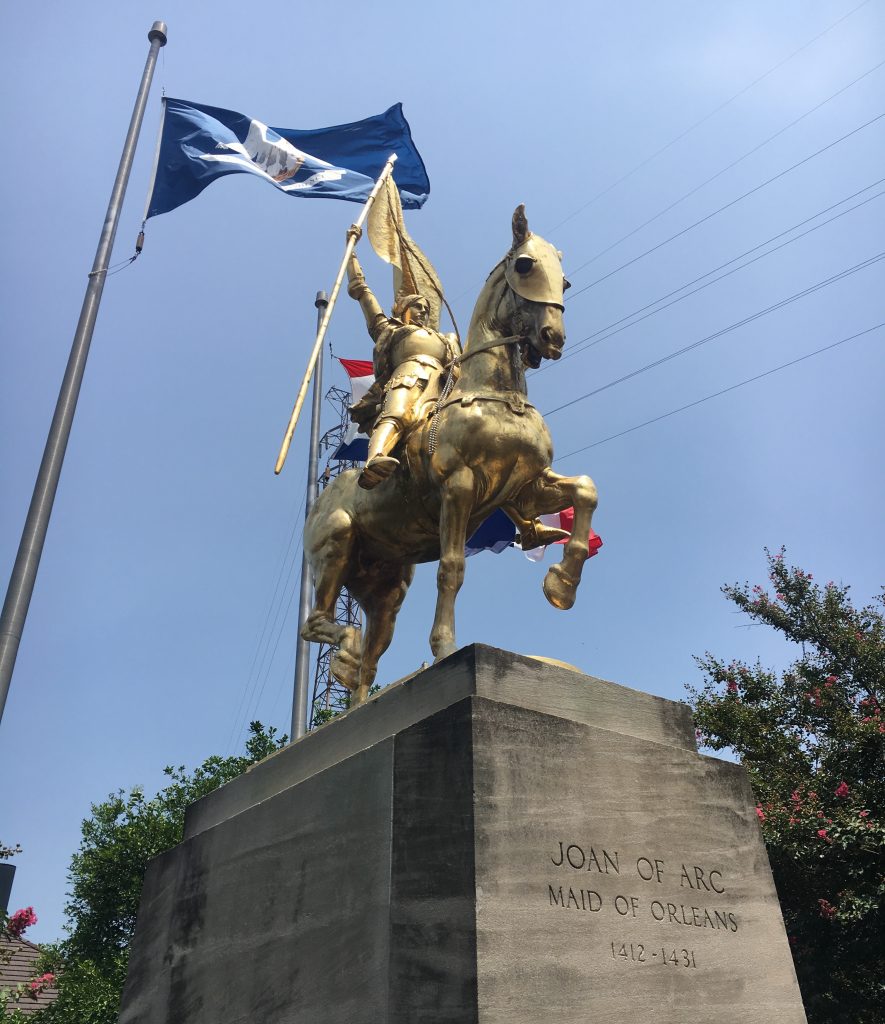 We then as was becoming the tradition finished the night in our favourite bar in Bourbon Street. Having a few more drinks and enjoying the band. On the way back to hotel there was a shop. I stopped to pick up a late night snack. I decided to try some Spicy Wild Boar crisps. Which was a mistake. They were terrible!
On our final full day in New Orleans. We went on a Swamp Tour. When we were looking at it originally. We were going to go on a flat bottomed boat. But on the advice of the sales person at the tour place. We upgraded to a big Air Boat. Which as it turned out was a great decision.
We caught a bus from near our hotel. It was about a thirty minute drive out to the swamp. It was nice to see the countryside and see how people lived away from the city. I did not really know what to expect. As I had never done anything like this before. I was really looking forward to it. Until the bus driver warned us to watch out for spiders or snakes falling out of the low hanging trees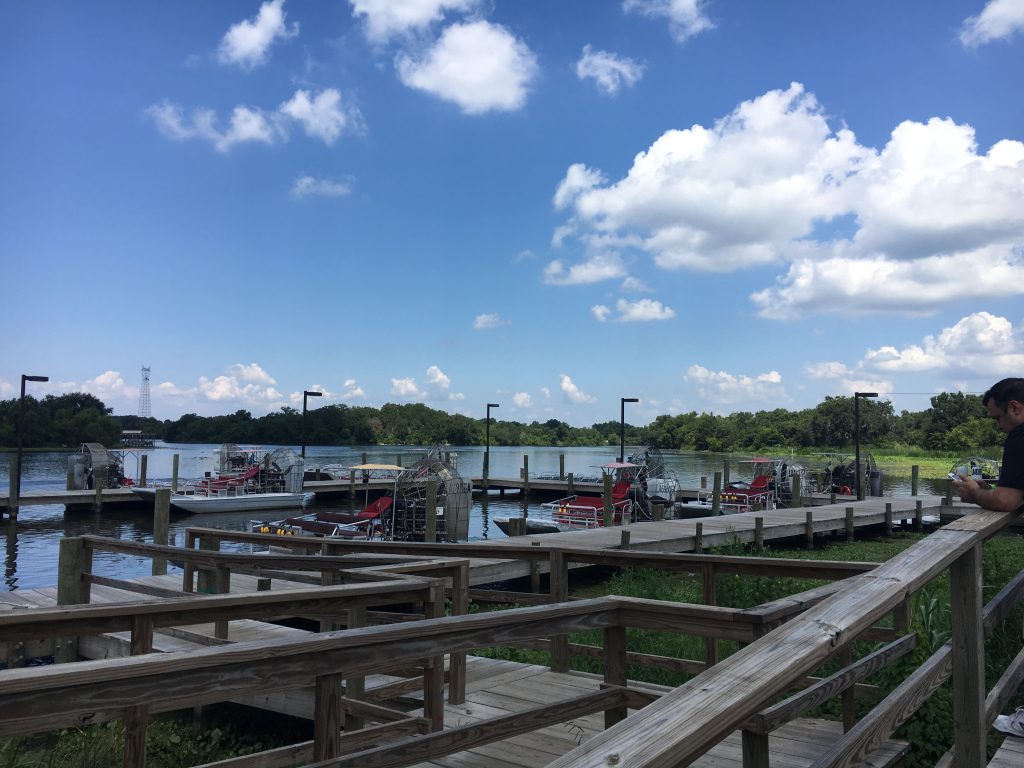 We arrived at the jetty and got our wristbands. Then we were called up to our boat. It held about twelve people in total. We were given ear defenders to wear. As the engine was loud when on full. And we had a ten minute ride out to the proper swamp area. When we got there we stopped and our guide explained the plan. He said that as it was so hot. We may not see any Alligators. They could be down on the bottom staying nice and cool.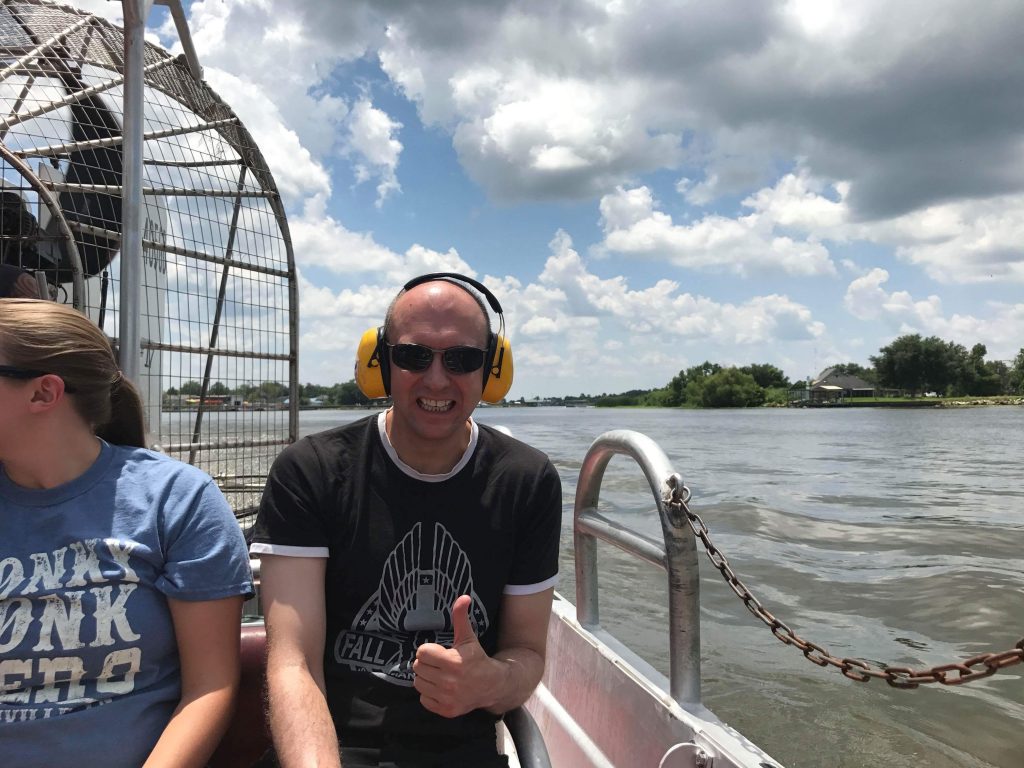 At our next stop we spotted an Alligator in the water. They attract them and get their attention by using Marsh Mellows. They all love them apparently. The guide was nuts learning in to the water to feed it. At one point he put a Marsh Mellow on top of the animals mouth. We got some great pictures and it was amazing to see one so close.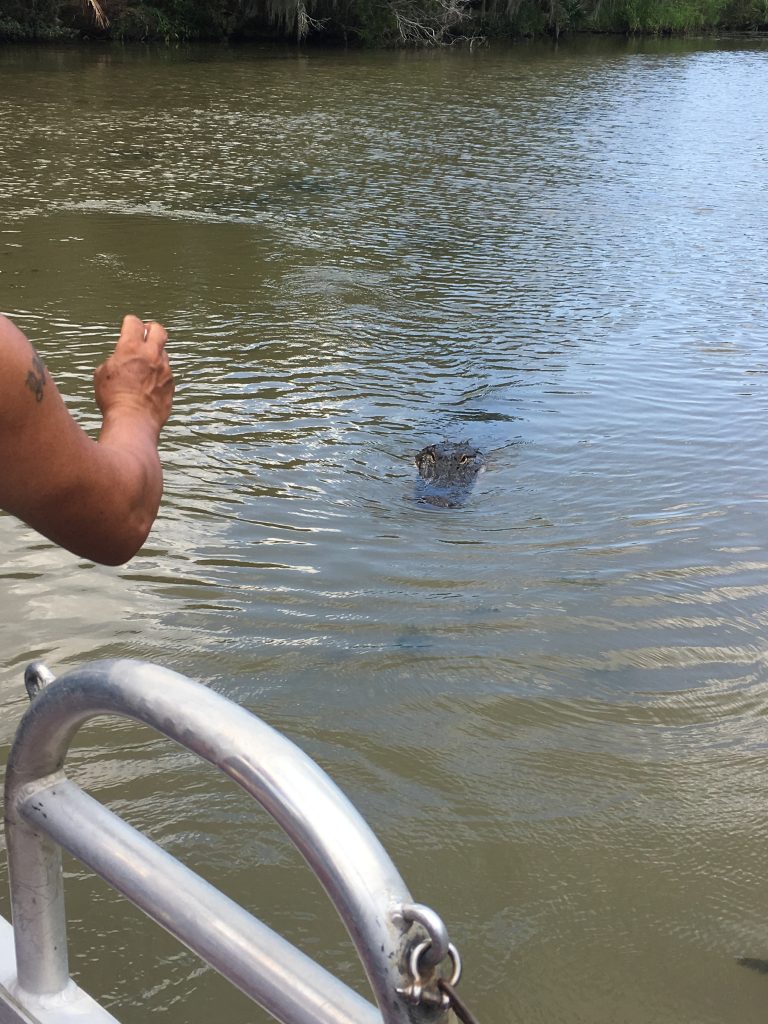 We then glided around and saw several different Alligators. As we went around on our travels. At the final stop. The guide suddenly brings out a two year old Alligator. That he has been rearing since it was an egg. So it is nice and friendly and used to people. We all got to hold it for a bit. Which was a cool experience. They are quite cute at that age and size. I enjoyed the swamp adventure. Yet another thing that falls in to the category. Things you will not get the chance to do everyday.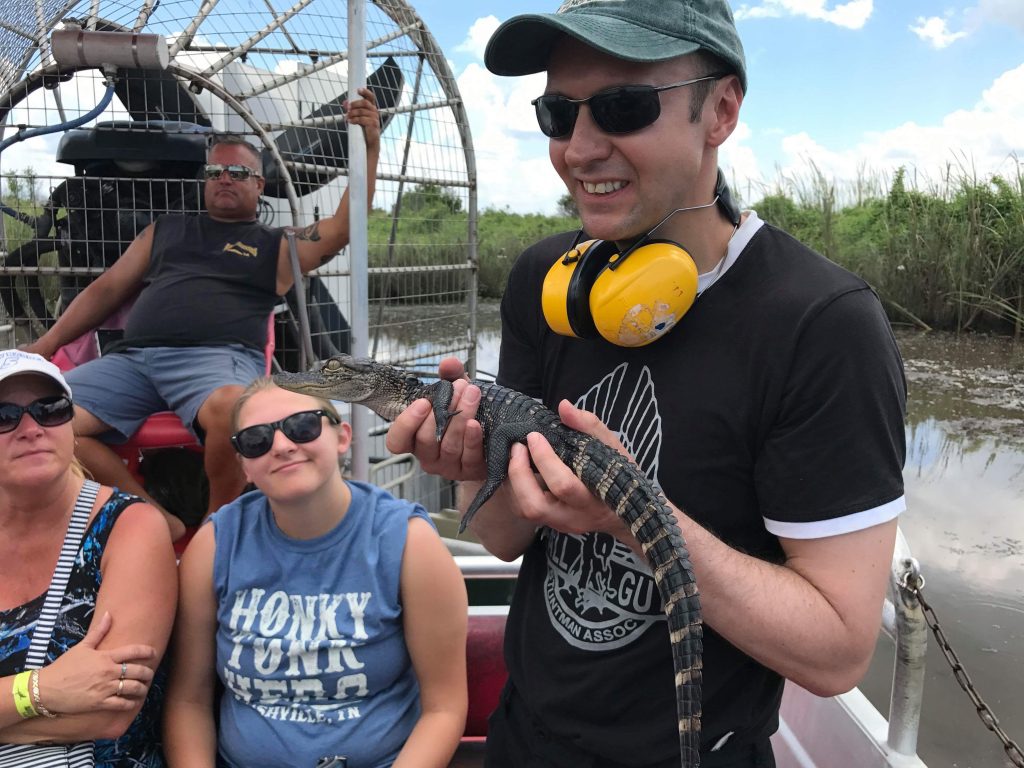 That afternoon we had another walk around the French Quarter. Including a visit to Louis Armstrong Park. In honour of course of the famous Trumpet player. Who was born in the City. It is quite a cool place with a lake and a huge statue of the great man. We also had a quick drink in this random bar. That I kid you not had an area with metal gates on various stages. I bet that place is interesting, to say the least in the evenings.
For our final evening we decided to go to BB Kings Blues Club for dinner and a few drinks. We got a cracking table right in front of the stage. Where the band were performing. It also had a cool painted picture of The Beatles on it. The food was fantastic. I had a southern fried fish dish and my final pint of the New Orleans Amber beer.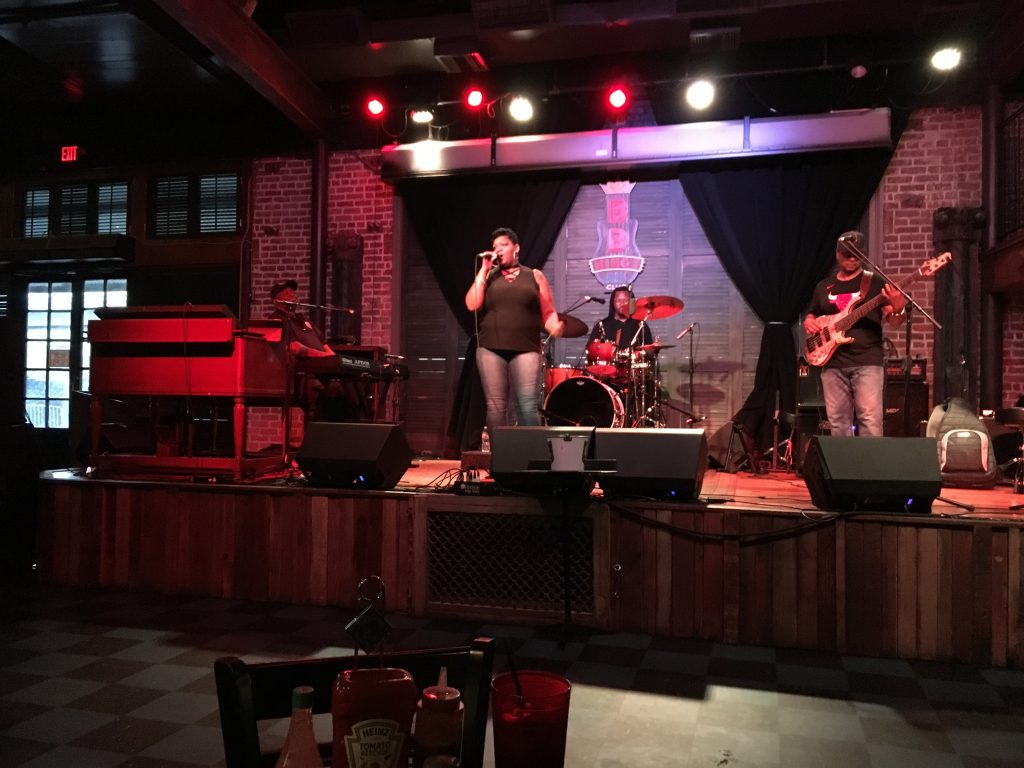 We then finished the night with a final walk down Bourbon Street. Ending up in our favourite bar for a few drinks. And a bit of a dance to the band. It is going to be weird going out now and not seeing live music on offer in every single bar.
New Orleans was a fun and very interesting place to visit. And bearing in mind we had no definite plans when we arrived. We ended up doing quite a lot there.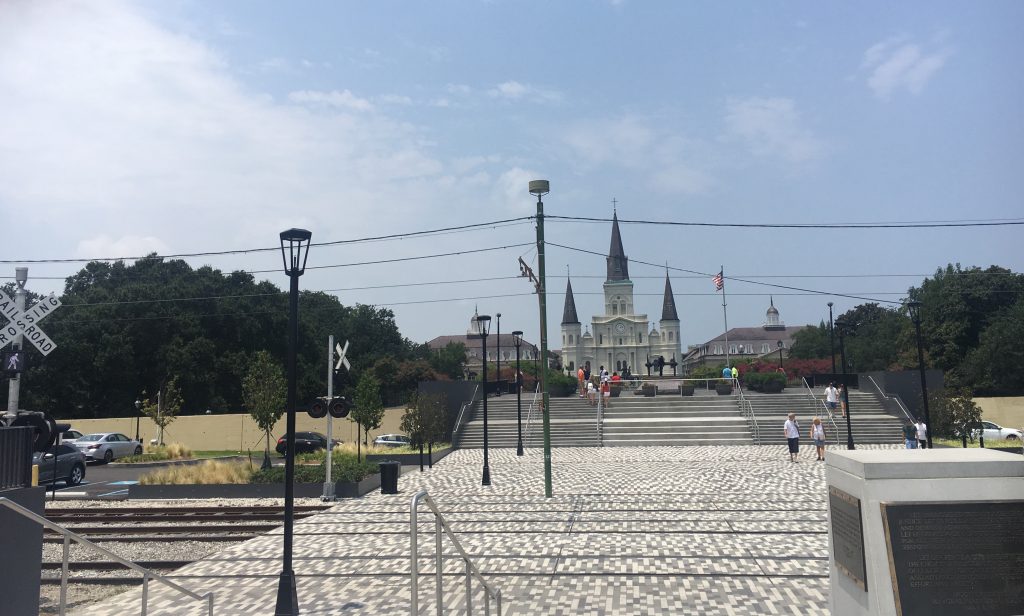 The next morning after a breakfast of Chocolate Croissant and cereal. It was time to hit the road for the four and an half hour drive to Montgomery. I was very used to driving in America by now. So it was a pleasant trip with lots of great scenery to enjoy. We were only there for one night. But we did plan to go and see some of the sights.
However when we arrived at the hotel. We found out it was quite away out of town. With most things at least a twenty minute car ride away. We had endured a busy nine days. The weather was good and there was a lake to sit by. Plus a swimming pool to use. So we then decided to just stay at the hotel.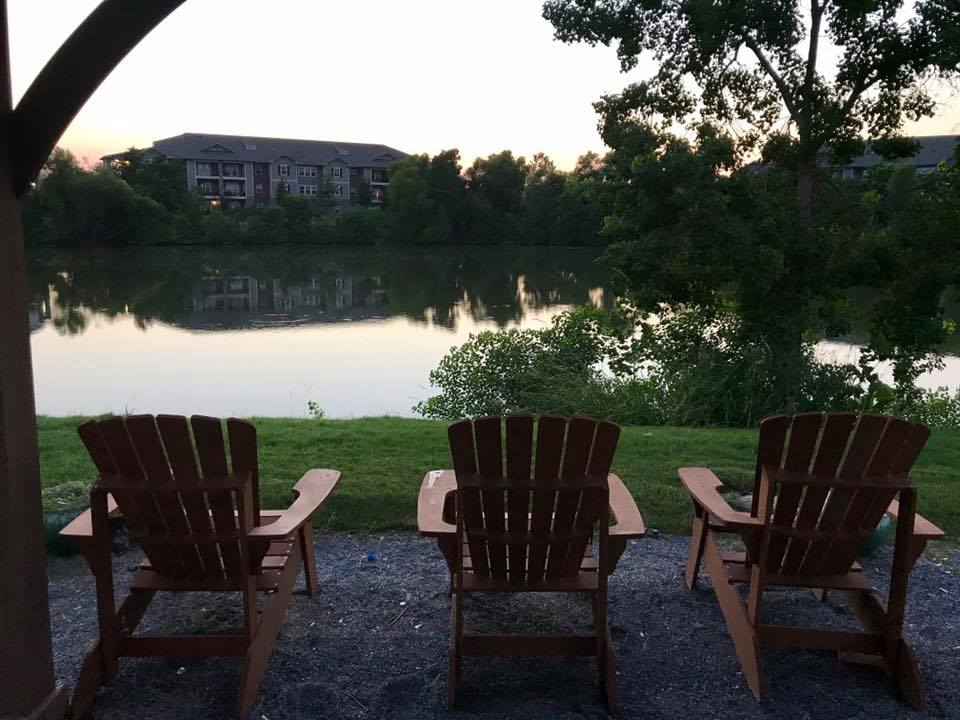 We did venture out for some food. We found a KFC. About a ten minute walk away. All Americans have to have a car. Nothing is ever in walking distance.  We had to cross several car parks to get across to the Colonel, safely.
A couple of differences between a UK and US KFC. You can get Mash Potato and gravy with your chicken. Plus they even ask you if you want the meat light or dark and if you want original coating or extra crunchy. They will then meet your exact wishes.
Back at the hotel. We went for a relaxing soak in the pool. Then once we had dried off. We went to sit on some seats overlooking a huge lake to watch the sun go down. While we were there. We met a few American guys. Who were there enjoying the moment to. We ended up just chatting with them for a few hours. Before it was time to go to bed on our final night in the States.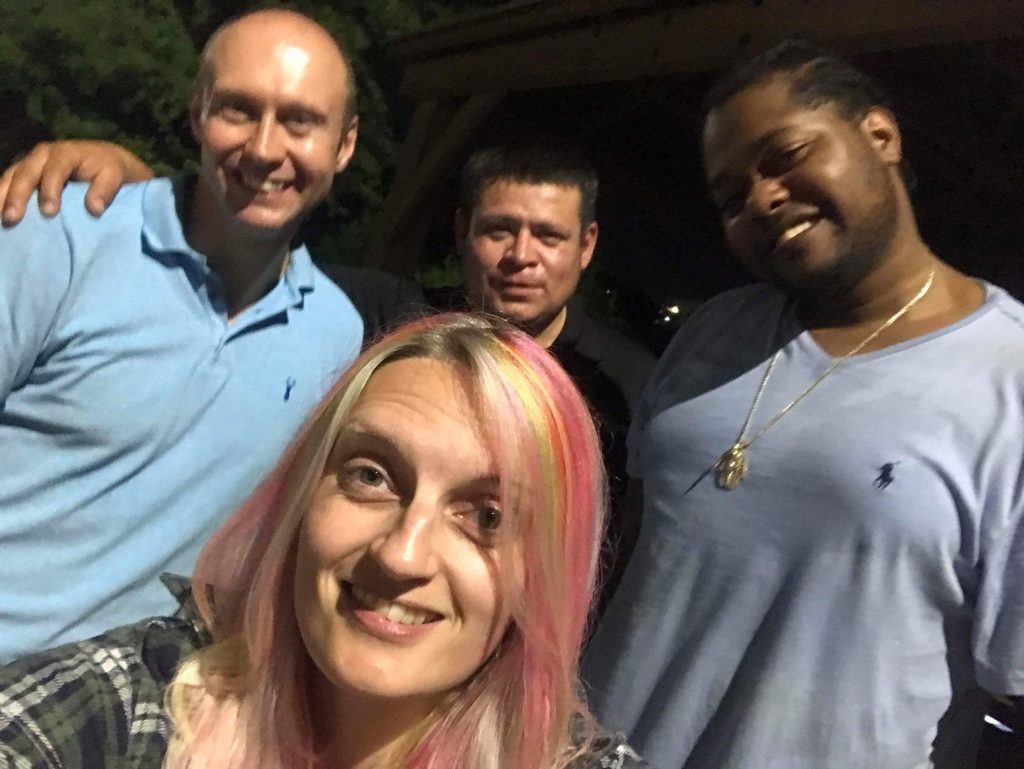 The next day was all about getting up and making the final two hour drive to the airport. To drop the car off and catch our flight home. We returned the car fully fuelled. Then checked in for the journey home. While we were waiting I realised I had not had a hot dog while I was there. I put that right by having a Chilli Dog. Which was great.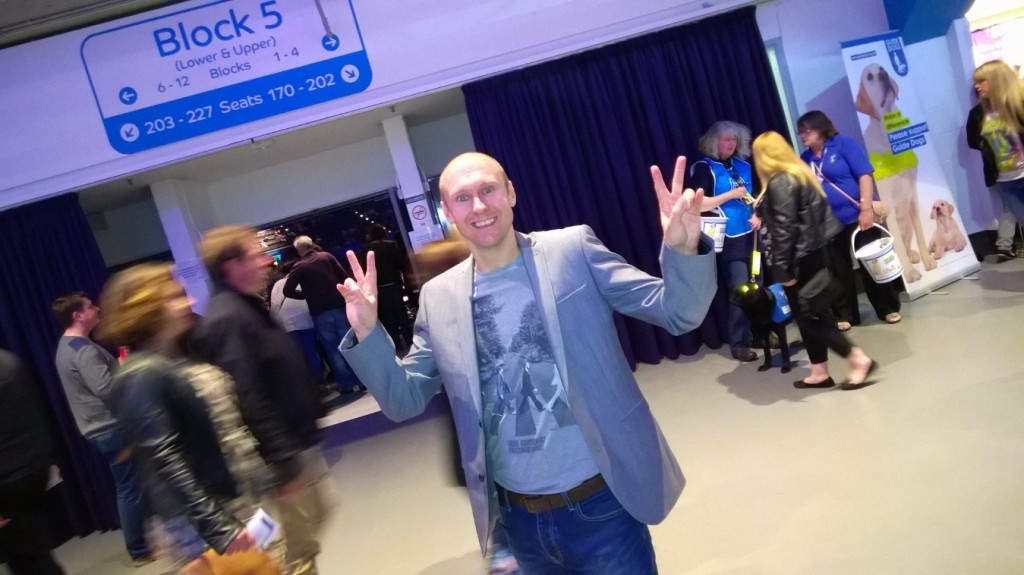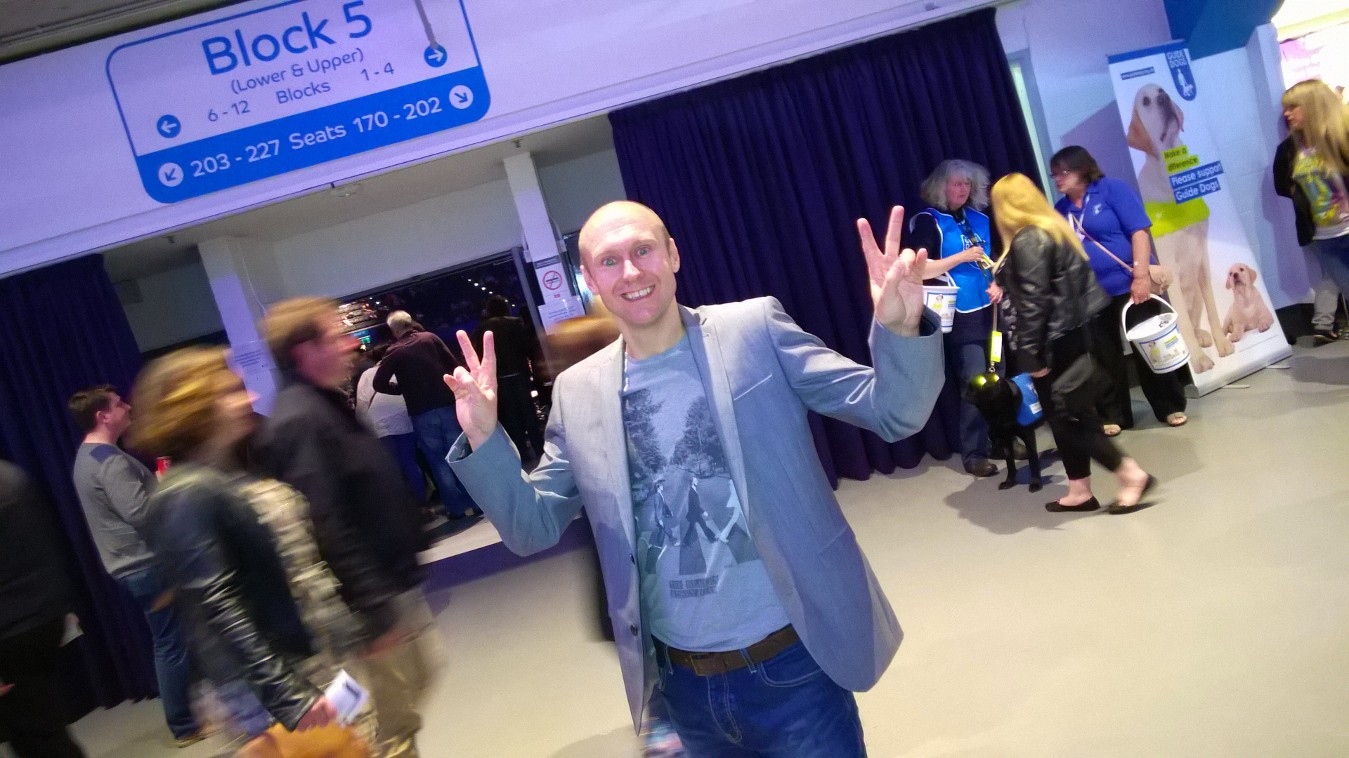 We landed back in England at Heathrow at seven o'clock in the morning. Bringing to an end our American Road Trip Adventure. I hope you enjoyed reading about it. That is it for now. Speak to you again soon. Thanks Neil