Here we are then from Monday a large part of the restrictions and rules that have been in place to help tackle the pandemic in England will be removed. I appreciate we cannot continue for ever in some form of frozen state. As a massive fan of the theatre and the arts it is terrible what has happened to those businesses and the people who work in the industry especially as it does appear other sectors have been treated differently. That said though it does feel a bit odd to me that with cases of the virus now rising to levels on a par with what was happening before the last lockdown. All social distancing and all of the current precautions should now be removed.
I do understand that the reason they feel they can do this is down to the success of the vaccination programme, which has been brilliant. Personally I have been fortunate enough to have had both of my jabs for more than six weeks now. It does appear that they greatly reduce the risk of hospitalisation and also your chance of dying from it. That is of course excellent news. It will hopefully help make the transition for it to be more like how we live with the standard flu virus. But the Government has warned us that cases will increase and there will be more deaths as a result. That feels like a bit of disappointment after what we have all been through already.
I am slowly beginning to start to head out to places and meet up with a few more people under whatever guidelines apply at that time. I do have the NHS App and always check in whenever I go anywhere. To me that seems the common sense thing to do. We are all in this thing together and reliant on the actions of others to help us all get to the other side. The latest advice seems to be a lot more advisory than mandatory. My plan is still to wear a mask when I am using public transport or in an indoor space with strangers, as cases are higher now that seems to make more sense than ever. The main aim of a mask is more to stop you spreading the virus rather than stop you getting it. However it does help with both sides of that coin.
Ultimately you have to do what feels right for you and what you feel happy and comfortable doing. Very few people on the planet have lived through something like this, so it is new to everyone and we all know it is frustrating. But a little more thought and compassion may help us all through it a little quicker with a bit of luck. It does feel like the way things are going that half the country could be self-isolating by the end of the month, if cases rise and we mix in bigger and bigger groups. But I guess we shall see. It will be interesting to see if after all of the big sporting test events that we have had recently, if we see any major surges in cases as a result of them, obviously I hope not.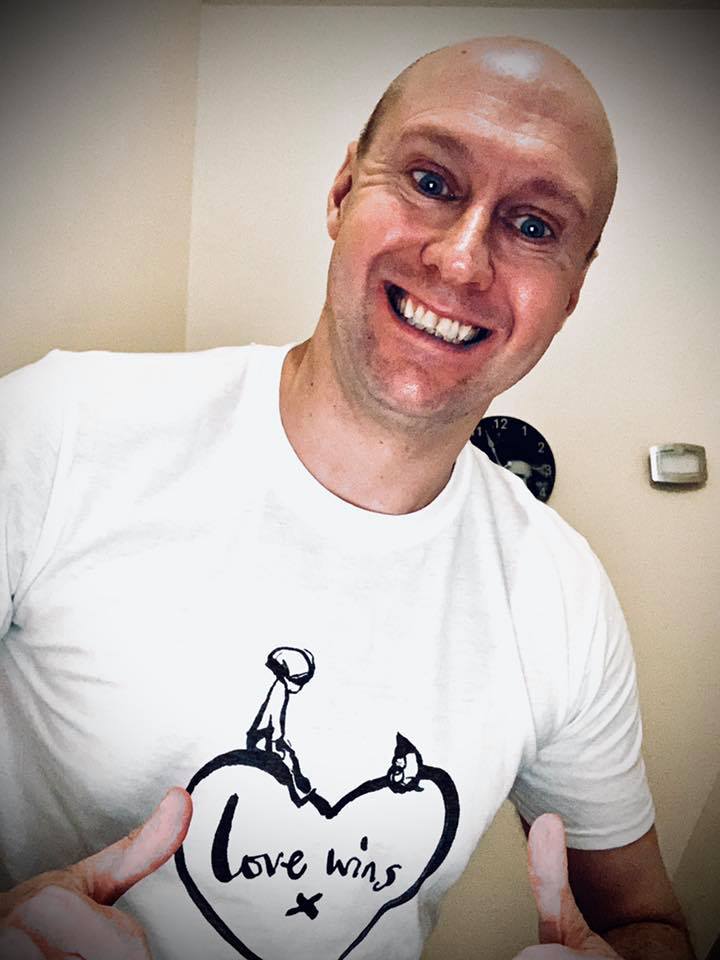 England were beaten by Italy on penalties in the Euro 2020 Final at Wembley Stadium. I worked there for a few years between 2012 and 2015 and remember being excited and interested by the way this competition was organised with Wembley hosting the Semi-finals and Final of the tournament. Even back then I hoped that this would improve our chances of success, like it did in Euro 1996 when we reached the Semi-Final only to then be beaten by our old friends Germany as ever on Penalties. Famously a certain Gareth Southgate missed one on that occasion.
Talking of the manager I think he has done a brilliant job with the National team. He originally took over in slightly odd circumstances but quickly put his own stamp on the role. Having come from being in charge of the Under 21's this meant he knew them and was keen to work with younger players. He has massively lowered the average age of the team during his time in the role. He has shown he is not afraid of making tough decisions and has the faith and confidence to do what he thinks is right. He also sets the right tone. And is a great talker and role model for players and fans alike.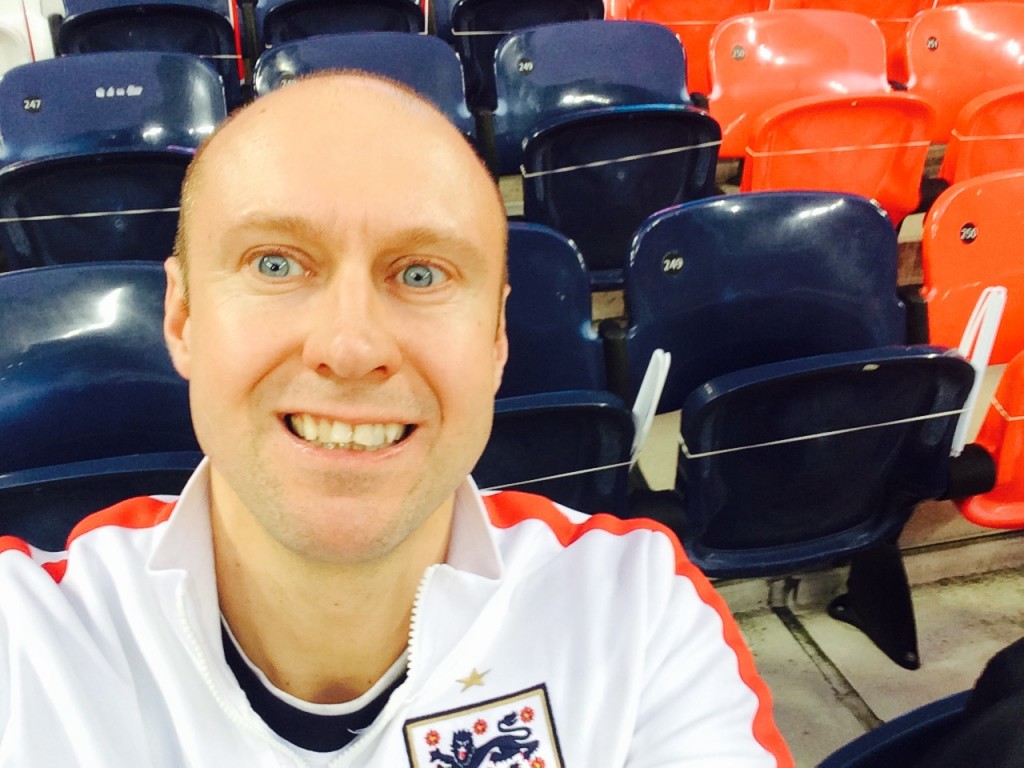 The Italians on the night were just a bit cleverer possibly their extra experience did show in a few areas on and off the pitch. We matched them all the way in the actual football part of the game. Penalties are always a bit of a lottery. It is the same for both sides. You need a bit of luck on your side and everything to go your way. As a footballer a penalty in a shoot-out situation is the most pressurised thing you will ever be involved in. You go through pretty much every emotion as you step up to take one.
I once took a sudden death penalty for Aylesbury United in an Under Eighteen Cup Quarter Final. I can still remember the nerves I had as I walked to the penalty spot. I had to score to keep us in it. You can practice taking them as often as you like but you cannot recreate the pressure that is there when you do it for real. I had made my mind up where I was going to put it and struck the ball as hard as I could. The keeper went the right way got a hand to it but it still went in the net. I have never felt such a feeling of joy and relief. It was amazing! That was a penalty kick in a youth team match that did not really matter. I can only imagine what it must feel like to step up to do it in a final for England.
Anyone who even offers to do it is a hero. You are on a hiding to nothing in a way. If you score it is expected. If you miss you will suddenly never feel more alone. To put your hand up and say you want one shows what a person you are and demonstrates such leadership and courage. You can always look at teams and see players who did not fancy it. That is their choice but you should never criticise the person who was prepared to put everything on the line for the team. It is not a nice way to lose and it should not really be a nice way to win. But it is, as a player the adrenalin rush you get from winning one is off the scale.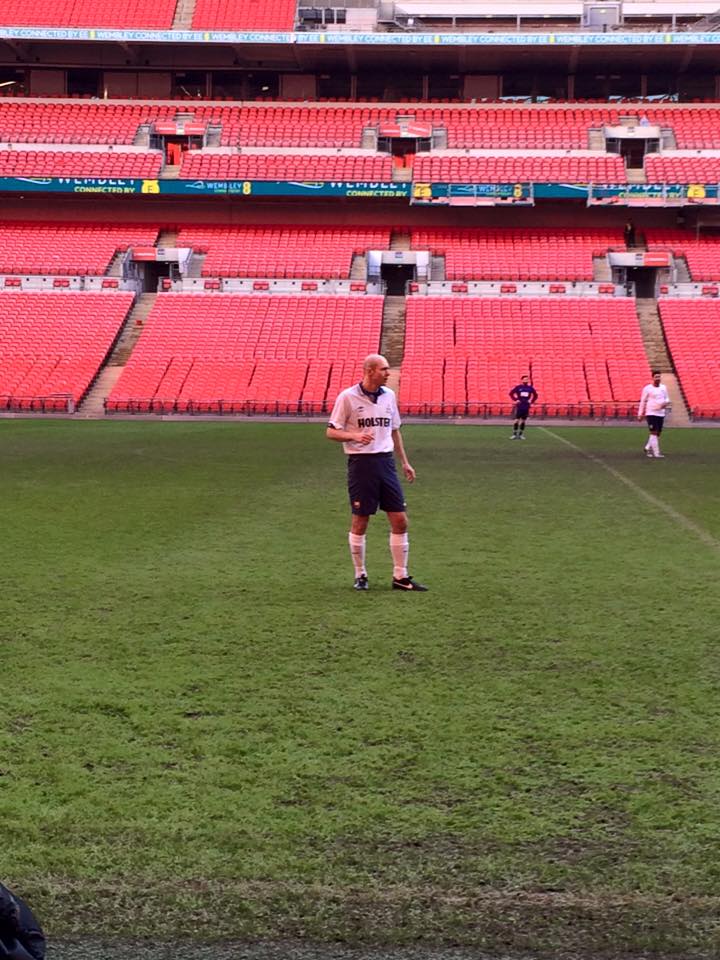 Well done to everyone involved with the England Squad. They should all be very proud of what they have achieved and how they united the country. The aftermath from it is sadly a society problem that we all clearly need to work together on. You see this sort of thing almost on a weekly basis during the normal football season. The unrealistic expectation to win every game! Then the attack on individuals when things go wrong! The mind set of which I just do not understand I support every player at my club who plays for the team and the same goes for the National team.
This team are great role models and dedicated hard working young men. The main stay of this squad will all be together for a couple of years or so. There is a World Cup next December and I see no reason not to dream that we can do it. We reached our first final since 1966. We are getting closer. There are some children who have never seen England reach anything less than the Semi-Final in any competition they have seen. Let us not spoil their fun and optimism with our old negativity based on failures of the past not opportunities in the near future!
Last weekend my girlfriend and I went to see some of her friends for a few days in Reading. During the most recent lockdown one of them celebrated a landmark birthday. This was the first chance we had to mark the occasion properly. He offered to cook for us on both days but he was unable to put us up, so we stayed in a nearby hotel. It was really lovely to see everyone again. Luckily he is a decent chef so on Saturday the meal included Paella and a Beef Stroganoff both of which were excellent. Then we had a Gluten Free Cheesecake that was supplied by Lynda. That meant I could have some but everybody else had to have the "special" version to.
We may have had a few drinks and spent the day laughing and talking. It felt very normal and relaxing. I think I am still happier in small groups of people I know rather than being in venues with lots of strangers around. To me it just feels a bit more comfortable and sensible. We got a taxi back to the hotel just before midnight, that on the face of it seems like a reasonable time to end things. However I will admit that we met up at around three in the afternoon. In our defence we had not seen each other for at least ten months.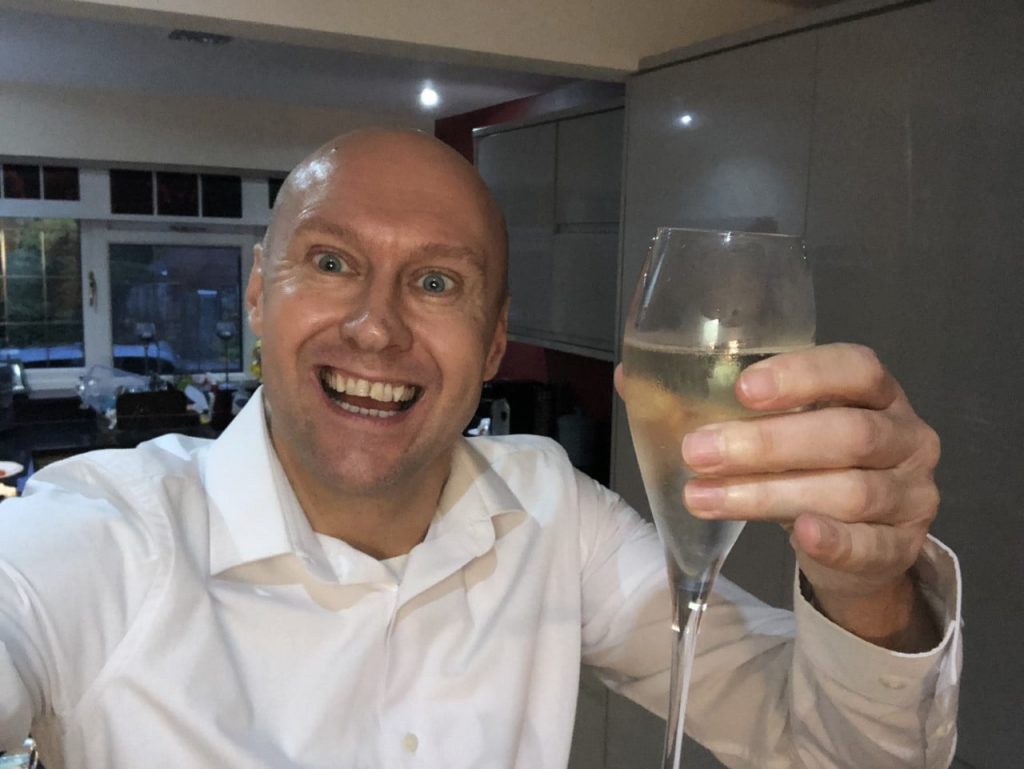 On the Sunday her friends got up earlier than us and went for breakfast at the restaurant next door attached to the hotel. We thought we would just grab a quick something. There was a Burger King across the road. We looked in there but they had nothing that was suitable for a Coeliac. There was a Nando's nearby but that had a queue outside. Therefore we ended up driving to a Supermarket so that I could raid their Free From section. I am still getting used to the fact I am a Coeliac as previously getting fast food or a simple snack at breakfast would be easy and simple. Now I have realised that it requires a bit more thought and planning. That is fine it is just a bit of a learning curve for me.
Our host cooked us a Lamb Roast Dinner, which was lovely. We also managed to sample three different bottles of Fizz in the afternoon. On reflection it seems like the perfect way to enjoy the weekend. There was of course a big football match that evening that I was never going to miss, so we said our goodbyes and went back to the hotel in time for kick off. We met up in a friend's room to watch it me armed with some Gluten Free Beer, my girlfriend with some wine. It was a bit odd watching it all in a hotel room but the most important thing is that I got to witness it, despite the result. It was a brilliant weekend, great to see and spend time with people. Something I have not done that much of over the last eighteen months.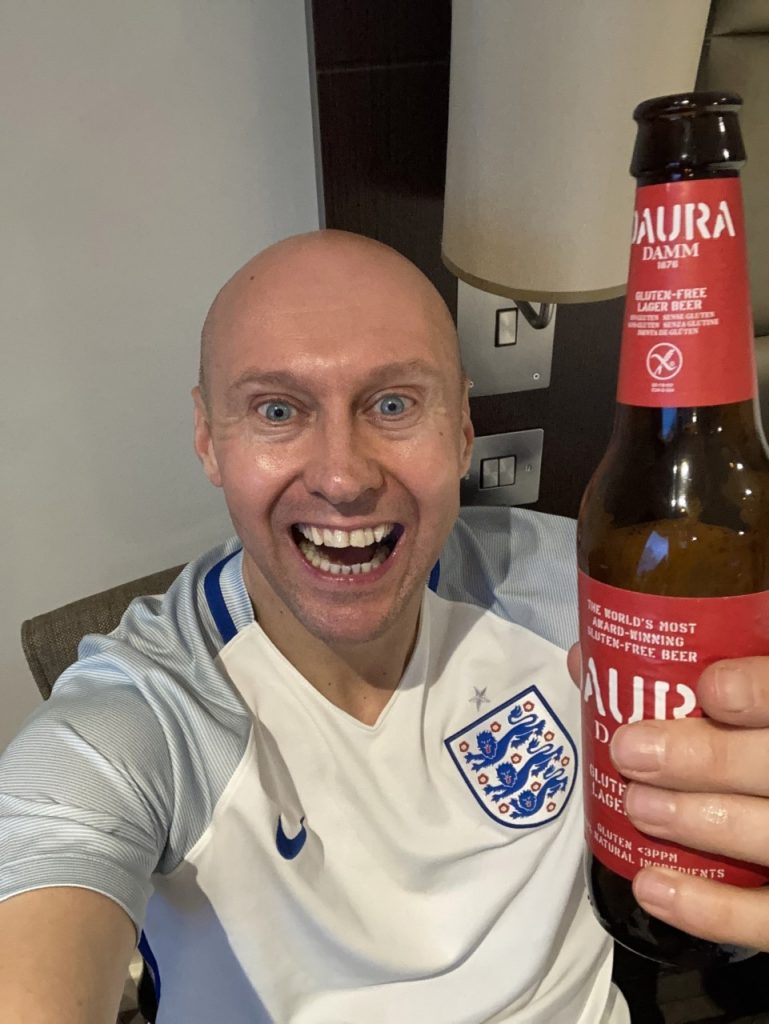 Paella's are like buses you do not have one for years then a couple come along right after each other. My girlfriend's mate gave us his version last weekend. And the Sunday before Lynda decided to try to make the dish for the first time. Now I probably should have kept quiet but I am not very good at that. When she told me her plan I mentioned that the only time I had ever previously eaten Paella was when I was in Barcelona in a very nice restaurant there. It was not an attempt to put pressure on her. I was just being truthful and honest and possibly showing off a bit that I had been there. She need not have worried her Paella was a triumph. I really enjoyed it and went back for second and third helpings!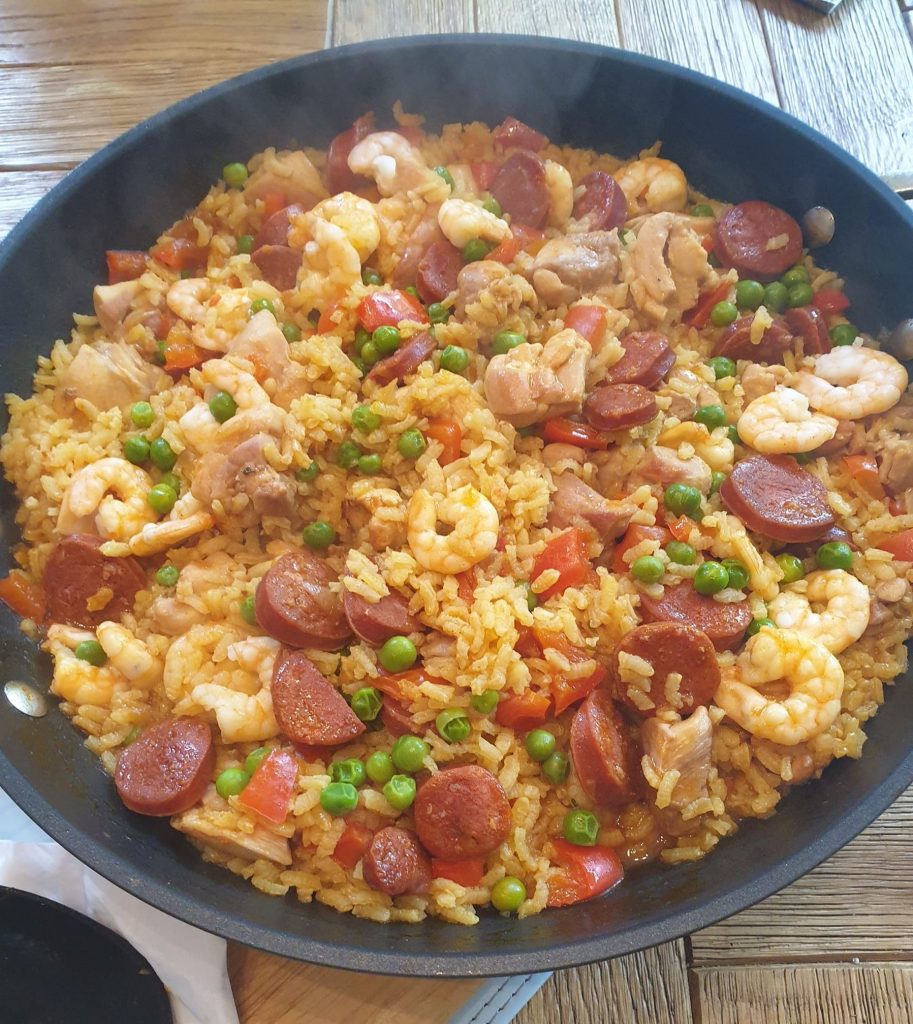 I have been having issues with my left arm for about eight weeks now, which if you are a little bit addicted to exercise like me is very annoying. It means that I have had to alter my regime so that it does not hurt when I work out. Anyway yesterday I went to see a NHS Physio Therapist for some assistance with it. They were very helpful and professional. They are going to help me manage it and improve it with a series of exercises and some treatment. To be fair the amount of niggling things I pick up when I am keeping fit I could do with a full time Physio like they have at football clubs.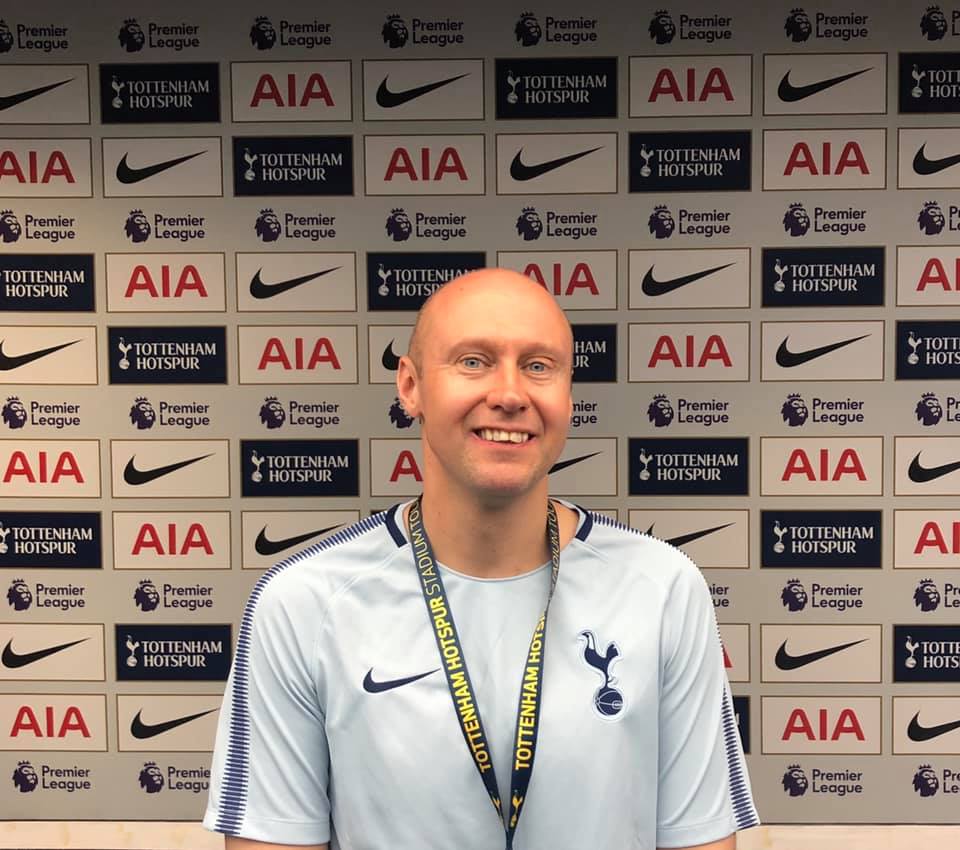 Talking of which I got some new running shoes recently. I did not wear them in enough before I went for my morning run in them. I got them basically because they have a big N on each side. But they are meant to be pretty decent. However the first time I used them they gave me a huge blister on my heel. It was so big that I actually had a problem putting my shoes on. I tried to leave it and rest it in the hope that it would go down and disappear by itself. Everyone was telling me to pop it but the medical advice is that should be kind of the last resort.
After several days with no improvement, if anything it seemed like it was getting bigger, so I phoned my Doctor's to get an appointment with a Nurse. As it happened when I called they had a cancellation for thirty minutes time, so I took that slot and rushed straight down there. She decided that it would be best to drain it to let the fluid out. My girlfriend had been threatening to do that for me. But I was happy to wait for a medical professional to make the call and carry out the procedure. It is still quite sore and I am unable to run, but it is slowly getting better. Moral of the story is wear any new footwear in before you use it in anger!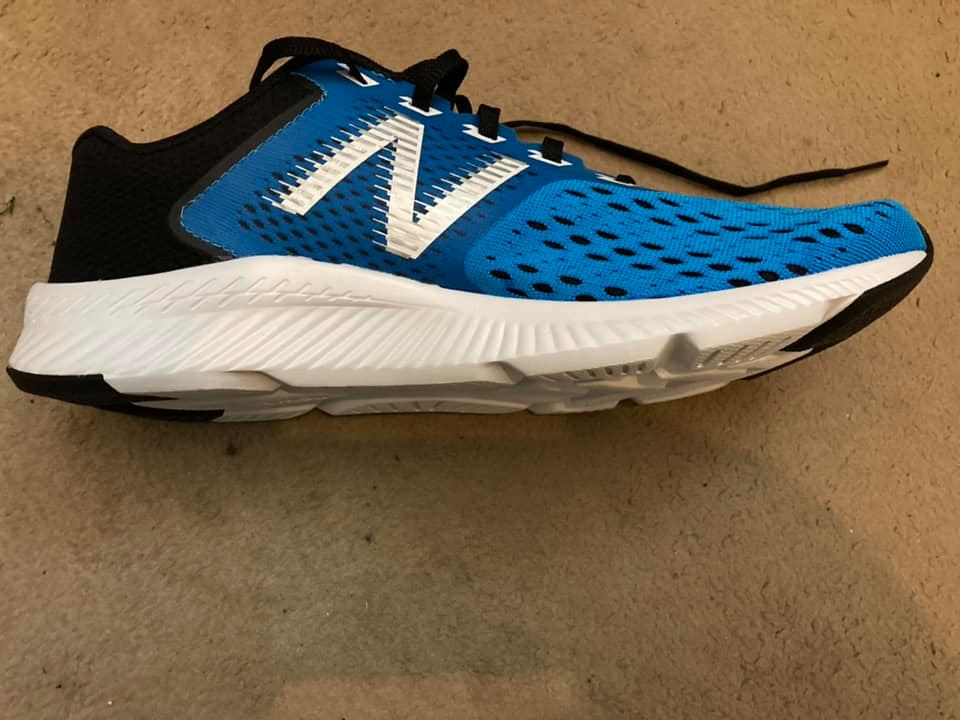 As a massive David Jason fan I have of course been watching Still Open All Hours the follow up to the original BBC Comedy that he appeared in alongside the great Ronnie Barker. In the new version the shop boy has succeeded his Uncle as the owner of the corner shop and picked up a lot of his skills and beliefs along the way. The other week I watched a few episodes of the original Open All Hours. I had not realised how many of the original characters were still in this updated one and how much it is true to and corresponds with the version with Arkwright in charge of the shop.
It is actually so clever and would make sense totally if you watched them all back to back, which bearing in mind the gap that there was between the original and the new one is incredible. Both versions I think are funny and have some laugh out loud moments. But you cannot beat Ronnie and David working together. The two of them in a scene just makes everything funnier. The delivery, the timing and the relationship between them is astonishing. The secret may be just leaving little pauses to build tension and anticipation. The ability to allow silence I think is one of the hardest things for any comedy performer. Both masters of the trade, I would like to personally thank them for all the laughter over the years.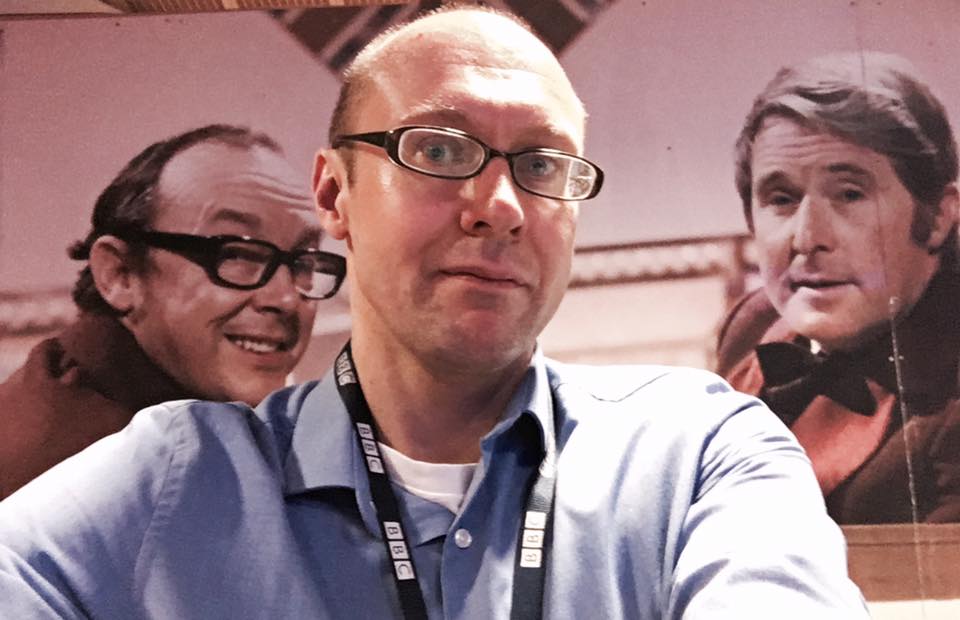 Today I am going to Taste of London in Regents Park. It is the first time I have been to this event. However Lynda assures me it is brilliant. Due to her love of food I think this will be to her like a football match or music festival might be to me. I am looking forward to experiencing it. And I will let you know what it was like next time we speak.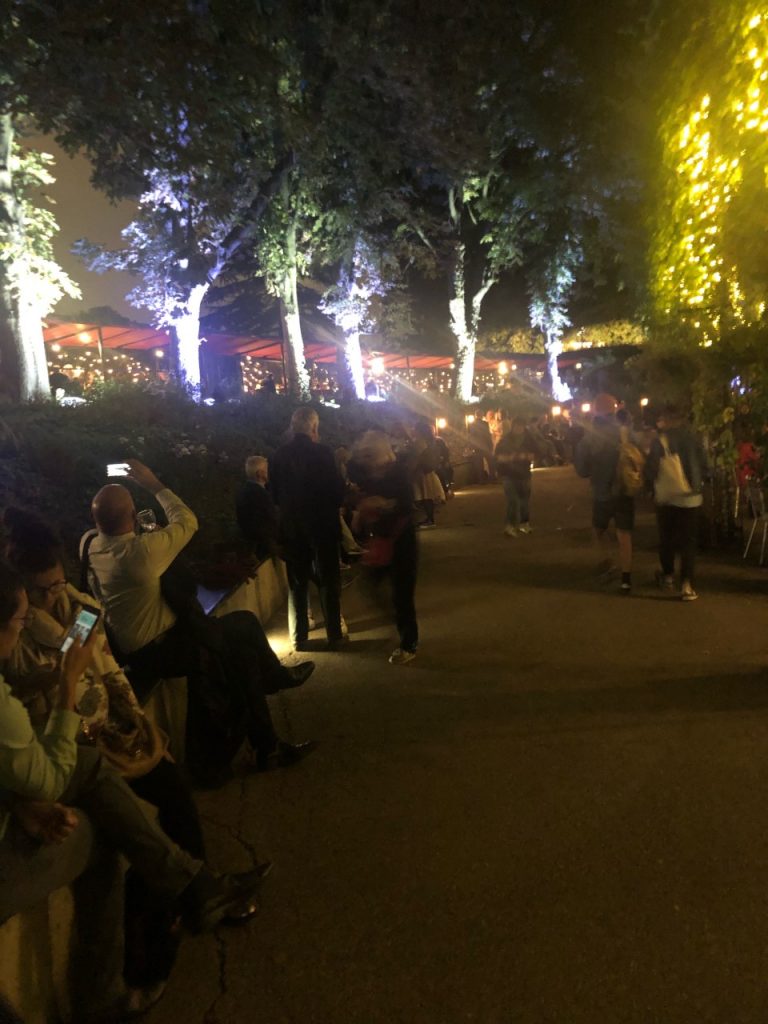 A quick reminder that you can listen to me every Saturday afternoon between 2pm – 4pm on Radio Ninesprings https://www.radioninesprings.co.uk/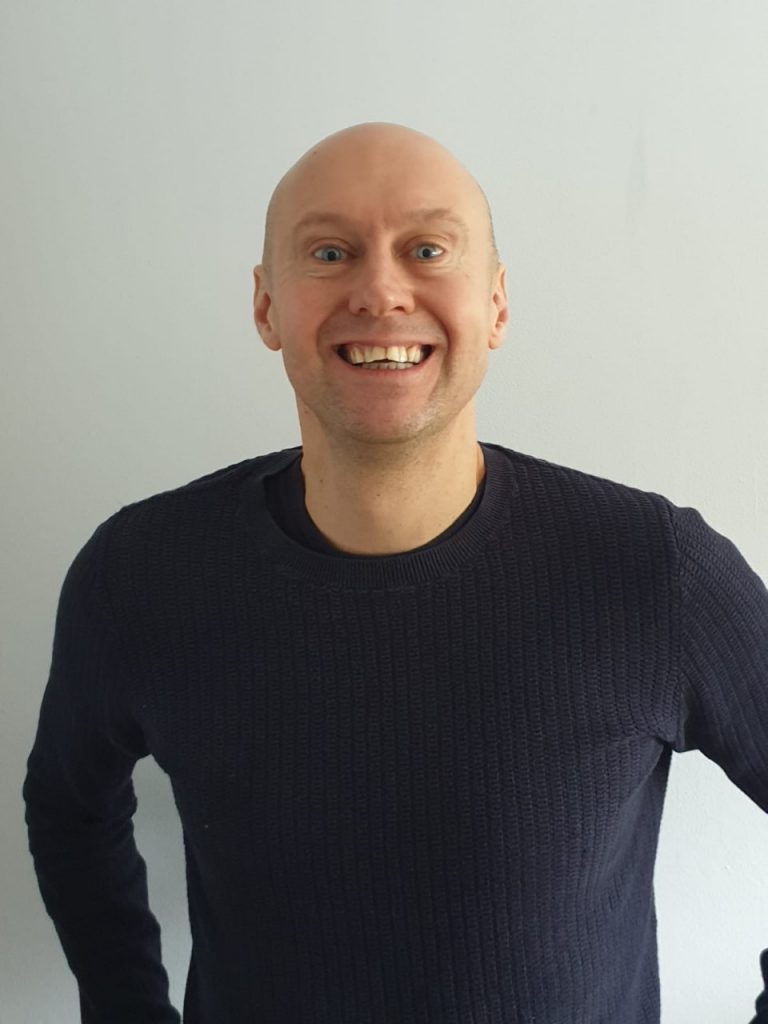 Have fun and we will catch up again soon. Stay safe! Cheers Neil.