Is it just me or is the time flying by at the moment? May be that is because I am back to being nice and busy again alongside the fact that things are opening up and more events are now taking place. The month of August just seemed to be a blur. The more things I do the more energy I seem to have and of course the more comfortable I am being around people again. As I am back working in London and going to the football I have had to just get on with it. And although I still wear a mask when I am inside anywhere it all feels pretty normal and natural.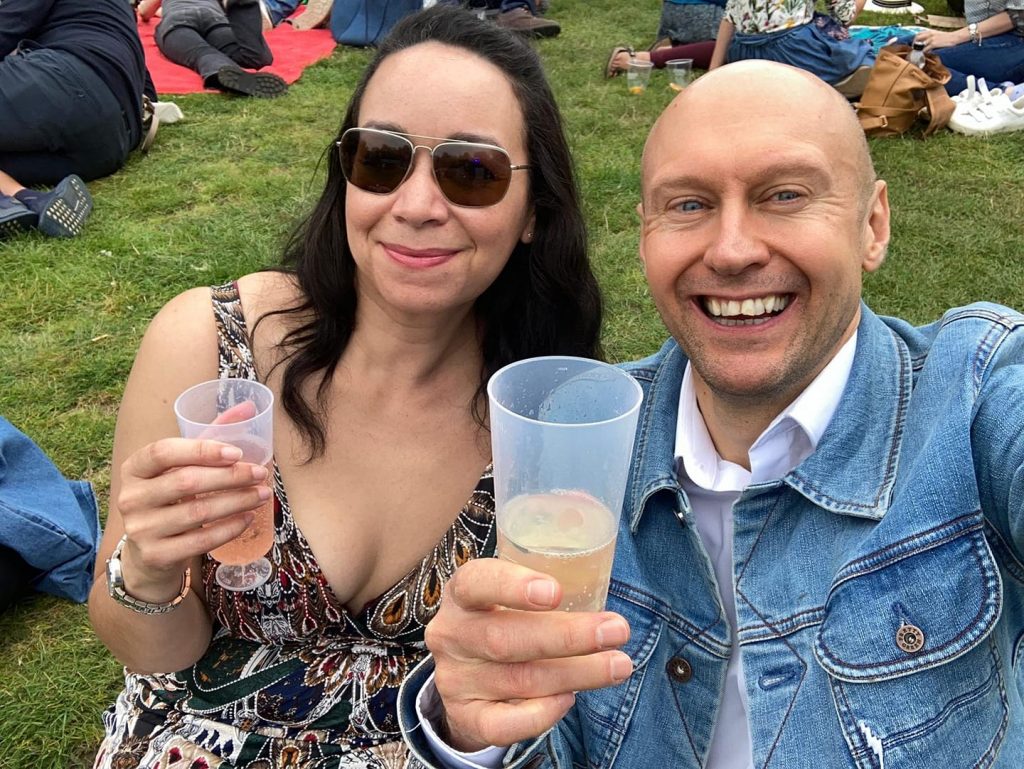 I had a brilliant time last weekend. My girlfriend and I got invited ages ago by a group of friends to go to the Pub in the Park event in Chiswick. We decided to spend two nights in the hotel just around the corner from the park where it was taking place. I was working in London on the Friday so I got the tube and met Lynda at the hotel. She had already checked in and scoped the room informing me that we were a towel short. I managed to collect one on the way up from reception. I did somehow resist the urge to do a room service joke as I arrived with it.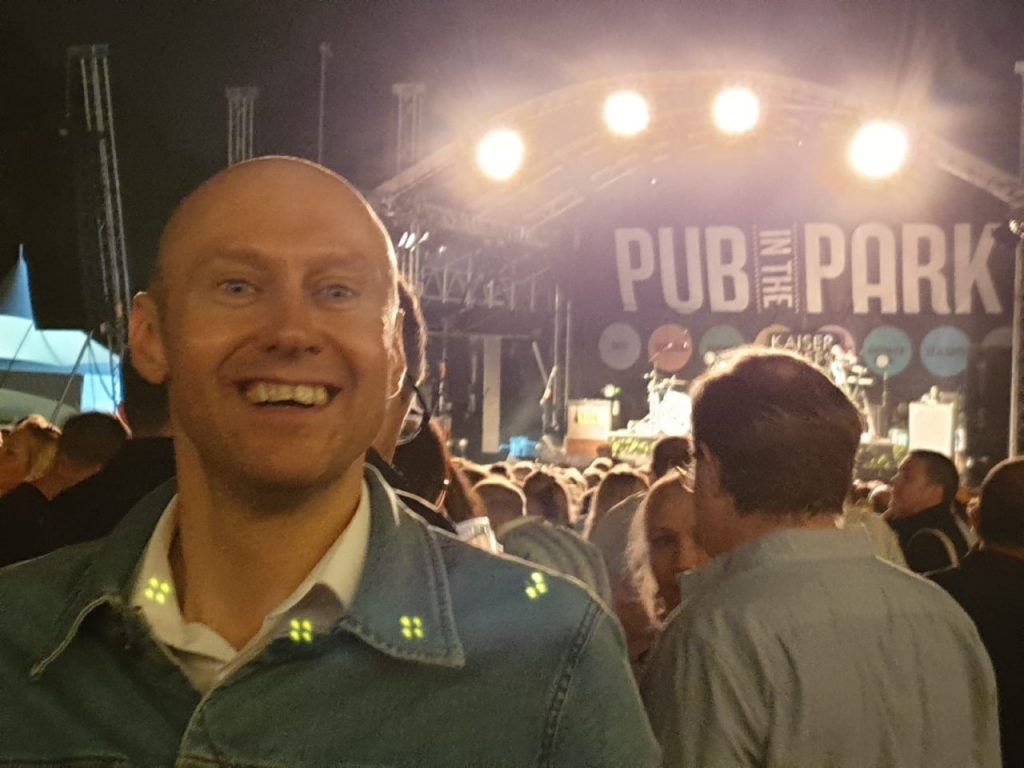 Now I am Coeliac I really have to plan what I am doing for food and where I am eating in advance. Coeliac UK supply a very handy phone app that informs you of any accredited or recommended restaurants nearby to where you are. I checked this a few weeks ago and found a Cote's Brasserie about a ten minute walk away from where we were staying. They happened to be fully accredited by Coeliac UK, which means they have a good selection of gluten free meals and take all the necessary steps to avoid cross contamination.
We arrived and they had a great table for us by the window with plenty of space around us. I identified myself as a Coeliac on arrival so when we had sat down they gave me my own special gluten free menu. I had my own waiter to take my food order. It was fantastic, we had three courses and my food came out at the same time as the others, plus it did come with a gluten free flag stuck in it, which I really liked. It meant that I could just relax and enjoy my food as I could tell they were taking the right precautions and doing all the right things.
We had a lovely meal washed down with a few glasses of a nice red wine. The Staff were brilliant. After dessert we strolled back to the hotel just before midnight expecting to get one more drink at the bar. To our surprise when we got there it was already shut, so we had to go straight to bed. Mind you as the Saturday was meant to be the main day that might actually have been a bit of a blessing in disguise. It did mean we got a decent night's sleep. Lynda and I did not get up particularly early choosing to conserve our energy for the long day ahead.
Pub in the Park had two sessions an afternoon and an evening one. We had tickets for both. The first one opened at eleven thirty so we got there at about midday. It was really well organised and set up. The event is the brainchild of the chef Tom Kerridge. He has been doing these events across the summer for a quite a few years now, when regulations allow of course. There are lots of food and drink producers with their own stalls. This was right up Lynda's street so within ten minutes of being there she had already purchased some tea liqueur and decided she was going to buy some spices.
We had a good walk round the entire site to get our bearings and work out where everything was. Throughout the day there were chef demonstrations. The one that Lynda wanted to see was due to be on at half past twelve, so we rushed to the area to see him in his advertised slot but there were two different chefs on stage instead much to her disappointment. The man she wanted to see was Atul Kochhar so to console ourselves we went to his pop up restaurant and each had one of his dishes. Luckily for me he had a few gluten free meals. Both of which I tried in the end and both of which were amazing. I definitely need to go to one of his restaurants.
We then found our way to the cider bar and had a pint each. Then we discovered a cheese stall that was giving out free samples. It would have been rude not to try some. In fact it was so good Lynda got a selection of them for us to enjoy at a future cheese and wine night. Next to the cheese there was a rum company who were also offering a sample of their product. It just so happened that they were based down the road from where I live. Their drink was really nice, so we purchased some of that to. As well as food and drink the other thing pubs are sometimes known for is live music, so there was a stage that had a few bands playing during each of the sessions.
We saw Nerina Pallot do her set. She was excellent. After that we managed to grab ourselves some prosecco to enjoy. Next it was time to try some more dishes from another couple of the selected chef's restaurants. I had an amazing beef creation followed by Rick Stein's black cuttlefish risotto. It tasted alright but I was a bit put off by the colour, as in general if something is black on your plate it is because it is burnt. There were a couple of cocktail bars there so we tried a Pepino Russo. It was a surprisingly refreshing drink that did have a bit of a kick to it.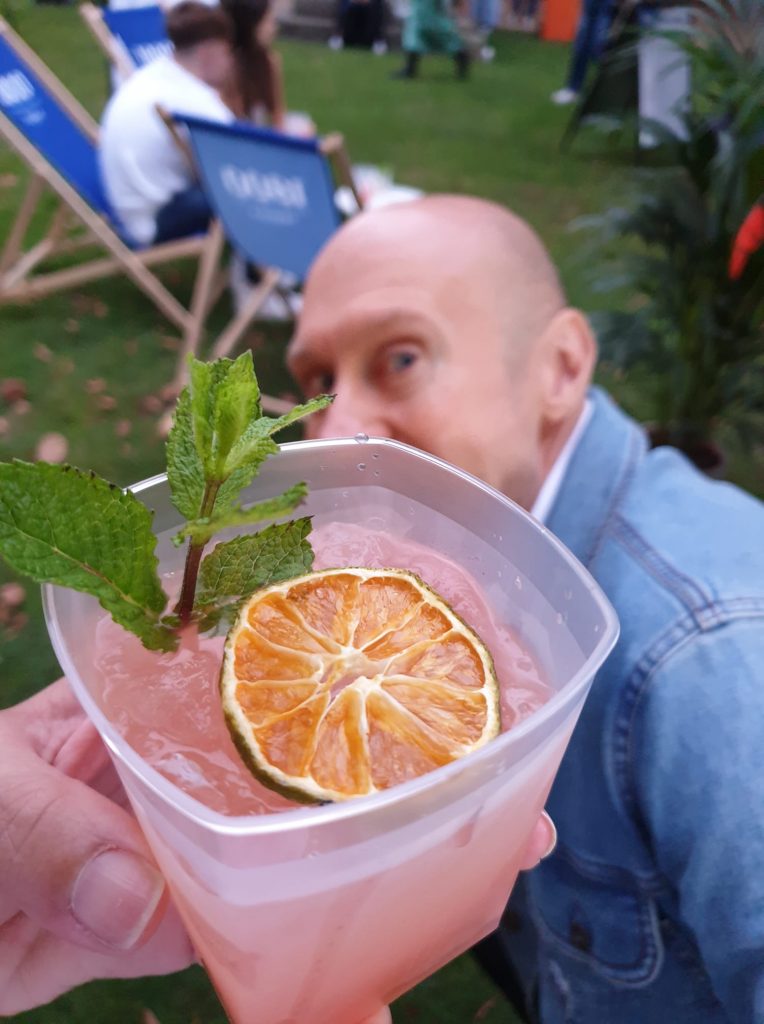 The headline act for the afternoon session was The Feeling. I have been a fan of the band for years but this was the first time that I had seen them live. Now I appreciate that I have not seen any live music for quite a while but I thought they were brilliant, they sounded ace. They played all their big hits, their latest single and the title track from the musical "Everybody's Talking About Jamie" that was written by the group's lead singer Dan Gillespie Sells. As we were watching them I managed to have some ice-cream plus Lynda found us some cans of this alcoholic water, which was a great way to stay hydrated while still getting a bit tipsy.
Just when I thought I could not love The Feeling anymore they came back on for the encore and did The Buggles song Video Killed the Radio Star. I had that as my mobile phone ringtone for about five years. I really like that song and it had the park bouncing, possibly helped by all the great food and drink options. That bought that session to an end so we walked back to the hotel to drop off all the items we had bought and then had a drink in the hotel bar while we waited for the evening session to begin.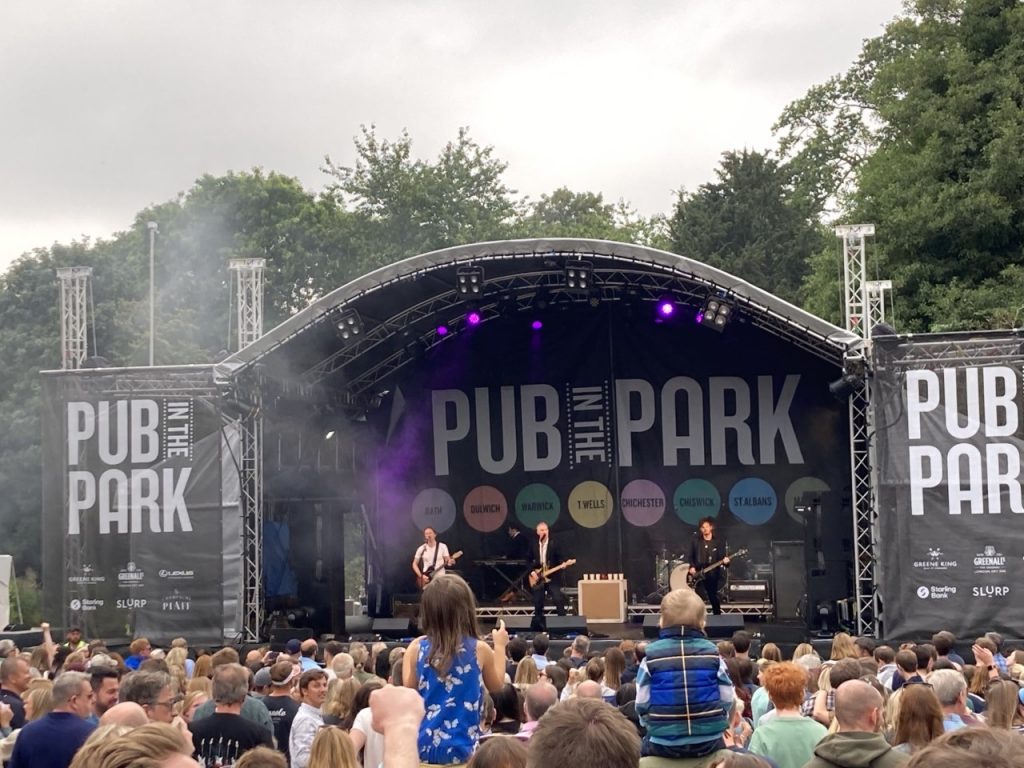 We strolled back to the park for about six o'clock. On arrival it was obvious that this session was busier than the earlier one. We took the executive decision to have some more food at this point, which was again exquisite. To wash dinner down we found a new cocktail bar and had a couple of their specials.
I then noticed that the chefs that were on when we expected Atul Kochhar earlier were listed as being on that evening. So I wondered if they had swapped slots. We went to the demo area and happily I was right he was on stage doing a cooking demonstration showing us how to make the dish that I had actually tried earlier in the day.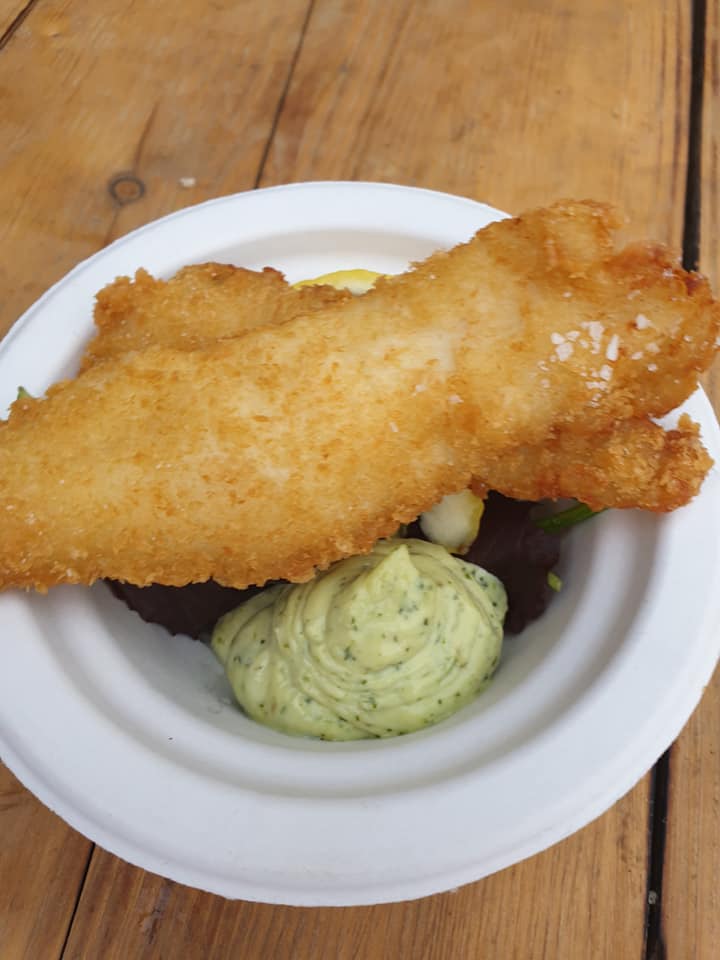 I was pleased that Lynda got to see him in action as she had been a bit disappointed when he was not on earlier. It was then time for another drink and I discovered a Cocktail Bar that were doing Pina Coladas. That used to be my holiday treat drink so I channelled my inner Derek Trotter and ordered one of them.
On the stage at this point were The Cuban Brothers. I had not heard of them before and if I am honest I was not sure what I was watching. There was a lot of just singing along to songs, dancing and a little bit of nudity. It was one of the strangest acts I have seen for a while. They were certainly unique I will give them that!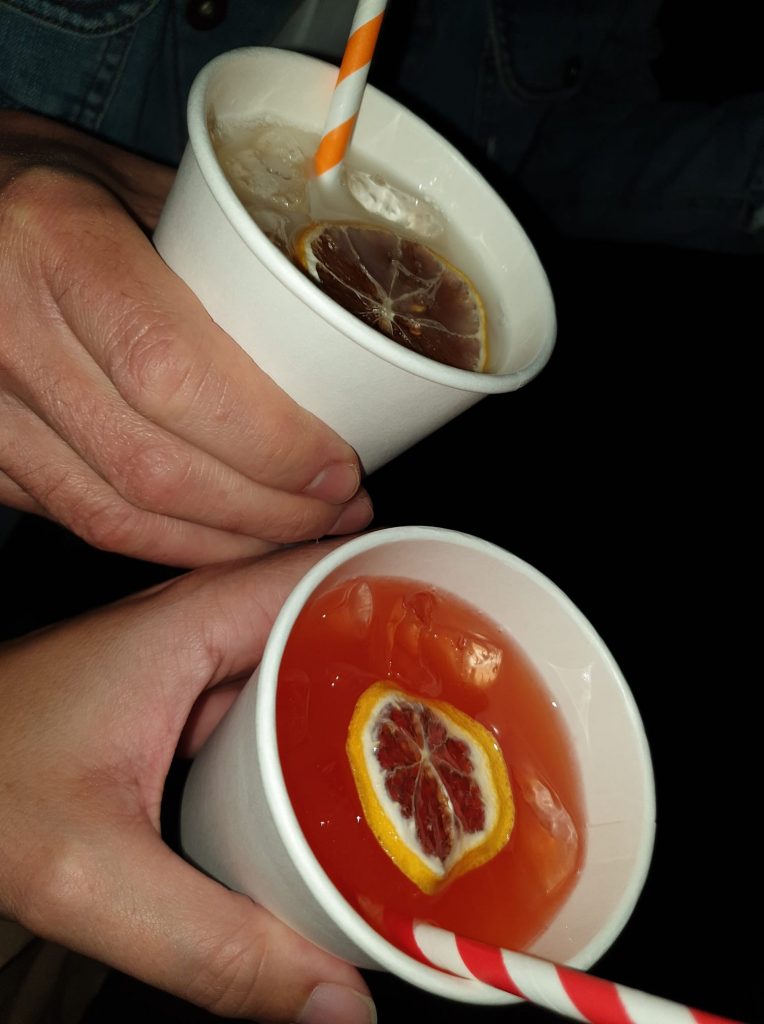 The headline act for the evening session was The Kaiser Chiefs. I had seen them once before at Glastonbury in 2007. They are a great live band and I think Ricky Wilson is one of the best front men in the business. You cannot fault his energy. He certainly puts a shift in when he is up there. Obviously they did all the big hits and we had a nice sing-song.
It was so great to experience live music again and see lots of people enjoying themselves and dancing in unison. It was a beautiful day, good food, nice drinks, brilliant live music and great company. We rounded things off with one more drink back at the hotel before bed, a fantastic event and a wonderful weekend.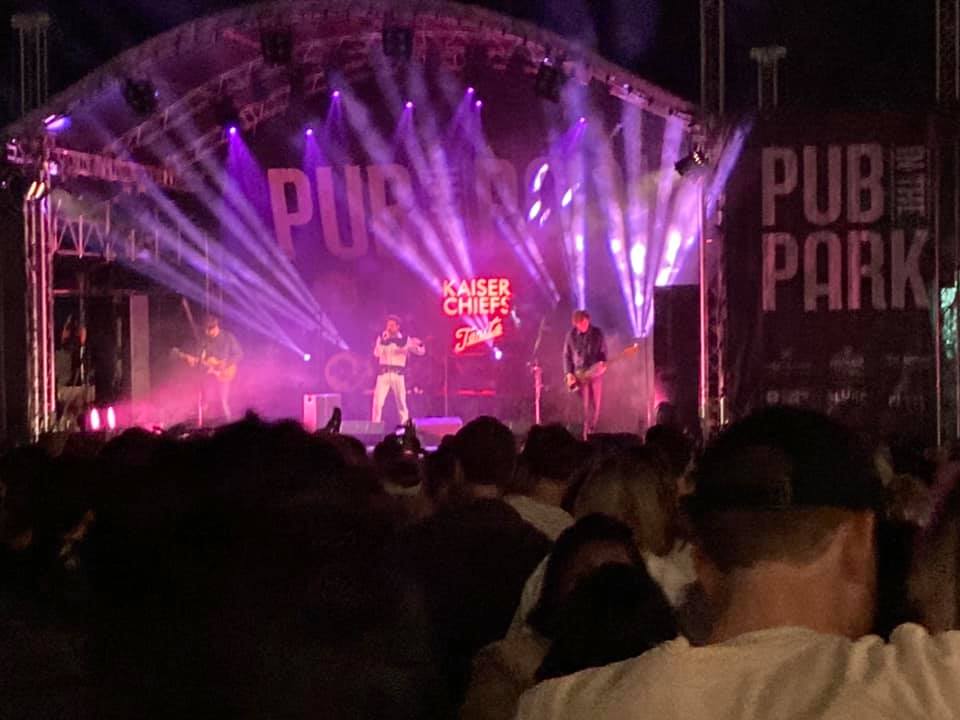 Over the Bank Holiday Weekend as the weather was nice Lynda did a barbeque for us. Well she had one in the afternoon and saved some of the food for me so I could have it when I got home from the Spurs game. She had done a corn on the cob and served it using these pin things that I had never seen before.
It turns out they were small corn holders. You stick them in each end of the cob and they have plastic handles that you hold to eat the corn. I had no idea they existed but they are a real game changer when it comes to eating corn. It makes it much easier and saves you dropping it all over the place.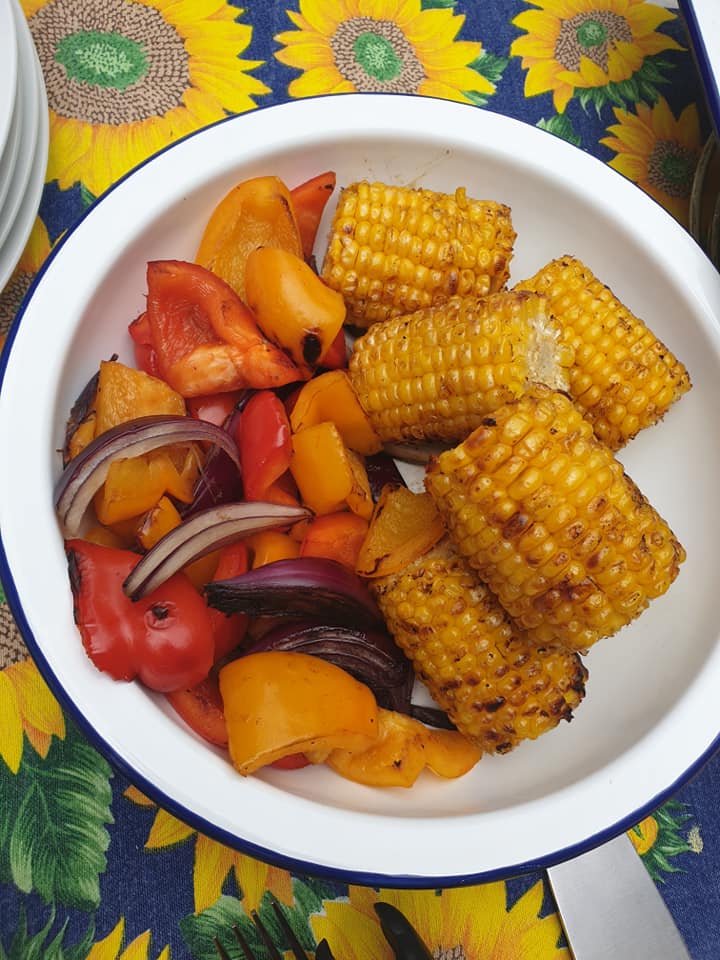 Around a year ago Pretty Green brought out an Elvis Presley TCB range of clothing. As a big Elvis fan this peaked my interest but all of the items were quite expensive. About three weeks ago a friend of mine sent me a message to say one of these jackets was on a well known auction site. I was watching it all week and then the night before it was meant to close I put in a bid. The auction was due to finish in the early hours of the morning. I woke up randomly ten minutes before it was due to end. I noticed I had been outbid so I then put one more bid in and fell back to sleep. When my alarm went off I woke up to an email telling me the jacket was mine.
It is a denim jacket with a TCB lightning flash on the front. A special patch on the arm and then in the lining of it there is a copy of the TCB Oath in Elvis's handwriting. This is it "More self respect, more respect for fellow man. Respect for fellow students & techniques. Body conditioning, mental conditioning, meditation for calming & willing of the mind & body. Sharpen your skills increases mental awareness for all those who might choose a new outlook and personal philosophy freedom from constipation." I mean in general I do not think it is bad advice. I love the jacket and I will be wearing it a lot during the next year.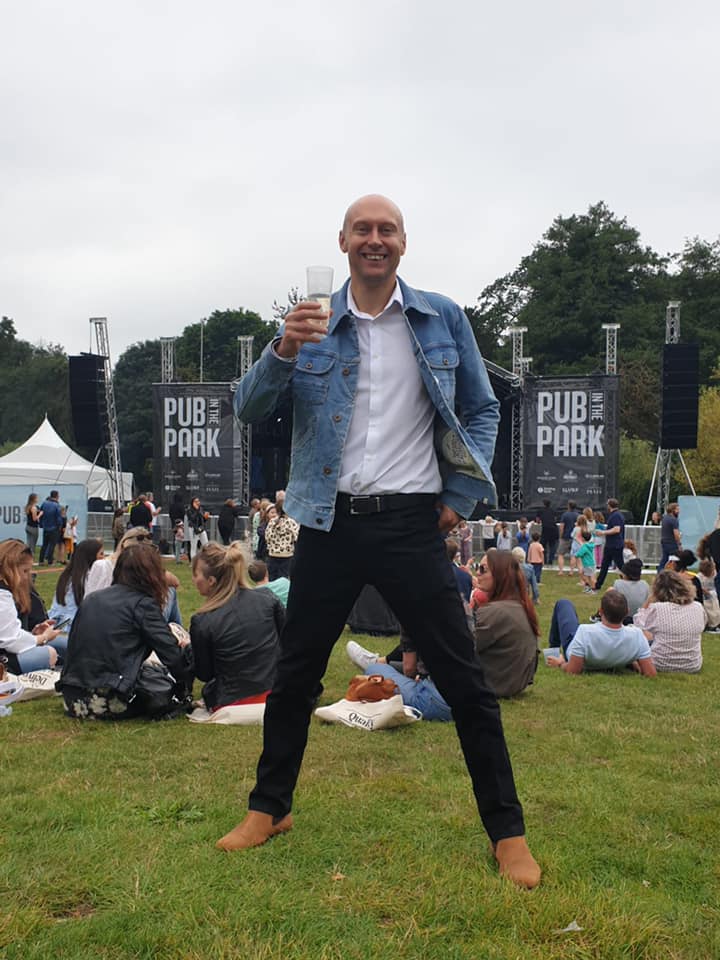 It was my mum's birthday last Monday. I managed to actually get to see her on the day, which was great. She is also an Elvis fan so for her present this year I am taking her along to see The Elvis Tribute Artist World Tour at The Waterside Theatre in Aylesbury next month. It will be a night out that we will both enjoy.
The biggest gift you can give is spending time and doing fun things with loved ones as far as I am concerned. She had a lovely time on the day itself and I did also get her some perfume. As I always feel it is unfair if a person does not have an actual present to unwrap from me on their special day.
Tottenham Hotspur's start to the season has exceeded my initial expectation that is for sure. After the first three games we have maximum points and are top of the league without conceding any goals. Add to that the fact that we are playing more positive and attacking football this year, there is a lot to be pleased and optimistic about. As we now come out of the first international break of the season we have a tricky away game at Crystal Palace today. Never an easy place to go but hopefully we can grab all three points and keep the momentum going.
Another pleasing factor is that Arsenal are currently at the bottom of the Premier League table having scored no goals, which of course does amuse me greatly. I do not think that The Gunners will go down and I do not believe we will win the league but at the moment I do intend to fully enjoy both teams' current positions. Still a long tough season ahead but I am really enjoying being back in the stadium and seeing live football again. I will be delighted if we are still top of the league going in to the next international break in about a month's time. But as the old cliche' goes let us just take one game at a time starting with todays. Come on you Spurs!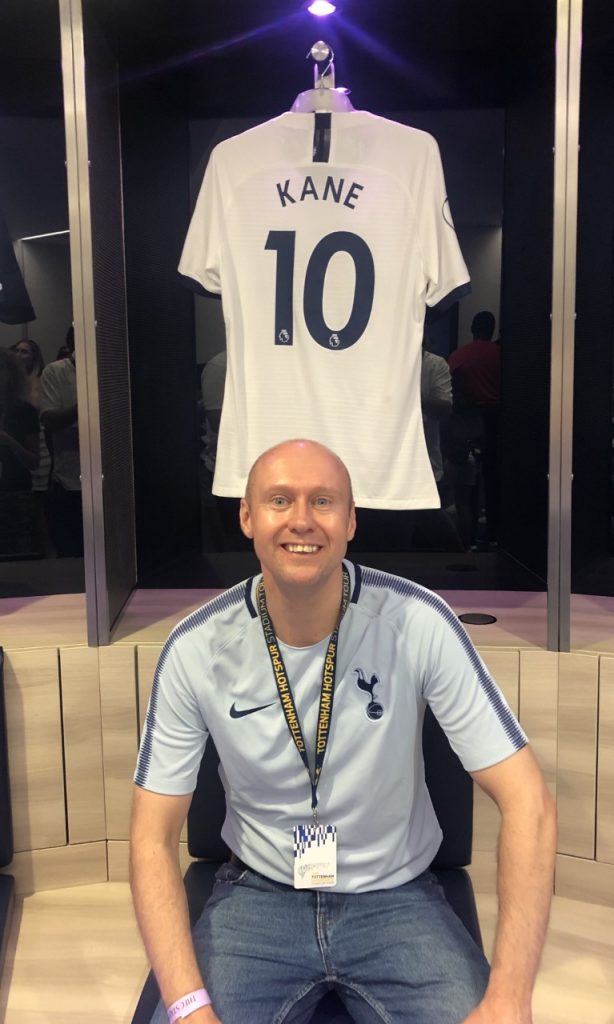 I am quite excited as it looks like next weekend I will be going to the Isle of Wight Festival. That is an event I have never been to before at a place I have not visited since I was about ten years old on a primary school trip, so it will be fun to rediscover it. If it happens I will tell you all about it next time we speak.
A quick reminder that you can listen to me every Saturday afternoon between 2pm – 4pm on Radio Ninesprings https://www.radioninesprings.co.uk/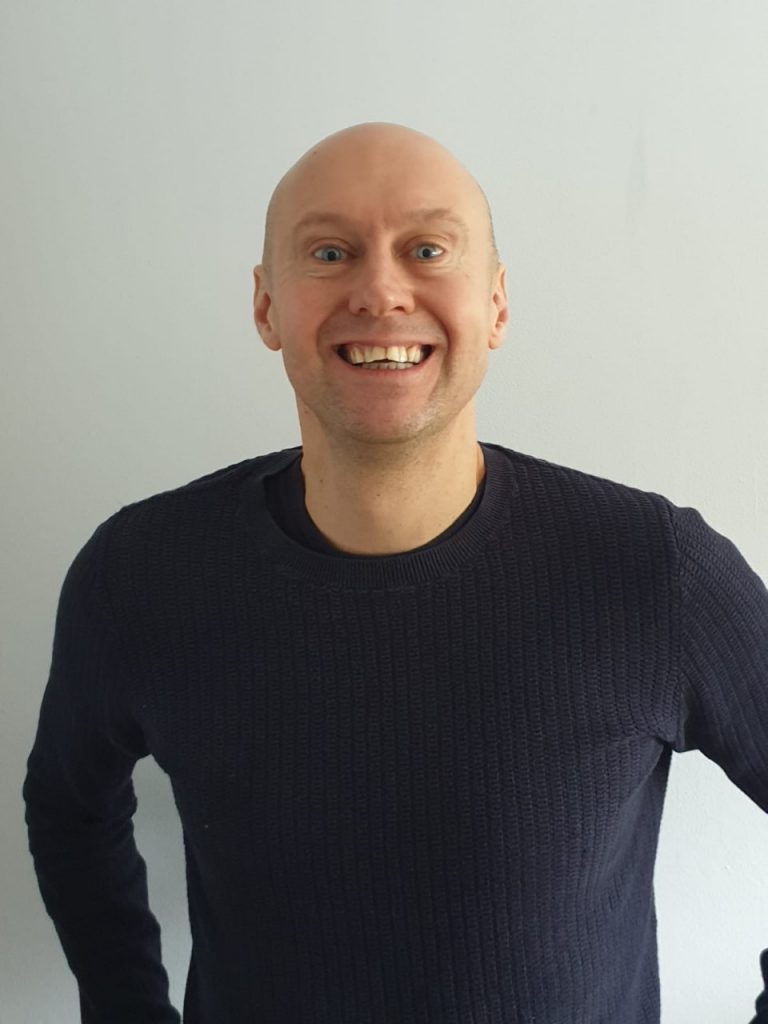 Have fun and we will catch up again soon. Stay safe! Cheers Neil.