Hello again, hope life is good and you are feeling fine. Last weekend was an annual event in my diary. Which I look forward to every year. It is something I first went to more than ten years ago now. I always enjoy any trip to Liverpool. But being there for Ladies Day at Aintree is brilliant fun. We have been doing it for such a long time now. That we have got the whole operation down to a tee.

I travelled up to Liverpool on the Thursday afternoon by train. On the journey I was catching up on the Gary Lineker and Danny Baker Podcast "Behind Closed Doors." Which they launched at the start of this year. If you are a fan of football stories and banter. Then take a listen. I enjoyed it and it passed the time nicely. As I went through Birmingham on my way to Lime Street Station. On arrival there I walked past and tipped my head to the Ken Dodd statue by the exit. As I always do.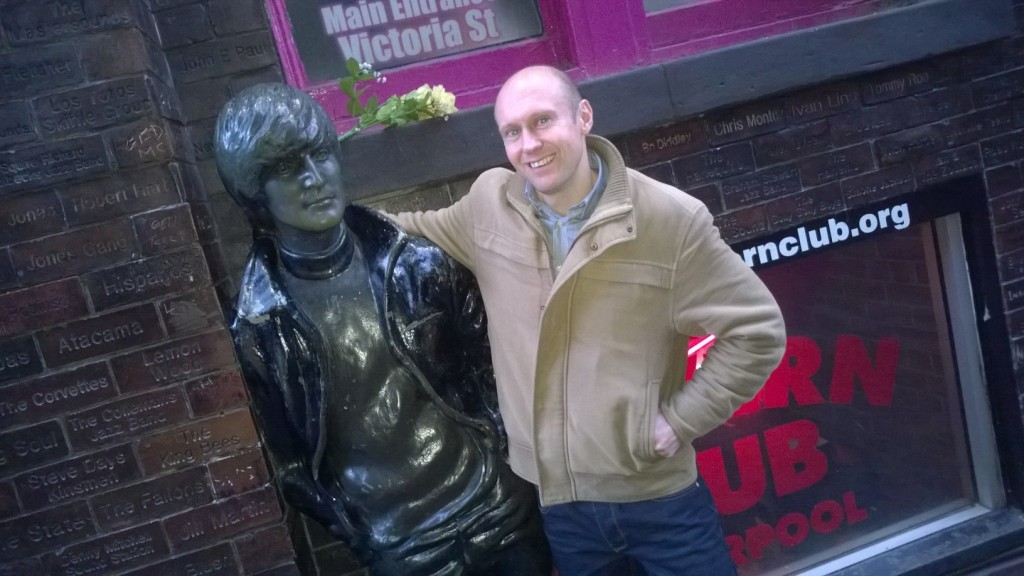 Then it was the short walk to Central Station to get the Mersey Rail to meet my mate at his local station. I feel very at home there. I put that down to my Granddad having grown up in that area. As always my pal meets me from the station. And we head to his local pub. To have a few beers and a catch up. I drink in London often, so there is something almost exciting about being able to buy two pints for less than four pounds.
It is then back to his place. Where thankfully he always lets me stay. As hotel prices in the city rocket in price unsurprisingly during the Grand National Race Meeting. Food and some tea. Accompanied of course by some music. And this time a little bit of Alan Partridge. We do tend to get to bed at a reasonable time ready for Ladies Day itself. The next day.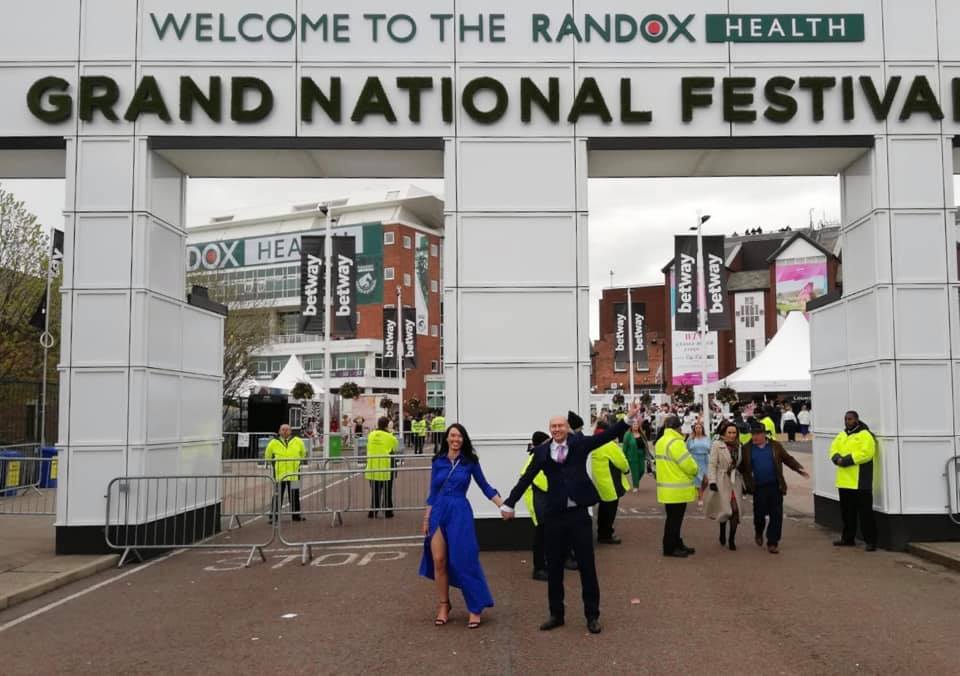 I do not always, but this year I did treat myself to a new suit. We all dress up. Buying a suit is always an odd experience. As normally the men in those places can take one look at you. Then bring things out in exactly the right size. Something I can never manage. When I am shopping alone. Any way we are all suited and booted. And in a pub just down the road from the famous old course by midday.
Next we head down to the entrance. It is always spectacular when you walk in and see those familiar huge stands. Not to mention the amount of people milling around. As you enter you pass the parade ring. Race horses are such beautiful and amazing animals. We were in the big marquee. It has several bars, some bookies and some huge televisions showing all the races. They also have a live band, who go on in between races. So there is just a big party atmosphere in there all day.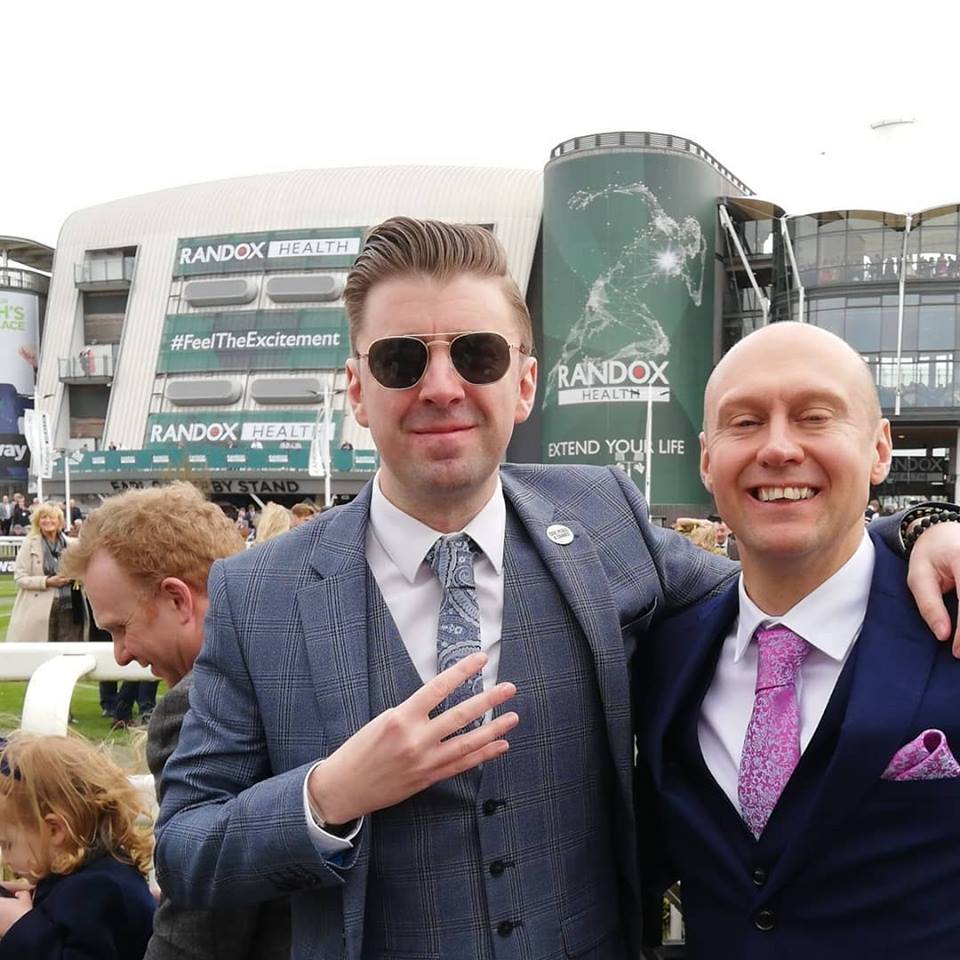 I had three winners, while we were there. Including the first race of the day. Which is always a good start to proceedings. The place is rammed with people having a good time. We leave before the last race. To get ahead of the crowd and get into Liverpool City Centre. If you leave it to late. The queues for the trains are horrendous. We as ever timed it perfectly.
We normally start off in The Jacaranda. Which is yet another place where The Beatles used to play a lot. They have a jukebox and great music in there. So it is always a good laugh. From there we continued the fun in several different bars. As more people we knew, who had been at the races earlier, joined us. We then ended up in an eighties bar finishing the night dancing in there. Once again it was another fantastic day. It is brilliant fun! With good company and venues. Plus a nice vibe to the whole thing.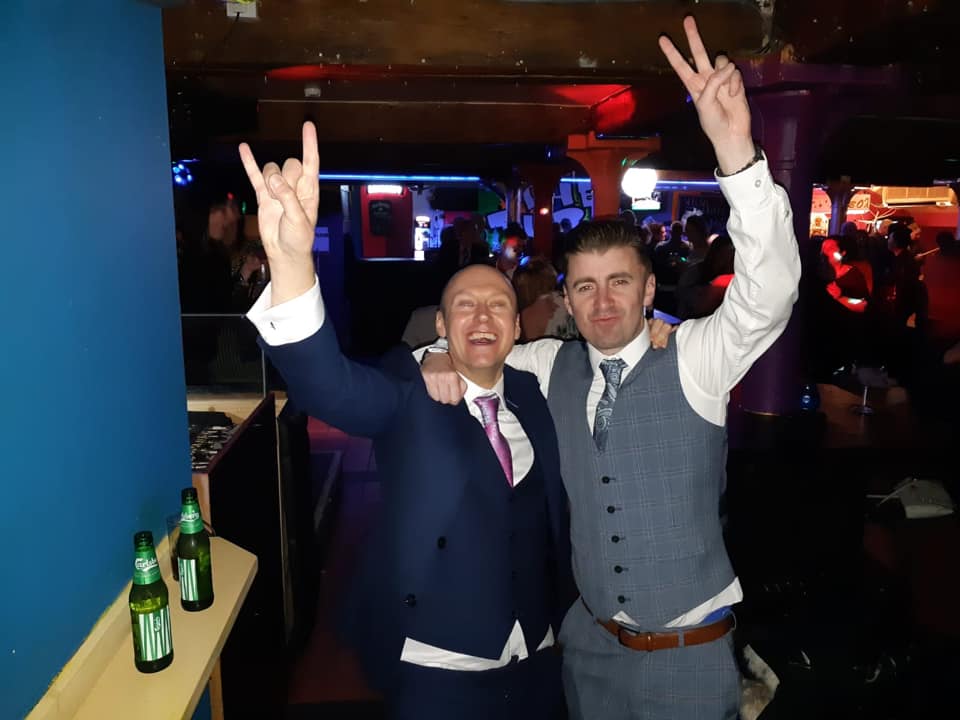 The next day is of course The Grand National. We also have a bit of a tradition for this momentous event to. We always spend it with my mate's parents and sister in a lovely pub, near to where they live. It is such a relaxing and fun afternoon. We have a few drinks, a laugh and watch all of the races including of course the big one.
Well done to Tiger Roll on winning it for the second year running, Which is some achievement. I was at Cheltenham when he won so convincing there this year. I must admit after that performance. I knew that he would be the best horse at Aintree. But that is not a guarantee. That you will win it. It was a great race . When he got in front. There was no way that anyone was going to get past him. I am pleased to say that I did have some money on him. Fair play to you if you picked him out to.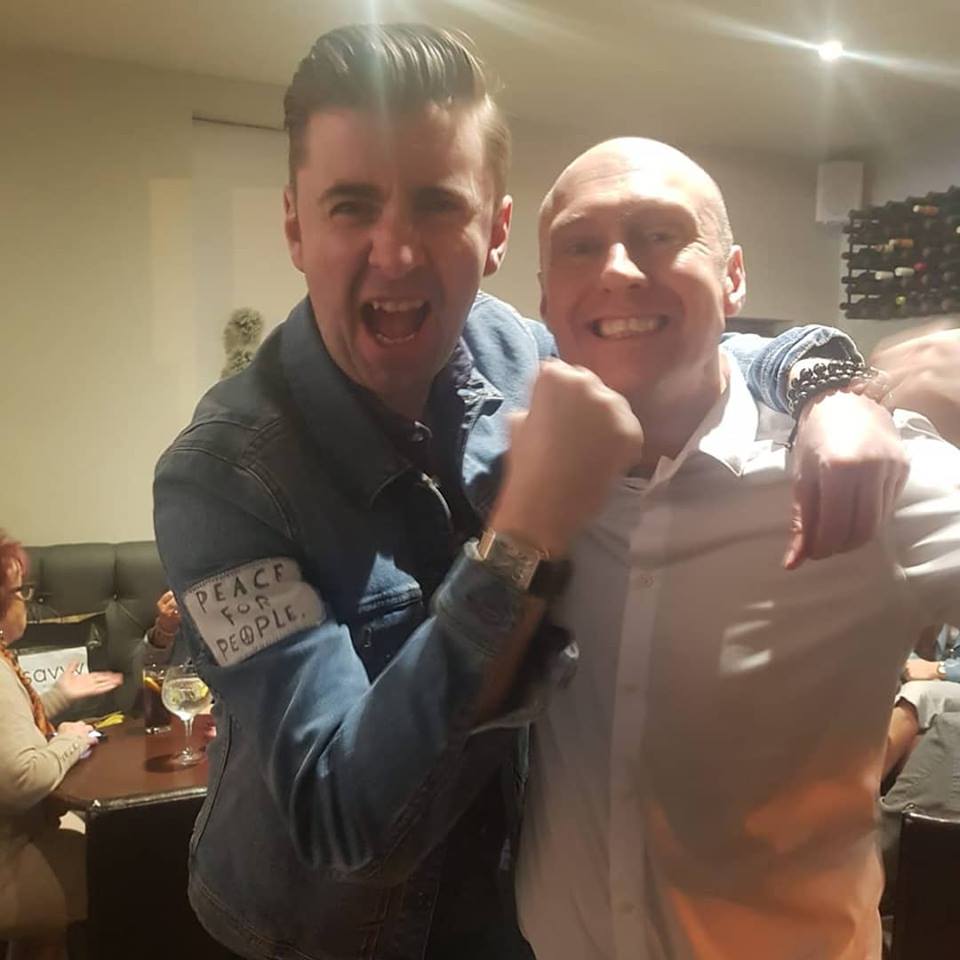 I came home on the Sunday afternoon. After yet another amazing weekend. I have already booked to stay with my mate again next year. We did have a drive around the course before I had to head to the station. As you can normally, when there is not a race on, drive down the Melling Road. We did just that and looked back down the course at all those daunting fences. A big thanks to everyone who joined in and made it such a fun and memorable few days. To quote The Beautiful South "You can't have too many good times."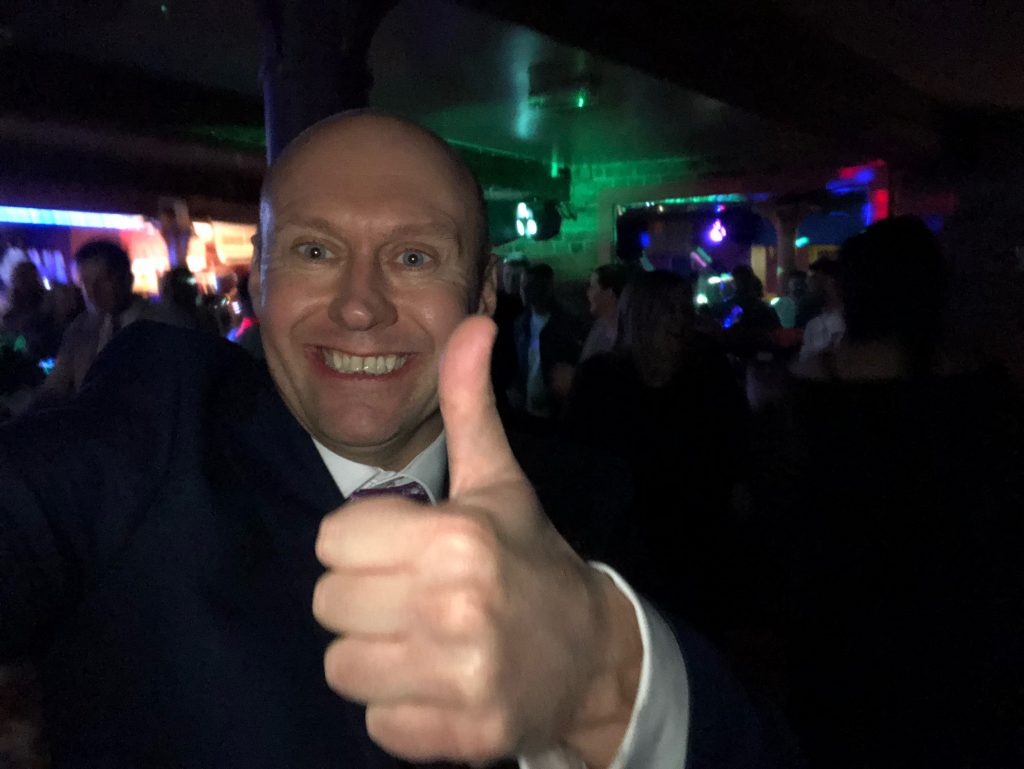 I went and saw a brand new show recently. It is starting in the West End before it goes on tour all over the United Kingdom. It stars four Strictly Come Dancing contestants. Three of who won the show and one who really should have done that as well. Or at the very least got a lot further in the competition than he actually did. They are Harry Judd, Louis Smith, Jay McGuinness and Aston Merrigold. The show is called Rip It Up.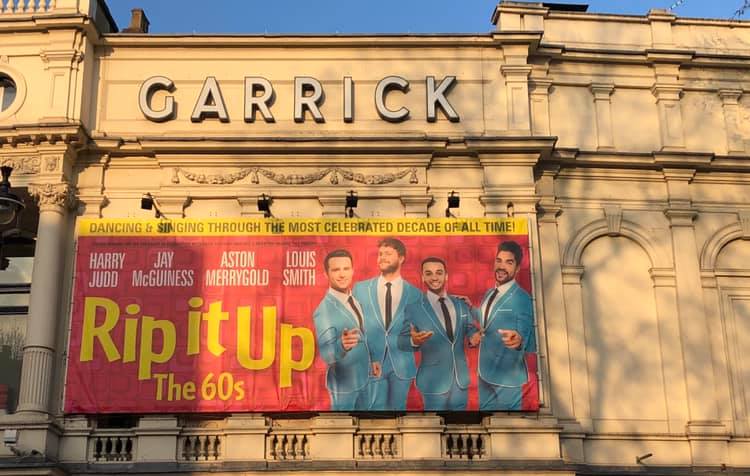 It is basically a tribute to the nineteen sixties. It is set up like the American music television programmes. That were on during that decade. Complete with over the top US host. There is a band on stage throughout. A company of brilliant dancers. And the four stars who mostly perform the dances. Either in groups or with a partner. They do also all do a bit of singing. Including Louis Smith. Who then demonstrates what a great gymnast he is in one section. Harry Judd does some drumming. Aston Merrigold throws in some back flips.
It is a nicely put together show. Which features some quality songs and some great dancing. It is good fun. And the audience were up on their feet singing and dancing along by the end. Some bits do feel like they are shoe horned in a little. But it is a brilliant night out. It does not take itself too seriously. It pays homage to a great time in world music. Plus they do have some huge musical stars to help with the narrative. I enjoyed it.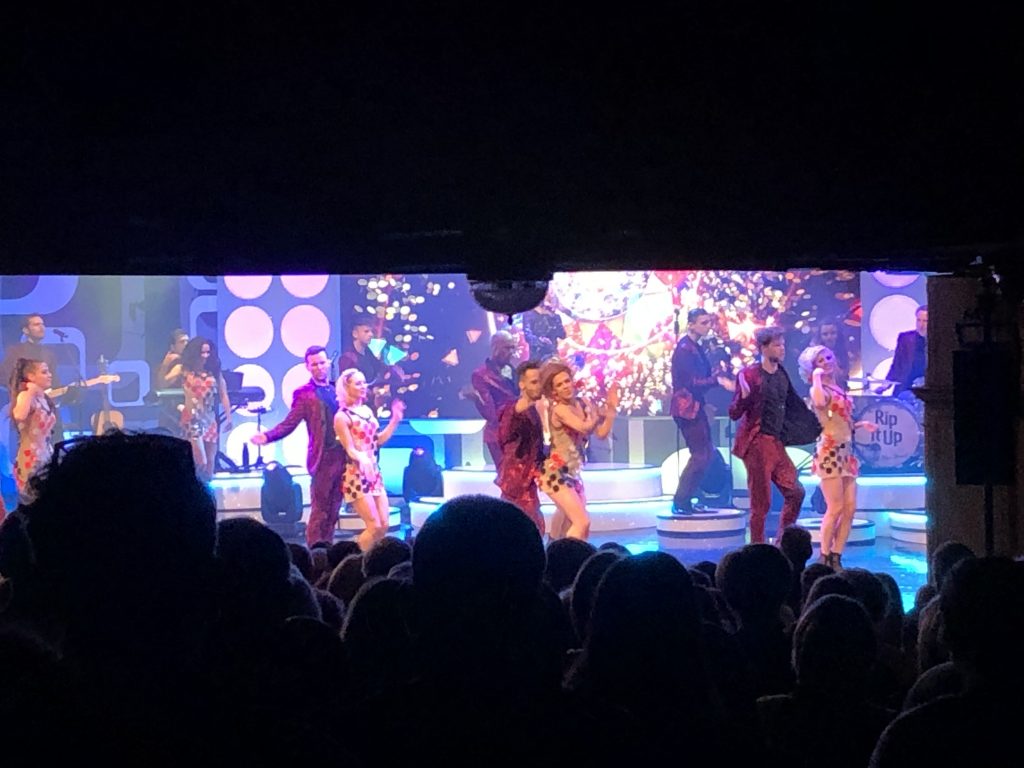 During my time working in radio. I have met a lot of very talented and lovely people. One of these is the wonderful Neil Sands. He toured the country as a professional Wrestler. He was one of the people behind "The Church". If you ever went to that place on a Sunday afternoon in Kings Cross. As I did on a few occasions. And for many years now, he has been producing and starring in several different touring shows across the country.
His latest show. Brand new for this year is Sentimental Journey. Which I went and saw at the Wycombe Swan a few weeks ago. It is simply a celebration of great music from the forties through to the seventies. It stars Neil himself alongside some other great singers and performers Chelsea Turnbull, Sophie Presley and Szara King. He works with a brilliant backing band called The Golden Times Duo.
He has been a professional entertainer for many years. He has such a nice way with the audience. It is just all so very inclusive and good humoured. Right from the start the audience are encouraged to join in. I took my mum to see it. And we had a very enjoyable afternoon clapping and singing along to all these fantastic songs. Plus any show that features a section on Buddy Holly, Connie Francis and a little bit of Country and Western is always going to be a big hit with me.
It is a show full of memories and nostalgia delivered with love and grace by the cast. It also has a fitting tribute to our armed forces. Which is equally poignant and joyful. I really enjoyed it. As I have all the Neil Sands productions that I have seen. He was sadly feeling a little under the weather. But I did manage to have a very quick chat with him afterwards. It was great to see him. He is such a nice person and extremely talented. Keep an eye out for him and his shows. They are always worth seeing.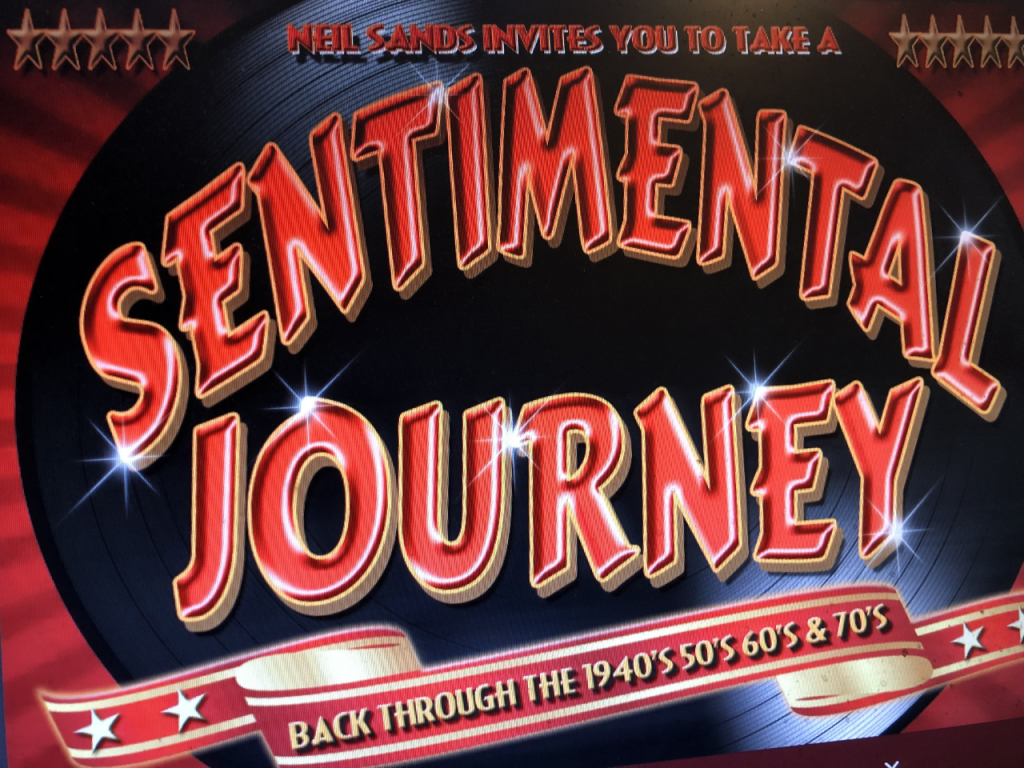 I went to the new Tottenham Hotspur Stadium for the second test event there. Which was a Spurs Legends side against Inter Milan. It was great to see so many former players back in the famous white shirts and on the pitch. It was a quality line up. Some of them had not played for a very long time. While others were a lot fitter. And dare I say still pretty athletic. I was very impressed with Jurgen Klinsman. He was still strutting around the pitch and looking sharp. Also David Howells deserves a special mention for treating it like a cup final. He was taking no prisoners out there.
It was great to see Robbie Keane score and do his famous cart wheel celebration. Always a joy to see Dimitar Berbartov play. Nayim was a bit bigger than I remember. But still very skilful. Great to see David Ginola out there after his recent health problems. But there was one player I was looking forward to seeing the most. It was the man who I remember running our whole midfield and scoring that ridiculous free kick against Arsenal in the FA Cup Semi-final back in 1991 Paul Gascoigne.
He was on the bench to begin with. And sadly in true Gazza style, he had managed to damage his Achilles Tendon in the warm up. But fair play to him. He still came on to a brilliant reception from all the fans. The whole place was singing his name. It was clear that he was not moving very easily, so he only lasted about ten minutes. Before he was then replaced. Still great to see him. What a Spurs and England legend. I wish him all the best in his recovery. The game was a good laugh, even though we lost in the end. It gave me another chance to get settled in to the new home.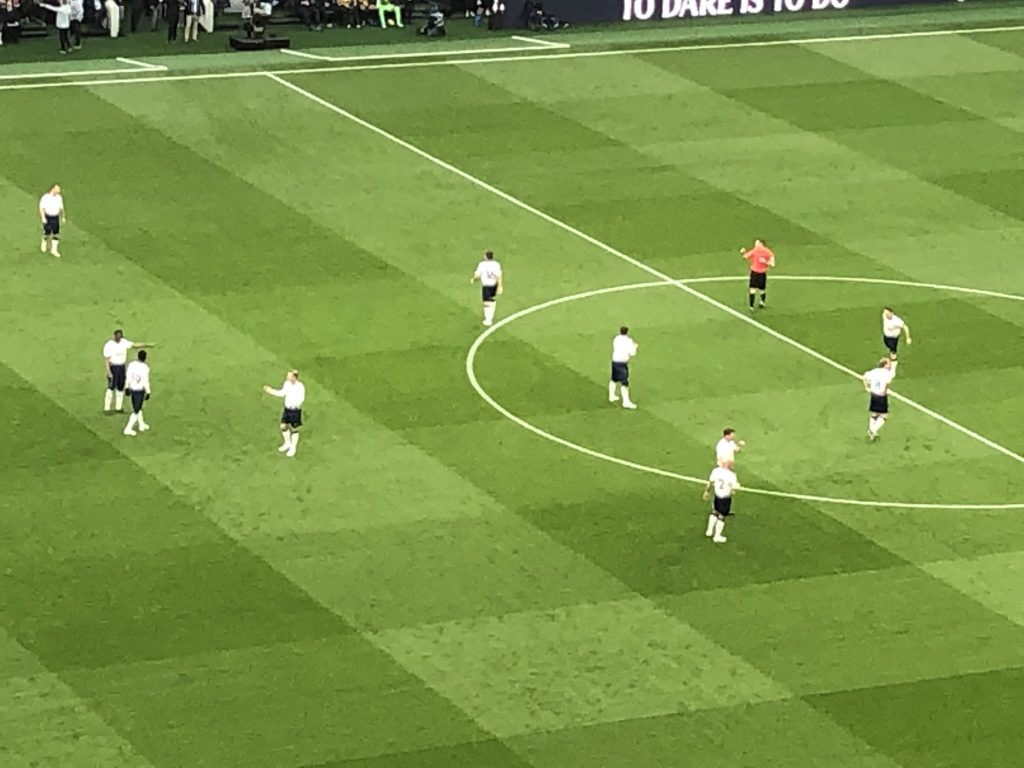 Talking of which I was of course there for the official opening and our first league game at the currently named Tottenham Hotspur Stadium. The ground opened early. So I took advantage of this by having a pint and a pie there before kick off.
There was a bit of an opening show. We had a local youth choir. Who were ace. They were then joined by the Opera Singer Wynne Evans for a different version of Glory Glory Tottenham Hotspur.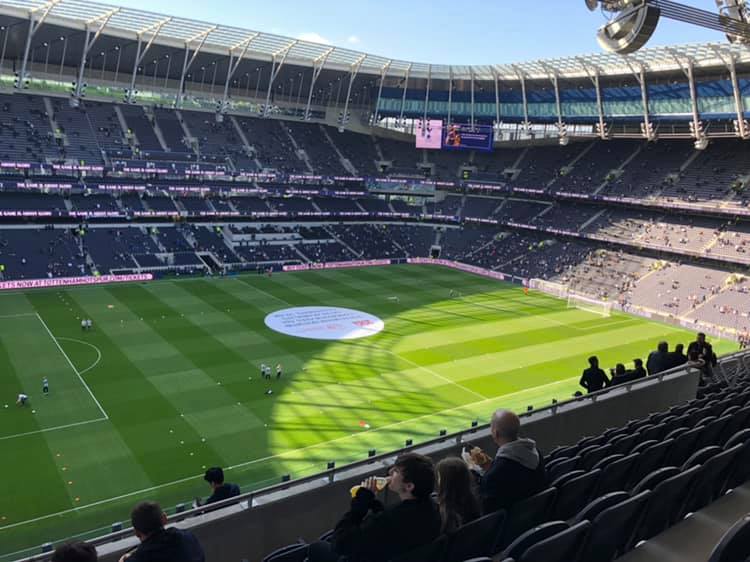 At the end of which there was a big fireworks display on the roof. Something I had completely missed until I saw the footage after. I was looking straight at the pitch only, I never thought to look up. So I missed it. Then I could not work out where this smoke was coming from. Before the match had even kicked off. A tweet I posted earlier appeared on the four big screens inside the ground. I was very happy that my name had already been displayed at the stadium. I managed to get a really bad picture of it.
The game itself was a must win. We had to get the three points. To keep in the hunt for a Champions League place. Thankfully after a bit of dogged resistance from Crystal Palace and a slight deflected shot. We managed to score our first senior goal at the stadium. And go on to win the game two – nil. Which felt great. It is a brilliant stadium. I can tell I am going to have a lot of fun going there over the years.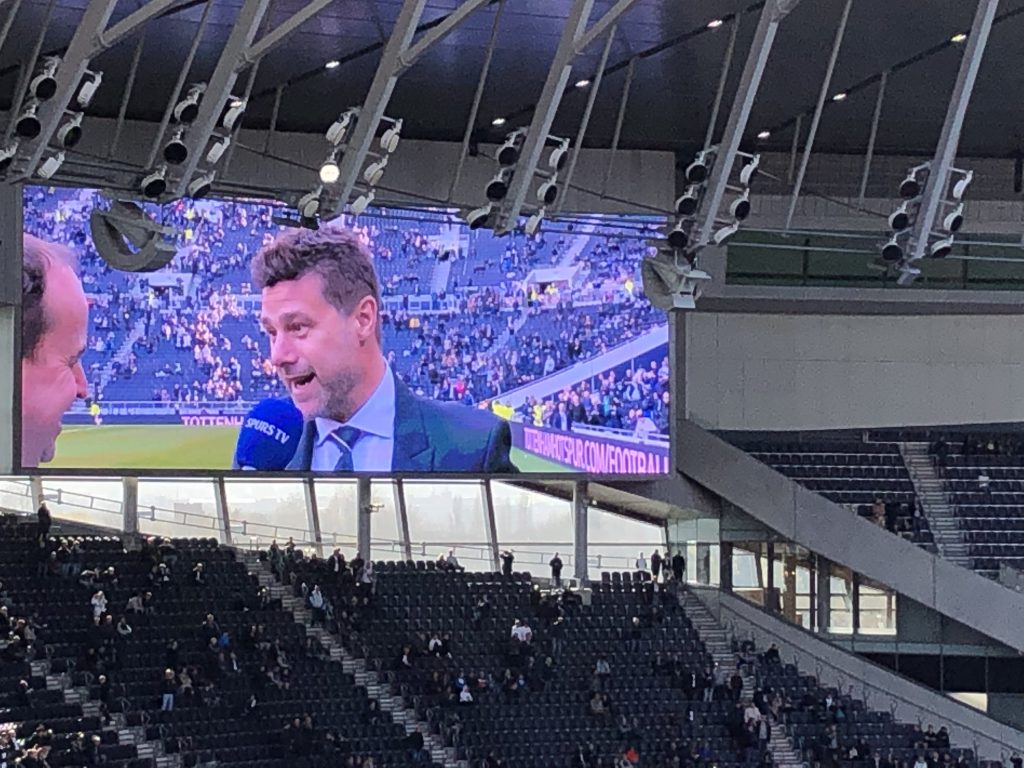 I was at the Champions League Quarter Final First Leg against Pep Guardiola's Manchester City. The atmosphere in the place was so electric. We won one-nil thanks to another strike from Son. All of the players were immense.
But it is only half time, really. We still have it all to do in the second leg this Wednesday. The only disappointment on what was a very memorable night was Harry Kane going off with an ankle injury. The mood in the ground at full time was delightful.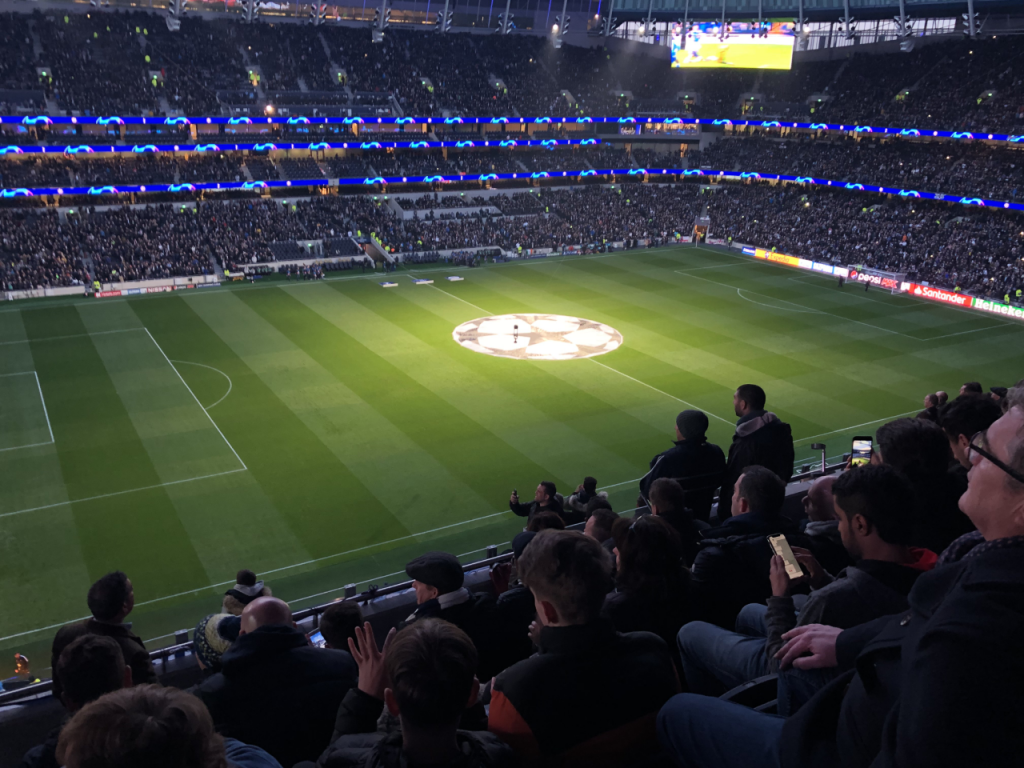 Huge congratulations to the amazing Charlotte Milchard. Who won Best Supporting Actress at the recent National Film Awards. For her role in Best British Film Scott and Sid. I first met her back in Yeovil in 2004. She was playing the villain in that year's panto. And although on stage she was terrifying. Off it she was one of the loveliest people you could meet. I saw her a few times over the years performing in Somerset. She always popped in to have a chat on the radio. Which was fantastic.
Since then of course I have been following her career on stage and on screen. It is great spending time in her company. Such a talented and yet humble person. She richly deserves any success that comes her way. I was so happy for her when I discovered she had won this big accolade. A great achievement. It seems she had a wonderful night collecting her award. Which also makes me very happy. Well done Charlotte! A pleasure to know you.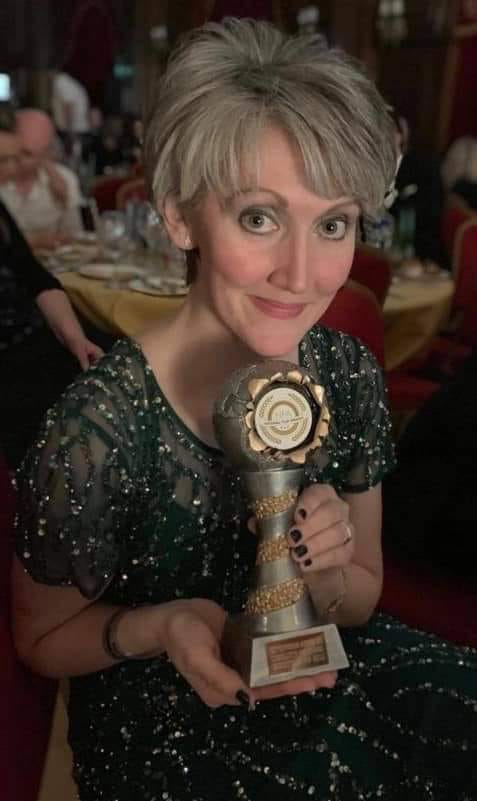 Tonight I am off to see another performer I know compete for an award. I am attending the final of The Musical Comedy Awards in London. To see the excellent Silky perform for the title.
The evening will also feature The Brett Domino Trio. If you not aware of them. They are always good fun. I am looking forward to it. A Saturday night spent laughing at top quality acts. It always a bonus.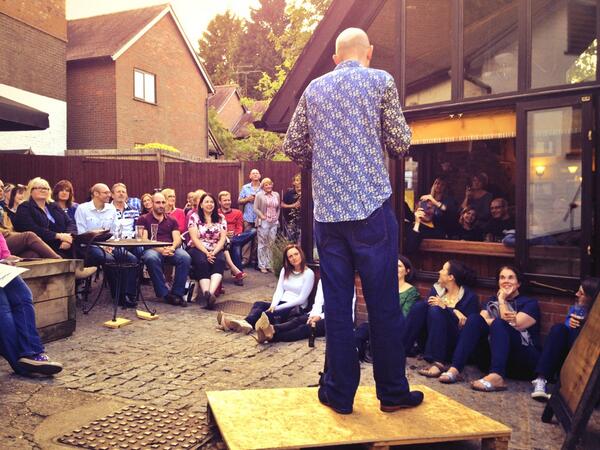 Have fun and we will catch up again in a couple of weeks. Cheers Neil